"What was a war childhood for you?"
"…waiting for Grandpa to come back from the market, but he still hasn't."
"…a war childhood is when you have a crush at school, and she is killed by a shell."
"…childhood is childhood, even during a war…instead of napkins and chocolate wrappers, I collected shell shrapnel."
These were just some of the answers given to Jasminko Halilovic, a war child himself, when he started asking other survivors of the Bosnian War, who had been children during the conflict, to submit their stories to him for his book, War Childhood. Beginning in 2010, Halilovic used an online platform to collect memories from his peers about what a war childhood was for them. Over 1000 submissions later, Halilovic assembled them all into a book, which was published in 2013.
Ranging from lighthearted tales of collecting shrapnel, to poignant recollections of how "A sniper killed my brother. It killed my childhood, too," War Childhood looks at the Bosnian War from a unique angle – the eyes of its children.
A report by UNICEF concluded that, of the 65,000 to 80,000 children in the city of Sarajevo during the siege, 40% had been directly shot at by snipers, 51% had seen someone killed, 39% had seen one or more family members killed, 19% had witnessed a massacre, 48% had their home occupied by someone else, 73% had their home attacked or shelled, and 89% had lived in underground shelters. 
When faced with numbers like these, it is easy to see how War Childhood is such an important project. Four years after the book's release, Jasminko Halilovic opened the War Childhood museum in Sarajevo, a museum that Halilovic believes is the only one of its kind in the world.
Visiting the War Childhood Museum
Eager to learn even more about Bosnia's history after my experience spending the day with a war veteran and visiting the Museum for Crimes Against Humanity and Genocide, my friend Roma and I decided we would pay the War Childhood museum a visit. It took us a little while to find it as we hadn't downloaded Google Maps for the area (rookie travel mistake #1), and everybody that we asked seemed to be intent on sending us on a wild goose chase. However, getting lost did mean that we stumbled across the bridge where Franz Ferdinand was assassinated, so it wasn't all bad.
When we eventually found the  War Childhood museum, we paid our 10KM entry fee (£4.50) and made our way into the exhibit.
The War Childhood museum is comprised of a collection of over 4000 objects, sent to Halilovic by his fellow war children. In order to allow every single object the recognition it deserves, the War Childhood museum displays 50 objects at a time on a constant rotation. Every object is displayed on a pedestal in a glass case beside its owner's explanation of what this object means to them.
When Roma and I visited, the War Childhood museum was quiet and so we took our time, reading the descriptions of every single object, watching the documentary film that plays on a constant loop, and reading the War Childhood book (although the book is available for purchase, there are also copies left out at the end of the exhibition for visitors to flick through).
Some of the objects (and stories) that stood out to me in the War Childhood museum were a scrap of material bought to make a prom dress that was never needed, a red bike that carried its rider to safety as grenades began to fall, a half-finished letter that a child's mother had been in the middle of writing as she was blown up in her kitchen and some drawings of Disney characters that a young girl's sister used to draw before she answered the door one day and was killed by a shell.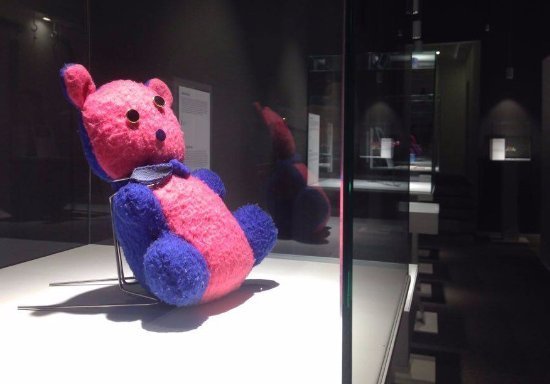 It is a simple presentation to match the simple concept, and although it is not as shocking or horrific as the Museum of Crimes Against Humanity and Genocide, the War Childhood museum still plays a very important role in educating visitors to Bosnia about what life was like for children during the war. For almost every story submitted to Halilovic (4000), another child died before they could have the chance to tell theirs.
Over 3500 children were killed in the Bosnian War between the years of 1992-1995, and it is important to remember that the tragic tales displayed in the War Childhood museum, are those of the 'lucky ones,' if anybody can ever be lucky in war. Not only then, is the War Childhood museum important from an educational perspective, but its existence also stands as a mark of respect to Bosnia's war children themselves, both those who submitted their stories, and those who never got to.

The War Childhood Museum can be found at Logavina 32. It is open every day except Mondays, from 11am to 7pm.
To learn more about the War Childhood project and purchase the book, click here.