Visiting Sarajevo is not the same as spending a weekend in Krakow or Malta.

Any trip to Bosnia, particularly its capital of Sarajevo, is inherently political. You can't visit and not be exposed to the country's tragic and bloody history, and even if you try your hardest to bury your head in your plate of cevapi and avoid the topic of war altogether, you will still return from your trip a different person than you were before.

It is impossible not to.

Visiting Sarajevo will change you more than any documentary or history book.

It will open your eyes to the very best, and the very worst, of humanity, and if you think you're immune, it doesn't matter – we all think that in the beginning.

I am no stranger to atrocity. I have visited The Killing Fields and the S21 prison in Cambodia, the camps of Auschwitz and Birkenau in Poland, and the Holocaust Memorial in Berlin.

Never have I left a destination as hollow and fragmented as my return from Sarajevo, Bosnia.



Visiting Sarajevo With a Bosnian War Veteran


My experience visiting Sarajevo


I visited Sarajevo as a solo traveller back in 2016. Taking the bus to Bosnia's capital with a couple of fellow travellers I'd met in Mostar, I was excited to explore Sarajevo and learn some more about this beautiful country.

On checking into our hostel, Balkan Han, we were told by the young guy working there that if we wanted to really learn about the Bosnian War and Bosnia's tragic recent history, we should let his friend, a Bosnian war veteran named Al, show us around the place.

Al, he explained, was somewhat of a local hero, and after putting his life on the line for his country less than 30 years ago, now earned a living by welcoming tourists into his home city and telling them his story, helping to educate foreign visitors about the atrocities that occurred in Sarajevo not that long ago.

Eager to learn about Bosnia and the Siege of Sarajevo from somebody who had lived through it, we jumped at the chance, and so the following morning, after enjoying some rich Bosnian coffee and Turkish Delight in a local café, we met up with Al for what was about to become one of the most eye-opening days of our lives.



Meeting Al


Al arrived at the hostel to pick us up in a large minivan and we all piled in, grateful to be out of the sun.

He was fairly quiet at first, but as we drove through the old streets of Sarajevo, taking in the crumbling buildings and apartment blocks riddled with bullet holes, Al began to open up about why he'd decided to become a soldier during the Bosnian war.

'I was walking down the street one day and there was an old man walking in front of me – he just went down. Bullet straight through the head. Sniper. And I remember thinking – that could have been me. I signed up to fight the next day.'

He explained how, overnight, he became a refugee in his own city. As Serbian forced surrounded Sarajevo, the residents became trapped, unable to leave the city for almost 4 years. Most of them were sitting ducks, vulnerable to the Serbs who rained bullets on the city from the mountains, from their bedroom windows, and from snipers' posts in various city centre streets, which came to be known as Sniper Alley.

Al was determined not to go down without a fight.

He refused to stand by and watch children and elderly people be shot and killed while on their way to buy groceries.

He didn't care what it took – he would protect his people.

Pulling over to the side of the road, Al gestured at a block of dilapidated apartments.

'I lived there for a while with some of the other soldiers. Look, see how many bullet holes there are. It's no wonder I have PTSD,' he snickered, a dark joke that did little to mask the ugly truth behind it.

Al continued to drive and talk, telling us about his personal experiences as a soldier during the Siege of Sarajevo. Al was just one of the 70,000 Bosnian soldiers that fought for his country during the Siege of Sarajevo, a battle that lasted for almost 4 years and claimed nearly 14,000 lives.

At one point he pulled out a photograph album and tossed it over his shoulder to us – 'this is my personal album,' he said.

As we slowly turned the pages, my friends and I looked at each other in dismay as the images got progressively worse.

Burning buildings, dead bodies littering the streets, Serbian shoulders putting their guns into the mouths of women, and even a child victim of a Serbian sniper lying on the ground, blood seeping out of his lifeless body.



The Sarajevo Tunnel of Hope


The first place that Al wanted to take us to was the Sarajevo Tunnel of Hope, or, as he prefers to call it, the 'Tunnel of Shame.'

The Sarajevo Tunnel of Hope was a tunnel constructed between March and June 1993 during the Siege of Sarajevo. As the entire city of Sarajevo had been cut off from the rest of the world by Serbian forces, the Bosnian Army built the tunnel in order to forge a pathway to some Bosnian-held territory on the far side of Sarajevo Airport, an area that was controlled by the United Nations.

While the majority of Sarajevo's residents remained trapped in the city, the Bosnian soldiers were able to sneak out through the tunnel for food, war supplies and humanitarian aid.

Stretching for 1km, the tunnel was prone to flooding which could see soldiers waist-deep in muddy water, crouched down (even I couldn't stand up straight in the Sarajevo Tunnel) with supplies on their backs for hours at a time while they waited until it was safe to exit.

Snipers could attack them from both ends, and Al grimaced as he said it was common to be stuck in the tunnel for more than 6 hours, freezing cold and unable to breathe without a gas mask.

His jovial tone barely changed as he went on to tell us about how his father exited the city via the Sarajevo Tunnel one day to buy food for the family. He was shot and killed by a sniper, and Al had to sit with his lifeless body in the tunnel for hours, waiting for the coast to clear.

Can you imagine?

In the present day, only 100m of the Sarajevo Tunnel has been preserved, for tourists like you and I to enter and get a tiny idea of what it must have been like for the Bosnian soldiers, who spent such a large portion of their lives there.

After climbing down some rickety wooden steps, you can walk through the tunnel. It is much, much nicer than it would have been during the war, with wooden floors, a handrail and lighting. Even so, our whole group felt very claustrophobic down there, and we were grateful to come up for air at the end, after just a few moments underground.

I honestly can't begin to wonder how it must feel for Al to lead countless groups of young backpackers through the same tunnel that he experienced such horrors in, but if he was struggling, his face didn't betray him.

When we emerged, Al told us that the house beside us is home to a little old lady who would sit at the opening of the tunnel for hours, handing out cups of water to exhausted troops as they returned to Sarajevo. Miraculously, the lady was never harmed, and Al told us that she still lives in the same house to this day!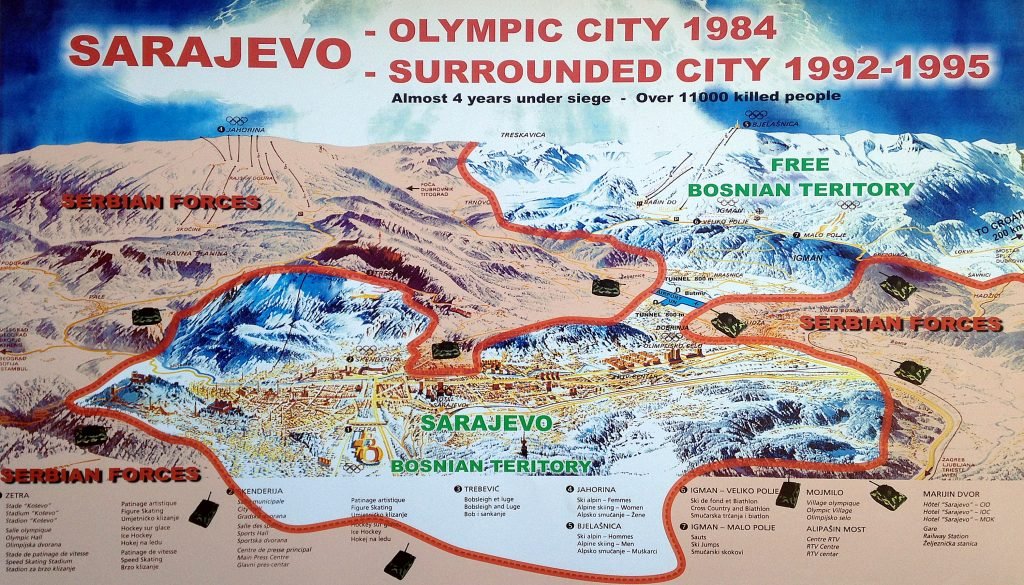 The Abandoned Sarajevo Olympic Bobsleigh Track


You might not know it, but Sarajevo was actually the host of the 1984 Winter Olympics, an event that really put Bosnia on the map for winter sports and global recognition as a destination (how things would change just a few years later).

The Olympic Bobsleigh and Luge Track today stands, completely abandoned and covered in graffiti (not unlike many other former Olympic venues, I'm sure).

However, what sets the Sarajevo track apart from the rest is the bullet holes and sniper windows everywhere, that act as a stark reminder of how quickly Bosnia's glory days ended.

As we enjoyed the views and strolled all the way down the track (taking a billion pictures of course), it felt surreal.

Were we really walking down a former Olympic Bobsleigh track, the same track that would later witness the Siege of Sarajevo first hand?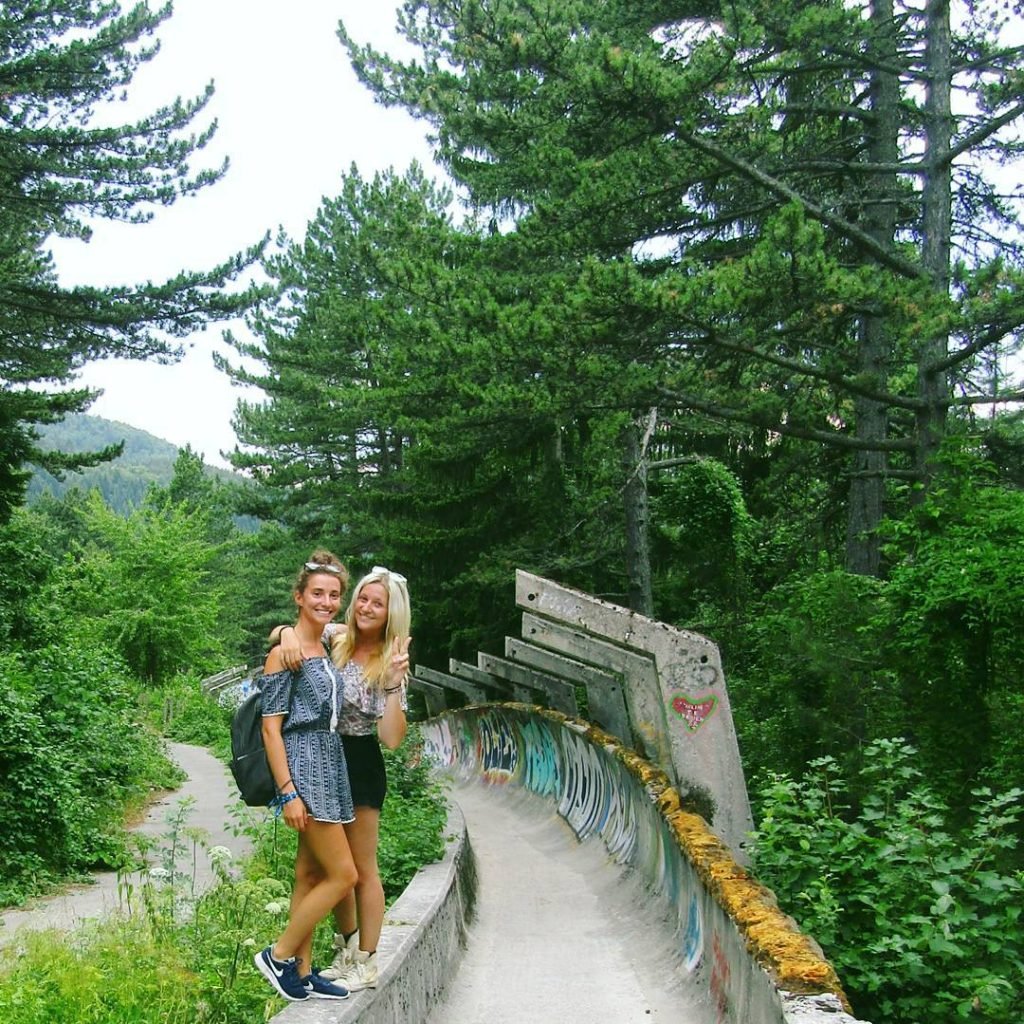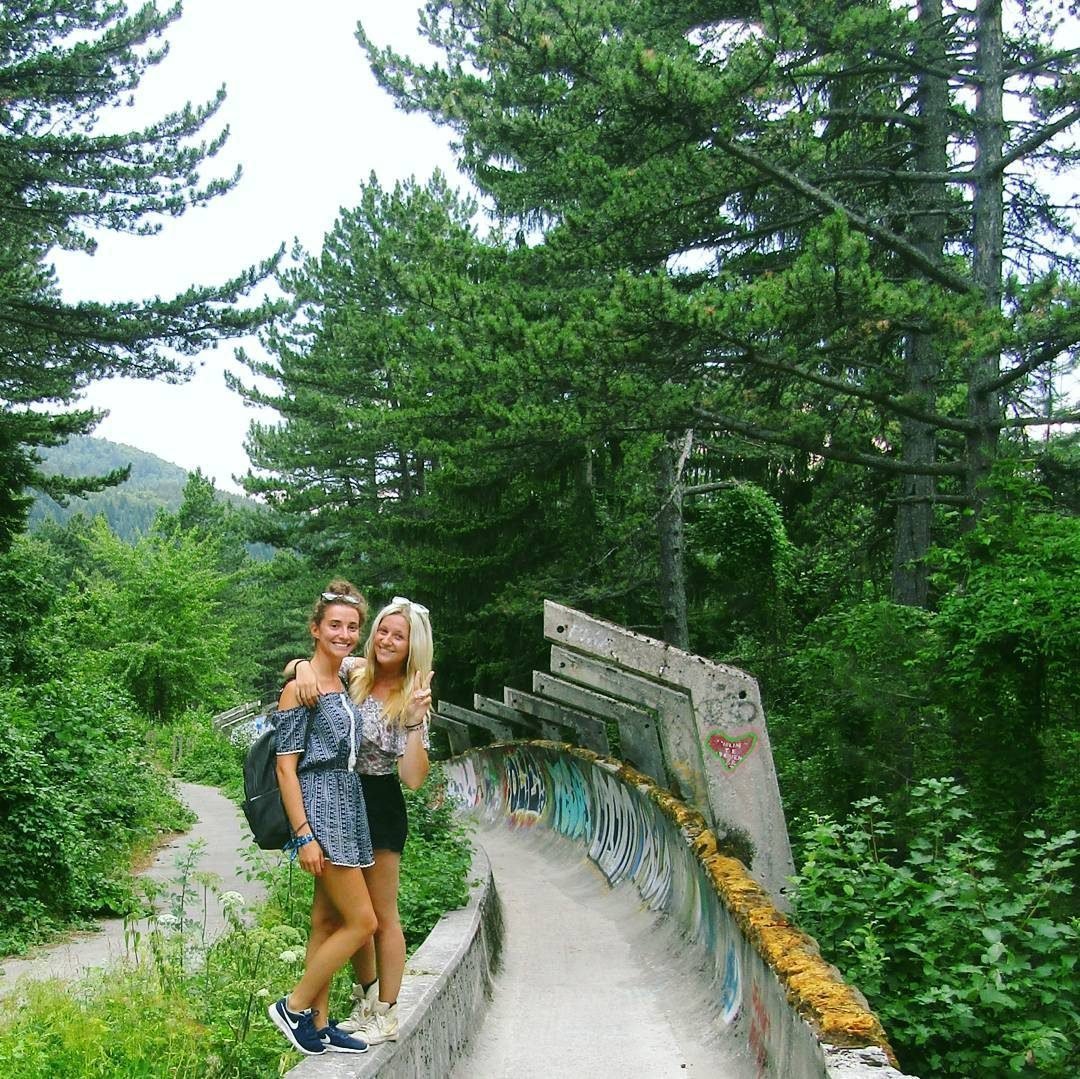 The Republika Srpska and Trebević Mountain


Next on our explorations of historical Sarajevo was something we were all wary of – Republika Srpska.

To the uninitiated, Republika Srpska is where it all went down in the early 1990's. Formed in 1992 to 'safeguard the interests of the Serbs of Bosnia and Herzegovina,' Bosniaks and Croats found themselves expelled from territory that had previously been home to them, as ethnic tensions reached breaking point and the Serbs claimed the land as their own.

As we drove along the winding roads up Mount Trebević, Al visibly became tense, the first time he'd shown any signs of discomfort all day.

He told us all to double check that our seatbelts were fastened properly, not to ensure our safety but because the Serbian police view Al as a war criminal and will find any excuse to pull him over.

Al, like other Bosniaks, must exercise extra caution when in the area ('Bosnian' refers to anybody with Bosnian citizenship, no matter their ethnicity, while Bosniak is somebody who is ethnically Bosnian). The war may be over, but people haven't forgotten the past.

'It's funny, whenever you ask anyone here what they were doing in 1993 or 1994, they were never here. They were all travelling through Australia, or the USA, or Canada,' he laughed dryly.

Lighting up a cigarette, he continued.

'Nobody that lives here now was around during the siege. It's funny that, considering nobody was living here, there were a hell of a lot of bullets being fired from these hills!'

We'd stopped at the side of the road at an incredible viewpoint overlooking the entire city of Sarajevo. My blood ran cold as I realised that it was precisely what made this spot a good viewpoint that made it so deadly. Anyone with a decent aim could shoot a bullet right into the centre of the city, at whichever building they desired.

'Of course, they weren't all professional soldiers. Most were just ordinary guys, people with jobs and families who would drive to this spot on a Saturday afternoon, fire some shots into the city, kill a few children and then go back to their families in time for dinner. Killing Bosniaks was a game.'

Shrugging, he took some homemade rakija from the car and poured us all shots into tiny plastic cups.

'You can't be bitter though. I'm not. Now let's drink.'

Al chuckled as we screwed up our faces, grimacing at the hard liquor. Handing us each a can of cold beer, he sloped off and sat down on a nearby rock.

'We're in a beautiful place. Enjoy your drinks, take some pictures and then we'll head back down to the city.'

We did as we were told, and as sipped my beer overlooking the city of Sarajevo, I realised just how much I'd fallen in love with this country.

Never had a place touched me as much as Bosnia and Herzegovina had, not only for its beauty, but also its utter strength and resilience.

It would be easy for people like Al to be bitter and twisted, but he genuinely seemed to have forgiven the Serbs for the atrocities they inflicted upon his people, and it was remarkable to see. Visiting Sarajevo was having such a profound effect on me, and I'd been there for less than 24 hours!



The Jewish Cemetery


Containing 3850 weathered tombstones, the Jewish Cemetery of Sarajevo is the largest Jewish Cemetery in Southeast Europe, and it is located on the slopes of Mount Trebević.

Unfortunately, as with most other places in Sarajevo, the Jewish Cemetery has its fair share of battle scars.

Used as the frontline by the Serbs, it sustained a lot of damage in the form of bullets, explosions and return-fire from the city below. The site was heavily mined before the war's end, with around 70 landmines and 100 pieces of unexploded ordinance having to be removed before it could be returned to the Jewish Community in 1998.

It was here that Al casually mentioned that he has almost 20 pieces of shrapnel in his own body. 'Sure, there were a lot of explosions at that time,' he said, shrugging off our aghast expressions.



The White Fortress


The White Fortress, or Bijela Tabija, is an old fort overlooking the historic core of Sarajevo, and is one of five fortifications that were built as part of the defensive wall around the old town of Vratnik.

While it used to house a gun-crew and an ammunition storage, it is now one of the most popular attractions in Sarajevo for tourists due to the magnificent views of Sarajevo.

As we stood on the edge of the fortress, watching the sun set on the horizon, I couldn't help but think that it was the perfect end to a perfect day, and I was so grateful to have met Al and learnt about Sarajevo from him.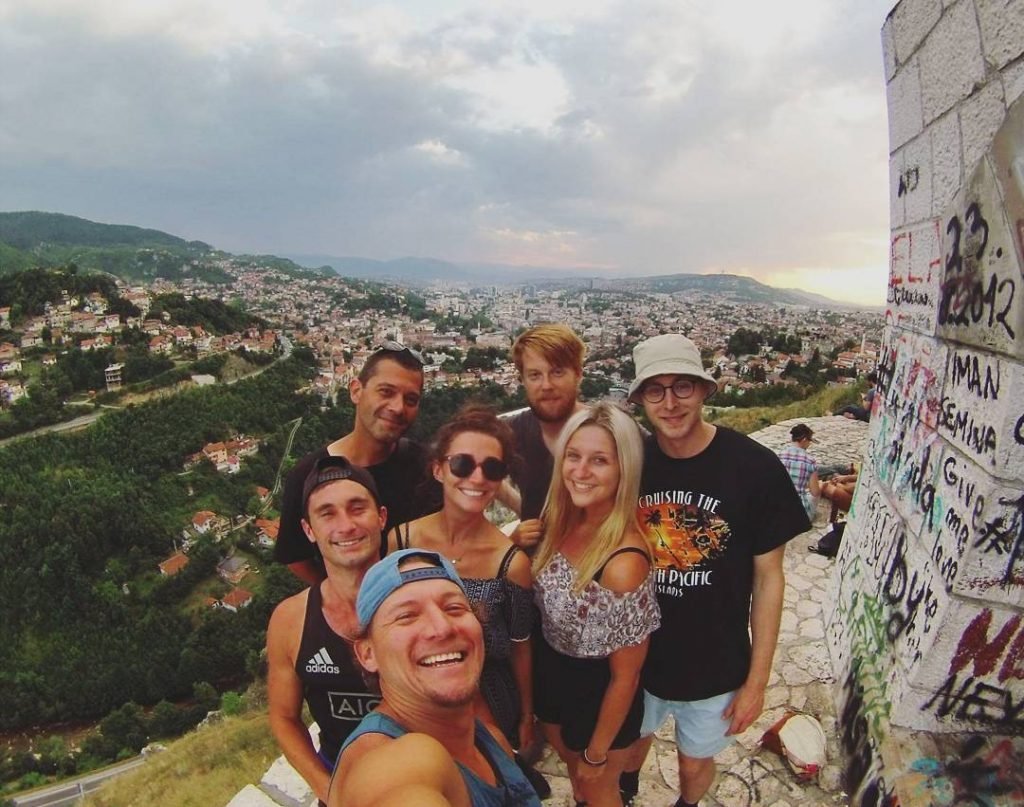 Visiting Sarajevo – Know before you go


If you're planning a trip to Bosnia, then I strongly recommend buying travel insurance. I NEVER travel without insurance, and I've seen too many others get landed with huge medical bills as a result of not having had insurance, that it's something I'll never neglect to buy. My recommendation for great travel insurance is World Nomads. You can read my review of World Nomads travel insurance here.

The currency in Bosnia is the Bosnian Mark (BIH). One Bosnian Mark is the equivalent of 0.51 Euro cents. It is a closed currency which means you cannot officially get it outside of Bosnia, but you can just use your bank card to withdraw money from an ATM. Some places in Bosnia will accept Croatian Kuna as payment, but not all. Some will accept Euro, but you will always get a terrible exchange rate so I advise against doing this.

Most establishments in Bosnia do not accept card payments so you should always carry cash with you.

The three official languages in Bosnia are Bosnian, Croatian and Serbian. They are very very similar (basically the same).

Buses and trains in Bosnia can be pretty slow but they will get you to your destination!

Bosnia is not in the EU and is not in the Schengen Area.

Sarajevo is safe to visit. Petty crime is incredibly low. That being said, there are still unexploded landmines in Bosnia, and so you shouldn't just go on hikes anywhere that looks pretty.

The best time to visit Sarajevo is from May – September, but bear in mind that it will get cold if you go up into the mountains, especially in the shoulder season.

Two museums that you absolutely must visit when you're in Sarajevo are the War Childhood Museum and the Museum of Crimes Against Humanity and Genocide.



Where to stay in Sarajevo


We stayed at Balkan Han hostel and it was great. With a welcome shot of rakija on arrival, DOUBLE BEDS IN THE DORM ROOMS, a cool garden area to hang out and meet fellow travellers in and a central location, we couldn't have asked for better.

Click here to view rates and availability at Balkan Han.

Other highly-rated hostels in Sarajevo include:

Hostel Franz Ferdinand – very popular backpackers' hostel in Sarajevo with a social atmosphere and all the amenities.

Hostel Kucha – Stunning design hostel with a happy vibe and large terrace with spectacular views.

For other accommodation styles including apartments, villas, local guest houses and hotels, use Hotellook.



Visiting Sarajevo With a Bosnian War Veteran | Final Thoughts


Visiting Sarajevo remains one of my most treasured travel experiences.

Not only is Sarajevo a beautiful city with tonnes of things to do, but experiencing it with Al was what truly made our trip special.

When we visited, Al ran his tours from Balkan Han hostel, so if you want to meet him and help support him and his family by going on one of his tours, I recommend sending Balkan Han a message on Facebook to ask if he's still running tours!

As always, please don't hesitate to ask me any questions you have in the comments below!

Until next time, XO

If you liked this article and would like to support my work, please click the button above to donate a couple of bucks and buy me a coffee. The ad revenue that I receive on this website is minimal, so support from my readers enables me to keep creating content that you (hopefully!) love to read.


Disclaimer: Travelling Jezebel uses affiliate links. If you make a purchase on a recommended site, I may make a small commission at no extra cost to you.


Disclaimer: Travelling Jezebel uses affiliate links. This means that if you make a purchase on a recommended site then I may make a small commission at no extra cost to you.