Please note: this article contains descriptions of torture, murder and rape that may be distressing to some readers. I did not take any of my own photographs whilst in the Museum of Crimes Against Humanity and Genocide and so the pictures used are from the Siege of Sarajevo itself, and all are from WikiCommons.


After my first day in Sarajevo being shown around by a Bosnian war veteran, I was desperate to spend my time visiting Sarajevo learning more about the Siege of Sarajevo.

Luckily, there are plenty of Sarajevo museums aimed at educating visitors about Sarajevo's bloody history and so after enjoying a spot of Bosnian coffee at a gorgeous cafe near my hostel (I stayed at Balkan Han Hostel and highly recommend it), my friends and I headed to the Museum of Crimes Against Humanity and Genocide 1992-1995 to continue our education.



The Museum of Crimes Against Humanity and Genocide | Sarajevo Museums



The Museum of Crimes Against Humanity and Genocide was opened in July 2016 and is the work of a group of survivors and researchers. Comprised of 12 sections, the Sarajevo museum uses a myriad of mediums to tell of the horrific genocide that occurred in Bosnia and Herzegovina between 1992 and 1995.

The first thing that confronts you as you enter the Museum of Crimes Against Humanity and Genocide is a life-size photograph of a woman's corpse. She'd been heavily pregnant when she was shot and the foetus in her stomach is almost fully developed and clearly visible in the picture. It is a shocking thing to see, but in a way, I was grateful that the museum had chosen not to ease people in gently as the rest of the exhibition was not any easier to stomach.

As mentioned earlier, the museum is divided into 12 thematic sections, including the concentration camps set up during the war, crimes against humanity (such as the torture and mass killings at Srebrenica), perpetrators, child victims and more.

Exhibits in the Museum of Crimes Against Humanity and Genocide include written testimonies, personal items of both victim and perpetrator (some of which have been exhumed from mass graves), photographs, documentary films (one about the Siege of Sarajevo, one about sexual violence and one featuring victims' and eye-witnesses' reports), a reconstructed prison cell, a replica of a mass grave, official documents, video testimonies and much more.

There are also works of art – for example, one sculpture of a man holding a loaf of bread symbolises people that were killed while waiting in line to buy bread.

Often, a photograph of a smiling face is accompanied by text detailing the subject's gruesome fate. One that I still remember is a picture of a strikingly handsome man of a similar age to myself. He's somebody that I would be friends with, perhaps even somebody that I would date. He's just a normal guy who likes to hang out with his friends, drink beer and go to parties.

Only he isn't.

He's dead.

He was blown up on a summer day, when he was hanging out with his friends at the park.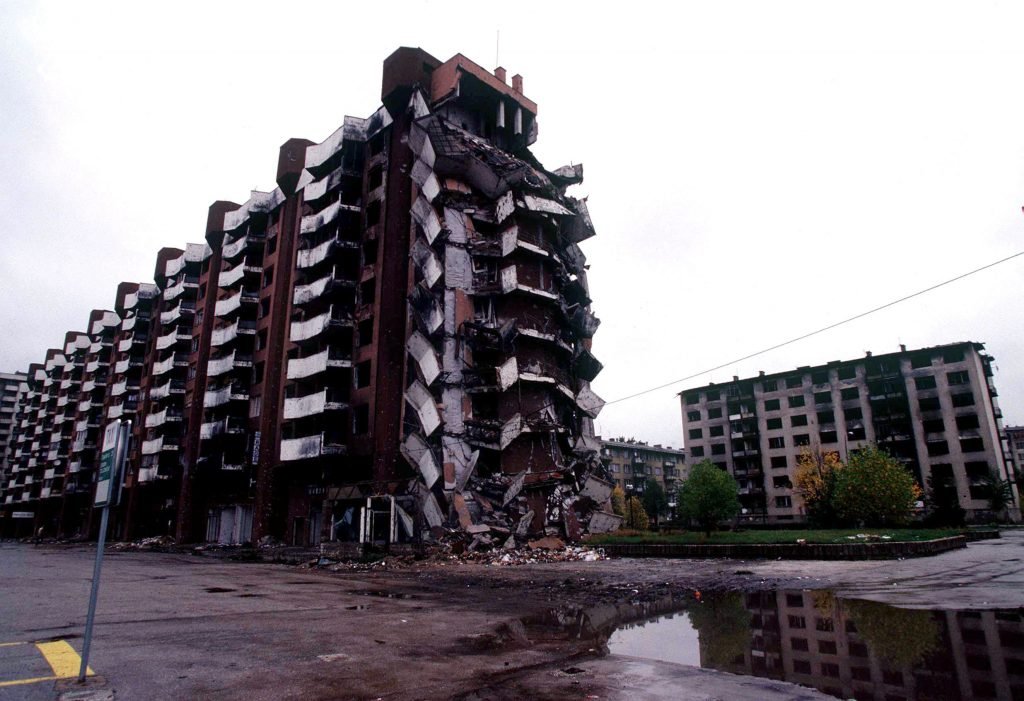 For someone like me, who was born in the year that the Bosnian War begun, the Museum of Crimes Against Humanity and Genocide is almost surreal. Seeing pictures of toddlers that were shot by snipers just a few days after I was born and thinking of my own parents lovingly cradling their newborn baby as other new mothers mourned the violent murders of their own was chilling.

The Museum of Crimes Against Humanity and Genocide doesn't just focus on the individual victims. There are photographs and detailed descriptions of what occurred in the concentration camps, as well as the infamous 'rape camps,' where Serb soldiers would rape Muslim women as a way of raising the next generation of Bosnian Serbs.

As the Serbs raped the women, they would tell them that they 'should enjoy being f****d by a Serb,' and 'now you are going to have our children.' A popular 'game' at the concentration camps was a kind of perverted 'musical chairs,' whereby prisoners would be forced to dance around a car as the soldiers beat them and played music. When the music stopped, whoever was at the front of the car would be shot and killed.

The list of atrocities goes on, and you can easily spend a whole afternoon in the Museum of Crimes Against Humanity and Genocide, learning about the horrors that were inflicted on the people of Bosnia and Herzegovina. Just watching the three documentary films in full takes 90 minutes.

What makes the Museum of Crimes Against Humanity and Genocide so powerful is the way that the it combines facts and figures with personal testimony. It can be easy to shrug off statistics. Statistics are impersonal and difficult to relate to. But when you read a statistic, followed by a shocking account of one individual's experiences, and then look back at the same statistic, the numbers suddenly seem a lot more real.

Coming out of the exhibition, my friends and I were all extremely subdued, and I felt similarly to the way I felt after visiting Auschwitz-Birkenau in Poland and The Killing Fields in Cambodia.

Despite the final part of the museum restoring some of our faith in humanity (I won't detail why here because it will ruin it for anybody planning on going), it was impossible not to think of Al, the war veteran with whom we'd spent the previous day.

Al had lived through all of the things that we had just read about. He had put his life on the line to protect the very people who were systematically raped, beaten and slaughtered, for no crime other than existing.



Just knowing that these things happened in my lifetime, with the war actually beginning in the year that I was born, made it all feel so much more real.

Unlike other historical atrocities, time provides no distance between us and what happened. These events did not take place 50 or 70 years ago. They took place less than 30. While my early memories are of dressing up in fire fighter's outfits and riding my cat around on my scooter, those of a 25 year old from Sarajevo could well be grenades falling, buildings burning and family members dying.

Some people find odd to visit sites such as the Museum of Crimes Against Humanity and Genocide and other Sarajevo museums such as the War Childhood Museum.

They find it disrespectful and think that such places should be buried along with the victims. However, I firmly believe that it is not just important to visit such sites, but that we actually owe it to these countries to educate ourselves and pay our respects.

Not everybody is as fortunate as we are. Not everybody gets to grow up in a stable country, far away from war and conflict. While humanity can be beautiful, humanity also has an ugly side, and if we are going to travel and admire all of the beauty in the world, we need to bear witness to its ugliness too.



The Museum of Crimes Against Humanity and Genocide 1992-199 can be found on Ferhadija 17, Sarajevo and is open every day from 9am until 10pm (6pm on Sundays). The Museum of Crimes Against Humanity and Genocide costs 5 Bosnian Marks (around £2.30) to enter.

If you liked this article and would like to support my work, please click the button above to donate a couple of bucks and buy me a coffee. The ad revenue that I receive on this website is minimal, so support from my readers enables me to keep creating content that you (hopefully!) love to read.

Disclaimer: Travelling Jezebel uses affiliate links. This means that if you make a purchase on a site I recommend then I may make a small commission at no extra cost to you.