When most people think of Greece, they think of Greek mythology, the Olympic games, philosophy, and, sun-soaked islands with blue and white buildings and awe-inspiring sunsets.

It's no surprise then, that tourism is one of the biggest revenue sources for Greece, with millions of people flocking to the Mediterranean nation every year.

History and sunsets aside though, a blossoming type of tourism in Greece is a special interest tourism – olive tourism.

Greece is the world's third-largest exporter of olive oil (behind Spain and Italy) with a whopping 60% of Greek land dedicated to producing olive oil.

With approximately 130 million olive trees, Greek people (10.6 million) are outnumbered thirteen to one!

On my recently trip to the Peloponnese region, I discovered the beauty of olive groves in Greece, and learnt a lot about Greece's greatest national product.

In this article, we're going to dive into the olive tourism industry in Greece, from olive grove explorations to expert tastings, olive oil cosmetics, and much more.

So, whether you're a Grecophile, a foodie, or you simply want to discover a more rural, less-touristic Greece, then keep reading, because this one's for you.



Olive Groves in Greece – The Growing Trend of Olive Tourism


What is olive tourism?


The term 'olive tourism,' is relatively new, having first been used in Spain in 2002.

The region of Andalucia is famous for its quality olive oil (when I visited Jaen, they told me it was the best in the world), and the small town of Requena in the Valencia region is considered by some to produce the healthiest olive oil on earth.

Travel experiences relating to olives and olive oil have been increasing in popularity, with olive grove tours, oil tastings, and even spas specialising in olive oil treatments popping up in various parts of the Mediterranean basin.

Olive tourism aims to teach people about the production process, history, health benefits, and characteristics of different olives and oils, and a research article in Heliyon asserted that olive tourism derives from rural, nature, and cultural tourism.

The Greek Tourism Ministry is actively encouraging olive tourism, having introduced seals to mark the quality of olive mills open to the public (as well as breweries, cheese factories, and other areas of special interest tourism).

With the growing popularity of agritourism and this recent initiative by the Tourism Ministry, we could see olive oil tourism becoming the new wine tourism in a few years!



Ways to enjoy olive tourism in Greece


Eat olives!


You can't have Greek food without olives, and Kalamata olives in particular are the undisputed king of the olive world.

Olive trees have been cultivated in the Peloponnese region for more than 3500 years, and the olives from Kalamata are plump, dark purple, and incredibly juicy, with a meaty texture.

Kalamata olives are also large – so large in fact, that they are often double the size of other olive varieties!

If you're visiting Greece, you'll often be given olives to snack on with your drink or while waiting for your main meal in a restaurant, so make the most of these delectable goodies while you can!

Pro tip: You can find vacuum-packed olives all over Greece which are permissible to take in your carry-on luggage, so don't forget to bring some home as a souvenir!



Olive oil tasting


When I was in Greece, I paid a visit to The Olive Routes in Androusa, Messenia, to enjoy a guided tour of the olive groves, press, and tasting of different olive oils.

Dimitra Mathiopoulou, co-owner of The Olive Routes and certified taster, took us on a guided tour of some of the prettiest olive groves in Greece, explaining how Greek culture and olives are so intertwined, with every Greek being adamant that their olive trees, and their olive trees alone, produce the best olive oil.

Dimitra explained that in Messenia alone, there are 15 million olive trees (remember that the entire population of Greece is less than 11 million?), and that the average Greek consumes 20L of olive oil every year, compared to the average American, who consumes just 1L – now that's a lot of olive oil!




The stroll around the olive groves was followed by a tour around the family's olive oil mill, where we learned about the production process, and a tasting workshop, where Dimitra taught us how to release the aromas of the oil before tasting, how to inhale the flavours, and how to distinguish a good quality oil from a bad quality oil.

It was very reminiscent of wine tasting, and despite being an olive oil enthusiast before the tour, I walked away knowing a lot more about this liquid gold.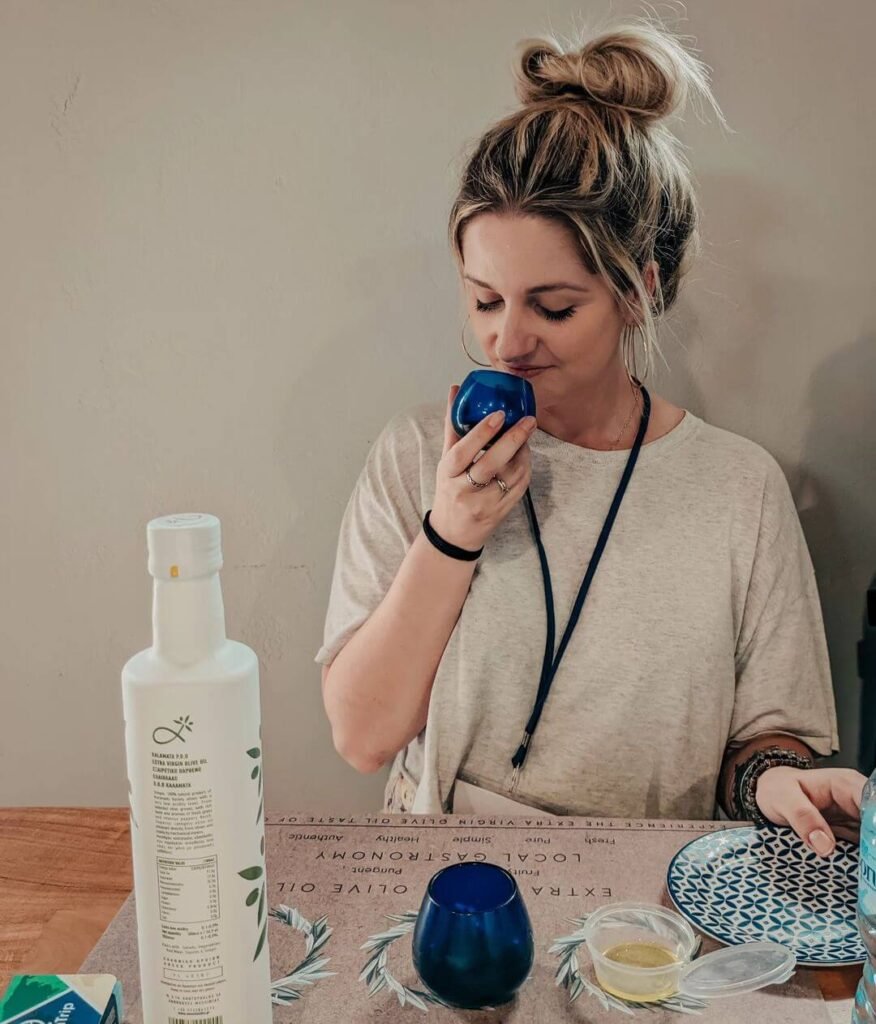 Visit an olive oil museum


The olive groves in Greece may be stunning, but did you know that there are also several museums dedicated to olives and olive oil?

The Museum of the Olive and Greek Olive Oil in Sparta documents the history of olive oil from prehistoric times, and you can even see fossilised 50,000-60,000 year-old olive leaves from Santorini that have been preserved in its collection! 

The museum's objective is to highlight the indescribable relationship between the olive and the identity of Greece, with the olive tree playing an integral role in Greek culture for over 5000 years!

The museum examines this role through a lens of the economy, nutrition, art, technology, religious worship, and more, making it a fascinating place for sociology and anthropology nerds!




Stock up on olive oil cosmetics


What better excuse to indulge in a bit of self-care than appreciation of local culture, right?

Greece is packed full of cosmetic stores selling products made with olive oil and spas offering olive oil treatments, and as the saying goes, when in Rome, right?

A rich source of provitamin A, vitamins K and E, and many other antioxidants, olive oil is known to have a positive effect on the hair and skin, and its benefits include moisturising, fighting against ageing and wrinkles, protecting against the sun's harmful rays, and combating free radical damage.

Pick up some handmade olive oil soap or a face mask from an independent boutique, or book yourself in for an olive oil massage to enjoy the real benefits of this beauty elixir.



Olive oil cooking experiences


Due to its lower smoke point, many people believe that olive oil isn't great for cooking with, but that couldn't be farther from the truth!

The Olive Groves (the company I enjoyed the oil tasting with) offer an olive oil cooking experience where you can learn about the different types of oil, how to cook with them, and which foods to pair them with – I unfortunately didn't get a chance to try this tour, but it would be my first choice if I visit Messenia again!

If you're visiting Greece and want to learn how to cook authentically Greek food, a cooking class is the way to go – and I can promise you that they will all feature olive oil heavily!



Olive picking


The best way to learn about something is by doing it yourself, and if you happen to visit Greece during olive harvest (late September – October) you can actually pick some olives yourself!

Pretty much all of the olive groves in Greece will welcome you if you are interested in helping out, either as part of a tour or on a voluntary basis, and when the Greek countryside is so beautiful, it would almost be rude not to!



Embrace the Mediterranean diet


Okay, so this one is kinda cheating, as I've spoken at length about eating olives in this post, but honestly, one of the best ways to embrace olive tourism in Greece is to simply dive in headfirst to the world-renown Mediterranean diet!

From those juicy table olives to crunchy Greek salads, salty feta drizzled in oil, and grilled vegetables glistening with the stuff, olive oil is synonymous with Greek cuisine, and the best bit is that it's really really good for you!



Olive Groves in Greece | Final Thoughts


So, that just about brings us to the end!

Olive tourism may be something you haven't heard of before, or you may have been wondering why people would actually plan their travels around the humble olive, but hopefully I've managed to show you that actually, olive tourism is just as valid as other special interest tourism types.

I've been an olive tourist in several countries now, from olive oil tasting in Greece and Spain, to visiting an olive mill in Sicily, and with each experience, I'm eager to learn more about this wonderful oil and all the ways that it can be enjoyed.

That's all for now, but as always, if you have any questions then don't hesitate to reach out and ask in the comments below!

Until next time,

XOXO


If you liked this article and would like to support my work, please click the button above to donate a couple of bucks and buy me a coffee. The ad revenue that I receive on this website is minimal, so support from my readers enables me to keep creating content that you (hopefully!) love to read.

Disclaimer: My experience with The Olive Routes was complimentary, but I was not paid to write this article and was not obliged to write anything about the company or the tours they offer. Some links on this page may be affiliate links.