Mui Ne was my second stop in Vietnam, and my god I was looking forward to it. After a hectic time in Ho Chi Minh City, I was desperate to escape the crowds and unwind in this sleepy seaside town famed for its fresh seafood and slow pace of life.

Before we begin, I should point out that confusingly, the place that everybody says is Mui Ne is not actually Mui Ne, but Ham Thien.

Mui Ne itself is a tiny fishing village within Ham Thien, but if you are talking to other backpackers about where you are going or trying to book a bus, then you will always call it Mui Ne – strange, I know.

I don't make the rules.

Ham Thien lies on the East coast of Vietnam, about a 5 hour bus journey from Ho Chi Minh. While it used to be nothing more than a string of tiny fishing villages, since tourism to Vietnam opened up in the 1990s, it has flourished as a resort town, extremely popular with wealthy Russian tourists.

In fact, most of the signage is in Russian before it is in English!

Curiously, backpacking Mui Ne seems to be slightly less common.

Although I stayed in a hostel, my friend and I were the only grungy travellers there, and there was a total lack of the backpacker bars that you see in other cities in Vietnam such as Hanoi or Dalat.

With that being said, I really enjoyed my time in this quaint little town, and so I decided to put together a list of the best things to do in Mui Ne so that you can make the most of your time there.



A Guide to Backpacking Mui Ne, Vietnam



There is one main road that runs through Ham Thien, making it super difficult to get lost, and as well as an almost endless stretch of golden sand beach, it is home to dozens of BBQ seafood restaurants (known as Bo Ke restaurants), the magical Mui Ne 'Fairy Stream,' and stunning white and red sand dunes that span as far as the eye can see.

If you're wondering how long to stay in Mui Ne, I recommend 2 or 3 nights.

I stayed for 3 nights, giving myself 2 full days to see the main Mui Ne attractions without feeling too rushed.

Here are the best things to do in Mui Ne, Vietnam.



The 8 Best Things to Do in Mui Ne


1. Mui Ne Fairy Stream


The Mui Ne Fairy Stream is just a short drive and is one of the most popular things to do in Mui Ne.

This bizarre geological formation is a water fissure from Rom Island with water flowing through from Ham Thien's Dinh Mountain, creating a gentle stream.

It resembles a mini Grand Canyon, and the stream itself is only ankle deep, meaning that you can take your shoes off and walk right through.

The red sand riverbed is actually very pleasant underfoot, and the water is lovely and cool.

My favourite things about Mui Ne Fairy Stream were the sand dunes and pitted rock formations on either side, both of which are easy to climb up and make interesting detours (and also great viewpoints!).

There's also a waterfall at the end of the 45 minute walk which is very pretty.

If you get peckish, there is a restaurant near the waterfall which has some of those feet-eating fish (this was my first experience with the buggers), and there are also cafes and food stalls scattered around at the beginning of the walk.

The Mui Ne Fairy Stream is free to enter!



2. Mui Ne Fishing Village


Taking a trip to Mui Ne Fishing Village is a nice little excursion that you can make if you want to see local fishermen going about their work, as well as lots of colourful little fishing boats bobbing around in the ocean.

I visited Mui Ne Fishing Village as part of a full day tour, but to be honest our guide really didn't tell us that much about it so you'd probably be better off going alone.

This will allow you to meander around slowly (if you don't mind the smell that is!) and take your pick of all the food stalls and open-air restaurants that are right there on the sand.



3. Red Sand Dunes in Mui Ne


The Red Dunes in Mui Ne are one of the most famous Mui Ne attractions and it isn't hard to see why.

Red sand and gorgeous sunsets make this a beautiful spot to photograph, and you will find people of all ages enjoying a spot of sand-sledding here – I didn't try and I really wish I had done!

I'd never been to any sand dunes before and so going here truly blew me away (almost literally!) – I felt as though I could have been in the Sahara desert, never mind Vietnam!

The Red Dunes of Mui Ne are 17km from Mui Ne Beach and I visited as part of a guided tour but many people rent bikes and visit that way.



4. Eat BBQ Seafood!


When I travel, finding good food and experiencing local cuisine is one of my top priorities, and when we drove past an endless line of beachfront BBQ restaurants on my first day, I knew I had to return and find out whether the famous Mui Ne seafood restaurants live up to the hype!

Getting dropped off by our taxi driver, we walked to the first restaurant that we came across after the charismatic hostess convinced us that this was the place to be.

Inside, it was a no-frills affair, with metal tables and bright lighting, but we weren't there for the décor – we were there to EAT.

Like most of the BBQ 'Bo Ke' restaurants in Mui Ne, this one had a live menu, where you go right ahead and choose your food from the tanks – you can't get fresher than that!

Spoilt for choice, we opted for fresh oysters to start, followed by garlic shrimp, deep fried frog and piping hot chicken spring rolls.

Along with pints of ice cold beer, the total bill came to just over 14 USD for the two of us!

Seriously, don't miss a trip to the Bo Ke seafood restaurants in Mui Ne, especially if you're an adventurous eater – restaurants in Mui Ne often feature crocodile, turtle and snake on the menu!



5. White Sand Dunes in Mui Ne


The White Dunes of Mui Ne are even more popular than the Red Dunes as they are so vast!

With undisturbed white sand stretching as far as the eye can see, many people choose to hire quad bikes and let loose, which I can't blame them for!

Some blogs that I've read say that the bike tracks spoil the otherwise pristine sand, but I really didn't mind them – there were only a few people doing this when I was there and the dunes are so vast that it really didn't matter!

The White Dunes are located 25km away from Mui Ne, and I also saw these as part of a guided tour which I booked from one of the many tourist shops on the main street.



6. Dragon Beach Bar


In terms of Mui Ne nightlife, one of the best bars in Mui Ne is Dragon Beach Lounge Bar & Club.

Favoured by locals and tourists alike, Dragon Beach Bar is a huge beach club with an actual club area that hosts different DJs every night of the week, and a more relaxed area with lounge chairs where you can enjoy a cocktail and a chat.

There are also weekly Ladies Nights, where every girl gets a free cocktail bucket – we stumbled upon this on our first night in Mui Ne, much to my delight!



7. Mui Ne Beach


I didn't actually spend any time at Mui Ne Beach when I was there (I was too busy lounging by my hostel's pool when I had spare time!), but I couldn't write a list of all the best things to do in Mui Ne without talking about Mui Ne Beach!

There are actually 15km of sandy beaches in Mui Ne, so you'll be guaranteed to find the perfect spot if you walk far enough!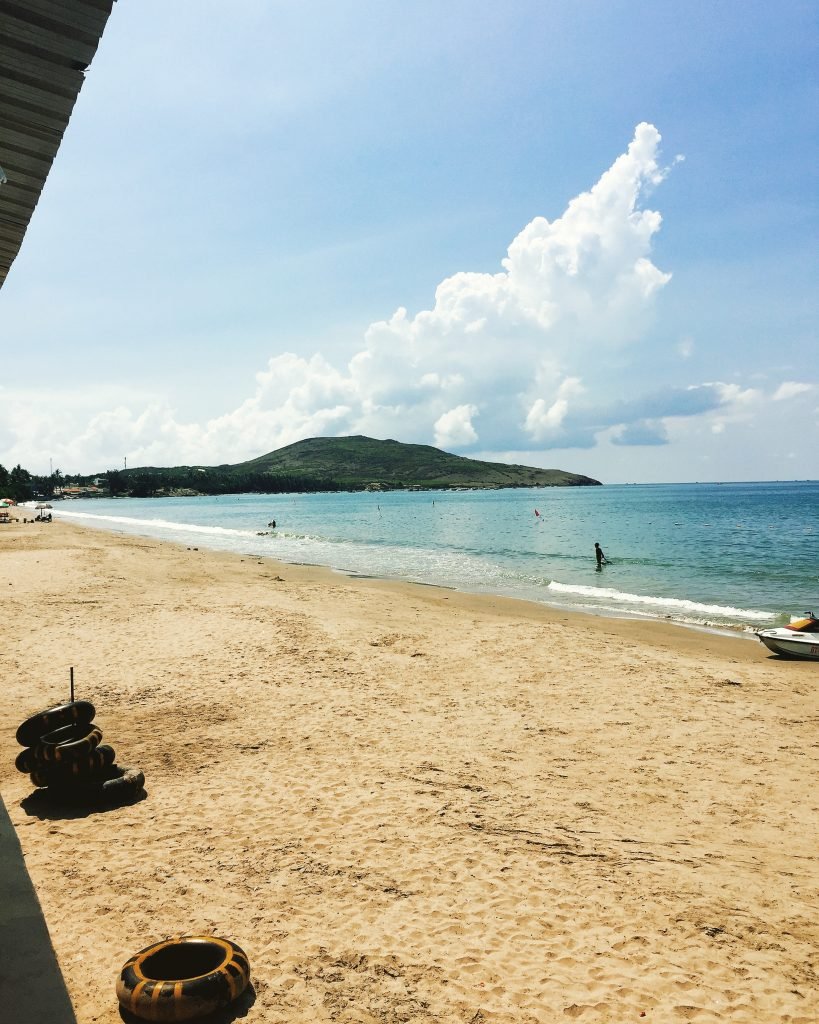 8. Take an Easy Rider tour


One of the best ways to explore Vietnam is by taking an Easy Rider motorbike tour with a local guide.

Although these tours are most popular in Dalat, which is where they originated, you can actually take multi-day trips around the country, such as this 2-day tour from Mui Ne to Dalat, which gets super off the beaten track and includes visits to remote villages, coffee plantations, silk factories and more.

If you're travelling up the country and want to get way more out of your trip than you would if you just travelled via bus, I highly recommend going with Easy Rider.



Hotels in Mui Ne


On my Mui Ne trip, stayed at Mui Ne Hills Budget Hotel (which is actually a hotel and hostel combined), and I highly recommend it.

When I stayed, dorm rooms were around 3 EUR and private rooms were 7 EUR.

Our dorm room was nice, with private lockers and a nice spacious bathroom, but what really made our stay special was the hostel's luxury sister hotel – guests are the hostel are allowed to use the hotel pool and restaurant, as well as enjoying the all-day happy hour.

The on-site restaurant is lovely, and we both spent our final day in Mui Ne enjoying Mai Tais by the pool, soaking up the sun and feeling like real flashpackers – who said backpacking Mui Ne has to mean slumming it?

If you don't fancy a hostel/hotel hybrid, here are some other options for hotels in Mui Ne, ranging from budget to luxury.



Budget Hotels in Mui Ne


Nostress Guest House features air-conditioned rooms (a HUGE plus in Vietnam) with cable flat-screen TVs in the Central Mui Ne Beach district of Mui Ne. The rooms are actually cute little bungalows with their own balconies, and the most expensive one was 10 EUR at the time of writing.

Cat Tien Guesthouse is just 50m from Mui Ne Fairy Stream and a two minute walk from the nearest beach, making it pretty much perfect in terms of location (much more central than where I stayed!). Providing free WiFi access and free use of the shared kitchen, it also features rooms with street, garden or sea views. A double room was 11 EUR at the time of writing.



Mid-range Hotels in Mui Ne


With elegant modern décor, a swimming pool and poolside restaurant, you can't really go wrong with Gia An Hung Guest House. For as little as 15 EUR a night you can live a luxe life and still be just one minute away from Mui Ne beach.

La Marina Boutique Hotel & Spa has a beachy aesthetic (think macramé hammocks, sea shells everywhere and an abundance of plants and flowers), large swimming pool and an excellent onsite restaurant (not to mention massages, hello!). You're getting a lot of bang for your buck for just 20 EUR a room here.



Luxury Hotels in Mui Ne


With chic rooms with bamboo and wooden furnishings, a spa, restaurant, fitness centre and two pools with beautiful jungle feel, Bamboo Village Beach Resort & Spa is a really good choice if you want all of the Western comforts while still feeling like you're in Vietnam. The rooms and bathrooms are super modern, while the exterior surrounded by bamboo and greenery.

With modern interiors, air-conditioned rooms with dark wood furnishings and flat-screen cable TVs with spacious private balconies, Muine Bay Resort is where you go to relax and recharge. Guests can get an active workout at the tennis court or take a dip in the spa pool. When you get peckish, enjoy a range of Asian dishes at the casual open-air Hall Restaurant or head to the beach bar for barbecue gatherings.

If it's luxury you're after, the Anantara Mui Ne Resort is the place to go. This 5 star luxury resort has it all. Perfectly blending Vietnamese culture with modern and contemporary design, rooms include pillow menus, rain-fall showers, extra large stone baths, in-room safes and minibars. Facilities include a spa with numerous treatments, a gym that overlooks a tranquil garden view and a restaurant that serves authentic cuisine with breathtaking sea views. A special menu can be prepared upon request.

Backpacking Mui Ne – Final Thoughts


I really enjoyed Mui Ne. The abundance of delicious seafood restaurants, the long stretch of beach and the various beach bars and clubs make Mui Ne the perfect place for a couples' holiday, but I still enjoyed it as a backpacker.

If you want to see the 'real Vietnam' then perhaps Mui Ne is not the ideal choice for you – Mui Ne is a resort town, full of Russian tourists, hotels and souvenir shops, making it difficult to get a slice of true Vietnamese culture.

However, if you want to see some amazing natural phenomenon, lay by the beach with a cocktail in hand and sample some of the best seafood you'll ever get the chance to, Mui Ne should be top of your list.

Have you ever been to Mui Ne? What did you think? Please let me know your thoughts in the comments below!

xoxo

If you liked this article and would like to support my work, please click the button above to donate a couple of bucks and buy me a coffee. The ad revenue that I receive on this website is minimal, so support from my readers enables me to keep creating content that you (hopefully!) love to read.

Disclaimer: Travelling Jezebel uses affiliate links. If you make a purchase on a recommended site, I may make a small commission at no extra cost to you.