The moment I arrived at my aunt and uncle's house in the tiny town of Barga, Italy, and they told me that there was a local Tuscan winery offering tastings, I knew I had to go.

I mean, wine tasting in Tuscany – that's the dream right?

Of course, the opportunity to go wine tasting in Tuscany is something that I could not pass up, and so I insisted that we paid a visit to La Cantina del Vino, Barga, to see what this Tuscan winery had to offer.

Since that first visit, I've returned to La Cantina del Vino twice more, and so I decided to pen an updated (2023) review of my experiences.

So, if you're wondering where to go wine tasting in Tuscany, just keep reading, because this might just be the place you've been looking for.



La Cantina del Vino Barga Review


La Cantina del Vino at a glance


La Cantina del Vino Barga is nestled in the lush greenery of Garfagnana and Mediavalle del Serchio, surrounded by mountains and woodlands. 

Despite its tranquil location, La Cantina del Vino is just a 5 minute stroll from the centre of Barga, making it the perfect place for an afternoon wine tasting under the Tuscan sun (intentional reference!).

As you take a seat on the terrace, and take in the sprawling fields and formidable mountains in the distance, you will feel like you are a million miles away from anywhere, which is exactly the point.

In fact, the location of La Cantina del Vino is so lovely that you can even bring your camper van and set up home for a night or two, should you so please – it's also a popular wedding spot!



La Cantina del Vino shop


Camping and weddings aside, La Cantina del Vino Barga is all about the wine, and the wines in their shop are largely from small independent vineyards nearby.

Many locals and restaurant owners come here to buy their wines and stock up on the other local produce on offer, such as EVOO and honey.

As well as the fine wines, La Cantina del Vino also allows locals to bring their own 5L plastic bottles and fill them with table wine directly from the huge metal vats for just a couple of euros (my aunt has been doing this for years!).



Wine tasting at La Cantina del Vino Barga


Your hosts at La Cantina del Vino are Francesca, Pietro, Vanda, and Eduardo.

Francesca and Pietro are both qualified sommeliers, and Eduardo has been in the Tuscan wine business for almost 20 years.

For a very affordable 18 EUR, a wine tasting at La Cantina del Vino includes generous pours of several wine varieties, as well as local snacks to line your stomach!



You'll begin with a lovely Prosecco, made from the traditional glera grape (we were 3 people, and Vanda left the bottle on the table for us to finish).

Accompanying the Prosecco, graze on plates of fresh tomato bruschetta, drizzled with oil and sprinkled with basil leaves, olives, and bread topped with capers and various spreads.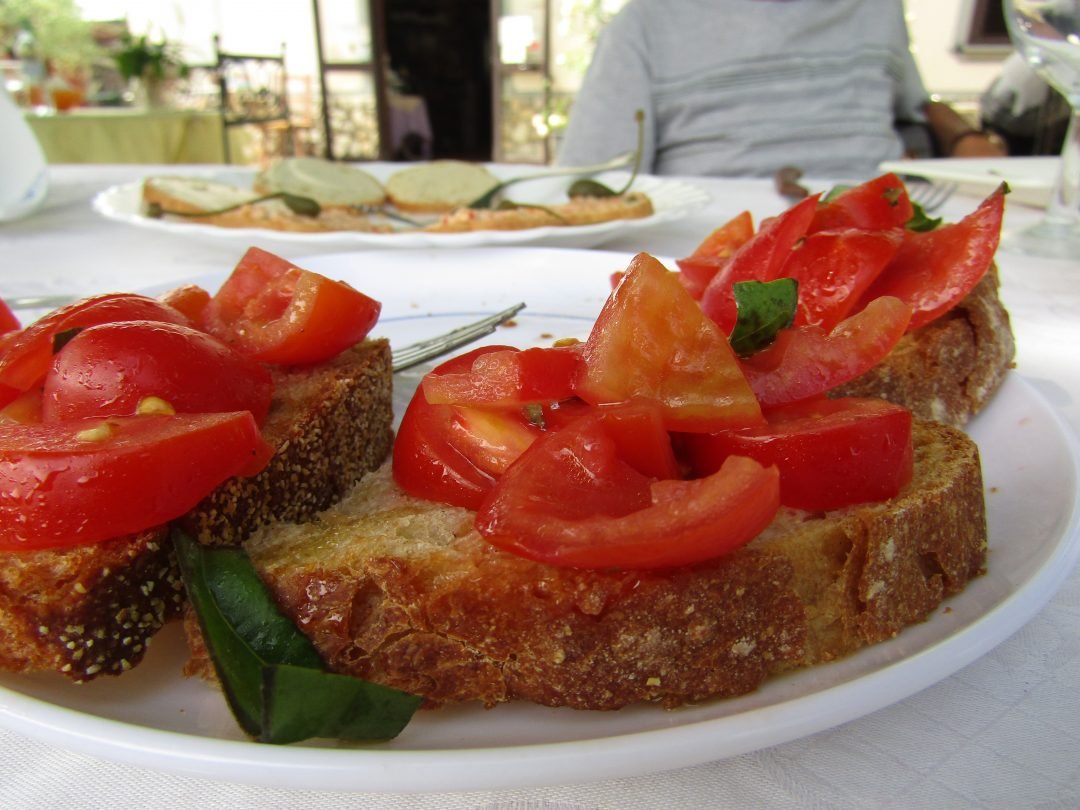 Next, you'll typically try a red, white, and rose, but you can also tell your hosts what colour wine you prefer and they will tailor the tasting to your preferences. The most recent time I visited, for example, one of my aunts said that she'd prefer white wine, while the other asked for red, and so we got to pick and choose exactly what we wanted.

On my first visit, however, we did things by the book, and began with an oak-aged Montepulciano Toscano made from Sangiovese (80%) and Canaiolo (20%) grapes.

Next was a white wine from nearby Lucca named Vermentino Toscano.

This wine was made from Vermentino (70%), Malvasia (10%) and Trebbiano (20%) grapes and was very fruity and floral – perfect for a Tuscan summer's day!



As we drank, we continued to nibble on local cheese and honey, cold cuts of meat, and bread topped with a delicious tomato, basil, garlic, and bay leaf spread.

It might not sound like much, but all of that bread is definitely filling, so I would recommend not eating before you come here.



Our next tasting on our foray into Tuscan wine was a rose named Fattoria Sardi, made from pressed white berries that had been picked by hand and kept in a barrel for 4 months, which left a lingering taste under the tongue, almost like a lemon zest.

With all the wines, the bottles were either left on the table for us to finish, or we were free to ask for more at no extra charge (within reason, of course!).

The final wine that we tried was a dessert wine, a fruity Moscato in which we dipped sweet biscotti.



La Cantina del Vino Barga | Overall Thoughts


Wine tasting at La Cantina del Vino Barga is not like the kind of structured wine tasting you might have experienced at larger wine cellars, such as the world-famous Cricova (Moldova) or Chozas Carrascal (Spain).

A visit to La Cantina del Vino is less like a formal tasting and more akin to casual drinks in a friends' (very beautiful) garden, reminiscent of Mesquida Mora (Mallorca), and Kantina Alpeta (Albania).

Here, you will experience great wine, slow living, and real Tuscan hospitality, so much so that you might not want to drag yourself away at the end of your visit!




Not only that, but I am a firm believer in supporting small business as often as I can when I travel, and with only a handful of staff and small premises, visiting La Cantina del Vino is an intimate experience that directly helps local people stay in business.

La Cantina del Vino Barga is 35km from Lucca, 55km from Pisa, 65km from Viareggio, and 90km from Florence. I suggest spending a couple of nights in Barga, where you will not be short of interesting things to do and family-owned trattorias to visit.

If you'd like to know more about La Cantina del Vino then please visit their website here. They state on their website that tastings must be in groups of 10 or more, but most people come in twos and threes, so I'm not entirely sure why their website says otherwise.

To book your Tuscan wine tasting experience, call +390583724202.

It's also worth mentioning that I was not a guest of La Cantina del Vino, and have paid for all 3 of my visits. Neither is this a sponsored post.

That's about it for today, but as always, reach out to me in the comments section below if you have any questions, and I shall do my best to answer them!

Until next time,

XOXO
If you liked this article and would like to support my work, please click the button above to donate a couple of bucks and buy me a coffee. The ad revenue that I receive on this website is minimal, so support from my readers enables me to keep creating content that you (hopefully!) love to read.

Disclaimer: Travelling Jezebel uses affiliate links. If you make a purchase on a recommended site, I may make a small commission at no extra cost to you.