The ancient town of Erice is one of the most popular places to visit in Sicily, and it isn't hard to understand why.

Widely heralded as one of the most beautiful villages in Italy, Erice is a fortified medieval village that towers over Sicily at 751m above sea level, sitting atop Monte San Giuliano. It is often enveloped in a thick fog known as Venus' Embrace (yes, the poetic beauty of Erice is undeniable).

Accessed by a cable car from Trapani that reveals lush views reminiscent of Tuscany, Erice is inhabited by talented artisans, majestic architecture and a fascinating history.

It is also home to a building widely recognised as the centre of development for nuclear science, and plays host to a tonne of scientific conferences every year, including an annual congress dedicated to astronomy!

I think it's pretty clear that Erice is definitely worth visiting, but what are some of the best things to do in Erice, and what else can you expect when you visit?

Here is my guide to Erice, Sicily, a fairy-tale hilltop village.



Erice, Sicily – A Guide to the Enchanting Medieval Town of Erice


A brief history of Erice, Sicily


Erice (pronounced EH-ree-chay) has a long and fascinating history dating back to ancient times.

Erice was more than likely founded by the Elymians, tribal people from the Bronze age who were also responsible for building the town and temple of Segesta.

Erice was passed down to the Phoenicians, Spartans, Romans, Arabs and Normans, and all have left their mark on this tiny town.

When you take in the swirling mists and stunning vistas, it isn't difficult to see why Erice has been a sacred site for thousands of years.

A temple dedicated to Venus, the goddess of love, sex, and fertility, has outlasted the various civilisations here, although the female divinity to which it was dedicated has changed over time (Astarte for the Phoenicians, Aphrodite for the Greeks and finally Venus for the Romans).

Today, it has all but disappeared, but you can still visit the Castello di Venere (Castle of Venus) which sits on the site of the former temple, where fertility rites would probably have taken place hundreds and thousands of years ago.



Things to do in Erice


Castello de Venere


One of the most spectacular things to see in Erice is the 12th century Castello de Venere, or Castle of Venus.

The castle you see today was built by the Normans, but before the castle was the Temple of Venus Erycina, Goddess of Fertility.

Venus has been worshipped here since 1300 BC by the various peoples who settled in Erice, and although it is possible to go inside the castle itself (4 EUR) the best way to experience Castello de Venere is to admire its majesty from the outside, from the viewpoint in the Giardino del Balio.

If you're a sucker for legends like I am, you may find it interesting to know that Venus herself apparently used to bathe in milk in the well that it inside the castle.



Toretta Pepoli


From the same vantage point that you are enjoying the views over Castello de Venere, cast your eyes down and you will see Toretta Pepoli, a small building that looks like a chess piece.

Toretta Pepoli was built on a rock in 1881 by Count Agostino Pepoli, and it was originally designed to be a meeting place for men of art, music and culture.

The Toretta Pepoli was restored in 2014 and while you can go inside, the reviews aren't great, and our guide told us that it is best observed from the exterior.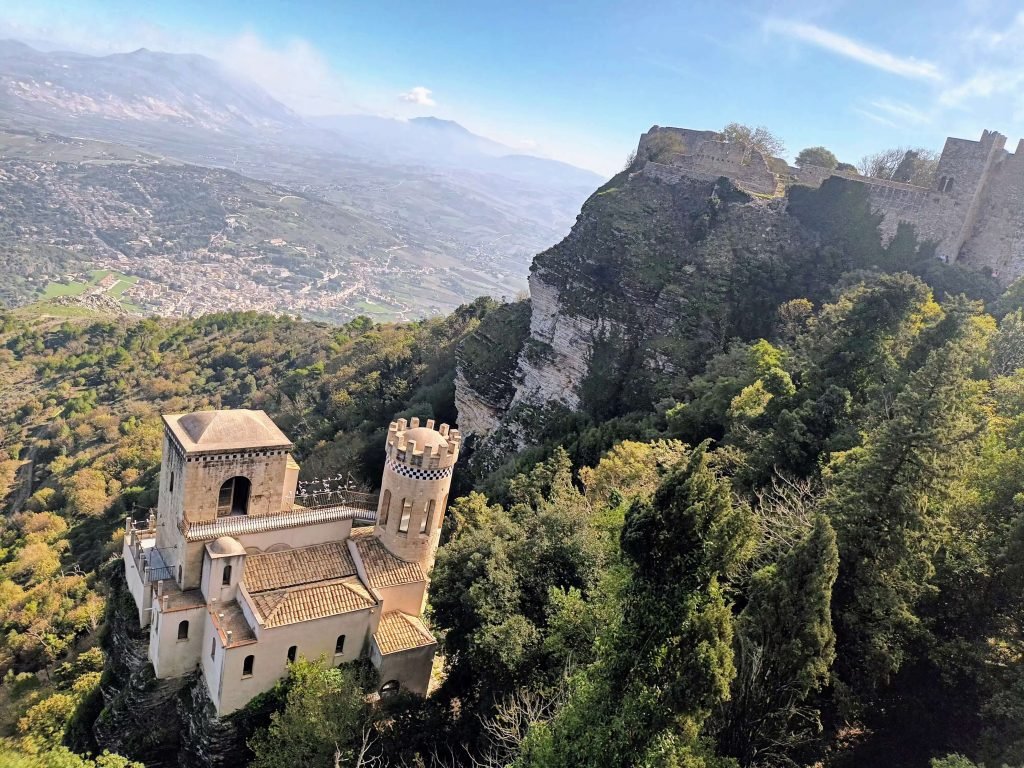 Take the cable car up Mount Erice


One of the best ways to actually get to Erice itself is by taking the cable car up Mount Erice.

The journey itself only takes around 10 minutes, but the views over lower Erice, San Vito Lo Capo, and the port of Trapani are not to be missed.



Enjoy the view


It is not always possible to enjoy the panoramic views from the top of Mount Erice due to the mist that so frequently envelopes the town, but if you are lucky enough to visit on a clear day, make sure to stop before you enter the walled old town and spend a few moments admiring the views, which can sometimes stretch as far as the Egadi Islands!

If you're like most people and don't get to experience Erice without the fog, be thankful that Venus is blessing you with her kiss 😉



Explore the old town of Erice


I say this about pretty much everywhere I write about but that's because it's true!

Erice is a stunning medieval town with a labyrinth of cobbled streets, fairy-tale churches, noble palaces, and panoramic views for days – why wouldn't you want to take a stroll here?

You should enter the old town of Erice via Porta Trapani (one of 3 medieval gates) and explore on foot, wandering down alleyways, admiring the architecture and stopping for an espresso or gelato when you need a break.

Erice is triangular in shape, and the main streets to enjoy a wander down are Via Gian Filippo Guarnotti and Via Vittorio Emanuele, as well as the main square, Piazza della Loggia (also called Piazza Umberto I?!).

Something that makes Erice extra special are the details that you really have to look for. Intricate door knockers, wall carvings and painted ceramic tiles are what give Erice so much charm, not to mention the two handsome cats that lounge outside the butcher's shop, Giovanni and Francesco!

You should also visit the other two city gates, Porta Carmine and Porta Spada, the latter of which takes its name from the bloody massacre carried out by the Angevins ('spada' means 'sword').



Go church-hopping!


It might be tiny, but Erice is home to a whopping 60 churches – considering the hilltop town only has 200 permanent residents, that's a lot!

The Chiesa Matrice, or 'Mother Church,' is in the shape of a Latin cross and was first constructed in the 14th century using materials stolen from the ancient Temple of Venus.

On the exterior right wall, you can actually find 9 crosses which were also taken from the temple, and the interior of the church has a Neo-Gothic style with Baroque elements.

Adjacent to the church is an attractive bell tower, Torre di Re Federico Secondo, and if you're willing to climb the many stairs to the top, the view is said to be well worth it.

Other churches of note in Erice are the Church of San Martino, Church of San Giuliano, and the Church of San Pietro.



Enjoy La Dolce Vita…literally


One of the things that Erice is most famous for it its sweet treats, known as dolci ericini.

Pasticceria Maria Grammatico is one of the most famous pastry shops in town thanks to the Bitter Almonds book, and you should definitely try and sneak in when there isn't a queue to enjoy one of her famous almond biscuits or pastries.

Pasticceria Maria Grammatico is located on Via Vittorio Emanuele.

If you're craving something a little more savoury, head to Caffe Pasticceria Michele for a 'unique' arancine experience!



Giardino del Balio


Giardino del Balio is an elegant English landscape garden where you can find a bench and relax!

Decorated with stone busts and fountains, the Giardino is a lovely place to enjoy some shade for a moment, and it is also home to a small café and some public toilets, although I will warn you that most public toilets in Sicily are not for the fainthearted!



Go wine tasting!


I've written about Sicilian wine before, and it's no secret that I'm a fan, especially of the white Grillo variety that is so popular in Western Sicily.

One of the things that I enjoyed most in Erice, Sicily then, was my wine tasting experience in Strada del Vino Erice DOC, which is located just outside the old city walls.

The vineyards surrounding Erice have a special climate, with a high altitude, lots of ventilation, sunshine and a close proximity to the sea, which come together to create an organoleptic experience.

Hosted by the ever so distinguished Salvino (the PRESIDENT OF WINE), we enjoyed 5 different Erice DOC wines from the 5 wine cellars authorised to bottle Erice DOC.

The wines were paired with delicious Sicilian foods, all of which came from the wine route of Erice.

Among them were various cured meats, cheeses, olive oil, and sweet casatelli, and they were the perfect accompaniments to the wine!

If you'd like to do the same experience that I did, a tasting of 5 wines with aperitivo costs just 15 EUR!



Go shopping


I mentioned in the intro that Erice is home to an abundance of talented artisans, who produce handmade rugs, painted terracotta tiles, and of course, the tasty confectionary that Erice is so well-known for.

In fact, selling their crafts is the way that the majority of Erice locals earn their living, so it would be rude not to buy a souvenir or two 😉

I fell in love with the intricate embroidered earrings and brightly coloured rugs, but unfortunately as I was travelling with only hand luggage, I was unable to indulge, but when I return to Erice, shopping is top of my list.

Ledacrea is a gorgeous art and pottery workshop where Leda, the owner, inherited her father's passion for art and ceramics, and you should definitely check it out.



Getting to Erice


How do you get to Erice?

Well, that all depends on how you intend to get there.

Most people visit Erice from Trapani, and the best way to get to Erice from Trapani is by cable car.

You will begin on the outskirts of Trapani at SP31 per Erice Via Capua. To reach this, you can either walk, drive, or take bus line 203 from the town centre. The cable car journey ends just outside the Porta Trapani gateway, perfectly positioning you to begin your day.

Cable car tickets cost 5.50 EUR one-way, or 9 EUR return.

You can find the Erice cable car timetable here.

Alternatively, you can hike or cycle up (there are 3 popular hiking trails up Mount Erice from Trapani), hire a rental car and drive, or take the 45 minute public bus (but know that Sicilian public transport is not the best).

If you are visiting Erice from Palermo, the trip is about 117km by car.



Erice Sicily FAQ


Erice, Sicily | Final Thoughts


Erice and its Eastern counterpart of Taormina, are probably the two most visited places in Sicily.

Usually, I don't enjoy visiting very touristy places, but it's also true that sometimes, things really are popular for a reason, and Erice truly deserves its popularity.

While I don't recommend visiting Erice in the height of high season, visiting Erice in the shoulder months of June/September/October is simply magical.

My trip to Erice was in late October, and the streets were completely devoid of tourists, allowing me to fully appreciate the beauty and authenticity of the town.

That's about it for now, but as always, if you have any questions, let me know in the comments section below and I will get back to you!

Until next time,

XOXO



If you liked this article and would like to support my work, please click the button above to donate a couple of bucks and buy me a coffee. The ad revenue that I receive on this website is minimal, so support from my readers enables me to keep creating content that you (hopefully!) love to read.


Disclaimer: Travelling Jezebel uses affiliate links. If you make a purchase on a recommended site, I may make a small commission at no extra cost to you.