There are so many great options for eating out in Barga, Italy.

The restaurants in Barga are authentic, affordable, and because Barga isn't a town that gets the same amount of tourism as other Italian destinations, you won't find any 'tourist trap' restaurants with overpriced mediocre food.

Barga restaurants serve everything from freshly-baked pizza to delicious seafood, rich pasta dishes, and hearty mountain food like polenta and bean soups.

You can't really go wrong in Barga, but I've put together a list of my personal favourite restaurants in Barga (updated after my most recent visit, in June 2023).



My Favourite Restaurants in Barga, Italy


Best Restaurants in Barga


L'Osteria


You know that if a restaurant is always busy then it must be good, and L'Osteria is ALWAYS jam packed, no matter what time.

I've visited L'Osteria a number of times, enjoying spinach and ricotta ravioli, lamb cutlets, and spinach tagliatelle with wild garlic, and it's been great every time.

Not only is the food good, but the charming host and owner Riccardo delivers proper Italian hospitality in droves.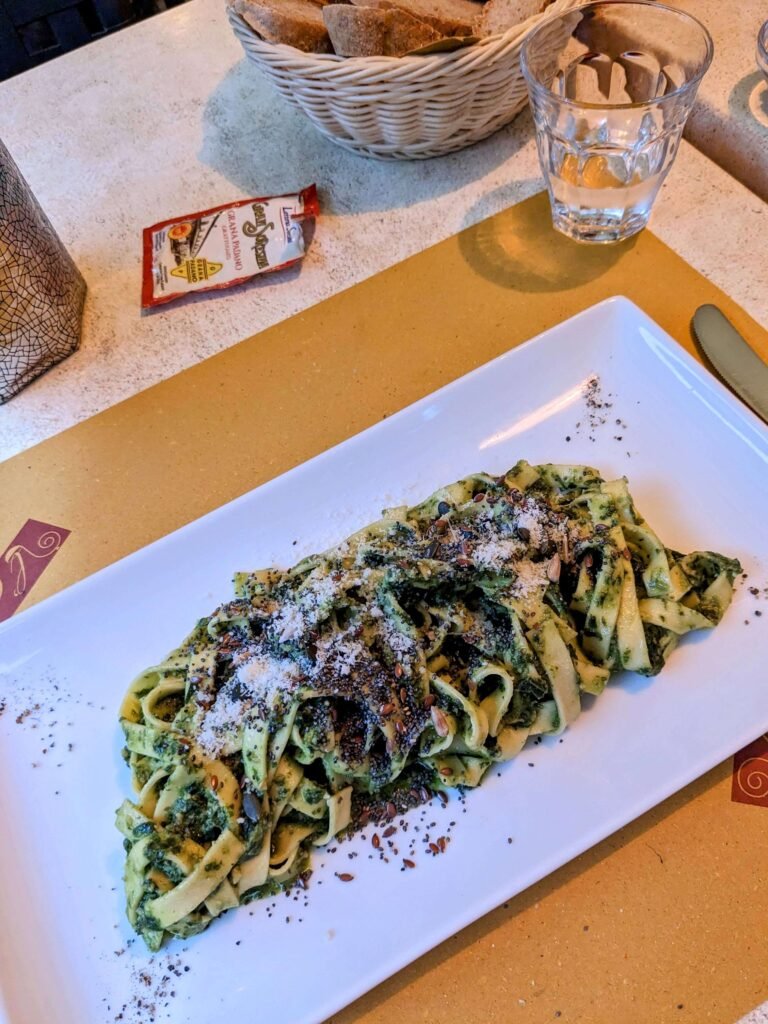 Bar Roma


According to my auntie, who has lived in Barga for a number of years, Bar Roma, also known as Bar Sport, has the best pizza in all of Barga, and having been there more than once, I find it hard to believe that she isn't correct!

Cooked fresh to order and with any topping imaginable (I recommend prosciutto and marscarpone), these pizzas are comfort food at its finest. Be sure to order a cold beer to wash down your food – it's a rule in Italy!




Albergo Alpino


Another local favourite when it comes to pizza in Barga is Alpino, a meeting point in the centre of Barga New Town where the community comes together.

As well as humongous pizzas cooked to order, Alpino's is also a popular breakfast spot, with a large range of fresh pastries and great coffee.



Ristorante L'Altana


Another local favourite, L'Altana also has delicious pastas along with a fine selection of meat dishes.

I've been to L'Altana a couple of times, and can recommend the speck and gorgonzola pasta, as well as the creamy burrata with anchovies.



Giro di Boa


Of all the great restaurants in Barga, my all-time favourite is a fish restaurant named Giro di Boa.

Giro di Boa's menu is absolutely to die for, and the prices are insane (in a good way) considering the quality of the food.

My favourite things to order here are the Spaghetti alla Scoglio (12 EUR), and the massive seafood mixed grill with salad and roast potatoes (18 EUR).

Giro di Boa also serve complimentary fried anchovies, and their Prosecco is ice cold and just 3 EUR a (large) glass!

If you only get the chance to go to one Barga restaurant, make it this one.



Da Aristo


Da Aristo's is the hub of Barga, and locals and expats alike always choose Da Aristo as their first port of call for eating, drinking, and socialising.

Located in Piazza Salvi, one of Barga's more picturesque squares, Da Aristo is a great place for people watching, enjoying a carafe (or several) or local wine, and hunkering down on some tasty local grub with only the highest-quality ingredients.

The food menu includes cold meat and cheese plates, polenta with cheese or sausage, and a variety of homemade flans – the best is the cheese and aubergine.

There's also live music and singalongs here every Sunday, so if that floats your boat, then get yourself up to Da Aristo.



La Cantina del Vino


La Cantina del Vino is a winery located just 5 minutes' walk away from the centre of Barga, surrounded by fields and mountains.

While not a restaurant per se, you can enjoy wine tastings here that come with plenty of antipasti, including bruschetta, local cheese and honey, cold meats, and more.

An afternoon spent wine tasting at La Cantina del Vino is one of my favourite things to do in Barga, and you can read my full review here.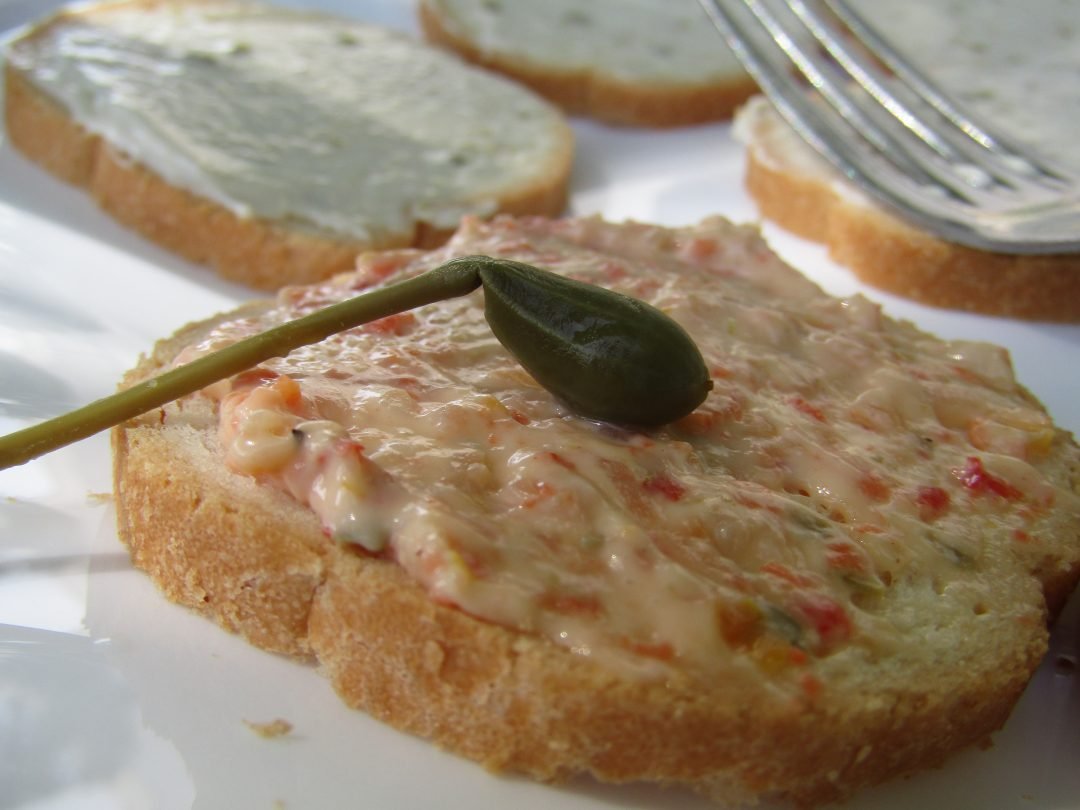 La Loggia del Capretz Bistrot


Capretz has recently changed hands, and while I can't comment on the food there since the switch (a mix of tapas and Latin American dishes), what I can tell you is that the restaurant itself is stunning, with a balcony that delivers some of the best sunset views over Barga.



Baretto


Barretto is a small grocery store, bar, and deli with some outdoor seating and a modest selection of local produce on offer.

Simply ask for what you want in your salad or sandwich, and the lady will prepare it for you.

I got a salad with red onion, tuna, cannellini beans, and olive oil, and it was only around 4 EUR.



Breakfast in Barga


Breakfast in Italy is a sweet and simple affair.

Italians usually just order a sweet pastry or cornetto and enjoy it with a cappuccino (or their coffee of choice).

You will not find trendy brunch cafes or fried breakfasts in Barga, but you will find a handful of nice coffee bars where you can get coffee and cake for less than 3 EUR.



Bar Nardini


Somewhere my family go almost every day for breakfast is Bar Nardini.

Known to locals as Andrea's place (if you're asking for directions then this is what you should say), Bar Nardini is next to the CONAD grocery store, and is owned by the same family as Alpino's.

My aunt swears that Bar Nardini has the best cappuccino in Barga, and the pastries (both sweet and savoury), are great as well.

What's more, the service here is second to none. After I'd been going to Bar Nardini for a few days, Andrea noticed that I was disappointed that there were never any ricotta pastries left, and so he ordered an extra one especially for me and set it to one side until I arrived the next morning!



Pasticceria Fratelli Lucchesi


A favourite among locals and expats alike, Pasticceria Fratelli Lucchesi is a vibrant pasticceria with a HUGE selection of cakes and pastries, coffees, and aperitivo drinks and snacks later in the afternoon.

Lucchesi gets especially busy on a Saturday morning, when the Barga market comes to town.



Drinking in Barga


Paulo Gas


Paulo Gas is a Scottish pub favoured by youngsters and oldies alike.

Paulo Gas stays open late, has a nice outdoor seating area, and is always busy. It's a great place to meet new people, and most of the crowd here have known each other for years.



Wine Not?


Wine Not? is a new-ish bar in a photogenic piazza of Barga Old Town with a chic, rustic interior, a wine list that pulls no punches, and a food menu of Italian favourites.

I'm including Wine Not? in the 'drinking' section because it is, after all, a wine bar, but make no mistakes about it – this is also one of the finest restaurants in Barga.



Restaurants in Barga Italy | Final Thoughts


So, that just about brings us to the end of my recommendations for restaurants in Barga, Italy.

I haven't included every single Barga restaurant on this list – I haven't been to all of Barga's restaurants, and I wanted to stick to recommending places that I have personal experience with – but you can rest assured that the ones I have included are all places that my family and I have been frequenting for years.

If you're in Barga right now and are curious about what else this charming town has to offer, you may enjoy my huge guide to the best things to do in Barga.

That's all I've got for now, but as always, if you have any questions then don't hesitate to reach out and ask in the comments section below!

Until next time,

XOXO


If you liked this article and would like to support my work, please click the button above to donate a couple of bucks and buy me a coffee. The ad revenue that I receive on this website is minimal, so support from my readers enables me to keep creating content that you (hopefully!) love to read.

Disclaimer: Travelling Jezebel contains affiliate links. If you make a purchase on a recommended site, I may make a small commission at no extra cost to you.