The picturesque town of Cabo de Palos, Murcia, has had my heart for years, since I was still in primary school.

When I was about 11, my aunt and uncle bought a holiday apartment there, and every single summer up until my early twenties, I spent in Cabo de Palos, either with family, friends, or boyfriends.

On graduating university, I made long term travel my life, and although Cabo de Palos always had my heart, I focused on exploring all of the far flung places that I'd spent my teenage years dreaming about.

By the time I made it back to Western Europe, it was 2020 and well, we all know how that turned out.

It wasn't until just last week, in May 2022, that I made it back to my teenage summer home, where I enjoyed an indulgent week with my family soaking up the sun, discovering the new restaurants that have popped up in my absence, and reacquainting myself with my first great travel love.

While Cabo de Palos is incredibly popular with Spaniards, many of whom have holiday homes here, it remains relatively undiscovered by foreigners and if there is a truly comprehensive guide to Cabo de Palos out there, I haven't found it.

With this in mind, I decided to put together this ultimate guide to Cabo de Palos, which will outline just why it is so special, the best things to do in Cabo de Palos, the best Cabo de Palos restaurants, great accommodation options and more.

As always, this will be a long one, so make yourself a drink, get yourself comfortable, and let's get into it.



The Ultimate Guide to Cabo de Palos, Murcia


Cabo de Palos in a Nutshell


Cabo de Palos is located 30km from Cartagena in La Manga del Mar Menor, right at the end of the famous 'La Manga Strip.'

It is part of the the Costa Cálida, on the south-eastern tip of the region of Murcia,

Due to many Spaniards buying summer homes here, Cabo de Palos has transformed from a sleepy fishing village into a buzzing vacation town, although despite my first trip to Cabo de Palos being almost twenty years ago, not much has changed, and Cabo de Palos has managed to retain its old charm.

Beach bars have been and gone, restaurants have changed hands and modern villas have popped up along the palm tree lined streets, but on the whole, Cabo remains more or less the same as it was when I first discovered it.

Unlike other resort towns, the beaches remain rugged and wild, the tourists are mostly domestic, and you will struggle to find a single souvenir shop.

What you will find, however, are dozens of hidden coves, an abundance of delicious seafood, some of the best diving in Europe, and so much more.

If you are looking for an off the beaten path holiday in Spain that is not overrun with rowdy hen parties, screaming toddlers and pot-bellied Brexiteers, Cabo de Palos may just be the place for you.



Things to do in Cabo de Palos


Cabo de Palos beaches


Cabo de Palos is a peninsula, meaning that it is surrounded by water on all sides.

From long stretches of white sand to rocky coves, hidden caves and concrete steps that lead right into shallow rockpools, there is something for everyone when it comes to the beaches in Cabo de Palos.

The best thing about Cabo de Palos beaches (aside from the winter sun, clear waters and golden sands) is the fact that they are all pretty much untouched by modern development.

Almost none of them have beach bars, showers or toilet facilities, and while that may sound like a nightmare for some, I promise you that turning a corner and stumbling across a beach that looks as though it hasn't been discovered by a soul is a special feeling indeed.

Here's a guide to the best beaches of Cabo de Palos.



Best Cabo de Palos Beaches


Cala Reona – Cala Reona is my favourite beach in the whole town and the one that I spend 90% of my time on when I'm in Cabo de Palos.

It is a small (but not tiny) cove with golden sand and gorgeous scenery.

It borders the Calblanque natural park and one of the hiking trails begins/ends at Cala Reona.

At present, there is a small chiringuito serving drinks and expensive seafood.

Toilets are available for bar customers.

There is ample parking space at this Cabo de Palos beach.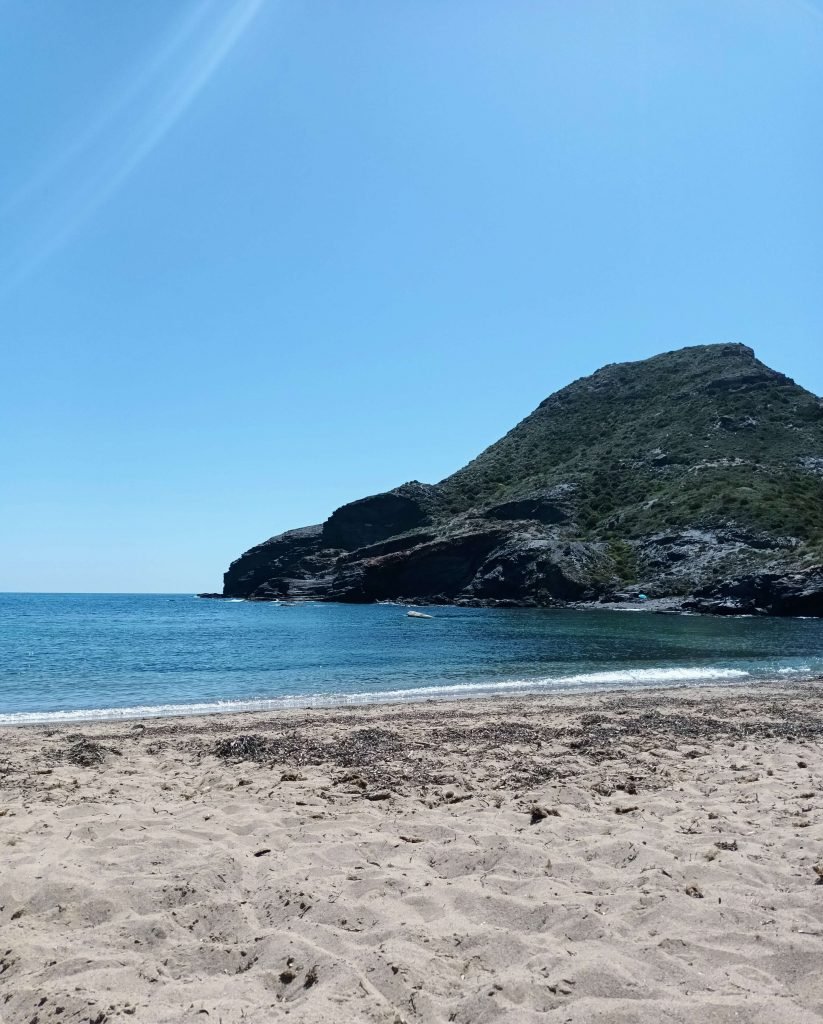 Cala de la Barra – From the Cala Flores area is a short coastal walk into the centre of Cabo de Palos, which passes through an area of shallow rockpools.

While there is no 'beach' area to sunbathe, the calm and clear waters make this a great spot for snorkelling, admiring the traditional fisherman's houses and hiding from the crowds.

There are no facilities here but you are only a few minutes away from the cafes and shops of the harbour.




Cala de las Melvas – Cala de las Melvas is series of rocky and pebbly coves which are a little difficult to scamble down to, but which offer rich rewards to those brave enough.

Steep stone steps lead down to the small pebbly beaches, two of the main ones being Cala Mayor and Cala Botella.

There are no facilities here.




Playa Cala Fria – On one side of the famous Cabo de Palos lighthouse is another beach with fine pebbles. This beach is fairly popular, and is slightly bigger than the coves of Cala de las Melvas but smaller than Cala Reona.

There is a concrete staircase with a banister leading down to this beach, and a chiringuito serving refreshments a 2-minute walk away.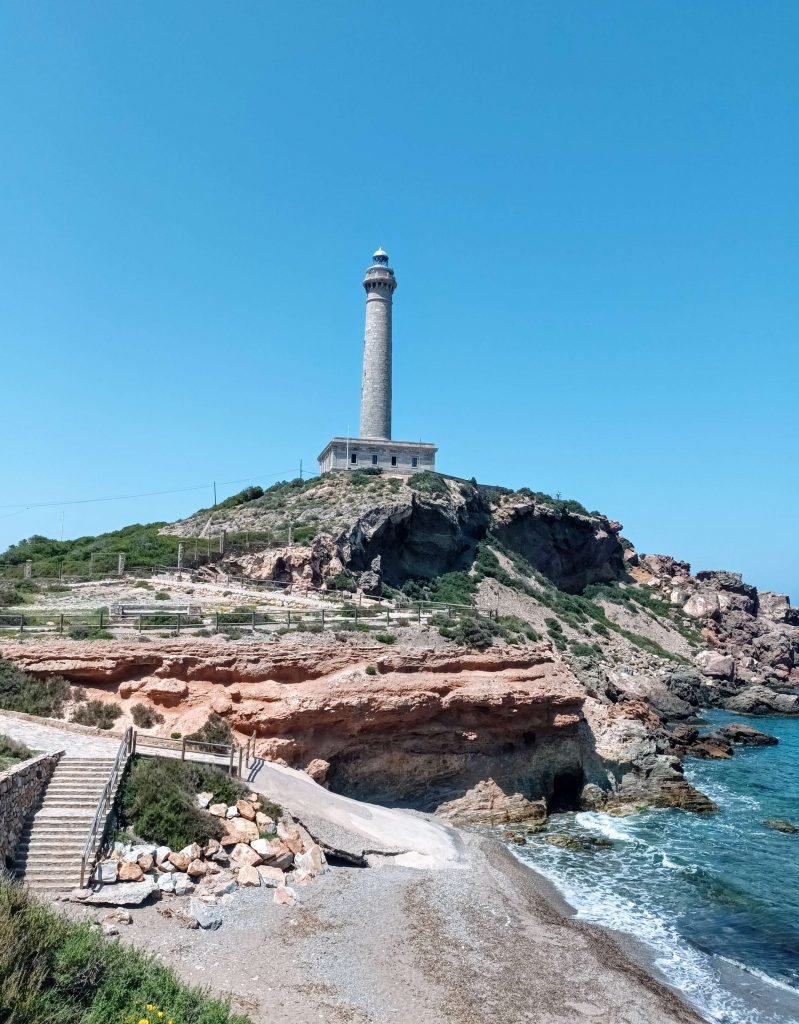 Cala Tunez – On the other side of the lighthouse is a tiny but popular sandy cove that is easily accessible for strollers and wheelchairs with a slope leading down to the bay. There is a small carpark area just by the beach (which can get full very quickly). It is great for snorkelling.

Playa Levante – The largest and most pristine beach in Cabo de Palos, Playa Levante is a 1km stretch of soft white sand, turquoise waters and gorgeous views of both the lighthouse and La Manga Strip. This is the most well-equipped beach in Cabo de Palos, with wooden walkways for access, public toilets, bins, foot showers and a chiringuito where you can rent a sunbed, enjoy lunch, or buy a cold drink.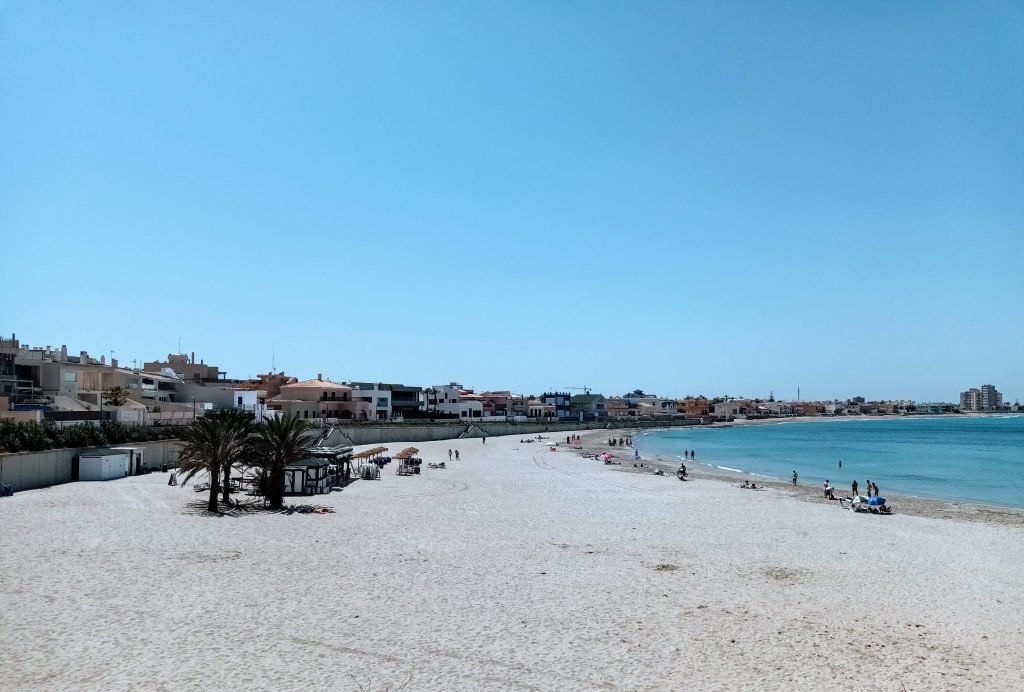 Enjoy the harbour


In the heart of Cabo de Palos lies the harbour, home to around 100 small boats, diving schools, quirky café-bars and seafood restaurants.

Stroll around and admire the boats, enjoy a coffee and watch the world go by and indulge in some of the freshest seafood around (stick around for my Cabo de Palos restaurant recommendations!).


Calblanque Regional Park


The 1882 hectares of Calblanque have been a protected nature reserve since 1987 and are home to fossil dunes, salt flats, salt marshes, cliffs, wild natural beaches and more.

The Calblanque Regional Park is the perfect place for hiking, cycling and discovering off-the-beaten-track corners.

It's rugged, it's wild, and it's barren in places, making you feel as though you're a universe away from civilisation.

Keep your eyes peels for flamingos, sea herons and other unusual birds while you're exploring!



Cabo de Palos diving


It may come as a surprise, but Cabo de Palos is one of the best places to scuba dive in Europe!

The Hormiga Islands (Islas Hormigas) are just 2.5 miles away from the coast of Cabo de Palos, and the sea bed has been designated an Integral Marine Reserve due to its exceptional beauty and state of conservation.

Stunning coral reefs, large fish including tuna and barracuda, shipwrecks and sunken boats are just some of the treasures to be found in the calm waters of Cabo de Palos.

There are many good quality diving schools around the harbour of Cabo de Palos for all levels, so whether you're a keen diver or fancy learning something new, be sure to check them out.



Mud bathing


The Mar Menor is the largest salt water lagoon in Europe, and Cartagena Romans swore by the therapeutic properties of the clay deposits found there.

Mud from the Mar Menor contains the positive ions magnesium, potassium and fluoride and negative ions chlorine and sulphate.

Covering yourself in this mud and allowing it to dry in the sun is said to have a whole lot of benefits, from relieving pain to healing illnesses, as well as cosmetic benefits.

In nearby spas, people pay hundreds of euros for mud treatments, but you can indulge yourself for free at the Mar Menor.

The most popular spot to go for a mud bath is Las Charcas in nearby San Pedro del Pinatar, where special 'mud bathing stations' provide steps leading right into the water.

Combine your mud bath with a stroll along the promenade and a Menu del Dia from one of the beachfront restaurants.



Eat arroz caldero


Having lived in Valencia for the last 18 months, I've had my fair share of Valencian rice dishes, but arroz caldero is a Murcian dish typical of the Mar Menor.

It takes its name from the cauldron-style pot that it is prepared and served in, and dates back to the 19th century when fishermen would prepare it on the beach using the small fish that weren't good enough to sell.

Almost every restaurant in Cabo de Palos and the surrounding areas will serve arroz caldero, but just what is it?

Well, as the name would suggest, arroz caldero is rice and fish dish in a broth of fish stock, tomatoes and peppers and seasoned with garlic, salt, pepper, saffron and parsley. It is usually served with a thick hunk of bread and alioli.



Go shopping


Every Sunday morning outside Las Dunas shopping centre* is a local market with around 200 stalls selling food, clothes and accessories.

The Cabo de Palos market is a Cabo institution, and unlike other markets I've been to in Spain, you can still find great bargains here.

Costume jewellery, woven handbags, second-hand and new clothes abound here, and you can also buy fresh fruit and vegetables, olives, herbs and spices, and rotisserie chickens.

Cabo de Palos market begins early in the morning and goes on until about 2pm, although some stores will pack up before then.

If you haven't had your fill of shopping yet, be sure to head to Ropa Karnataka, a small boutique in the centre that sells boho clothes, hippy home decor, and pretty jewellery. When I visited Cabo de Palos in July 2023, I noticed a couple of other boutiques like this one had popped up in the centre as well.

*Summer 2023 update: for the time being, the location of the market is between the Cala Reona motorway exit and the Eurospar.



El Faro


The lighthouse, or El Faro, is the most famous landmark in Cabo de Palos and it stands on top of an old 16th century watchtower that was built to defend the coast from pirates. The lighthouse itself turned on its lights for the first time in 1865.

From here, you can enjoy sweeping panoramic views of the surroundings, or you can book a guided tour for 6 EUR.

More information is available on the website.



Party at Bondi Beach


Bondi Beach is an Australian bar decked out with sharks, alligators, Aussie flags and, weirdly, a huge Elvis Presley model (?!).

At the weekends, it gets packed and depending on when you go, you might find a salsa night, live band, sports matches being screened or even a flamenco performance!

Don't let the name fool you – Bondi Beach is super popular with the Spanish crowd, and you won't find many English speakers there at all.



Day trip to Cartagena


Just a short drive or bus ride away is Cartagena, a port town with a tonne of ancient history that is especially popular with wealthy yachties.

Cartagena makes a lovely day trip from Cabo de Palos.

Wander down Calle Mayor and do a bit of shopping, admire the giant Roman amphitheatre, climb up to the castle to enjoy the views from above and wander along the promenade to see how the other half live in their yachts.

Make sure to head to Restaurante Varadero for a fresh seafood lunch.



La Manga


The so-called 'La Manga Strip' is a 21km stretch of land running from Cabo de Palos to Punto de Mojon that creates a division between the Mediterranean sea and the Mar Menor lagoon.

Often called the 'paradise between two seas,' its width is an average of 300m, and just 100m at its narrowest point.

Along both sides are glorious sandy beaches, and the entire strip is dotted with luxury hotels, shops, bars, restaurants and golf resorts.

The La Manga Strip is a lot more 'resorty' and sees a lot more British tourists than Cabo de Palos, but it's worth checking out if you like that kind of thing.

A bus runs from Cabo de Palos to La Manga regularly.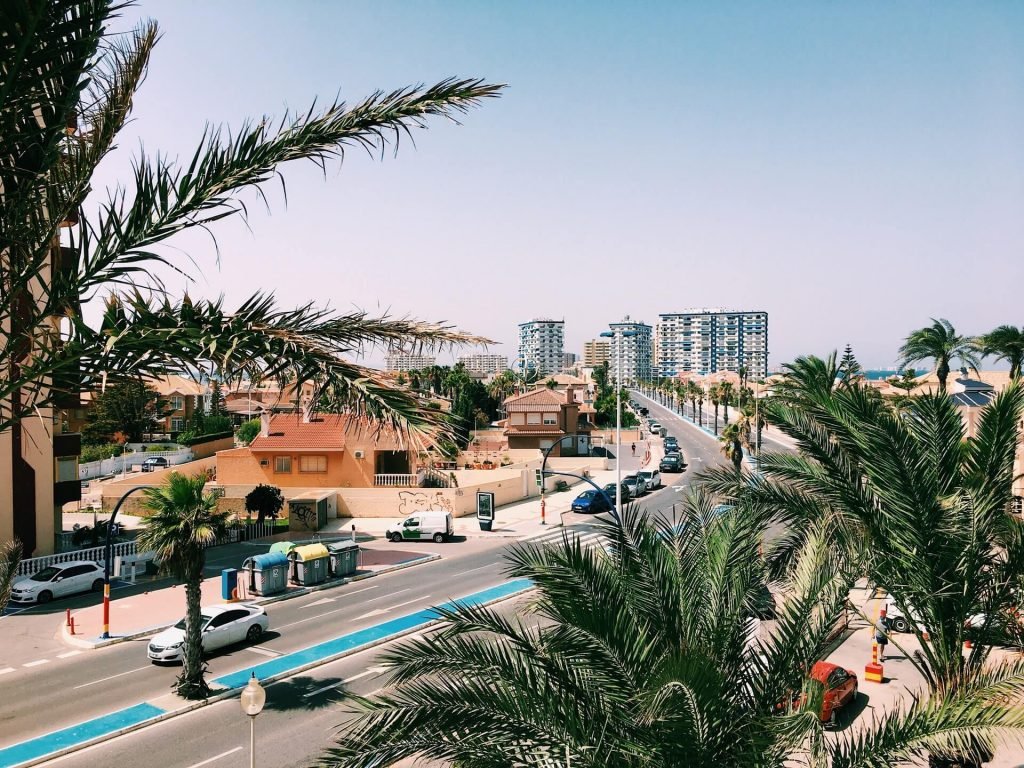 Cabo de Palos Restaurants


If there's a bad restaurant in Cabo de Palos, I've never heard of it.

Cabo de Palos restaurants are fantastic, and I've been going to some of them since I was 12 years old!

Unsurprisingly, there's a lot of tapas on offer, as well as fried and grilled seafood.

In more recent years, a couple of restaurants have popped up that serve a Spanish/Asian fusion style menu, with Thai, Chinese and Japanese influences all coming into play.

Here are my favourite restaurants in Cabo de Palos.



Best Cabo de Palos Restaurants


Yemanja – For breakfast, coffee or tapas, head to Yemanja, owned by the lovely Magdalena and decked out with fairy lights, dreamcatchers, lanterns and other trinkets. Located right on the harbour, it's the perfect place to sip a café con leche and watch the world go by, and there's also a nice food menu. I particularly recommend the Argentinian-style Provolone cheese and seafood linguine.

Bocana de Palos – With stunning sea views and a delicious Asian fusion menu, Bocana is a fantastic choice. Wok-fried noodles, red shrimp and pistachio trottole pasta and battered artichokes are just some of the dishes on offer here. Booking on weekends is essential.



Restaurante La Tana – With its lime green table cloths, prime position on the promenade and extensive seafood menu, La Tana is a Cabo institution. Fresh oysters, grilled fish and crusty bread with lashings of alioli are what La Tana is all about.

Agua Sala – Agua Sala is a relatively new tapas restaurant that also has an Asian influence on its food. We ordered dim sum with duck and foie gras, tempura vegetables, red prawn croquettes, toast with burrata cheese and smoked salmon, and a salad with goat's cheese, bacon and mango dressing. Everything was delicious, especially the red prawn croquettes, which were the best prawn croquettes I've ever had!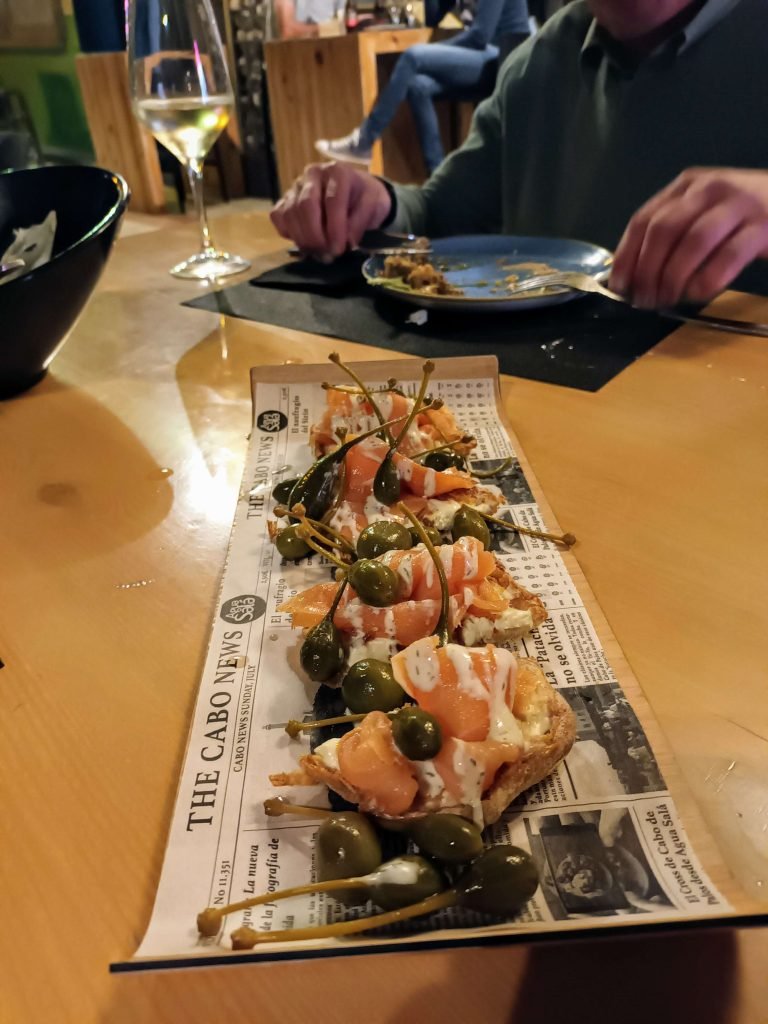 Restaurante Chino Festivo – Located at the beginning of the La Manga Strip, Restaurante Chino Festivo is a cheap and cheerful Chinese restaurant with really tasty dishes. I've eaten here countless times and never been disappointed. The best way to do it is to order a tonne of food for the table and share everything. A little further up is Restaurante Chino Gran Muralla, which is also fantastic.

El Rancho de Cabo de Palos – El Rancho is an Argentinian steak house with a huge variety of different steaks and other meat. T-Bone, tomahawk and rib-eye are just some of the sizzling steaks on offer here, so if you're a meat lover, El Rancho is a must.

Gran Torino – Gran Torino is an Italian restaurant with a Spanish twist. Tagliatelle with smoked salmon, leek and tomato, baked Provolone cheese with fresh tomato and tortellini with truffle cream and porcini mushrooms are all excellent choices.



La Taberna del Puerto de Cabo de Palos – Similar to La Tana, this is a gorgeous seafood restaurant right on the waterfront that serves grilled fish, huge portions of fried seafood, and some of the best red prawns I've ever had.

Restaurante El Faro – El Faro is a Cabo de Palos institution, and by far one of the most beloved Cabo de Palos restaurants. I've tried the steamed mussels, stuffed artichokes, and lobster rice, all of which I recommend.

El Espigon – This Menu del Dia restaurant offers a daily menu with a fixed price, or you can opt for the 'unlimited' menus that feature endless amounts of food and an unlimited supply of drink. Open only during the daytime, this is a great spot to go for lunch.

La Bodega Restaurante – Another Cabo de Palos restaurant offering a set lunch menu, La Bodega is a local's favourite and a great spot to go to after the Cabo de Palos market. I recommend the spicy spaghetti and the grilled baby squid with garlic.



How to get to Cabo de Palos


The nearest airport to Cape Palos is Corvera (RMU) Airport which is 43.3 km away.

Other nearby airports include Alicante (ALC) (73.4 km).

Taxis are very expensive and public transport is basically non-existent so your best bet is to either hire a car or try and find a BlaBlaCar.

When I visited Cabo de Palos recently, I took a bus into the city of Murcia, and from there I got a BlaBlaCar to Cabo de Palos for around 7 EUR.



Know before you go

Cabo de Palos gets very hot, and even when it feels cooler, the sun is still very strong. Make sure to always wear SPF.
Cabo de Palos is a very safe place, but do beware of pickpockets at the Sunday market.
Cabo de Palos is a little more expensive than other parts of Spain but definitely not extortionate. A glass of wine will usually cost around 3 EUR, and you can get a two course meal and drinks for around 25 EUR per person.
Some years there are lots of jellyfish in the smaller bays. Ask around to find out the situation, or just keep your eyes peeled! I have visited Cabo de Palos countless times and there was only a jellyfish plague once (and I never got stung, even then).
Many shops and restaurants close in the afternoon and only reopen in the evening. If you want to go out for dinner at 6pm, you're unlikely to find anywhere open.
Cabo de Palos is a very walkable town, and hiring a car is not necessary if you don't plan on leaving the town.
Although most visitors to Cabo de Palos are Spanish, more and more restaurants are providing English menus, and most serving staff will speak a little English.

Best Time to Visit Cabo de Palos


With its warm climate, Cabo de Palos is pleasant to visit all year round.

Historically, I've always visited Cabo de Palos in the height of summer, when the Spanish flock to their second homes by the sea.

For some people, this would be too busy and too hot, but if you want to see Cabo de Palos buzzing, then summer is definitely the time to go.

If you want great weather with less crowds then the months of May, June, September and October are great choices.

While Cabo de Palos used to be a ghost town in the cooler months, the pandemic has seen more and more Spaniards choosing to spend their weekends here, meaning that even in the winter months, you will usually find a few people around when the weekend comes.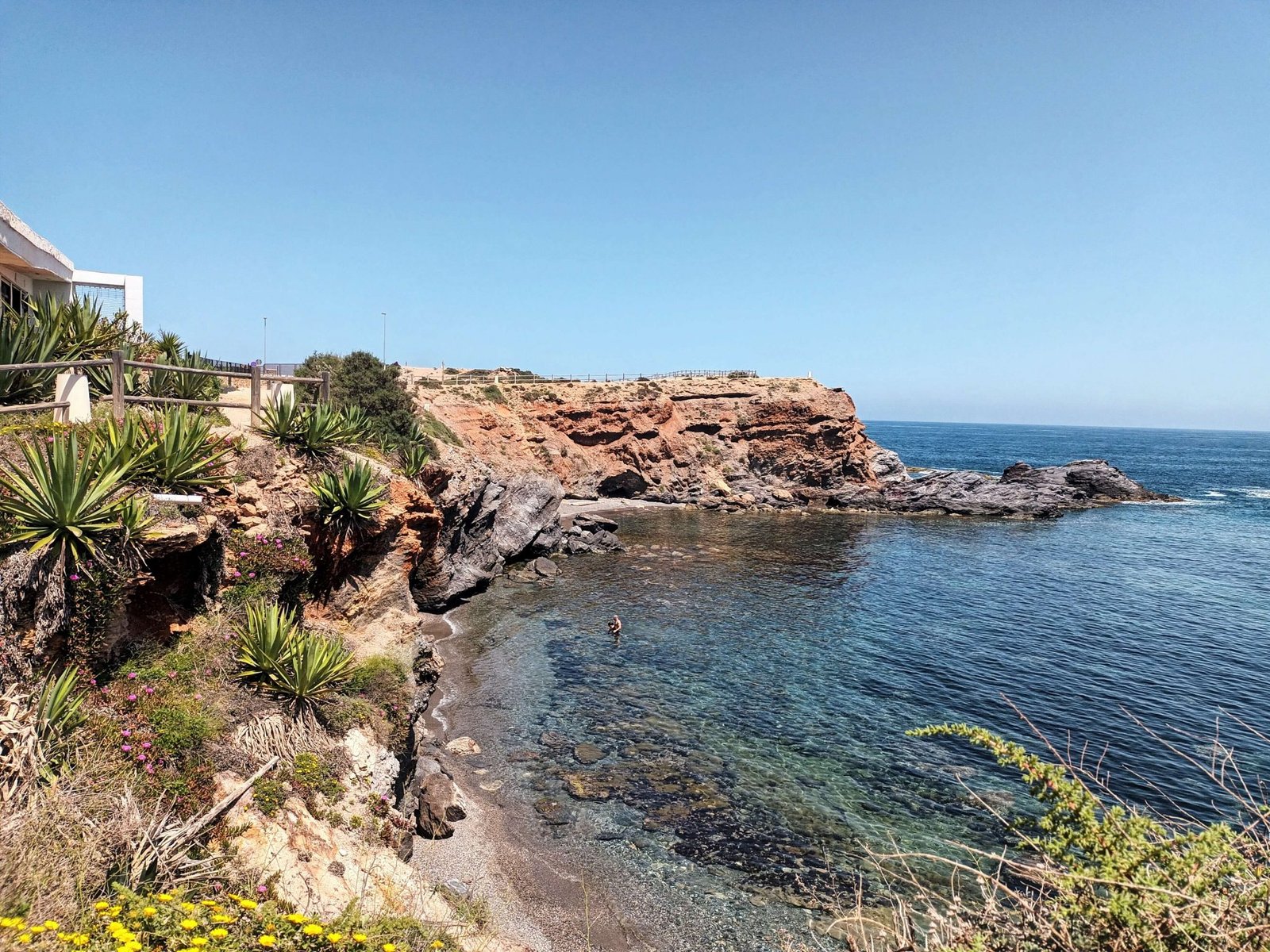 Where to stay in Cabo de Palos


Whenever I visit Cabo de Palos, I'm lucky enough to stay in my auntie and uncle's apartment.

However, the good news is that you can actually stay in the same apartments (there are a few different apartment blocks), as some of the units are available on Booking!

The accommodation has both sea and mountain views, a private pool, spacious balconies and gorgeous modern interiors. The location is also great, being just five minutes from Cala Reona beach and 20 minutes from the harbour.



If you want something a little more central, here are the options I found.



Cabo de Palos packing list


There isn't anything too specific that you need to pack for Cabo de Palos. 

To get the most out of your time, make sure you have a bikini or swimsuit, a beach towel, sunglasses, sandals, sun hat and sunscreen.

You can also buy some fun inflatables to splash around in the sea with and make sure you have some wireless earbuds!

Some other things that may come in useful for your trip to Cabo de Palos are:

Biodegradable Gentle Detangling Hair Set

Solid Shampoo Bar

Beach Bag

Wireless Charging Pad

Sun Bum SPF 15 Moisturiser and Tanning Oil

Cantu Deep Treatment Hair Mask

Travel Hair Dryer



Cabo de Palos, Murcia | Final Thoughts


Of all the places I've travelled, Cabo de Palos is the one I come back to time and time again.

Sure, it's a holiday town, but it's a far cry from the Benidorms and Magalufs of the world.

Cabo de Palos is a relaxed fisherman's town with breathtaking beaches, some of the best diving in the Med, an abundance of fantastic restaurants, and glorious weather.

What more could you want?

As always, if you have any questions at all, please do let me know in the comments section below and I will do my best to answer them!

Until next time,

XOXO


If you liked this article and would like to support my work, please click the button above to donate a couple of bucks and buy me a coffee. The ad revenue that I receive on this website is minimal, so support from my readers enables me to keep creating content that you (hopefully!) love to read.

Disclaimer: Travelling Jezebel uses affiliate links. If you make a purchase on a recommended site then we may make a small commission at no extra cost to you.