Montenegro might not be your first choice when looking for some Europe winter sun.

Many people flock to Malta, Cyprus and Tenerife for their winter breaks, with few even considering visiting Montenegro in winter.

Personally, I think that this is a real shame.

I was lucky enough to spend some time in Montenegro in winter, and I felt as though I was able to have a far more authentic experience than when I visited earlier in the summer.

There are many advantages to visiting Montenegro in winter, and so I thought I'd put together this post explaining why you should add Montenegro to your 'Europe winter sun' bucket lists.

Let's get into it.



Why You Should Visit Montenegro in Winter


Montenegro in a Nutshell


Montenegro is somewhere that really has a bit of everything.

Picturesque coastal towns with cobblestoned streets, formidable mountains creating dramatic landscapes, pebble beaches and medieval architecture are just some of the treasures that you will find in Montenegro.

To this day, Kotor remains one of the prettiest places I've ever been (if not the prettiest), with the coastal towns of Budva, Perast and Ulcinj not far behind in the beauty stakes.

Montenegro also has a wonderful cuisine, combining hearty Balkan food with fresh grilled seafood, fruit brandy and fantastic local wine.

Sold yet?



Weather in Montenegro in Winter


For locals, Montenegrin winter is synonymous with the off-season, which is October-April.

I was in Montenegro for a fairly large chunk of this time, arriving at the beginning of October 2018 and leaving in mid-December, and I couldn't believe how different visiting in low season was compared to the summer.

The weather in Montenegro in winter varies throughout the country.

Known as Montenegro's 'City of Sun,' Herceg Novi is the best place to visit in Montenegro if you want some winter sun. This south-facing city is perfectly positioned to catch all of the winter sun and generally enjoys a warmer climate than the other coastal towns.

With that said, the likes of Budva, Kotor, Perast and Tivat still offer sunny days into early winter, albeit with cooler evenings.

As the months go on you will likely see some rain, but unless you go up into the mountains, you won't experience snow in Montenegro (more on that later!).

January is probably the worst time to visit Montenegro, with average coastal temperatures of just 5 degrees Celsius, bitterly cold winds and around 10 days of rain.



Reasons to Visit Montenegro in Winter


The cost


Visiting Montenegro in winter is fantastic if you're watching your wallet because everything will be significantly cheaper.

Accommodation, rental cars, restaurants, bars and even grocery stores reduce their prices in the off-season (I remember being so shocked when the price of a beer in my favourite bar almost halved overnight!).

Generally, everything is about 30% cheaper in low season than in high season, with accommodation often being even cheaper than that.

Another benefit of visiting Montenegro in winter is that many of the things that cost money during high season can be enjoyed for free in low season.

Two examples of this are the Kotor Fortress and Lovcen National Park (although despite popular belief, you can actually visit Kotor Fortress for free all year if you know how!).



No crowds


Overtourism ruins destinations, and unfortunately Montenegro is one of the European countries that has been affected the worst by mass tourism (specifically cruise ships).

Kotor in particular can be hell in the summer months, when the cruise ships dock and the old town becomes almost impossible to navigate and the narrow streets feel incredibly cramped and claustrophobic.

However, the cruise ships don't visit Montenegro in the winter, meaning that you can explore the country without the crowds, appreciate the beauty without being poked in the back with a selfie stick, and get some great photos for the 'gram 😉

You will also find that the locals and staff in bars and restaurants are a lot friendlier in the quieter months.



Snow sports


Not many people consider Montenegro as a destination for winter sports, but the mountain resorts of Kolašin and Žabljak are perfect for snow lovers.

Skiing, snowboarding, and snowshoeing are incredibly popular in Montenegro in the colder months, with tonnes of snow and average highs of 0-2°C and lows of -7–9°C.

Both resorts are great options, but Kolašin is more modern and has the most slopes (14km), while Žabljak has more beautiful surroundings and brags the highest run (2213m altitude).



Montenegrin food


While lots of food in Montenegro is of the seafood variety, making it perfect for those long summer evenings, winter is the perfect time to enjoy the heartier Balkan grub that is popular here.

Sizzling cevapi with ajvar and chopped onions, homemade pie (burek) filled with cheese, baked bean stews and huge platters of grilled meat abound in Montenegro, and they are best enjoyed as the days get cooler.

Winter is also the perfect time to warm up with some homemade rakija, or Balkan fruit brandy.



Where to Visit in Montenegro in Winter


I was based in Kotor, which was a lovely place to be during the winter time.

I was able to fully appreciate the old town without having to battle through hordes of tourists, enjoy eating out without feeling rushed, and stroll along the shore without getting too chilly.

Leggings, a hoodie and denim jacket were the warmest things I had with me and I was totally fine (although I recommend bringing something waterproof if you're visiting in January or February).



I also visited Budva a couple of times, which is known as the party capital for rich Russians, and found instead a charming and tranquil place that was worlds apart from what my friends had experienced in the summer.

Perast is a great place for a day trip in the off-season, and Herceg Novi has the highest chance of sunshine.

Of course, if you're actively seeking out the colder weather, Durmitor National Park and the resorts of Kolašin and Žabljak are the places to be.

I wouldn't particularly recommend visiting Podgorica, Montenegro's capital, in the winter as it will likely be very cold and wet (and honestly, it is a pretty bleak city at the best of times, with not a lot to do).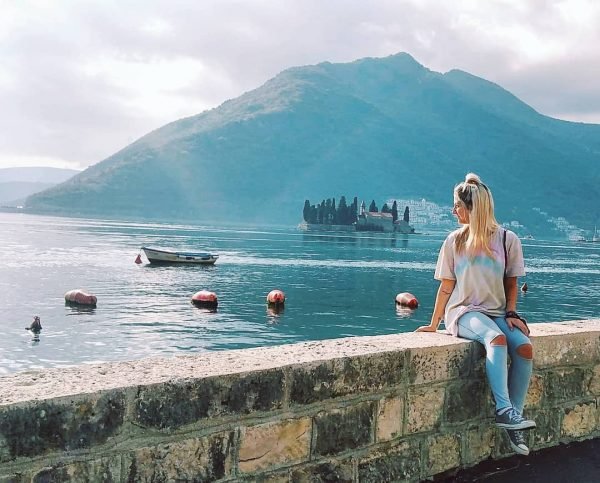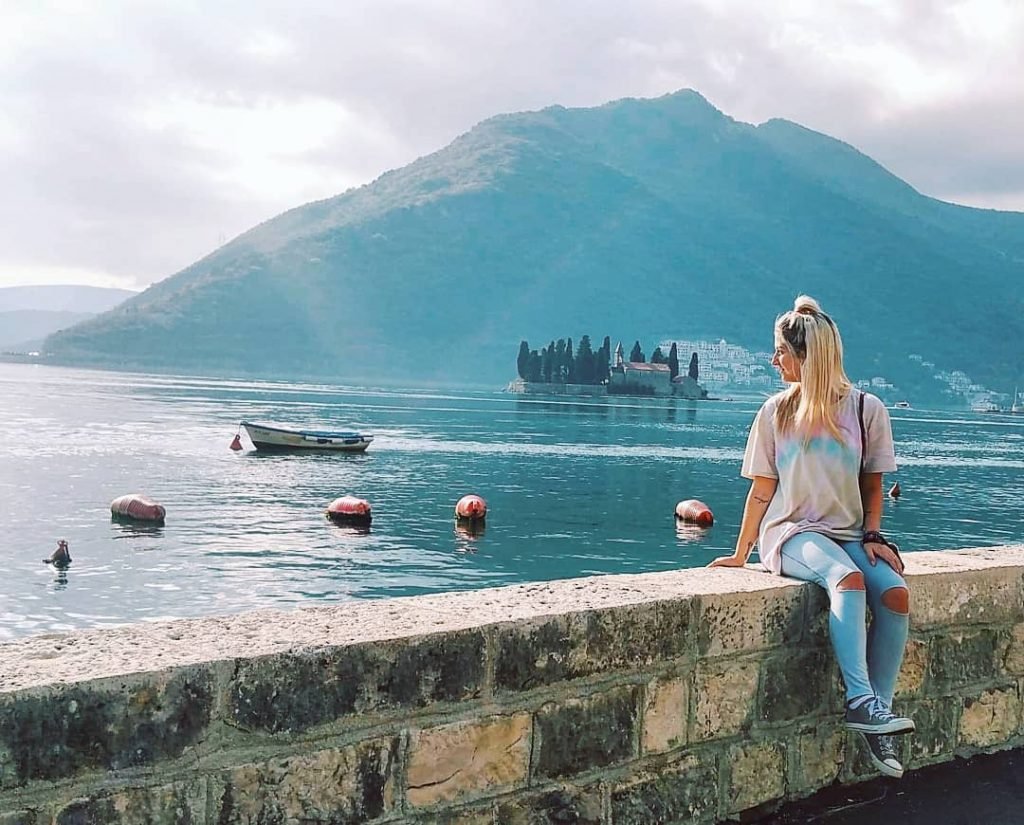 Know Before You Go
Central heating does not exist in Montenegro, but if you are booking accommodation in the heart of winter, make sure there is some kind of heating (and not the AC kind, as you will be cold!).
While there were plenty of accommodation options in Kotor in winter, the hostels in Budva closed and I was unable to stay overnight there. Of course, I could have found a hotel if I was desperate, but there were no options for hostels in Budva in winter.
Montenegro is not part of the EU or Schengen zone.
The currency in Montenegro is the EURO.
If you're not hiring a car, buses are a great way of getting around in Montenegro. The journeys are short, the times are regular and you can always book online or at the station. Hitchhiking is also very common and safe.
The stereotype of Montenegrins is that they are lazy, and many of them will agree with you with a wry smile. Expect a very 'relaxed' and laid back approach to everything when you're in Montenegro!
Meat and fish are huge components of the Montenegrin diet, and you may find yourself surviving on salads, bread and pizza if you're a vegetarian. If you're a vegan, good luck – even the salads tend to come with cheese!
Although many young people speak fantastic English, you may struggle a bit with the older generations, who are more likely to speak German or Russian as a second language.
As far as Balkan countries go, Montenegro is not particularly cheap, and Kotor's prices in particular were often in line with prices in Western Europe. This is another great reason to visit Montenegro in winter.

Montenegro in the Winter | Final Thoughts


Although I wouldn't necessarily recommend visiting Montenegro in the darkest depths of January, a trip to Montenegro in autumn or early winter is a great idea.

Montenegro is probably one of the most beautiful countries in the whole of Europe, but that can be hard to appreciate when tour buses and cruise ships take over, the prices go through the roof and the locals become stressed and ill-tempered.

If you are looking for a Europe winter destination that will not disappoint, I can't recommend Montenegro enough.

If you have any questions, please don't hesitate to ask in the comments section below!

Until next time,

XOXO


If you liked this article and would like to support my work, please click the button above to donate a couple of bucks and buy me a coffee. The ad revenue that I receive on this website is minimal, so support from my readers enables me to keep creating content that you (hopefully!) love to read.

Disclaimer: Travelling Jezebel uses affiliate links. If you make a purchase on a recommended site then I may make a small commission at no extra cost to you.