Years ago, whenever I pictured visiting Serbia, I imagined waking up in a freezer without any kidneys. Like most uneducated Brits, I didn't know anything about the country and assumed that the film Hostel basically said it all (and yes, I'm aware that Hostel is set in Slovakia but teenage Dani was a basic bitch and didn't know anything).
Now, having spent almost a month in the capital city of Belgrade (and managing to hold onto both kidneys, woo), I think it's safe to say that I know a little more about the former capital of Yugoslavia and  – spoiler alert – it isn't as sinister as teenage Dani liked to believe. I visited, first as a backpacker, and then later took on a job at a hostel and tried to create somewhat of a life for myself in the Serbian capital. So, after spending time in Belgrade, both as a tourist and (very temporary) expat, what did I take away from this Balkan capital?
(Note: if you're looking for a more traditional Belgrade guide then this isn't it! These are just my first impressions of Belgrade. For a travel guide, click here to read Sam Sees World's post, or head to My Open Passport for a list of things to do!)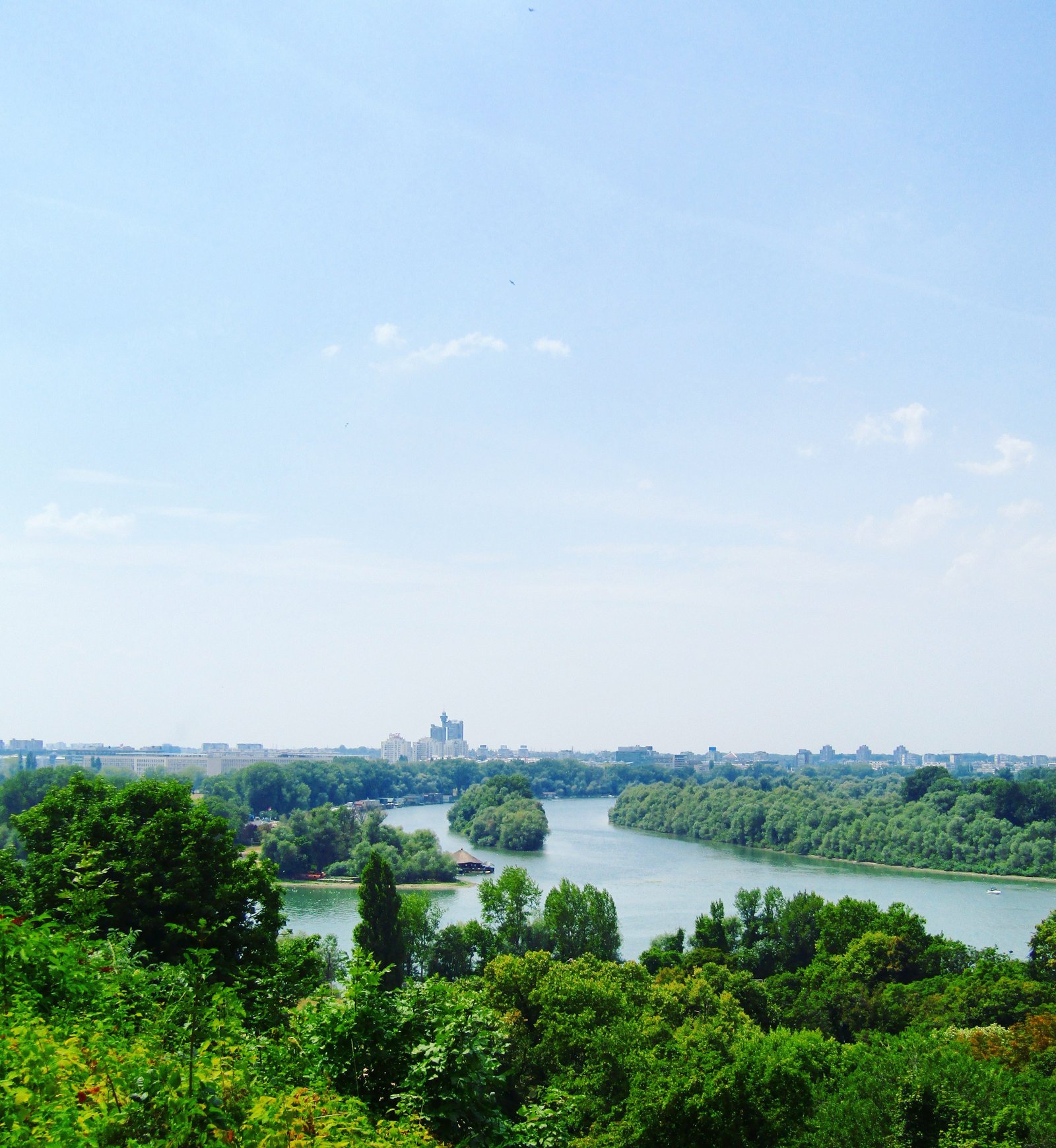 FIRST IMPRESSIONS OF BELGRADE
Belgrade's beauty is well hidden
My first impressions of Belgrade weren't great. Even in the heart of summer, Belgrade is a grey city and you don't have to look far to see crumbling buildings that still bear the scars of the 1999 bombings. However, Belgrade is one of those funny cities whose beauty only reveals itself to those it deems worthy. For those that don't want to give the city a chance, they will leave convinced that Belgrade is an ugly, dilapidated city with nothing to offer. As the saying goes, though, seek and ye shall find, and for those with an open mind and time to dig a little deeper, Belgrade has tonnes of beauty hidden just beneath the surface.
Quirky cafes, incredible street art and breathtaking sunsets give the city a certain charm that isn't obvious to the hurried traveller who is rushing to see all of the major sites. To truly discover the beauty of Belgrade, you have to slow down and allow the city to seduce you in its own unique way.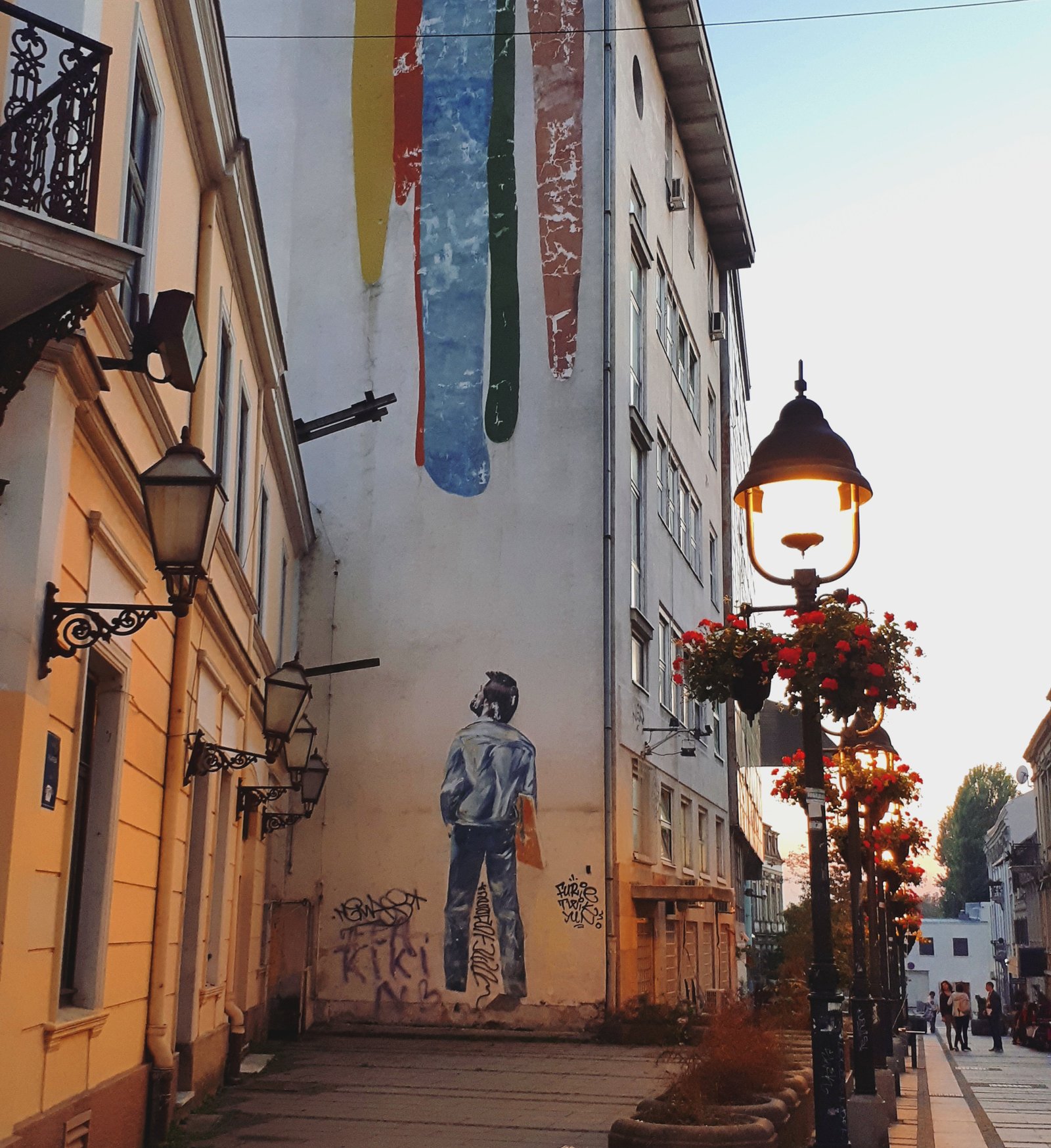 The coffee shop culture is huge
Something that you can't fail to notice when wandering around Belgrade is the abundance of coffee shops, which isn't actually surprising considering that Belgrade was home to Europe's first ever kafana (coffee shop)! It's so prominent that I actually remember saying 'does anybody actually go to work in this city?!' because even on a Tuesday afternoon, hundreds of Serbs will be sitting in the sun, drinking fancy coffees and gossiping until sunset.
Kafeterija, has to be the absolute best coffee shop I've ever been to, and I could spend all day just reading the menu! They have absolutely every kind of coffee imaginable, including the infamous Kopi Luwak which I was lucky enough to sample in Ubud, Bali, and the menu goes into detail about the differences between each blend, complete with pie charts! For an in-depth guide to Belgrade's coffee shops, check out Megan's post at Megan Starr!
 Everybody smokes
Indoor smoking was banned two years ago in Serbia but it doesn't matter – these are the Balkans. Everybody smokes and nobody cares about silly things like the law. Every bar, cafe, coffee shop and service station will be full of people chain smoking to their heart's content, and even as someone who is used to being around smokers, it's quite a shock to the system!
Serbs love a drink
With smoking, comes drinking, and Serbia has a huge drinking culture. As is the case everywhere in the Balkans, rakija is the drink of choice and there wasn't a day that passed when I wasn't handed a shot of rakija at some point. It's breakfast time? Doesn't matter. You don't drink? Come on, you're in Serbia. You haven't got money? Don't be silly, nobody pays for rakija. Rakija is a kind of fruit brandy that comes in many flavours (honey is my personal fave) and is usually brewed at home, where it can reach up to 90% proof. No trip to Serbia is complete without rakija.
There are strong ties to Russia
In Belgrade, you can buy a t-shirt with a picture of Vladimir Putin in a camouflage Parka coat, wearing sunglasses, with the phrase 'most polite man for all people' written in Serbian underneath. How do I know this? Because I bought one.
The affinity between Russians and Serbs has always been strong, and it's of no big surprise. They both hate the West (lol, doesn't everyone?), have similar languages and political views, and practice the same religion. The men from both countries are also macho as hell (and god it's so sexy). Go to pretty much any market in Belgrade and you'll see Putin's face on t-shirts, mugs, key rings and posters. Russian flags, t-shirts and hats are everywhere, and you can also buy traditional Russian dolls, Russian scarves and boots, and handmade trinkets.
Serbs are beautiful
Before I went to Serbia, I was told that Serbia is home to the most beautiful women in the world, and I can't disagree. Both the men and women are exceptionally good looking in Serbia. Think Barbie and Ken. No. Barbie and Action Man (Ken is far too metrosexual for Serbia).
The women are all skinny, tall (so tall) and dress like they're on a runway every damn day and the men are big bald blocks of pure muscle. If you like the natural look, then you probably won't be impressed, but if you're like me and are all about the fake boobs, duck lips, hair extensions, fur coats and stilettos then you'll be in heaven in Belgrade.
Belgrade is cheap
Belgrade is one of the cheapest cities in Europe. I found myself drinking cocktails for 3 euros and beers were usually 1 euro. Entrance to a high-end nightclub was 5 euros (tourist price), hostels were around 6 euros for a night's stay and I found a cafe that served a three-course meal, plus a drink for 7 euros. I went to a fancy sushi restaurant one night (okay, I went about three times), and had a huge sushi platter, half a bottle of wine and a couple of beers and didn't spend more than 20 euros. If you're on a budget, Belgrade is the place to be.
There is a thriving art scene
For those in the know, the vibe of Belgrade is similar to Berlin, and there is a thriving art and music scene that is hidden from the casual visitor. There's no doubt that Belgrade has its fair share of glamorous bars and clubs but for those who like things a little more edgy, there are plenty of bars that also act as culture centres, art galleries, venues for poetry readings and concept stores. Belgrade has a tonne of street art and you can easily while away an afternoon in the city centre hunting for the best pieces. For those interested in Belgrade street art, I recommend looking into TKV Fairy Queen's work.
One of the coolest things I've done on my travels was visit the Zvezda New Cinema in Belgrade. The Zvezda New Cinema was one of the first cinemas in Belgrade that was left abandoned and neglected in the 1990s. Since then, squatters have moved in and provide the hipsters of Belgrade with hard-to-find films such as cult classics, activist, queer, anarchist and documentary films. Entrance is dirt cheap (just enough to cover the electricity costs), bringing your own alcohol is encouraged, and although the cinema is technically illegal, authorities turn a blind eye.
Serbs harbour a deep resentment towards the US, the Clintons and NATO
Just outside Parliament (or National Assembly) in Belgrade, there is a huge banner that changes frequently. When I was in Belgrade, it read (in English) 'Kosovo Is Abducted with War Crimes, Hillary and Bill Clinton with NATO Forces,' and sat alongside images of dead babies and other victims of the Belgrade bombings, which were ordered by Bill Clinton at Hillary's insistence. Previous banners have read 'We Will Never Forgive You for Killing Our Children' and 'US-NATO-EU – Why You Protect Albanian War Criminals?'
Serbians feel as though they are the victims of a great injustice from the West with regards to how they were treated during the Bosnian War and the Kosovo War. They hate that they are seen as the sole aggressors, particularly in the Kosovo War, and do not recognise Kosovo as an independent country, despite Kosovo declaring itself as such and most of the countries in the UN recognising it as one.
The history of Serbia is very deep and complex, and it is advisable not to bring up the Bosnian War or the Kosovo situation with people whom you have just met (it's like expecting every American you meet to be personally responsible for Donald Trump).  Serbs love to talk about their history with people who are genuinely interested and open minded, but are sick of backpackers asking them 'what do you think of Srebrenica?' and if you decide to ask such questions, be prepared for very defensive and even hostile reactions.
Serbia is not as 'foreign' as you may think
As I said earlier, my teenage impressions of Serbia were that it was like something from the film Hostel. Serbia has the reputation for being the bad boy of the Balkans, and I'm sure that most people my age in the UK couldn't even point to it on a map. To us, Serbia seems far removed from everything that we know.
Until we visit, that is.
Belgrade is not scary, it's not backwards, and it isn't a whole lot different to any other European capital. You will find the same chain stores, fast-food joints and music as you would anywhere else in Europe (and yes, by this I mean that even in Belgrade, you can't escape Despacito). Although Serbs use the Cyrillic alphabet, most signs have both the Cyrillic and English text, and most Serbs speak excellent English.
Belgrade is more geared towards expats than tourists
Having only spent a few weeks living as an 'expat' in Belgrade, I can't say that I really 'know' the city. However, I found Belgrade to be markedly different when I was 'living' there than I did when I stayed for a few days as a tourist. As with its beauty, Belgrade reveals its true self slowly, and so most people passing through will only ever experience the city on a superficial level. It takes time to discover the best coffee shops and underground bars, to understand Serbian people and enjoy the real spirit of the city.
The more time I spent in Belgrade, the more it seemed to charm me, and while there aren't a great deal of 'sights' to see as a tourist, there are hundreds of hidden gems waiting to be discovered for someone with a bit more time on their hands. Whether you're into highbrow art galleries, underground rock clubs or alternative theatre, there is something to suit you in Belgrade. You can even drink cocktails in carriages pulled by unicorns. I wish I was lying.
So, there concludes my first impressions of Belgrade! As you can see, Belgrade is an extremely multifaceted city that takes some time to understand, but those with the time and patience to do so will definitely be rewarded. Most people write Belgrade off as being ugly and lacking in things to do, and others see it as a party city and nothing more. However, I hope that I have managed to convince a few of you that there is more to Belgrade than ugly buildings and parties! Have you ever been to Belgrade? What did you think? Did you like it? Let me know in the comments below!