As soon as I crossed the border between Croatia and Bosnia and Herzegovina, I could tell that I had entered a different country. Unlike most places, where the only hint that you're in a different nation is the text message that you receive from your cell phone provider, the difference between Croatia and Bosnia and Herzegovina is stark. Friends I'd met previously joked that "you can tell you're not in the EU anymore!" and they weren't wrong.
Everything just seemed…different, somehow. I'm not sure whether it was the complete absence of streetlights, the potholed roads or the knowledge that the beautiful mountains surrounding us were possibly still home to undiscovered landmines, but something had definitely changed. As the bus swung dangerously around the bends on the steep descent into Mostar, a road that I'd later find out is the chief route for the transportation of "drugs, guns and girls," into the rest of the Balkans and beyond, I was full of nervous excitement. Little did I know that the week to come was going to be one of the most eye-opening weeks of my life, and that I would not only fall in love with Bosnia's beauty, but also its bloody history.
* * *
On my first morning in Mostar, a quaint little city in Herzegovina, I woke bright and early (9am is early, okay?). I'd signed up for a full-day tour of Herzegovina, organised by my hostel, Savat Hostel and Bar, which included breakfast, lunch, and time at Blagaj Tekke, the village of Počitelj and the famous Kravice Falls, and all for less than 30 euros! I arrived in the courtyard just in time for breakfast, and introduced myself to a group of other travellers who were also taking part on the tour. We were 3 English, 1 Australian, 1 Kiwi, 1 Canadian and a Norwegian couple. After polishing off our boiled eggs and coffee, Eddie, who is one of the owners of Savat, invited us to pile into his old-school van and we were on our way!
Our first stop was Blagaj Tekke, a "Dervish House" or Islamic monastery. Blagaj Tekke is a beautiful house, situated at the base of a cliff at the source of the river Buna. Although almost 600 years old, the Dervish House has been preserved beautifully, and standing in front of it, as the river flows gently from the cave, it is not difficult to see how this is still a holy place. For an additional few marks, it is possible to enter the house and look around, but most of our group preferred to view it from the outside as Eddie regaled us with tales about its history.
Next was the village of Počitelj, and what a village it is. Situated on the banks of the river Neretva, Počitelj is full of fairytale houses, winding stone staircases, lush greenery and villagers selling fresh fruit juice, bags of pomegranates and handmade wooden trinkets. It takes around 10 minutes to the castle at the very top, Citadel Počitelj, and from there, the views are breathtaking. It is actually possible to climb right up to the top of the tower inside the castle, but for those who are not too adventurous, the views from the bottom are just as magnificent.
After we had taken our fair share of pictures (and Roma tried not to pass out from dehydration!), we made our way back down to the van for our next stop – Kravice Falls.
Kravice waterfall is in the heart of Herzegovina, 40km south of Mostar, and is truly a sight to behold. After a hearty lunch at the cafe (pork neck, ćevapi, salad and wonderfully cheap wine), we made our way to the waterfall for some swimming. Although it is technically forbidden to climb up onto the rocks close to the waterfall itself, the 'warning' signs were cheerfully ignored by all as parents encouraged their young children to climb to dizzying heights, twenty-somethings balanced precariously for that perfect Instagram picture, and the boys from our group seemed to turn into monkeys as they made their way right to the top of the waterfall!
Myself and a couple of the girls from the group played it safe and paddled in the shallow area, before swimming over to the boys while they indulged in a spot of cliff-jumping. After we'd had our fun in the water, we let ourselves dry off in the sun at the nearby bar. As is the case all over the Balkans, the beer was ridiculously cheap, despite us being at a hugely popular tourist destination, and so we all enjoyed a few bottles in the sun before making our way back to where Eddie was waiting for us in the car park.
On the long drive back to the hostel, most of us were sleepy, so it was a fairly quiet journey (with the exception of a Canadian girl who was determined to talk to Eddie about Canada for the entire drive), but once at the hostel, we only had time for a quick shower and change before the BBQ in the courtyard was ready! For 5 euros, we each got a plate of ćevapi, bread and salad which we enjoyed with our fellow travellers as the sun went down and Eddie played the part of both DJ and barman.
After we'd had a few beers at Savat (and some free rakija), Eddie and his partner Esma took us to a ramshackle little riverside bar for more free rakija shots and cheap beers. We hung out on the decking area overlooking the river and the famous Stari Most bridge, before moving on to a stunning cave bar named Ali Baba to embarrass everybody with our sick dance moves (kinda).
The next morning, I joined my new friends, Jesse, Jimmy and Roma for a walk into the picturesque old town of Mostar. Mostar's cobbled streets are narrow and lined with dozens of ice cream stalls, Arabic tea sets, genie-style lamps and tiny men with long beards polishing collectible coins and various copper wares. Almost every building specialises in either coffee, shisha or ćevapi, and so it didn't take long for us to find somewhere to eat lunch.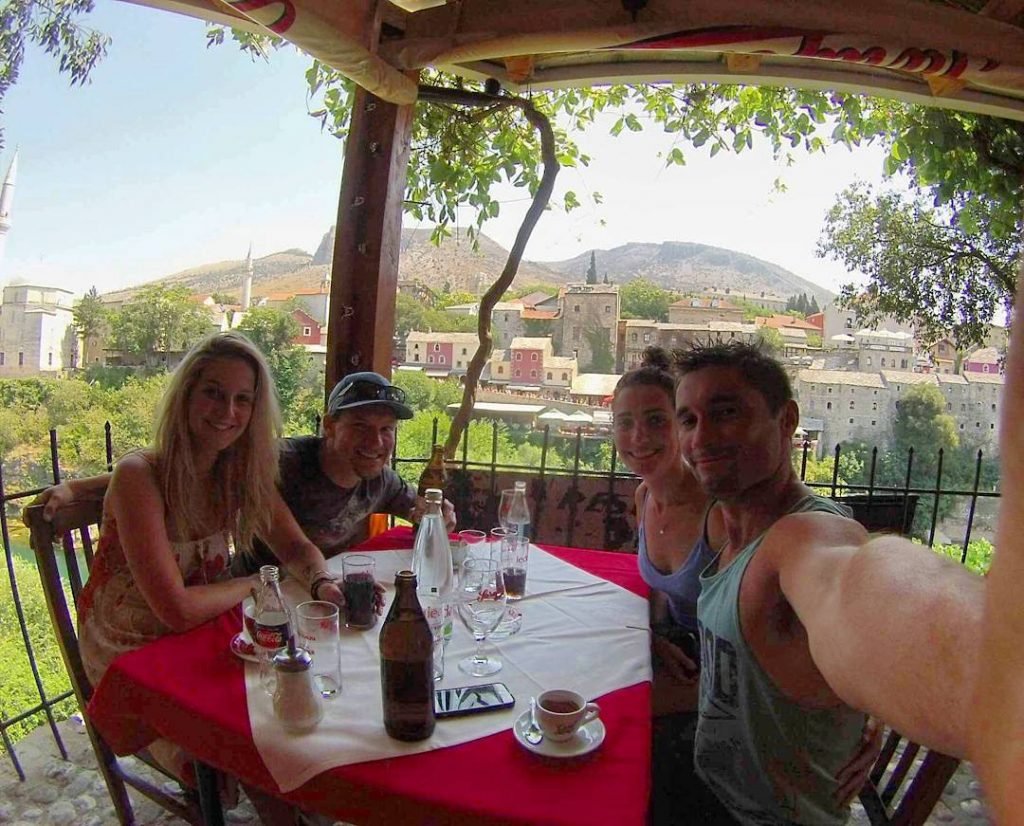 Our restaurant of choice overlooked the river and Stari Most, and the four of us enjoyed a huge meat platter as we watched local men dive from the bridge. Roma and I were desperate to see Jesse and Jimmy give bridge-jumping a try, but we later found out that it is so dangerous that you have to pay the local men 20 euros and have lessons on how to jump from lesser heights first. When we were stuffed full of yet more ćevapi, we wandered around the old town for a bit longer before heading to Ali Baba to enjoy shisha and fruit cider on the futon-style couches.
After a while we decided that if we didn't get up and move, we never would, and so we headed back to our hostel to get changed before finding a cutesy Italian restaurant and enjoying some pasta and then joining everybody back at the hostel for another night of riverside drinking and partying at Ali Baba. Unfortunately, this was our last night in Mostar, but even during our brief time there, we had all fallen completely in love with both the city and the surrounding area.
Next stop for all of us was the capital city, Sarajevo, and what an experience that would prove to be. To find out just what made my time in Bosnia and Herzegovina so special (hint: I met a Bosnian war hero!), be sure to catch 'My Love Affair with Bosnia and Herzegovina Part 2.' 
Disclaimer: This page contains affiliate links. This means that if you make any purchases on the sites I have recommended, I may make a small commission at no extra cost to you!