Without question, my favourite thing about Italy is aperitivo.

Of course, there are many things about Bella Italia to love – the smell of fresh coffee wafting tantalisingly from open doorways, dipping thick crusty bread into olive oil, shrimp and cherry tomatoes tossed into freshly made linguine…I think you get the gist.

As well as their food (and wine of course!), Italians place a high value on socialising.

La passeggiata is the name for the nightly cultural affair whereby everyone takes an evening stroll, using the time as a chance to catch up and gossip with everyone they know before returning home with their families to enjoy dinner together.

Aperitivo takes everything that is important to an Italian – food, wine and good company – and rolls it all into one, a tradition that, contrary to slowing down as traditions often tend to, is evolving into something else entirely – apericena!

But I'm getting ahead of myself. First, let's take a look at the longstanding Italian tradition of aperitivo – what it is, where it came from, and how it is evolving.



How to Host the Perfect Italian Aperitivo Party


What is Aperitivo?


The phrase 'When in Rome, do as the Romans do' has never been more fitting then when referring to aperitivo.

While one can visit Italy and enjoy the Vatican, the Colosseum and Cinque Terre, to truly experience Italy, you have to feel it.

One of the best ways to do that is by enjoying an aperitivo.

Aperitivo is the name of an evening ritual that takes place after work as an aperitif for dinner.

It takes the form of a light drink and snack designed to whet the appetite in preparation for the meal to come. In fact, the word aperitivo comes from the Latin 'aperire,' which means opener, and the Italian word aprire means to open!

Although some compare aperitivo to a happy hour, the two phenomena are totally different.

A happy hour usually just refers to discounted drinks at a set time, while aperitivo is much more than that. It is not only the drinks, but the pairing of food with them, as Italians believe that you must begin eating in order to fully engage the appetite.

What's more, although aperitivo does only take place in the evening hours (usually 6pm – 9pm), aperitivo will never be advertised as any kind of 'discount' or 'happy hour.'

It is, simply, aperitivo.

A basic aperitivo can simply consist of some olives, crisps and nuts washed down with a bitter cocktail, but more and more businesses are beginning to put on entire buffets or create special platters piled high with carefully crafted finger food.

This form of aperitivo is only growing in popularity and is called an apericena (using the Italian word cena, which means 'dinner').

Indeed, when I was staying in Palermo I frequently went out for apericene, both the informal buffet-style and also to the hipster bars that serve up huge wooden boards piled high with Sicilian treats.

The reason for the rising success of the apericena is that it is loved by students. Bars will charge a fixed rate (usually €10 – €12) for a drink and access to the buffet, making apericena a cheap way to fill up for those on a budget!

While Milan is frequently cited as the best place in Italy for aperitivo (aperitivo originates from nearby Turin), and Northern Italy embraces the tradition the most, aperitivo is becoming evermore popular in the South of Italy, and almost every bar and restaurant in Palermo has some kind of aperitivo offering.



A Brief History of Italian Aperitivo


Aperitivo actually dates back to Roman times, only back then it was called gustatio.

The richest members of Roman society would prepare for banquets with alcoholic drinks and various amuse-bouches.

It was not considered to be an aperitivo, an opening, rather a gustatio, a tasting that was designed to get everybody mingling before the main event took place.

The drink of choice at the time was mulsum, a highly alcoholic wine mixed with honey and flavoured with spices. Food would consist of flat breads with savoury sauces or cheeses, fruit and cruditées (slices of raw vegetables).

Although so much time has passed, the concept of Ancient Rome style aperitivo is still on trend, with restaurants in Milan and Rome serving 'Aperitivo Apiciano' (Apicius was the Empire's most revered chef).

The modern concept of aperitivo however, is thought to have been invented by the distiller Antonio Benedetto Carpano, who created the first type of vermouth liquor in Turin in 1786. Vermouth was made from moscato white wine, and contained 30 aromatic herbs and spices.

Carpano said that this 'perfect' combination of fortified white wine with herbs and spices stimulated the appetite and was more suitable for ladies to drink than red wine. Because of this, vermouth became one of the most popular aperitivo drinks.

Another thing that cemented aperitivo as an Italian tradition was the invention of Gaspare Campari's eponymous drink in 1860 in a small town called Novara, 50km from Milan. Gaspare had a café in the town and used to regularly experiment with different drink recipes, eventually creating Campari.

After Gaspare's wife died, he moved to Milan and eventually opened a high end bar called Gaspare's Bar, whose wealthy clientele made his signature drink soar in popularity. When Gaspare died in 1882, his son Davide wiped all of the other drinks from the menu and began selling Campari to other bars, eventually selling it internationally! In the early 20th century, popular cocktails started incorporating the drink, and as its worldwide popularity grew, it became a staple of Italian aperitivo.



Aperitivo Drinks


It isn't the custom to just drink anything you like at aperitivo time.

Aperitivo cocktails are usually low in alcohol and bitter in taste, made to accompany the salty foods and tickle the appetite.

Popular aperitivo drinks include Aperol, Campari and Cynar.

These can be drunk alone or as a spritz with Prosecco and soda.

Aromatised wines such as Vermouth (Martini Rosso and Martini Bianco are good choices), Chinato and Americano (Campari with sweet Vermouth and soda, garnished with an orange) are also very popular, and you can never go wrong with a simple glass of Prosecco.

If you would like an extra kick, then you have to try the Negroni, Italy's most famous classic cocktail. A Negroni is a kind of dark martini with gin, Campari and red vermouth.

White wine is acceptable to order with your aperitivo, but red wine is strictly for dinner – and don't even think about ordering a beer! There are very strict rules for these things in Italy!

If you don't drink alcohol, sparkling teas are a great alternative to Prosecco!



Aperitivo Food


Aperitivo food can vary wildly, but the one trait that all aperitivo food shares is that it is finger food.

Like most things in Italy, food differs hugely from region to region, and so the types of things that you will see on an aperitivo plate in the North are vastly different from what you would see in the South of Italy and Sicily.

Food in Trento for example is mountain cuisine, with lots of meat, cheese and honey. Speck, a smoked and dry-cured version of prosciutto, is very popular on aperitivo platters here, as well as tortel de patate, or potato pancakes.

Down in Palermo, you will find lots of Sicilian street food classics, from fried goodies like panelle (chickpea fritters) and mini arancine (fried risotto balls) to sfincione (Sicilian pizza).

Common foods seen on aperitivo plates nation-wide are various cheeses, cured meats, grilled vegetables such as eggplant and zucchini, quiches, crostini, bruschetta, olives, crisps, small portions of pasta and chicken-liver pate.

Of course, it all depends on what the region is known for and what is grown there.

Umbria is famous for truffles, Genoa is the home of pesto, while pistachios are the main ingredient in anything Sicilian. Fresh fish is popular in places near the sea, while mountain food is comprised of hearty cuts of meat and salty cheese.

The type and amount of food that you will receive during an aperitivo can vary significantly as well. While some bars carelessly chuck down a couple of bowls of olives, peanuts and breadsticks (or taralli if you're in Bari), others will have elaborately crafted delights with hideously pretentious names.

Vespa Cafe in Palermo is the king of complex aperitivo food, with their platters often including things such as 'pasta with radishes and walnut pesto, served with caramelised apples and bacon' or 'crostini with soft cheese, rocket, and sword fish marinated in pink pepper and raspberry sauce.'



Aperitivo vs. Apericena – What's the Difference?


The main difference between aperitivo and apericena is the amount of food that you eat.

An aperitivo is just a light snack, accompanied by a cool glass of Aperol and a circle of friends. The focus is really on the cocktail, the first glass after a long day at work that relaxes you and puts the stress of the day behind you. While the nibbles certainly have their role to play, they are not the focus of aperitivo.

Apericena, on the other hand, is exactly as its name suggests – aperitivo and dinner, combined. The food here is served buffet-style or on a larger platter, and the type of food tends to be more sophisticated. Think, olives and cold cuts for aperitivo, and more substantial offerings such as salads, risottos, couscous and pastas for apericena. You will tend to find more hot dishes at an apericena.

Apericena is not a full-blown formal dinner, but a chance to indulge in some good food while enjoying drinks.



How to Host Your Own Italian Aperitivo Party at Home


It is safe to say that I am missing la dolce vita quite terribly, and so I decided to do something to bring the sweet life to me and host my own apericena night at home for my boyfriend.

Not only that, but I'm going to show you how to do the same!

I think that having an aperitivo night is a great at home date night idea – not only is it fun researching all of the different foods (and cocktails!) that you can prepare, but laying the table with dozens of plates, putting on some relaxing music and spending hours talking, drinking and nibbling is quite possibly the perfect way to spend an evening.

If you're looking for something a bit different for a party or corporate event, you could scale up and make a night of it! Put on your finest dress, make sure you have plenty of Aperol and hire some professional photographers to document your Italian evening!



Step 1: Decide between an aperitivo and an apericena


While an aperitivo can be as simple as a few olives and crisps, an apericena is a much more complicated affair, and one that can replace dinner entirely.

For an at home aperitivo night where you are not planning on going out for dinner afterwards, I would recommend an apericena. This means that, rather than having a couple of hours drinking and snacking on olives, you can spend the whole evening grazing.

What's more, the preparation of an apericena demands much more thought and effort, and so it makes an at home date night extra special.

Whatever you decide, you should tell your guests so that they know whether to plan for dinner afterwards or not – it's no good setting somebody up for an apericena and just giving them a few breadsticks!



Step 2: Set the scene


Ideally, you want to enjoy your aperitivo al fresco (fun fact – al fresco is not actually a phrase used by Italians!), and so a balcony or garden is the perfect location, and it will also create that special summer hygge feeling.

If that isn't possible then not to worry – whether you host your evening outside or in, there are a few basic tricks to ensure that your aperitivo night feels as authentic as possible.

First, the food should all be piled onto one table, but as far as seating arrangements go, informal is key. People can sit with their plates on their knee or simply eat standing. Milling around casually is the name of the game here, so don't lay the table as you would for a dinner party.

Don't worry about having enough plates and such – mismatched plates and glasses are fine, and most Italians actually use paper plates, so if you are preparing an evening for a lot of people then this is a great option. As far as cutlery, a simple fork or spoon will suffice – there is no need to bother with knives, as everything should be able to be eaten standing up with a drink in one hand!

Do put on some low music in the background. Anything easy listening, like jazz or lounge music is great – just check out Spotify or YouTube for readymade playlists!

You don't need to worry about decorations – just light a few candles and scatter a few cushions or blankets around and Bob's your uncle!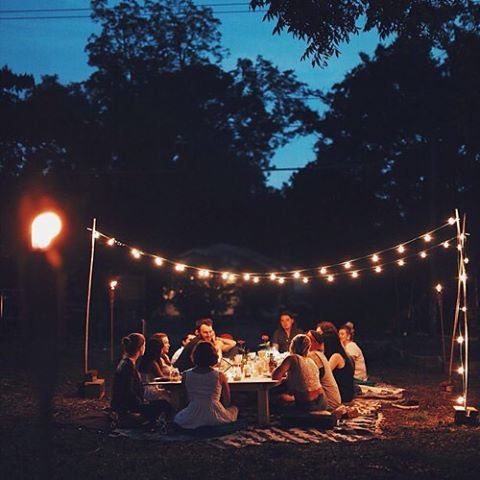 Step 3: Dress to impress


While the setting should be casual, you must remember that Italians don't go anywhere without dressing up. Dress as you would if you were going to a nice restaurant – high heels are a bonus!



Step 4: Plan your food and drink!


Drinks for an aperitivo night are really quite simple. The drink bottles should be together on the food table so that people can just help themselves.

Always be sure to have a few bottles of Prosecco on hand, some soda water and a bottle of Aperol or Campari (or both!). This way people can choose what they would like to drink, and make their spritzes to their taste.

As far as food goes, you can do as much or as little as you like! Below are some ideas for both basic and slightly more complex aperitivo food ideas that will require a little preparation.

Generally, the food depends on what time of year it is, with winter months being more suited to heartier foods, and summer being the time for fresh salads, melon with proscuitto and bruschetta.



Basic aperitivo food ideas:


Cold cuts (salami, mortadella, prosciutto, speck)
Cheese (Parmegiano, Pecorino) and honey
Crostini (spreads can include olive tapenade, truffle cream, pistachio cream, chopped tomatoes and onion, chicken-liver pate).
Caprese salad with tomatoes, basil and mozzarella
Black and green olives
Crisps
Salted peanuts
Finger sandwiches
Prosciutto and melon
Grilled vegetables (zucchini, eggplant, bell peppers)
Sun-dried tomatoes
Pancetta wrapped figs
Artichokes
Cherry tomatoes



Extra-special aperitivo food ideas:


Pasta with pesto and asparagus
Truffle pasta with pancetta
Smoked salmon and cream farfalle with peas
Caponata (Sicilian eggplant stew)
Panzenella (Italian bread salad)
Parmigiana
Risotto (try Butternut Squash with rosemary, walnuts and blue cheese!)
Couscous salad
Polenta
Feta and tomato focaccia
Arancine
Roasted peppers with garlic and olive oil
Potato croquettes

As I said, the food that you provide is really up to you.

Quality ingredients generally matter more to Italians than complex concoctions, and if you aren't a master chef but still want to try an apericena then a selection of crostini and various spreads along with some cold cuts and cheeses will be more than sufficient.

If you want to show off your culinary prowess then you really can get as fancy as you want – just look up any risotto, pasta, or any other traditional Italian recipe and go to town!



Aperitivo 101 – Host the Perfect Italian Aperitivo Party at Home | Final Thoughts

I hope that this article has managed to provide you with a more solid understanding of both aperitivo and apericena, from the history and modern manifestations of both, to tips for you to host your very own aperitivo night at home.

I must point out that although I have tried to be as comprehensive as possible and as accurate as possible, I am not an Italian, and so there are almost definitely some things in here that an Italian would scoff at (just like the time I had the audacity to drink Coca Cola in the morning).

You should also be aware that there is no one size fits all to aperitivo menus. Italian cuisine varies wildly from region to region, and an aperitivo from Pisa will be very different to an aperitivo from Naples. If you want to prepare a very specific aperitivo menu then I suggest researching typical antipasti from your chosen region.

With all that out of the way, thank you so much for reading my article and I hope that it has taught you something! The beauty of aperitivo is you can enjoy it anywhere, from a casual café to a fancy rooftop bar, and even your own front room.

XOXO


If you liked this article and would like to support my work, please click the button above to donate a couple of bucks and buy me a coffee. The ad revenue that I receive on this website is minimal, so support from my readers enables me to keep creating content that you (hopefully!) love to read.

Disclaimer: Travelling Jezebel contains affiliate links. If you make a purchase on a recommended site, I may make a small commission at no extra cost to you.