Despite having travelled so extensively through Europe, it took me until I was 30 years old before I made it to Greece, but boy was it worth the wait!

Readers of this blog will know that I love travelling to off the beaten path destinations, and despite how popular Greece is with tourists, I still managed to find a bunch of hidden gems in Greece that I hadn't known existed prior to my visit!

I spent just over a week exploring the most beautiful places in the Peloponnese region, and as I ventured further along the Mani peninsula and into the 'Deep Mani,' I found it difficult to find other people, never mind other tourists!

In this post, I'm going to share some of the most beautiful places in the Peloponnese, so if you want to get off the beaten track in Greece, just keep reading!



Most Beautiful Places in the Peloponnese | Greece Hidden Gems


Peloponnese at a Glance


The Peloponnese is a peninsula located in southern Greece, renowned for its rich history, stunning landscapes, and delicious cuisine.

Steeped in ancient mythology and home to tonnes of significant archaeological sites, the Peloponnese region is the perfect destination if you're a history buff.

Not only can you find the ancient city of Olympia, birthplace of the Olympic Games, but the ancient city of Sparta, Corinth, and the ruins of Mycenae, a once-great civilisation of the Bronze Age.

The Peloponnese is also home to some of the most unique geography in Greece, with white sand beaches, rugged cliffs, subterranean caves, ancient trails, and, of course, scores of olive groves.

I recently spent some time exploring the Peloponnese, from the vibrant coastal city of Kalamata to the traditional mountain villages of the Mani peninsula, and what I loved the most – apart from the undeniable beauty – was the fact that there was never another tourist in sight.

While Greeks know the Peloponnese to be one of the best places to visit in Greece, this region still remains largely undiscovered by international tourists, so if you want to get off the beaten track in Greece, this is the place for you.



Reasons to visit the Peloponnese


Is Peloponnese worth visiting?

The Peloponnese has so much to offer that it's hard to believe more people don't know about it!

Here are some reasons to visit the Peloponnese:


Affordable – food, wine, and accommodation are all super affordable in the Peloponnese, so if you want to visit Greece on a budget, this is where you'll want to be!
Not touristy – the Peloponnese region is one of the last few hidden gems in Greece, where you can go days without seeing another tourist. This means unspoilt landscapes, authentic Greek culture, and delicious cuisine that hasn't been watered down to cater to tourists.
Steeped in history – Sparta, Olympia, and Corinth are just some of the ancient cities that you can find in the Peloponnese, so if you're interested in ancient ruins, history, and Greek mythology, you'll get your fill of it here.
Beautiful beaches – white sands, craggy rocks, smooth pebbles and azure waters await you on some of the most pristine beaches in Greece.
Nature – if you're a nature enthusiast or an adventure traveller, you'll want to take advantage of the ample hiking, climbing, cycling and watersport activities in this part of Greece. Wild nature and stunning vistas abound in the Peloponnese.
Cuisine – fresh seafood, world famous olives, slow-cooked meats and all the best traditional Greek dishes can be found here, at great quality and even greater prices.
There are lots of beautiful villas and hotels to take your pick from along the Mani. You can find the perfect vacation rentals in Greece with cozycozy to suit your budget.

15 Most Beautiful Places in the Peloponnese


1. The Mani


One of the most beautiful places to visit in the Peloponnese is undoubtedly the Mani Peninsula, the most rugged and isolated part of the region.

The Mani Peninsula has a long and tumultuous history that has seen it largely estranged from mainland Greece. As a result, Maniots are known for their independent spirit, warrior traditions, and strong sense of honour – or, as our tour guide put it, 'they're not very nice.'

The Mani Peninsula is characterised by its dramatic landscape of towering mountains, rocky cliffs, and fortified tower houses, or 'Maniot towers,' which were constructed as defensive structure during times of conflict.

Its rugged terrain makes it ideal for nature lovers and adventure travellers, with a seemingly infinite number of hiking trails and rock climbing opportunities.

The Mani is also famous for its coastline, dotted with picturesque hamlets, hidden coves, and unspoilt beaches, which are true Greek hidden gems.

The best way to explore the Mani Peninsula is by car, stopping off in scenic villages and coastal towns. I've included a few of the best places to go in Mani in this post, so if you want some more specifics, just keep reading.



2. Limeni


Limeni is a small coastal village located on the Mani Peninsula, and when it comes to Greece hidden gems, Limeni certainly qualifies.

Limeni has it all – natural beauty, rich history, and authentic Greek charm. The village is characterised by its traditional tower houses, fishing boats bobbing in the harbour, and azure waters. Although there is no real Limeni beach, you can climb down some stairs and into the water if you can't resist a swim.

There aren't many things to see in Limeni, but you should definitely check out the imposing stone tower of Petrobeys Mavromichalis, a hero of the Greek independence war (now a hotel!).

Next take a stroll around the village before settling at one of the waterfront tavernas to enjoy great wine, fresh seafood, and other traditional Greek dishes.

We watched the sunset and enjoyed a drink at Thodora's Place before going to dinner at Kourmas, where we were presented the biggest plate of prawn linguine I've ever seen in my life (alongside tonnes of other delicious seafood dishes).



Where to stay in Limeni


Limeni makes a great base for exploring the Mani, as well as being an idea spot to unwind for a day or two and disconnect from everything.

As far as accommodation options go, Kourmas is the restaurant and beach club that we went to, and it is absolutely stunning. I can't personally vouch for the rooms, but they score a 9.3 on Booking, and they look beautiful to me!

View rates and reviews on Booking.com.

Alternatively, the imposing stone tower that I mentioned is now a boutique hotel named Pirgos Mavromichali, with luxury rooms and views to match.

View rates and reviews on Booking.com.



3. Areopoli


Just a few minutes' drive away from Limeni is the city of Areopoli, which is actually where the Greek War of Independence started against the Ottomans in the 1800s (I did promise you history!).

The old part of town is simply charming, with traditional stone houses, towers, and colourful flowers, and with only 1000 inhabitants, it's the perfect place to enjoy an afternoon stroll.

There are lots of coffee shops and artisan stores selling locally-made souvenirs, as well as plenty of good restaurants.



Where to stay in Areopoli


We stayed at Kastro Maini, a traditional stone house in the heart of Areopoli with a hydromassage pool, cosy rooms, and a great breakfast. I'd definitely stay here again.

View rates and reviews on Booking.

View rates and reviews on Expedia.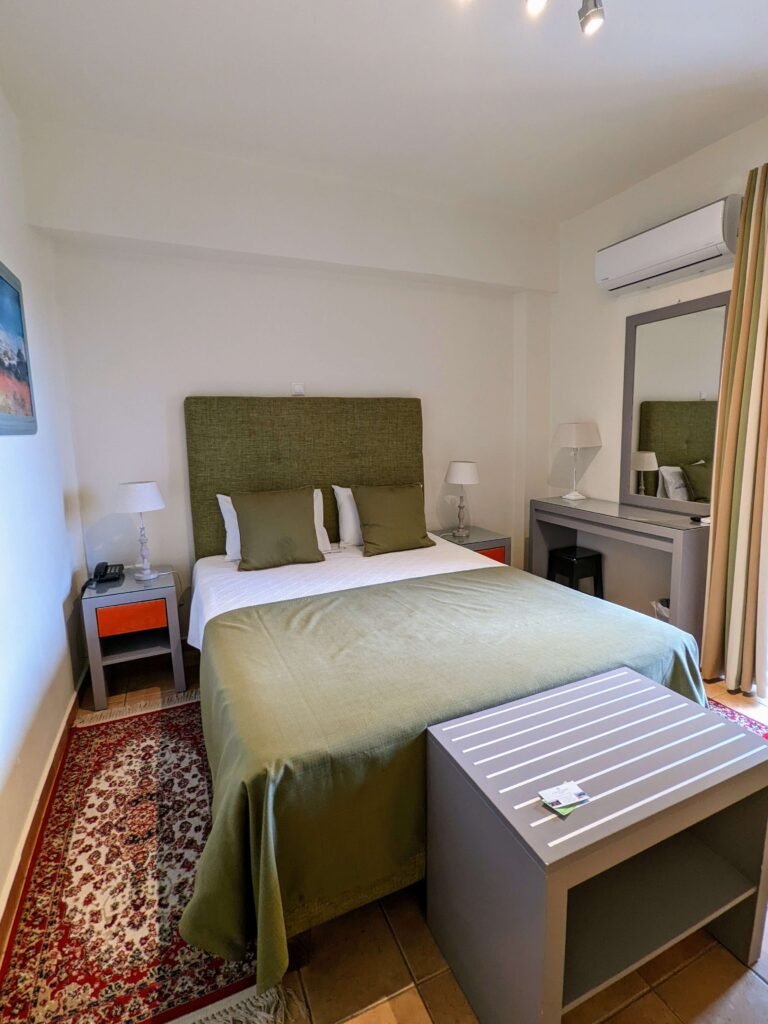 4. Diros Caves


About 10km from Areopoli are Diros Caves, a sprawling underground world which extends 15km into the rock.

You can enjoy a tour of Diros Caves on a wooden boat which glides slowly through narrow tunnels and eerie chambers, allowing you to get within touching distance of the stalagmites and stalactites, as well as passing by a Neolithic burial site.

The boat trip takes less than half an hour, and as Diros Caves are one of the best things to see in the Peloponnese, they're well worth a visit.

Tickets for the lake tour that we did cost 12 EUR, but if you want a land tour of the caves to be included, you can pay 15 EUR and enjoy both.

Here is the price list for the various Diros Caves tours.



5. Ancient Messene


Imagine the Acropolis without the crowds, and you have Ancient Messene.

Ancient Messene is a set of ruins of an entire city, and they are more extensive than both Olympia and Old Corinth.

For most of the year, you can actually walk around the old columns, tombs, and fortifications, and sit in the amphitheatre completely undisturbed, before heading back up the hill to the archeological museum.

This ticket includes your entrance fee (as well as skip-the-line), plus entry to the archeological museum.

Before you leave, don't forget to take in the incredible views of Ancient Messene from above. We had lunch in Ithomi Restaurant and not only was it delicious, but the views over Ancient Messene were incredible – plus, the lovely manager got me some superglue for my broken shoe, so they get extra points in my book!

Ancient Messene is best explored as part of a day trip from Kalamata.



6. Kapsia Caves


The Kapsia Caves, located near the village of Kapsia (funnily enough), have a long history dating back to the Neolithic period and have served as a refuge, a place of worship, and a burial site throughout the ages.

Discovered in 1887, the Kapsia Caves have only been open to tourists since 2010, and are known for their impressive stalactite and stalagmite formations that adorn the various chambers.

A particularly sobering part of the caves is in one of the last chambers (there are 8 in total), where human bones can be seen. This is from when the caves flooded, and the people living inside climbed up as high as they could to escape the water, but unfortunately succumbed, and their remains can still be seen in the place where they perished.

The Kapsia Caves are an awe-inspiring destination for nature lovers, history enthusiasts, and anyone seeking a unique experience in the heart of the Peloponnese.

We actually combined our tour at the Kapsia Caves with a visit to a local family winery for a tasting and lunch, and it was one of the highlights of my time in Greece!

You can find the tour that we did here.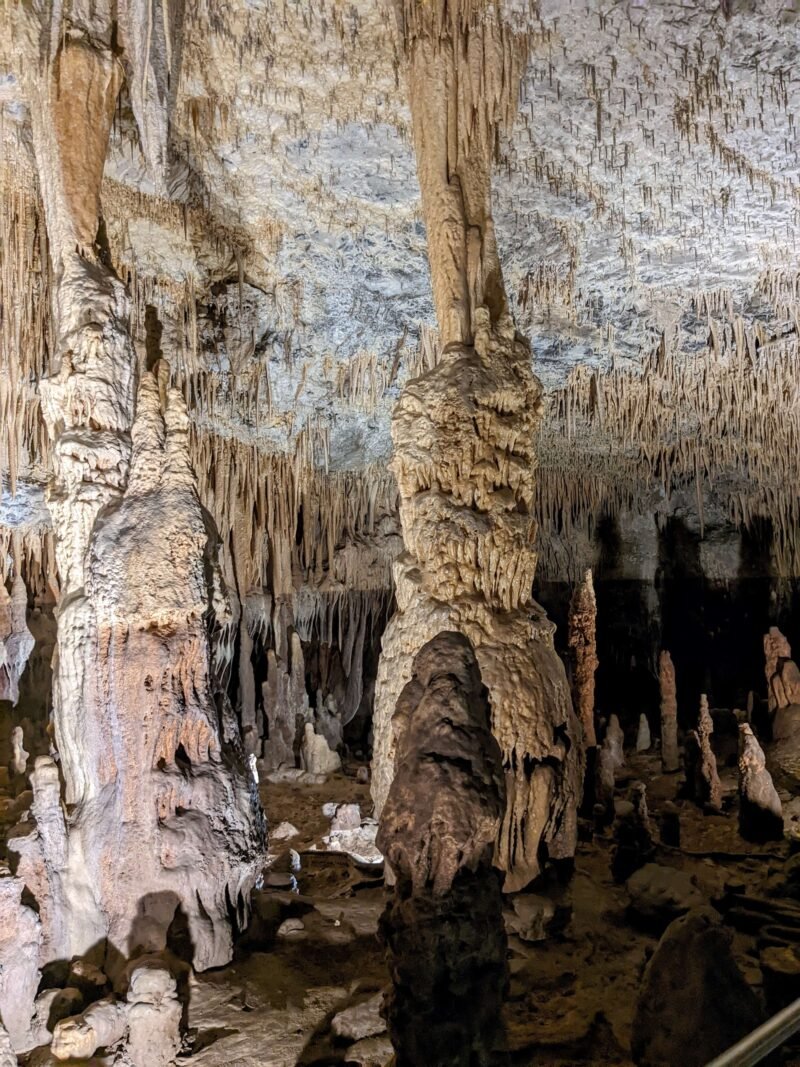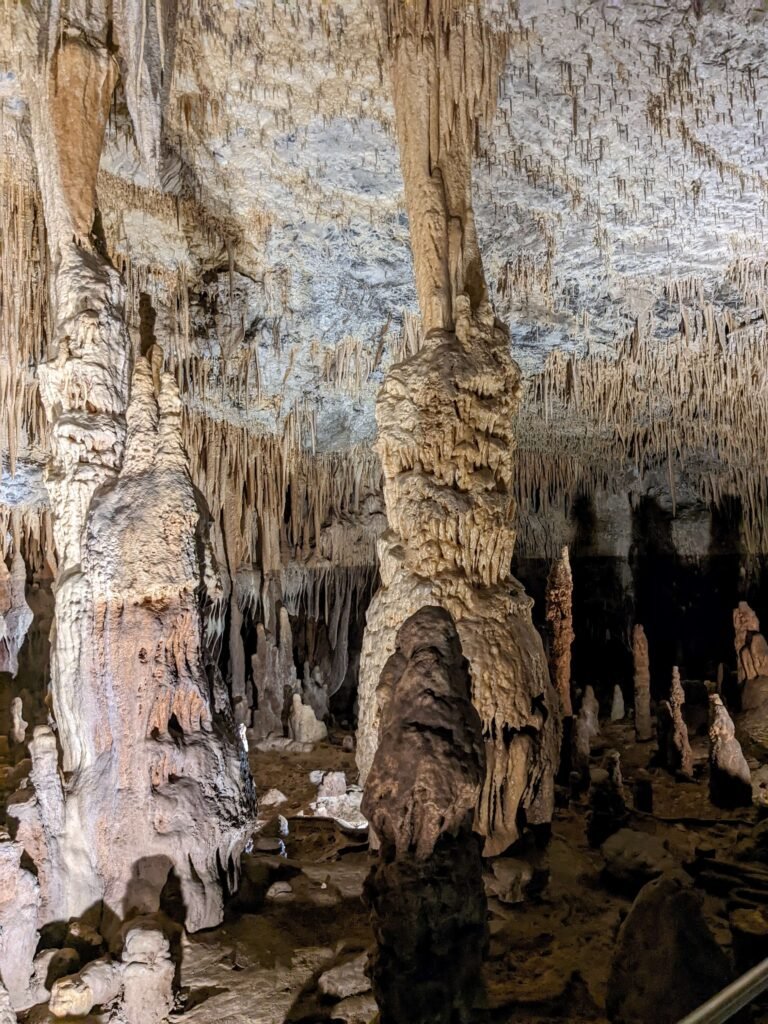 7. Vytina



A stone's throw away from the Kapsia Caves is Vytina, a charming mountain village nestled in the heart of the Peloponnese.

Surrounded by lush forests and formidable mountains, Vytina, is renowned for its natural beauty, traditional stone houses, and warm hospitality.

In the village itself, you can find quaint shops selling local produce such as homemade jams, fresh pasta, herbs, and wheels of goat cheese, as well as cosy tavernas (I recommend Kokkina Pitharia, or 'Red Pot'), and traditional guesthouses offering an authentic stay.

If you're a thrill-seeker, Vytina is also an excellent base for outdoor activities, with opportunities for hiking, mountain biking, and even skiing in the nearby Mainalon Ski Center during the winter months.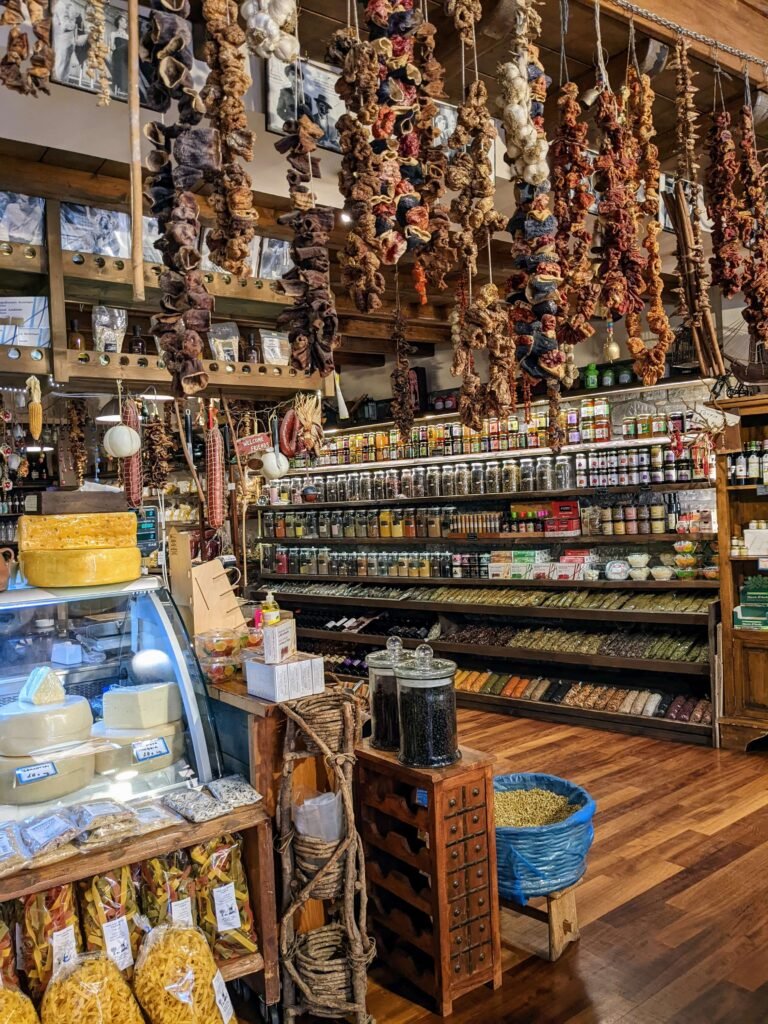 Where to stay in Vytina


There are lots of lovely accommodation options in the centre of Vytina.

Click here to see options on Booking.com.

Click here to see options on Expedia.



8. Kalamata


You might have heard of Kalamata olives, but did you know that Kalamata is also a bustling city with a golden sandy coastline, an abundance of bars and restaurants, and plenty of high end hotels along the promenade where you can escape from the stressors of every day life?

Kalamata is the second largest city in the Peloponnese, but it feels more like a relaxed beach town, and is definitely worth a stop on your Peloponnese itinerary (there's also an international airport here, which is handy!).

It is surrounded by olive groves (I highly recommend The Olive Routes tour and oil tasting), family wineries, and stunning little villages just crying out to be explored.

For more information, you can check out my full guide to Kalamata.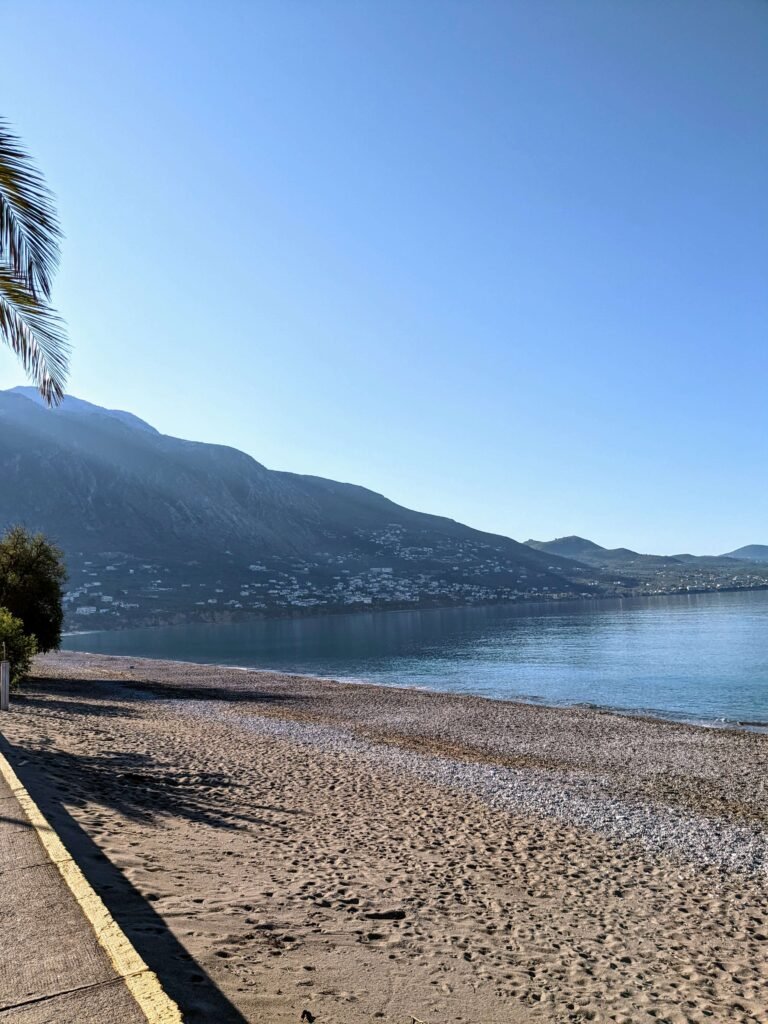 Where to stay in Kalamata


There are so many accommodation options in Kalamata, and I stayed in 2 of them.

The first place I stayed in Kalamata was Elite City Resort, which was outside of the town centre, right on the beach. There were lots of lovely bars and restaurants close by, and I could get into town easily by bus or taxi. The hotel itself was amazing, with a fantastic breakfast, large room with a big balcony, and all the amenities you could wish for. I highly recommend Elite City.

Click to view rates and reviews on Booking.

Click to view rates and reviews on Expedia.

The second place I stayed was a private apartment in the centre of town, which was the total opposite of Elite City, but equally as great. The host, an elderly man and his wife, live in the apartment above, and not only did they collect me from the bus station, but they also dropped me off there the day after!

The apartment had a huge bedroom, living room, and garden, as well as fully-fitted kitchen. I could be in the centre of town in 10 minutes by foot.

For a truly authentic experience, and to support a couple in their retirement, I can't recommend this place enough.

Click here to book the private apartment I stayed in.



9. Gerolimenas


The tiny harbour of Gerolimenas is about as off the beaten path in Greece as you can get!

You can walk from one end of this traditional Greek fishing village in less than 10 minutes, but that's what makes it so special!

With a picturesque pebble beach, a handful of tavernas serving up the catch of the day, and a couple of stunning boutique hotels, Gerolimenas is well worth spending the night.

Gerolimenas used to be one of the most remote areas of Peloponnese, and until the 70s, it could only be reached by boat!



Where to stay in Gerolimenas


There are 2 main hotels in Gerolimenas, the one that I stayed at, and a luxury hotel at the end of the village.

I stayed at Akrotainaritis, a cosy boutique hotel with wooden beams and floors, stone walls, and gorgeous sea views. I absolutely adored this place, and their onsite restaurant served up a really tasty lunch for us. It's a great mid-range option.

View rates and reviews on Booking.

A more luxe option is Kyrimai Hotel, with absolutely stunning country-chic rooms with antique furniture and a private beach. We were actually supposed to stay here but our plans changed last minute, and I'd definitely like to go back and stay here in the future!

View rates and reviews on Booking.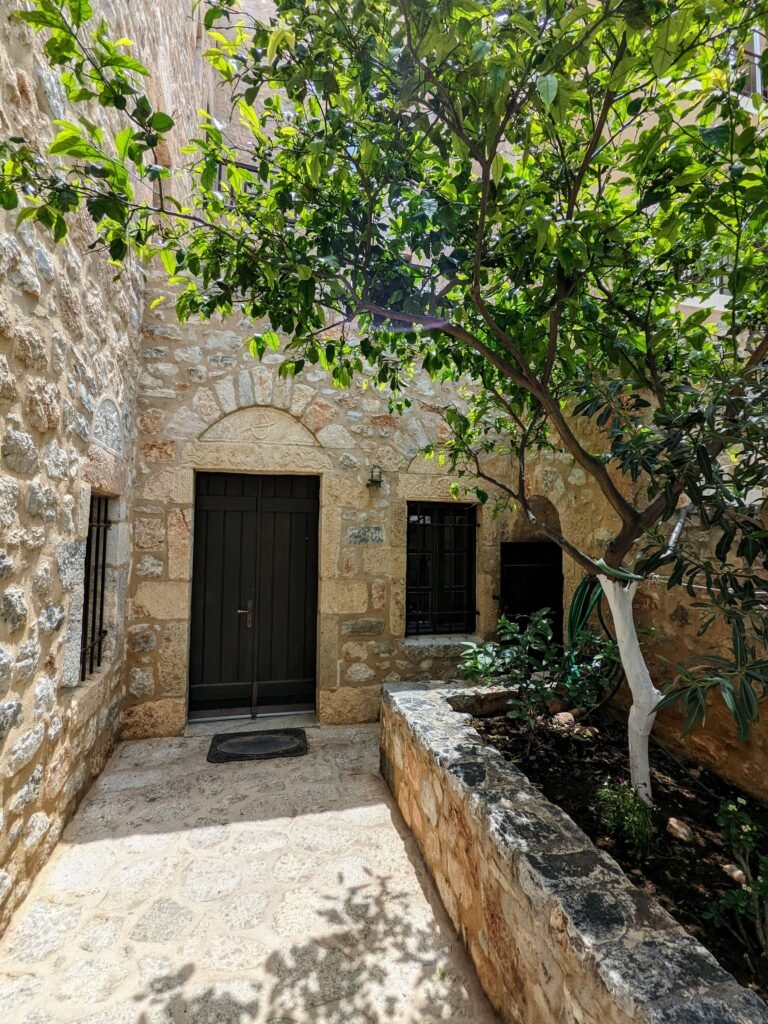 10. Kardamyli


Kadramyli was my first stop along the Mani peninsula, and is without a doubt one of the most beautiful places in the Peloponnese, as well as the cultural capital of Mani.

Places to visit in Kardamyli are the Byzantine Church of Eisodia with its 18th century frescoes, the ruins of Mourtzinos Castle and the church of Saint Spyridon, but perhaps the greatest pleasure here is to simply wander through the quaint old town, taking in its whitewashed houses, sleepy atmosphere, and sea views.

Fun fact: Homer wrote of Kardamyli in the Iliad, bearing witness to the city's millennia-old past!



Where to stay in Kardamyli


I didn't spend the night in Kardamyli, but there are certainly lots of great options if you decide to.

Here are the options on Booking.

Here are the options on Expedia.



11. Nafplio


Nafplio is the only place on this list that I didn't make it to, but as it's so popular, I couldn't not include it!

Nafplio is a picturesque coastal town that was the first Greek capital after Greece was liberated in 1821 – unfortunately, after just 4 years, its status as capital was transferred to Athens by the King.

However, that didn't stop the town from flourishing, and over the years, artists, merchants, and couples looking for romantic getaways have all flocked to Nafplio.

Nafplio's crown jewel is the 400-year-old Palamidi Fortress, which sits perched atop a hill, offering panoramic views of the surrounding azure sea and the rooftops of Nafplio.

Bourtzi Fortress and Akronafplia Fortress are the other two fortresses protecting the city, and after you've finished your historical explorations (not forgetting the archaeological museum), enjoy the sweeping ocean views, quaint cafes, and stunning architecture.



Where to stay in Nafplio


Nafplio is one of the most popular places on this list, and as a result, it certainly isn't short of holiday apartments and boutique hotels!

Click here to view Nafplio hotels on Booking.

Click here to view Nafplio hotels on Expedia.



12. Mezapos


When it comes to Greece off the beaten path, Mezapos is a true jewel.

This tiny fishing port and settlement has just a dozen or so residents, and is one of the most remote places in the Mesa Mani.

In years gone by, Mezapos was known for the famous pirate, Nikolos Sassaris, who lived in the village and was active during the second half of the 18th century.

Known as the 'one-eyed pirate,' Sassaris died at the hands of Turkish ships when returning to Mani with a French ship as booty.

Today, you can scramble down the rocks to the secluded beach and relax as you watch the fishermen at work.

There are also 2 sea caves here which can be explored by swimming, and legend has it that the one-eyed pirate's treasure is still hidden in one of them!



Where to stay in Mezapos


I would probably recommend visiting Mezapos from elsewhere as a day trip due to how secluded this place truly is, but there is one hotel in Mezapos if you want to escape the real world for a while!

Ippola Boutique Hotel is a 4-star hotel with a bar, shared garden and terrace, within walking distance of the beaches of Mezapos.

Click to view rates and reviews of Ippola Boutique Hotel.



13. Tainaro


Ever wanted to go to the ends of the earth?

Even more remote than Mezapos is Cape Matapan (or Tenaro, or Tainaro, depending on who you ask).

This is the southernmost point of mainland Greece within the Peloponnese region, and Greek legends say that this was the home of Hades – spooky!

To get here, drive to Kokkinogia village, where you can park your car. There is a lovely taverna here if anybody from your group does not wish to hike.

From here, you'll have to continue on foot for about 45-60 minutes, on rocky terrain. You'll pass the temple in honor of the Gates of Hades, as well as some Roman baths, before coming to a large stone lighthouse.

Unfortunately, when we visited Tainaro, I wasn't wearing the correct shoes for hiking, so I had to wait inside the taverna, but my group told me that it is a fairly tough walk, which is the opposite of what everything I've read on the internet says.

The terrain is really rocky (I attempted some of it), and at the end you'll really have to scramble up steep rocks to get to the lighthouse. It walk itself isn't steep at any point, but several experienced hikers in our group said that they felt it was a mid-to-difficult walk rather than the 'mild' hike that is often described.

It also gets very windy here so be sure to bring plenty of sunscreen, water, and appropriate footwear.



14. Porto Kagio


Porto Kagio is another incredibly remote seaside village in the South of Mani, where the only things to do are soak up the sun, eat fresh seafood, and swim in the crystal clear waters.

We stopped here for lunch, and I wish we'd had longer to enjoy the tranquil atmosphere of this place.



Where to stay in Porto Kagio


There are a handful of accommodation options in Porto Kagio, but the one that I recommend is Akrotiri B&B, which is where we had lunch.

Not only was the food amazing, but it was perched right on the beach, and judging from the photos online, the rooms look great too.

Click here to view rates and reviews of Akrotiri B&B.



15. Vathia


Located on the Southeastern part of the Mani peninsula, Vathia is one of the most unique places to visit in the Peloponnese.

Perched on a hilltop overlooking the dramatic coastline, Vathia is renowned for its iconic stone tower houses that dot the landscape, creating a striking and picturesque scene. These towers, known as 'pyrgospita, were once the fortified homes of local families, built as defensive structures during times of conflict.

Today, almost the entire village has been abandoned, and you can actually walk right into the old houses and see furniture, old newspapers, and other remnants of years gone by.

Wandering through the village is one of the most unique travel experiences I've had – I've explored my fair share of abandoned buildings before, but never an entire village!

The panoramic views of the surrounding rugged landscapes and the sparkling waters of the Mediterranean Sea only add to the village's allure, and while some of the pathways are narrow and overgrown, Vathia is still an incredible place to explore.



Most Beautiful Places in the Peloponnese | Final Thoughts


When it comes to Greece hidden gems, the Peloponnese has them in droves.

From isolated beaches and rugged landscapes to deserted villages and ancient ruins, the Peloponnese region, and in particular the Mani Peninsula, is just full of places undiscovered by mass tourism.

In the Peloponnese, you can still find an authentic Greece, away from the inflated prices and tourist traps associated with places like Mykonos and Santorini, and while Greeks are certainly familiar with these destinations, you'll be hard-pressed to find another foreigner on your explorations.

That's it for today, but as always, if you have any questions, don't hesitate to reach out and ask me in the comments section below and I'll be happy to answer!

Until next time,

XOXO


If you liked this article and would like to support my work, please click the button above to donate a couple of bucks and buy me a coffee. The ad revenue that I receive on this website is minimal, so support from my readers enables me to keep creating content that you (hopefully!) love to read.

Disclaimer: I visited the Mani Peninsula and Peloponnese region as a guest of the Greek tourism board. My tours, hotel stays, and meals were all gifted to me (apart from the Kalamata hotels). However, all opinions are my own and I would never recommend something that I didn't wholeheartedly endorse. Some links on this page are affiliate links.