Athens, the captivating capital of Greece, where ancient history meets modern allure.

I visited Athens recently on the way to a conference, and as soon as I arrived, I knew that this was a city that I could see myself living in.

One day in Athens is a very short amount of time – you could spend a month there and not get bored – but with a well-planned itinerary, it is still enough time to see most major Athens attractions and landmarks.

In order to ensure that you maximise your time in Athens, I've created this Athens 1 day itinerary to help you make the most of your time in the Greek capital.

This itinerary will allow you to immerse yourself in Athens' rich heritage, savour its culinary delights, and explore its coolest neighbourhoods.

So, grab a notebook and pen, and let's embark on a memorable journey through Athens' ancient past and vibrant present.

Your Athenian adventure awaits!



One Day in Athens – The Ultimate Athens 1 Day Itinerary


Athens at a glance


Many people dismiss Athens as being no more than a point of entry when visiting the Greek islands.

They cite the Acropolis as the only thing that Athens has to offer, but trust me when I say that there are so many reasons to visit Athens!

Nestled between the hills and embraced by the Aegean Sea, Athens is a living testament to the birthplace of democracy, philosophy, and the arts.

As you step foot in this historic metropolis, prepare to be transported through time, to a place where myths and legends intertwine with contemporary urban life, creating a tapestry of cultural richness.

From the iconic Acropolis, crowned by the majestic Parthenon, to the ancient Agora and the Temple of Olympian Zeus, every step you take will unveil a chapter of Athens' fascinating story.

But Athens is more than its countless archeological sites.

Modern art galleries, trendy cafes, bustling markets, and eye-catching street art are woven into the fabric of the city, and beyond all of its historical and cultural treasures, Athens is a city of warm hospitality, where strangers are welcomed as friends in the Greek spirit of philoxenia.

To me, Athens is a cross between Tirana, capital of Albania, Palermo, the beating heart of Sicily, and Valencia, my home in Spain for 18 months.

So, if I've piqued your interest, then just keep on reading to discover how to spend one day in Athens.



How to spend 1 day in Athens


8:00am – The Acropolis


Your one day in Athens has to begin with a visit to the iconic Acropolis.

Rising majestically above the cityscape, the Acropolis is an architectural wonder that has stood the test of time, a testament to the incredible achievements of ancient Greece.

The Acropolis is more than just a collection of ruins; it is a window into the rich heritage and cultural legacy of Greece.

This archaeological site holds the remains of several ancient structures that once adorned the sacred hilltop. As you wander through its marble pathways, you'll be transported back in time, imagining the glory of Athens during its Golden Age.

The crown jewel of the Acropolis is undoubtedly the Parthenon, an awe-inspiring temple dedicated to the goddess Athena. Its grandeur and architectural brilliance will leave you speechless as you marvel at the intricately carved sculptures and Doric columns that have survived for centuries.

Other notable structures inside the Acropolis include the Erechtheion, with its enchanting Caryatid Porch, the Propylaea, a monumental entrance gate which offers a glimpse into the grandeur that awaited visitors in ancient times, and of course the Temple of Athena Nike, perched on the southwestern edge, exuding grace and elegance.

Visiting the Acropolis first thing not only ensures that you beat the crowds (cruise ship tourists tend to arrive at around 9:30am), but you'll also avoid the scorching midday heat.

The Acropolis opens at 8:00am, so arrive just beforehand to start your 1 day in Athens off right.

Get your Acropolis tickets with skip-the-line entry here.

If you'd prefer to have a guided tour of the Acropolis, this tour is a great option.



10:00am – Explore Anafiotika


Anafiotika is a small, pedestrian-only neighbourhood located just up from the entrance of the Acropolis, making it the perfect place to visit when you've finished exploring the ruins.

Anafiotika is a photogenic neighbourhood with Cycladic architecture that will make you feel as though you've escaped to a Greek island!

Despite its proximity to the tourist district of Plaka, Anafiotika is a haven of calm and tranquility, and when I decided to take a stroll there, the only other person I came across was an old man sitting outside his home, who told me I was free to explore all the narrow alleyways that I wanted!

There are no shops or tourist restaurants here – Anafiotika is a purely residential neighbourhood, home only to locals and cats – but it's more than worth exploring.



10:30am – Brunch


By this point, you'll most definitely have worked up an appetite, and luckily for you, you're a stone's throw away from dozens of great eateries.

Wander back down from Anafiotika and you'll find yourself in Plaka, where there is an abundance of tavernas, cafes, fast-food joints, and more.

For a traditional Greek gyros to enjoy on-the-go, head to Meat The Greek, or for a sit-down meal, Klepsydra is a picturesque little taverna very close to the Acropolis serving up hearty and authentic Greek specialties.

If you want something a little lighter, Yiasemi is a beautiful little café with a simple breakfast menu of toast, yoghurt, granola, and omelettes.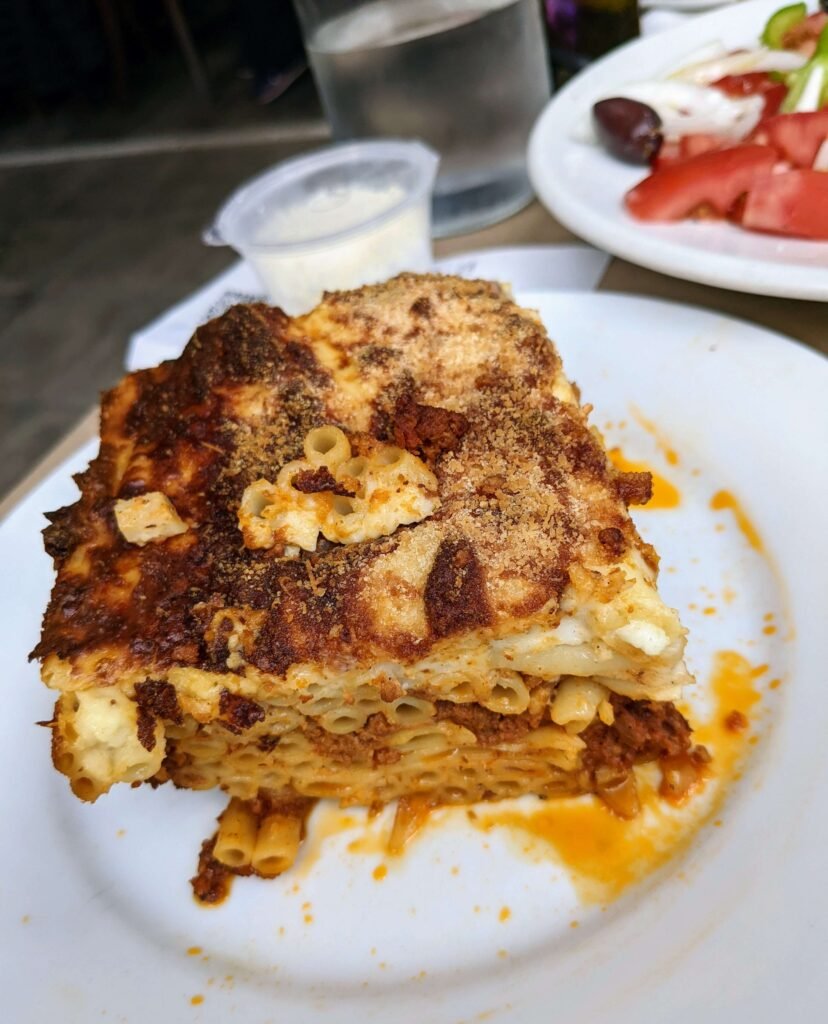 12:00pm – Explore Plaka


Now you have a full belly, it's time to explore the district of Plaka a little more.

Plaka is the oldest part of Athens, as well as one of the most touristy areas, and it's easy to see why.

Teeming with boutiques, tavernas, Neoclassical architecture, and friendly street cats, this historical neighbourhood has been inhabited since ancient times, and you should spend an hour or so just taking a stroll and soaking up the atmosphere.

Be sure to pick up some souvenirs in Plaka – you can buy everything from olive oil cosmetics to leather sandals, evil eye talismans, and various spice mixes (I got a large selection of these!).

You can also find the Roman Agora here, as well as the Temple of Hephaestus, and the Orthodox Church of Panagia Kapnikarea.

If you want to explore these archaeological sites, allow another hour.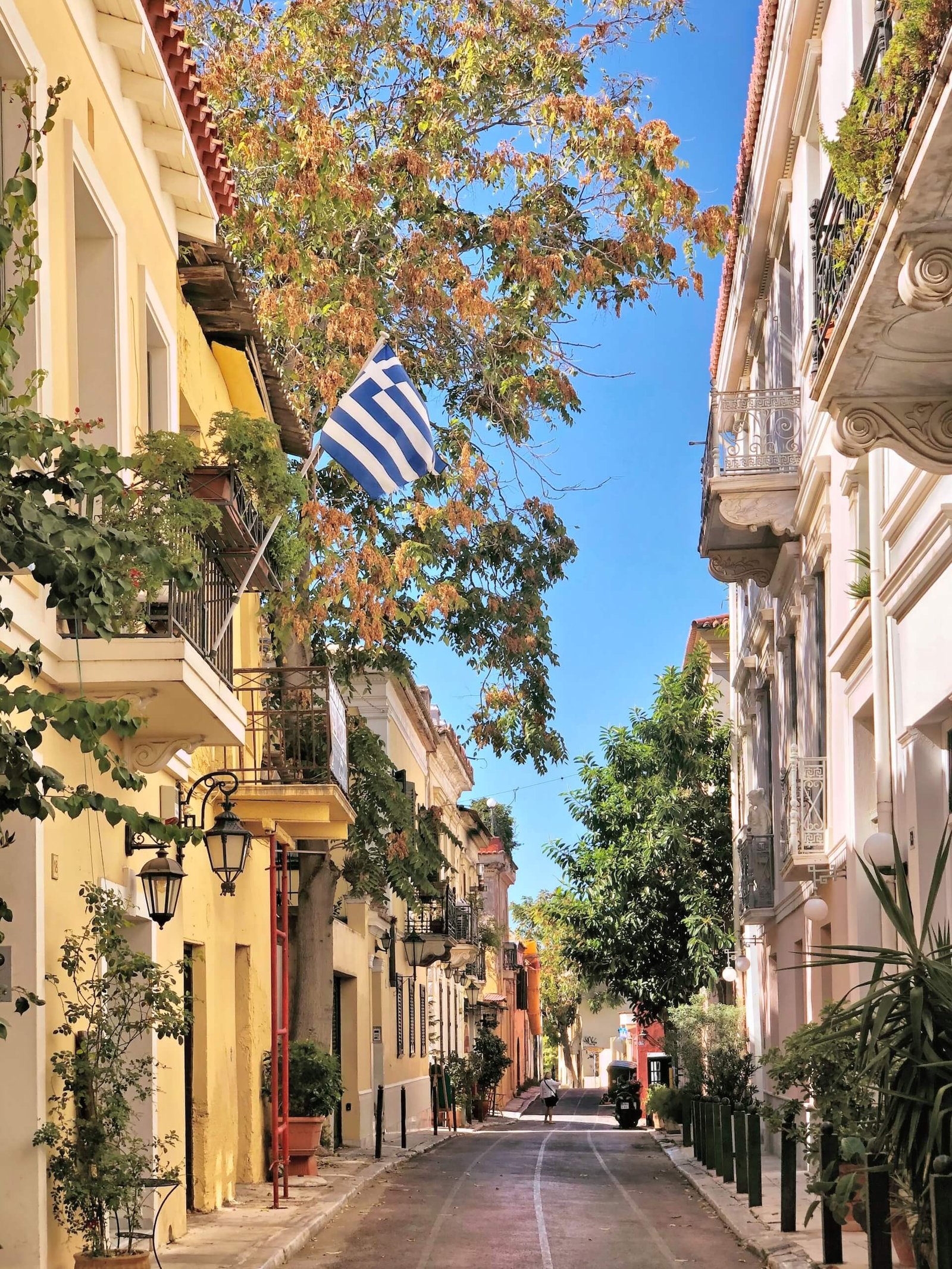 2:00pm – Little Kook


About 15 minutes away from Plaka by foot, Little Kook is a café and dessert shop unlike anything you've ever seen before.

Three times a year, the entire theme of the place is changed (at Halloween, Christmas, and spring), along with a new menu to reflect the new theme.

The attention to detail is awe-inspiring, and you could spend an hour just trying to take it all in.

When I visited Little Kook, they had an Alice in Wonderland theme. I ordered a white Sangria with strawberries, and my friend ordered a white chocolate 'frosty' drink with strawberry sauce, salted caramel, and a donut on top.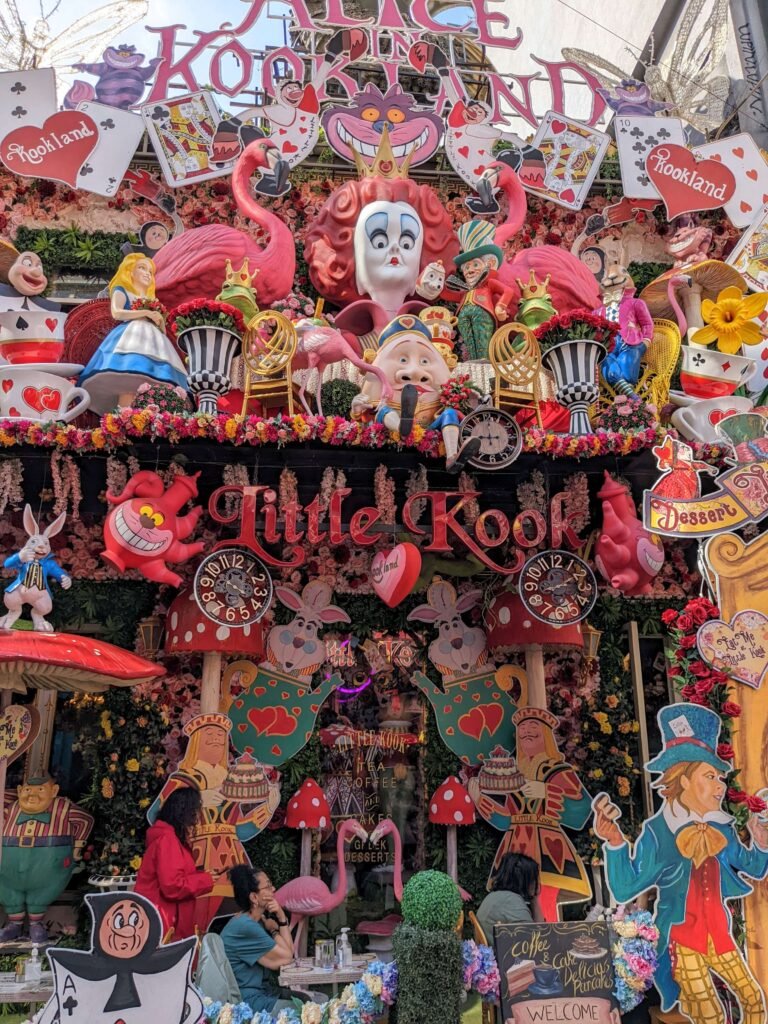 3:30pm – Monastiraki


Monastiraki is another cool district in Athens worth exploring.

Begin your explorations on Monastiraki Square, where you can enjoy the hustle and bustle of Athens.

In the centre of the square is Tzistarakis Mosque, which was built in 1759.

Since 1975, Tzistarakis Mosque has housed a remarkable collection of pottery from Greece, Cyprus, Ottoman and modern Turkey. Inside the Mosque is information and photos about the artists and the historical significance of the building.

Next to the Mosque are the remains of Hadrian's Library (132 AD), as well as the small Church of the Pantanassa, which used to be a nunnery during the Byzantine era.

Before you leave the square, don't forget to buy a bag of fresh strawberries from the vendor just outside the metro station – they really are delicious!

As you explore the network of alleyways that make up Monastiraki, you'll almost feel as though you're in an Arab souk.

Antique shops, quirky alternative stores (think witchy shops, vintage clothing, records, and old books) and dive bars line the streets, and to me, Monastiraki feels a bit like Camden Market.

Abyssinia Square (also spelt 'Avissinias') is the hub of all the antique furniture, gold and silver pieces, and other eclectic bits and bobs (broken rocking horse, anyone?), and if you're lucky enough to be in Athens on a Sunday, this is where you'll find a proper flea market.

A cool place to stop for a drink here is El Tropicana, a cool cocktail bar with outside sofas and free popcorn!



6:30pm – Discover Athens rooftop bars


An absolute must-do in Athens is to enjoy a drink at one of Athens' many rooftop bars, which all overlook the Acropolis.

I went to Thea Terrace, a sleek and sophisticated bar and restaurant on the roof of the Central Hotel, and the views were breathtaking.



8:00pm Dinner at a traditional taverna


For a traditional Greek taverna experience, head to O Thanasis on Monastiraki Square for plates piled high with meat, Greek music, singing, and dancing!

My friends and I had a fantastic evening here, and we thoroughly enjoyed not only the food, but the dancing as well!

Another place I recommend for dinner is Avli Restaurant. You might have to queue awhile to get in, but the small plates here are absolutely delicious, and the prices are super affordable. The trick here is to order a bunch of plates to share, like you would in a tapas restaurant.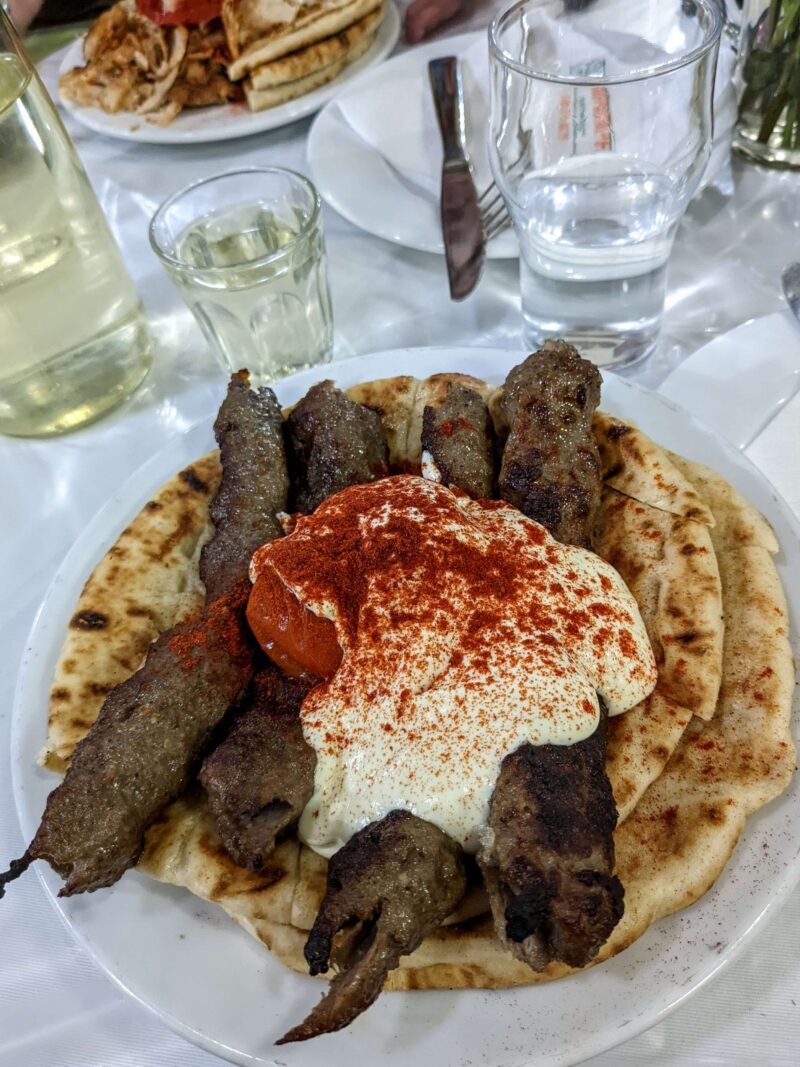 10:00pm – Party in Psiri


Psiri (also spelt Psyri and Psirri) is the place to be in Athens when the sun goes down.
Countless wine bars, cocktail bars, and restaurants line the streets of Psiri, and in my opinion, it has an even cooler vibe than Plaka.

The best thing to do here is simply walk around and see where takes your fancy!



Athens travel tips

Athens is a big city, but most of the major attractions are very close to one another, and I've structured this itinerary in a way that means can easily do everything on foot.
Athens is the hottest capital city in mainland Europe, so prepare accordingly!
Athens is not only very hot, but it also gets incredibly crowded in the summer months. I recommend visiting Athens in the shoulder season (the months just before and after summer), when the crowds are thinner, the prices are lower, and the heat isn't quite as stifling.
The best way to get to the centre of Athens from the airport is by metro. The journey costs 9 EUR (or 16 return), and takes about 40 minutes.

Is Athens safe?


One of the biggest points of contention about Athens is whether or not Athens is safe.

Some tourists, especially solo female travellers, say that they felt unsafe in Athens, and while I'm never going to discount somebody's experiences, what I will say is that the numbers show that Athens is a very safe city, and I prefer to go by the numbers rather than people's self-reported feelings, because we all observe things differently.

On the whole, Athens is a very safe city (you can read my post about safety in Athens for more detailed information).

You should watch out for pickpockets, especially around touristy areas like Monastiraki Square and the Plaka district.

In terms of areas to avoid, Omonia has a bad reputation, and this part of the city is generally where people are talking about when they reference homeless people and people using drugs in the street. During the daytime, it's perfectly safe here, but you wouldn't really have a reason to be here as a tourist unless your accommodation was located here.

Other areas to avoid in Athens are Vathi Square and Viktoria Square, but they are not in the centre of town and therefore not places you would accidentally stumble upon.



Best Athens tours


If you only have one day in Athens and you're worried about seeing everything on such limited time, you might want to book a tour or excursion.

This could be a walking tour to ensure you see all the major Athens landmarks, a food tour to introduce you to Greek cuisine, or even a guided tour of the Acropolis to make the most of your experience.

My picks for Athens tours are the following:

Athens Instagram Tour: The Most Scenic Spots

Athens: Greek Cooking Lesson & 3-Course Dinner

Athens Gourmet Food Tour

Athens: Guided Urban Street-Art Tour

Athens Riviera: Catamaran Cruise with Meal and Drinks

Athens: Dinner in the Sky Experience

All of the above tours are the highest-rated on GetYourGuide, which is the platform I always use when booking tours.



Where to stay in Athens


If you only have one day in Athens, choosing accommodation in the right location is essential.

When I visited Athens, I stayed in the residential neighbourhood of Pagrati, and while it was a great place to spend a week, if I only had 1 day in Athens, it would have been too far out of the way.

You want to be in close proximity to all of the major Athens landmarks and attractions, especially if you're going to wake up early for the Acropolis!

The perfect neighbourhood in this case then, would be Plaka.

Here, you are a stone's throw away from the Acropolis, Anafiotika, loads of cool bars and restaurants, and a short stroll away from Psiri.

Here are the best accommodation options I found in Plaka (I applied search filters to ensure that only the top-rated ones are included!):

Check out top-rated Plaka hotels on Booking.

Check out top-rated Plaka hotels on Expedia.



One Day in Athens | Final Thoughts


Hopefully by now, you've got a great idea of how to spend your one day in Athens.

This 1 day Athens itinerary not only allows you to see the major Athens landmarks, but also to explore the coolest neighbourhoods, try the best Greek food, and really get a feel for the city.

If you have any questions about planning a trip to Athens, please don't hesitate to reach out in the comments section below, and I will do my best to help!

Until next time,

XOXO


If you liked this article and would like to support my work, please click the button above to donate a couple of bucks and buy me a coffee. The ad revenue that I receive on this website is minimal, so support from my readers enables me to keep creating content that you (hopefully!) love to read.

Disclaimer: Travelling Jezebel uses affiliate links. This means that if you make a purchase on a partnered site then I may make a small commission at no extra cost to you.