You might have heard of Kalamata olives, but did you know that Kalamata is also a bustling city with a golden sandy coastline, great restaurants, and plenty of things to see and do?

I spent just over a week in Kalamata recently for the TBEX travel conference, and although I'd never even heard of Kalamata prior to the conference, I left wishing I'd had longer to explore this vibrant seaside resort town on mainland Greece.

Not only are there plenty of things to do in Kalamata itself, but Kalamata is also a great place to base yourself when exploring the Peloponnese region, as it is surrounded by olive groves, ancient ruins, coastal villages, and mountain hamlets just begging to be discovered.

So, if you're considering booking a trip to Kalamata then just keep reading, because I've got you covered.

Here are the best things to do in Kalamata, the best day trips from Kalamata, where to eat, where to stay, and everything else you need to know before you go.

Are you ready?

Then let's get into it.



Best Things to Do in Kalamata, Greece


How to get to Kalamata Greece


Kalamata is the second largest city in the Peloponnese region of Greece, but you'd be forgiven for not being able to point it out on a map – I certainly couldn't prior to my trip!

It's actually super easy to get to Kalamata – not only does it have its very own international airport with direct flights from many major European cities, but there are frequent buses directly from Athens.

If you are taking the bus, be sure to select the 'EXPRESS' bus. This will take around 3.5 hours, while the other buses take much longer!

Tickets are generally about 22 EUR each way.

Buy your bus tickets and check timetables on the KTEL website.

You can also hire a car and drive from Athens to Kalamata in less than 3 hours. One thing you should be aware of if you decide to do this are the various toll stations between the 2 cities. The total amount comes to about 15 EUR at the time of writing.



Best Kalamata tours


If you're in a rush and just want a quick overview of the best things to do in Kalamata without reading a whole blog post, here are my picks for the best organised tours and experiences in and around Kalamata:

Messinia Wine Castle Route – If you have limited time in Kalamata and want to pack in as much as possible, this tour has everything. Combining a visit to a nearby island, Pylos Castle, the Palace of Nestor, and a wine seminar and tasting, this all-day tour really does have it all.

Ancient Messene Archaeological Site Admission Ticket – Visiting the ruins of Ancient Messene is a must-do while you're in Kalamata, and this admission ticket includes skip-the-line and entrance to the nearby archeological museum.

Navarino Bay: Sea Kayaking with Lunch – If you want something a bit more adventurous, this sea kayaking tour may be just the thing. Kayak around some of the most spectacular areas of the Peloponnese, exploring sea caves, snorkelling, and discovering remote islets and secluded beaches. This tour also includes a picnic lunch.

The Olive Routes Tour – I took this tour myself, and it was one of the highlights of my time in Kalamata. Touring an old olive oil mill, learning about olive oil, and taking part in a tasting and food pairing were all included on this fascinating tour.



Best things to do in Kalamata


Eat all the olives


Kalamata olives are world-famous, and so it goes without saying that if you visit Kalamata, you simply have to gorge on Kalamata olives until your stomach can't take it anymore!

Olive trees have been cultivated in the Peloponnese for more than 3600 years, and the saying goes that every Greek has 300 olive trees!

Kalamata olives are large, dark purple in colour, and meaty, with a less bitter taste than the olives you may be used to.

I'm not usually a fan of black olives, but these ones were so juicy and succulent that I couldn't stop coming back for more every time I was presented with some!



Hit the beach


One of the best things to do in Kalamata is to simply soak up the sun on Kalamata's 2.5km Blue Flag sandy beach!

Take a stroll along the promenade, Navarinou Avenue, and take your pick where to go!

Closer to the city centre are lots of beach bars, cafes, and tavernas with loungers and umbrellas, or you can keep walking away from the centre for totally unspoilt golden sands!

You can also rent watersports equipment along the beach if you're in need of some more adrenaline-fuelled fun!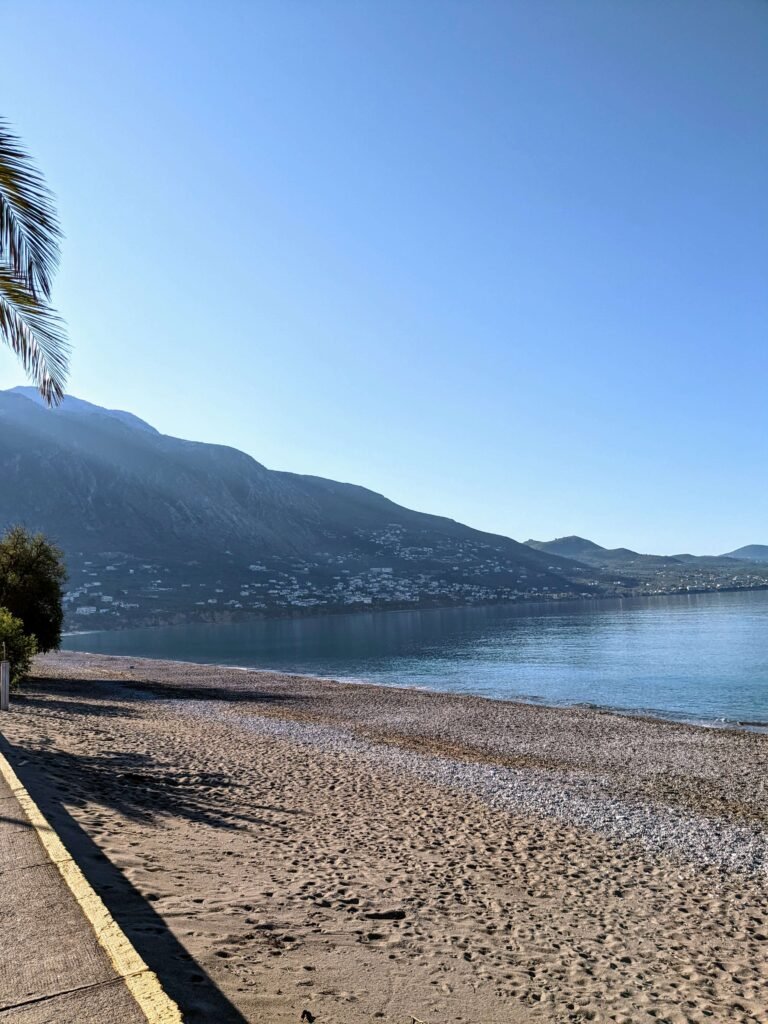 Wander Kalamata Old Town


Kalamata's Old Town is compact but charming, and you can find tonnes of lovely shops and eateries here, as well as the typical cobbled streets and picturesque buildings that you've probably come to expect in Europe!

The 23rd March Square is the most popular square in Kalamata and is surrounded by cafes, bars and restaurants, as well as being home to the small Church of Holy Apostles.

The name comes from the fact that this is where the Greek Independence War was said to be declared, on the 23 March 1821 (although our tour guide told us that it actually started in Areopoli!).

Ipapanti Cathedral is another place to visit in Kalamata Old Town.



Visit some Kalamata museums


There are lots of museums in Kalamata, so if you want to escape from the sun's rays and learn something new at the same time, you're in luck!

The best Kalamata museums are:

Archeological Museum of Messinia – This small museum is home to an extensive range of archeological findings from the Messinia area that date back to prehistoric times. Entrance is 3 EUR. Google Maps link.

History and Folklore Museum of Kalamata – This museum is home to a bunch of artefacts from the Greek Independence War in 1821, along with lots of everyday objects used in days gone by. There's also an entire floor dedicated to printing and bookbinding, as Kalamata was home to the first printing house in Greece! The museum is free to enter. Google Maps link.

Military Museum of Kalamata – As the name would suggest, this museum focuses on all things military. It covers both world wars, as well as the Balkan Wars, and of course the Greek Independence War. This museum is free to enter. Google Maps link.

Museum of Traditional Greek Costumes – While it may not initially sound appealing, the story behind this museum may make you change your mind. Victoria Karelia is the collector behind the museum, and her collection includes Greek costumes from the last 2 centuries! Many of the garments have been painstakingly restored by local dressmakers, and are displayed on custom-made moving mannequins – the level of work and dedication to her passion is what makes Victoria Karelia's museum a fascinating place to visit. The museum costs 5 EUR to enter. Google Maps link.



The Olive Routes


The Olive Routes is a tour of an old olive mill and olive oil tasting, and if you ask me, it's definitely one of the best things to do in Kalamata.

I'm obsessed with olive oil, and so this tour was right up my street.

After learning about how many olive trees there are in Messenia (15 million, compared to just 11 million Greeks in Greece!) and how the average Greek consumes 20L of olive oil every year, compared to the average American, who consumes just 1L, we toured the factory to learn about the oil-making process.

Next was onto the tasting with Dimitra, owner of the company and certified oil taster!

We tried 4 olive oils, and just like a wine tasting, we learnt how to detect the underlying flavours within the oils, how far away you should be able to hold a good olive oil and still smell it, and the sharp acidic twang of a bad oil.

This was beyond fascinating for me, and if I could visit here again tomorrow, I would!

Included on the tour is a tour of the Castle of Androusa, a tour of the olive oil mill, tasting workshop, a light meal, wine, and ouzo.



Ancient Messene


Imagine the Acropolis without the crowds, and you have Ancient Messene, one of the best day trips from Kalamata.

Ancient Messene is a set of ruins of an entire city, and they are more extensive than both Olympia and Old Corinth.

For most of the year, you can actually walk around the old columns, tombs, and fortifications, and sit in the amphitheatre completely undisturbed, before heading back up the hill to the archeological museum.

This ticket includes your entrance fee (as well as skip-the-line), plus entry to the archeological museum.

Before you leave, don't forget to take in the incredible views of Ancient Messene from above. We had lunch in Ithomi Restaurant and not only was it delicious, but the views over Ancient Messene were incredible – win, win!

To get to Ancient Messene, your best bet is to hire a car. The drive takes about 40 minutes.



Kalamata Castle


Shamefully, I never made it up to Kalamata Castle, but as this 13th century building is one of Kalamata's most important landmarks, I couldn't not include it on this list!

Perched on a rocky outcrop on the outskirts of the city, Kalamata Castle was originally an ancient citadel that was one of 7 cities offered to Achilles by King Agamemnon in Homer's The Iliad.

Even if you're not into castles, the panoramic views from here are supposed to be spectacular, so you should definitely have a stroll up and see.



Discover the Mani Peninsula


One of the best day trips from Kalamata is to the Mani Peninsula, the most rugged and isolated part of the Peloponnese region.

The Mani Peninsula has a long and tumultuous history that has seen it largely estranged from mainland Greece. As a result, Maniots are known for their independent spirit, warrior traditions, and strong sense of honour – or, as our tour guide put it, 'they're not very nice.'

It is characterised by its dramatic landscape of towering mountains, rocky cliffs, and fortified tower houses, or 'Maniot towers,' which were constructed as defensive structure during times of conflict.

The Mani is also famous for its coastline, dotted with picturesque hamlets, hidden coves, and unspoilt beaches, which are some of the last few remaining Greek hidden gems.

The best way to explore the Mani Peninsula is by car, stopping off in scenic villages and coastal towns.

I particularly recommend Kardamyli, Areopoli, and Limeni.

You can read my in-depth guide to the best places to visit along the Mani Peninsula here.



Wine tasting at Kalogris Organic Winery


The Peloponnese is home to some of the best Greek wines, so it would be rude not to sample some while you're there!

Kalogris Organic Winery isn't actually in Kalamata (it's a 1 hour drive away), but when I visited, I combined a trip to the winery with nearby Kapsia Caves, and it was a brilliant day out.

Our visit began with a tour of the vineyards, where the Kalogris family explained the importance of organic and holistic winemaking (they even play classical music to the vines!), before heading to the winery for lunch and a tasting of the various wines that the family produce.

The winery is actually the ancestral family home, and the thing I loved the most about it is that it really feels like a home, with children's toys, fridge magnets, and other knickknacks collected by the family over the years.

For more information, please visit their website.



Kapsia Caves


The Kapsia Caves are about a 1 hour drive from Kalamata, but they are well worth a visit, especially considering that they are among the top ten caves in Greece!

With a long history dating back to Neolithic times, the Kapsia Caves have served as a refuge, a place of worship, and a burial site throughout the ages.

First discovered in 1887, the Kapsia Caves have only been open to tourists since 2010, and are known for their impressive stalactite and stalagmite formations that adorn the 8 chambers.

A particularly sobering part of the caves is in one of the last chambers, where human bones can actually be seen. This is from when the caves flooded, and the people living inside climbed up as high as they could to escape the water, but were unfortunately unsuccessful. Their remains can still be seen in the place where they perished.

The Kapsia Caves are a fantastic destination for nature lovers, history enthusiasts, and anyone looking for things to do in Kalamata (or near Kalamata) that don't involve lying on a beach.



Kalamata restaurants


If you're looking for some good grub while you're in Kalamata, you're in luck because Kalamata restaurants are seriously good.

I stayed in Kalamata for over a week, and I never had a bad meal.

Here are my top recommendations for Kalamata restaurants (please note that most of them are on the East side of town, further away from the Old Town, as this is where my hotel was located):



Taverna Aura


We visited Taverna Aura on our first night in Kalamata, and it certainly set the bar high!

Fried and grilled seafood, huge portions of garlicky tzatziki, and cheap wine by the jug are what you can expect here, and the best bit is that it's super affordable.

My group and I got a bunch of starters to share, main courses, and a lot of wine, and the total bill came to about 17 EUR per person. If you're looking for tasty and traditional Greek food, this is the place to be.

What's more, the service was super welcoming and friendly, and we were right on the promenade where we could enjoy a sea view!

Here is the Google Maps link to Taverna Aura.



Fare Grillhouse – Pizzeria


Don't let the name put you off – there were only 3 pizzas on the menu here, and the rest of the offerings are all Greek!

This huge restaurant at the very end of Kalamata Beach is a great spot for a casual bite to eat, especially if you're in a big group.

Fresh salads, sizzling skewers of grilled meat and all the other usual suspects abound in this place, and the servers are so friendly that they even allowed us to stay at our outside table after they closed up (bringing us 2 free jugs of wine to enjoy!).

Here is the Google Maps link to Fare Grillhouse.



Ego Bar


Ego Bar is a sleek and modern all-day bar and restaurant on the beachfront with a dedicated cocktail bar and Bali vibes.

Their all-day menu features casual classics like burgers and club sandwiches, while their evening menu has everything from grilled octopus and sea bass to ribeye steaks and pork tomahawks.

While I never dined à la carte here, our conference organisers arranged buffet lunches for us at Ego, meaning we got to sample pretty much everything on the menu, and it didn't disappoint!

Here is the Google Maps link to Ego Bar.



Ksimeroma Kourkoutas


Ksimeroma Kourkoutas is even further away from the centre of town, but it's absolutely worth the trek!

This is the kind of place where you can go into the kitchen and choose what fish you want, or how many shrimp you'd like (where the owner diligently calculates the cost to avoid any nasty surprises!).

Meat dishes include lamb chops, veal steaks, and smoked salted pork, seafood includes pretty much anything you can imagine, and veggie options come in the form of zucchini balls, saganaki (fried cheese), and aubergine fries.

Here is the Google Maps link to Ksimeroma Kourkoutas.



Kalamaki


Kalamaki is in the heart of Kalamata Old Town and it serves up traditional Greek favourites in a more modern environment than your typical taverna.

Huge gyros plates, slabs of fried cheese, and crunchy Greek salads are just what the doctor ordered, and if you're looking for a good place to eat in a central location, Kalamaki is a great choice.

Here is the Google Maps link to Kalamaki.



Other Kalamata restaurants


Although I didn't get to sample any other restaurants during my time in the city, I was in town with 500 travel bloggers, and so word of the best Kalamata restaurants travelled fast!

Places that my fellow bloggers loved include Da Luz (a bit pricey but a group of 30+ dined here one night and all gave rave reviews), Ta Rolla, and Kamáres.

In terms of location, Da Luz is in the middle of the promenade, and the latter 2 are in the centre of town.



Where to stay in Kalamata


There are so many accommodation options in Kalamata, and I stayed in 2 of them.

The first place I stayed in Kalamata was Elite City Resort, which was outside of the town centre, right on the beach. There were lots of lovely bars and restaurants close by, and I could get into town easily by bus or taxi.

The hotel itself was amazing, with a fantastic breakfast, large room with a big balcony, and all the amenities you could wish for. I highly recommend Elite City.

Click to view rates and reviews of Elite City on Booking.

Click to view rates and reviews of Elite City on Expedia.

The second place I stayed was a private apartment in the town centre. The host, a local man and wife, live in the apartment above, and not only did they collect me from the bus station, but they also dropped me off there the day after!

The apartment had a huge bedroom, living room, and garden, as well as fully-fitted kitchen. I could walk to the centre of town in 10 minutes – not bad for 23 EUR!

For a truly authentic experience, and to support an elderly couple in their retirement, I can't recommend this place enough.

Click here to book the private apartment I stayed in.

I also spent quite a bit of time in the luxurious Grecotel Filoxenia Hotel for the conference, and although I never saw the rooms, the hotel itself was lovely, and the breakfast was phenomenal as well.

Click to view rates and reviews of Grecotel Filoxenia Hotel on Booking.com.

Click to view rates and reviews of Grecotel Filoxenia Hotel on Expedia.



Kalamata FAQs
Is Kalamata worth visiting?
Kalamata is definitely worth visiting. Whether you want a relaxing beach holiday, a base to explore the Peloponnese, or to discover a charming new Greek city, Kalamata won't disappoint.
Is Kalamata Greece safe?
Kalamata is a very safe city. I walked home alone at night often and felt perfectly safe.
How far is Kalamata from Athens?
Kalamata is around 240km from Athens. By car, it takes around 2.5 hours to get from Athens to Kalamata, and by bus, it takes about 3.5 hours.
Is Kalamata an island?
Kalamata is a part of mainland Greece.
When is the best time to visit Kalamata?
The best time to visit Kalamata is the shoulder season, from May/June and September/October. It's also the summer destination of choice for Greek holidaymakers, so if you don't mind high temperatures and bigger crowds, July and August are good too.

Kalamata, Greece | Final Thoughts


I hope that this guide has made planning your trip to Kalamata a bit easier.

Kalamata is not only a great spot for an affordable beach holiday, but it's the perfect place to base yourself if you want to immerse yourself in ancient history, local gastronomy, and enotourism (wine tourism).

That's all I've got for you today, but as always, if you have any questions then please leave them in the comments section below and I will get back to you!

Until next time,

XOXO


If you liked this article and would like to support my work, please click the button above to donate a couple of bucks and buy me a coffee. The ad revenue that I receive on this website is minimal, so support from my readers enables me to keep creating content that you (hopefully!) love to read.

Disclaimer: Travelling Jezebel uses affiliate links. This means that if you make a purchase on a partnered site then I may make a small commission at no extra cost to you.