Getting off the beaten path and discovering places that most tourists will never venture to is one of my favourite things to do.

There's something special about visiting somewhere that hasn't been spoilt by mass tourism, and when it comes to getting off the beaten path in Spain, the isolated mountain city of Teruel is a great choice.

Teruel is the capital city of the Teruel province in Aragon.

It is a tiny city with a population of around 36,000, and is one of the least visited provincial capitals in all of Spain, often overshadowed by nearby Albarracin.

After visiting Teruel with Valtournative recently, I couldn't believe how unpopular the city is.

With a mix of unique architecture, fascinating local legends and delicious mountain food, Teruel is a real hidden gem in Spain, and so I decided to put together this guide for anyone interested in visiting!

Sidenote: While this guide will tell you all you need to know if you're planning on visiting Teruel by yourself, I've included a section at the end about visiting Teruel as part of a tour like I did!



The Forgotten Kingdom of Teruel, Spain


Teruel Existe


Teruel's low population combined with its mountainous location more than 3000 feet above sea level has resulted in the city being historically isolated within Spain.

Its inland, remote location has seen many residents leave, never to return, and Teruel can be considered one of the 'Forgotten Kingdoms' of Spain.

In fact, Teruel remains the only provincial capital in mainland Spain without a direct railway link to Madrid!

In 1999, a campaign group that were fed up with the lack of investment and recognition in Teruel used the slogan 'Teruel Existe' (Teruel Exists) to generate a buzz around the province and promote growth.

This movement turned into a political party which helped to put the current Spanish president in power, and since then Teruel has been given a bit of extra TLC by the government, with the construction of a motorway between Sagunto and Zaragoza making it infinitely easier to reach the city.

I hope that in writing this blog post and shining a light on this unknown part of Spain, I can also do my part to help put Teruel on the map!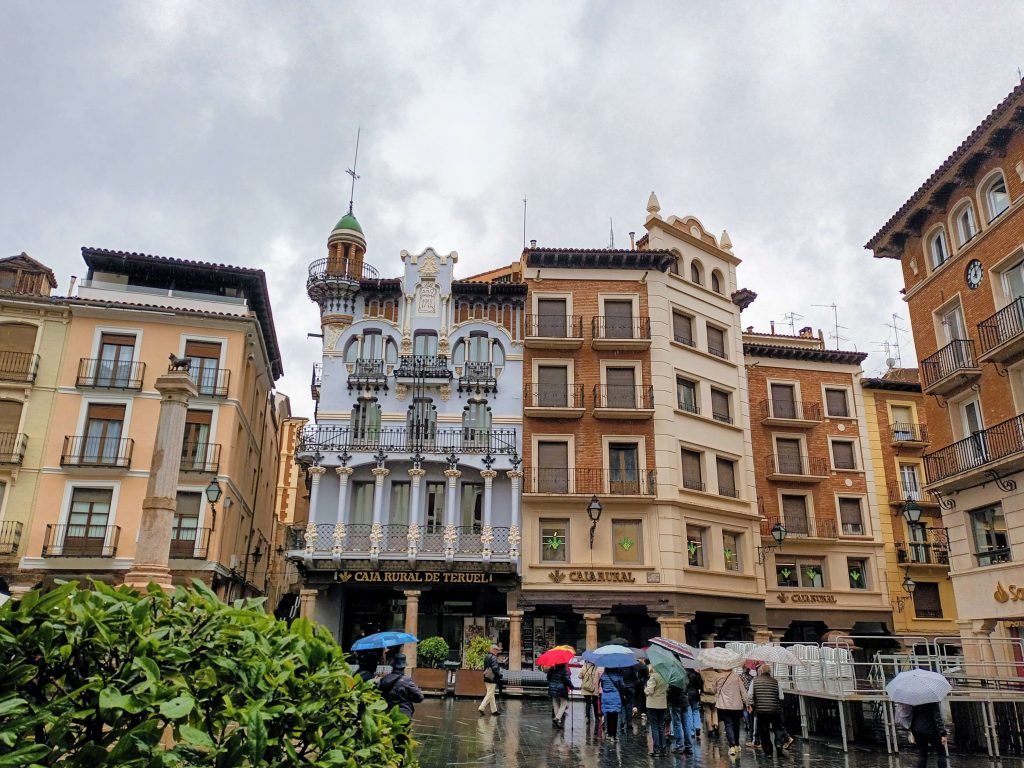 The Lovers of Teruel


I visited Teruel to learn all about the so-called 'Spanish Romeo and Juliet,' and as my tour guide, Daniel, told me all about the Lovers of Teruel, I was enraptured.

All the way back in 1217 (350 years before Shakespeare wrote Romeo and Juliet), Isabel and Diego were madly in love and desperate to marry.

However, Isabel's father wanted his daughter to marry somebody with more money, and so he refused to give his blessing for the marriage, telling Diego that he could only marry his daughter if he left Teruel for five years and only returned when he had made his fortune.

During these five years, many men asked Isabel for her hand in marriage, but every time, she found a reason to turn them down.

Eventually, after hearing rumours that Diego had died, Isabel agreed to marry somebody else, and it was with a heavy heart that she walked down the aisle to her husband-to-be.

Little did she know that Diego hadn't died, and that he was on his way to town at that very moment, intent on stopping the wedding.

Unfortunately, it was too late, and it wasn't until that night that Diego managed to sneak up to Isabel's room where she and her new husband lay sleeping.

He shook her awake and told her that he couldn't live any longer without a kiss from Isabel.

Isabel told him that she couldn't betray her new husband, and Diego dropped dead, right there and then.

When the time came for Diego to be buried at the local church, Isabel turned up in her wedding dress, walked up to where Diego lay and kissed him on the lips.

Right at the moment that their lips touched, Isabel died and fell onto Diego's chest, reunited with her love for all eternity.

Isabel and Diego were buried side by side, and ever since they were exhumed in the 16th century, their bodies have been on public display, attracting thousands of old romantics who want to visit the pair.

You can find Diego and Isabel's final resting place in Teruel.



Things to Do in Teruel


Admire the Mudéjar architecture


I love learning about and discovering new architectural styles, and Teruel certainly did not disappoint in this regard.

Mudéjar is an architectural style that developed after the Christians reclaimed Spain from the Moors.

Although the Christians were now in control, Muslims and Christians lived side by side, and when the Christians of Teruel wanted Gothic churches built, they hired the Moors to build them.

The Moors willingly agreed to attempt the Gothic style that the Christians were asking for, but due to their religion, they could not depict religious figures, including angels and gargoyles.

They would also integrate their own faith and traditional art into the work, resulting in a combination of traditional Islamic design (including stars and other geometric patterns) and Western Gothic style called Mudéjar.

There are several Mudéjar buildings in Teruel, to the point that Teruel is even known as the Town of Mudéjar, boasting some of the most impressive Mudéjar architecture in all of Spain!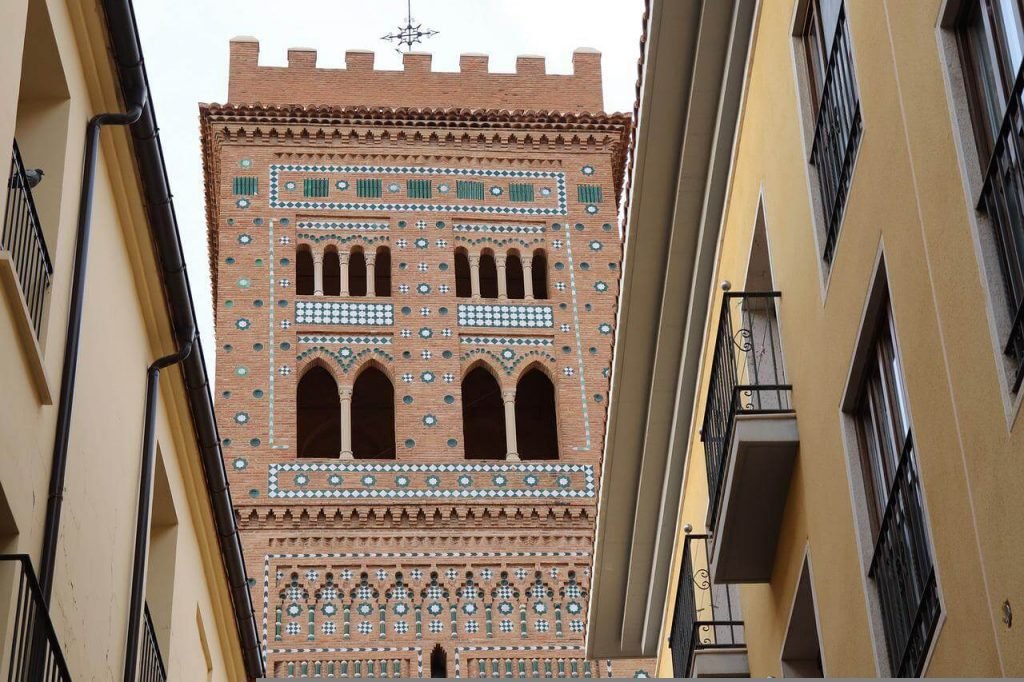 Teruel Cathedral


The Catedral de Santa María de Teruel is a fascinating building that combines a range of architectural styles.

Its bell tower, built between 1257 – 1258, is considered to be one of the most well-preserved Mudéjar towers in the country, and the 14th century ornate wooden ceiling inside has been described as the Sistine Chapel of Mudéjar Art!

The wooden Baroque altarpiece from the 16th century is also very impressive.

Entrance to the cathedral costs 3 EUR. You can find opening times here.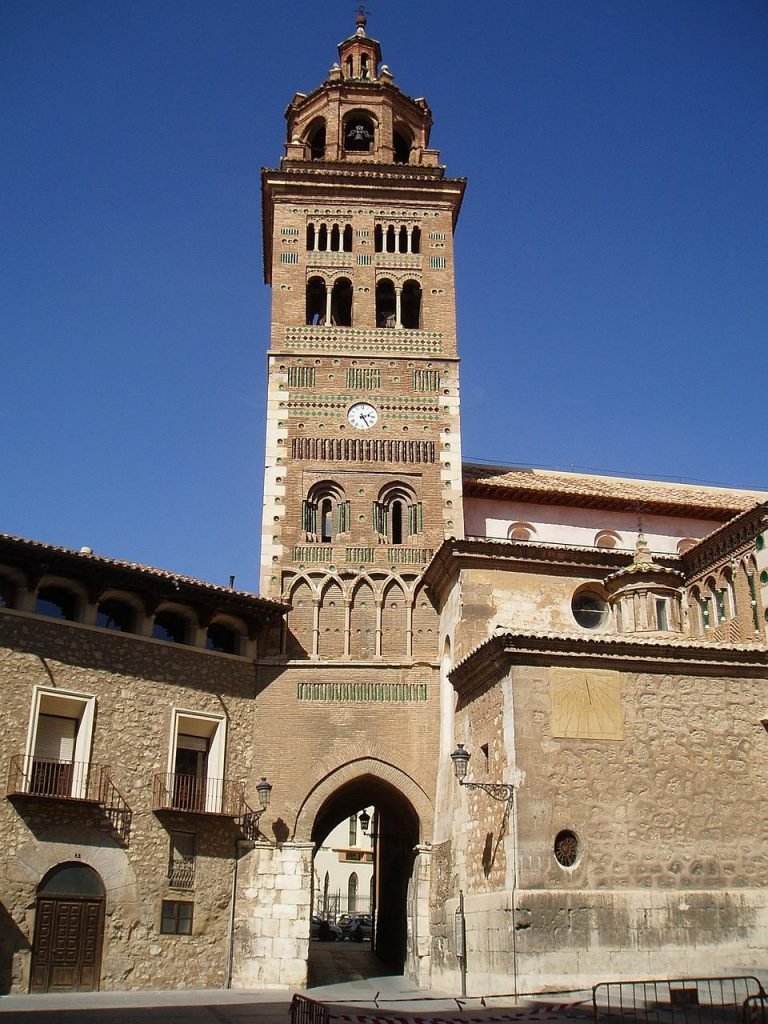 Escalinata del Óvalo


The Escalinata del Óvalo is a majestic staircase that was built in 1921 to act as a path between the train station and the town.

Designed by José Torán de la Rad, it combines elements of Mudéjar style with the Modernism trend, resulting in a Neo-Mudéjar appearance.

Take some time to enjoy the views of the surrounding countryside from the top, check out the water feature and accompanying sculpture of Diego and Isabel, before walking down and stopping every few steps to take everything in.

Once you get to the bottom, there is a lift to the left of the staircase that will take you back up to the town centre, where you can try and find the mini replica of the Escalinata del Óvalo 😉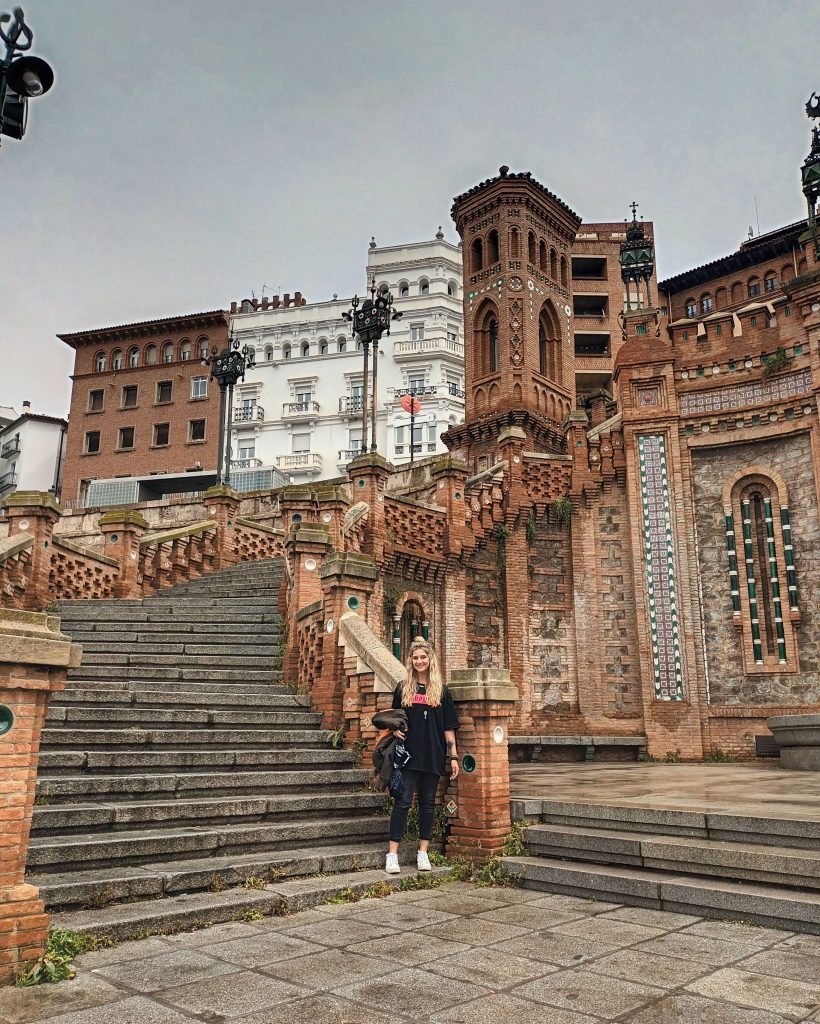 Sip a hot chocolate


The temperatures in Teruel are cooler than much of Spain, and if you need warming up, one of the best things to do in Teruel is to indulge in a hot chocolate.

Muñoz, on the bustling Pl. Carlos Castel, sells the best hot chocolate I've ever tasted, and the grand interior complete with crystal chandelier isn't bad either.

As well as being a super popular café, Muñoz is also a gourmet food shop where you can treat yourself to truffles, saffron, local meat and cheese and gourmet chocolate.

Muñoz is a must-visit in Teruel.



Plaza de El Torico


Plaza de El Torico is the main square of Teruel and is where locals congregate to sip coffee, grab lunch and gossip about their days.

There is a large fountain in the middle featuring a tiny bull (the symbol of Teruel), some stunning examples of Modernist architecture, and several vibrant cafes and souvenir shops.



Church of San Pedro


The Iglesia de San Pedro (the Church of Saint Peter) is a 14th century Romanesque-Mudéjar church with a 13th century bell tower that happens to be the earliest Mudéjar structure in Teruel.

The whole interior is decorated with glazed green and purple ceramic tiles, and the vaulted ceiling is stunning.

What makes this church really noteworthy, however, is what else is inside it…



Mausoleum of the Lovers of Teruel


The Mausoleum of the Lovers of Teruel (Mausoleo de Los Amantes) is located in the cloisters of this Gothic church.

You can enter the mausoleum and see the intricate tombs depicting the two lovers reaching out to one another.

Inside, the mummified remains of the lovers can be seen.

Admission to church, tower, cloister, and mausoleum costs 9 EUR. If you want to visit the mausoleum only, it will cost you just 4 EUR.

If mummies aren't your thing, strike a post with statue of the Isabel and Diego outside instead.



Modernist architecture


Modernism in architecture is a fusion of all the arts into one and stresses the importance of everything being aesthetically pleasing, sophisticated and beautiful.

I love the majestic Modernist buildings in Spain, and Teruel is full of staggeringly elegant buildings.

Seriously, you could spend an entire day just admiring all of the architectural gems in Teruel.



Compare the Mudéjar Towers


As well as being seriously impressive works of Mudéjar art, the Torre de la Iglesia de San Salvador (Tower of the Church of Saint Salvador) and the Torre de San Martín (Tower of Saint Martin) have their very own story to tell.

Legend has it that back in the 14th century, two Muslim architects, Omar and Abdalá from Teruel were both in love with the same girl, Zoraida.

Although the two men had previously been friends, their friendship quickly turned to rivalry as they both tried to win the heart of Zoraida.

In the end, because the local Christians wanted two Mudéjar towers built onto the churches of San Martin and San Salvador, Zoraida's father told the men that whoever built a tower first could have his daughter's hand in marriage.

The two got to work right away, sending spies to check up on their rival's progress.

This resulted in the two towers being almost identical, although the first to finish was Omar, who was building the Torre de San Martin.

Unfortunately for Omar though, his tower was leaning slightly, and so Zoraida's father ruled Abdalá as the winner.

On hearing the news, Omar climbed to the top of the Torre de San Martin and jumped to his death (Teruel does like a tragic love story).

You can visit both towers and decide for yourself which one is the nicest.

San Martin can only be viewed from the exterior, but it is possible to climb up the Torre de la Iglesia de San Salvador to enjoy panoramic views of the city of Teruel. It's also worth venturing inside the adjoining 17th century church, which is said to be the best example of Baroque architecture in the province.



Jamón de Teruel D.O


Having lived in Spain for over 18 months, I've eaten a lot of jamón, but the Jamón de Teruel is considered so special that it has been awarded its very own Denominación de Origen.

Something that you absolutely must do while you're in Teruel is wander the charming streets until you find a good wine bar where you can enjoy a ham and cheese plate along with a nice glass of red.

Pura Cepa Vermú is a good choice, especially if you're a fan of Vermouth.



Buy some Mudéjar ceramics


Cerámica Mudéjares is a sweet little souvenir shop that, as well as the usual tourist tack, has a large range of Mudéjar ceramics, including plates, jugs and even pieces of tile that were from the original cathedral!

You could easily spend 30 minutes in this shop, and even if you don't buy anything, it's still an insight into Mudéjar artwork.

If you're into shopping, you're in luck in Teruel because independent boutiques abound in this town, and you'll find it almost impossible not to pop in them all and have a look around!



Plaza San Juan


Not as buzzing as Plaza de El Torico but equally as attractive, Plaza San Juan is a much larger square that is home to various council buildings such as the town hall.

Stop for a minute after you've taken a picture to soak up the grandeur of it all.

Getting to Teruel


Although getting to Teruel with public transport is possible, it isn't particularly easy to reach, and unless you're planning to stay for a few days, it probably isn't worth it.

The train to Teruel from Valencia takes 2.5 hours and costs about 30 EUR return.

You can check times and ticket prices here.

Alternatively, you can hire a car. The journey from Valencia to Teruel takes around 90 minutes, and by doing this, you can easily combine a visit to Teruel with Albarracin.



Visiting Teruel on a Tour


As someone who has been travelling around the world solo for the last 6 (!) years, I am a huge advocate for independent travel.

In my opinion, Teruel makes a great place to enjoy a weekend break with a partner, away from the crowds. Due to the cooler climate, it's also a great place to visit in the summer months (find the best accommodation in Teruel here!).

With that said, there are several reasons why I recommend visiting Teruel as part of a tour like I did, especially if you are only visiting for the day.

Here's why.


If you use public transport to get to Teruel, you'll be spending at least 5 hours sitting on a train, and that doesn't include the time it takes you to get to/from the stations. 30 EUR is also a lot of money to spend on visiting a place for just a few hours (the negative side of travelling Spain off the beaten path).
As an English speaker, having an English-speaking tour guide is super beneficial in Teruel. Most of the churches and museums only have tours and information available in Spanish, so you may be unable to learn very much if you're not a Spanish speaker.
If you visit Teruel on a tour like the one I did, you will also get to visit the nearby village of Albarracin. There's no way that you would be able to visit both with public transport, and our group itinerary allowed us to see everything that both places had to offer without feeling rushed.
Thanks to Daniel, our tour guide, we learnt so much about Teruel, from the story of Isabel and Diego to Moorish legends, why a tiny bull is the symbol of Teruel, the specifics of Mudéjar architecture and so much more.
I have experienced four tours with Valtournative over the last few years and can personally attest to their quality, value for money and the knowledge and professionalism of owner Daniel. From swimming in thermal springs to crawling through Moorish caves and seeing local wine being produced, every tour that I have done with Valtournative has exceeded my expectations and I've always come away with such a deep knowledge and appreciation of somewhere I'd never previously heard of.
Valtournative also work in very small groups, so you won't be part of a herd of 30 people!
It's no secret that the travel and tourism industry has suffered tremendously since the pandemic, and Valtournative is a local company with only a handful of people running it. My first tour with Valtournative was way back in 2017 and they have kept every bit of their authenticity. If you want to support any small business in Valencia, this is a great one to choose.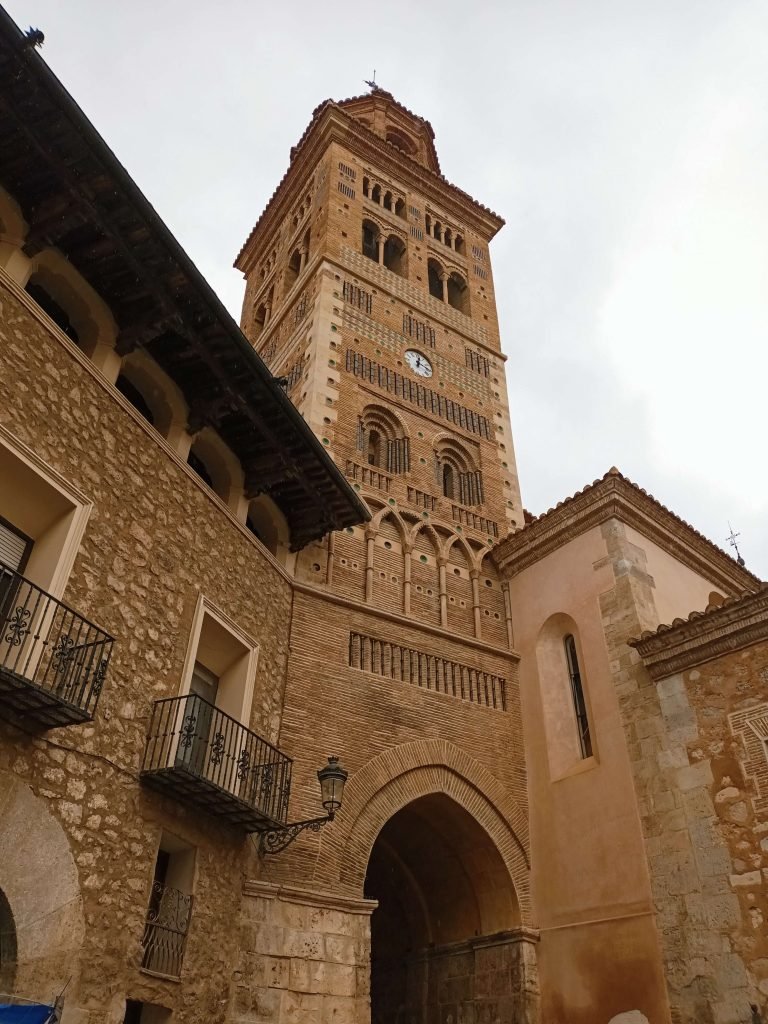 The Forgotten Kingdom of Teruel, Spain | Final Thoughts


I was so impressed with Teruel!

I started the morning knowing absolutely nothing about this city, and if I'm being totally honest, I figured that we were just going there to kill some time before heading onto Albarracin, which is said to be one of the prettiest villages in the whole of Spain.

However, when I saw the curious architecture, gazed longingly into the windows of the independent boutiques and learned about the history of this fascinating city, I fell in love, and I genuinely can't understand why Teruel isn't more popular.

If you want to discover Spain off the beaten path and don't know where to start, I can highly recommend Teruel.

Thank you so much to Daniel at Valtournative for inviting me along to this tour! The tour was a gifted experience but all opinions are totally my own.

As always, if you have any questions, please don't hesitate to ask in the comments section below!

Until next time,

XOXO


If you liked this article and would like to support my work, please click the button above to donate a couple of bucks and buy me a coffee. The ad revenue that I receive on this website is minimal, so support from my readers enables me to keep creating content that you (hopefully!) love to read.

Disclaimer: Travelling Jezebel uses affiliate links. This means that if you make a purchase on a recommended site then I may make a small commission at no extra cost to you.