Krakow is easily one of the best cities in Europe if you're looking for a party.

With its Old Town district bragging more pubs and bars per square meter than anywhere else in the world, and a party scene including everything from techno clubs to grungy dive bars, live music venues, swanky cocktail bars, and more, nightlife in Krakow is hard to beat.

I've been coming to Krakow for over 5 years, and while I have my trusty favourites that I always make a point of visiting, I'm always finding new watering holes, hidden in the basements of historical old buildings or down unsuspecting side streets.

While you certainly won't have trouble finding great places to party in Krakow, some of the best spots are difficult to find, and certainly not places that you would just come across if you were wandering the streets.

With this in mind, I put together this mega guide to nightlife in Krakow, compiled after countless trips to the city.

I've been to Krakow in all seasons, with everyone from my boyfriend, to my friends, and even my mum, and I also used to lead pub crawls in the Old Town – it's fairly safe to say that when it comes to Krakow nightlife, I know what I'm talking about!

So, if you're planning a visit to Krakow and want to know where to find the best pubs, bars, and clubs, you're in the right place.

Let's get into it.



Nightlife in Krakow – The Ultimate Guide to Partying in Krakow


Where to find the best Krakow nightlife


There are two main areas in Krakow where you can find good nightlife – Krakow Old Town and Kazimierz.

The Old Town is the most touristy part of Krakow, and is where you'll find the majority of Krakow's nightclubs, as well as English and Irish pubs, sports bars, and shot bars.

Kazimierz is about a 15 minute walk from the Old Town and is geared more towards dimly-lit cocktail bars and a much less raucous crowd. It's still fairly touristy here, but you'll find far more hipsters and musicians than lads on tour.

This guide includes information on the best bars and clubs in Krakow Old Town and Kazimierz.



Do's and Don'ts of Nightlife in Krakow


DO go on a pub crawl


What's the best way to see Krakow nightlife?

On a pub crawl of course!

The pub crawl that I have personally been on (time and time again) is the Greg and Tom pub crawl, which I used to lead myself when I volunteered at the hostel, but if you don't want to stay at Greg and Tom Party Hostel, then there are plenty of other great pub crawls in Krakow, such as this one, which has tonnes of great reviews.



DO head to a shot bar


Both the Poles and the Russians both claim to have invented vodka, but whichever camp you're in, there's one thing for sure – vodka in Krakow is both plentiful and cheap.

Thanks to the Polish love of vodka, and low taxes on alcohol compared to most western countries, you can sample all kinds of Polish vodkas and still have money spare!

The best shot bars in Krakow are part of a chain of Polish bars called Pijalnia Wodki i Piwa, dingy bars that are famous around Poland for their cheap prices and no-frills vibe.

You can also head to BaniaLuka for a similar vibe and menu.



DO head to a games bar


For a more lowkey side of Krakow nightlife, one of Krakow's many games bars might be up your street, and they're definitely one of my favourite things to do in Krakow.

The best games bars in Krakow include Krakow Pinball Museum, which has over 80 retro pinball machines, Cybermachina for its board games, consoles and themed cocktails, and Cosmic Games Pub with its UFO-style interior and games including shuffleboard, air hockey, and beer pong.

Whichever you fancy, you're sure to find something to keep you occupied!



DO make friends


Generally Polish people speak excellent English, especially under 40s (the older generation learnt Russian in school but these days, English is taught).

What's more, Krakow is both a very international city, as well as being a student city, meaning you'll have no problems talking to people and making friends.



DO specify what spirit you want


When ordering drinks in Krakow's nightclubs, make sure you tell the bartender exactly what drink you want, or they will charge you for the most expensive option.

For example, if you ask for a 'vodka Red Bull,' they will give you a premium vodka, whereas if you ask for the cheapest, or house vodka, you'll be fine.

Wyborowa is an affordable Polish vodka that you won't have problems finding in Krakow's bars and clubs.



DON'T go to a strip club


If you're visiting Krakow on a lad's holiday with the idea of going to some strip clubs, I can't advise against it enough.

I have nothing against strip clubs – I've been to several myself in fact – but the strip clubs in Krakow are criminal-owned businesses designed to extort money from tourists by any means possible, including drugging drinks, intimidation, and even violence.

I have personally met more than a couple of people who have fallen prey to the dark side of Krakow's nightlife scene, and it isn't pretty.

For more detailed information, read my article about the Krakow strip club scam.



DON'T argue with the bouncers


While Polish people in general are friendly, Polish bouncers are certainly not, and you don't want to make an enemy of them while you're partying in Krakow.

Being overly drunk, answering back, or refusing to leave when asked will not go down well with them, and they are not afraid of roughing up tourists.



DON'T drink on the street


Drinking on the street is illegal in Poland, and even if you're coming to Krakow to let loose, you still can't wander around swigging beer in public.

Make sure you only drink alcohol in your accommodation, or in licensed establishments.



Best nightclubs in Krakow


Most of Krakow's nightclubs are located in the Old Town, making it super easy to go from place to place.

They tend to be downstairs, and with less-than friendly bouncers (as reviews on Google will confirm).

Expect to pay around 20 PLN to enter (this is why pub crawls in Krakow are such a good idea – they include free entry to 5 clubs), and you'll also be asked to leave your outside coat in a cloakroom (around 5 PLN).

Nightclubs in Krakow tend to be more about the party atmosphere than the music (the bouncers certainly won't be quizzing you on the DJs like in Berlin), and they attract a very young crowd.

In my opinion, the best nightclubs in Krakow are Prozak, Teatro Cubano, and Szpitalna 1.

I also don't have pictures inside most of the clubs because, well, I've been too busy clubbing when I've been inside.

Here are the best clubs in Krakow.



Prozak 2.0


Prozak 2.0 has long been one of the best nightclubs in Krakow, despite the bouncers not being the friendliest of souls.

Boasting top DJs and an underground maze of tunnels and hidden dancefloors, Prozak is not the place to go if you want a quiet night, but if you're looking for the best techno club in Krakow, Prozak is the place to be, and it's also one of the oldest nightclubs in Krakow!

Once you descend the stairs from the main bar area, you will find a labyrinth of corridors, nooks, crannies, and dancefloors that seem to go on forever.



Teatro Cubano


Once a university lecture room, Teatro Cubano is now one of Krakow's best nightclubs, and it has created a real Havana vibe in the heart of Krakow.

This Cuban dance hall is a great spot for people partying in Krakow, and with a mix of Cuban, Latino, and commercial music, drinks specials, and an additional bar at the front selling delicious slider burgers (Papito's), you can't go far wrong.

Arrive early if you want to avoid the queues because Teatro Cubano is always packed.



Coco Music Club

Coco Music Club is a slick and minimalist bar with cushioned leather seating, UV light, 2 dancefloors, and chic VIP rooms.

The music is varied, with both mainstream music as well as a wide variety of other genres.



Four Music Club


In-keeping with the white theme of Coco, Four also favours a modern and contemporary look, with white seating, exposed brick, and purple lighting.

Their themed nights include Bollywood parties, Ukrainian parties, Latino nights, and more.

Because of their themed parties, Four Music tends to attract a very young student crowd.

Check their Facebook page to see what's on.



Choice Club


Choice Club prides itself on offering a premium Krakow nightclub experience, with an elegant and sophisticated gold interior, 2 dancefloors, 4 bars, and a smoking room.

The DJs here are known to be good, with techno, house, and more commercial music all getting their time to shine.



Shakers Club


Most Krakow nightlife guides I've come across say that Shakers is a very fancy place but trust me – it isn't.

Shakers is cheesy chart music, sticky floors, and drunk people on pub crawls, and it doesn't pretend otherwise.

What I like about Shakers is that it's a fairly small venue, and the seating area is entirely separate from the dancefloor, so everyone's happy if some of your group prefer bars to clubs.



Frantic


The beauty of Frantic is its number of different places to hang out.

Frantic is a basement venue with 4 bars, 2 dancefloors playing different genres, and a young crowd.



Klub30


Finally, a club for the over 30s!

If you want to escape the drunk teenagers on pub crawls, Klub30 if the club for you.

With a fancy interior spanning over 1000m², high quality cocktails, and 3 floors playing 70s and 80s, Latino, and chart music, you're sure to have a good night at Klub30.

Klub30 is just outside of the old town, but you can easily reach it on foot.



Let's Sing Karaoke Bar


Promising a hostel vibe, various drinks offers, and of course, karaoke, Let's Sing Karaoke Bar is one of the best karaoke bars in Krakow.

The only negative is that it's a very small venue that gets very busy, so if you want any chance of actually getting a request in, arrive early.



La Bodega del Ron


With a name translating to 'the rum cellar,' this underground bar is all about sensual low-lighting, rum cocktails, and Caribbean and Latin music.



Szpitalna 1


Szpitalna 1's tagline is 'rave will save the world,' and it is one of the best clubs in Krakow, especially if you're a techno lover – many Krakow nightclubs put more of a focus on creating a sleek venue with a generic DJ playing radio hits, but Szpitalna really take their tunes seriously.

Check out their schedule on Facebook.



Best bars in Krakow


The best bars in Krakow are in the Old Town and the district of Kazimierz.

They come in every shape and size, including upscale cocktail bars, jazz clubs, dive bars, and everything in-between.

My favourite bars in Krakow are the ones in Kazimierz that have a Diagon Alley/dark academia aesthetic – you'll see what I mean by the pictures!

Here are the best bars in Krakow.



Alchemia


Alchemia is one of my favourite bars in Krakow.

With its rickety floorboards, flickering candles and antique furniture, Alchemia has major dark academia vibes.

Bohemian café by day, at night, Alchemia transforms into a haven for jazz-lovers, students and academics alike, with couples and groups of friends huddled together around the tiny tables, faces dancing in the candlelight.

For music lovers, Alchemia's cellar regularly hosts live music nights, so no matter what kind of evening you're looking for, you will find it at Alchemia.

To see Alchemia's programme, visit their website.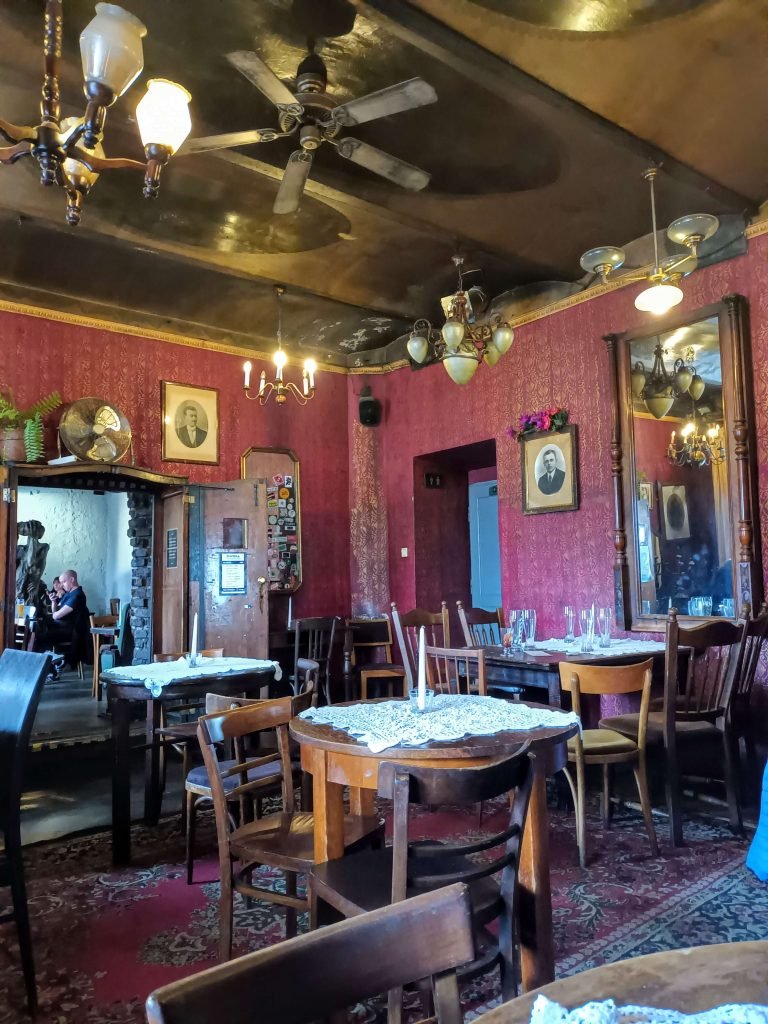 Singer


Singer is a beautifully-decorated bar in Kazimierz, with a dark academia/old cabaret interior, and old-fashioned sewing machines on each of the tables.

Perfect for a romantic date or cosy catch-up, Singer is one of the best bars in Krakow.



Wodka Café Bar


Wodka Cafe Bar is a tiny (seriously) bar in Krakow's Old town that serves a multitude of flavoured Polish vodkas.

Order a flight of 6+ different flavours and work your way through!

My favourite way to do this is by sharing the shots with a friend and both trying all the flavours, voting on which we liked the most!

My favourite flavours were caramel and cherry chocolate, but they're all delicious!



Bubble Toast


Bubble Toast is a new addition to the Krakow nightlife scene, and is one of the only places in this guide that I haven't personally been to (although it's on my list!).

With an uber girlie interior and fabulous cocktails, Bubble Toast is an Instagrammer's dream – I'm talking swings, ball pits, and even a bathtub!

Their cocktails are also eclectic, and you can expect them to be served in disco balls alongside doughnuts, candyfloss, sparklers, and whatever other glitzy things you can imagine!

This place has to be seen to be believed – check out their Instagram if you don't believe me.



Absynt


Absynt describes itself as a place for 'bold thoughts and good company,' and prides itself on serving absinthe in the traditional way of burning a sugar cube into the drink before serving the flaming absinthe to nervous customers!

I won't lie – Absynt is not necessarily going to be a pleasant experience (just ask my mother!), but it will certainly be an experience!

With a menu of more than a dozen different types of Absinthe, not to mention Absinthe cocktails, this bar is not for the fainthearted but definitely one of the coolest and most unique bars in Krakow.



Ambasada Śledzia Kraków


Ambasada Śledzia Kraków translates to 'Herring Embassy Krakow,' and is one of the most unique bars in Krakow (which is saying something!).

Although it markets itself as a 'Polish tapas' bar, the star of the menu is, of course, herring.

Pickled and served cold is the traditional way Poles eat herring, but you'll find many herring varieties on the menu here, including herring with curry and raisins, herring with mango chilli and pineapple, and fried herring with vinegar.

Order a selection and be sure to wash them all down with a few shots of Polish vodka.



Pijalnia Wodki i Piwa

Pijalnia Wodki i Piwa are a chain of dingy bars famous around Poland for their cheap prices and no-frills vibe, and if you want the quintessential Krakow nightlife experience then this is where you should head!

With the walls decorated in newspaper clippings (a hark back to Communism, when they couldn't afford wallpaper), the cheapest drinks in town and small plates of traditional Polish food costing a couple of euros, Pijalnia is a haven for broke students, alcoholics and tourists alike.

Pijalnia is almost always open, always brightly lit, always full of people, and always fun.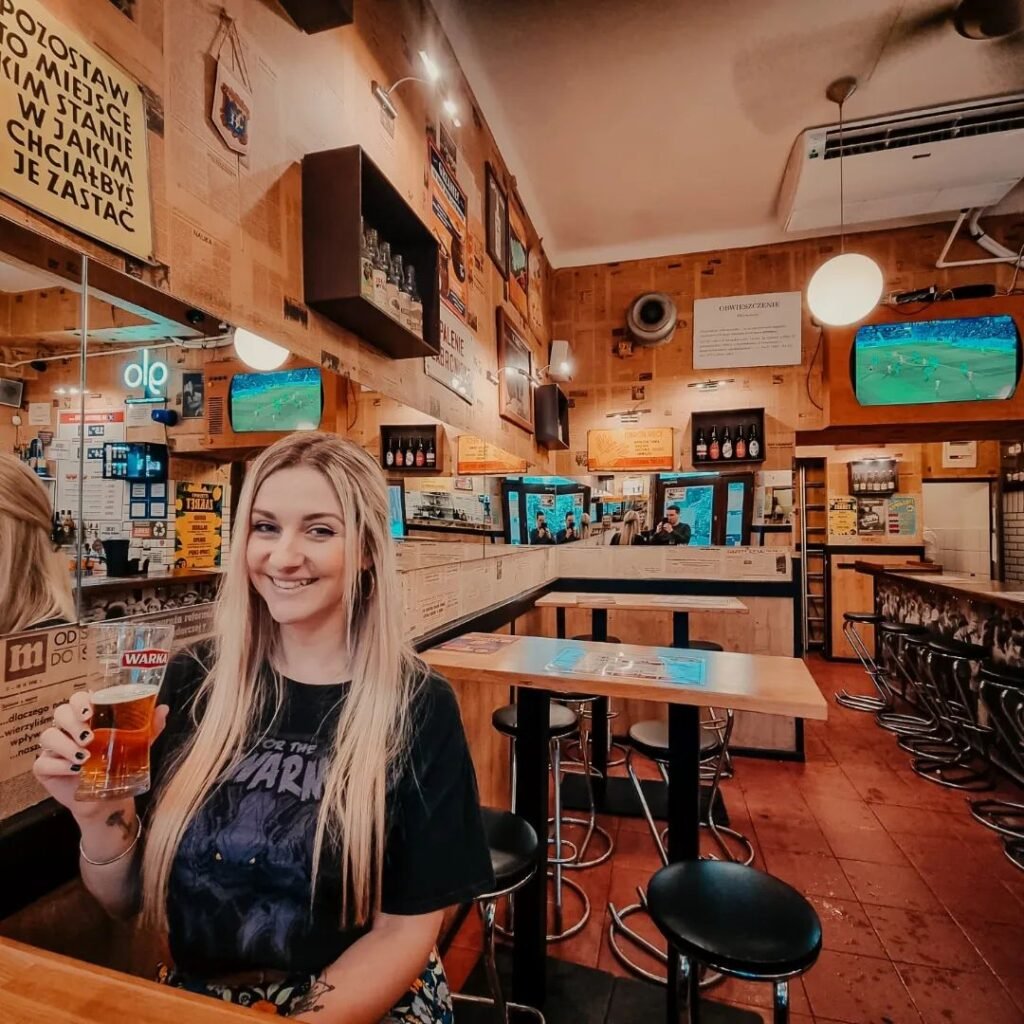 Pijana Wiśnia


Pijana Wiśnia translates to 'Drunk Cherry' and is the name of a tiny bar in Krakow Old Town that serves one drink and one drink only – a sweet cherry liqueur, which you can order hot or cold.

If you walk through the bar, you will find a large garden area, with a great atmosphere and lots of people huddled around tiny tables clutching steaming paper cups (or drinking elegantly from crystal goblets) of this unusual drink.

There are Pijana Wiśnia bars in most cities in Poland, as well as Lviv, Ukraine, where the chain began.



Eszeweria


Eszeweria is another stunning dark academia-style bar in Kazimierz.

With the same candlelit vibes as Alchemia but way fewer tourists (if any), you could curl up in one of Eszeweria's old armchairs and spend hour upon hour inside this cosy bar.



Prosecco Oyster Bar


Prosecco Oyster Bar in the Old Town of Krakow does exactly what it says on the tin – Prosecco and oysters!

Me and Ethan stopped by and ordered a carafe of fizz and some oysters on ice, including some fancy French oysters which the server assured us were limited edition!

We felt like it was a great pre-dinner spot, but if you want to stay for longer, they also have a selection of fried and grilled seafood.

Oh, and did I mention there's a gigantic pink bath tub full of oysters?!



Klub AWARIA Krakow


Klub AWARIA is somewhere I stumbled upon by accident 5 years ago and have been coming back ever since!

Hidden at the bottom of a staircase a few steps away from Wodka Café Bar is Klub AWARIA, a no-frills basement bar with dirt cheap cocktails, live music, and even a secret garden for those rare sunny days!

This late-night dive bar attracts Krakow's alternative crowd, and I've never seen another tourist here.



Best games bars in Krakow


Nightlife in Krakow isn't just about sticky floors and Polish vodka – games bars are plentiful in Krakow, and they've been popular for a few years!

From bars focusing more on drinking games to board game bars, arcade games, and games consoles, you'll be spoilt for choice.



Cybermachina


The best games bar in Krakow is undoubtedly Cybermachina Game Pub.

Cybermachina is a place by gamers, for gamers and it has every game imaginable, from old school Mortal Kombat to Guitar Hero, FIFA, as well as traditional board games, card games, and table football.

It is totally free to enter and play the games on offer at Cybermachina and the bar has a huge themed cocktail selection, craft beers and bar snacks.

They also organise tournaments, 'geek quizzes,' cosplay parties, industry meetings, and much more.



Krakow Pinball Museum


The Krakow Pinball Museum is actually more of a pinball bar, and it's a great place to begin your night.

To enter, you just pay the 8 EUR fee and then you have unlimited access to over 80 retro pinball machines with themes from Star Wars to Ghost Busters and so much more!

There's a reasonably priced bar there too so you can grab a pint and spend as long as you like on the machines!

Krakow Pinball Museum is open from 2:00pm – 9:00pm every day. It stays open until 10:00pm on Fridays. You can also leave and re-enter after you've paid. Entry is 8 EUR for 1 hour or 12 EUR for the whole day.

Find out more on their website.



Bowling Plac Nowy 1


Fancy a game of late-night bowling?

Head to Bowling Plac Nowy 1 for just that!

Open till 2am on weekends (12am on weekdays), you can enjoy 55-minute games of bowling along with cheap drinks, bar snacks (Belgian fries, popcorn etc.), and a decent pizza menu.



Cosmic Games Pub


This UFO-themed bar is full of UV neon lights and games include beer pong, shuffleboard, table football, air hockey, and more.

They even have a 'Galactic Bubble Room' which is a neon ball pool with basketball net!

Unlimited games will cost you just 19 PLN, and the drinks menu is very affordable too, making a visit to Cosmic Games Pub one of the best places to visit in Krakow at night!



Cosmic Minigolf Pub


It will come as no surprise that Cosmic Minigolf Pub is owned by the same people as Cosmic Games Pub.

It will also surprise absolutely nobody that this bar is dedicated to minigolf, with a 9-track course for you to complete, before you settle down for a pint of beer and a game of neon Jenga.

The stylist interior features blacklight murals on the wall and a neon ultraviolet minigolf course.

Unlimited minigolf costs just 16 PLN, and you will also get a 20% discount on your first beer.



Boardowa


Board games are the name of the game here, and its quality craft beers help this daytime coffee shop transition seamlessly into the evening.

While many of the games here are in Polish, there are a fair few English options, so this is a foreigner-friendly games pub, with everything from casual party games to intense strategy stuff.

All games are free to play, and the beer is some of the cheapest in town.



Best pubs in Krakow


Pub Propaganda


Propaganda is a really cool place if you're looking for a dingy watering hole in Krakow with an alternative crowd.

With very dim lighting and a grungy feel, this communist-themed bar is a great place to enjoy a few beers and good conversation, and they also have live music shows downstairs sometimes, showcasing everything from rockabilly blues to punk rock.

Propaganda is one of the best bars in Krakow in my opinion, although it might not be the place for you if you like the finer things in life!



Bull Pub


Bull Pub is a typical English pub that attracts lots of Brits on stag do's and lads holidays.

It's got an old-fashioned interior, some seating outside with a lovely view of a small market square and St. Mary's Basilica, and it always shows sports games – plus, there's karaoke every night from Thursday to Sunday!

Bull Pub is somewhere I wouldn't usually go (mainly because I'm not a drunk man on a stag do), but I did watch the World Cup there and it really does feel like a pub you might find in Blighty!



BaniaLuka


BaniaLuka is open 24/7 (yes, really!), and is very similar to the Pijalnia Wodka bars with its dirt cheap menu full of shots, old-fashioned Polish snacks, and draught beer.

BaniaLuka is popular with locals, students, and tourists, and is a great place to enjoy the cheapest beer in the city and meet new people.

There's also a big screen in the back room which is perfect for watching sports matches on.



442 Sport Pub


442 is a huge sports pub with more screens than you can count (actually, that's a lie, people have counted and there are 30 screens).

It's all about football, beer, and burgers, and they have gone all out with the interior, with signed football jerseys adorning the garish green walls and stadium-style seating in the cinema room downstairs.



Krakow Nightlife FAQ

Is Krakow good for a lads holiday?
Krakow Old Town is a great place for a lads holiday, with plenty of pubs, sports bars, and cheap nightclubs.
Which area is the best for nightlife in Krakow?
Krakow Old Town and Kazimierz are the two best areas for nightlife in Krakow. Kazimierz is more lowkey, whereas the Old Town is more touristy and where you can find Krakow's nightclubs.
Is Krakow expensive or cheap?
Krakow is a very affordable city compared to places in Western Europe.
Can you drink beer on the street in Krakow?
Drinking on the street is illegal in Krakow and you will be issued a hefty fine if you are caught.
Is there a dress code in Krakow?
Bars tend to have a very relaxed dress code in Krakow, but nightclubs are much stricter, with many prohibiting trainers (sneakers), sports clothes, and hats.
Is smoking allowed in bars in Poland?
Many bars and clubs in Krakow have a designated indoor smoking room.
Is Warsaw or Krakow better for nightlife?
Krakow is a much better choice if you're looking for a good nightlife. Warsaw does have its fair share of nice bars, but it can't compete with Krakow.
What alcohol is Krakow known for?
Vodka! Polish vodka is the most popular drink by far, as well as draught beer, often served with raspberry syrup for the ladies.

Nightlife in Krakow | Final Thoughts


Hopefully, this guide has helped you narrow down some of the best places for nightlife in Krakow!

Krakow is one of my all-time favourite cities in Europe, and in my opinion, it's nightlife is hard to beat.

Whether you're a hardcore clubber, a lover of fancy cocktails, or you simply want a cold beer in an unpretentious pub, Krakow will not disappoint.

That's about it for today, but as always, if you have any questions, don't hesitate to ask them in the comments section below and I will get back to you!

Until next time,

XOXO


If you liked this article and would like to support my work, please click the button above to donate a couple of bucks and buy me a coffee. The ad revenue that I receive on this website is minimal, so support from my readers enables me to keep creating content that you (hopefully!) love to read.

Disclaimer: Travelling Jezebel contains affiliate links. If you make a purchase on a recommended site, I may make a small commission at no extra cost to you.