Krakow is, in my humble opinion, one of the best cities to visit in Europe.

With excellent food, gorgeous architecture, affordable prices, and a plethora of things to see and do, you'd be a fool if you missed an opportunity to visit the former capital of Poland.

I've been visiting Krakow for over 5 years, and every time I return, I still find new things to love about this eclectic and vibrant Polish city.

I've already written a massive article about the best things to do in Krakow generally, but for this post, I thought I'd write specifically about the best things to do in Krakow at night, when the city transforms into an adult playground, with tonnes of fun and unique things to do.

I'm not necessarily talking about Krakow's nightlife here (that's for another blog post).

Instead, I'm talking about the best experiences that you can have after the sun goes down in Krakow, from discovering Krakow's haunted corners to cruising down the Vistula River, and playing shuffleboard in a UFO-themed games bar!

No matter what kind of night you're looking for, this guide has you covered.

Are you ready?

Then let's get into it.

Here are the 17 best things to do in Krakow at night.



17 Best Things to Do in Krakow at Night


Discover Kazimierz


Located about a 15 minute walk from the Old town, the former Jewish district of Kazimierz is now the place to be in Krakow at night (especially if you want to avoid bachelor parties/stag do's!).

With tonne of award-winning restaurants, swanky cocktail bars, live music venues and bohemian bars that were dark academia before it was cool, this hip neighbourhood is definitely worth exploring when the sun goes down.

My favourite bars in Kazimierz are Alchemia, Singer, and Eszeweria.



Head to a games bar


If you're looking for one of the more lowkey things to do in Krakow at night, one of Krakow's many games bars might be up your street.

The best games bars in Krakow include Krakow Pinball Museum, which has over 80 retro pinball machines, Cybermachina for its board games, consoles and themed cocktails, and Cosmic Games Pub with its UFO-style interior and games including shuffleboard, air hockey, and beer pong.

Whichever you fancy, you're sure to find something to keep you occupied!



Head to a Polish shot bar


Both the Poles and the Russians both claim to have invented vodka, but whichever camp you're in, there's one thing for sure – vodka in Krakow is both plentiful and cheap.

The best shot bars in Krakow are part of a chain of Polish bars called Pijalnia Wodki i Piwa, dingy bars that are famous around Poland for their cheap prices and no-frills vibe.

With the walls decorated in newspaper clippings (a hark back to Communism, when they couldn't afford wallpaper), a wide array of Polish vodka shots for around a euro, and small plates of traditional Polish food, Pijalnia is a haven for students and tourists alike.

Pijalnia is almost always open, always brightly lit, always full of people, and always fun.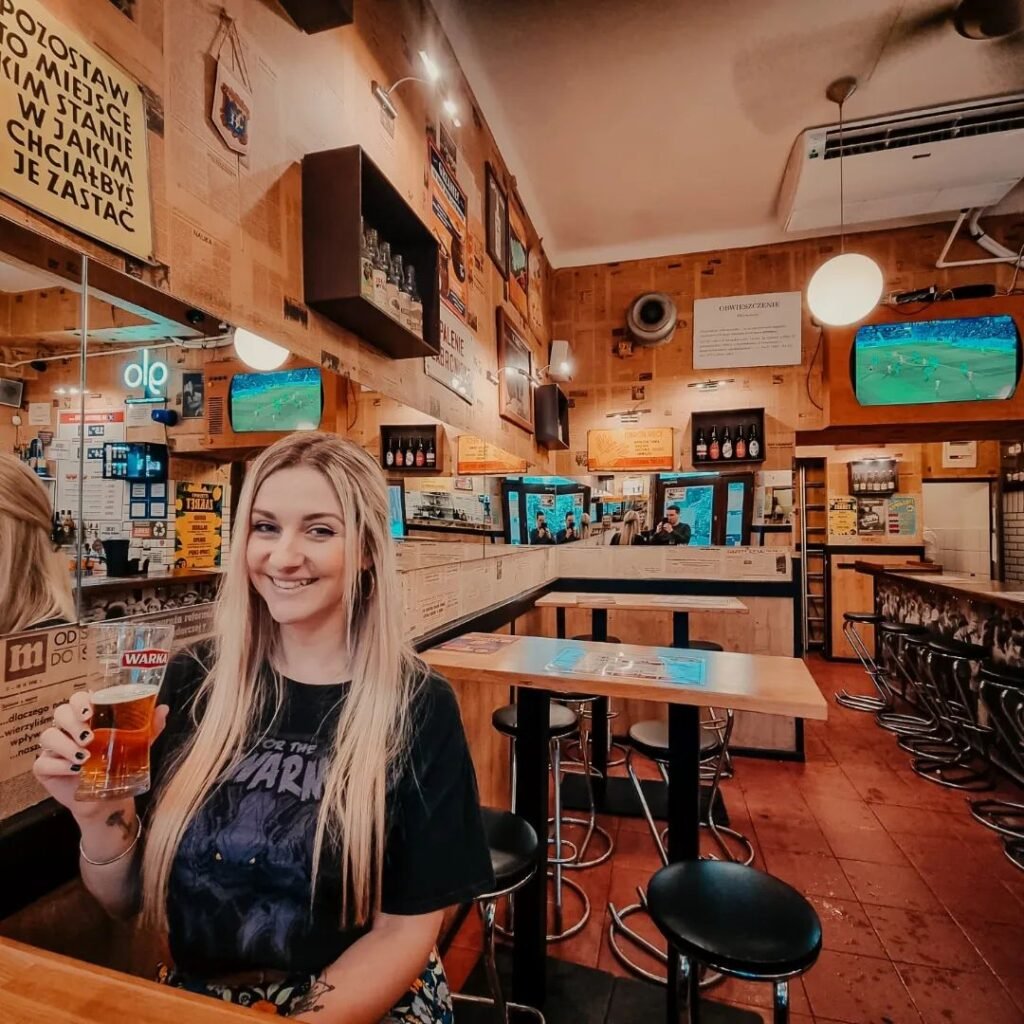 Go on a ghost tour


One of the spookiest things to do in Krakow at night is to go on a ghost tour!

This Chills and Thrills Walking Tour begins after the sun goes down at a medieval cemetery and takes you to all of Krakow's creepy corners, including the executioner's house, famous haunted spots of Krakow, an actual torture chamber, and the path where a serial killer once prowled.

Hear spine-tingling tales of vampires, ghosts, murderers, and more in this 2-hour walking tour.



Go on a Polish food and vodka tour


On my most recent trip to Krakow I booked a Polish food and vodka tour through GetYourGuide and it was so fun!

Our 3 hour evening tour included a tonne of yummy Polish foods and regional specialities, as well as a bunch of Polish vodkas, all punctuated by our guide's interesting stories about what we were eating and drinking.

Not only was it great to gorge on hearty food and flavoured vodka, but we also met some great people who continued the night with at a few bars after the tour was over!

If you're interested, you can book the tour I did here.




Go on a Krakow pub crawl


What's the best way to see Krakow nightlife?

On a pub crawl of course!

The pub crawl that I have personally been on (time and time again) is the Greg and Tom pub crawl, which I used to lead myself, but if you don't want to stay at Greg and Tom Party Hostel, then there are plenty of other great pub crawls in Krakow, such as this one, which has tonnes of great reviews.

All Krakow pub crawls will take you to some of the best clubs in Krakow Old Town, with free entry to the clubs and usually a shot in each one.



Munch on Krakow's most famous street food


A rite of passage in Krakow at night is eating a zapiekanka (or zapiekanki plural).

Zapiekanki are Krakow's most famous street food, and are the Polish answer to a 3am kebab (although they are delicious at any time!).

The classic zapiekanka is half a baguette with sautéed white mushrooms and grated cheese, toasted until the cheese melts, although now you can buy zapiekanki with pretty much any topping imaginable – I love the one with English bacon, extra cheese, and garlic sauce.

Piping hot and made to order, zapiekanki are the soul of Krakow and they only cost a couple of euros.

Head to Plac Nowy in Kazimierz for the best zapiekanki in town.



Go to a Prosecco and oyster bar


Prosecco Oyster Bar in the Old Town of Krakow does exactly what it says on the tin – Prosecco and oysters!

Me and Ethan enjoyed a carafe of fizz with some oysters on ice, including some fancy French oysters which the server insisted were rare and only there for a limited time!

We felt like it was a great pre-dinner spot, but if you want to stay for longer, they also have a selection of fried and grilled seafood.

Oh, and did I mention there's a gigantic pink bath tub full of oysters?!

Prosecco Oyster Bar stays open until 11pm. You can find it here.



Drink at a bar dedicated to cherry liqueur


Pijana Wiśnia translates to 'Drunk Cherry' and is the name of a tiny bar in Krakow Old Town that serves one drink and one drink only – a sweet cherry liqueur, which you can order hot or cold.

If you walk through the bar, you will find a large garden area, with a great atmosphere and lots of people huddled around tiny tables clutching steaming paper cups (or drinking elegantly from crystal goblets) of this unusual drink.

There are Pijana Wiśnia bars in most cities in Poland, as well as Lviv, Ukraine, where the chain began.



Find the Green Fairy at an Absinthe bar


Absynt describes itself as a place for 'bold thoughts and good company,' and prides itself on serving absinthe in the traditional way of burning a sugar cube into the drink before serving the flaming absinthe to nervous customers!

I won't lie – Absynt is not necessarily going to be a pleasant experience (just ask my mother!), but it will certainly be an experience!

With a menu of more than a dozen different types of Absinthe, not to mention Absinthe cocktails, this bar is definitely one of the most unique things to do in Krakow at night.



Go to a traditional Polish Folk show


Feasting on unlimited Polish food while watching a folk show that encompasses costumes and traditions from all over Poland?

Yes please!

This 3-hour show includes traditional Polish folk music and dancing, a 3-course meal with additional all-you-can-eat hot and cold buffets, unlimited beer and wine, and a shot of homemade cherry vodka.

Plus, the venue is in the countryside surrounding Krakow, overlooking a beautiful lake (yes, your transport's included).

Of all the best things to do in Krakow at night, this one has to be top of the list.



Face your fears at Lost Souls Alley

Lost Souls Alley is part escape room, part interactive house of horrors where your worst fears are lying in wait around every corner.

While it's open all day, the best time for any spooky attraction is the night time, and luckily, Lost Souls Alley stays open until 9pm, making it one of the best things to do in Krakow at night if you have masochistic tendencies!

I've visited Lost Souls Alley twice, the first time being 5 years ago when it was an unknown, backstreet venue that nobody knew about, but now it has over 3000 positive Google reviews and is one of the most infamous things to do in Krakow!

Lost Souls Alley is in a different league to places of its kind in the UK, and you can even choose whether you want to up the ante by adding more frights and even physical pain!

According to the website, the 'Red Version' of the game, is geared towards people with 'masochistic attitudes' and promises that participants will 'acquire sores, bruises and wounds,' as well as 'very close, aggressive and unceasing physical contact with the staff and a psychical abuse in connection with an attempt to break the participant.'

I'm not sure that this version (Level 4) is for me – I did Level 2 and it was more than enough!

Make a reservation and find out more on their website.



Go to a herring embassy!


Yes, you ready that right, although unfortunately Ambasada Śledzia Kraków is just the name of a bar which translates to 'Herring Embassy Krakow,' rather than being an actual herring embassy.

Don't be so hasty in your disappointment though, because Ambasada Śledzia Kraków is still a very unique bar and worth your while!

Although it markets itself as a 'Polish tapas' bar, the star of the menu is, of course, herring.

Pickled and served cold is the traditional way Poles eat herring, but you'll find many herring varieties on the menu here, including herring with curry and raisins, herring with mango chilli and pineapple, and fried herring with vinegar.

Order a selection and be sure to wash them all down with a few shots of Polish vodka.



Give it your all at a karaoke bar


If there's one thing I've learned about Polish people and drunk tourists alike, it's that they love karaoke.

Krakow has a tonne of karaoke bars, including several in the Old Town and even a rock karaoke bar in Kazimierz!

The best karaoke bars in Krakow are Let's Sing Karaoke Bar (Old Town) and Pub Pod Ziemią (Kazimierz) for rock karaoke.



Discover traditional Jewish cuisine


Kazimierz, especially the street of Szeroka, is full of fantastic restaurants serving old-fashioned Jewish cuisine, and you should definitely pay one a visit.

From the uber traditional Ariel (dishes include goose necks stuffed with chicken liver, Jewish-style carp fish, and Kreplach dumplings) to the contemporary Israeli food in Hamsa with its weekend brunch buffet and mezze platters, there will be something for you on Szeroka street.



Book a boozy boat tour


Every Saturday from March through to October, the more hedonistic among you can enjoy a Krakow Boat Party, a 2-hour cruise down the Vistula with an open bar and DJ, as well as a magic show, photobooth, and plenty of drinking games to make sure you get your money's worth!

Dance on the open-air deck for 2 hours before dropping anchor and embarking on a pub crawl to 3 of Krakow's best nightclubs with fast-track entry and free welcome shots – you can't say fairer than that!



Enjoy a NOT so boozy river cruise


If drunk twenty-somethings dancing on a boat aren't your idea of a good time, you may prefer a more lowkey evening cruise along the Vistula River.

This 1-hour cruise takes you along the river, past major landmarks such as Wawel Castle, with an audio commentary from the overhead sound system.

Enjoy a heated deck and comfortable leather sofas on this relaxing river cruise.



What NOT to Do in Krakow at Night


I couldn't end this article without offering a word of warning about a less-than salubrious side of Krakow at night.

If you're visiting Krakow on a lad's holiday with the idea of going to some strip clubs, I can't advise against it enough.

I have nothing against strip clubs – I've been to several myself in fact – but the strip clubs in Krakow are criminal-owned businesses designed to extort money from tourists by any means possible, including drugging drinks, intimidation, and even violence.

I have personally met more than a couple of people who have fallen prey to the dark side of Krakow's nightlife scene, and it isn't pretty.

For more detailed information, please read my article about the Krakow strip club scam.



Things to Do in Krakow at Night | Final Thoughts


Hopefully, this article has given you plenty of ideas of what to do at night in Krakow.

From spooky thrills to unique cocktail bars and moonlight river cruises, there's something for everyone in Krakow, and it's one of those cities that is just as magical after the sun goes down as it is during the day.

That's about it for today, but as always, if you have any questions, don't hesitate to leave them in the comments section below and I will get back to you!

Until next time,

XOXO



If you liked this article and would like to support my work, please click the button above to donate a couple of bucks and buy me a coffee. The ad revenue that I receive on this website is minimal, so support from my readers enables me to keep creating content that you (hopefully!) love to read.


Disclaimer: Travelling Jezebel uses affiliate links. This means that if you make a purchase on a partnered site then I may make a small commission at no extra cost to you.