It's very easy to get a coffee in Palermo.

It's even very easy to get a good coffee in Palermo, so much so that you don't really need to research anything first – no matter how old or dingy-looking the bar is, it's probably got excellent coffee.

I mean, this is Italy, after all.

With that being said, when it comes to any kind of coffee shop CULTURE, Palermo cafes just haven't quite caught up to other European cities yet.

Italians in general prefer to gulp a quick espresso at the bar rather than lingering for hours over a single cup, and it's very rare to see an Italian bring their laptop to a café and work.

However, while cool, laptop-friendly Palermo cafes aren't exactly dime a dozen, Palermo does have some decent cafes and coffee shops where you can catch up with friends, get lost in a book, or get some all-important work done.

In this post, I'll be sharing my personal favourite Palermo cafes, compiled over multiple trips and several months in Palermo, Sicily.

The first half of this list includes the more hipster Palermo cafes, where you can enjoy a more 'European' experience (think avocado toast, detox smoothies etc.) and bring your laptop, and the second half includes the more traditional Sicilian cafes, which aren't necessarily great to work in, but that serve a mean coffee.

So, if you're looking for the best cafes in Palermo, look no further, cause I've got you covered.



The 7 Best Laptop-Friendly Palermo Cafes


1. Cioccolateria Lorenzo


In the heart of the Kalsa neighbourhood, Cioccolateria Lorenzo is a simply charming café and family business with yummy cakes, friendly staff, and, as the name would suggest, a large selection of beautiful homemade chocolate.

The pretty garden area seems to be the study spot of choice for young Sicilian women (it's very Instagrammable), and when I asked if it was okay for me to stay and work on my laptop, the server replied 'Sure, we're open until 8, stay until then!'.

If you prefer the savoury things in life, they also make sandwiches to order.

You can find Cioccolateria Lorenzo here. They are open every day except Mondays.



2. NonnAnge Bakery & Coffee


Tucked down a tiny side street off Via Maqueda, NonnAnge is home to the BEST cheesecake in Palermo (and trust me, I've done the rounds!).

They have coffee blends from Ethiopia, Brazil, and Columbia, as well as ginormous slices of homemade cake, XXL cappuccinos, eggs benedict, pancakes, bagels, slow-pressed juice, and more.

NonnAnge is one of the best places to get brunch in Palermo.

It's small, and there's no outside space, but I've worked from here many times, and one day when the WiFi wasn't working, the server even let me use her mobile hotspot!

You can find NonnAnge Bakery here. They are open every day except Wednesday from 10am – 3pm.



3. Palermo Store Café


I used to go here daily when I lived in Palermo, and the servers never minded me setting up my laptop and working for hours on end.

Of course, I always ordered something, and their wide range of arancine (the quintessential street food of Palermo), made-to-order sandwiches, and good coffee meant that I was never bored!

Palermo Store Café (also called Palermo Football Store), has a slick, modern interior, and when you've finished working, be sure to order their aperitivo plate, where you can choose a cocktail and a platter of traditional Sicilian snacks for just 15 EUR!

The back part of the café and top floor is also a shop where you can buy typical Palermo souvenirs and football memorabilia.

You can find Palermo Store Café here. It's open every day from 8am – 12am.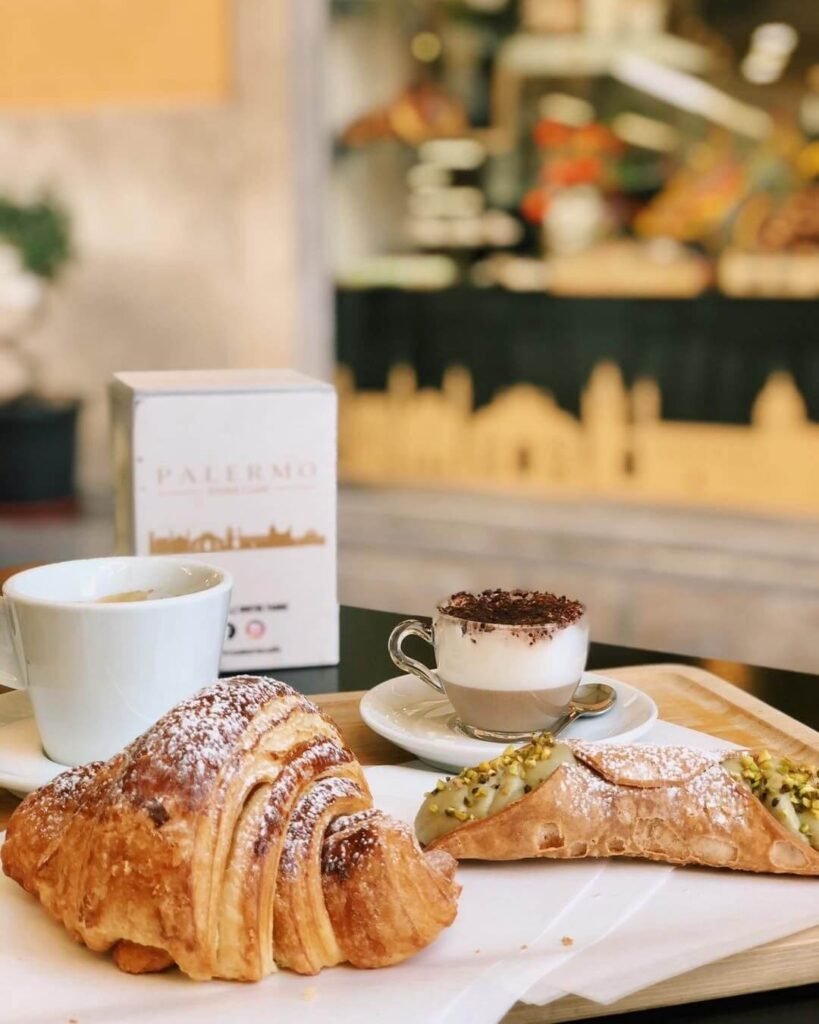 4. VERA Coffice Break


VERA is a Palermo café that was made for this article.

Super popular among young Palermitani, VERA is one of the few places where you will see people on their laptops working (VERA actually describe themselves as 'a happy space for a break, but also an office, and above all, a family').

VERA is dog-friendly, ultra modern, and its menu includes various smoothies, cakes (including vegan), lunch bowls, and infusions.

They have space both indoors and outdoors.

You can find VERA Coffice Break here. They are open all day, every day, until 8pm.



5. Grace Coffee Corner

Brunches, salads, sandwiches, and coffee – what more could you want, right?

A lot of the food at Grace Coffee Corner is pre-prepared, kinda like Starbucks, but it's reasonably priced, and it's a decent spot to work in. Plus, they have fluffy pancakes and American breakfasts.

Located in the business district of Palermo, Politeama, Grace is modern, functional, and gets the job done.

You can find Grace Coffee Corner here. They are open every day until 7pm.



6. Pedro's Coffee & Food


Full disclosure – I ate here once (chicken wings and fries), and wasn't a fan.

That said, it's got plenty of seating (unusual for Palermo cafes), an American, Starbucks-style menu (which I guess is considered a good thing?!), and plenty of great reviews.

Plus, it's smack bang in the middle of Via Maqueda, meaning it's very central, and it's open till 11pm every day (and 12:30am on Saturdays!).

I can't vouch for the quality of the coffee – as I said, I didn't rate the food much – and overall it just isn't my kind of place, but 1756 people on Google Maps disagree with me, soo…maybe you will too.

You can find Pedro's Coffee & Food here. They are open every day from 8am – 11pm.



7. BALATA Sicilian Experience


I used to come to BALATA Sicilian Experience a lot when I was living in Palermo (it was just across the road from my apartment), and I loved it.

They did a great macchiato, had friendly staff, and high tables near the windows that were perfect for working at.

Unfortunately, these days, BALATA are only open from 12pm – 3pm during the day (before opening again in the evening as a restaurant), so the hours are pretty limited, but I still recommend it.

You can find BALATA Sicilian Experience here. They are open every day except Tuesdays and Wednesdays, 12pm – 3pm and then 7pm – 11pm.



Palermo Cafes | Final Thoughts


So, this brings us to the end of my Palermo café roundup!

While there are hundreds of coffee shops and cafes where you can get a decent coffee in Palermo, these are the best places to settle down and get some work done.

The best ones all-round (in terms of good coffee/food and workspace) are Cioccolateria Lorenzo and VERA Coffice Break, but you can't go far wrong with any of the places on this list.

If you have any questions, please don't hesitate to ask me in the comments section below!

Until next time,

XOXO


If you liked this article and would like to support my work, please click the button above to donate a couple of bucks and buy me a coffee. The ad revenue that I receive on this website is minimal, so support from my readers enables me to keep creating content that you (hopefully!) love to read.

Disclaimer: Travelling Jezebel contains affiliate links. If you make a purchase on a recommended site, I may make a small commission at no extra cost to you.