Most people associate Italian cuisine with pizza and pasta, and who can blame them?

Pizza and pasta are by far some of the best foods on the planet, and when you've tried a real Neapolitan pizza, nothing else even comes close.

However, there is so much more to Italian food than pasta and pizza, and when it comes to Catania, Sicily, things are a whole different ball game.

Many typical Sicilian delights are in the form of street food, which is an amalgamation of all of the cultures that have existed on the island of Sicily over the years, including the Arabs, Romans, Normans, Greeks, Spanish, and Jews.

Ingredients such as saffron, apricot, rice, and nutmeg stem from the Arab domination of Sicily in the 10th and 11th centuries, while the Greeks brought a taste for fish, pistachio, olives, and fresh vegetables.

This is particularly apparent in Western Sicily – San Vito Lo Capo even has its very own couscous festival!

However, the city of Catania certainly holds its own when it comes to street food, and you won't leave disappointed if you're planning a trip there.

So, if you're curious about what Catania street food has to offer, look no further, because I'm going to break it down.

Here's a guide to Catania street food.



Catania's Street Food Delight: A Food Lover's Guide


Catania at a glance


Catania is located on the east coast of Sicily at the base of Mount Etna, Europe's largest volcano.

It is Sicily's second largest city, with almost 1 million residents (the largest being Palermo, of course).

With its close year-round sunshine, stunning Baroque architecture, and lots of things to do, Catania is a superb place to visit, and when you factor in all of the delicious food, its appeal only increases.



What is street food in Catania like?


Catania is located near the Mediterranean Sea, and its street food culture heavily features fresh seafood, such as octopus, swordfish, sardines, and anchovies.

Food in Catania is usually made with locally sourced ingredients like tomatoes, eggplants, and lemons, that are used in dishes such as caponata (a sweet and sour vegetable stew) and granita (a semi-frozen dessert made with fruit juice and sugar).

A lot of the time you'll find things grilled or fried, and only seasoned with olive oil and a pinch of salt.

You will also find a lot of sweet cakes and pastries (Sicilians have a real sweet tooth), and you'll be able to see Arab influences in the use of pistachios and almonds in sweets like cannoli and cassata.

Like with any street food, street food in Catania is designed to be eaten on the go, so you'll often be served your food in paper cones, or even just a napkin (arancini).

It's also inexpensive, and so if you're visiting Catania on a budget, street food is a great way to fill your belly without breaking the bank.



14. Catania Street Foods


1. Minne di sant'Agata


Minne di sant'Agata is the name given to a cake with a pretty tragic story behind it.

These cakes are named after Saint Agatha, a Christian martyr who was tortured and killed.

This torture involved having her breasts cut off with pincers, and it is for this reason that the appearance of these cakes resembles a female breast…I'm not sure how I would feel if this happened to me and my ordeal was turned into a cake, but the intentions were good, I guess?!

The cakes themselves consist of a chocolate chip, ricotta, and marzipan cake, encased in icing sugar, and topped with a cherry.



2. Carne di Cavallo


Horse meat is a lean meat, high in iron, that sits somewhere between beef and venison, and it is very popular in Catania.

Although in the US and UK, eating horse meat is considered taboo, it is considered a delicacy in Catania, and pretty much every Catania restaurant offers horse meat on the menu.

Horse meat in Catania is often served in burger or meatball form (be warned though – in Italy if you order a 'burger' you will get just the meat patty), with charred edges and tender pink insides.



3. Pasta alla Norma


While this isn't technically a street food, no Catania food list would be complete without pasta alla norma, as this is where the famous dish originated.

Best made with a tubular pasta such as penne or rigatoni, pasta alla norma is made by frying thinly sliced eggplant in extra virgin olive oil before tossing them into a fresh tomato sauce (with hints of garlic and chilli), and sprinkling a generous smattering of ricotta salata cheese on top (saltier and with a firmer texture than classic ricotta), and garnishing with basil.

Pasta alla norma is of the most quintessential Sicilian dishes, and it usually doesn't cost more than 5-6 EUR.



4. Arancini


While I usually spell this the Palermitano way (arancine), I'm making the exception for this post!

Perhaps Sicily's most iconic food, arancini are balls of creamy risotto, deep fried in breadcrumbs and filled with whatever your heart desires.

Popular fillings include meat ragu, spinach and mozzarella, prosciutto and mozzarella, pistachio cream, butter and speck.

Typically eaten as a hearty snack on the go, these rice balls can be found absolutely everywhere in Sicily and are wonderfully stodgy, flavoursome and great if you're on a budget, with a typical arancino costing less than 2 EUR.

Catania arancini are also different in shape to their Palermitan cousins – while the Palermo arancina is rounded, like an orange, the Catania arancino is pointed at the top, like Mount Etna.



5. Scacciata


Scacciata is a sheet of fragrant bread dough folded, baked and stuffed with anything from wild vegetables to olives, sausages and pretty much anything else you can think of!

I tried scacciati with spinach, pork, potato and cheese in the village of Militello and it was absolutely delicious!



6. Selz


Technically not a Catania food, selz is a refreshing summertime drink comprised of freshly squeezed lemon juice, seltzer water, and a pinch of salt.

Kiosks all over Sicily sell selz for around a euro, and one of the first questions I was asked in Catania was 'have you tried our drink yet?' the drink, of course, being selz.



7. Fried fish


Catania's fish market, La Pescheria, is famous all over Sicily!

An authentic market in the truest sense of the word, be prepared to wade through sea water and blood as you take in the decapitated swordfish, live lobsters, buckets of sardines and more.

You can buy your fish fresh (you'll always get some freebies if you visit right before the markets are due to close!), or head to Scirocco Sicilian Fish Lab, which is right on the market square.

Here you can get cones of hot fried seafood for just a few euros and watch the hustle and bustle of the market around you.

I paid 6 EUR for a fritto misto, which included anchovies, calamari, and white fish.

Catania fish market is on every morning except Sundays. It runs from 7am – 2pm and is open all day on Saturdays. You can find it at Via Bottino, 95121 Catania.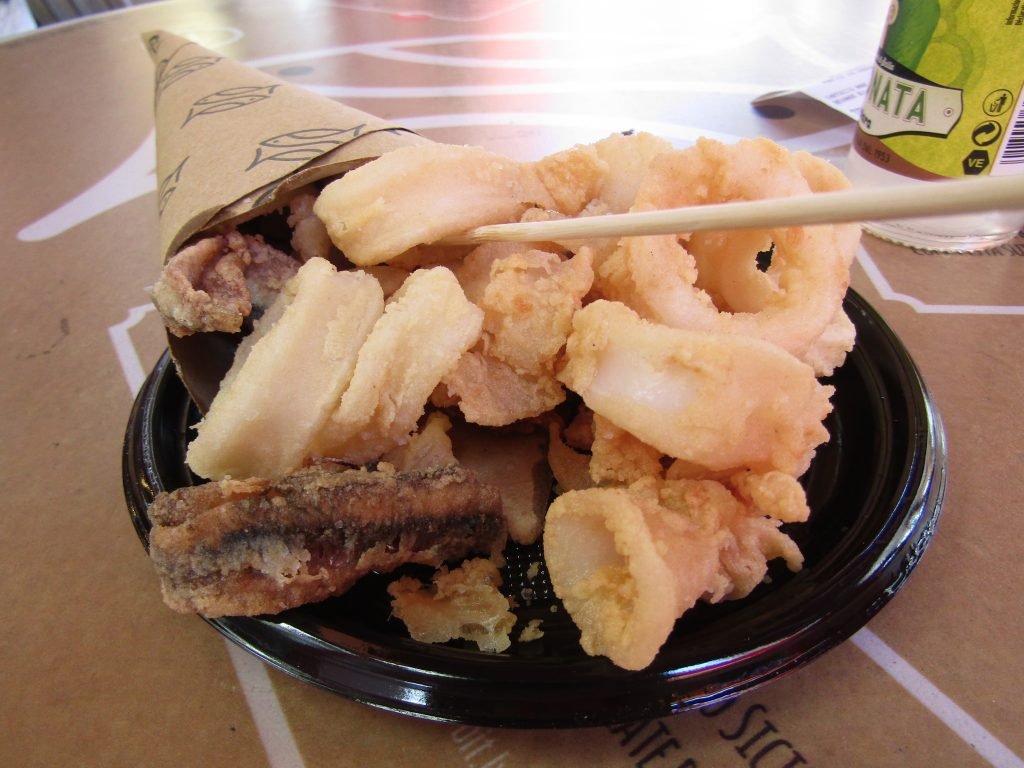 8. Cartocciata


Cartocciata originates from Catania, specifically the area around Mount Etna.

It's a piece of dough that is folded and stuffed with various ingredients, kind of like a small calzone.

Traditionally, cartocciata is stuffed with tomatoes and mozzarella, but you can also find versions with ham, mushrooms, spinach, sausage, black olives, anchovies, aubergine (eggplant), and more.



9. Cipollina


A cipollina is similar to cartocciata but made with puff pastry and resembling a square parcel rather than an oval calzone. It is stuffed with stewed onions (the star ingredient), tomato sauce, ham, and mozzarella.



10. Cannoli


Cannoli are perhaps the most quintessential Sicilian dessert.

Cannoli are crispy tube-shaped shells made of fried pastry dough which are then filled with creamy ricotta cheese and sprinkled with a variety of toppings.

Although the classic cannolo is a plain shell filled with plain ricotta and topped with candied fruits, you can customise your cannolo to become basically anything you want, adding pistachio, chocolate, orange, peanut butter, caramel and even Limoncello!

Specialist cannoli shops also have different flavours of ricotta and various shell flavours.

Not only do cannoli look pretty, but they also taste delicious, and if you're like me and don't have much of a sweet tooth then you can buy a miniature version to enjoy with your cappuccino.



11. Granita


Although granita can now be found all over Italy, the birthplace of this refreshing summer dessert is actually Sicily!

Granita is simply shaved ice with sugar and fruit flavouring, and it is essentially a sorbet, but with a slightly coarser texture, perfect for a light refreshment on a hot summer's day – my favourite is the lemon version.

In the summertime, many Italians will order a coffee flavoured granita for breakfast with a brioche, and dip their brioche into the granita – yum!



12. Cipollata


Not to be confused with cipollina (I admit, it is confusing), cipollata refers to streaky bacon, wrapped tightly around spring onions, dripping with fat.

In cities such as Palermo, you're never far away from middle-aged men grilling these on the streets, but I visited several restaurants in Catania that serve cipollata (especially BBQ grill style places).



13. Zeppole di Riso


Invented by the nuns of the Benedictine Monastery in Catania in the 16th century, these sweet rice fritters are made from rice, milk, and orange zest, and coated with honey.

While they were traditionally prepared for the Feast of St. Joseph on March 19th, now you can enjoy them all year round.



14. Olives


While olives are by no means unique to Sicilian cuisine, when you buy them on the streets of Catania, they're something else.

Sample some at the fish market. Just look out for the guys with the olive stall (duh), and you'll be served a portion of juicy olives with eggplant and whole garlic cloves that will create a flavour explosion in your mouth.



Where to find the best street food in Catania


When it comes to street food, there are certainly better places to get your hands on some in Catania than others.

Here are my picks:



Sicilia Street Food


Sicilia Street Food is a deli on one of Catania's busiest streets where you can find all the usual suspects. 

Their fried seafood and arancini are great, as are the cannoli, and they also have pane e panelle, which is Sicily's answer to a chip butty (you will see this featured on my guide to street food in Palermo).  

You can find Sicilia Street Food here.



Scirocco Sicilian Fish Lab


As I mentioned earlier, I ate here and was very happy with my portion of fried fish.

Seafood on offer includes shrimp, clams, calamari, squid, anchovies, mussels, sardines, swordfish, and more, and you can choose whether you want a boneless portion as well.

You can find Scirocco Sicilian Fish Lab here.



Mm!! trattoria


Mm!! trattoria is located on the fish market and specialises in street food of the fishy variety. Dishes can include octopus salads, fish skewers, arancini with black squid ink, tuna steaks, and more.

Menu changes daily.

You can find Mm!! trattoria here.



Trattoria del Cavaliere


Trattoria del Cavaliere is one of the best restaurants I've ever been to, and my boyfriend still talks about it 2 years later!

This is a BBQ grill restaurant serving every kind of meat and fish imaginable.

The beauty of this place is that you order things individually, so if you want a single cipollata or horse meatball just to see if you enjoy the taste, you can order exactly that.

The food quality is unreal, the prices are beyond reasonable, and the variety is unparalleled.

You can find Trattoria del Cavaliere here.



Via Plebiscito


This bustling street remains the go-to spot to relish in the traditional street food of Catania known as 'Arrusti e Mangi,' which translates to 'roast and eat.'

Numerous eateries along this street offer a diverse range of food, including lesser-known meat varieties. Take a stroll and follow your nose to indulge in some of the best grilled meat in the city!



Taking a Catania street food tour


Another way of getting to sample the best of Catania's street food is by taking a Catania food tour!

Contrary to what many people think, food tours are a great way to avoid getting ripped off or going to the wrong places.

Although I haven't taken a food tour in Catania, I did take one in Palermo with Streaty, the company that also operates in Catania, and I can't speak highly of them enough.

You can read my review of my Streaty tour here.



Wine tours in Catania


I also really recommend taking a wine tour while you're in the area.

I've written about my experiences visiting an Etna winery so I won't go on about it too much here, but Etna wine is really unique and visiting some local wineries is a great way to learn about it.

Many tour companies actually combine visits to various wineries in Sicily with cooking shows, Etna hikes and more, giving you the full Sicilian experience!



Here are the Catania wine tours that I recommend:


Mount Etna 5-hour food and wine tasting tour, 101 EUR. Stop at a family-run winery and enjoy a glass of rosé prosecco before visiting the cellars and experiencing a wine tasting with cold appetisers in a lava stone open-air amphitheatre. Then, continue to a farmhouse to savour more food and wine overlooking the vineyards.

Mount Etna half-day tour and wine experience, 79 EUR. Start by discovering craters and a lava cave on a trek led by an expert guide. After exploring Mount Etna, discover the famous wine of the region, taste a selection of local wines, and enjoy a typical Sicilian lunch made with local products.

Private tour of the 3 best Etna wineries with tasting, 155 EUR. The first venue will be a family run winery, where you will be welcomed with a glass of white wine. You will then enjoy a guided tour around the estate and visit the cellars where the owner will explain the wine production process. Finally, you will taste 4 or 5 wines with locally produced foods. At the second venue you will taste 4 more wines of the region before heading to the next venue where you will taste 3 premium wines accompanied by appetisers.

Seriously – if you want to get a good introduction to the main players on the Catania street food and wine scene with a local and experienced guide, a tour is the way to go!



Catania Street Food | Final Thoughts


Street food in Catania is not as adventurous as what you'll find in Palermo (no spleen sandwiches here!), but it's definitely delicious.

You'll especially enjoy Catania's food if you're a meat lover who enjoys your food grilled, deep fried, and dripping in grease (Catania isn't the best place to visit if you're on a diet!).

I hope this guide has been helpful, and as always, if you have any questions, don't hesitate to reach out in the comments section below!

Until next time,

XOXO


If you liked this article and would like to support my work, please click the button above to donate a couple of bucks and buy me a coffee. The ad revenue that I receive on this website is minimal, so support from my readers enables me to keep creating content that you (hopefully!) love to read.

Disclaimer: Travelling Jezebel contains affiliate links. If you make a purchase on a recommended site, I may make a small commission at no extra cost to you.