Palermo is my favourite city in Italy, and one of my favourite cities in Europe.

I've visited countless times, both as a tourist, and staying for longer periods of time while working remotely.

Over the last 4 years, I've probably spent over half a year in the chaotic Sicilian capital, and during that time, I've worked my way through a lot of city centre restaurants in Palermo, from chic enotecas to casual street food joints, and everything in between.

Palermo has hundreds, if not thousands, of great restaurants, and so this isn't an exhaustive list of the best restaurants in Palermo, but rather the ones I find myself frequenting time and time again for their authentic and quality food, good service, and fair prices.

I'm also going to keep coming back to this article and updating it whenever I find a place that deserves to go on MY best restaurants in Palermo list.

So, if you're wondering where to eat in Palermo and are sick of reading generic lists written by people who have never even set foot in Palermo (or worse, AI robots), look no further, because I've got you covered.

Here are my favourite restaurants in Palermo, Sicily.



Where to Eat in Palermo – My Favourite Palermo Restaurants


Palermo food at a glance


Sicilian food is not the same thing as Italian food, and is rather an amalgamation of all of the cultures that have existed on the island of Sicily over the years, including the Arabs, Romans, Normans, Greeks, Spanish, Jews, and so on.

From the Arab domination of Sicily in the 10th and 11th centuries, we see saffron, apricot, raisins, rice, nutmeg, cloves and pine nuts, with the Greeks bringing a taste for fish, pistachio, olives and fresh vegetables.

Western Sicily in particular has tonnes of Northern African influences – San Vito Lo Capo even has its very own couscous festival!

Other influences on Palermo food include the incredibly fertile Sicilian land (producing aubergine, almonds, lemons, pistachios, and more), and the fact that it is surrounded by water, meaning an abundance of fresh seafood wherever you go – nearby Favignana is home to some of the best tuna in the world, and Sicily is also famous for its red shrimp.

Palermo food in particular is often of the street food variety, and it has actually been named as one of the best cities for street food in the entire world!

My article about street food in Palermo goes into this in more depth, but for now, just know that Palermo street food is greasy, deep fried, and often contains offal.

If you're curious about Palermo's street food, then some of the places on this list offer more sanitised versions than the ones you'll find at Palermo's street markets.



About Palermo restaurants


Although cafes in Palermo stay open all day, most of the best restaurants in Palermo close after lunch and only re-open again at around 7-8pm.

Be sure to check when their opening hours are (it's best to call in advance, as Google Maps isn't always accurate).

It's also quite common for restaurants in Palermo to be closed on Mondays, so again, check beforehand to avoid disappointment.



Types of Italian restaurants


One day I'll write a dedicated article about the different types of Italian restaurants, but for now, let it be known that Italy doesn't just have 'restaurants.'

Oh no.

That would be too easy.

Here are some of the most common words to look out for (usually featured in the name of the establishment):


Ristorante: The most high end places you'll find. Ristoranti usually have a well-known chef, fine dining, and a higher price tag. Generally, you will order several courses and pass a lot of time here.
Osteria: While the osterie of old have all but vanished, these chic establishments are more relaxed than a ristorante. They usually have a smaller menu, fewer tables, and are designed for socialising.
Trattoria: Typically family-owned, trattorias are far more casual than ristoranti, with a focus on traditional, regional fare and a more 'grandma's kitchen' style of cooking.
Enoteca: Traditionally an enoteca would only serve wine, but more recently, they have started offering small plates to accompany the wines, and feel a lot more like restaurants than they did in past years.
Pizzeria: Self-explanatory. A place that specialises in pizza. This will be a casual place serving a selection of pizzas and salads.
Tavola Caldo: A place without table service, where you go to the bar and choose what you want from a selection of pre-made dishes, that are heated up.

16 Best Restaurants in Palermo


Trattoria Trapani


Thanks to its lowkey location near the train station, away from the major tourist landmarks, Trattoria Trapani doesn't get many tourists.

It's always full of locals, whether you go for lunch or dinner, and is a family-run business serving delicious homemade Sicilian food – when I visited with Ethan, the waiter eagerly told us that we had to try the cheesecake, because his grandma makes it and it's the best cheesecake in Palermo!

The brightly-lit interior leaves a lot to be desired, but if you want great quality pasta at some of the best prices in the city, head to Trattoria Trapani.

Pasta dishes here cost between 5 -9 EUR and meat dishes (without sides) are between 4-6 EUR.

You can find Trattoria Trapani here.



Trattoria Al Ferro di Cavallo


Translating to 'horseshoe,' this twee little trattoria just off Via Roma is always packed full of hungry locals come lunchtime.

It has a super cosy, old-fashioned interior with a pretty terrace area outside, and is known for its excellent value pasta dishes, all priced at 7 EUR (at the time of writing).

Choose from Sicilian classics like pasta alla norma (pasta with eggplant and ricotta cheese) and sarde e finocchietto (pasta with sardines and fennel), and finish with some deep fried fish and a wedge of lemon.

You can find Ferro di Cavallo here.



Trattoria Al Vecchio Club Rosanero


I only discovered this place on my most recent visit, and I liked it so much I ended up going two days in a row!

The cave-like inside is crammed full of vintage Palermo Football Club memorabilia, which gives it a real kitsch feel, and just like the places I've already mentioned, it's a real local favourite.

My favourite thing about Al Vecchio Club Rosanero (named 'To the Old Pink and Black Club') is that you can buy their pasta dishes as a full or half portion, which is great if you want to try some local seafood linguine while still leaving room for your main!

Here you can find all the usual suspects, as well as dishes such as pesto e gamberi (pasta with pesto and shrimp), spaghetti con ricci (spaghetti with sea urchin), and stuffed vegetables including bell peppers and eggplant.

You can find Al Vecchio Club Rosanero here.



FUD


If you're in the mood for something a bit less traditional, FUD is considered the best place for burgers in Palermo.

It has a contemporary industrial interior, large outdoor seating area, and if you're feeling brave, you can order a buffalo burger or even a donkey burger here!

This place is a bit pricier, with burgers priced between 10-13 EUR.

You can find FUD here.



La Tavernaccia


Of all the Palermo restaurants on this list, La Tavernaccia is my all-time fave.

With a scruffy, handwritten menu that changes daily, huge portions of homemade pasta for as little as 4 EUR, and a large variety of fish and meat dishes, you really can't go wrong here (they have really cheap wine as well!).

La Tavernaccia is outside of the old town, behind Teatro Massimo, and is a real hidden gem in Palermo.

Without a doubt, La Tavernaccia is one of the best restaurants in Palermo.

You can find La Tavernaccia here.



Bisso Bistrot


One of the more elegant choices, Bisso Bistrot is where you can find the beautiful people of Palermo sipping fine wines, browsing the books on sale (all by independent publishers), and socialising over sophisticated dishes which include sweet and sour red pumpkin, beef meatballs with citrus fruit and basil, and pasta with artichokes, mountain fennel, curry and fish.

Bisso Bistrot is inspired by the belle époque, which shows in its décor, and it has been in the same family for generations (you can read their fascinating story here).

You can find Bisso Bistrot here.


Osteria Al Casareccio

It might look like a tourist trap at first, and being situated in the bustling Vucciria market, it does attract its fair share of tourists, but the food at Osteria Al Casareccio is actually really good, if not a tad pricier than some of the other Palermo restaurants on this list.

I've dined here a couple of times and been impressed each time, and the Maltese waiter is super friendly and funny as well.



Kampai Restaurant


Looking for an 'all you can eat' in Palermo?

Look no further!

Kampai Restaurant is a tiny, no-frills Japanese restaurant close to the train station, and it does an all you can eat offer which includes unlimited sushi, noodle bowls, teriyaki and more, all made to order and delivered to your table.

Ethan and I visited at lunchtime and were super impressed – the lunch buffet is just 17 EUR, which is insane for sushi!

Interestingly, there are tonnes of all you can eat Palermo restaurants serving sushi – I guess Sicilians love sushi just as much as I do!

You can find Kampai Restaurant here.



Passami U Coppu


If you want to try some street food but want something a little more sanitised than the market vendors can provide, Passami U Coppu is just the place for you.

With a gorgeous, quirky interior (albeit limited seating), and a cheap n' cheerful menu with everything from fried fish cones to arancine (deep fried rice balls), involtini (sardine or swordfish rolls), and lots of sweet treats to boot, Passami U Coppu is a great place to stop for a quick bite when your stomach starts growling.

You can find Passami U Coppu here. They also have a spot on Via Maqueda.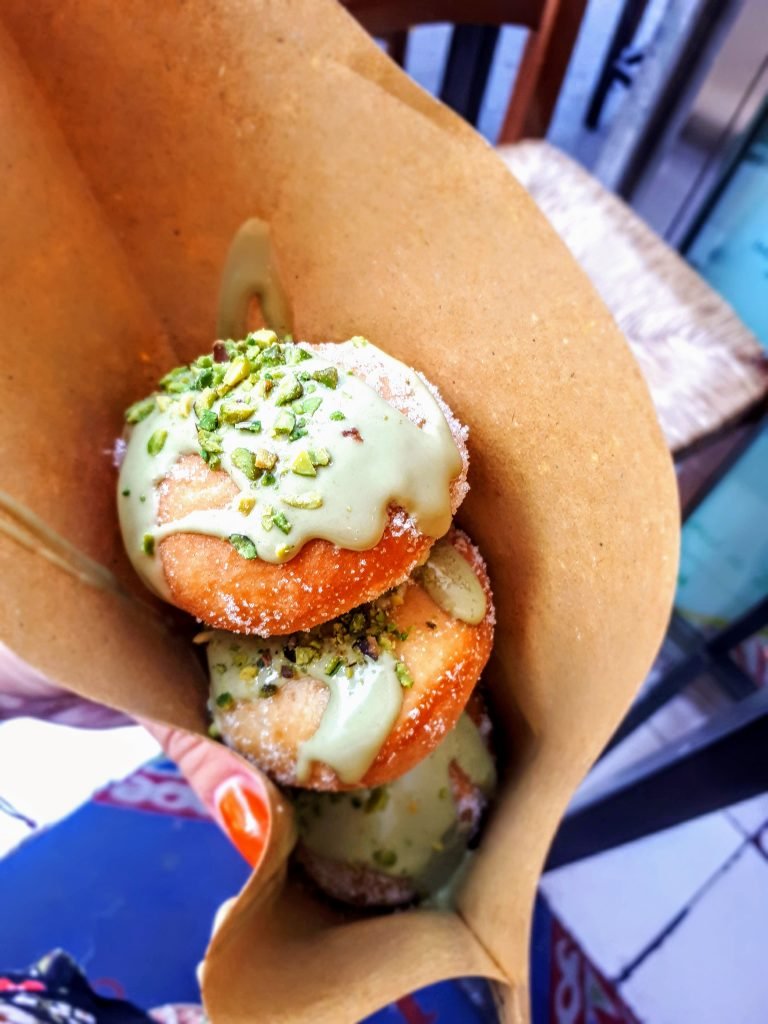 Ristorante Primi Piatti


Whether you choose to sit inside or out, Ristorante Primi Piatti is a charming little place.

The rustic interior, with its low lighting and stone walls, is super romantic, and the quiet cobbled alleyway with room for just a handful of tables is equally as charming.

I came by here for lunch and was spoilt for choice both times by the scrumptious pasta dishes on offer.

In the end, I plumped for Cassarecce alla Brontese (9 EUR), which was pasta made with cream, pistachio pesto, onion, speck, and parmesan – I could barely walk when I'd finished, but it was so worth it!

You can find Ristorante Primi Piatti here.



Vecchia Trattoria da Toto


Situated smack bang in the middle of La Vucciria market, Vecchia Trattoria da Toto is a typical Sicilian restaurant with a no frills vibe and generous portions.

I've been here alone a number of times and it's a great place to people watch and soak up the atmosphere of Palermo.

The service isn't always the most 'welcoming,' shall we say, but overall, I'd recommend Trattoria da Toto.

You can find Trattoria da Toto here.



Voglia di Pizza


If you're looking for the best pizza in Palermo, I honestly don't know what to tell you.

You're in Italy.

All of the pizza here is good.

What I can tell you, is that for me, the best pizza in Palermo (at the best price), is Voglia di Pizza.

I've been here countless times, both alone and with friends, and I've never been disappointed.

Voglia di Pizza is an unassuming little place with a handful of plastic tables outside, on a side street off Via Vittorio Emanuele.

Their pizzas are hot, their beer is cold, and their prices are some of the cheapest in the city (pizzas are priced between 3.50 – 6 EUR).

Locals love it here as well, which can only be a good sign (like most places on this list, I was introduced to Voglia di Pizza by a local).

The pizza pictured below is the 'Bombetta' pizza, with tomato, mozzarella, spicy salami, gorgonzola, Grana Padano, and sausage – 5.50 EUR.

You can find Voglia di Pizza here.



Ristorante Kuaizi


Another all you can eat Palermo restaurant, Ristorante Kuaizi offers sushi, Japanese, and Chinese classics for a fixed price.

It has a large interior, as well as some outside space, and the food is excellent.

Given the choice between here and Kampai, I'd say that Kuaizi has a slight edge, both on quality of food and more upscale interior, but both are fantastic options if you want all you can eat sushi in Palermo.

You can find Kuaizi here.



Al Tentacalo


If you want an authentic Palermitano experience then head to Al Tentacolo on Piazza Caracciolo, right in the centre of La Vucciria, where all of the day's fresh seafood is waiting on ice for you to take your pick from.

Whether you want a typical fritto misto (mixed fried plate), grilled octopus, or gigantic fresh oysters, grab a beer and get seated on the plastic seating outside Al Tentacolo.

Al Tentacolo is a great place to come in the early evening as you soak up the atmosphere of La Vucciria.

You can find Al Tentacolo here.



Nni Franco U'Vastiddaru


For a casual bite to eat during the day, Nni Franco U'Vastiddaru is the place to go for sandwiches and fried street food.

Grab n' go at the counter, or head to the large outdoor seating area around the back where paper tablecloths, plastic plates and enthusiastic pigeons await you.

It's certainly not a Michelin experience, and service can be very slow, but if you want a true local experience, this is the place to be.

You can find Nni Franco U'Vastiddaru here.



Ciwara


Ciwara is an African restaurant and cultural association specialising in Senegalese and Gambian cuisine.

Plantain, yuca, and yam are some of the delicious vegetables on offer here, and main dishes include mborokhé (a Senegalese stew made from cassava leaves), domoda yapp (a lamb and peanut stew that is the national dish of Gambia), and fish yassa (fish marinaded in lemon, mustard, and onion).

Many Senegalese and Gambian people live in Sicily, and so these dishes are as authentic as you can get – plus, it's a great business to support as it provides migrants with jobs and introduces West African culture to Sicily.

I've eaten here several times and can personally vouch for how DELICIOUS the food is.

On certain days, Ciwara also have traditional music and African dancing, so swing by and ask when the next time they're doing so is, so you can enjoy a free show with your dinner!

You can find Ciwara here.



Best Restaurants in Palermo | Final Thoughts


So, that just about brings us to the end of my favourite Palermo restaurants.

They might not be high end, and they may not be featured in the pages of The Times and The Guardian, but they are the places where real Sicilians actually go, where you can try the best local food at the best prices.

If you're staying in Palermo, you may also be interested in my guide to Palermo's nightlife scene.

That's all I've got for today, but as always, if you have any questions about the best restaurants in Palermo, don't hesitate to reach out in the comments section below!

Until next time,

XOXO


If you liked this article and would like to support my work, please click the button above to donate a couple of bucks and buy me a coffee. The ad revenue that I receive on this website is minimal, so support from my readers enables me to keep creating content that you (hopefully!) love to read.

Disclaimer: Travelling Jezebel contains affiliate links. If you make a purchase on a recommended site, I may make a small commission at no extra cost to you.