Prior to visiting Hamburg earlier this month, I didn't know anything about it. I've met a couple of cute boys over the years that have hailed from Hamburg, but that's about it.

If you want total honesty, I wouldn't have been able to even point out Hamburg on a map of Germany prior to September of this year, and as a travel blogger from Europe, that's very embarrassing (spoiler: it's in the north).

Ignorance aside, when the lovely ladies from Hamburg Marketing GmbH invited me to visit Hamburg and explore the Hamburg music scene, I jumped at the chance.

I'm incredibly vocal on this blog about the negative effects of overtourism, and so to me, visiting Hamburg seemed ideal – it's not overrun with tourists, it's easy to get to from the UK and it has a thriving nightlife, making it the perfect alternative to Berlin.

There are so many places to visit in Hamburg for music lovers, and so I'll begin with the basics, before moving on to talking about music scene in Hamburg, from the The Beatles' history with Hamburg to the stunning Elbphilharmonie concert hall, the best live music venues in Hamburg and the absolute best record stores in Hamburg (with special insider knowledge!).

If this all sounds good then just keep reading (and if it doesn't sound good then keep reading anyway o ye of little faith).



Discovering the Hamburg Music Scene on a Hamburg City Break


Things to Know Before Visiting Hamburg


The currency in Hamburg is the EURO.

If you're planning a trip to Hamburg, then I strongly recommend buying travel insurance. I NEVER travel without insurance, and I've seen too many others get landed with huge medical bills as a result of not having had insurance, that it's something I'll never neglect to buy. My recommendation for great travel insurance is World Nomads.

Hamburg can easily be reached by bus. My go-to bus travel in Europe is always FlixBus. Flixbus is the most extensive bus network worldwide and all Flix buses have Wi-Fi, extra legroom, charging ports and the ability to modify your booking just 15 minutes before departure! Click here to book your Flixbus to Hamburg.

Hamburg city centre is very close to the airport. Every train from Hamburg airport goes to Hamburg Hauptbahnhof (Hamburg Central Station), takes just 25 minutes and costs a couple of euros. Alternatively, you can book an airport transfer on i'way.

Uber isn't available in Hamburg but there is an alternative – FREENOW, which you can find here.

When you visit Hamburg, you will notice that most people speak English but it is still polite to learn a couple of words of German before you go! Guten tag means 'hello' and danke is 'thank you.'

You can drink on the street in Hamburg (woo!) and all along the Reeperbahn strip there are 'takeaway beer' kiosks that sell cheap beer that you can – as the name would suggest – take away.

Although Hamburg isn't suuuuper pricey, it is one of Germany's most expensive cities so you may have to try a little harder not to overspend than you would in other German cities such as Berlin (luckily alcohol is not so expensive but accommodation and tours tend to be a little pricey).

The public transport in Hamburg is excellent and cheap.

Most shops are closed on Sundays so be sure to stock up on essentials beforehand!

A great way to save money in Hamburg is by purchasing the Hamburg CARD. The Hamburg CARD starts at just €10.50 for 1 day and provides unlimited travel by public transport, as well as hefty discounts on museums, tours and restaurants. To find out more, just click here.

Hamburg is one of Germany's rainiest cities and it gets cold. Remember to pack accordingly when visiting Hamburg (ie don't be like me and turn up with a summer wardrobe in September).

Eat seafood! You may think of bratwurst when you think of typical German cuisine but Hamburg has delicious fresh seafood that you absolutely have to try (the Sunday morning Fischmarkt (fish market) is a must for seafood lovers!). Local Hamburg delicacies include eel soup, pickled herring and labskaus, which is an odd mix of corned beef, herring, fried egg, potatoes and pickles!

The Reeperbahn area (the red light district) is home to many brothels and strip clubs. Though seedy, it is very safe. Most strip clubs charge entrance (the ones I saw were around €12-15), and you should beware of the ones that don't, as they make up for it with their drinks prices!

If you are looking for a full-service sex worker in Hamburg's Red Light District (the term 'prostitute' is a slur FYI) then the brothels on the Reeperbahn are mainly tourist traps. The street to go to is Herbertstrasse, which is a street where women are not allowed to walk down.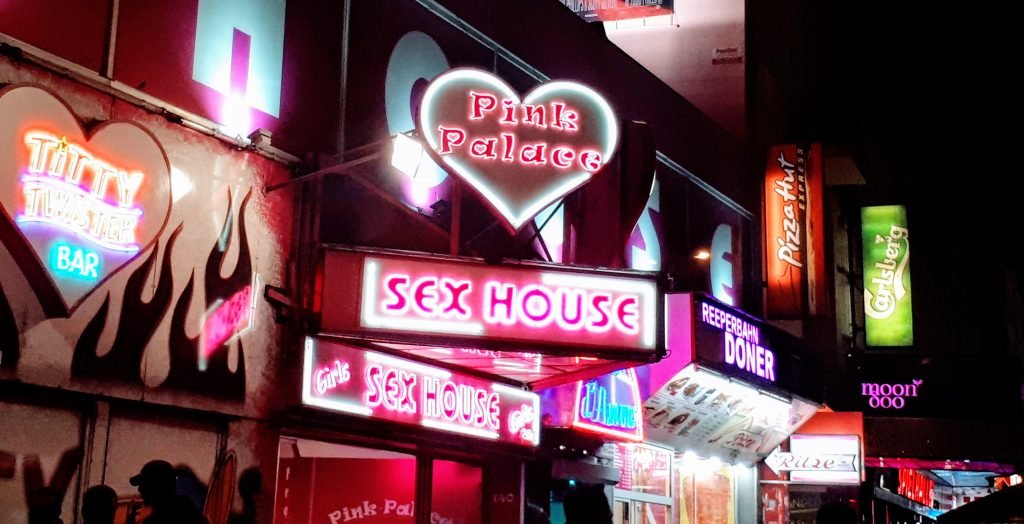 Hamburg in a Nutshell


The first thing that struck me when I began exploring Hamburg was how much it reminded me of my hometown Manchester. Just like Manchester, Hamburg has a long history with music and still prides itself on its musical talent, showcasing emerging talent in its many live music venues across the city.

While Manchester has Oasis, Joy Division and The Stone Roses (yes I'm bragging), Hamburg was arguably responsible for The Beatles. While they may have been born in Liverpool, esteemed Beatles author Mark Lewisohn famously said – 'No Hamburg, No Beatles', and as John Lennon himself said, 'I grew up in Hamburg.'

The St. Pauli area specifically really reminded me of Manchester's Northern Quarter. In both you will find dive bars, live music venues, massage parlours and XXX shops sandwiched in-between hipster coffee bars and thrift stores. In both you will find skinny musicians rubbing shoulders with hen parties clad in pink feather boas. In both you will find the soul of the city.

Not only do both cities have a strong music scene, but as I enjoyed a boat ride through the Speicherstadt ('warehouse city') complex, with its red brick warehouses and canals, I kept thinking that I could have been back home in Manchester's Ship Canal (for those of you that don't know, Manchester was the world's first modern industrial city!).

These parallels made me feel right at home in Hamburg, and my fondness for the city only grew over the 4 days that I spent there.



What to Do in Hamburg if You're a Music Lover


Attend a Beatles Tour


You should know that I am not a fan of The Beatles.

I know, I know, they're one of the greatest bands of all time, and all that. But I've never had good music taste. I'm sorry. I don't appreciate good music. I know.

Because of this, I had no idea prior to visiting Hamburg that The Beatles spent so much time in the city, actually spending more hours playing music in Hamburg than anywhere else in the world (even Liverpool!) – that's 1200 hours on Hamburg stages!

Moving to Hamburg before they achieved worldwide fame and success, The Beatles worked hard, living in an old cinema with no hot water, no windows, and no heating. They played at the Top Ten Club for 92 nights in a row, from 7pm to 4am. Back then, The Beatles only had one hour's worth of material so they used to have to make each song last for 45 minutes just to get through the night!

I learnt all of this, and much more, on a Beatles Tour with Steffi Hempel. Meeting Steffi at Beatles-Platz (where else?) in St. Pauli, we enjoyed a very informative walking tour to some of the main spots that The Beatles frequented, from the clubs that they played at to the cinema that they lived in, as well as that famous 'John Lennon Doorway' from the Rock & Roll album. As I said, I'm not a fan of The Beatles, but Steffi's tour was super interesting, not only because she was so passionate about The Beatles, but because it was really cool to have them humanised through her stories. I always think of The Beatles as this larger than life band that has always had a kind of Godlike status, but walking down the streets of St. Pauli and listening to Steffi, I realised that The Beatles were really just young kids trying to make it big. It was also cool to be able to see gigs in some of the venues where The Beatles first performed (check out my post about the Reeperbahn Festival to read about that!).

One last thing that made the tour lots of fun was the fact that at every stop, Steffi took out her ukulele and played a classic Beatles song, encouraging us to join in if we knew the words. Not only is Steffi a great singer but it was a really fun touch, and it was certainly amusing to see the confused expressions on the faces of passersby when our whole group suddenly burst into song!

For more information about Steffi Hempel's Beatles Tour then just click here to visit her website.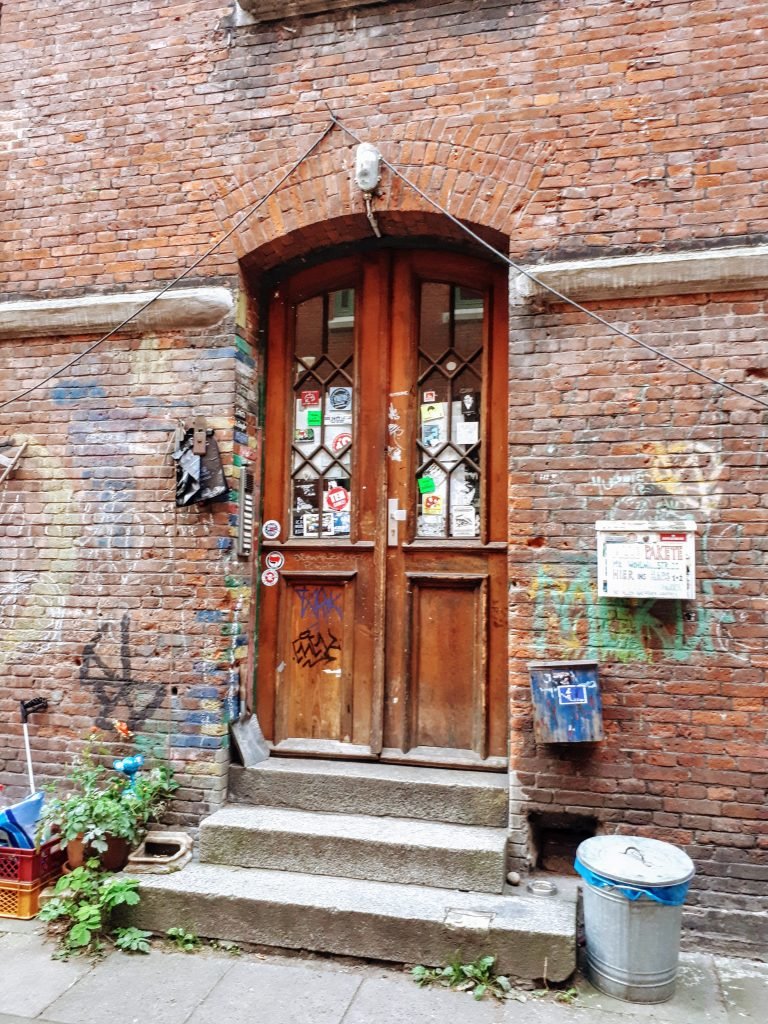 Experience a Guided Tour of the Elbphilharmonie


Opening its doors for the first time in January 2017, the Elbphilharmonie Concert Hall is one of Hamburg's most important and iconic buildings and definitely one of the most famous things to see in Hamburg. Situated on the banks of the river Elbe and surrounded by water on three sides, the Elbphilharmonie boasts 3 concert halls, a hotel and 45 private apartments, and also also has jaw dropping 360 degree views over Hamburg which can be enjoyed from the plaza viewing platform (this is free to go up to).

As part of our Hamburg itinerary, our group was lucky enough to enjoy a behind-the-scenes guided tour of the Elbphilharmonie. After going up an 80m long escalator, we arrived at the plaza, where we were able to step out onto the balcony and enjoy the views over Hamburg. The windows are curved to give the effect of waves (in fact, the entire building is supposed to look like a giant wave), and as our guide told us, they are incredibly difficult to get made and incredibly expensive!

We then got to enter both the Recital Hall and the Grand Concert Hall and see them completely empty (well, aside from the workers setting up for that nights' Anna Ternheim VS Kaiser Quartett concert!). The acoustics in the Grand Concert Hall are some of the best in the world, and even though there are over 2000 seats, you are never more than 30m away from the conductor. Another insane fact about the Grand Concert Hall is that every single one of its 10,000 gypsum fibre panels is INDIVIDUALLY SHAPED to ensure targeted sound distribution that reaches every nook and cranny of the hall.

After touring the main halls, we were able to go downstairs to the Kaistudio (practice rooms). We were unable to go into the rooms themselves as the Kaiser Quartett happened to be rehearsing in there, but we had the chance to go to a studio just upstairs where we could lean over and look down over the musicians as they practiced!

Next was into the body of the machine, so to speak, seeing the real inner workings of the building (it isn't so glamorous!), before getting the chance to see an exclusive VIP lounge, and even go up onto the roof of the Elbphilharmonie!

Throughout the whole tour, our guide was very informative and pointed out lots of small details which I never would have even noticed without him, and if you're into music, acoustics or architecture then I definitely recommend this tour when you visit Hamburg.

Something else that I also highly recommend is actually seeing a concert at the Elbphilharmonie. Tickets have to be booked in advance of course, so it takes a little organisation on your part, but it's definitely worth it. My friends and I saw Anna Ternheim vs. the Kaiser Quartett and their performance was absolutely breathtaking.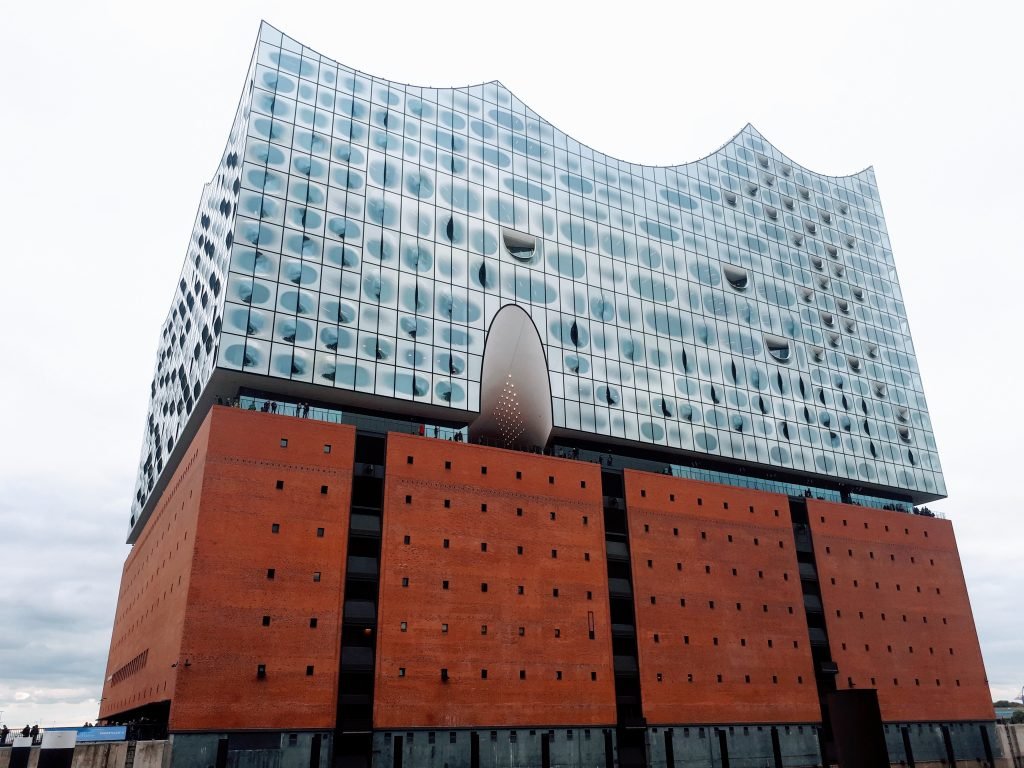 Visit Hamburg's Record Stores & Flohschanze Flea Market


Another similarity between Manchester and Hamburg is the sheer number of independent record stores that operate within the city. 'Vinyl tourism' is continuing to grow in Hamburg due to both the density and diversity of record stores in Hamburg city centre (there are around 20 record stores currently in Hamburg).

On my Hamburg trip, I met with Sebastien Reier, or DJ Booty Carrell, and he took my fellow bloggers and I on a tour of some of Hamburg's best record stores. Of course, it was impossible to visit them all, and so he made a point of taking us to the stores that put emphasis on newly pressed records and the current music scene rather than just the purely second hand stores. I liked this approach as I felt as though it was in keeping with the Reeperbahn Festival, which was also showcasing emerging talent.

A cute little fact about the record stores in Hamburg is that there is a real solidarity between them. As most of them are located in the districts Schanze and St. Pauli (which are both within walking distance of one another), it would be easy for the owners to get very competitive but that hasn't happened. Instead, each store focuses on a particular kind of music that they have the best knowledge of, and happily send customers to the other stores if they feel like they are better suited to them.



Hamburg's Best Record Stores According to DJ Booty Carrell:


Freiheit & Roosen


More of an eclectic junk store than a record store, through the dusty windows of Freiheit & Roosen you will see rubber ducks, broken dolls, books about atomic bombs and – wait – is that a naked mannequin hanging from the ceiling?!

Freiheit & Roosen is at once a neighbourhood hangout for local people and a record store that promotes the most niche and forward thinking music, and is worth going to just to see the weird and wonderful items for sale aside from the records!

Freiheit & Roosen can be found at Kleine Freiheit, 80; 22767.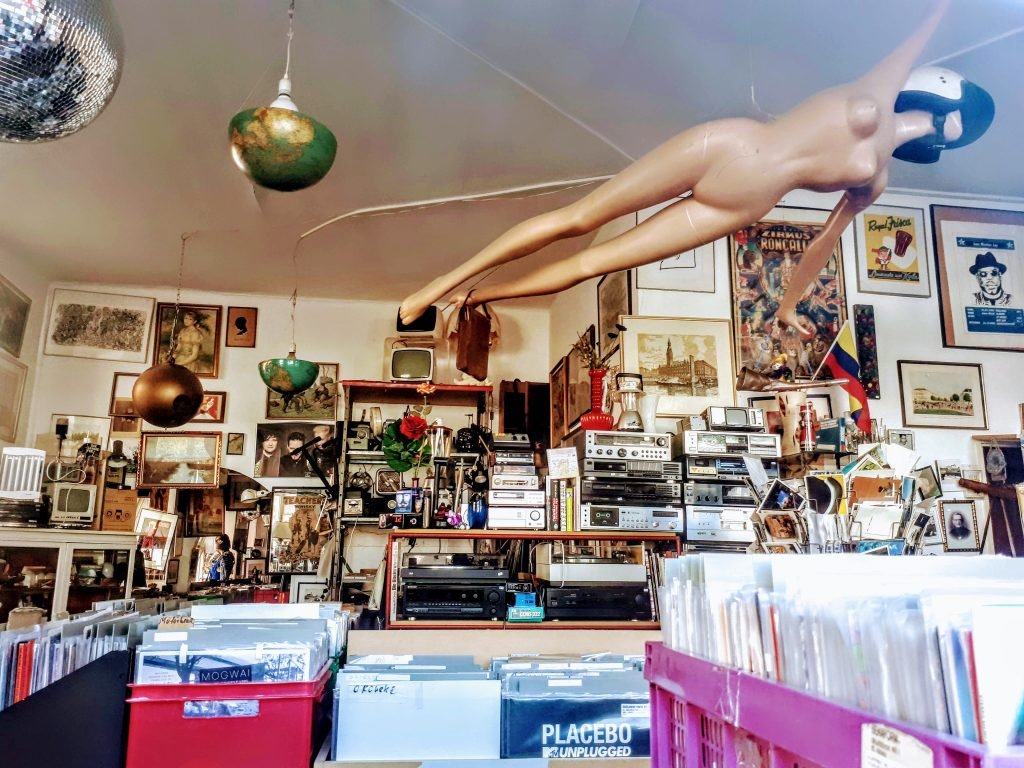 Zardoz Records

At its prime Zardoz Records had three record stores in Hamburg, as well as its own distribution company and vinyl import company. However, it now focuses all its efforts on just one. It stocks a wide range of music, both new and vintage vinyl.

Zardoz Records can be found at Marktstraße 55, 20357.


Hanseplatte

Hanseplatte was founded in 2006 with financial support from the economic department of Hamburg. It focuses on different kinds of music from Hamburg itself, as well as stocking souvenirs, books and clothes that are all Hamburg themed.

Hanseplatte is located at Neuer Kamp 32, 20357.


Smallville Records

Founded by a bunch of DJs and electronic music composers at a time when this particular type of music was becoming fully digitalised, it may seem quite odd (or insane!) to open a record store for this type of music, but Smallville Records has nevertheless been in business since 2005!

One thing that helped to keep them in business during those risky early years was their friend, painter and illustrator Stefan Marx, who designed a lot of bags and shirts featuring the Smallville logo, which helped to promote the store and keep it afloat. These days, they are doing just fine.

You can find Smallville Records at Neuer Kamp 32, 20357.


Groove City

Originally specialising in rap and soul, Groove City now places a lot of emphasis on global music, with lots of Ethiopian, Turkish, Nigerian and Persian content nestled within. Booty Carrell says 'It's a store where you might not find what you're looking for; you'll rather find things you haven't been looking for,' and I feel like this is a beautiful description and enough of a reason to pay Groove City a visit (okay, I already did pay it a visit but you get the point).

Groove City can be found at Marktstraße 114, 20357.


Flohschanze Flea Market

Another place that Sebastian took us to was the Flohschanze Flea Market, a place where you can not only buy records but just about anything else your heart desires (and more than a few things it doesn't!). Flohschanze is delightfully eccentric, brilliantly weird and a lot of the things for sale there are, quite frankly, really bloody useless, but it's definitely one of the more interesting things to see in Hamburg.

Flohschanze Flea Market is open every Saturday from 8-4pm and can be found at Neuer Kamp 30, 20357.



Discover Hamburg's Live Music Venues


An integral part of Hamburg nightlife is its live music scene, and during my trip I got to witness a whole lotta live music at some of Hamburg's most iconic venues! (I wrote about this in more detail in my post about the Reeperbahn Festival so be sure to check it out after you finish this post!).

Noteworthy venues include legendary Molotow, which has a couple of inside stages and then a really cool backyard area with a stage and outdoor bars, Mojo, which is a unique underground club that sometimes holds DJ sets in the toilets (true story), and both the Indra and Kaisarkellar clubs, which were the places that The Beatles started out in.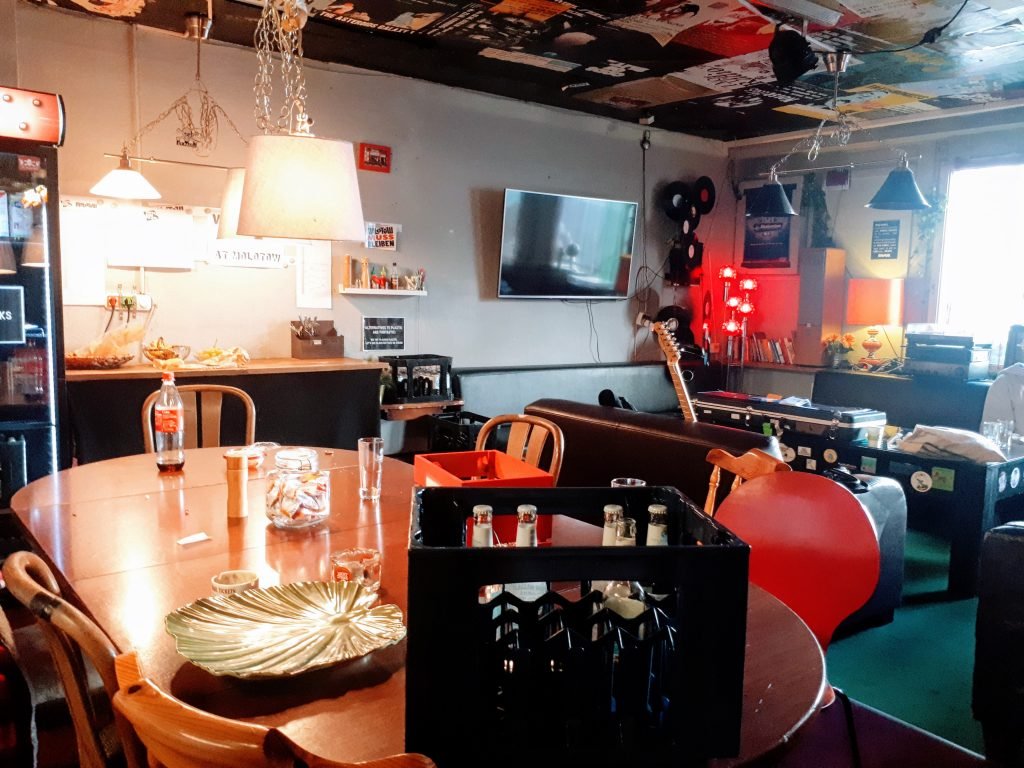 Visiting Hamburg – Final Thoughts


Unfortunately, here concludes my musical pilgrimage to Hamburg! I hope that I've managed to convince you that visiting Hamburg is a really fantastic idea for music lovers, and that no matter what your taste in music, there is something for everyone in Hamburg.

Whether you're a die hard Beatles fan or whether you prefer classical recitals in grand music halls, whether you're a real vinyl geek who can spend hours sifting though record upon record, or you like to get down and see local bands playing in dive bars, Hamburg has you covered. I had a blast in Hamburg and I am super excited to visit Hamburg again in the future and see what else this awesome city has to offer!

Have you ever visited Hamburg? Was your trip a musical trip like mine or did you focus on something else? Let me know in the comments section below, and if you liked this article then don't forget to pin it for later!


If you liked this article and would like to support my work, please click the button above to donate a couple of bucks and buy me a coffee. The ad revenue that I receive on this website is minimal, so support from my readers enables me to keep creating content that you (hopefully!) love to read.

Disclaimer: I visited Hamburg as a guest of Hamburg Marketing GmbH. The Hempen Beatles Tour and behind-the-scenes Elbphilharmonie tour were gifted experiences, and my tour of record stores with Sebastian Reier was also gifted. However, all opinions expressed in this article are my own as always.