At first glance, Kotor doesn't seem to be a place brimming with budget-friendly options when eating out. Most restaurants in Kotor are more or less the same, with a selection of expensive seafood dishes and not a whole lot else, and while I have nothing against splashing out on a nice meal, it isn't always feasible as a backpacker to be spending 18 euros on a meal every night.
Luckily, however, there is more to Kotor food than meets the eye. While it may at first seem as though there are few restaurants in Kotor suitable for those on a budget, Kotor actually has more than a few hidden gems, and you can fill your belly for as little as 1.50 EU! If you're wondering where to eat in Kotor without breaking the bank, then rest assured because I've compiled a list of the best restaurants in Kotor that won't cost you a pretty penny!
(I also wrote a full guide to Kotor so if you're interested then you can read it here!)
Here are my top recommendations for cheap eats in Kotor!
1. Square Pub – $-$$
I avoided the Square Pub like the plague for my first 6 weeks in Kotor. Just the name itself was enough to make me shudder as I imagined it to be full of balding middle-aged men from England wearing football t-shirts. However, after a Serbian guy insisted I give it a chance, I had to admit that I'd been wrong. With real hearty pub grub at modest prices, the Square Pub has all the comforts of an English pub but without the hordes of British tourists that one would expect. I've actually heard way more Montenegrin being spoken in the Square Pub than English, which is always a good sign.
As for the food, there are all the classic comfort food stables, from burgers (prices start at 6.50 EU) to sausage and chips, chicken wings and spag bol. The Square Pub may not be winning a Michelin Star any time soon, but it does exactly what it says on the tin – provides greasy pub food at prices far lower than most establishments in Kotor Old Town.
2. Hotel Marija – $-$$
Hotel Marija is fantastic if you want a 'proper' restaurant meal while sticking to your budget. With a 4 course lunch menu for 10 EU, Hotel Marija is a great restaurant in Kotor where you can while away the afternoon in Kotor Old Town, sunning yourself and people watching in the cutesy seating area in one of Kotor's beautiful cobbled streets. I've dined there twice and both times I left satisfied. I opted for the tomato soup and seafood linguine with a side salad and dessert (the second time, the waiter gave me a double helping of cake!), but there are plenty of options on the menu to suit every taste.
3. Scala Santa – $$-$$$
Scala Santa is the most expensive item on this list, and I've included it for those who want a little something special without breaking the bank. In my opinion, of the 'best restaurants in Kotor', Scala Santa is the best value for money without compromising on quality. Whether you want fresh grilled squids with Dalmatian stew, gnocchi with truffles and shrimp, saffron and prawn linguine or something meatier, Scala Santa has got you covered. The prices are reasonable (around 10 EU for pasta and risotto dishes, with seafood starting at 12 EU), the staff are friendly and the atmosphere is wonderful. Scala Santa has the advantage of having outdoor seating in an adorable little square in Kotor Old Town and during summer months, there is always a violinist around to add that extra touch of class.
Another bonus for backpackers is that if you're staying at Old Town Hostel Kotor (my favourite hostel in all of the Balkans), you get 10% off all food at Scala Santa, saving you even more money!
4. Pizzeria Pronto – $
Ah, Pronto, where would I be without you? Pizzeria Pronto actually has two parts: there is the restaurant, where you can sit down for a full-size pizza (prices start from around 7 EU), and a takeaway hatch where you can buy pizza by the slice for just 2 EU! Not only do these slices taste divine (honestly, Pronto pizza is among the best pizza I've had, especially in the Balkans), but they are legitimately as big as my face so they're super filling as well.
I can't tell you the number of times I've had Pronto pizza, from hungover mornings, to drunk 1am pitstops, to a quick bite at dinner time. If you're looking for some real cheap eats in Kotor then Pizzeria Pronto is the place for you. 
5. Tanjga – $
Oh my. If you thought that Pronto Pizza as a legendary as it gets for places to eat in Kotor, you are very much mistaken. Tanjga is a family-run establishment that is a kind of butchers, kind of cafe just outside Kotor Old Town that specialises in meat, meat and more meat. After you walk past the rotisserie chickens outside the front door, you are confronted with more raw meat than you can shake a stick at, but fear not. Simply tell the charismatic butcher what kind of meat you like (cevapi? half a chicken? maybe just a 600g mixed meat platter?!) and he will BBQ it for you there and then before adding potatoes dripping with chicken fat, salad, and a selection of dips, from the classic Balkan ajvar (aubergine spread) to tzatziki and a spicy cheese paste.
Prices start from 4 EU for a sandwich (I've never been able to finish one), but the best value in my opinion is half a roast chicken, potatoes and 4 types of salad for 7.50 EU.
Tanjga is without a doubt the best value for money that I have found in Kotor, with good quality locally sourced meat, huge portions and great service. They even make a mean grilled veggie plate/sandwich (aubergine, peppers and zucchini) for those that don't eat meat. If you're wondering where to eat in Kotor then you absolutely cannot miss Tanjga.
6. Hoste – $-$$
When I visited Kotor in the summer, Hoste was my favourite brunch spot. Unfortunately, when I returned in November, it was closed, presumably for the low season. However, if you're lucky enough to be in Kotor in the summer time, make sure to visit Hoste for some incredible food. Hoste specialises in tapas dishes and has more veggie options available than anywhere else I found whilst in Kotor. Whenever I visited I opted for the bruschetta with tomatoes, mozzarella and olive tapenade drizzled with garlic, herbs and olive oil. I would go so far as to say that Hoste gave me the best bruschetta I've ever tasted, and for as little as 3.50 EU.
7. LAV Gastro Bar – $$
Infuriatingly, I only discovered LAV Gastro Bar on my last day in Kotor! My boss wanted to take me out for lunch and proceeded to lead me to his favourite spot, LAV. Located just out of Kotor Old Town, LAV Gastro Bar has a much more varied menu than most Kotor restaurants, with prices being around 2/3 of the price of restaurants within the old town walls. I opted for the bacon and broccoli pasta, while Danilo chose vegetarian fajitas, both of which were delicious. Not only is the food itself yummy, but LAV Gastro Bar has a relaxed but young professional vibe, making it the ideal place to catch up on some work while enjoying a coffee, something that wouldn't be possible in some of Kotor's more touristy establishments.
8. Kotor's Bakeries – $
For those who want more of a 'grab and go' meal, head to one of Kotor's bakeries. The three most central are located within Kotor Old Town, on the way to the bus station and just outside the north gate, and all three have a wide selection of pastries, burek, cakes and sandwiches with prices starting from 50 cents to 3 euros. For a hearty Montenegrin breakfast that will sort you out for the entire day, go for a burek stuffed with meat or goat's cheese.
9. Old Town Hostel Kotor – $
Provided that more than 4 or 5 people sign up each night, guests at Old Town Hostel can enjoy the 4 EU family dinner, prepared by the absolutely wonderful Nada from Serbia. Served in the common room each evening, the family dinner is not only a great way to meet other travellers, but it's also one of the few places in Kotor where you can get a plate full of food for such little money! From traditional Balkan cevapi, to moussaka, schnitzel and pasta, Nada prepares something different each night and if you miss your mom's home cooking, then Old Town Hostel is the place to grab dinner!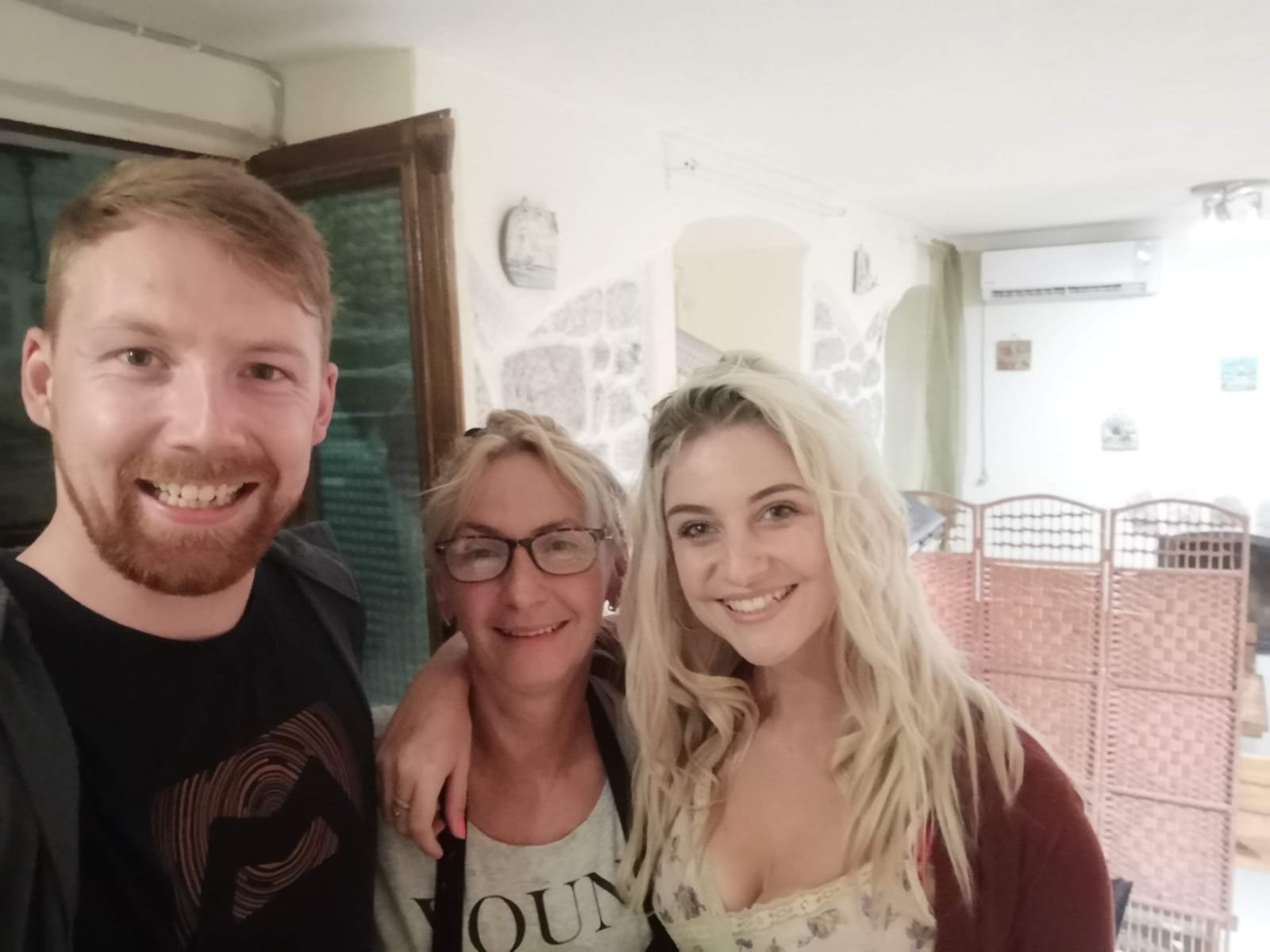 And so concludes my list of the best cheap eats in Kotor, Montenegro! Do you have any others? Let me know in the comments section below! 

Also if you liked this article then you may also like my article about the best traditional Polish foods!
Disclaimer: this page contains affiliate links. This means that if you make a purchase through a site I recommend, I may make a small commission at no extra cost to you.