If you've ever seen a photograph of Kotor, Montenegro then chances are it's been taken from THAT viewpoint, overlooking the Bay of Kotor, or Boka Bay.

You know, this one.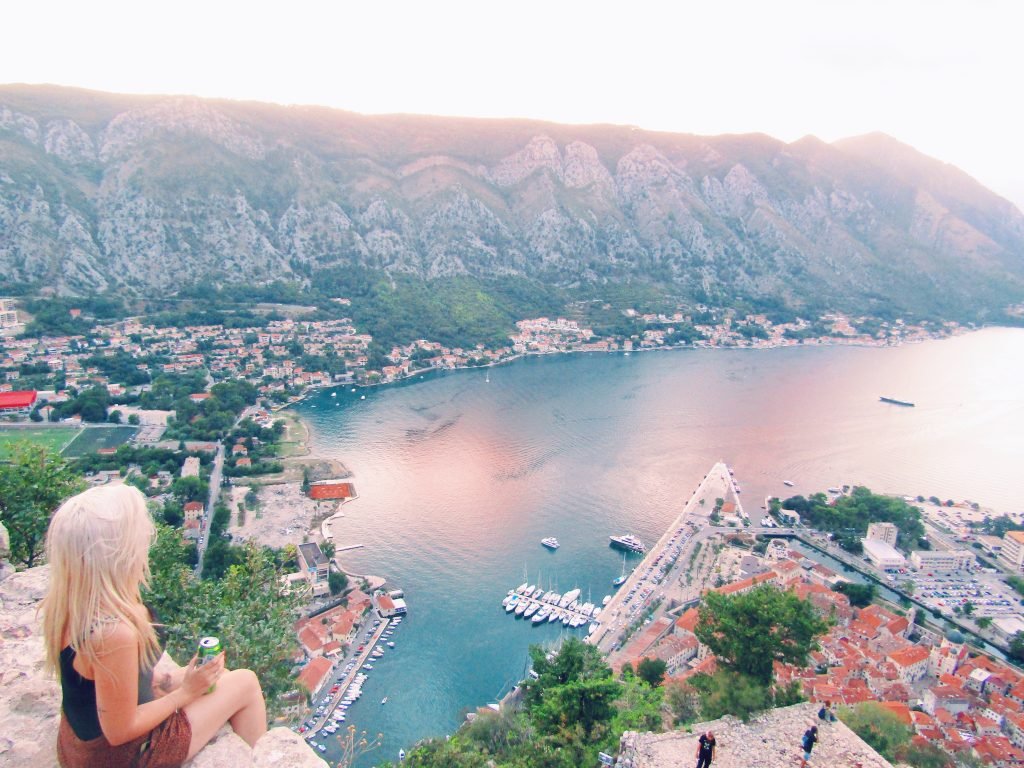 Hiking up to Kotor Fortress is definitely one of the main things to do in Kotor, and it's no surprise – this magnificent view over the red roofed houses of Kotor's Old Town and the fjord-like bay nestled in the mountains is something you can't miss if you visit Kotor.

In fact, it's probably the most photographed spot in all of Montenegro – and it's no wonder! – but what the Instagram posts don't tell you is how to get there, or what's behind the camera!

More importantly, when you Google 'Kotor Fortress,' all of the articles are inaccurate.

First off, they will all tell you that you need to PAY to hike up to the fortress, and secondly they will tell you that it costs just 3 EUR.

This is not true.

When I was last in Kotor (2018), the fee was 8 EUR, which is quite a big difference!

However, most people visiting Kotor are unaware that you actually don't need to pay anything to visit Kotor Fortress, and that there is an alternative (and more scenic) route up to the fortifications.

When I was living in Kotor back in 2018, I must have told hundreds of tourists how to hike up to Kotor Fortress, or the Fortress of St John (Tvrdava Sveti Ivan) to give it its proper name, and so I thought that I would put everything I know into a blog post, so that if you are planning a trip to Montenegro and you'd like to know all about hiking in Kotor, then you're all set!



How to Hike to Kotor Fortress for FREE


Kotor Fortress – A Brief History


The old fortifications of Kotor are an integrated system that used to protect the town of Kotor. They include towers, citadels, bastions, gates and of course, the famous Kotor Fortress.

The top of the mountain of St John was already fortified during the Illyrian times, but in the 6th century, Emperor Justinian 1 reconstructed the fortress.

The Republic of Cattaro (as it was then called) was independent for a while, but eventually in 1420 it succumbed to Venetian rule. It was then, as part of Albania Venetia, that the fortifications received their current structure.

However, it hasn't exactly been plain sailing for the fortifications of Kotor since then. In the past 500 years, three powerful earthquakes have rocked the city, the most recent being in 1979, damaging much of Kotor.

After rehabilitation, you can still see where the Illyrians, Byzantines and Austrians have left their mark, but most of the remaining fortifications are Venetian.

In 2017, the fortified city of Kotor was included in UNESCO's World Heritage Site list as part of "Venetian Works of Defence between 15th and 17th centuries: Stato da Terra."

So, now that we've got that out of the way, let's get to what you really came here for: hiking in Kotor and how the heck to get to Kotor Fortress!



Hiking to Kotor Fortress


There are two ways to get to Kotor Fortress.

There is the official way, and there is the unofficial way (which is the way I'll be telling you about today).



The Official Route to Kotor Fortress


The vast majority of people that hike to Kotor Fortress walk up the 1355 steps to it.

The entrance to these stairs is found within the walls of the Old Town, and when you get about a third of the way up, there is a man with a turnstile who will charge you 8 EUR to continue up to the fortress.

The cost used to be 3 EUR, but thanks to overtourism, it is now 8.

However, if you think your 8 EUR is going towards making the stairs safe and easy, you're very much mistaken.

The stairs are not the easiest to climb, with many of them being very loose (and slippy!), and the stairs themselves are incredibly narrow, with loose rocks to the side that you will have to walk on if somebody else is walking up/down at the same time as you.

They are also fairly steep in parts, making it a rather tiring walk, and there is often no handrail.

I view the official route to Kotor Fortress as a tourist trap, as well as being a very boring and monotonous walk (although as far as I am aware, you can take this route for free if you're visiting Kotor in the winter).

However, there is another way that is much more interesting and won't cost you a penny.



The Unofficial (Free!) Route to Kotor Fortress


If your idea of hiking in Kotor is a little more adventurous and you'd like to take the unofficial route to Kotor Fortress then you need to exit the Old Town via the North Gate.

Walk across the bridge (don't forget to take a picture because the view is beautiful!) and turn right.

You will see the mountain that you are about to climb. As you get closer, you will see a serpentine path snaking its way up the hill. This path is known as the Ladder of Kotor and used to connect the old Montenegrin capital of Cetinje with Kotor.

In days gone by, it was actually used by local women taking their goods to the market in Kotor Old Town!

Taking this route is easier than the stairs because the incline is very slight, and most of the walk seems flat. It is also less monotonous than the staircase route.

After about 25 minutes, you will reach a tiny chapel. This is the Chapel of St. George (Sveti Dorde) and is around 1000 years old!

The chapel is open so you are free to go inside, but it hasn't been well preserved. Nevertheless, it is interesting to peep inside, and also gives you the chance to have a rest!



The Rakija Man


If you're in the mood for a little tipple at this point then you can turn left at the chapel and follow the handwritten signs to the Rakija Man's house.

I don't know what his real name is, or what his little business is called, but for all intents and purposes, he is the Rakija Man.

This man lives up the mountain and makes his own rakija and goats' cheese, and he welcomes weary travellers with open arms to sample his produce.

Unfortunately, the first time I hiked to the fortress, I didn't know about the Rakija Man, and the second time was low season and he wasn't around! However, I have it on good authority that he does exist, he does have rakija and he does have cheese.

Visiting the Rakija Man is not only a great way of sampling local produce, but it's also great to support small businesses, and the couple of euros that you pay to the Rakija Man in exchange for some rakija and cheese directly benefit him and his family!

After you've visited Rakija Man, head back to the chapel and continue your journey because you're nearly there!



The Last Leg


From the chapel, bear right and follow the path. There will be a wall on your left and the grassy plains of the mountain will be on your right (there are some arrows painted on the trees to help you out!).

You may even see the local donkey or cow wandering around!

Continue on this path for a couple of minutes and you will come to a window that you can climb through (I PROMISE this is not as difficult or as sketchy as it seems and if I can do it then so can you!).

Once you climb through the window, you will be on the 'official' route, having bypassed the man asking for money, and so you can just follow the steps up until you reach Kotor Fortress!

You can stay up there for as long as you like, exploring and enjoying the views. Many people like to take some beers and snacks up there in the late afternoon, and so you will often find groups of people hanging out and relaxing.



Why Take the Unofficial Route to Kotor Fortress?


First, it's free!

Now, although I am a backpacker and I travel on a budget, I never encourage people to simply take take take when they travel. I believe in helping the local economy, and the economy in Kotor is really driven by tourism.

That said, 8 EUR is an extortionate price, especially as the price was just 3 EUR back in 2017.

The prices of everything in Kotor are quickly rising due to the huge number of cruise ships that descend on the city every day.

Due to this, the residents of Kotor have seen a sharp increase in the cost of living, but not in wages.

Unfortunately, many locals just cannot afford to live in Kotor anymore, which is just one of the heartbreaking effects of overtourism, and although it isn't exactly the residents of Kotor that are climbing to the fortress, I still believe that we should take a stand against such unreasonable price increases, because otherwise this will just continue.

I also recommend the unofficial route to Kotor Fortress because it is EASIER and a lot more scenic than the official way.

In my opinion, the best way to hike to Kotor Fortress is to walk UP the unofficial way, and head DOWN via the stairs.

This means that your journey down will be a lot quicker, and you will have a chance to see what you missed (the 1518 Church of Our Lady of Remedy midway down!).

When you see the man with his turnstile halfway down, don't panic: you won't be checked for a ticket!



The Best Time to Hike to Kotor Fortress


If you're planning on hiking in Kotor, the best time to visit Kotor Fortress really depends on the time of year.

In low season, it's cool enough to walk up in the middle of the afternoon and there won't be hordes of crowds all clamouring for a picture at the top.

In high season, you should go early in the morning (the ticket man starts work at 8am so you can climb the stairs for free before then!) to watch the sunrise, or late in the afternoon to avoid being too hot.

It's especially nice to hike up to the fortress in the late afternoon because not only can you avoid the heat, but this is the time when people gather at the top and it's a really nice atmosphere.

However, don't be fooled into thinking that you can watch the sunset from Kotor Fortress – all it does is disappear behind the mountain!



Hiking in Kotor – What to Wear


You don't need hiking boots to walk to Kotor Fortress but it is wise to wear comfortable shoes that won't slip off easily as the path can be rocky and uneven.

I went up there in Converse and was totally fine.

Clothing wise, wear something light and make sure you are wearing sunscreen because the rays can get really intense up there!

You should also make sure to carry lots of water.

(Pro tip: in high season, there is a guy selling cold drinks at Kotor Fortress, but they are very overpriced so I recommend going to a supermarket beforehand.)



Is it Difficult to Hike to Kotor Fortress?!


Let it be known that I am NOT a hiker.

I hate "adventure travel" and I would much rather be sipping a glass of wine and eating pasta than hiking anywhere.

However, the walk to Kotor Fortress is really not that difficult. Sure, it can get a little tiring, but you can stop as often as you like and there are no steep/difficult parts that I had any trouble with.

Most people estimate the walk to be around 45 minutes long. If you're a Speedy Gonzales then you can do it in 30, but my friends and I usually took about an hour because we would stop to rest, take pictures, and explore. It also took us longer because we went in the middle of the afternoon in the height of summer and I was carrying 4L of liquid in my bag.

If you walk back down via the stairs, it will only take you around 15 minutes to reach the bottom.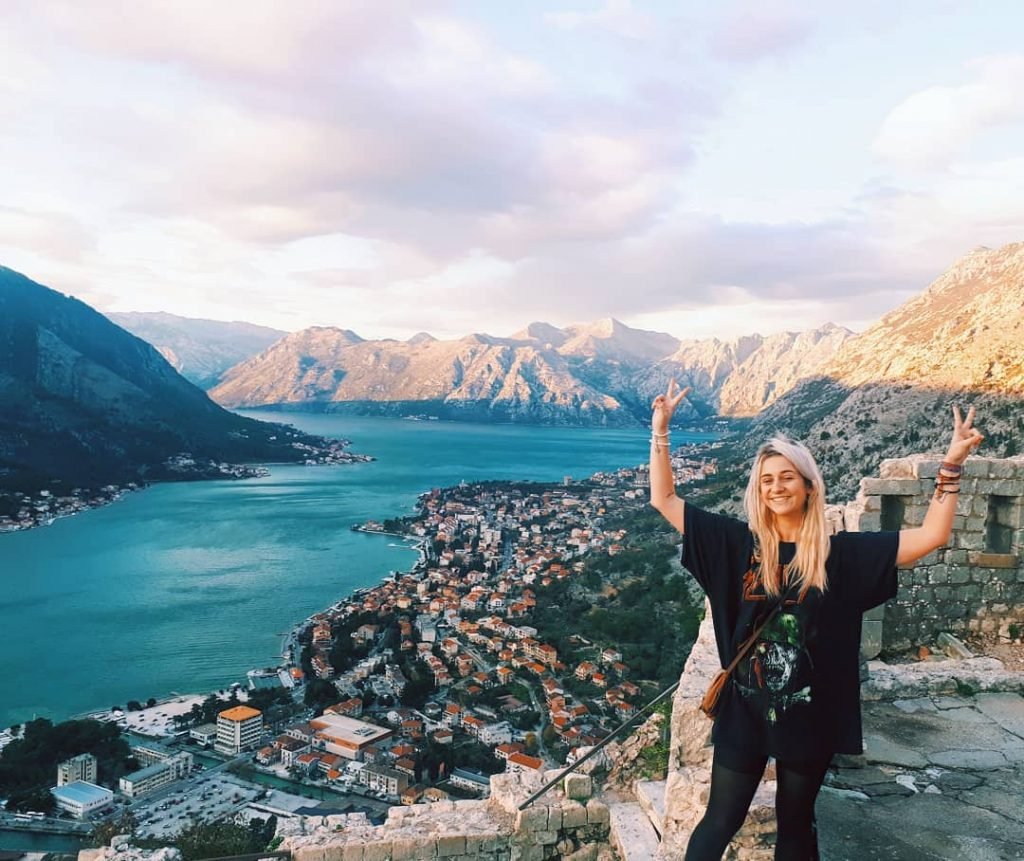 Tours in Kotor You May Enjoy


Hiking to Kotor Fortress is a great way to spend a couple of hours, but if you're staying in Kotor for a couple of days and want to explore a bit further, I recommend taking a guided tour.

I love guided tours because they allow you to venture to places you wouldn't be able to access on your own, as well as diving deeper into the culture of a place.

I always use GetYourGuide when planning my own tours, because you can read reviews, pay online and easily download your ticket right to your phone. GetYourGuide also means that you are using local tour companies, but not running the risk of giving your money to a scammy or low-quality tour guide.

Here are my picks for the best tours in and around Kotor: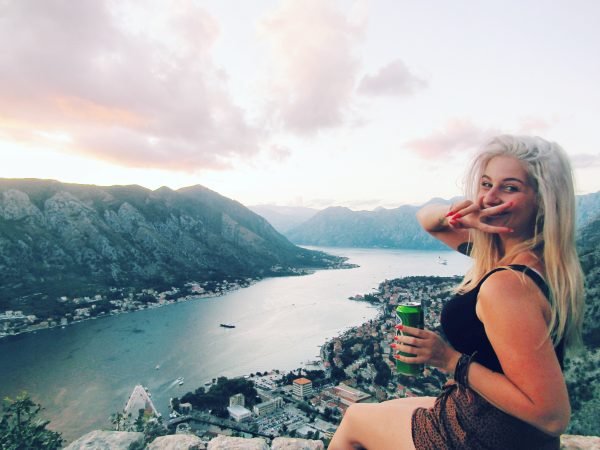 Kotor Fortress – Final Thoughts


Walking up to Kotor Fortress is easily one of the best things to do in Kotor. You can enjoy a lovely walk, burn some calories and see some incredible views (and maybe even meet a mysterious Rakija Man in the mountains!).

You can easily do the whole trip in less than half a day, and so it's definitely worth a little bit of effort to reap the rewards.

Lastly, if you're planning a trip to Kotor then I strongly recommend buying travel insurance. I NEVER travel without insurance, and I've seen too many others get landed with huge medical bills as a result of not having had insurance, that it's something I'll never neglect to buy. My recommendation for great travel insurance is World Nomads and you can read my World Nomads Review here.

If I missed anything in this guide or you have any questions then please don't hesitate to ask in the comments section.

Till next time!


If you liked this article and would like to support my work, please click the button above to donate a couple of bucks and buy me a coffee. The ad revenue that I receive on this website is minimal, so support from my readers enables me to keep creating content that you (hopefully!) love to read.