This Slovenia itinerary was updated on 29/07/2021.

I was really looking forward to spending one week in Slovenia.

Not only had I heard that it was an absolutely beautiful country, but a few months before my travels through the Balkans, my good friend Helene from Wandering Helene had recently moved there to be with her partner, Jaka, and so I was super excited to finally meet the man of my friend's dreams and embark on some Slovenia travel with people who knew the country well.

This post will not be a regimented Slovenia itinerary, but rather an account of what we did while I happened to be in Slovenia.

With that said, I did manage to visit all of the main Slovenia attractions during my stay, and so I hope that this post will be helpful when you're planning your Slovenia trip!



If you're planning a trip to Slovenia, then I strongly recommend buying travel insurance. I NEVER travel without insurance, and I've seen too many others get landed with huge medical bills as a result of not having had insurance, that it's something I'll never neglect to buy. My recommendation for great travel insurance is World Nomads.


1 Week Slovenia Itinerary – Ljubljana, Bled, Piran & Portorož


One thing that I was really looking forward to for my Slovenia trip was being able to experience a country in a deeper and more meaningful way than I had previously had the chance to on my Europe trip.

I visited Slovenia on my first backpacking trip in Europe, and up until that point in the trip, most of my travels had been spent in Europe's biggest party hostels with my fellow backpackers.

Now, while I love a good party hostel, nothing beats staying in the home of a local and getting to see a country through their eyes, and the fact that Helene is also a travel blogger meant that she was definitely the right person to show me the best of Slovenia!

I took the bus to Slovenia from Bratislava, Slovakia, and when I arrived it was around 9pm.

I arrived at the main bus station in Ljubljana and was greeted by Helene and Jaka, who had kindly offered to pick me up and drive me to their beautiful home in the countryside on the outskirts of the city.

With a short pitstop to pick up some cheesy burek (kind of like a Balkan pasty), we made the short journey to what would be my home for my week in Slovenia.

Like any good Balkan hosts, Helene and Jaka served up endless glasses of sweet white wine, along with some shots of homemade schnapps (or rakija) and we spent the night getting merry and catching up, all 3 of us excited for the week ahead.

The following morning, we slept in late, and enjoyed a fresh pot of coffee before taking a taxi to the centre of Ljubljana so that Helene could introduce me to Ljubljana's Old Town.


Exploring Ljubljana Old Town


The weather was beautiful, and so after a long ramble around the town centre, we stopped for lunch at a cute riverside restaurant named Slovenska Hiša, where we ordered a platter of venison and wild boar, served with juice cherry tomatoes and thick crusty bread (for just 6 EUR!) and sipped on refreshing fresh lemonade and iced tea.

It was heaven.



After we'd finished enjoying our feast, we rode the funicular up the hillside to Ljubljana Castle, which is undoubtedly one of the most popular things to do in Ljubljana! Ljubljana Castle is beautiful in itself, but Helene's real motivation for taking me up there was so we could enjoy the sweeping panoramic views over the city of Ljubljana and the mountains in the distance. In fact, I was so taken with the view from Ljubljana Castle that I forgot to take any pictures of the castle itself – doh!

After our long and tiring afternoon (tehe) exploring Ljubljana's Old Town, Helene decided that it was time for some more refreshments, and so we headed to a beautiful cobbled square and took some seats outside a beautiful cocktail bar named Zlata Ladjica. We were joined by Jaka and Nadia, a friend of the couple, and we enjoyed a few 241 beverages as the sun went down.

We then returned to Helene and Jaka's place for a traditional Balkan dinner – čevapčiči (grilled sausages popular all across the Balkans), chopped raw onions, ajvar (a dip made with red bell peppers, aubergines and oil) and crunchy flatbread.

After washing it down with a few glasses of white wine, the four of us headed out to a nightclub called Klub K4 for a trap music night (it's safe to say that Ljubljana nightlife is a lot of fun, although my memories of the night are hazy!).



Visiting Lake Bled


We were already three days in to my week in Slovenia, and so Jaka took a day off work and we all drove 55km to the town of Bled to go and visit what is perhaps the most famous of all the things to see in Slovenia and an absolute must on your Slovenia itinerary – Lake Bled.

Lake Bled is a huge lake in the Julian Alps in the northwest of Slovenia, and although it is one of Slovenia's most popular tourist attractions, it is still relatively unknown compared to other huge attractions in Europe.

Both tourists and Slovenes alike flock to Lake Bled in the summer to kayak, swim, hike or just relax and soak up the sun while taking in the phenomenal views of Lake Bled and BLEJSKI GRAD (Bled Castle).

Our first stop was a quaint little restaurant in the town of Bled, where we all enjoyed a hearty lunch of veal steak and chips. When our bellies were full to burst, we made our way down to the lake itself to sunbathe and swim in the crystal clear turquoise waters. The experience was made hilarious by the presence of a very irate swan that was biting the roes of unsuspecting sunbathers who were dangling their feet into the water!

In the centre of Lake Bled is its most famous feature – a tiny island which houses the 17th century Church of Assumption. It gives the whole area a medieval fairy-tale feeling, and it is possible to take a gondola across the lake (12 EUR) to view it up close if you wish.

After a couple of hours of rest and relaxation, we took a stroll around the lake – if you want to walk around the entire thing it'll take you about 2 hours, but we just walked and talked until the sun began to drop and we decided it was time to go home.

It is also possible to go up to Bled Castle and into the on-site museum, but Helene and Jaka had been there so many times that I didn't want to drag them up there again (especially at 8 EUR a pop for the entrance fee!) and as a self proclaimed 'castle enthusiast,' Helene told me that Bled Castle isn't really worth the fee, in her opinion.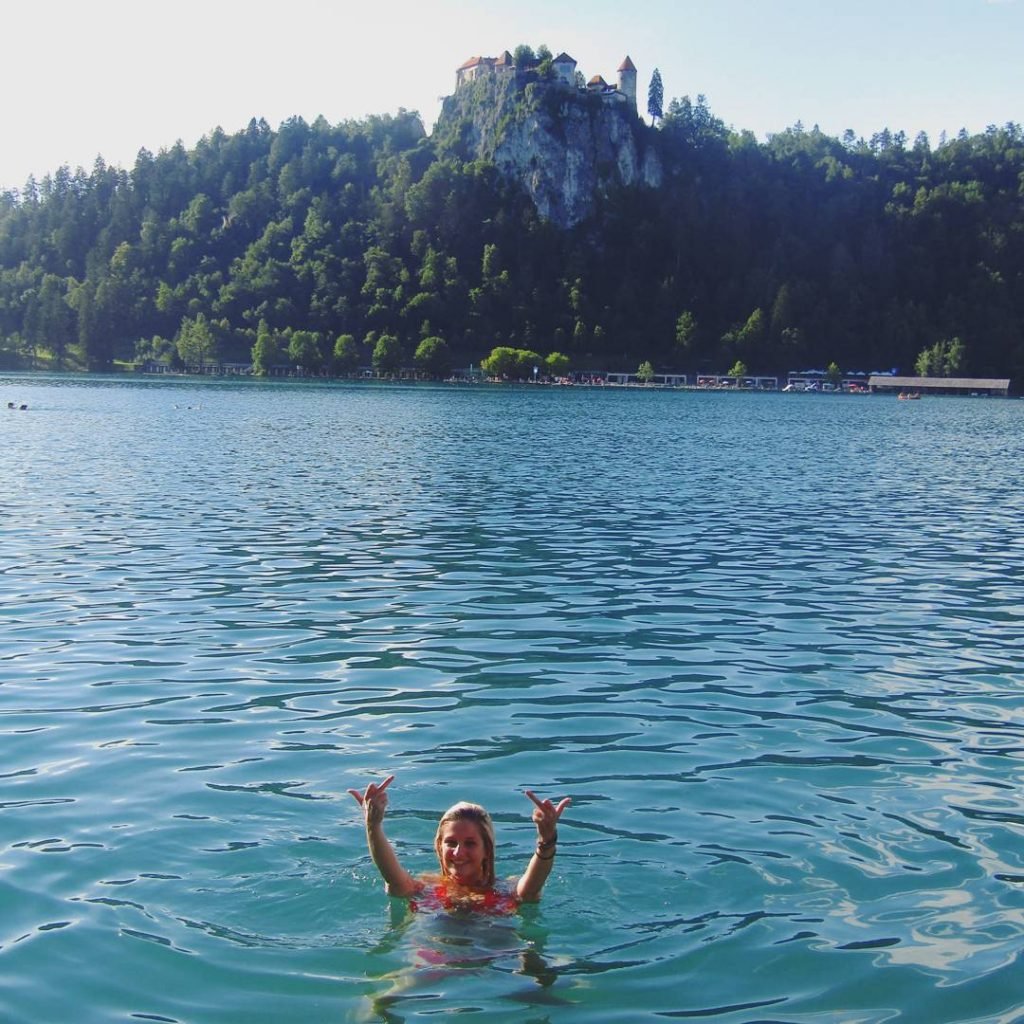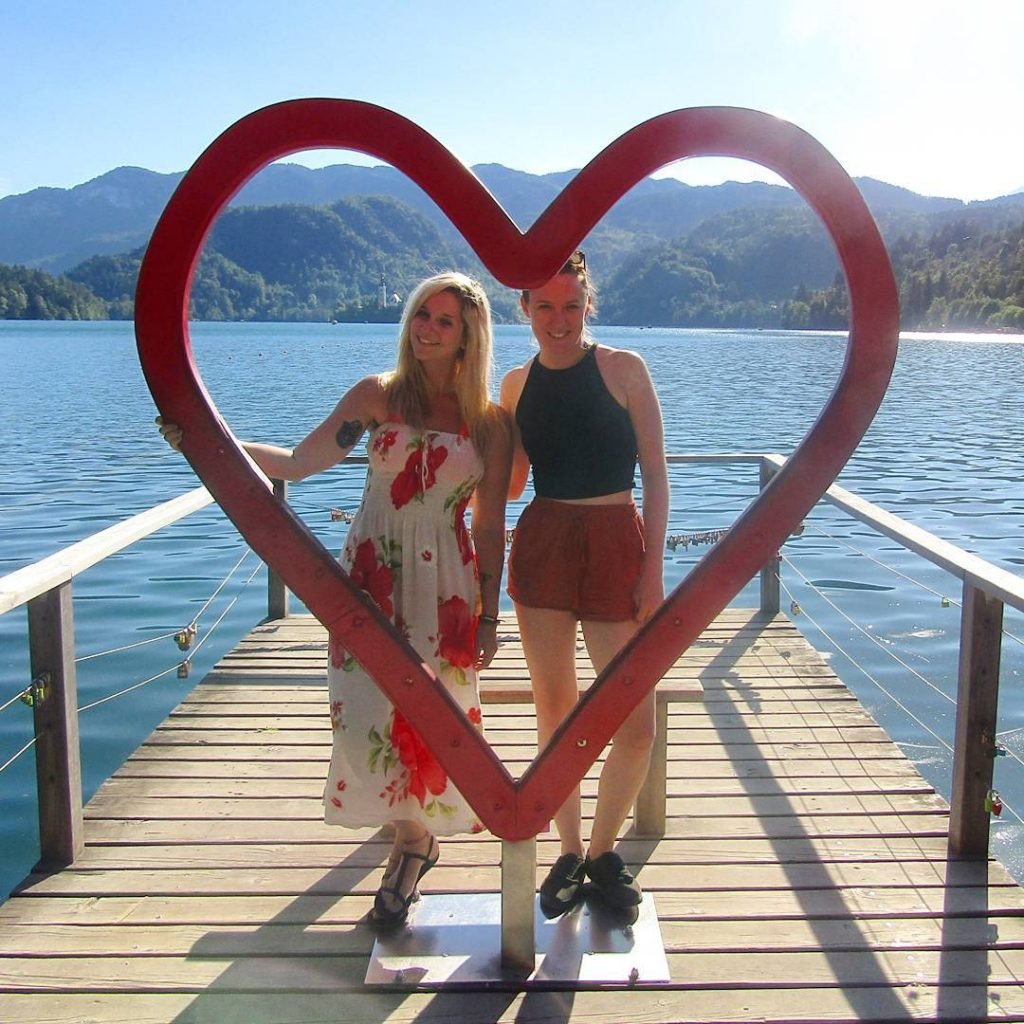 Piran, Portorož and Ljubljana's Open Kitchen


The next day, Helene wanted to take me back into Ljubljana to show me the local weekly street food market, or 'Open Kitchen' (Odpata Kuhna). The Open Kitchen is a bustling market full of pop-up street food stands selling everything from vegan Indian curries, to yummy pastries and cakes, to sizzling pans of grilled cevapi, local wines and craft beers, and more.

We were spoilt for choice, but in the end we both settled on a dish that was a kind of lamb curry with huge chunks of tender meat, fresh chillies and lots of garlic, topped with a sprinkling of rocket – yum!



To finish off our Slovenia itinerary, we then met Jaka and the three of us drove to the Slovenian coast for a mini-holiday within a holiday!

We'd booked a family room in a quaint old guesthouse in Piran, and after having a couple of drinks in the room, we headed out to a gorgeous restaurant where we feasted on seafood platters full of fresh scampi, shrimp, squid, mussels and lobster, all with a generous squeeze of lemon, crusty hunks of bread and cool white wine.

After dinner we headed to Portorož, where the nightlife is more buzzing, and spent the night bar-hopping with the locals.

The next day was spent in Portorož. We began with toasties and espressos in a cheap and cheerful café by the beach, before finding a nice spot by the shore and setting up camp for the day. The beach at Portorož is definitely different to every other beach I've been to – in place of the usual sand or pebbles are concrete banks with ladders that descend into the water, and large grassy areas that are set back from the water where people sunbathe.

It was lovely, but it didn't feel like being at the beach at all, and it was an interesting cultural clash when Jaka mentioned that sandy beaches would seem strange to him!

We spent the whole day sunbathing, listening to music and swimming in the sea before finding another restaurant and feasting on even more grilled seafood.

When the sun finally descended, we made the 1 hour journey back to Ljubljana where we spent the night in Helene and Jaka's kitchen drinking wine and talking long into the night.



Slovenia – Know before you go


There is one major airport in Slovenia and it is located in Ljubljana. Most international flights will arrive here. You can book your airport transfer here.

Another way to get to Ljubljana is by bus. My go-to bus travel in Europe is always FlixBus. Flixbus is the most extensive bus network worldwide and all Flix buses have Wi-Fi, extra legroom, charging ports and the ability to modify your booking just 15 minutes before departure! Click here to book your Flixbus to Ljubljana.

The currency in Slovenia is the EURO.

Slovenia is cheaper than Western Europe, but more expensive than the rest of the Balkans (with the exception of Croatia).

You can drink the tap water in Slovenia and it is normal to ask for 'pitna voda' (drinking water) in restaurants.

Slovenia used to be a part of Yugoslavia but as of 1991, Slovenia has been an independent state.

Ljubljana is a very green city. In 2016, Slovenia was voted the European Green Capital, in 2017 Ljubljana won the Responsible Tourism Award, and in 2018 and 2019, Ljubljana won the Sustainable Travel Award at the ITB travel conference.

The population of Slovenia is just over 2 million people.

Slovenia is a member of the European Union and has been since 2004. It is also part of the Schengen Area.

Slovenia is very geographically diverse, with a Mediterranean coastline, a portion of the European Alps, mountains, rivers, lakes, caves, forests and more. Slovenia is definitely a fantastic destination for nature lovers.

Slovenia has three official languages – Slovenian, Italian and Hungarian.

Slovenia is famous for its wine and has three distinct wine regions – Podravska, Posavska and Primorska.



Where to stay in Slovenia


Of course, I stayed with my friends in their home when I visited Slovenia, but my go-to recommendation for guesthouses and hotels in Slovenia is Hotellook.

To find hotels in Ljubljana, click here.

For hotels in Bled, click here.

For hotels in Piran, click here.

For hotels in Portoroz, click here.

Alternatively, you could also try house sitting. House sitting enables you to stay in someone's empty home for free, on the condition that you just take care of it (water any plants etc.). You can use TrustedHousesitters to see if there is anything available for your dates!



1 Week Slovenia Itinerary | Final Thoughts


The majority of people who visit Slovenia tend to spend a couple of nights in Ljubljana, take the bus to Bled for the day and then leave, proclaming that 'one day in Ljubljana is enough!' (Helene's major pet peeve!).

I only spent one week in Slovenia and I feel as though spending just a little bit more time there greatly enhanced my experience.

Visiting Lake Bled and taking a few pictures before going up to the Ljubljana Castle is all well and good, but I was able to hang out at the street food market with the locals, experience a Slovenian seaside holiday and dine on grilled seafood without breaking the bank. I partied with young Slovenes at Klub K4, I drank homemade Schnapps with my plate of cevapi, and I feel as though my Slovenia itinerary came to an end far too quickly (giving me a good reason to go back!).

One thing that I learnt on my Slovenia trip was that you don't need a jam-packed Slovenia itinerary to witness the beauty of the country. The fairy-tale castles, rich landscape full of forests and mountains and the delicious slow food make Slovenia a fantastic European holiday destination, and I really recommend visiting Slovenia while Slovenia tourism is still in its infancy…after all, Slovenia's magic won't be a secret for much longer 😉



so, there concludes my one week in slovenia! i absolutely can't wait to return to slovenia and explore this magical country even more. i hope that my slovenia trip inspired enough wanderlust in you for you to begin planning your own! let me know your thoughts in the comments below!

If you liked this article and would like to support my work, please click the button above to donate a couple of bucks and buy me a coffee. The ad revenue that I receive on this website is minimal, so support from my readers enables me to keep creating content that you (hopefully!) love to read.