Slovenia was somewhere that I was really looking forward to visiting.
I'd heard that it was beautiful, of course, but the main reason for my excitement was that my good friend Helene from Keep Wandering had been staying there with her boyfriend Jaka, and not only had I yet to meet the guy that had swept my friend off her feet, but due to me running off to Cambodia for a year, it had also been FAR too long since me and Helene had spent any time together!
I was also looking forward to exploring a country in a different way. Up until that point in my trip, most of my travels had been spent in party hostels with fellow backpackers, and while I love a good party hostel, I was also looking forward to staying in somebody's home and getting to see a new country through the eyes of a local (and Helene is pretty much an honourary European at this point!).
When I arrived at the bus station in Ljubljana, it was pretty late at night, and I was hungry and tired (the former due to the fact that I'd LEFT MY SANDWICH AT THE BUS STATION IN BRATISLAVA), so Helene and Jaka bought me a cheesy burek (which would be the first of many as I later travelled through the Balkans) and drove me to their beautiful home in the countryside on the outskirts of Ljubljana. We spent the night drinking sweet white wine (god how I'd missed wine) and catching up, excited for the week ahead.
The following morning, we slept in late (with the exception of Jaka, who has a real life and therefore cannot be a lady who lunches), and enjoyed a fresh pot of coffee before heading to the centre of Ljubljana to have a wander around the old town. The weather was beautiful, and so after Helene had shown me around the centre, we stopped at a cute riverside restaurant named Slovenska Hiša, where we ordered a platter of venison and wild boar, complete with cherry tomatoes and thick crusty bread (all for 6 euros!) and sipped on fresh lemonade and iced tea. It was heaven.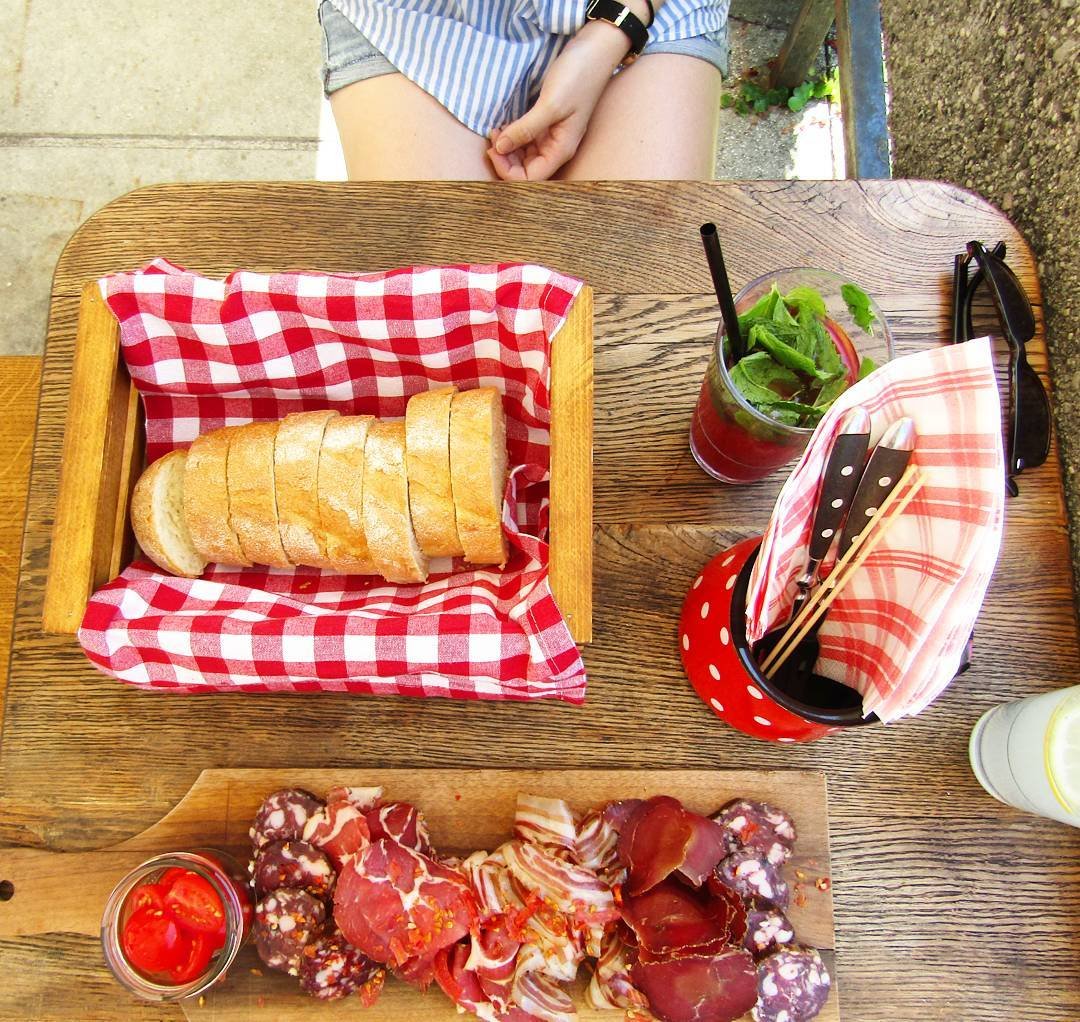 After we'd had our fill, we rode the furnicular up the hillside to the castle, where we enjoyed the views over Ljubljana before heading back down to a cocktail bar named Zlata Ladjica, where we met up with Jaka and Nadia, a friend of theirs, for 2-4-1 cocktails in the sun. When we'd taken advantage of the cheap cocktails, we headed back to Helene and Jaka's place for čevapčiči (cute little sausages that I would proceed to eat a lot of during my trip) and more wine, before heading out to a nightclub called k4 for a trap music night.
Unfortunately, Helene hit the pre-drinks a little too hard so had to be taken home by Jaka pretty early, but Nadia took me to another local bar where Slovenian boys were queuing up to buy us drinks so it wasn't all bad.
The following day, Jaka had the day off work and so we all slept late before driving to Bled to see – yep, you've guessed it – Lake Bled. After a hearty lunch – I opted for a veal steak – we made our way down to the the lake for some swimming and sunbathing, an activity made hilarious by the presence of an irate swan that was cruising along and biting the toes of unsuspecting sun worshippers.
It is possible at Lake Bled to go up and into the castle (and enjoy the views of the lake from above), but as Helene and Jaka had been up there so many times, I wouldn't have gone up there without paying the entry fee for both of them (8 euros each), and for me, paying 24 euros to view a lake at a slightly different angle just isn't worth it. Also, as a self-proclaimed 'castle enthusiast,' Helene said that the castle at Lake Bled really isn't all that, and so my decision was made!
The next day was FRIDAY, and so we decided to drive down to the seaside after Jaka finished work to have a evening by the coast, followed by a full day of sunbathing on Saturday.
While Jaka was at work, Helene and I spent the afternoon at the local food market, or 'open kitchen,' where we got an incredible meal that was meaty and garlicky and delicious. We then headed back home to meet Jaka, before driving down to the Slovenian coastline for an evening spent eating fresh seafood in Piran before moving onto Portorož and drinking well into the night.
The next morning, after toasties and espressos, we found a nice spot at the beach in Portorož. It was definitely different to other beaches that I've been to, with concrete and grass in place of the typical sand/pebbles, but we had a lovely day sunbathing and swimming in the sea before feasting on more seafood and heading back to Ljubljana.
Unfortunately, this had to be my last day in Slovenia as I had arranged to meet some friends in Croatia, but we had a wonderful last night back at Jaka's home with plenty of wine, Schnapps and good conversation.
So, would I recommend a visit to Slovenia?
Of course! 
Although my time was made so special by Helene and Jaka being so accommodating (and such wonderful company, of course!), Slovenia as a country is truly something to behold. Not only is it beautiful, with fantastic food and incredible sights to see, but Slovenia is also such a tiny country that exploring it is super easy. I mean – I only had 4 full days in Slovenia but I got to visit 4 different places, and I think that I spent a maximum of 6 hours in a car, total. 
If you find yourself in Central Europe, be sure to take some time to visit Slovenia!
Have you ever visited Slovenia? Did you visit as a backpacker, staying in hostels? How was it? Would you recommend it as a destination for solo female travellers? Share your thoughts in the comments below!
P.S. You can read Helene's blog at Keep Wandering With Me and follow her on Instagram at @wanderinghelene !