I was really looking forward to spending one week in Slovenia.

Not only had I heard that it was an absolutely beautiful country, but my good friend Helene had recently moved there to be with her partner, and so I was super excited to finally meet the man of my friend's dreams and embark on some Slovenia travel with people who knew the country well.

Sure enough, I managed to see all of the main Slovenia attractions during my stay, and so I decided to create this rough 7 day Slovenia itinerary to help you do the same!

I should point out before we get into it that I am a huge advocate of slow travel, and so most of the things in this Slovenia itinerary can probably be condensed a little bit if you're pushed for time.

For example, I spent 3 days in Ljubljana, Slovenia's capital, but you could easily do everything that I did in a day and a half (in fairness, I spent a lot of time at Helene and Jaka's house drinking wine).



7 Days in Slovenia Itinerary – Ljubljana, Bled, Piran & Portorož


Where is Slovenia?


Most people couldn't even point to Slovenia on a map, let alone tell you anything about it!

Before we begin then, let's find out a little bit about this off the beaten path destination.

Slovenia is located in Central Europe (not Eastern!), and it borders Croatia, Italy, Hungary and Austria.

It is an absolutely tiny country (you can drive across the whole thing in about an hour!), but it is still home to dozens of castles, a stunning coastline, wine regions, a rich cuisine and much more.

Slovenia is part of the European Union and uses the EURO, and it is also one of the safest countries in the whole world (number 6, as of 2022), making it a great destination for less experienced or solo female travellers.



Day 1 – Ljubljana


Assuming you're travelling to Slovenia by bus like I did, you'll probably arrive at some point in the afternoon, so treat yourself to a nice lunch or early dinner and soak up the ambience.

There are tonnes of cute independent restaurants and cafes with outdoor seating in Ljubljana, so if the weather is nice, choose a nice spot by the river and enjoy.

A Ljubljana restaurant that I recommend is Slovenska Hiša, where Helene and I tucked into platter of venison and wild boar served with juice cherry tomatoes and thick crusty bread, with some homemade lemonade to wash it down.

If you're feeling brave, start your meal with a shot of Slovenian schnapps, (otherwise known as rakija).

Balkan people believe that rakija opens your stomach before a meal, so if you want to look like a local, do as the locals do 😉

If you'd rather experience a wider variety of Slovenian foods, why not try this 3-hour food and wine tour of Ljubljana?

After you've eaten, head to Zlata Ladjica for some cocktails or local beers.

This riverside spot is incredibly popular with locals, and is the perfect place to soak up the last of the afternoon sun.

If you're looking for something a little more lively, Klub K4 has regular techno, drum and bass, and trap nights (where Helene may or may not have gotten a little bit too tipsy).



Day 2 – Ljubljana


Start your day the Balkan way and enjoy a cheesy burek from a local bakery, with some strong espresso to follow.

This flaky pastry (often translated to 'homemade pie') is one of the most quintessential Balkan foods and will set you up for the whole day.

You can then explore Ljubljana's stunning Old Town.

Prešeren Square is named after a Slovenian poet named France Prešeren, and here you will find the huge pink Franciscan Church of the Annunciation, as well as the Triple Bridge, a group of 3 bridges that cross the Ljubljana River.

If you cross the bridge, you will come to the main Town Square, where you will find Ljubljana Cathedral and the Town Hall, as well as a pedestrian-only street full of pastel-coloured buildings home to boutiques selling locally-made gifts, coffee shops, and restaurants.



Find a café and enjoy a Balkan coffee by the river, or if you feel like it, take a boat tour down the river itself!

When you're done, take the funicular up the hillside to the 12th century Ljubljana Castle.

Ljubljana Castle is undoubtedly one of the most popular things to do in Ljubljana, and while the castle itself is beautiful, the sweeping panoramic views over the city of Ljubljana and the mountains in the distance are arguably even more so.

In fact, I was so taken with the view from Ljubljana Castle that I forgot to take any pictures of the castle itself – doh!

For opening times and information about the exhibits at Ljubljana Castle, visit their website.



Another one of the best things to do in Ljubljana is pay a visit to the Open Kitchen or Odpata Kuhna, a bustling street food market that's open all day and well into the evening.

You can find everything here, from traditional Slovenian cuisine, Indian street food, sizzling pans of grilled cevapcici, local wines, craft beers, and much more.

I wish I could tell you the name of what I chose, but it was a kind of pork curry with fresh chillies and lots of garlic, topped with a sprinkling of rocket – yum!



Days 3 and 4 – Bled


Come on – no 7 day Slovenia itinerary (or any Slovenia itinerary for that matter!), would be complete without a trip to Lake Bled.

Now, while we only visited Lake Bled as a day trip from Ljubljana, I definitely recommend spending the night there if you can – it's always better to explore a place when the sun goes down and the crowds disappear!

Anyway, Lake Bled is situated about 55km from Ljubljana and is perhaps the most famous of all the things to see in Slovenia!

Lake Bled is a huge lake in the Julian Alps, in the northwest of Slovenia, and although it is one of Slovenia's most popular tourist attractions, it is still relatively unknown compared to other huge attractions in Europe (although this is changing, thanks to Instagram).

Tourists and Slovenes alike flock to Lake Bled in the summer to kayak, swim, hike or just relax and soak up the sun while taking in the phenomenal views of Lake Bled and BLEJSKI GRAD (Bled Castle).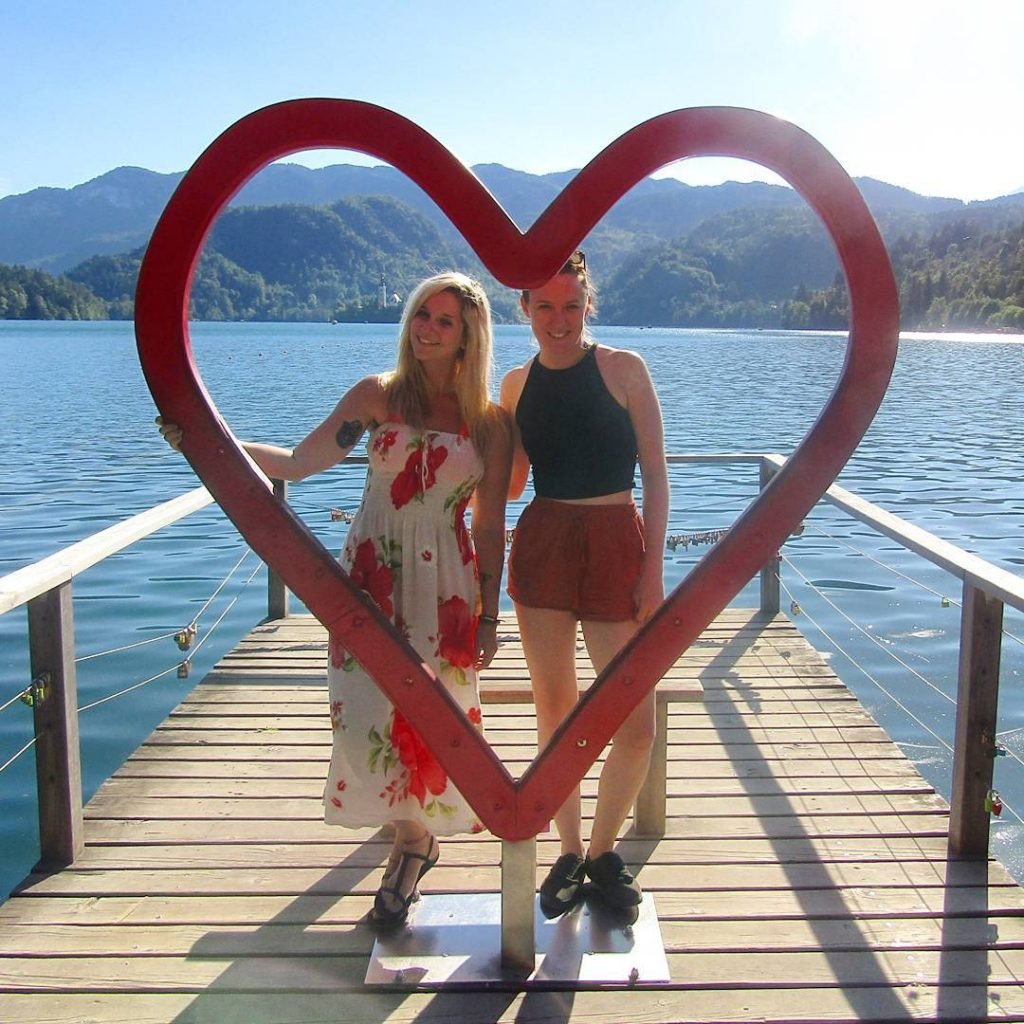 The town of Bled itself is full of quaint little restaurants, so start your day with a hearty Balkan lunch (we opted for veal steak and chips!), before making your way down to the lake itself.

Enjoy a stroll around the perimeter (if you want to do the whole thing, it will take you about 2 hours), or just find a nice spot to sunbathe.

You can even swim in the crystal clear waters, although when I was there, there was a very irate swan that kept biting the roes of unsuspecting sunbathers who were dangling their feet into the water!

In the centre of Lake Bled is its most famous feature – a tiny island which houses the 17th century Church of Assumption.

It gives the whole area a medieval fairy-tale feeling, and it is possible to take a gondola across the lake (12 EUR) to view it up close if you wish.

You can also go up to Bled Castle and into the on-site museum, and of course enjoy the stunning views of Lake Bled from above.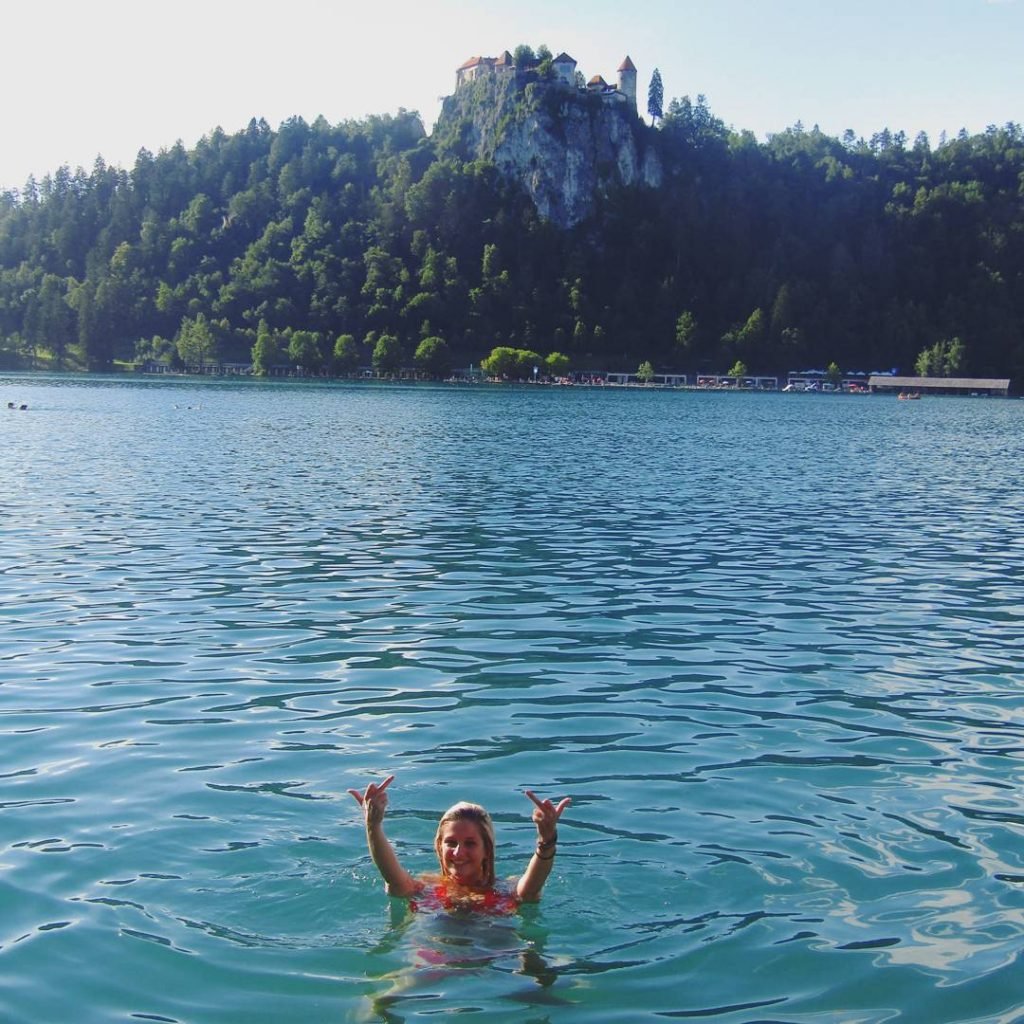 Day 5 – Piran


To finish off our 7 day Slovenia itinerary, we'll be heading to the Slovenian coast for a mini-holiday within a holiday!

Helene, Jaka and I stayed in a little guesthouse in the seaside town of Piran, a seaside town with a bustling harbour, medieval walls and thousands (okay, not really thousands) of seafood restaurants.

In fact, Helene and Jaka told me that Piran is home to the best seafood in Slovenia, and after feasting on platters full of fresh scampi, shrimp, squid, mussels and lobster with crusty hunks of bread and cool white wine, I had to admit that they might be right!

Seriously – if you love fresh seafood, head to the Slovenian coast!

While you're in Piran, you should also walk up to the Church of St. George, which was modelled after St. Mark's Cathedral in Venice and overlooks the town of Piran and rocky beaches along the coast.

Wander through the Old Town, enjoy a coffee in Tartini Square and venture through the labyrinth of narrow cobbled streets.



Day 6 and 7 – Portorož


Portorož is where lots of Slovenes (and neighbouring Italians) go for their beach holidays.

The beach at Portorož is definitely different to every other beach I've been to – in place of the usual sand or pebbles are concrete banks with ladders that descend into the water, and large grassy areas that are set back from the water where people sunbathe.

It reminded me a little of Zadar, in Croatia, and while I definitely prefer sandy beaches myself, it was still a lovely area.

The grassy area is a great spot to set up a picnic (or get some takeout from the cheap and cheerful cafes that line the promenade), and the water is super calm (at least it was when we were there!).

Portorož has a much bigger nightlife scene than Piran, so after another seafood dinner, do what we did and the night bar-hopping with the locals.



Things to know before visiting Slovenia


There is one major airport in Slovenia and it is located in Ljubljana. Most international flights will arrive here. You can book your airport transfer here.

Another way to get to Ljubljana is by bus. My go-to bus travel in Europe is always FlixBus. Flixbus is the most extensive bus network worldwide and all Flix buses have Wi-Fi, extra legroom, charging ports and the ability to modify your booking just 15 minutes before departure! Click here to book your Flixbus to Ljubljana.

Public transport in Slovenia is not the best, so if you intend on following this 7 day Slovenia itinerary, I recommend going by car and enjoying your own Slovenia road trip.

The currency in Slovenia is the EURO.

Slovenia is cheaper than Western Europe, but more expensive than the rest of the Balkans (with the exception of Croatia).

You can drink the tap water in Slovenia and it is normal to ask for 'pitna voda' (drinking water) in restaurants.

Slovenia used to be a part of Yugoslavia but as of 1991, Slovenia has been an independent state.

Ljubljana is a very green city. In 2016, Slovenia was voted the European Green Capital, in 2017 Ljubljana won the Responsible Tourism Award, and in 2018 and 2019, Ljubljana won the Sustainable Travel Award at the ITB travel conference.

The population of Slovenia is just over 2 million people.

Slovenia is a member of the European Union and has been since 2004. It is also part of the Schengen Area.

Slovenia is very geographically diverse, with a Mediterranean coastline, a portion of the European Alps, mountains, rivers, lakes, caves, forests and more. Slovenia is definitely a fantastic destination for nature lovers.

Slovenia has three official languages – Slovenian, Italian and Hungarian.

Slovenia is famous for its wine and has three distinct wine regions – Podravska, Posavska and Primorska.



FAQ

How many days in Slovenia is enough?
At an absolute minimum, I recommend 3 nights and 2 days in Slovenia. This will give you enough time to explore Ljubljana and make a day trip to Lake Bled.
What time of year is best to visit Slovenia?
September is a great month to visit Slovenia as you can enjoy the nice weather without the crowds. With that said, rainfall on the coast increases dramatically, so visit in the summer if you want a beach holiday.
Should I stay in Ljubljana or Lake Bled?
While I recommend staying in Bled for 1 night, Ljubljana is a better place to base yourself as it is a lot more lively and there are lots more things to do there.
Is Lake Bled worth visiting?
Absolutely, Lake Bled is one of the most beautiful lakes in Europe.
Is Slovenia expensive?
Slovenia is not expensive by European travel standards, but it is definitely pricier than the other countries that make up the Balkans. It is around 30% more expensive than Croatia.
Is Slovenia safe to travel alone?
Slovenia is absolutely safe to travel alone, even as a solo female traveller.

7 Day Slovenia Itinerary | Final Thoughts


The majority of people who visit Slovenia tend to spend a couple of nights in Ljubljana, take the bus to Bled for the day and then leave, proclaiming that 'one day in Ljubljana is enough!' (Helene's major pet peeve!).

I spent one week in Slovenia and I feel as though spending just a little bit more time there greatly enhanced my experience.

One thing that I learnt on my Slovenia trip was that you don't need a jam-packed 7 day Slovenia itinerary to witness the beauty of the country.

The fairy-tale castles, rich landscape full of forests and mountains and the delicious slow food make Slovenia a fantastic European holiday destination, and taking your time to experience Slovenia is definitely the best way to enjoy the country.

So, that's about it for my Slovenia itinerary, but if you have any questions then please don't hesitate to ask me in the comments section below and I will get back to you!

Until next time,

XOXO


If you liked this article and would like to support my work, please click the button above to donate a couple of bucks and buy me a coffee. The ad revenue that I receive on this website is minimal, so support from my readers enables me to keep creating content that you (hopefully!) love to read.

Disclaimer: Travelling Jezebel uses affiliate links. If you make a purchase on a recommended site, I may make a small commission at no extra cost to you.