For so many first time travellers, the idea of staying in a hostel is daunting. For many, the film Hostel comes to mind (thanks Eli Roth), alongside The Beach, where Leonardo DiCaprio is staying in a hostel in Bangkok with dodgy electrics, cardboard walls and a manic fellow traveller (Robert Carlyle) who commits suicide in the room next door.
Hostels have a bit of a bad reputation of being unclean, unsafe, and full of unwashed backpackers smoking weed and plaiting their armpit hair (okay, so there is some of that, but not as much as you might think).
I'm sure that 30 years ago, hostels probably deserved this reputation, but it's 2018 and if you're still staying in hotels then you're missing out! I've been staying in hostels since my first trip to Thailand in 2015 and I can promise you that staying in a hostel really isn't that bad – in fact, it's actually kind of fun!
So, why is staying in a hostel such a good idea?
1. Hostels are cheap
Let's get the most obvious point out of the way – hostels are a fraction of the price of hotels. Seriously. I know of a hostel in Cambodia that only costs two dollars per night to stay at. Two dollars!!! In all my years of travel across Southeast Asia and Europe, I can count on one hand the number of times that I've paid more than £10 for a bed in a hostel, seriously.
Not only are the beds cheap, but hostels often include free breakfast, free coffee/tea, and sometimes even free drinks!
2. Hostels are social 
Whether you're a solo traveller looking for company, a group of friends who want to party or a couple who want to hang out with people other than each other, staying in a hostel is the way to go.
Hostels are full of people who want to meet new people from around the world, and it's really not difficult to find new friends and travel buddies when you are staying in a hostel. Most hostels make this process even easier by organising day trips, walking tours, pub crawls and themed parties to get everybody chatting.
3. Hostels are run BY travellers FOR travellers
While I'm sure that some hotel owners are seasoned travellers, most hotels exist solely to make profit. Now, while hostel owners still have to make money (hostels are a business after all), most hostel owners are former backpackers who understand exactly what young travellers want when it comes to staying in a hostel.
Often, hostel owners and staff become friends with the guests and stay up drinking with them, showing them around the town and recommending the best restaurants and bars that the locals frequent. Hotels are a lot more…sterile. While the receptionist will have no problem handing you a map and giving you directions somewhere, it rarely goes beyond that.
I've spent many a night talking with hostel owners until the sun comes up, preparing family dinners together and relaxing as though we were friends. Never have I ever had those experiences in hotels.
4. Hostels are cosier than hotels 
This one may come as a shock to those of you who imagine hostels to be terrible places with rats in the floorboards  and cockroaches on the pillows, but hostels are often a lot more homely than hotels. The reason for this is that hotels have to appeal to the masses, and so the decor is often very neutral and – dare I say it – bland.
Hostels have no such restrictions and as a result, are often quirkier, crazier and altogether more unique than hotels. In hostel common rooms you'll find plush sofas, bean bags, hammocks and bookshelves crammed full of novels in every language imaginable. You can cook up a storm in the fully equipped kitchen, brew your own coffee on the stove and kick back and watch Netflix when it's raining outside (yes, some hostels have Netflix, Spotify and PlayStation consoles).
5. You don't always have to sacrifice your privacy 
Again, this may come as a surprise to those unfamiliar with hostel life, but most hostels actually offer private rooms at a cheaper rate than hotels! This truly gives you the best of both worlds as you're able to enjoy a night of uninterrupted sleep while not missing out on the social side of things.
So, how do you find a good hostel?
1. Word of mouth 
Listen to your fellow travellers! Some of the best hostels I've stayed in have been recommended to me by other backpackers, and I will always trust the opinions of my fellow travellers – after all, they're looking for the same things that you are, and they also have nothing to gain by recommending a certain place to you.
2. Look at how the hostel markets itself 
When I'm choosing a hostel, my priority is finding a sociable one where I can enjoy a beer (or 9) with like-minded people. Therefore I tend to avoid hostels that market themselves as being quiet and calm places to sleep and instead gravitate towards those that organise pub crawls and parties such as Greg and Tom Party Hostel, Kraków and Retox in Budapest.
Every hostel has a very distinct vibe and it's incredibly important that you find the one suited to you.
It's also wise to check out some key things about the hostel such as where it's located (some hostels are way out of the city centre), whether it provides lockers (extremely important) and whether it had 24 hour check-in (this only really matters if you'll be arriving late).
3. Read the reviews
When trying to find a place to stay, it almost goes without saying that you should read the online reviews to see what other travellers have to say. However, when you're staying in a hostel you should always take reviews with a pinch of salt. Some travellers will expect a 5 star experience when they check into a $4 hostel and then leave a scathing review when the hostel does not live up to their expectations. Others will check into infamous party hostels and complain about not getting a good night's sleep. Trust me, having worked in hostels myself, I can tell you that people will find reasons to complain about EVERYTHING.
That said, if all of the reviews say the same thing, then pay attention because not everybody can be wrong!
Hostel Etiquette
So, you've found the perfect hostel. Great! Now you just need to make sure that your stay goes as smoothly as possible and that you don't rub up your new room mates the wrong way.
Honestly, most hostel etiquette consists of just utilising basic manners. In short: don't be a dick.
However, unfortunately for a lot of people, following this basic advice is difficult, and so I've compiled a list of rules that you should stick to if you don't want everyone in the hostel to hate you 🙂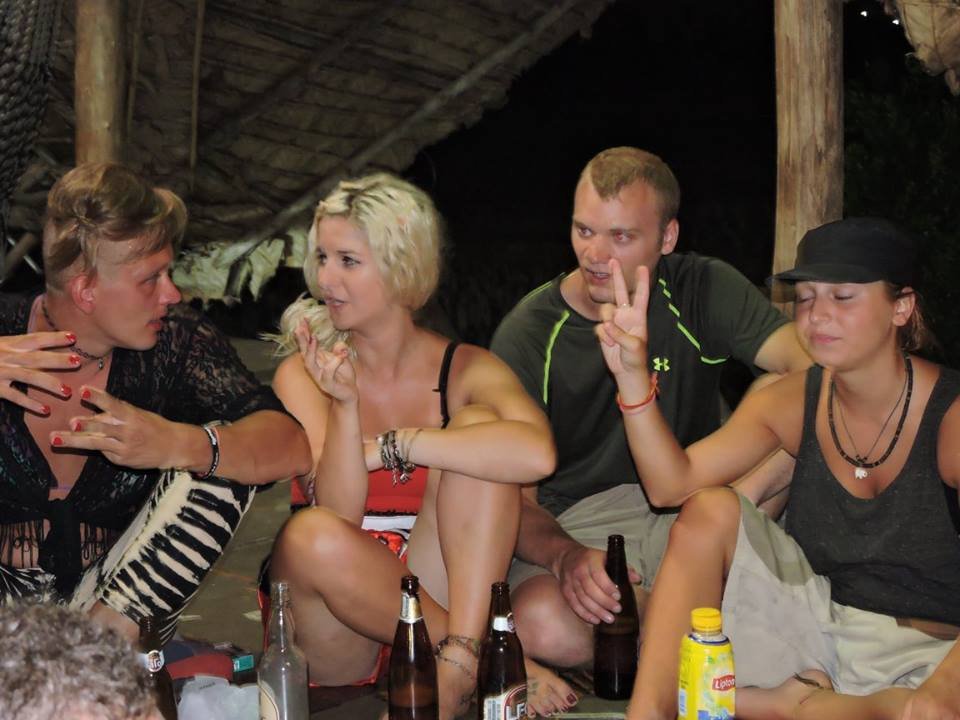 1. Don't be messy 
This ain't your own bedroom. Nobody wants to step over your dirty socks and your mum isn't going to clean up after you. Keep your mess confined to your bed, wash up after yourself and things will be sweet.
2. Be considerate with the lights 
So it's 4am and you're just getting in from a night out, drunk. You can't find your toothbrush in the dark so you just decide to turn on the lights. Nothing wrong with that right? WRONG. If people are sleeping, it's incredibly rude to just switch the lights on. This seems obvious to me but unfortunately it isn't for most people.
3. Don't be loud 
Again, this should be obvious but if people are sleeping, don't have full blown conversations in the room! I don't care if it's 3 in the afternoon, if somebody is sleeping then it's because they need to. Maybe they're jet lagged, maybe they were on a bus all night, or maybe they're sick. Either way, they're trying to sleep and you should be respectful of that.
4. Do your packing in advance 
So you've got a 7am flight. Great! Surely the best time to pack is at 4am right, when everybody is asleep? They won't mind if you rummage around for 45 minutes, scrunching plastic bags, unzipping your suitcase 50 times and slamming the door on your way out.
However, what they'd really appreciate is if you did your packing before you went to bed, so as not to disturb them too much in the middle of the night 😉
5. Don't eat in the room 
Sorry but nobody wants to smell your tuna sandwich or sleep with the cockroaches that are likely to come running because they smelt your chicken nuggets. Hostels have great kitchens and common rooms – use them!
6. Smile! 
Hostels are social places, and while it may not be the done thing to strike up conversation with total strangers in day to day life, meeting new people is exactly what hostels are all about, and so make sure to smile and say hello to everyone you bump into!
Even if you're tired and want a night to yourself, you should at least smile and introduce yourself to your new room mates. A little really does go a long way when it comes to this.
So there you go! 
There we have the many reasons that I believe everybody should stay in a hostel at least once in their lives, and I hope I've reassured you that staying in a hostel really is not as scary as you expect!
Do you stay in hostels? Why? Perhaps you prefer another type of accommodation? Please share your thoughts with me in the comments below!