Working in a hostel is by far one of the easiest and best ways to travel for longer without burning a hole in your pocket.

Hostel work has been invaluable in the last few years for me, and my various hostel jobs have enabled me to stay in beautiful destinations for far longer than I would have been able to had I not been working.

Thanks to hostel work I've lived in the gorgeous old city of Krakow in Poland, the island paradise of Koh Rong in Cambodia, gritty Belgrade in Serbia, and the medieval old town of Kotor in Montenegro.

Work in a hostel?

Seriously?

Why would I want to be stuck behind a reception desk when I can be exploring the world?

Isn't that the opposite of travel?

The answer is no. No it isn't. Working at a hostel is actually one of the most common ways for backpackers to extend their travels, and it means you can live pretty much anywhere in the world completely rent-free.

I have gained so many valuable experiences and memories from my hostel jobs that I decided to put together a post that will tell you everything you need to know about working in a hostel, from how to find hostel jobs to what kind of work is expected of you, and what working in a hostel is really like.

So, as always, make a hot drink (or grab yourself a beer) and get cosy because it's going to be a long one.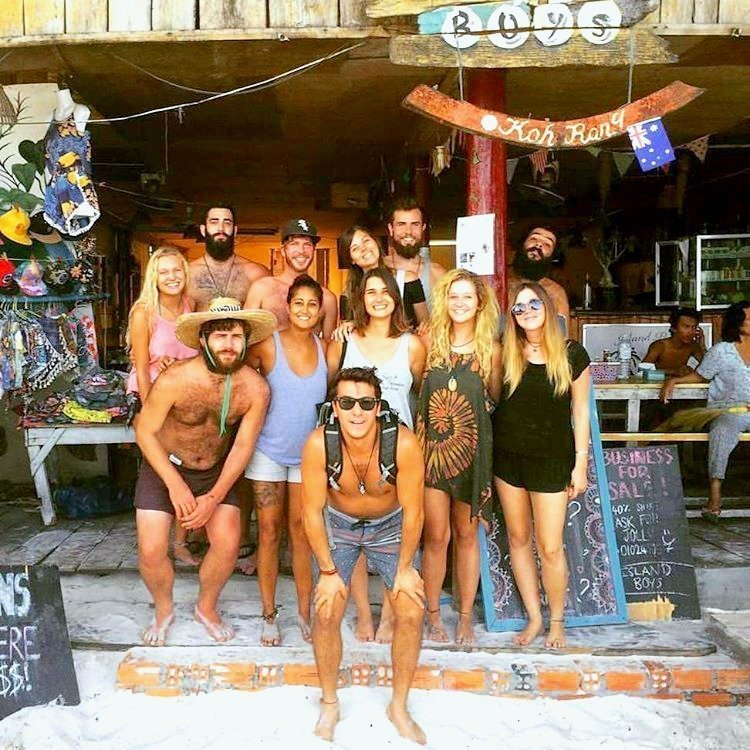 Volunteering at a Hostel – Everything You Need to Know About Hostel Work


What is a hostel?


Before we get into what it is like to work in a hostel, it is worth clarifying what exactly a hostel is, and what to expect when staying in a hostel.

For many people, the film Hostel often comes to mind when they hear the word 'hostel' (thanks Eli Roth), and it is true that hostels have a bit of a reputation for being dodgy, dangerous and dirty.

Now, while I'm sure that some hostels are all of these things, the vast majority of hostels are not, and hostels can be a great alternative to hotels or apartments when travelling.

Hostels are a type of accommodation that are more budget-friendly than hotels and with more basic facilities. They tend to have a mix of dormitory rooms, where you sleep in a bunk bed and share a room with other travellers, and private rooms.

As well as providing budget accommodation, many hostels run their own social events as a way to help guests meet each other.

At party hostels these events will usually involve alcohol and can take the form of pub crawls, beer pong tournaments, sangria parties or booze cruises, while quieter hostels may offer family-style dinners, pub quizzes, movie nights and cooking classes.

It is also common for hostels to run their own tours, whether that be a 2 hour free walking tour or a full-day excursion at a slightly lower price than what the local tour agencies offer.

This cheap accommodation combined with the many opportunities to meet and socialise with other travellers make hostels a great choice for backpackers and solo travellers who are looking to save money and meet like minded people.




What does hostel work entail?


So, now you know what a hostel is, you may be wondering what exactly working in a hostel involves.

There is no one-size-fits-all answer when it comes to this question as hostel work differs from place to place, and all hostel jobs require different things.



Hostel work may involve:

Reception work (checking guests in and out, giving local information and directions, signing people up for tours)

Laundry (stripping and making beds)

Light cleaning (mopping floors, taking out rubbish etc.)

Promotion (handing out flyers to people on the street)

Leading pub crawls and booze cruises

Organising events (beer pong tournaments, pub quizzes etc.)

Bartending

Mingling with guests and creating a social atmosphere

Helping to prepare breakfast buffets or family dinners

While some hostels expect their workers to do all of the above, the majority do not.



My hostel jobs were as follows:


Island Boys, Cambodia – I was a receptionist and bartender. As it was a party hostel, a big part of my job was getting the guests drunk, often by starting games of beer pong and flip cup.

Sky Bar, Cambodia – My work here was as a promo girl. I greeted people arriving on the island and tried to sell our bungalows to them, and at night my friend and I would try and get passersby to come to the bar, giving them free shots.

Habitat Hostel, Serbia – My here was making beds, mopping floors and staying up all night to let drunk party-goers in (this was not my favourite hostel to work in!).

Old Town Hostel, Montenegro – I was a receptionist and event organiser. Events included themed parties, booze cruises, pool parties and drinking games. I also helped the cook prepare dinner for everyone.

Greg and Tom Party Hostel, Poland – Events again. In the daytime I would take guests to museums or on food tours. At night I would lead pub crawls.

As you can see, working in a hostel differs from place to place and some hostels definitely work you harder than others!

A bar shift at Island Boys could last for over 12 hours with no breaks, while the work at Old Town hostel mainly just involved hanging out with people and coming up with new drinking games!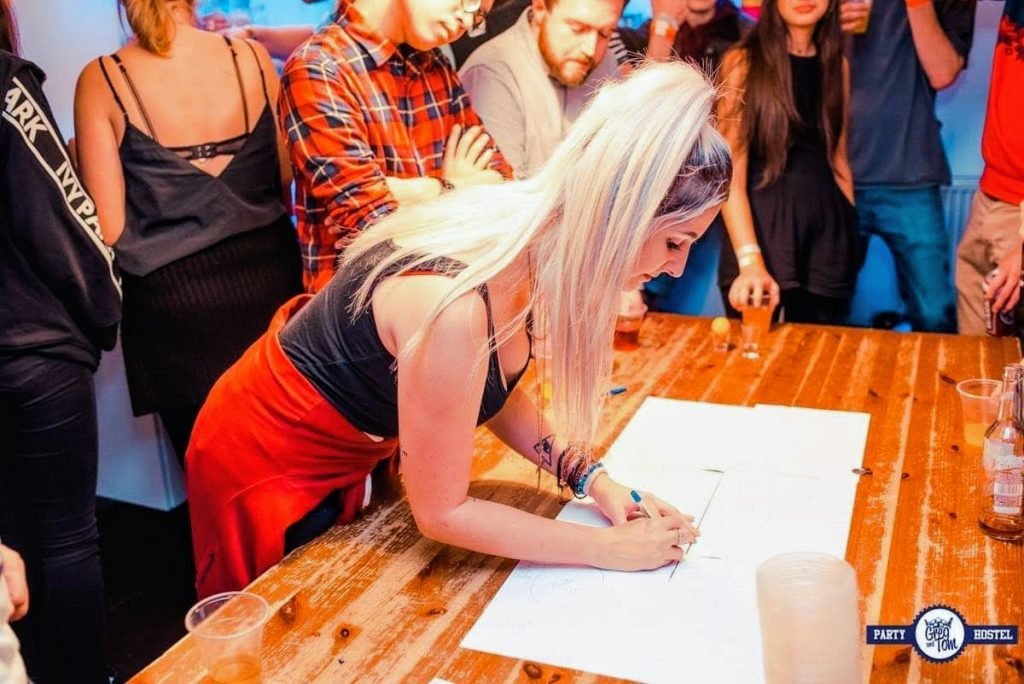 Do you get paid for hostel work?


Although there are certainly exceptions, the answer is typically no, you do not get paid when you're working in a hostel.

Most hostels I've stayed in (and I have been to a lot!) have had local employees who take care of the more serious jobs (for example many hostels have their own cleaners and receptionists) and let volunteers take care of the social side of things.

You will usually be given a bed in a dormitory (the better hostels have a staff dorm so you aren't getting new roomies every day) and some food. This could be all your meals or it could just mean that you're entitled to the free breakfasts that the guests get.

In the BEST hostels, you get some alcohol thrown in as well – in Island Boys and Greg and Tom's we were allowed unlimited drinks and I never paid for a drink in Krakow nightclubs when I was on a pub crawl, even if I wasn't working.

It is also sometimes possible to make commissions from selling tickets to tours and events, and you will usually also get a discount on tours organised by the hostel.

Working in a hostel is not for you if you want to make a wage.

Hostel work is for people who want to eliminate most of their travel costs while slowing down and enjoying one place for an extended period of time, not for people who want to save up money.

It is also worth paying attention to how much work you are actually doing in exchange for a free bed – some hostels will expect you to work long hours in exchange for a €5 bed, and so you should ask yourself if it is really worth it.



What are the benefits of working in a hostel?


Now, you might be reading this and thinking 'this is insane – why would anyone work a 12 hour shift for some free drinks and a bed?'

The idea sounds crazy at first, but working in a hostel has so many benefits, and I don't for a second regret ever volunteering in hostel.



Benefits of working in a hostel


Travel for free


Even if you are staying in a budget hostel, costs tend to mount up pretty quickly. 10 USD per night is still 300 USD per month, and when you factor in food and drink, travelling in even the cheapest countries can get pretty pricey.

Hostel jobs allow you to cut out most of your costs, allowing you to travel for longer – in theory, you can travel for as long as you like if you continue volunteering in hostels!

I have met tonnes of backpackers that have worked in the same hostel for years on end, creating a life for themselves on a paradise island or up in a mountain ski resort.



Gain valuable work experience


Travellers sometimes worry that long term travel can hurt them in the future if they end up with huge gaps on their resumes. When you work in a hostel you can definitely use your experiences of reception work/bartending/event planning to impress future employers.



Make friends for life


When you are working in a hostel, your colleagues will be other backpackers from all around the world. It can be exhausting as a backpacker, constantly making new friends and then saying goodbye to them a day later, but when you live and work with the same people for a month or more, the connections that you establish are much deeper and the hostel can provide a sense of stability and comfort that can be difficult to find as a traveller.

What's more, you will form connections with most of the people checking in to the hostel. You may be the first person they meet when they arrive, or the person that takes them to all the best bars, and as a result of that everyone will want to talk to you.



Learn about the local culture


When you stay in a place for longer than a few days, you really get a deeper understanding of the local people and culture which can prove invaluable. Whether it's picking up the local language and cuisine or simply learning the best things to do in a given city, you will definitely learn a lot, which helps the guests as well as you!



Hostel work is perfect for digital nomads


Hostel jobs usually only require a few hours of light work per day and so you have a lot of free time. This is perfect if you work remotely as you have a stable place to stay and enough time to work on your own projects.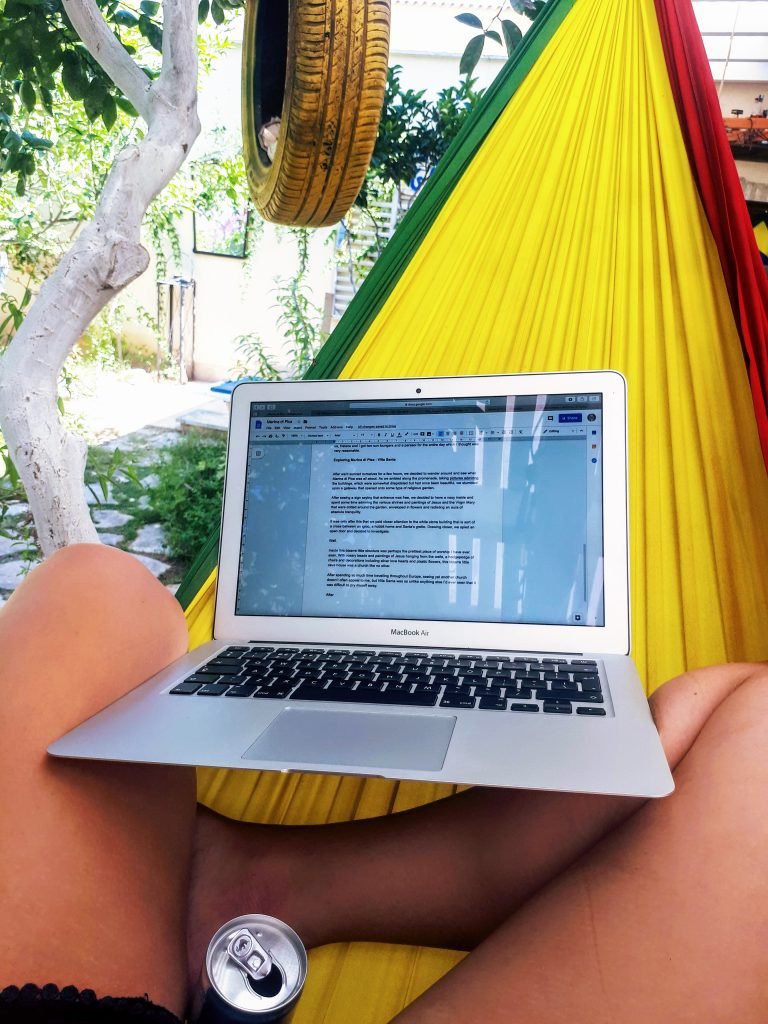 Reduce your carbon footprint


Travelling continuously can get pretty bad for the environment, and fast travel also leads to problems with overtourism.

When you stay in one place for longer, your carbon footprint is reduced and you can also explore a place at leisure rather than packing everything into a day trip and contributing to the huge strain that a destination may be experiencing.



It gives you a break


Slow travel is not only good for the environment – it's good for your sanity too! Moving about from place to place can be so draining, and working in a hostel allows you to get some much needed rest and relaxation. Never underestimate how lovely it can feel having the same bed for longer than 3 days in a row or not having to think about where you're heading next!



Who can work in a hostel?


Anybody!

Well…almost.

Hostel jobs are not like regular jobs – you don't send in your resume or have a formal interview.

Hostels choose their volunteers based on personality. As long as you are friendly, outgoing and sociable, you should have no problems finding hostel work.

Of course, different types of hostel want different types of volunteer. Party hostels offer volunteer positions to guests who can drink the most or who never miss a pub crawl (yes, I've worked in 3 party hostels – don't judge) whereas smaller, family-owned hostels tend to favour people who are more laid back and chill.

You generally don't need any experience to work in a hostel as training is done on the job. It should be worth noting that for this reason, most hostels want volunteers who are going to stick around for at least a month. It doesn't make sense to spend a week training someone if they're going to leave right away.



Tips for getting hired


Turn up just before or at the beginning of high season. This is when tourism really picks up and hostels are in need of more volunteers.

Aim to stay at the hostel for at least a week before you ask for a job. When the staff know you better and see how you interact with the other guests, they will be more likely to take you on.

If you are staying in a party hostel, make sure that you are the one leading the drinking games, getting everyone involved and taking the quieter guests under your wing. Part of hostel work is making sure that everybody has a great time, and being a people person will definitely get you noticed.

With that said, don't be too much of a partier. Unless you're trying to get a job at Retox in Budapest, know your limits. Definitely drink and be rowdy, but know that if you end up smashing a window, being sick all over your bed or being a general nuisance then you won't stand a chance of getting work. At the end of the day, even party hostels needs someone who is responsible enough to make sure everyone is safe and having fun.



How to find hostel work


There are two main ways to find hostel work: online or in person. As with everything in life, each way has its pros and cons.


Finding hostel work online


There are a number of sites (Workaway, HelpX and Hostel Jobs to name a few), where you can arrange hostel work in advance.

Workaway and Helpx require a small annual subscription fee, but have volunteer opportunities in MANY different areas, from farm work to au-pair jobs, English teaching to hostel work. Hostel Jobs is free to use.

The benefits of using platforms such as these to find hostel jobs is that you can see what type of work the hostel is looking for and how many hours they expect, and you can also communicate with the owners before you arrive to raise any questions you may have.

All messages are monitored by the sites and you can report any harassment or inappropriate messages. You can also read what other volunteers have to say about a particular hostel to see if the work is as they claim it is.

This is also great if you are a planner and don't like the 'wing it and see' approach that I tend to take. Arranging volunteer work with the hostel in advance means that you are guaranteed work, while just walking in and asking for a job is often not as successful.

The downside of this approach is that you may turn up and find that the work is different to what the website specifies (I was told that I would be running pub crawls in Serbia – instead I was making beds) or that the hostel is not so nice. Once you have committed to working there, you may feel awkward if you arrive and don't want to stay.



Winging it


The way that I got 4 out of 5 of my hostel jobs was simply staying at the hostel as a guest and asking if they needed any staff members.

This approach meant that I already knew and loved the hostel (and destination!) and knew that I would be happy working there. It also meant that I had met the people I'd be working with and knew that these were people I could see being my friends.

Hostels prefer taking on volunteers like this as they actually get a feel for what your personality is like and whether you would be a fit for their hostel.

Of course, the downside to this approach is that you may not always find work. When I initially asked to work at Old Town Hostel in Montenegro they were not taking on any volunteers. They told me to continue travelling for a couple of months and then head back when they had some open spots – if I was on a strict schedule or really counting on the work then I would have been stuck.



Working in a Hostel | Final Thoughts


I hope that I've given you a pretty solid idea of what hostel work entails and how to find hostel jobs. Volunteering in hostels has given me a wealth of amazing memories and experiences, and is part of the reason why I have been able to stay on the road for as long as I have.

Working at a hostel is not going to get you rich, neither is it a way to save up lots of money for future travels. It is a way to minimise your living costs and stay somewhere you love for as long as you like.

If you can accept and embrace that then you are bound to have an absolutely amazing time working in hostels all around the world – good luck!

That's all for this article but do let me know if you have any questions about working in a hostel or hostel life in the comments below!

xoxo


If you liked this article and would like to support my work, please click the button above to donate a couple of bucks and buy me a coffee. The ad revenue that I receive on this website is minimal, so support from my readers enables me to keep creating content that you (hopefully!) love to read.

Disclaimer: Travelling Jezebel uses affiliate links. If you make a purchase on a recommended site, I may make a small commission at no extra cost to you.