Before I went travelling, there was one fear that plagued me – what if I couldn't make hostel friends?

Although I'm not overly shy, I do find it difficult approaching a stranger or groups of strangers – hell, I find it difficult enough to speak to somebody I don't know on the phone, let alone face to face!

However, what I quickly found out as soon as I embarked on my solo travels was that you are never really alone when you travel, even though you may be travelling alone!

In fact, it's actually easier making friends in hostels as a solo traveller than it is when you are travelling with friends or as part of a couple, no matter how shy you are!



How to Make Friends in Hostels While Travelling Solo


If you've never stayed in a hostel before, the thought of just going up to a group of strangers and asking if you can hang out with them sounds insane.

Chances are, if you're sitting in the park with a couple of friends and a random dude asks to join, you would be more than a little creeped out, and the same goes for a bar situation – you'd just assume that you were being hit on and make your excuses.

However, in a hostel it is totally different.




You won't look like a weirdo if you strike up conversation with someone or ask if you can join whatever drinking game they're playing.

People who stay in hostels are generally always open to meeting new people, and for the most part, hostels are judgement-free zones. It doesn't matter if you weren't the popular kid at high school – in hostels, everyone is equal, no matter their differences, and making friends in hostels is super easy.

If you're unsure about what to expect when staying in a hostel, just check out my guide to staying in hostels!



How to Make Friends in a Hostel


1. Smile!


People really will approach you more if you smile.

I'm not talking about sitting alone with a stupid grin plastered across your face because that just looks borderline psychotic, but if you make eye contact with somebody in your hostel then just smile and say hello!

The best way of doing this is to say hello to the people in your room as the hostel staff member is showing you to your bed. You can just give them a quick nod and that's it!

Nine times out of ten, the person will then strike up conversation with you by asking where you're coming from or introducing themselves, essentially doing the rest of the work for you!



2. Sit in busy areas


It sounds obvious but if you want to make hostel friends, you're not going to do it by hiding away in your dorm bed. Most hostels have some sort of common area, so just go and sit in it!

Eventually somebody is bound to start a conversation with you. Just make sure you aren't staring at your phone the whole time because people will assume you want to be left alone.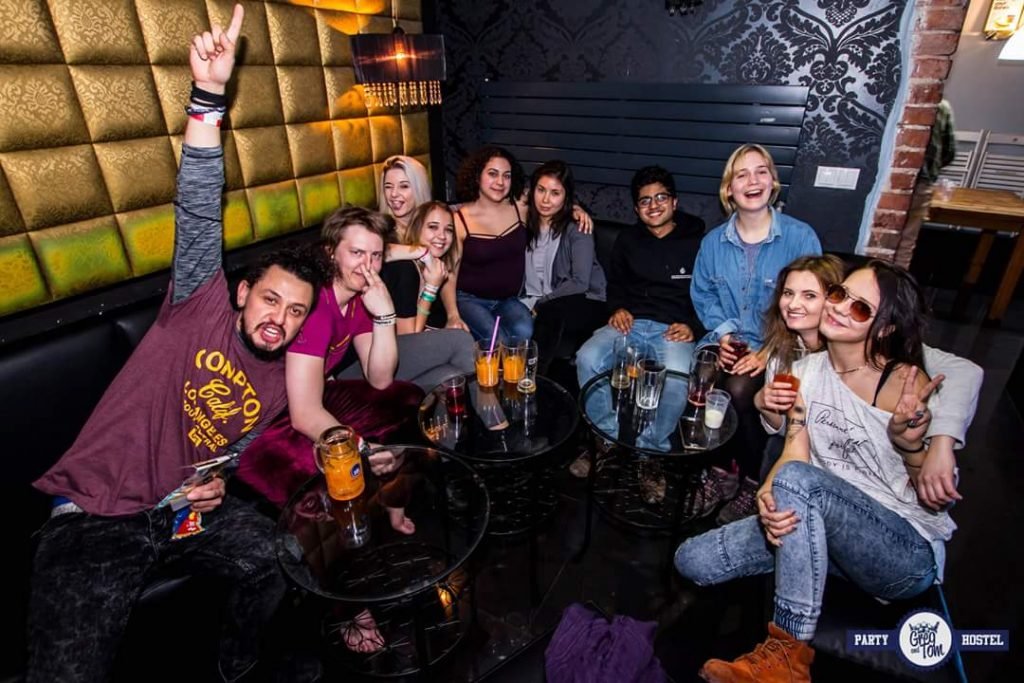 3. Break the ice


If you're wondering how to make friends in a hostel, by far the quickest way in is to break the ice.

Something that I always do to break the ice is just ask someone a random question. You could ask someone for the WiFi password, or if you smoke then asking for a cigarette lighter is always guaranteed to be a conversation starter.




Something that I usually do is ask somebody if they know of a good place to eat nearby. More often than not, they will say something along the lines of 'oh yeah, I'm super hungry too actually – mind if I join?' and bam you've made one of your first hostel friends! This is the way that I've made a tonne of hostel friends and is always my go-to.

The beauty of using an ice-breaker like this is that once you've done it, it's a lot easier to continue the conversation by introducing yourself and asking the person how long they've been at the hostel etc. Not only that, but it's a good way to find out if someone is up for chatting – if you get a shrug or a one word answer then this is probably not someone looking for company!



4. Ask to join


This is definitely the most difficult way to approach people if you're travelling alone, and is the one that I find most intimidating, but it is pretty much guaranteed to make you hostel friends if you've brave enough to try it.

If there is a crowd of people playing a card game or drinking game, or simply chatting in the hostel bar, just walk over and ask if you can join them!

This is a perfectly normal thing to do when it comes to making friends in hostels and nobody will think anything of it – they'll just tell you to grab a chair and probably offer you a beer!

The best way to gauge whether a group will be open to you joining them is to quickly assess the dynamics – 3 girls who are clearly travelling together and are huddled quietly in a corner may not be so open, but if it is a large group of backpackers of different ages and nationalities then chances are they were all strangers not too long ago and won't mind a bit!



5. Make use of the free breakfast


Hostels in a lot of countries provide free breakfast in the morning which is a great way of making friends in hostels.

Just find a table with a few spaces, sit down and say hi!

Even if you only end up exchanging small talk, it still paves the way for further interaction later in the day.



6. Get involved!


The vast majority of hostels will organise some sort of event aimed at getting everyone socialising. If you are staying in a party hostel then this will likely be a beer pong tournament (a fantastic way of making hostel friends), a booze cruise or a pub crawl.

Quieter hostels will often offer free walking tours, movie nights, family dinners, excursions to nearby attractions and BBQs and more.

I highly recommend getting involved in whatever event is going on at your hostel (even if it isn't necessarily something you fancy!) as you are guaranteed to meet tonnes of people who are also looking to make hostel friends!



7. Relax!


Finally, and most importantly, relax!

Sometimes you'll get unlucky and end up in a hostel where nobody wants to socialise. It happens. But you know what? It isn't the end of the world! Just suck it up, find something to do on your own and know that tomorrow is a new day and you will definitely meet people soon.



Making Friends in Hostels | Final Thoughts


Now, I want to hear your thoughts!

Do you have any tips on how to make hostel friends?

Do you find it easy, or are you shy like me?

Leave your thoughts in the comments below!

xoxo