Last updated on 10/08/2021.

Pristina, Kosovo's capital city is not a place that many people consider travelling to.

Those already in the Balkans may choose to spend a night in Pristina to tick it off their lists, but for most people, Kosovo is not even on their radars, because they (wrongly) assume it to be dangerous and not worth the risk.

In fact, many people haven't even heard of Kosovo, let alone considered paying it a visit!

However, after visiting Pristina, capital city of Kosovo, twice and experiencing first hand the Kosovar hospitality, great food and interesting sights, I highly recommending adding Pristina Kosovo to your travel bucket lists.

There are so many interesting and fun things to do in Pristina that I decided to compile a list of all the best ones so that you can make the most of your time!



18 Things to Do in Pristina, Kosovo – Attractions, Nightlife, and More


1. Visit the NEWBORN monument


One of the most important things to do in Pristina is to go and see the NEWBORN monument.

NEWBORN was unveiled on the day that Kosovo declared its independence (17 February 2008) and its design changes on that date every year.

Back in 2008, it was decorated with the flags of the 99 nations which recognised it as an independent state, and when I visited in 2018, it had the number 10 incorporated into it to celebrate Kosovo's tenth birthday.



2. Attend a Free Walking Tour


Attending a Free Walking Tour is something I always like to do in a new city, and with its complex history, I was especially eager to do this in Pristina, Kosovo.

Our tour guide took us to all of the major places to visit in Pristina and explained the backstory behind all of them before inviting us all to lunch in a cute restaurant in the centre where we could get to know each other better.

I really enjoyed my walking tour in Pristina, and while there is no doubt that I learnt a lot, my one critique is that the tour guide was incredibly biased towards Albanians, and as difficult as it may be for a Kosovar-Albanian not to be biased, I do think that as a tour guide, he should have at least tried to present both sides.

Of course, Free Walking Tours are tip-based, and I recommend giving a tip of 5-10 EUR to your guide.

The Pristina Free Walking tour is at 11am every day and the meeting point is in front of the National Theatre.

If you prefer private tours, this private 3 hour walking tour on GetYourGuide is a great choice. With your own personal guide plus hotel pick-up and drop-off, you can enjoy a more VIP experience, as well as being able to choose the time of your tour.



3. Visit the Blessed Mother Theresa Cathedral


The Blessed Mother Theresa Cathedral is one of the newest and most spectacular sights in Kosovo, and is another striking example of the country's religious tolerance.

Erected in 2017, the cathedral pays homage to Kosovo's historical Catholic presence, as well as honouring Mother Theresa, who was ethnically Albanian.



4. Visit the Ethnographic Museum


Another interesting place to visit if you're wondering what to do in Pristina is the Emin Gjiku Ethnographic Museum which is housed in a majestic Ottoman-era mansion and is home to a fascinating array of traditional items dating all the way back to the 15th century.

You can walk around the house and learn how people used to live, which is super interesting.

A visit here was included on the free walking tour!



5. National Library of Kosovo


For those interested in architecture (and even those who aren't!), you can't miss a visit to the National Library of Kosovo, a bizarre piece of brutalist work by Croatian architect, Andrija Mutnjaković and one of the most famous Pristina attractions.

The library has a total of 99 domes of different sizes and is entirely covered in a 'metal fishing net,' which our tour guide said was supposed to look like honeycombs, but I'm not so sure.

Having been named one of the 'ugliest buildings in the world' by multiple publications, this weird and wonderful building stands proudly, embracing its title. It's also worth having a wander around inside, as the interior is pretty impressive too, and it is of course free to enter!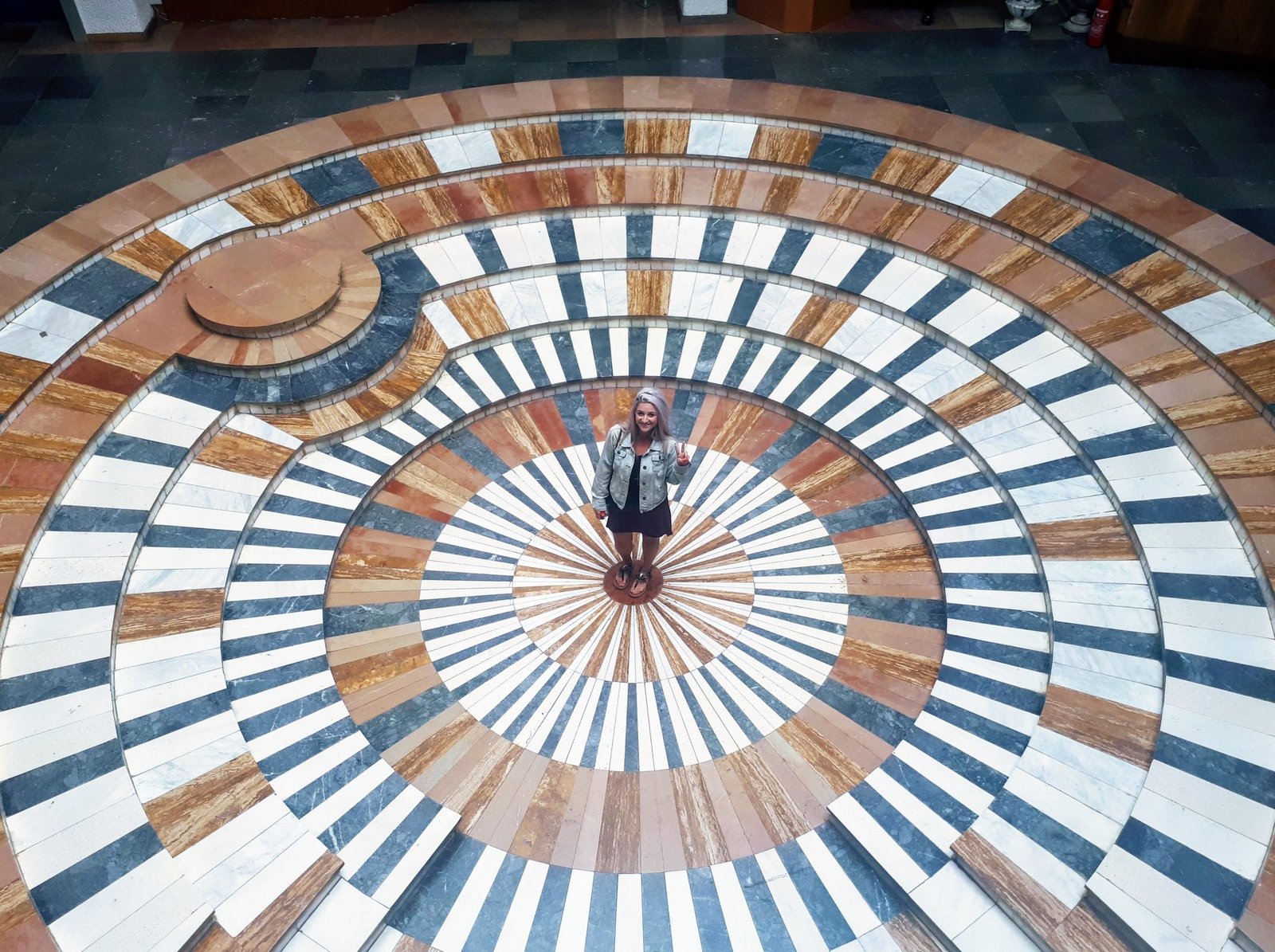 6. Serbian Orthodox Cathedral


Just a stone's throw away from the library is the unfinished Serbian Orthodox Christ the Saviour Cathedral that was built before the war for the Serbs to begin imposing their power.

Having been built illegally, the cathedral was never completed, and today its shell stands forlornly on the University grounds.



7. The Bill Clinton monument


Another middle finger to the Serbians is the Bill Clinton monument, standing tall on the boulevard that bears his name.

The 11-foot tall statue waves proudly, holding documents engraved with the date that NATO started bombing Serbia.

America is held in such high regard in Kosovo that there are Kosovars named Klinton and Hillari, a boulevard named after George W. Bush after he backed Kosovo's declaration of independence in 2008, and a Wesley Clark driving school, named after the retired U.S. Army general who led NATO during the Kosovo war.



8. Heroinat Memorial


Another important monument to Kosovar-Albanians is the Heroinat Memorial.

Made up of 20,000 bronze medals that come together to form a large 3-D portrait of a woman's face, the Heroinat Memorial represents the 20,000 women and girls who were raped by the Serbian Army during the war.

The Serbian Army used rape as a weapon of war, not only to shame and humiliate entire communities, but also as a means of ethnic cleansing.

The artist, Ilir Blakçori, says: "Most of these war crimes remain untried, and some of the victims still live with those horrifying memories and scars, every day and to this day. I took this tragic number of victims and transformed it into medals. Medals dedicated to each and every woman's contribution and sacrifice for this country, no matter what age."

The Heroinat Monument is a striking testimony to the plight of rape victims in Kosovo, and everybody should go and see it.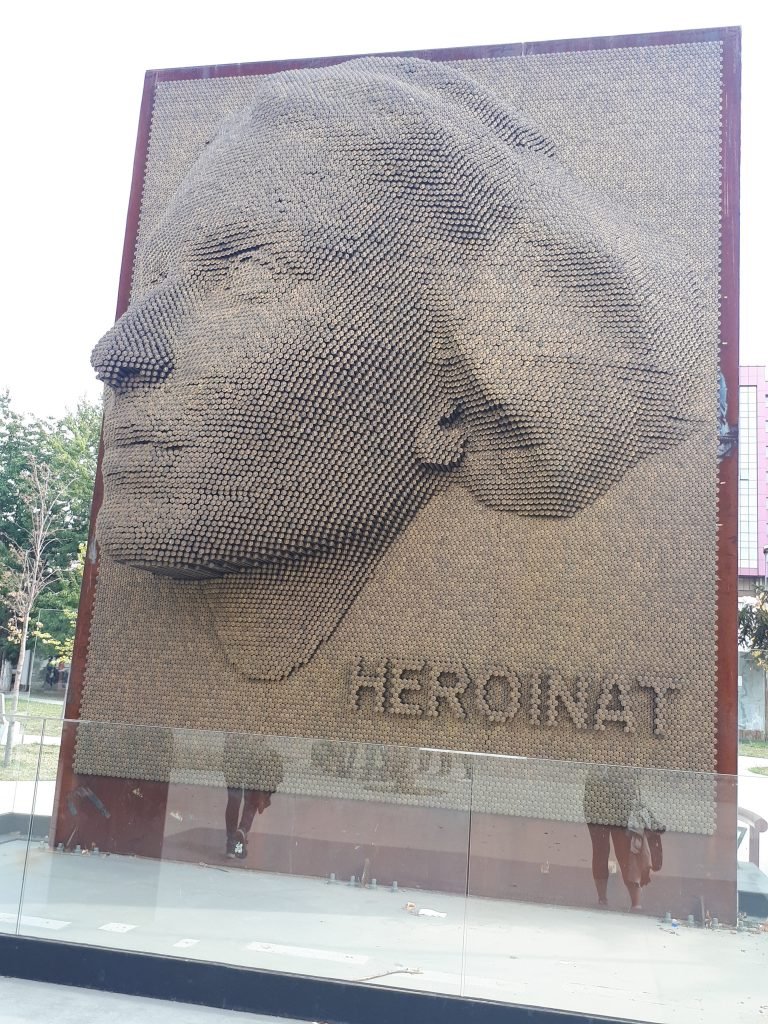 9. Mother Theresa Boulevard


One of the most simple yet necessary things to do in Pristina is to take a trip down Bulevardi Nënë Tereza, or Mother Theresa Boulevard.

This walking street is where Kosovars come together to walk their dogs, people-watch, drink coffee and gossip, especially in the early evening. Children run around playing, street vendors sell roasted chestnuts and groups of immaculately dressed teenagers strut their stuff. Whether it's a shot of espresso or raki that you fancy, you'll find it on Mother Theresa boulevard, the lively hub of Pristina Kosovo.

It is on this street that you will find this statue of Mother Theresa, who, although she was born in Skopje, North Macedonia, was ethnically Albanian.



10. Wander through The Old Bazaar


The Old Bazaar is another must-visit place in Pristina, Kosovo. Tucked into the streets of the Old Quarter, this bustling market is a real glimpse into the lives of ordinary Kosovars, and you can buy anything from homemade raki, feta cheese, pickled vegetables, honey and ajvar to fake Adidas tracksuits, 'designer' sunglasses and kitchen appliances.

Pristina's Old Bazaar is truly an assault on the senses, with the smells of fresh vegetables intersecting with cigarette smoke and Turkish tea, where men yell at each other from stall to stall and push carts filled with watermelons down the cobbled streets.

As my friend Sarah and I got deeper into the bazaar, we began to feel uncomfortable with the amount of stares that we were getting from the men (we didn't see many women at all around the Old Bazaar), but aside from catcalls, nobody did anything, and we never felt as though we were in danger. We noticed that most women in Kosovo tended to cover up a bit more, and when I wore a longer dress or pants, I didn't feel half as uncomfortable.



11. Eat at Renaissance


Pristina has a surprisingly good and varied foodie scene, and with Kosovo being such an affordable country, eating out has got to be one of the best things to do in Pristina.

The absolute BEST restaurant in Pristina (and Kosovo, and the world), is Renaissance.

Available by reservation only, Renaissance is so in demand that they have actually had to turn away the President of Albania, not once, but twice!

Renaissance doesn't have a menu – you simply pay 15 EUR and eat whatever is put in front of you (but don't worry – it's always phenomenal!).

With a selection of small plates to start (often including grilled vegetables, baked goat's cheese, stuffed olives and bread), followed by fresh salad, a selection of meat plates (I've had lamb chops, salmon sashimi with avocado, chicken skewers and more) and a dessert to boot, I can honestly say that Renaissance is not only the best tasting food I've ever had, but the best value as well.

Oh, and did I mention that there is also an unlimited supply of wine and raki (local fruit brandy) included in the price?! I consider the boys at Renaissance to be good friends of mine, but taking my relationships with them out of the equation, Renaissance is still the best restaurant I've been to. Ever.



12. Visit a Bear Sanctuary!

There are a number of day trips that you can take from Pristina to other areas of Kosovo.

The first day trip from Pristina I'd recommend is a trip to the Four Paws Bear Sanctuary, located a short bus ride from Pristina.

The Balkans have a long and cruel history when it comes to their treatment of bears, but this is changing fast.
The Bear Sanctuary is a lovely place to while away an afternoon, and if you want to know more about it, check out my post about the Bear Sanctuary Pristina.



13. Drink cocktails at Soma Book Station


As far as Pristina nightlife goes, I didn't get to experience much of it because I was too busy hanging out at Renaissance!

However, for my friend Andi's birthday, a few of us went to local hipster haunt, Soma Book Station.

A quiet coffee shop by day, at nightfall Soma Book Station turns into a lively bar where Pristina's young and beautiful come together to drink cocktails and dance the night away. It is a little more expensive than other places in Pristina, but the electric atmosphere and stunning interior makes it definitely worth it. Soma also boasts an impressive looking food menu, although I didn't get to try it.



14. Visit Gjakova


Located less than a 2 hour drive from Pristina, Gjakova is also worth visiting. A very pretty town, Gjakova is full of cutesy coffee shops, beautiful restaurants and cobbled streets full of brightly coloured seats, hanging lanterns and flowers in bloom.

Buses from Pristina to Gjakova leave every 90 minutes.



15. Drink Coffee at Prince Coffee House


There is a huge coffee culture all across the Balkans, and Pristina Kosovo is no exception. Prince Coffee House is basically the Starbucks of Kosovo, but don't let that put you off – from After Eight hot chocolate to banana espressos and chocolate orange coffee, Prince Coffee House has got it covered and their extensive cake menu ensures that Prince Coffee House should be the first port of call for anyone with a sweet tooth.



16. Visit Pretty Prizren


My absolute favourite place in Kosovo was the beautiful city of Prizren. While I chose to spend a few nights there, you can easily visit as a day trip from Pristina if you're pushed for time.

Buses are very frequent and take about 2 hours.

In Prizren, one thing you absolutely must do is hike up to the fortress to watch the sunset. It doesn't take long, and the views over the city are stunning.

You can also take some time to explore old Ottoman mosques, Serbian Orthodox churches and walk across the Old Stone Bridge on the Bistrica River.

Shadervan is the prettiest and most touristy part of Prizren (although it's still Kosovo, so there's only so touristy anywhere can be), and I recommend wandering around the cobbled streets, drinking Turkish coffee and people watching, which is exactly what all the locals seem to do.

If you do decide to stay overnight in Prizren, I highly recommend staying at Arra Hostel. Not only is it an absolutely gorgeous building with breath taking views over Prizren (especially at sunset!), but the two young brothers that own it, Ismail and Ard, are super friendly and really made my stay there special by sharing their raki with me, preparing fresh coffee on the stove, and providing a wonderful free breakfast every morning.

Of course, it didn't hurt that they have an extremely cute kitten who loves a cuddle. To book your stay at Arra Hostel, just click here!



17. Enjoy hearty Balkan grub at Te Nazi


My favourite lunch spot in Pristina was Te Nazi. Unfortunate though the name may be, Te Nazi serves up generous portions of Balkan comfort food at rock bottom prices.

Although the menu is entirely in Albanian, the friendly waiters tried their best to help us translate before just taking us up to the counter and pointing out the various dishes on offer. Some of my favourites were the traditional 'baked beans' (much more exciting than they sound) and a kind of chicken and vegetable curry/stew, but there are tonnes of delicious Balkan dishes on offer!

Of course, like any respectable Balkan eatery, they also make huge amounts of cevapi with ajvar, onion and thick crusty bread (perfect hangover food!).

My friend Sarah and I went to Te Nazi almost every day, and our meals (including drinks) never exceeded 5 EUR.



18. Stay at Buffalo Backpackers Hostel


This isn't necessarily one of the top 'things to do in Pristina,' but as a backpacker, I am always looking for good budget accommodation, and I take the recommendations of my fellow backpackers seriously!

I visited Pristina twice, and both times I stayed at Buffalo Backpackers hostel.

Buffalo Backpackers is an affordable hostel in the centre of Pristina that has a lovely garden area with a bar (when I was there, there was a party to celebrate Pride held in the garden), free breakfast and friendly volunteers who spend most of their time sitting on the balcony, smoking and drinking beers with the guests.

To book your stay at Buffalo Backpackers, click here.



Things You Should Know Before You Visit Pristina, Kosovo


After declaring its independence from Serbia on the 17 February 2008, Kosovo became Europe's newest country (it was the newest country in the world up until very recently, when South Sudan took the title) and even just acknowledging Kosovo as a country is a political statement in itself.

As of November 2018, Kosovo has only received 116 diplomatic recognitions as an independent state, and Serbia still considers Kosovo to be a part of Serbia. However, as my own country (the United Kingdom) recognises Kosovo as an independent state, and as I have friends from Kosovo, I will continue to refer to it as its own country, and not as a part of Serbia.

Kosovo is mostly made up of ethnic Albanians, with Albanians accounting for more than 93% of Kosovo's total population. The rest is made up of mostly Serbs (1.5 %), Bosniaks (1.6%) and Turks (1.1 %). The Albanian flag is everywhere and most people speak Albanian (shqip).

Kosovo is a secular state and has been ranked first in Southern Europe and ninth in the world as free and equal for tolerance towards religion and atheism. Although most Kosovars identify as Muslim, everybody is incredibly relaxed when it comes to religion, and their identities lie in their language and ethnicity rather than their religious beliefs.

Kosovars are a very young nation, with 70% of the population being under the age of 35, and the average age in Pristina being just 28!

The currency in Kosovo is the EURO and Kosovo is an incredibly inexpensive country. A cup of coffee will cost between 50 cents and 1 euro, and a meal can be had for as little as 2 euros.

You can visit Kosovo AFTER Serbia but you cannot travel FROM Kosovo TO Serbia. As Serbia doesn't recognise Kosovo as an independent state, if you enter Serbia directly from Kosovo, you will be seen to have entered Serbia illegally. The best way to visit Serbia after Kosovo is via Montenegro or North Macedonia. You can read more about that here.

Hitchhiking is incredibly common in Kosovo and very safe.

If you're planning a trip to Kosovo, then I strongly recommend buying travel insurance. I NEVER travel without insurance, and I've seen too many others get landed with huge medical bills as a result of not having had insurance, that it's something I'll never neglect to buy. My recommendation for great travel insurance is World Nomads.




Is Kosovo Safe?


Many people planning a trip to Pristina ask themselves the same question – is Kosovo safe?

As Kosovo was an active war zone up until 1999 and tensions between Kosovar-Albanians and Kosovar-Serbs still remain, many people assume that Kosovo is not a safe place to visit.

However, the vast majority of Kosovo is incredibly safe, and most tourists will not see any trouble.

Kosovars are a very welcoming bunch, and are often delighted to see foreigners visiting their country. Don't be surprised if people try to buy you coffee, give you a free ride or strike up conversation with you on the street. If you ask somebody for directions, there is a high chance that they will personally walk you to your destination or if they can't help you, they will find somebody who can.

That said, there are still a couple of places in the North of the country that tourists should visit with caution. Mitrovica is one city that is still very much divided (literally – there is a river separating the Serb and Albanian parts of the city), and although most tourists will be absolutely fine, there is still the chance that protests can turn violent and so you should take care if you see large crowds gathering during times of heightened political tension.

The Foreign and Commonwealth Office also advise against all but essential travel to the municipalities of Zvečan, Zubin Potok and Leposavic, as well as the Northern part of Mitrovica.



Pristina, Kosovo – Getting There


I took the bus to Pristina from Skopje, North Macedonia. It cost me about 5 EUR and the journey time was 2 hours.

Once at the bus station in Pristina, it takes about 25 minutes to walk to the centre, or you can take a taxi which shouldn't cost you more than 2 EUR. As previously mentioned, hitchhiking is also very common and chances are, you won't have trouble getting a lift into the centre.

You can also reach Pristina by bus from nearby countries such as Albania, Montenegro, Bosnia and Herzegovina and Serbia.

If you're flying, you can fly to Prishtina National Airport or the Alexander the Great Airport in nearby Macedonia. Many budget airlines such as Wizz Air, EasyJet and Air Berlin bring great value flights into Pristina Kosovo.



Pristina, Kosovo – Final thoughts


Although Europe's youngest capital is never going to receive any awards for beauty, I was pleasantly surprised by Pristina and liked it a lot more than I thought I would.

I definitely see Pristina as an up and coming destination for European city breaks, because in addition to being affordable and well-connected with an English-speaking population, Pristina is a city with a surprisingly good culinary scene and crazy nightlife.

The young population and ever-present EU and UN missions give Pristina a distinctly cosmopolitan vibe, with blazers and heels being the uniform of choice for most young women, and the men looking just as immaculate. Added to that, Pristina is easily navigated on foot, meaning that most sites can be reached easily without the need to hire a taxi or figure out public transport!

Pristina might not be a picture perfect city, and you may need a filter or two to make it Insta-worthy, but it is a rough diamond, full of surprises and more valuable than it first appears.

There are so many things to do in Pristina that you could be kept occupied for days, or if you prefer to spend your travels discovering the best coffee shops and cocktail bars then Pristina has plenty of those too.

Are you planning a trip to Pristina? Let me know if you have any questions in the comments below and I will be happy to answer them!


If you liked this article and would like to support my work, please click the button above to donate a couple of bucks and buy me a coffee. The ad revenue that I receive on this website is minimal, so support from my readers enables me to keep creating content that you (hopefully!) love to read.

Disclaimer: this page contains affiliate links. This means that if you make a purchase when you click, I will make a small commission at no extra cost to you.