To those that know me, the idea of me taking part in a wellness retreat is probably laughable. I'm not an early riser, I never mastered the art of meditation, and I don't even own a pair of yoga pants.

It may come as a surprise then, that when I flew to Mallorca late last year for the Traverse travel blogging conference, I jumped at the chance to attend a mini wellness retreat in Mallorca, or a Vegan Gastronomic Experience with Ecological Wines, to give it its proper name.

The company offering it are called Tramuntia, and they offer two experiences to those who are visiting Mallorca in need of some rest and relaxation – the half-day experience that I was lucky enough to be invited to, as well as a 2-day wellness retreat which combines vegan gastronomy with trekking, yoga and mindfulness sessions.

Both experiences are aimed at disconnecting you from the 'real world' and allowing you some quality breathing time to unwind and enjoy nature.

Both experiences take place at the same location – the Son Mesquida Vell Agrotourism Hotel* – with the same hosts, similar foods and exactly the same purpose, and so while this article will mainly focus on the half-day gastronomic experience, I will also include everything you need to know about the weekend experience.

So, if you're looking for a fantastic wellness retreat in Mallorca away from the hustle and bustle of Palma de Mallorca, just keep reading until the end!

You may also enjoy my post about Mesquida Mora, a biodynamic winery in Mallorca!



Tramuntia – A Mallorca Wellness Retreat


What is Tramuntia?


The company offering these two experiences is called Tramuntia, a passion project that launched in 2020 – potentially the worst time ever to launch a tourism business!

The mastermind of the entire project is Miguel, who is also the chef and host of the whole experience.

He wanted to show people that you don't need meat or fish to create a flavourful meal, and his business is based on the two core principles of leading a slow life and enjoying slow travel.

Miguel wants you to connect with nature, disconnect from routine and dedicate time to enjoying each moment and listening to your body while he cooks up phenomenal vegan feasts that even the biggest steak-lover won't be able to refuse!



The Gastronomic Experience – Sampling Delicious Vegan Food in Mallorca


The beginning…


The Tramuntia experience that my fellow bloggers and I took part in was the one day Vegan Gastronomic Experience with Ecological Wines.

We met at about 10:30am and were whisked away from Palma de Mallorca to the venue, the Son Mesquida Vell agrotourism hotel and farm, which is about an hour's drive from Palma.

Waiting to greet us were the Tramuntia team – Chef Miguel, sommelier Fernando and Alex, who is in charge of marketing.

We also had the pleasure of getting to know the super friendly resident cats, who lapped up the attention from us all.

We began with a short walk around the grounds, with the men animatedly telling us all about what Tramuntia stands for, stressing the importance of slow travel and living a slow life.



It was obvious from the get go that all three are super passionate about what they do, and that this one-day experience is about so much more than the food for them – it is about sharing a way of life.

We were able to have a peek inside the onsite church (a sign that the original owners of the property had immense wealth!) and stroll around the back of the venue to enjoy the sweeping mountain views, but unfortunately it was raining quite heavily and so our time in nature was cut short – Alex explained that this walk would usually be longer and the food experience would take place outside, but due to the weather, we would be dining inside, in a building that actually used to be a stable!

While it was naturally disappointing not to be able to experience the day the way it was designed, the 'stable' is absolutely stunning, and I was more than happy to while away the afternoon there, trying delicious vegan food and Mallorcan wine!



Vegan food and ecological wine…


The focus of our day was to be a 6-course vegan tasting menu, paired with ecological wines, as selected by our very own sommelier, Fernando.

First was beetroot hummus with fried yucca chips.

I'd never tried yucca before, but with high amounts of vitamin C and antioxidants which can benefit the immune system and overall health, I was glad to try it!

The beetroot hummus was also delicious, and it went down very nicely with a glass of sweet red vermouth (Muntaner Vermut Rojo), made with Mallorcan grapes.

A slice of orange really brought out the flavours, and more than one of us topped up our glasses of this one!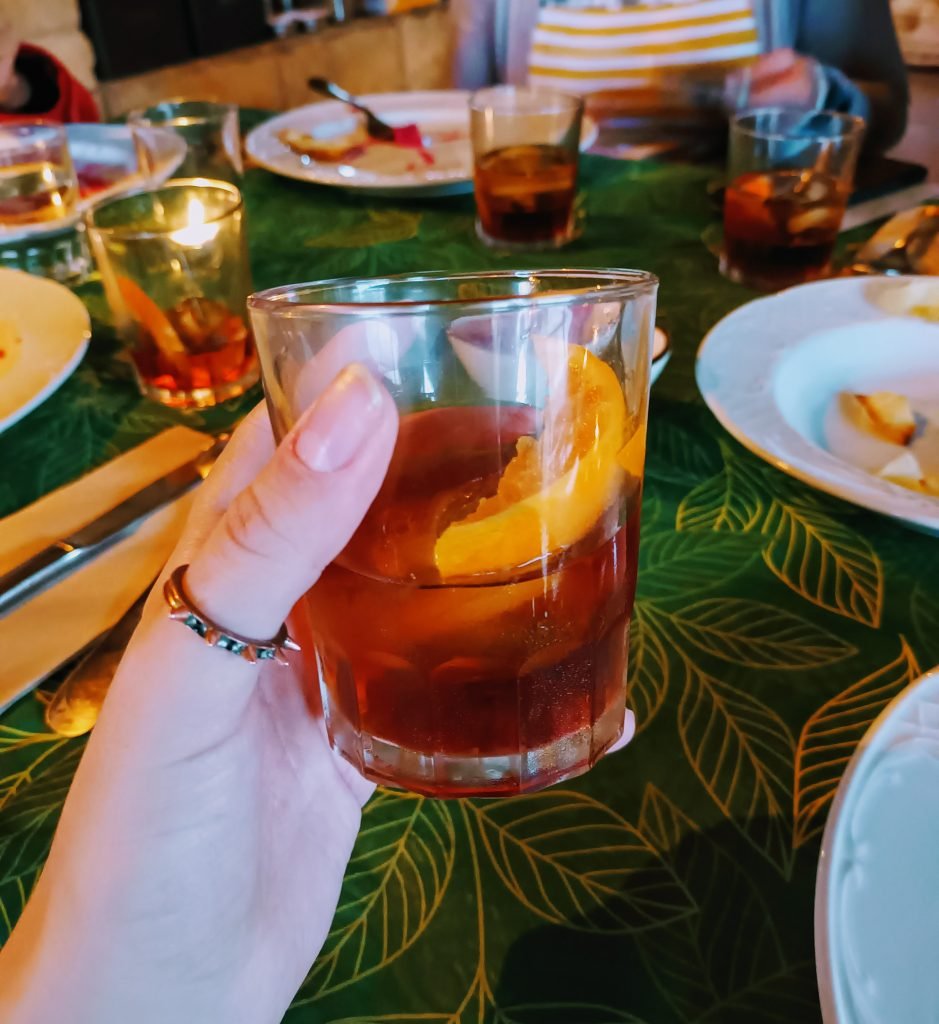 Next were little fajitas stuffed with tofu, avocado, red onion, red pepper, rocket, soy yoghurt and ras el hanout, a spice mix popular in North Africa.

We enjoyed this alongside a simple salad of peeled pink tomatoes, pomegranate, thyme (from Miguel's own garden!) and homemade olive oil, seasoned with pink Himalayan salt.

Miguel prepared the salad in front of us as he explained why each ingredient is so important, and it really made the difference between a standard tasting menu and actual gastronomic experience.

Fernando expertly paired these dishes with a white wine from a village named Rueda in Castellon (Menade Verdejo 2020 DO Rueda).

He proudly told us that this was the best white wine in Spain, and that even though the pomegranate posed a challenge to him, he was pleased with his choice of wine for these two dishes.



Soup was next on the menu, and Miguel heated a pot of cream of almond soup, made with slightly toasted almonds, leek and oat milk.

Accompanying this was a light and organic red wine (Beronia DO Rioja) that Fernando told us was perfect for vegetarian food as full-bodied wines are best with meat.



Our final savoury course was brown rice with broccoli, cherry tomato, apple, drizzled with spicy oil and sprinkled with almonds.

Again, Miguel prepared this dish in front of us in a wok, the cooking show adding to the lovely feel of the day.

This was paired with a Pasión de Bobal rosé wine from the Utiel-Requena wine region of Valencia.



Dessert was – and I'm not exaggerating here – divine.

I'm not usually a sweet lover, but this almond cake, moist from fresh orange juice and with vegan dark chocolate chips was AMAZING, and went down perfectly with a café con leche (Spanish coffee with milk).

We lingered after dessert, drinking our coffees, helping ourselves to some more wine and playing with the cats.

Tramuntia's experiences have no fixed schedule, and so you aren't expected to leave the second you finish dessert, and you may enjoy the courses as quickly or as slowly as you like.

Similarly, if the walk takes longer than expected, that's totally fine too, and Tramuntia go into more detail about this on their website:

'At Tramuntia we believe that you should enjoy every moment and every instant as it deserves. Maintaining a rigid schedule will prevent you from being able to enjoy that starter that you liked so much or enjoy those views that have impacted you so much. We want you to enjoy, disconnect and relax. There is nothing more stressful than your life being ruled by the clock.'

Pretty cool, right?



The Tramuntia Weekend Experience – A Relaxing Wellness Retreat in Mallorca


I mentioned at the beginning of this post that Tramuntia offer two experiences – the gastronomic 1-day experience, and the 2-day weekend retreat.

Although I only participated in the 1-day experience, I feel as though I have enough of an understanding of Tramuntia as a whole to tell you a bit about the second one.

So, let's get into the details of what's included on the Tramuntia Weekend Experience, or the 'The First Slow Trip in Mallorca.'



A Weekend with Tramuntia – What's Included?


The Tramuntia weekend experience begins on a Friday at 5pm and finishes on a Sunday at 5pm.

They do not provide this experience every weekend, so be sure to check out their website to see their upcoming retreats.

Each experience has a maximum of 10 people, making it a great choice for those of you who are still mindful of keeping away from large crowds, as well as giving it an intimate feel.

The price per person is 350 EUR, with a 50 EUR discount if you book more than 2 weeks in advance – just be sure to tell them that TRAVELLING JEZEBEL sent you when you contact them, so they know where you came from!

Here's what's included on the weekend experience:


2 nights accommodation in a cosy rural hotel in Mallorca
All meals (2 breakfasts, 2 lunches and 2 dinners)
Beverages (water, wine, tea, infusions)
2 trekking sessions
2 yoga sessions with a qualified instructor
2 mindfulness sessions
Airport pickup and drop-off (!)

There are two ways to make reservations:

Via the form on their website – there is a box where you can write notes – tell them your situation and any special requirements, and please reference TRAVELLING JEZEBEL when you do (this means that I make a small commission at no extra cost to you).
Via WhatsApp – their number is +34613007472 and they all speak English. Again, I would really appreciate it if you let them know that you discovered them through this website!

The Tramuntia Mallorca Retreat | Final Thoughts


Of course, the one day experience that I enjoyed cannot technically be classed as a traditional 'retreat,' but hey – it sure felt that way!

Being able to totally disconnect from the real world, surrounded by nature, sipping great wines and enjoying exquisite vegan food was just what I needed after a long 12 months without even leaving my province, and when I return to Mallorca, I'll definitely be making time to enjoy the weekend retreat.

If you have any questions about either my experience with Tramuntia or the weekend retreat as a whole, please be sure to leave them in the comments below, and if I can't answer them myself, I'll put you in touch with somebody from Tramuntia who can!

Until next time,

XOXO

*The location can vary depending on weather and availability.

If you liked this article and would like to support my work, please click the button above to donate a couple of bucks and buy me a coffee. The ad revenue that I receive on this website is minimal, so support from my readers enables me to keep creating content that you (hopefully!) love to read.

Disclaimer: My gastronomic experience with Tramuntia was a gifted experience, but all opinions are my own and I was not required to produce any content or promote their business in any way. I will receive a commission if you choose to book a place on the weekend experience using my reference code, but this is at NO additional cost to you and it enables me to keep running this website 🙂