Many people know Valencia as Spain's third largest city, but not many people know that actually, Valencia is surrounded by lush green countryside with rolling hills, mountains, thermal springs and – perhaps surprisingly – vineyards.

That's right, Spain has more than Rioja and Tempranillo to offer when it comes to wine, and the Mediterranean climate that facilitates the famous Valencia oranges also creates the perfect conditions for grapes to grow.

However, with the Communidad of Valencia being responsible for only 5% of Spain's enological output, Valencia wine is still largely undiscovered and underappreciated.

I'd been living in the city of Valencia for almost 4 months without learning a thing about Valencia's wine, so when Daniel from Valtournative invited me on a tour of Utiel-Requena, Valencia's largest wine region, I couldn't say no.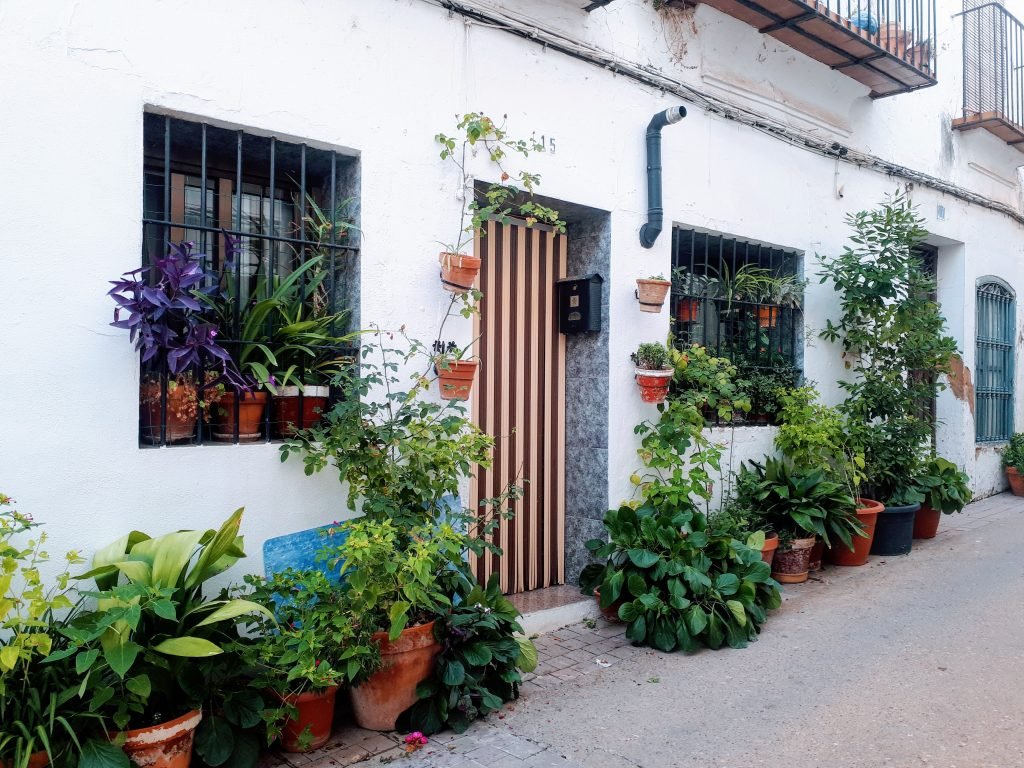 Discovering Utiel-Requena Wine Region, Valencia


Utiel-Requena Wine Region – An Introduction


There are a few wine regions in Valencia, but only three of them have the prestigious DO (Denomination of Origin) title – Valencia, Alicante, and Utiel-Requena.

Utiel-Requena, which is located about an hour by car inland from Valencia city, is the largest wine region in Valencia, with most of the local economy focused on grape growing – in fact, there are around 35,000 registered hectares of vineyards in the area, and locals estimate that as much as 80% of the land in Utiel-Requena is under cultivation.

It is also well-versed in the art of growing grapes and making wine, with the tradition dating all the way back to the 7th century BC (at least!).

Utiel-Requena is the region that we would be exploring with Daniel, and as myself and my fellow wine enthusiasts gazed out of the car window at the rolling hills, medieval villages and seemingly infinite grape vines, the excitement was palpable.

As we drove, Daniel explained that the name Utiel-Requena actually comes from two neighbouring towns in the region – Utiel and Requena. Utiel is the largest, but Requena is the most populated, and is home to far more wineries.

Another thing that Requena has bragging rights for is that the Requena half of the region is actually authorised to produce Cava, the famous Spanish sparkling wine, making it one of very few areas outside Catalonia with such permission.

As a self-professed Cava addict, I was very excited to try some of the good stuff, and while there are over 100 wineries registered in the region, I was glad that Daniel would be taking us to one of the best – Bodega Chozas Carrascal, one of only two prestigious Vino de Pago estates in Utiel-Requena.



About Bodega Chozas Carrascal


Bodega Chozas Carrascal is one of only two Vino de Pago estates in Utiel-Requena. In fact, there are only 19 wineries in the whole of Spain that have been awarded this title, which makes Chozas Carrascal pretty damn special!

So, what exactly is a Vino de Pago?

Well, to put it simply, a Vino de Pago can apply to individual vineyards or entire estates, and it is the highest certification that exists under Spanish wine law. In order to qualify, a winery must meet a bunch of criteria in addition to what already exists in the DO region, furthering the quality of the wine even more.

One of these requirements is that they must only use their own grapes for their wines, and Paola, our guide at Chozas, explained that this is to prevent the grapes getting spoiled on their journey to the winery. She also explained that the winery bottles and labels all of its own wine, which is more unusual than you might think!

Chozas Carrascal is a 40-hectare estate owned by the López family, who opened the winery as somewhat of a passion project – with their main sources of income coming from their other businesses, Chozas Carrascal is their chance to do what they really love, and son Julián embodies this the most, having studied at Montpellier and spending a year at Château Mouton Rothschild learning everything he possibly could about wine.

The first grapes were planted on the estate back in 1992 (my birth year!), but the family only sold fruit for years, eventually producing their first wine in 2003, when the grapes were good enough.

Chozas Carrascal produces mainly red wines using the Bobal and Monastrell grapes from the area, but they also have whites, Cavas, and a rose.

What is super interesting to note is that they place a huge emphasis on combining modernity with tradition, with a special focus on sustainability. Using solar panels to reduce their energy use by 50%, Chozas Carrascal have goals of being totally carbon neutral and self-sufficient, and they are well on their way to meeting them!

In my opinion, this fact alone makes them a great and ethical choice if you're visiting Utiel-Requena and are unsure which winery to visit!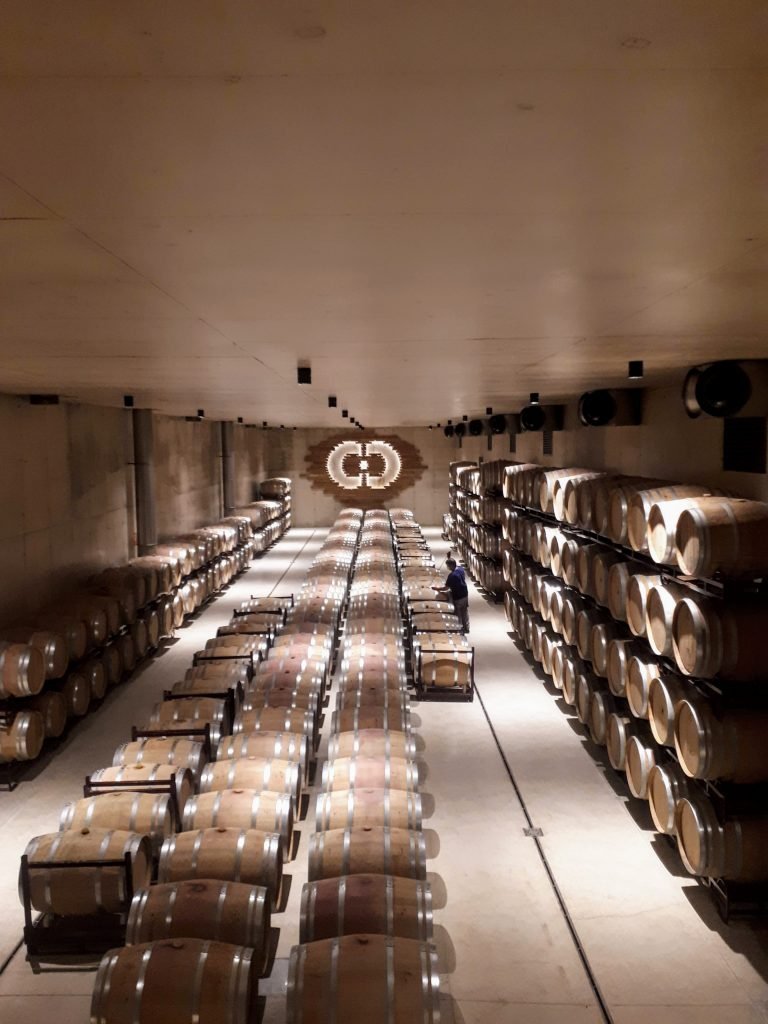 A Wine Tour and Tasting at Chozas Carrascal


We were welcomed into the winery by Paola, who would be the one running our tour of the estate, which was certainly a lot bigger than some other wineries I've been to, like Alpeta in Albania and Mesquida Mora in Mallorca.

She began by taking us on a stroll through the vineyards to see the different grapes, explaining the differences between them and allowing us to try some. She told us that most are picked by hand, but some are done using machinery, and she also showed us the huge industrial scale that is used to weigh the grapes – the tractor actually drives right up onto the scale!

We then ventured inside to the 'Label Museum' where we enjoyed a cool glass of Cava (Rozanne, 2019) and admired the huge collection of over 350,000 physical labels from various alcohols that Aurelio Vicente Abad, a friend of the López family, has amassed over his lifetime. An interesting hobby indeed!

Next was a descent underground, to where hundreds of French oak barrels are kept. A worker was opening each of them one by one and vigorously stirring the sediment inside – this is called lees stirring and allows more contact between the yeast and the wine, creating a richer, full-bodied flavour. It was super interesting to peek inside the barrels and see how the colour of the wine changed after being stirred!

Paola proceeded to show us the concrete and steel tanks used at the winery.

I've visited wineries before, and I've certainly seen huge stainless steel tanks used, but I've never seen concrete ones, which, Paola explained, actually mirror how wine used to be produced in ancient times, using old stone tanks. She detailed the pros and cons of each, from steel being so much easier to clean, to concrete adding a certain flavour that favours the more complex wines made at Chozas.

We ventured deeper into the winery, to where the Cava is stored for months, and where the labels are printed off and where the wine is bottled.

At each stop, Paola explained the process in-depth and although I'm less interested in the more 'technical' side of wine and more interested in the 'drinking' side of wine (naturally), it was a really fascinating tour.

My personal highlight was a huge piece of machinery outside that is used to pick out the bad grapes and ensure that only the good ones make it inside. A huge metal tray bounces the grapes at high speed, while two men use their expert eyes to locate and pick out any subpar grapes and toss them to the side. It was mesmerising to watch, and an example of the skill necessary to create such quality wines.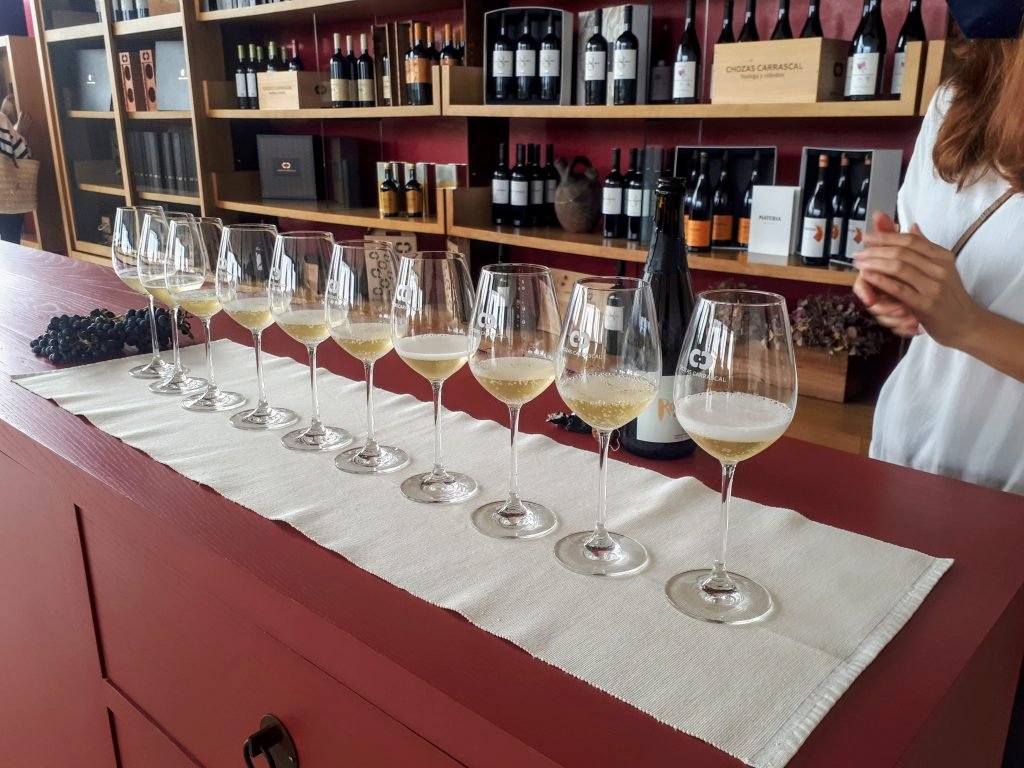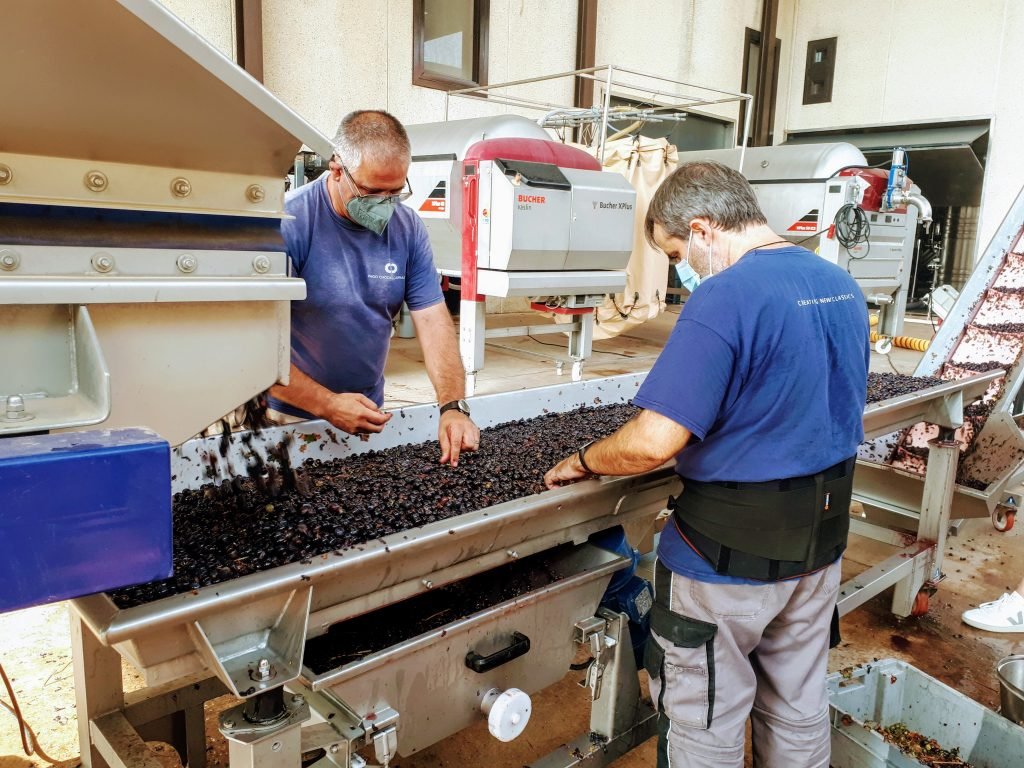 When we'd completed our tour of the winery, it was onto the bit that we'd all been waiting for – the tasting.

Paola began by asking us which types of wine we prefer so that she could tailor the tasting to our individual preferences. I have never seen this done before, and as I'm not a huge red wine drinker, I really appreciated the chance to speak up and ask for something a little closer to my tastes!

Along with some tasty local snacks (cold meats, cheese and bread drizzled with the nicest olive oil I've ever tasted), we enjoyed two reds, one white, and a Cava Reserva.

Now, when it comes to wine tasting, the experience can range from a super formal, lecture-style presentation and instruction (like I experienced in Cricova, Moldova) to more of a booze-up with friends, as my Albanian family in Roshnik prefer.

Our tasting at Choza Carrascal was bang in the middle of the two extremes, meaning that it was super informative and educational, while still being relaxed and fun. In my opinion, this is the perfect ratio, and I salute Paola for nailing it in terms of ambience.

The wines that we tried were Las Ocho, made with 8 varieties of red grape, Anma Tinto, made with red Syrah and Garnacha grapes, Las Tres, made with 3 white grapes, and El Cava Chozas Carrascal – Brut Nature Reserva, which 'slept' for 25 months before it was ready.

My favourite, unsurprisingly, was the Cava, and so you can imagine my delight when we were allowed to help ourselves to more after the initial tasting of each – most people opted for extra glasses of red, and so I was all too happy to have some extra bubbly!

As we drank, chatted, and picked away at the snacks (that olive oil was seriously delicious), we all commented that it felt like a get together between old friends, and Paola agreed, confessing that she hadn't been able to sleep the previous night as she was so nervous about guiding a tour in English (of course, her English was perfect)!

When the time came to leave, we were all disappointed, but when Daniel told us that we had a lunch reservation in nearby Requena, we suddenly became a lot less reluctant!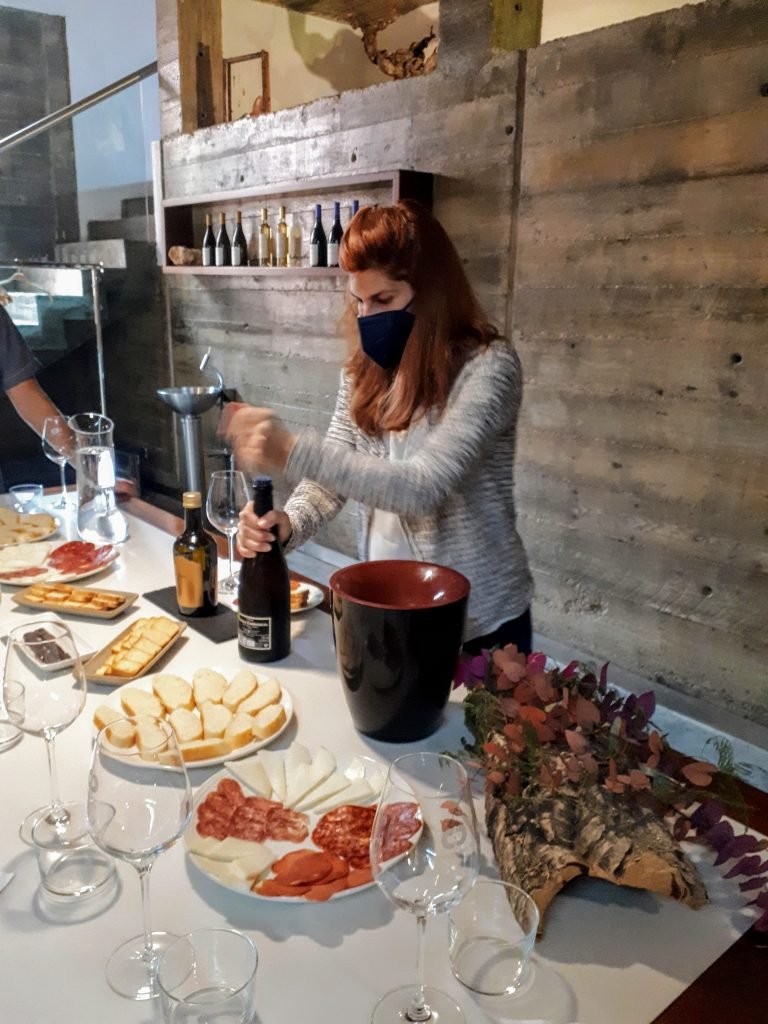 The Medieval Citadel of Requena


After all that wine it was time for lunch, and so we all piled into Daniel's car and headed to the town of Requena, a small town of just 20,000 people, where Daniel had made a lunch reservation at a traditional Valencian restaurant named Mesón la Villa.

We arrived and took our seats on the sunny terrace, and the friendly, English-speaking waitress told us that we could take a look at the main menu, or we could enjoy a Menu del Dia. The Menu del Dia is one of my favourite parts of Spanish food culture, and it is a set menu that typically consists of a starter, main, coffee/dessert and a drink, at a reduced price to the regular menu.

We all agreed that a 3-course lunch sounded great, and as the waitress rattled off the huge amount of options available, we were all a bit spoilt for choice – usually a Menu del Dia only has a few options, but there were about 11 dishes that we could choose from just for the first course!

I ended up going for the arroz meloso to start – a creamy rice dish in broth with mushrooms, pork and garlic – followed by grilled chicken thigh with potatoes, a cafe con leche (Spain's answer to a cappuccino) and a beer.

Other choices included swordfish with shrimp, pig's trotters (!), pineapple with jamon, Fabada Asturiana (a Spanish bean and chorizo stew) and local speciality, morteruelo – a dish made with pork liver and small game and poultry meats, seasoned with garlic, herbs and stale breadcrumbs and crushed with a mortar.



After we'd eaten until we could eat no more and enjoyed another drink in the sun, it was time for Daniel to show us around the medieval citadel of Requena, a place where stray kittens hide around every corner, where each home has about 100 plants in front of it, and where old ladies bring out their plastic chairs and sit together gossiping, playing cards and watching the world go by.

However, Requena was not always such a sleepy town.

Back in the Middle Ages, Requena was an important strategic enclave, with the citadel being a Moorish fortress – today, this historical centre has been declared a Property of Cultural Interest.

Requena also used to be a booming silk production town due to its mulberry plantations, and you can even go to visit the Casa del Arte Mayor de la Seda, an old silk manufacturing school that is now a museum all about the history of silk production in Requena. However, after the collapse of the silk economy in the 19th century, Requena became known for its excellent wines, that, as we've discussed, are still Requena's pride and joy.

If architecture is more your thing then you have to pay a visit to the churches of Santa María and the church of El Salvador, which date back to the 14th century and have stunning Isabelline Gothic façades. You can enter both of them for free!

As we walked around the old town, we stopped at various important points so that Daniel could explain the history of them to us, and answer any questions that we had. One of the most interesting things on our exploration was when Daniel pointed to a little grate next to somebody's front door and told us that this was actually a window to the caves that lie beneath the entire city.

Requena, he explained, sits atop a network of over 300 caves, which were used as a place to torture people during the Spanish Inquisition, before being utilised as wine cellars, and, occasionally, bomb shelters!

Many houses in the citadel of Requena have their very own cave underneath, and these caves have been painstakingly preserved to the point where they function as a whole city beneath the city!

It is possible to venture underground and walk around some of these caves (you can pay a small fee and begin at Plaza de la Villa, where you will be able to explore the caves of most nearby houses in this labyrinthine network). However, unfortunately the caves were fully-booked when we arrived in Requena, and so we enjoyed the city above ground instead!



Utiel-Requena Wine Region – Final Thoughts


So, that just about brings us to the end of my tour around Utiel-Requena with Valtournative, and I can honestly say that I had the best day I've had in a long while.

Daniel is an excellent guide, which makes going on one of his tours so bloody great. Not only does he have the answers to every question you could conceivably come up with, but his energy and friendly demeanour make it super easy to relax and socialise with the other people on the tour.

The tour and wine tasting at Chozas Carrascal was super interesting and in-depth, and the fact that we were able to go and explore a truly off-the-beaten-path Spanish town made the day extra special.

The other great thing is that Valtournative are committed to sustainability, and after making a commitment to offset their CO2 emissions, they plant a tree for every tour they do, and you can even go online to see which tree has been planted and even download your very own tree certificate!

If you have any questions whatsoever about Valtournative or any element of my tour with them, please don't hesitate to reach out and ask me in the comments section below.

The tour that I attended was the Wine Escapade to Utiel-Requena tour and it costs 99 EUR, not including lunch.

You can learn more about Valtournative and the other tours they offer by visiting their website here.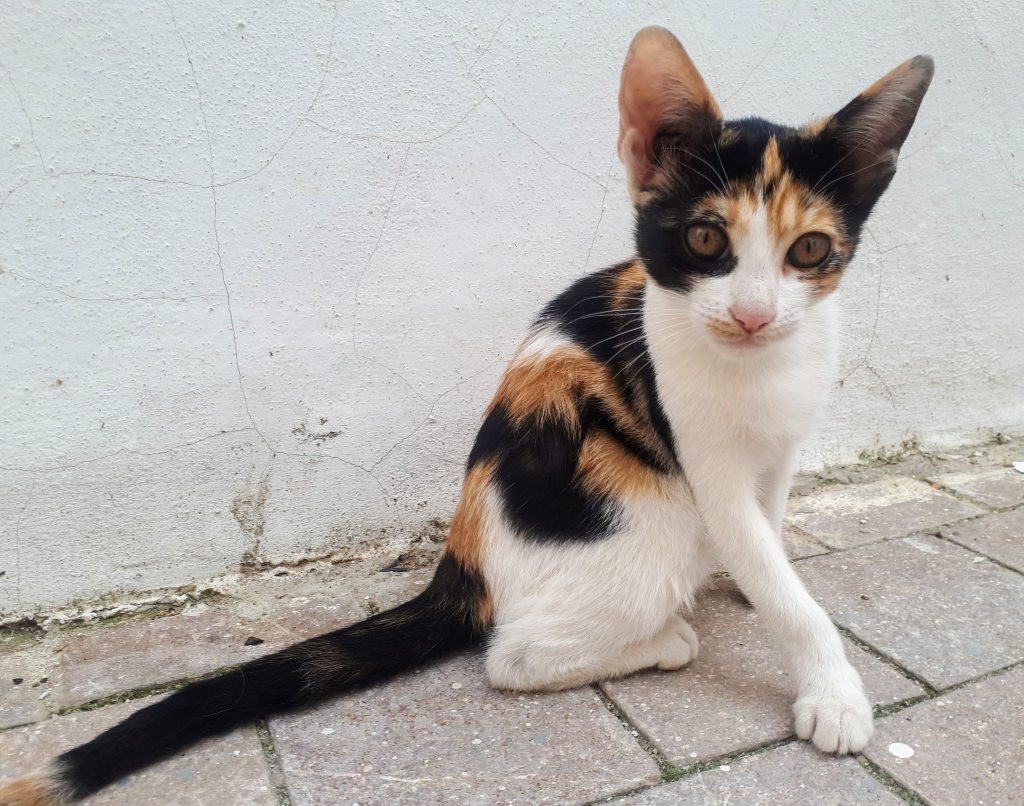 Disclaimer: I attended this tour as a guest of Valtournative. All opinions are completely my own.