Most people know of those A-list Spanish wines like Rioja and Cava, but fewer people are familiar with Mallorcan wine, instead associating this tiny Balearic island with sun, sea and Sangria.

Of course, Mallorca does have all of those things, but what this little Mediterranean gem also has is wine, and the tradition of winemaking in Mallorca dates all the way back to the Roman domination of the island back in 100 BC!

Mallorcan wine is so good that many of Mallorca's wine regions have been given their own Denominaciones de Origen (DO), a special classification that sets them apart from their neighbouring regions and signals that they are a cut above the rest. I first experienced DO wine in Valencia's Utiel-Requena region, and I definitely wasn't disappointed!

Anyway, in the year 1991, the Denominaciones de Origen came to Mallorca, and by 1994, the tiny municipality of Binissalem, a high-altitude area in the geographical centre of Mallorca, was awarded its very own DO.

In late 2020, some fellow travel bloggers and I were lucky enough to visit one of the oldest and most important Binissalem wineries, where I was able to sample several Mallorcan wines, enjoy some traditional local food, and learn all about the history and culture of winemaking in Mallorca.

This is how it went.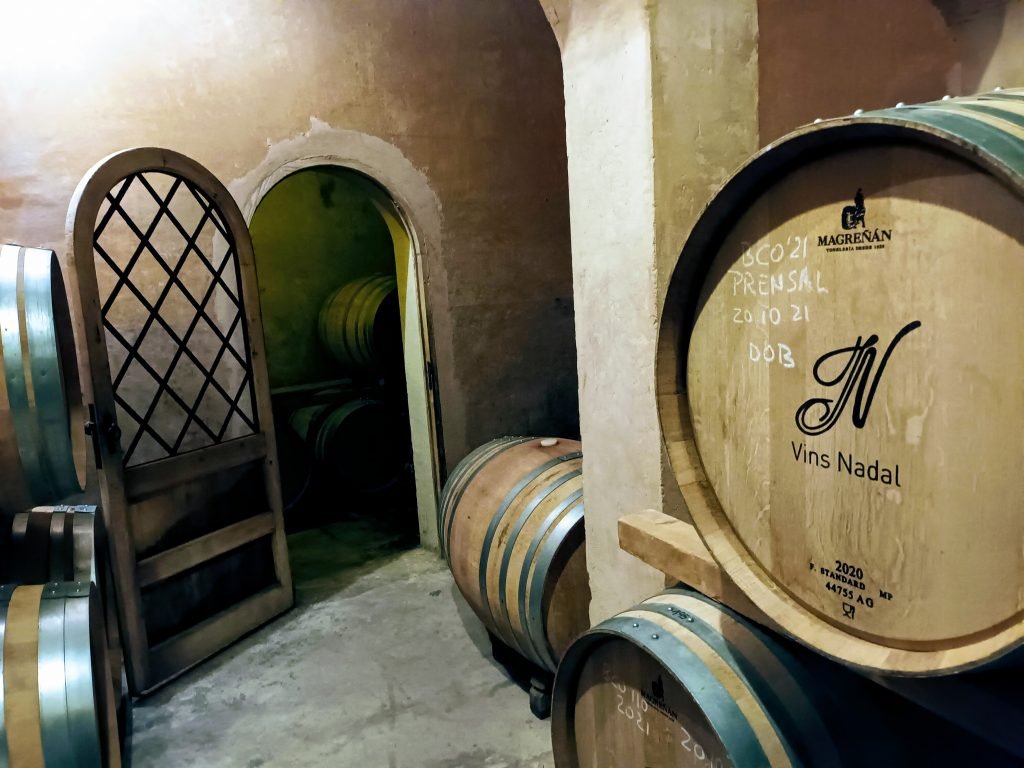 Vins Nadal, Binissalem – Home of the Best Mallorcan Wine


Vins Nadal Mallorca – Four Generations of Winemaking


Vins Nadal is a historical Binissalem winery that dates back to 1932, making it one of the oldest wineries in the Binissalem region.

It boasts 10 hectares of vineyards, a stunning wine cellar that is excavated in stone and is home to 75 French, Eastern European and American oak barrels, and a long family history of winemaking.

It all started when founder, Miquel Nadal Fiol, wanted to make wine for himself and his family to drink.

Back then, it was common for people to start businesses in their homes, but it was only when his neighbours fell in love with his wine that he decided to commercialise his venture.

When the next generation came around in the 40s, Miquel helped his son with the business, and his son decided that he should open another winery, in a different region of the island.

It wasn't until the 1950s when things really took off. A tourist boom came to the island and wine was the order of the day. Unfortunately though, these tourists didn't care about quality wine – they were only concerned about the quantity, and so winemakers in Mallorca would mix Mallorcan wine with wine from the mainland in order keep up with the demand.

Funnily enough, I was actually told the same thing when I went wine tasting in Sicily – I guess nobody in Europe appreciated the good stuff back then!

This practice went on for 30 years, until tourists decided that actually, what really mattered was the quality of the wine they were drinking, and so Mallorcan wine was allowed to flourish once more.

The Nadal family decided to close up their other wineries (they had 3 by this point), and focus solely on their Binissalem winery, Vins Nadal.

To this day, Vins Nadal remains a traditional family winery with a passion for protecting the environment, highlighting local Mallorcan grape varieties and celebrating Mallorcan culture.

Each year they produce around 80,000 litres of wine and have customers all around the world, from Finland to Canada.

In charge is Esperanza Nadal, a fourth generation Nadal and a 'mastermind of winemaking.' Her studies of wine have taken her all around the world, and she has revolutionised the way that Vins Nadal produces wine – not only is she passionate about constantly creating new wines, but she supervises all of the production, puts measures in place to make Vins Nadal more sustainable, and was the one to initiate the process of an organic cultivation of grape to increase the quality.



A Binissalem Winery with a Sustainable Twist


I mentioned that Esperanza is passionate about sustainability, and this is reflected in the way that Vins Nadal functions as a winery.

Vins Nadal is a member of the Empresa y Clima foundation, a non-profit that works to help businesses fight against climate change.

Since 2018, Vins Nadal has been tirelessly working to reduce its CO2 emission each year.

They use only recycled paper for the wine labels, and use 20% less glass to make their wine bottles. Not only this, but they recycle all of their bottles as well.

They reuse the barrels in their cellar as much as they can, but when it is not possible, they give the barrels to local whisky and beermakers, so that they can use them and benefit from the wine aroma in the barrel.

Of course, they never use pesticides.



Trying Mallorcan Wine and Traditional Snacks


I bet you're feeling thirsty after all that information, and we were too!

When Rebecca had finished showing us around the winery (including a cool trip down to the cellars), we headed upstairs to a beautiful area where we would be sampling some Mallorcan wine and light snacks.

The local grapes that make Mallorcan wine unique are named Manto Negro, Giro Ros and Prensal, but the Nadal family also grow Cabernet Sauvignon, Merlot and Syrah (which you may know as Shiraz).

The first wine that we tried was a white from 2020, made from a blend of Prensal (60%), Chardonnay (30%) and Manto Negro, Moscatel and Macabeu (10%).

It was an elegant wine, not acidic, and neither dry nor sweet. With a pale colour and notes of apple, nectarine, lemon peel and fennel, it was refreshing and light, and definitely a great wine to start with.



Next up was a dry rosé made with 100% pure Manta Negro grapes. It had a fruity taste, with raspberry, cherry and strawberry notes, with a vanilla and liquorice aroma typical of the Manta Negro grape.

Accompanying our wine was a few light bites – cheese from the neighbouring island of Menorca, olives, pa amb oli (the Mallorcan answer to Spanish tostada) with tomato, salt and olive oil, sobrasada on Mallorcan crackers and a kind of red wine jam made by Esperanza herself.

We then tried a light 2018 red wine made with Manta Negro, Cabernet, Merlot and Syrah grapes, followed by the pièce de résistance, a Reserva that Rebecca had been allowing to breathe for the duration of our tasting so far.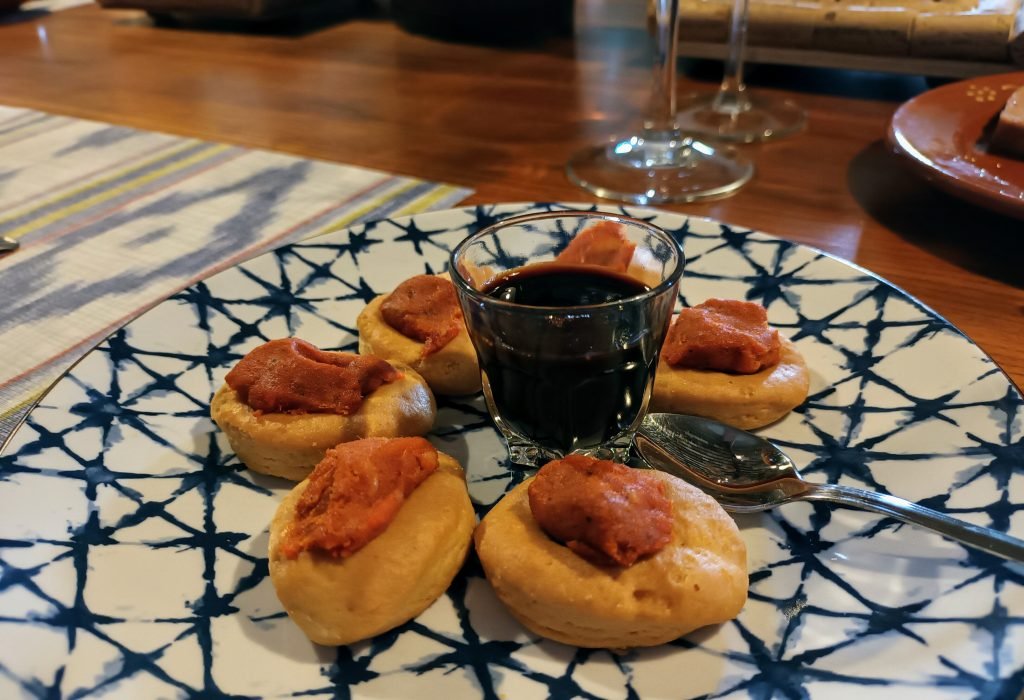 Vins Nadal, Binissalem | Final Thoughts


I thoroughly enjoyed my time visiting Vins Nadal and learning about Mallorcan wine and the Nadal family. I make no secret of the fact that I much prefer small, family-run wineries to huge ones like Cricova (which was still cool to visit, but just lacked the intimacy that I so love about smaller places.

If you're travelling to Mallorca and are curious about Mallorcan wine, Binissalem is one of the best places on the island to try it, and I can't recommend a tasting at Vins Nadal enough.

To learn more about Vins Nadal, click here to visit their website.


If you liked this article and would like to support my work, please click the button above to donate a couple of bucks and buy me a coffee. The ad revenue that I receive on this website is minimal, so support from my readers enables me to keep creating content that you (hopefully!) love to read.

Disclaimer: I visited Vins Nadal as a guest of Vins Nadal and the Palma tourism board. All opinions are my own, and I was not obliged to product any content about my experience.