Whether you're looking for some last-minute winter sun or planning next year's holiday, there's never a bad time to be contemplating a beach vacation in Europe.

Now more than ever, people are turning to social media to find inspiration for their next trip, and a recent study by Holidu has revealed the best beaches in Europe, according to social media trends.

Here are the top 10 of the 50 trending beaches that appeared in the study.



10 Best Beaches in Europe, According to Social Media


1. Omaha Beach, France


Instagram hashtags: 152,376
TikTok views: 132,000,000

Omaha Beach, located in Normandy, France, is an iconic historical site that played a pivotal role in World War II.

On June 6, 1944, it was the site of one of the most significant events of the war: the D-Day landings. As part of Operation Overlord, Allied forces, primarily American troops, stormed the heavily fortified beach to begin the liberation of Nazi-occupied Western Europe.

The Omaha Beach landing was marked by intense resistance from German forces, making it one of the most challenging and deadly of the D-Day landings.

Despite facing formidable obstacles, American soldiers exhibited immense courage and determination as they fought their way ashore.

The battle at Omaha Beach was a turning point in the war, ultimately leading to the liberation of France and the eventual defeat of Nazi Germany.

Today, Omaha Beach draws a multitude of tourists owing to its profound historical importance.

This stretch of coastline is adorned with monuments and museums, meticulously preserving the rich and poignant history that unfolded here.



2. Playa de las Canteras, Spain


Instagram hashtags: 286,340
TikTok views: 14, 600, 000

Situated in the northeastern part of Gran Canaria and nestled within the capital city of Las Palmas, La Canteras Beach ranks among Europe's renowned city beaches.

Its allure emanates from its natural splendor, central location, and the array of services and conveniences lining its promenade.

At Las Canteras Beach, visitors can savour tranquil waters and year-round warm weather, thanks to the natural offshore lava reef that serves as a protective wave barrier. This safeguards both the pristine sands and the vibrant marine ecosystem, making Las Canteras a premier destination for snorkelling enthusiasts.

If you prefer to stay on land, the 2 km of golden sands are just as good a reason as any to stick Playa de las Canteras on your Gran Canaria itinerary.



3. Praia da Rocha, Portugal


Instagram hashtags: 118,596
TikTok views: 3, 800,000

Praia da Rocha is a well-known beach and resort town in the Algarve, Portugal.

The town's stunning sandy beach is one of the largest beaches of the Algarve, and is a super popular place to be during the summer months, with rugged cliffs, plenty of water activities, and picture-perfect sand stretching 3 km.

If you prefer to sunbathe in seclusion, there are tonnes of hidden coves and smaller beaches along the coast, and if you're all about the views, you have to climb up the Forte de Santa Catarina to see Praia da Rocha from above.



4. Zandvoort aan Zee, Netherlands


Instagram hashtags: 125, 577
TikTok views: 3,700,000

Zandvoort aan Zee, commonly known as Zandvoort, is a delightful coastal town immersed in the timeless charm of Dutch tradition.

Tucked away amid the North Holland dunes and conveniently located a short distance from Amsterdam, Zandvoort aan Zee beckons as an essential stop for travellers in search of a serene coastal getaway.

Zandvoort is a wide, sandy beach that offers incredible panoramic views of the North Sea, and you'll find food stalls dotted along the sand for when you get peckish.

In the summer months, locals flock to the town of Zandvoort to enjoy the good weather and relax on the beach.



5. Elafonisi Lagoon, Greece


Instagram hashtags: 98,518
TikTok views: 10,300,000

Elafonisi constitutes a complete island, isolated from the southwestern shoreline of Crete by a shallow, inviting lagoon and a sandbar that remains submerged under approximately one meter of water at high tide.

Thanks to the shallow waters, it's possible for tourists to actually walk to Elafonisi from Crete along the sandbar.

This island of Elafonisi is actually a designated nature reserve, with its stunning pink sands, crystalline waters, and abundant greenery. With minimal shade and beach chairs and umbrellas being strictly prohibited, Elafonisi attracts fewer visitors than you might expect, even during peak tourist season!



6. Porto Katsiki, Greece


Instagram hashtags: 62,284
TikTok views: 10,900,000

Porto Katsiki is a white sand and pebble beach on the Ionian island of Lefkada, located at the southern tip of the west coast.

Situated at the bottom of a tall cliff, it is famous for its towering limestone cliffs, and calm azure waters.

To access Porto Katsiki, you'll have to climb down a steep flight of stairs that have been carved into the rockface, but if you can manage it, you'll feel like you've arrived in paradise.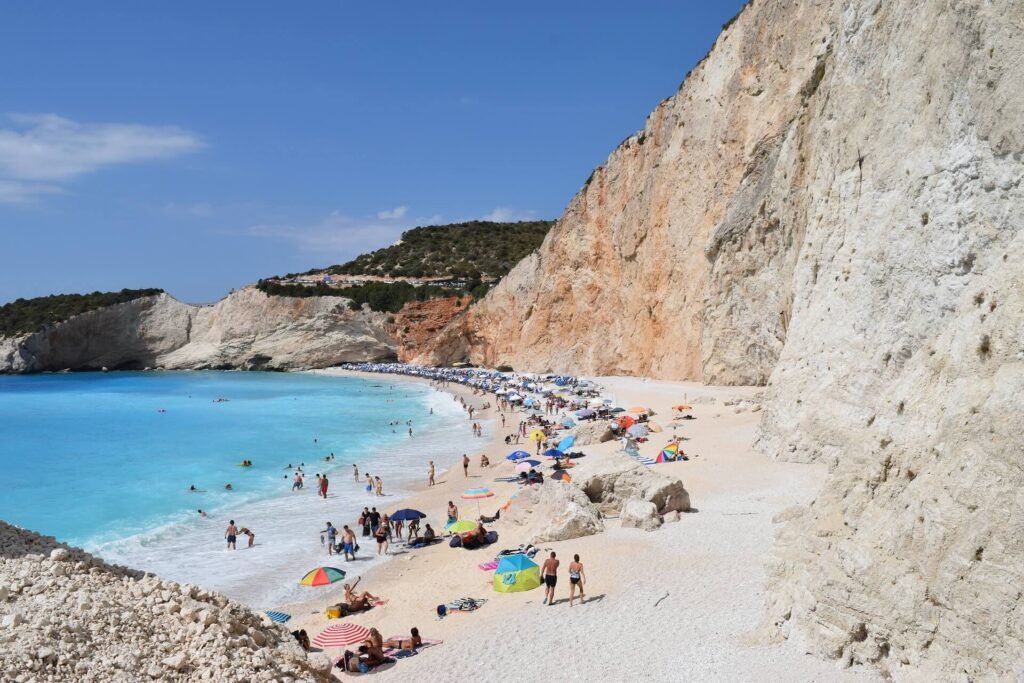 7. Weymouth Beach, United Kingdom


Instagram hashtags: 44,587
TikTok views: 64,700,000

Weymouth Beach is a popular seaside destination in the town of Weymouth, on the southern coast of England.

It is part of the wider Jurassic Coast, a UNESCO World Heritage site renowned for its geological significance and natural beauty. The Jurassic Coast even offers incredible opportunities for fossil hunting (yes, really!).

Weymouth Beach is known for its wide expanse of golden sand and gently sloping shoreline, making it ideal for swimming and paddling. The esplanade is lined with charming Georgian architecture, which adds to the quintessentially English charm, and you can also enjoy breathtaking views of the English Channel, the Isle of Portland, and the nearby cliffs.

Just like Omaha Beach, Weymouth Beach also played a crucial role in the D-Day landings during World War II.



8. Utah Beach, France


Instagram hashtags: 48,183
TikTok views: 20,900,000

Utah Beach was another of Normandy's D-Day beaches, and so many people visiting wish to do so to pay their respects at the many museums and monuments dedicated to preserving history.

However, as well as being of great historical significance, Utah Beach is also famous for its golden sands, untamed nature, nearby marshes, and ample cycling and hiking trails.

The beach itself is relatively undeveloped but well-maintained, and the surrounding area still has some of the original German bunkers and fortifications that were part of the Atlantic Wall defenses. Some of these bunkers are open to the public and provide insight into the challenges faced by the Allied forces during the invasion.

While Utah Beach holds such great historical significance, it has since become a popular tourist destination where people can enjoy recreational activities, including sunbathing, swimming, and beachcombing.



9. Spiaggia di Porto Selvaggio, Italy


Instagram hashtags: 63,354
TikTok views: 3,100,247

Porto Selvaggio stands as one of the most sought-after coastal destinations on the Salento Peninsula in Puglia (which is where you'll find Bari).

Nestled within the confines of the Parco Naturale Regionale di Porto Selvaggio, this rocky beach and its crystalline waters require a leisurely stroll through a pine forest to access.

Compared to the more developed sections of the Salento coastline, Porto Selvaggio is refreshingly unspoiled.

Here, you won't find beach clubs or extensive facilities, making it a haven for those seeking a more natural beach encounter.

So, whether you aspire to unwind by the shore, explore underwater wonders through snorkeling, embark on a kayaking adventure, or partake in scenic hikes, Porto Selvaggio caters to a wide range of outdoor enthusiasts.



10. Egmond aan Zee, Netherlands


Instagram hashtags: 114,207
TikTok views: 2,400,000

Egmond aan Zee Beach, located in the coastal village of Egmond aan Zee in the Netherlands, is a picturesque and popular seaside destination.

It boasts a white sand shoreline, sand dunes perfect for cycling and hiking, as well as the iconic J.C.J. van Speijk Lighthouse, which dates back to 1834 and is a prominent feature of the beach.

You'll also find a wide range of excellent seafood restaurants, shops, and accommodation options in this bustling seaside town that is ever popular with Dutch families.



Best Beaches in Europe | Final Thoughts


As you can see, beaches can trend on social media for a huge variety of reasons.

Utah Beach and Omaha Beach, though still very beautiful, can't compete with the beaches of the Albanian Riviera or the Mani Peninsula on looks alone, but they do offer a rich historical perspective that can give a deeper meaning to your beach holiday.

With that said, it's important to never base your travel decisions from numbers alone.

The fact that D-Day landing sites are trending on social media doesn't necessarily mean that they are the most beautiful beaches in Europe – it means that they are trending on social media.

Sometimes, though, you do find some hidden gems – I know that I'll certainly be paying Elafonisi a visit when I get a chance to!

What do you think? Would you put any of these beaches in your top 10?

Let me know in the comments section below!

Until next time,

XOXO



If you liked this article and would like to support my work, please click the button above to donate a couple of bucks and buy me a coffee. The ad revenue that I receive on this website is minimal, so support from my readers enables me to keep creating content that you (hopefully!) love to read.


Disclaimer: Travelling Jezebel contains affiliate links. If you make a purchase on a recommended site, I may make a small commission at no extra cost to you.