When most people think of Albania they think of corruption, gangsters and human trafficking (thanks Liam Neeson). Luckily for me, however, I discovered recently that Albania is a far cry from the way it is portrayed in the media, and in addition to that, it is actually home to almost 300 miles of stunning coastline, stretching all the way from the city of Vlorë to Sarandë.
Known as the Albanian Riviera, this stretch of coastline is home to an abundance of white sand beaches, crystal clear waters, delicious seafood and cheap wine and is quickly becoming known as Europe's best kept secret amongst those in the know.
It had been a long time since I'd been on a beach, and so when I arrived in Albania in September, I was more than ready for a spot of sunbathing! Myself and a handful of fellow solo travellers I'd met in Tirana all found ourselves with similar travel plans, and so we decided to explore the Albanian Riviera together.
Getting Around the Albanian Riviera
The mode of transport used by my friends and I to travel down Albania's coastline were the local buses. I won't lie, I was definitely glad to be with a group of people, as getting from A to B in Albania is not always simple! There aren't usually central bus stations and timetables often aren't reliable or cease to exist entirely. The best way to get around is simply to ask a local, who will direct you to a random spot on the side of the road where the bus will probably (!) turn up.
If this sounds nerve-wracking, that's because it is…at first. After a couple of bus journeys in Albania however, my friends and I had got the hang of things and found ourselves really warming to the Albanian way of travel! Sure, the buses may not follow a schedule, and they may pack on way more people than they should, but it's certainly an experience!
Another way you can get around is by hiring a car. If you're travelling in a group then this may be your best bet as it is inexpensive and allows you to explore all of the hidden beaches that are impossible to get to by public transport. However, if you do decide to hire a car in Albania than please be careful as it can be dangerous. I wrote about this in more detail here.
Lastly, a common way of getting around in Albania is hitchhiking. It's almost a rite of passage for backpackers in Albania to hitchhike, and it's such common practice for both locals and foreigners that you'll never be waiting more than a few minutes for a ride! As always with hitchhiking, just exercise caution and keep your wits about you.
Himara, a sleepy seaside town
Himara (or Himarë) was the first stop on our coastal adventure. Himara is a laid back beach town that is predominantly Greek, something that quickly becomes apparent when you notice the amount of gyros stalls around! Because we were there in mid September, it was extremely quiet, meaning that for the time we were there, we had the main beach almost to ourselves!
For the beach snobs out there (I'm looking at you, Aussies), Spille Beach will be nothing special. However, the turquoise waters and complete absence of crowds meant that it was a lovely place to spend a couple of days drinking cheap cocktails in some of the many bars that line the boulevard, mucking around in our rubber rings and catching the last of the summer sun.
Another thing that really stood out about our time in Himara was how friendly everyone was! Perhaps because it was so quiet, everyone seemed to want to talk, and it became a running joke that at every restaurant we went to, we ended up best buddies with the waiters – a couple of them even came to party with us at our hostel!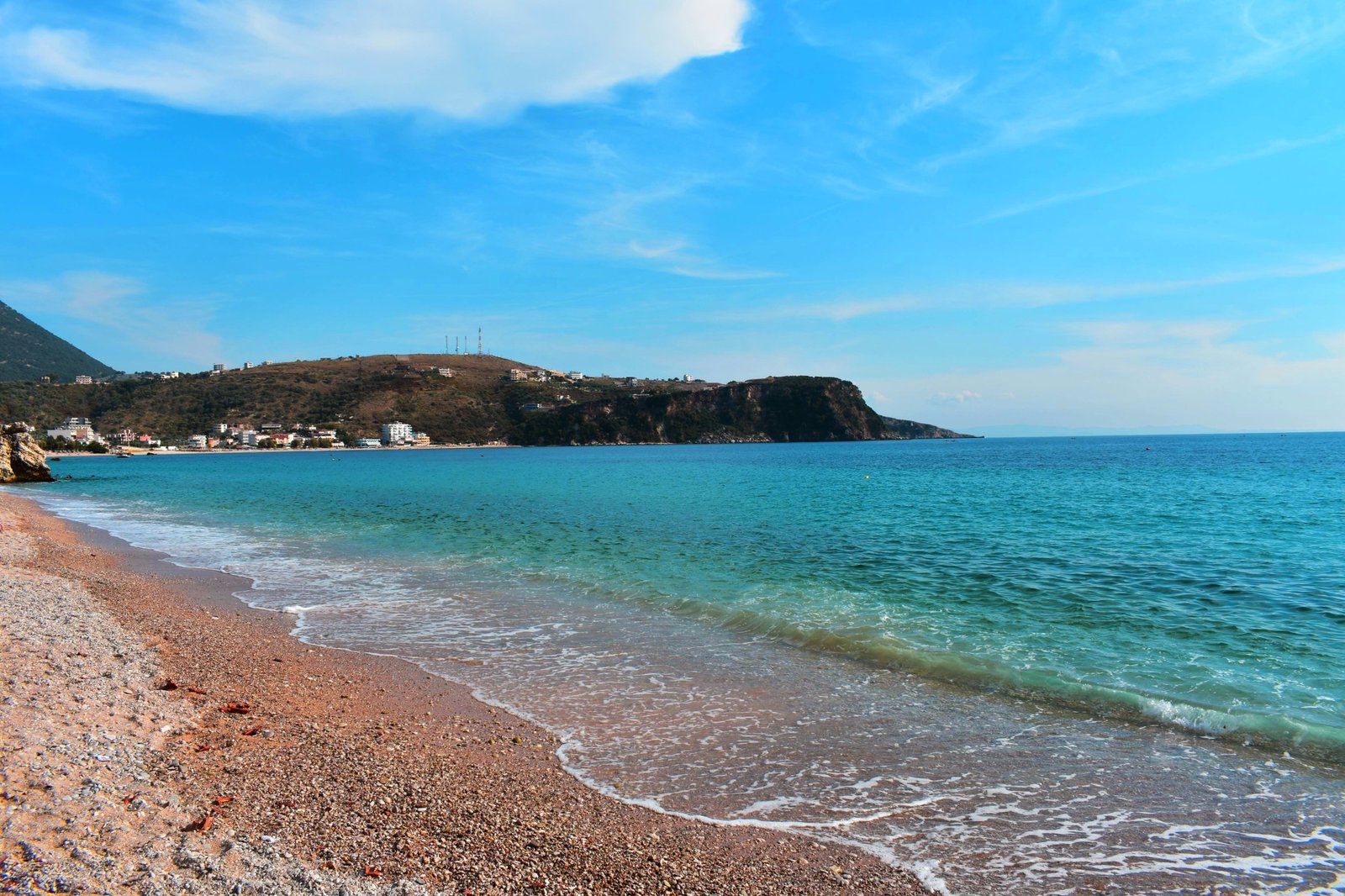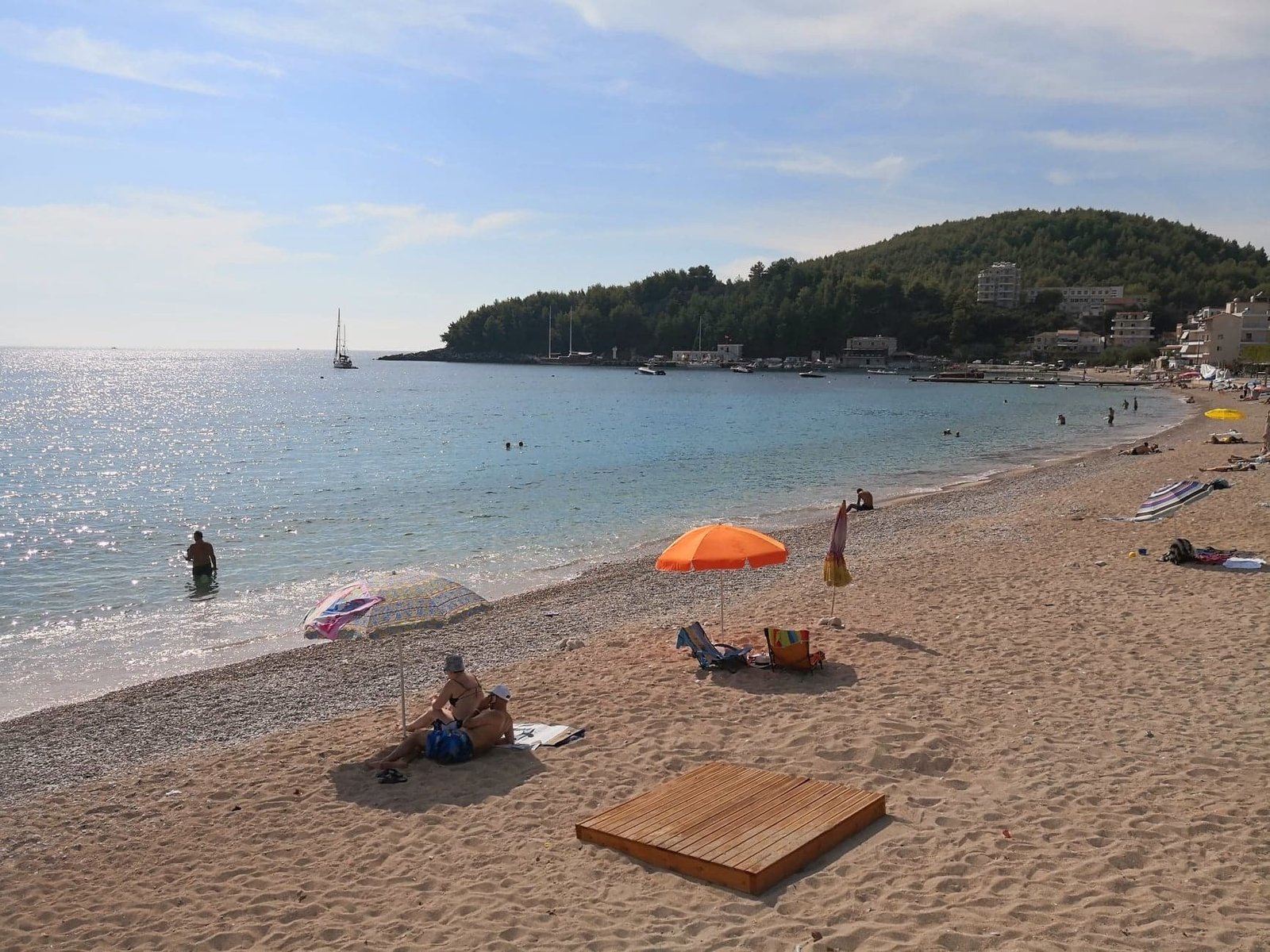 Beaches close to Himara
Most backpackers take day trips to the surrounding beaches, which by all accounts are prettier and more secluded. As Spille Beach was so quiet, we decided to spend our time in Himara there, but next time I'm in Himara I will definitely be sure to check out Gjipe Beach and Jale Beach.
 Food in Himara
The cheapest food available in Himara has to be the gyros. Costing just over one euro, they won the boys in our group over and became a favourite afternoon snack!
For lunch, my friends and I often visited Helios, a beachfront restaurant with a cheap lunch menu including everything from Greek salads, to lasagne and grilled octopus.
A wonderful restaurant we found for dinner was Taverna Lefteri, situated right next to our hostel. Serving a mix of fresh seafood, pasta dishes and traditional Albanian food, our whole group loved our experiences at Taverna Lefteri. The prices are affordable, the food is top notch and the staff are incredible (our waiter brought over a tray of raki shots to our hostel on the morning we were leaving!).
My favourite brunch spot in Himara was Restaurant Maistro. My friend and I had a traditional Albanian sharing platter (with burek, baked cheese, zucchini balls and so much more yummy goodness), as well as 'Grandma's homemade donuts.' The owner was so friendly and took the time to tell us his recommendations and joke around with us in about 5 different languages!
Budget accommodation in Himara
Himara Downtown Hostel – two friends and I stayed at Himara Downtown Hostel and we loved it. The facilities were basic but we were a two minute walk from the beach and there was a lovely social area with no curfew which meant that we were able to stay up drinking and talking into the night.
Himara Hostel – Our other three friends stayed here due to lack of availability at Himara Downtown Hostel and they loved it. While they spent the nights at our more social hostel, they loved relaxing on the huge hammocks in the garden at Himara Hostel and said that the facilities and hostel itself were really nice.
Saranda, the hub of it all
In the height of summer, Saranda is the best place for nightlife in Albania, but the beaches become way too crowded. However, by the time we arrived, the crowds were starting to dwindle, meaning that there was still enough of an atmosphere in the bars at night, but there was still room to move on the beach.
That said, if it's beautiful beaches you want then Saranda probably isn't the best choice. The main beach isn't the nicest I've seen, but if you just want a place to catch some rays while being surrounded by some of the best seafood restaurants and cocktail bars on the coast, then Saranda is the place to be.
We enjoyed our first afternoon in Saranda on the beach before using Saranda as a base from which to do day trips from over the next few days (details to follow).
Food in Saranda
Piceria Alfa – We went to this gorgeous beachfront restaurant a few times and were never disappointed. The staff are friendly, the pizzas are great and the seafood linguine was delicious! Like anywhere else in Albania, Piceria Alfa is incredibly cheap.
Mare Nostrum – Mare Nostrum is the highest rated restaurant in Saranda and it is a well deserved score. I dined here for my birthday and it was excellent. It's definitely more high end than the typical backpacker haunts, but it is still very affordable.
Budget accommodation in Saranda
Saranda Backpackers – Saranda Backpackers is a stone's throw away from the beach and is a great place to stay. There is a free breakfast every morning and the owner, Tomi, is very helpful with whatever you may need, whether it be recommendations for somewhere to eat or directions to the bus stop (he actually walked with us to the bus stop and told the driver where we wanted to go). He even organised a BBQ on the beach when we stayed there which was lovely.
Ksamil
Ksamil is a small village located just 20km away from Saranda with buses going between the two every hour, making it a perfect day trip from Saranda. With cocktail bars, seafood restaurants and souvenir stalls aplenty, Ksamil is a real vacation spot which isn't surprising given that the beaches in Ksamil are the only white sand beaches in the region!
Even though high season was over when we arrived in Ksamil, the beaches were still absolutely packed, which was a real shame as the sand looked beautiful but the brightly coloured parasols, packed like sardines into the tiny beaches, just ruined it for me. For those who don't mind the crowds, it is possible to go on the beaches but you have to rent a sun lounger. Prices are around 500ALL (4 euros) for two sun loungers and a parasol for the whole day.
If parasols and crowds aren't your thing, it is possible to take a boat to one of the four nearby islands, which is what my friends and I decided to do. We arrived on one of the 'twin-islands', where there was nothing aside from a handful of Italian tourists and a tiny makeshift bar selling cans of beer, and so we grabbed some cans and enjoyed them in the sunshine.
As if things couldn't get any better, the boat driver had told us that if we got hungry, he would bring us a pizza from the mainland. Getting a pizza delivered to a private island by boat? Count me in! For 7 euros (very expensive by Albanian standards but not a price I minded paying!) I got a huge cheesy pizza delivered to me by boat, which I then enjoyed on the beach. Winning!

Butrint
20km from Saranda, the ruins of Butrint National Park were the first ever UNESCO World Heritage Site in Albania! Built and inhabited by ancient Greeks and Romans before being abandoned in the Middle Ages, Butrint is a must-visit for all history buffs.
What struck me about Butrint was not only how well preserved it was (with the amphitheatre being especially impressive), but also how quiet it was! With the exception of one tour group, we only saw a handful of people on our entire walk around the ruins, meaning that we could take our time wandering around and truly appreciate what we were seeing.
Syri i Kaltër (Blue Eye)
The Blue Eye is one of the most popular tourist destinations in Albania and can be reached by taking a 50 minute bus from Saranda and then walking for 15 minutes. It is a water spring where water bubbles up from more than 50m deep (divers have descended to 50 metres but nobody actually knows how much deeper the Blue Eye gets!) and the water is SO clear.
In the summer months the Blue Eye gets super crowded, but in September it wasn't too bad. Although there were definitely a fair amount of tourists clamouring to take pictures, everybody was very respectful, allowing each other to jump in, swim around and take photographs at their leisure. However, given the size of the Blue Eye, I think that if there were many more people around, we wouldn't have been able to enjoy it.
After we'd marvelled at the Blue Eye for a while (some of my friends jumped in but after putting my feet in and discovering how FREEZING the water was, I decided against it!), we went to the restaurant just next to the entrance and enjoyed some lunch. We were expecting the restaurant to be expensive given its location, but it was actually on par with everywhere else we'd been in Albania, and so we all enjoyed some fresh fish and cold beers before heading back to Saranda.
Unfortunately, that concludes my explorations of the Albanian Riviera. The combination of not having a rental car, plus the fact that some of our group were on a tight schedule meant that it wasn't possible to visit some of the lesser-known beaches along the Albanian coast. However, I do feel as though we saw a whole lot of beauty in the time that we had, and now I have an excuse to go back and see everything properly!
Have you ever been to the Albanian Riviera? Do you have some tips for my next visit? Please share them with me in the comments below, I'd love to hear your thoughts!
Like me? Pin me for later!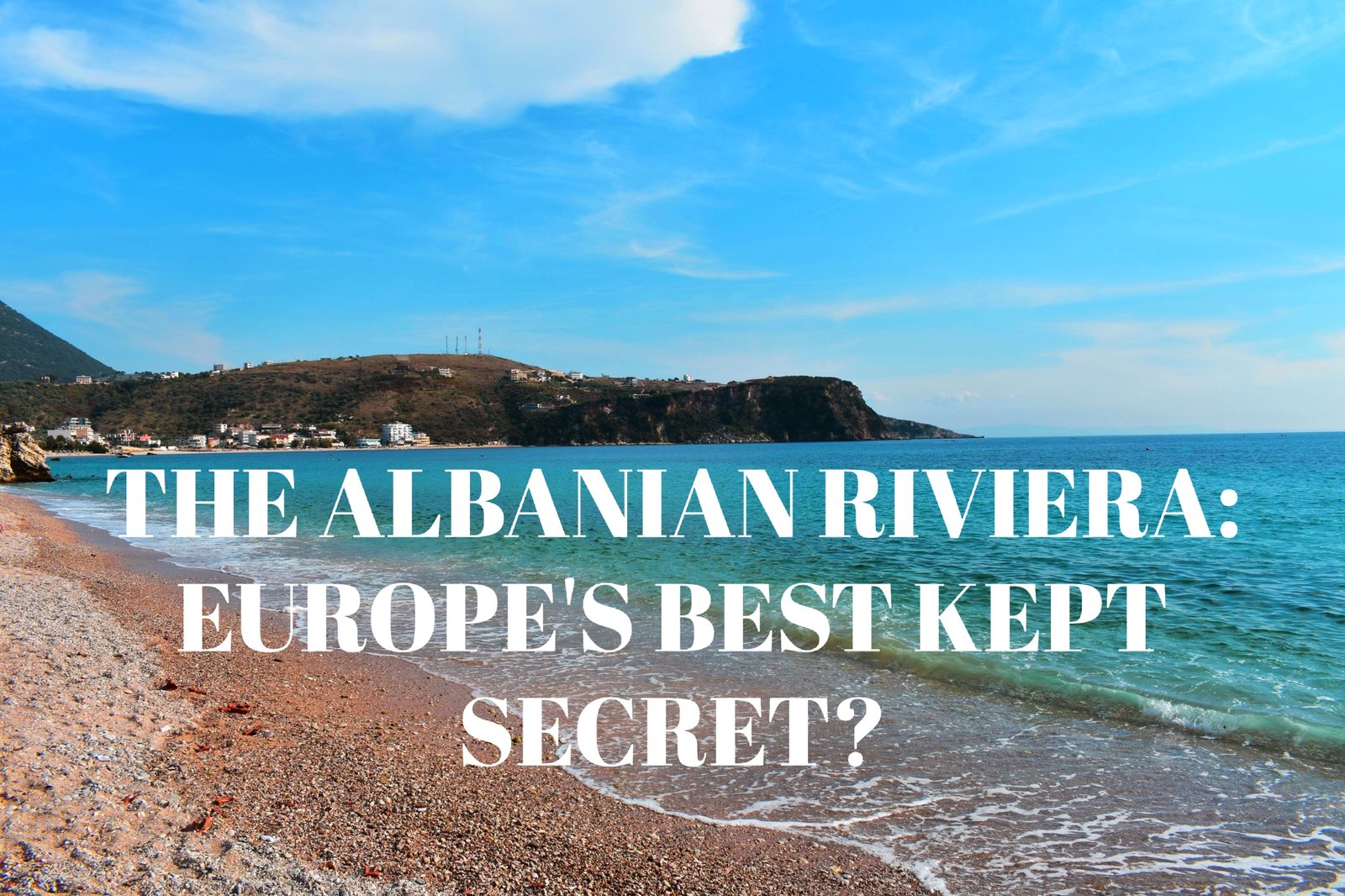 Disclaimer: this page contains affiliate links. This means that if you make a purchase on a site I recommend, I may make a small commission at no extra cost to you.