This article was last updated on 21st July 2021

When most people think of Albania, beaches are not the first thing that spring to mind. People tend to picture a dangerous land full of corruption, gangsters and human trafficking (thanks Liam Neeson).

However, Albania is a far cry from the way it is portrayed in the media, and in addition to that, the stunning Albanian coast spans for almost 300 miles of incredible beaches, stretching all the way from the city of Vlora to Saranda.

Known as the Albanian Riviera, the Albanian coast is home to an abundance of white sand beaches, crystal clear waters, delicious seafood and cheap wine and is quickly becoming known as Europe's best kept secret amongst those in the know, making a beach holiday in Albania a great choice.

What's more, beaches in Albania have something for everyone – whether you're like me and are a sucker for Caribbean-style white sand beaches, or whether you prefer rocky beaches, gravel beaches, island beaches, resort beaches, rugged beaches or deserted beaches, Albania has you covered.

In this guide to the best beaches in Albania, I decided to include not only the main Albanian beach towns, but also some more off-the-beaten-path Albanian beaches for those looking to get the true Albanian beach experience. I've also included a brief list of things to know before you visit Albania, as well as a list of options for getting around once you're there.

So, let's get right into planning the perfect trip to the Albanian Riviera!



The Best Beaches in Albania – A Guide to the Albanian Riviera


1. Himara


Himara was my first stop along the Albanian coast, and as I spent a few days there, this will probably be one of the longest sections of this list! The village of Himara is one of the most popular beach destinations along the whole Albanian Riviera, although when I visited in early September, my friends and I had the main beach almost to ourselves! Himara is a laid back beach town that is predominantly Greek, something that quickly becomes apparent when you notice the amount of gyros stalls and Greek restaurants around!

The main beach in Himara is called Spille Beach, and for any beach snobs out there, Spille Beach is nothing special. That said, the golden sands and proximity to bars, restaurants and our hostel made it a great place to spend a couple of days.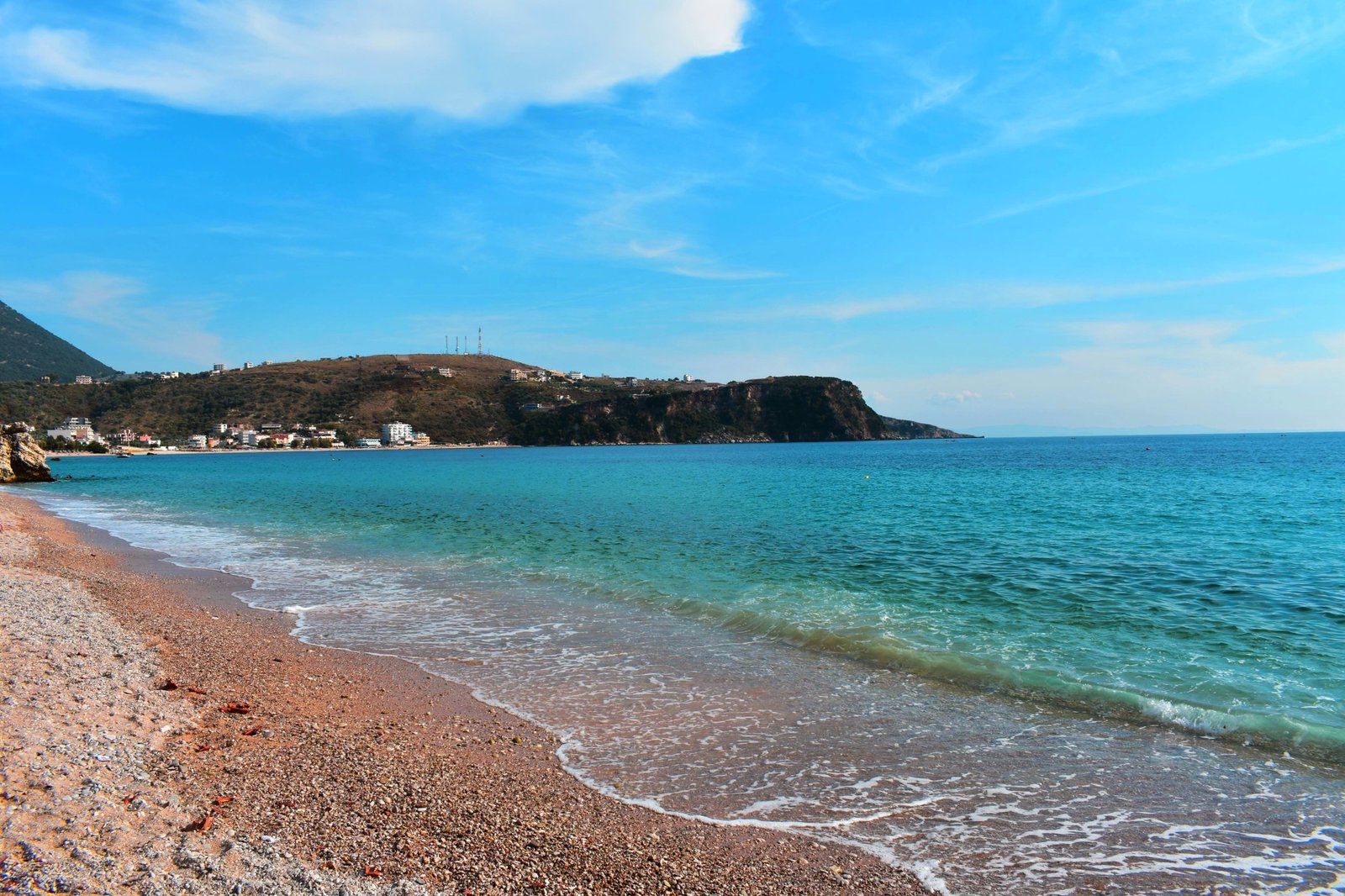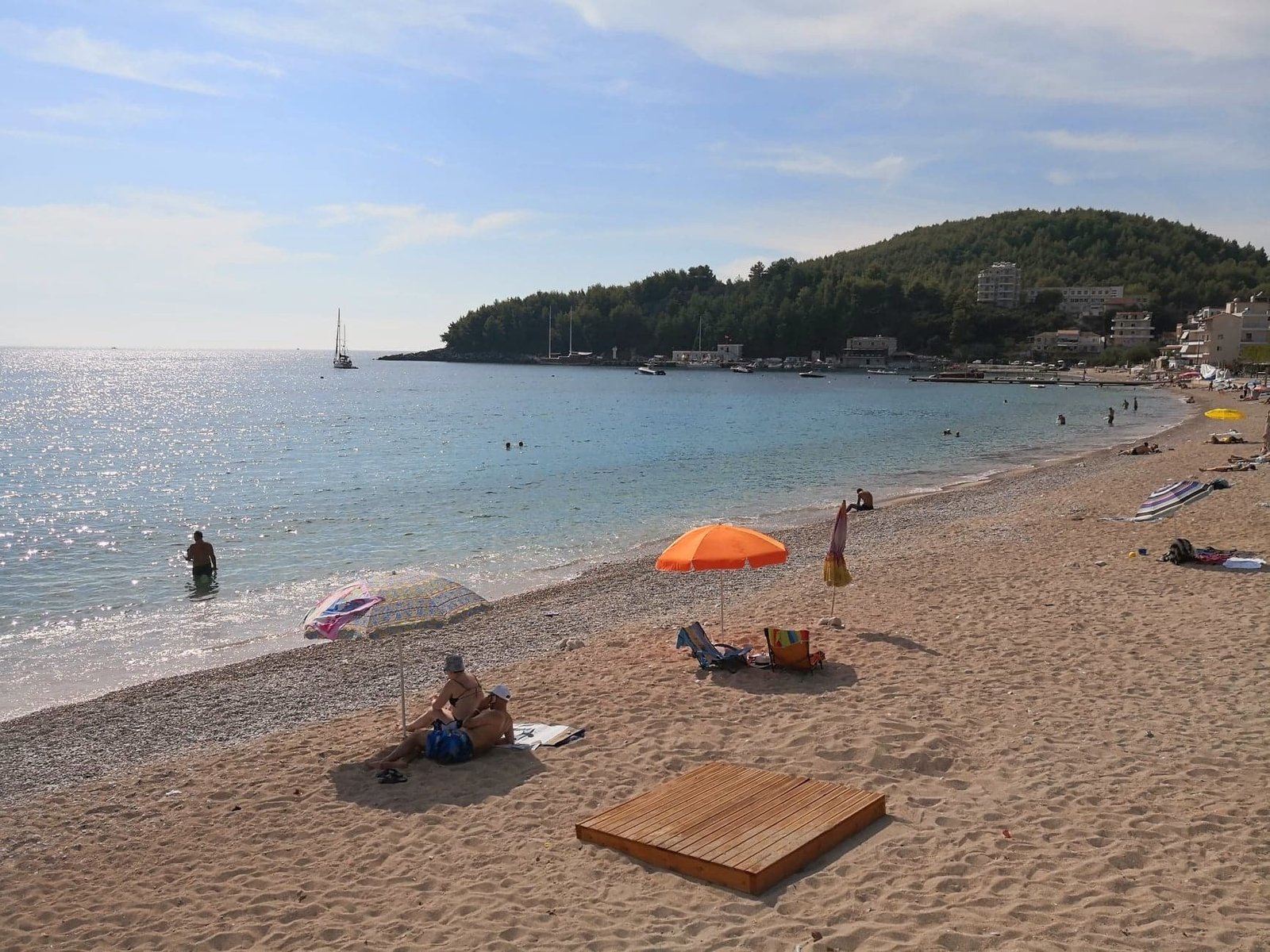 There are several beautiful beaches near Himara such as Livadhi, a white stone bay surrounded by olive trees (4.8km or an 11 minute drive from Himara), or Potami located between the sea and a river (just a 25 minute walk from Himara).

As far as where to eat in Himara, my friends and I loved Taverna Lefteri, which serves a mix of fresh seafood, pasta dishes and traditional Albanian food. The prices are affordable, the food is top notch and the staff are incredible (our waiter brought over a tray of raki shots to our hostel on the morning we were leaving!). I also enjoyed Restaurant Maistro, where I went for brunch every day. Their traditional Albanian sharing platter (with burek, baked cheese, zucchini balls and more) was delicious, as well as 'Grandma's homemade donuts.'

For lunch I recommend Helios, a casual beachfront restaurant with a cheap lunch menu including everything from Greek salads to lasagne and grilled octopus. Those on a tighter budget (although in Albania everything is cheap) will find the €1 gyros stalls a god send.

For budget accommodation in Himara, hotels and apartments are incredibly good value for money, but as a backpacker I usually stay in hostels. Whilst in Himara, I stayed at Himara Downtown Hostel and loved it. The facilities were basic but we were a two minute walk from the beach and there was a lovely social area with no curfew which meant that we were able to stay up drinking and talking into the night. What's more, the free breakfast was delicious and way better than the usual slices of toast and jam that hostels offer.

A couple of my friends in Himara stayed at Himara Hostel and they were also very happy. While they spent the nights at our more social hostel, they loved relaxing on the huge hammocks in the garden at Himara Hostel and said that the facilities and hostel itself were really nice.



2. Beach of Durres


Durres is just a 40 minute drive (and easily accessed by bus) from the Albanian capital of Tirana, and so not only is it very popular with international tourists, but it is also a favourite for Albanians living in the capital who want to enjoy a relaxing day on the beach.

Durres is the second largest city in Albania and is the main port, meaning that you will find plenty of amenities and luxuries here that you will not find at other destinations along the Albanian coast.

The Beach of Durres is the biggest and most visited beach in Albania, measuring a whopping 10.5km long, and while it is certainly not the most beautiful Albania beach, it is certainly a very convenient destination if you are starting from Tirana.



3. Golem Beach


Another incredibly popular Albanian beach, Golem is visited by hundreds of thousands of people every single year, and those from the neighbouring countries of Kosovo and Macedonia (not to mention Albanians themselves!) adore Golem beach.

Just like Durres, Golem's popularity and proximity to Tirana mean that there are lots of great amenities, and if you want a beach destination with an abundance of great bars and restaurants, then you will love Golem Beach.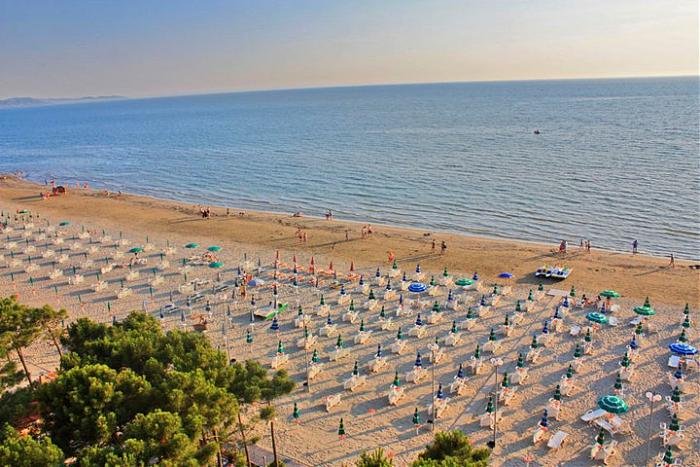 4. Borsh Beach


If there's one beach that perfectly encapsulates the beauty of the Albanian coast, Borsh Beach is it. An untouched 7km stretch of white sand surrounded by olive groves, mountain peaks and azure waters that wouldn't look out of place in a holiday brochure. Despite all of this, Borsh Beach is one of the least visited beaches in Albania, making it one of the most tranquil spots along the Albanian coastline, perfect for those looking to truly unwind and enjoy some peace and quiet.



5. Drymades


Drymades Beach is a small bay very close to the village of Dhërmi, and despite it being one of the most beautiful beaches in Albania, it doesn't even get crowded in the summer months, making it one of Albania's best kept secrets. There is both a pebbled beach and a sandy one, with a large rock dividing the two, so both sand and pebble lovers will be happy at Drymades!

You can also find one of the famous bunkers here, one of over 173,000 that are dotted around the country ever since former dictator Enver Hoxha insisted on them as a result of his paranoia.



6. Saranda


Saranda is often considered the capital of the Albanian Riviera, and it's no big surprise. Not only is it one of the most visited spots in the whole of Albania, but it is very close to Corfu, Greece, meaning that it is easily reached by ferry from Corfu.

In the height of summer, Saranda is the best place for nightlife in Albania, but if you're looking for the best beaches in Albania, the main Saranda beach is not great.

That said, if you just want a place to catch some rays while being surrounded by some of the best seafood restaurants and cocktail bars on the coast, then Saranda Albania is the place to be. Not only that but Saranda is a great place to base yourself for day trips to other Albania beaches and natural wonders, and that is exactly what my friends and I chose to do.

The hostel that we opted for was Saranda Backpackers, which is a stone's throw away from the beach and is a great place to stay. There is a free breakfast every morning and the owner, Tomi, is very helpful with whatever you may need, whether it be recommendations for somewhere to eat or directions to the bus stop (he actually walked with us to the bus stop and told the driver where we wanted to go). He even organised a BBQ on the beach when we stayed there which was lovely.

One very underrated beach close to Saranda is Bunec Beach, which is worlds apart from the party scene at Saranda beach. Surrounded by mountains and divided by a river, Bunec is famed for its incredible sunsets and many people visiting choose to camp out there and enjoy the solitude.



7. Ksamil


Ksamil is a small village located just 20km away from Saranda with buses going between the two every hour, making it a perfect day trip from Saranda. With cocktail bars, seafood restaurants and souvenir stalls aplenty, Ksamil is a real vacation spot which isn't surprising given that the beaches in Ksamil are simply stunning, and it is impossible to even say which are the best beaches in Ksamil.

Known as 'the Ionian Pearl' because of its beauty, Ksamil gets jam packed in the high season, with Ksamil beaches being covered in bright pink parasols and the holidaymakers packed into the tiny bays like sardines. For those who don't mind the crowds, the beaches are privately owned, meaning that while it is possible to go on the beaches, you have to pay to rent a sun lounger. Prices are around 500 ALL (4 euros) for two sun loungers and a parasol for the whole day. The sea in the Ksamil area is also full of sealife, making it a great spot for snorkelling!




If parasols and crowds aren't your thing, it is possible to take a boat to one of the four nearby islands, which is what my friends and I decided to do. We arrived on one of the 'twin-islands', where there was nothing aside from a handful of Italian tourists and a tiny makeshift bar selling cans of beer, which was much more our scene.

As if things couldn't get any better, the boat driver had told us that if we got hungry, he would bring us a pizza from the mainland. Getting a pizza delivered to a private island by boat? Count me in! For 7 euros (very expensive by Albanian standards but not a price I minded paying!) I got a huge cheesy pizza delivered to me by boat, which I then enjoyed on the beach. Winning!



8. Gjipe Beach


Gjipe Beach is close to Himara, but is almost totally untouched and few people visit because there is a bit of hiking required to reach it (although it is becoming more popular with backpackers in Albania). Hidden by the mountains and a great place to camp under the stars, Gjipe Beach is perfect for those who want to get a little off the grid and be at one with nature.



9. Syri i Kaltër (Blue Eye)


Although not technically a beach, I couldn't write an article about the Albanian Riviera without including the Blue Eye. The Blue Eye is a water spring where water bubbles up from more than 50m deep (divers have descended to 50 metres but nobody actually knows how much deeper the Blue Eye gets!) and the water is the clearest I've seen.

In the summer months the Blue Eye gets super crowded, but in September it wasn't too bad, making shoulder season the best time to visit the Blue Eye. Although there were definitely a fair amount of tourists clamouring to take pictures, everybody was very respectful, allowing each other to jump in, swim around and take photographs at their leisure. However, given the size of the Blue Eye, I think that if there were many more people around, the beauty would have been spoilt somewhat.

The Blue Eye is located in between Saranda and Gijrokaster, making it a great day trip from Saranda. You can reach it by car or by taking a 50 minute bus from Saranda and then walking for 15 minutes.



10. Dhërmi


Dhërmi is one of the most famous places in Albania and is located right next to Drymades. While it is incredibly popular, it is still possible to find some secluded spots, and it is definitely worth adding Dhërmi Beach to your list of Albanian beaches to visit as there is an abundance of other things to check out when you've finished sunbathing, including the Hypapante Church, the Panagia Monastery, the Pirates Cave and Gramata Harbour. Dhërmi Beach itself is a pebble beach, so be sure to rent a sun lounger if you want to be comfortable!



11. Vlora


Much like Saranda, Vlora is a great place to base yourself while you explore some of the lesser-known beaches in Albania. Vlora is the third-largest city in Albania, so it is easily accessed by public transport, and is home to many unspoilt beaches, as well as having the main stretch, Vlora Beach.

A 15 minute drive from Vlora is Narta, which is not a beach but a beautiful sandy lagoon, complete with its very own island named Zvernec with an 18th-century Orthodox monastery, accessible only by a wooden bridge and hidden in a forest!




Another great day trip from Vlora is Orikum, which is popular with the yachting crowd and is known for its restaurants that serve incredible traditional Albanian dishes. For the more adventurous travellers, it is possible to sail to the nearby Karaburum peninsula from Orikum, which is full of caves to explore.

If you're still looking for beaches near Vlora then Grama Bay is also a great day trip. You can easily reach it by boat, or if you're feeling energetic then you can attempt the seven-hour hike! Camping is allowed on Grama Bay and is what many backpackers choose to do, but it is totally isolated so be sure to bring enough food and water to last you!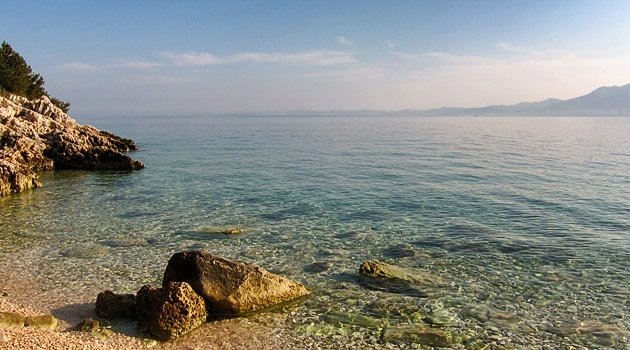 12. Lukova


The Albanian town of Lukova is a decent size, with plenty of beach hotels, bars, restaurants and other amenities, as well as a few main beaches where the majority of travellers end up. However, Lukova is also home to many smaller, much quieter beaches that are surrounded by lush greenery and totally unspoilt.

If you find yourself in Lukova and want to see some the best Albanian beaches then be sure to check out Lumra Beach, Cave Beach and Buneci Beach.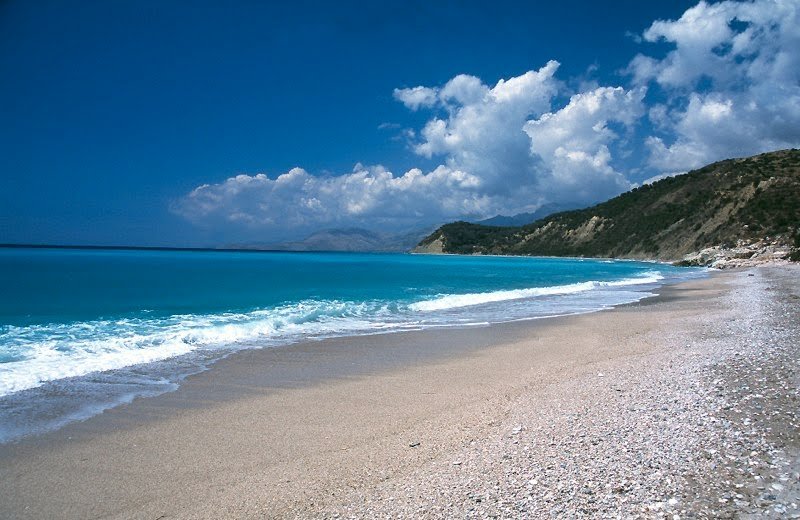 13. Palasa Beach


The Llogara Pass is a high mountain pass within the Ceraunian Mountains along the Albanian Riviera, and the first stop on the other side of it is Palasa Beach, a combination of rock and white sand that, aside from a couple of beach bars and cafes, is extremely quiet and the perfect place to get away from it all. Close by to Llogara National Park and with a quaint little village, Palasa Beach is another Albanian beach to add to your list!



Albania – Know Before You Go


The Albanian currency is the Albanian Lek (ALL). You cannot legally get it outside of Albania so you should either bring euros to exchange, or just use ATMs to withdraw money.

ATMs usually take Visa OR MasterCard, not both. Never use Euronet ATMs!

Although some places accept card payments, Albania is largely a cash society and you should always have some cash with you.

If you are flying into Tirana and need an airport transfer, I recommend using i'way to find yours!

It is sometimes possible to pay in euros in some establishments but you will always get a bad exchange rate, and so you should always pay in lek whenever possible.

Albania is SAFE, especially as a solo female traveller. Random acts of violence and pickpocketing are almost unheard of in Albania, and there are no active conflicts. I wrote a full blog post about safety in Albania here if you'd like to know more!

With that said, if you're planning a trip to Albania, then I strongly recommend buying travel insurance. I NEVER travel without insurance, and I've seen too many others get landed with huge medical bills as a result of not having had insurance, that it's something I'll never neglect to buy. My recommendation for great travel insurance is World Nomads.

Albanians are incredibly welcoming and hospitable, and you WILL be offered food, coffee and raki (homemade brandy) wherever you go. Albanians love tourists and will go out of their way to help you whenever possible.

Albania is incredibly cheap. A coffee will usually cost about 40 euro cents, a meal in a restaurant will be as little as 2-3 euros, and a beer will be around 1 euro.

The Albanian language is shqip and it is different to any language you've ever heard before! While many Albanians in hospitality speak English, speaking Italian is your best bet as most Albanians (even the older generations) speak Italian. Albanians also nod their head 'yes' when they mean 'no'!



Public Transport vs. Driving in Albania


Most people exploring the beaches in Albania choose to hire a car and drive down the Albanian coast. The reason for this is that public transport in Albania is notoriously bad. Albania's infrastructure is not on a par with many other European countries, and so navigating the Albanian Riviera by minibus (furgons) is difficult, though not impossible.

When I visited Albania, I used the local bus system, and it definitely didn't make life easy for me! In Albania, you will usually not find central bus stations, and timetables often aren't reliable or cease to exist entirely. The best way of getting around Albania by bus is simply to ask a local, who will direct you to a random spot on the side of the road where the bus will probably (!) turn up.

If this sounds nerve-wracking, that's because it is…at first. After a couple of bus journeys in Albania however, my friends and I had got the hang of things and found ourselves really warming to the Albanian way of travel! Sure, the buses may not follow a schedule, and they may pack on way more people than they should, but it's certainly an experience!

That said, buses are not the best way to discover the Albanian Riviera as the best beaches in Albania are off the beaten track, hidden and not signposted. While buses in Albania do travel to all the popular Albanian beach towns (Durres, Himara, Saranda etc.), you will need a car to get to the best secret beaches.

Renting a car in Albania is incredibly inexpensive. That said, if you do decide to try driving in Albania, exercise caution as the roads are often poor, unlit and littered with potholes, and Albanian drivers are known to be aggressive and erratic. Deaths from road traffic accidents in Albania are among the highest in Europe so be extremely careful when driving in Albania.

If you do want to rent a car in Albania, I recommend Rental Cars.

Lastly, a common way of getting around in Albania is hitchhiking. It's almost a rite of passage for backpackers in Albania to hitchhike, and it's such common practice for both locals and foreigners that you'll never be waiting more than a few minutes for a ride! You may have to be flexible insofar as your itinerary, but you're sure to find some great Albanian beaches when travelling with a knowledgeable local! As always with hitchhiking, just exercise caution and keep your wits about you.



Tours in Albania


When I travel, I always like to support small local businesses and learn more about a culture by taking part in a small organised tour. Here are some of the best tours that you can do in Albania:

Go wine tasting and stay at an agrotourism farm in the village of Roshnik, near Berat. Options include horse riding, mountain trekking, swimming in the lake, wine and food tasting.

Enjoy a half-day cruise of Skadar Lake and the River of Crnojevic.

Hike Gamti Mountain and enjoy views over Bovilla Lake.

Head to the magical city of Prizren in Kosovo for the day.

Visit Osum Canyon and Bogove Waterfall in Berat.

Visit The Blue Eye and Lekuresi Castle from Saranda.

Enjoy a 2-day private tour of Theth National Park.

Enjoy a guided tour of Apollonia National Park from Vlora.

Experience a full-day tour of Zvernec Monastery with lunch (from Vlora).

Take part in a half-day tour of Llogara National Park.

Enjoy a private tour of Butrint Archaeological Park.

Take a day trip from Tirana to Berat.

Of course, there are plenty more tours on offer in Albania but these are my top recommendations!



So, there concludes my list of the 13 best beaches in Albania (well, I think you got a little more than 13 as some of my points include multiple beaches – oh how I spoil you!). Although I think that this is a fairly comprehensive list of Albanian beaches, there are truly countless beaches along the Albanian coast, and the best way to find them all is just to accelerate and see where the wind takes you!

I hope that this article helped if you are planning an Albanian beach holiday, and if I missed any incredible spots then do let me know in the comments section!

xoxo


If you liked this article and would like to support my work, please click the button above to donate a couple of bucks and buy me a coffee. The ad revenue that I receive on this website is minimal, so support from my readers enables me to keep creating content that you (hopefully!) love to read.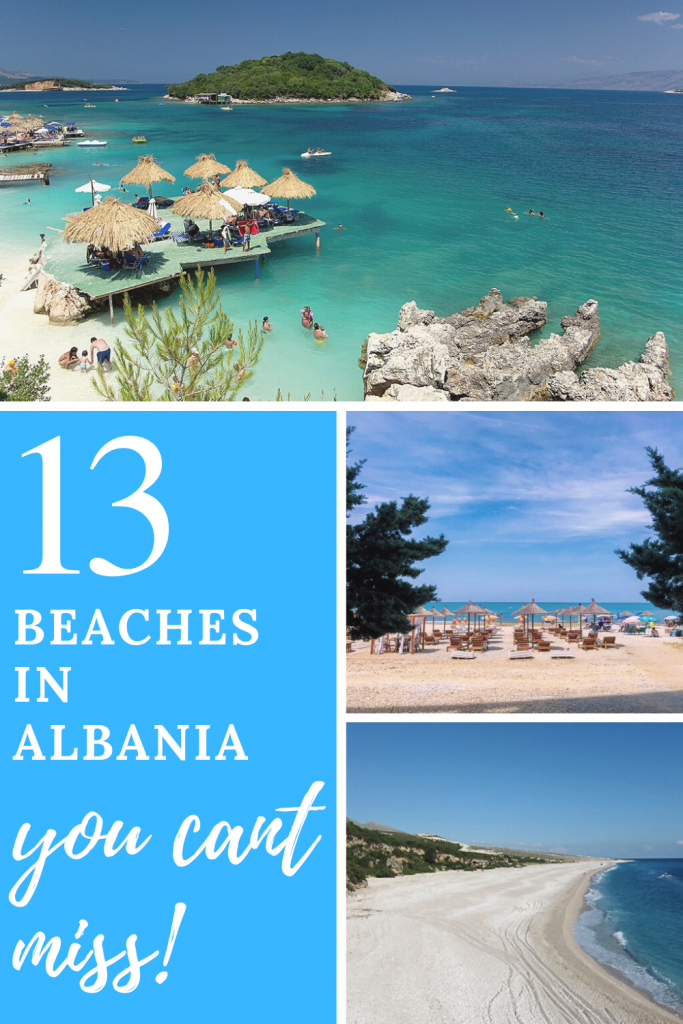 Disclaimer: this page contains affiliate links. This means that if you make a purchase on a site I recommend, I may make a small commission at no extra cost to you.