When it comes to travel in Italy, sampling the regional cuisine is the best way to connect with both the locals and the country itself.

Pugliese cuisine is famous for being some of the best in Italy, and so when I visited Bari, I was determined to gorge myself on as much traditional Bari food as I could!

Let me tell you on record that when it comes to food, Bari does not disappoint.

So, to help you make the most of your trip to Bari, I put together a list of things to do in Bari if you love your food just as much as I do.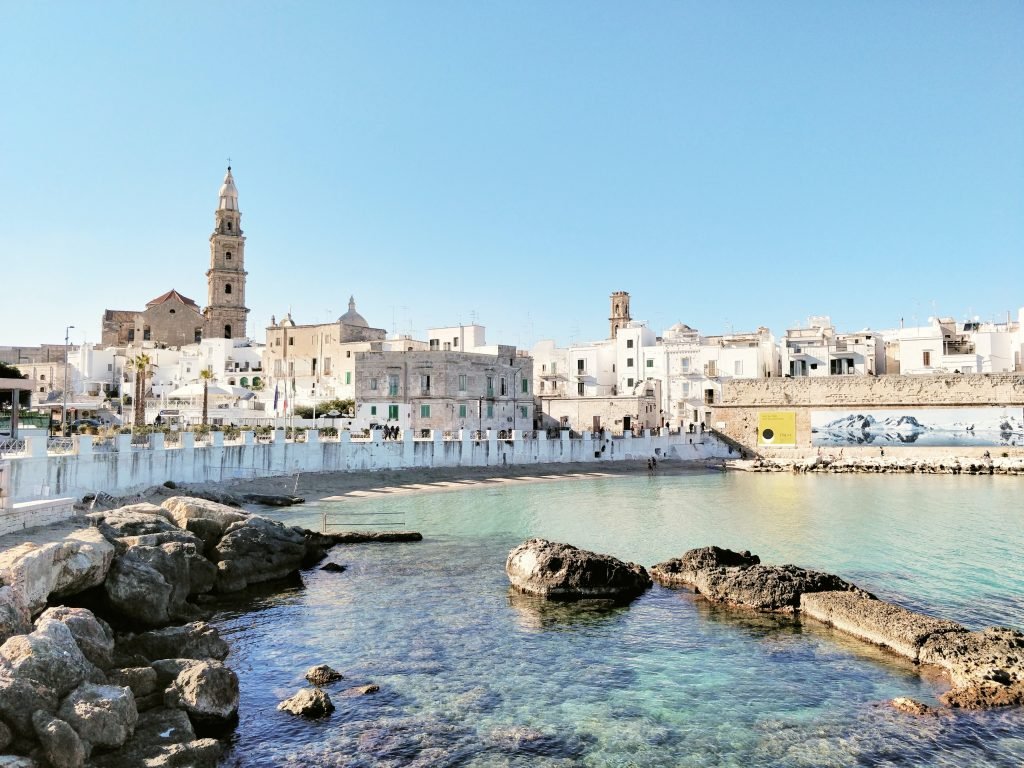 12 Traditional Bari Food Experiences


Bari at a glance


Bari is a bustling port town on the Adriatic sea. Located in the southwest of Italy, it is the capital of the Puglia region (also known as Apulia in English), which you may also know as the 'heel of the boot.'

Although Bari is the third largest city in southern Italy (after Naples and Palermo), it is one of Italy's lesser-known destinations, and receives a fraction of the tourism that cities such as Cinque Terre, Pisa or Florence do.

For someone like me, who enjoys finding hidden gems in Europe, Bari is the perfect place to visit if you're looking for a true and authentic Italian experience.

In Bari, you won't find endless souvenir shops and overpriced tourist restaurants, but what you will find are Barese Nonnas making fresh pasta on the street, housewives hanging out their laundry to dry and old men smoking pipes and playing dominos with each other.

You will also find beautiful old churches, a labyrinthine old quarter with a maze of narrow streets, and a stunning coastline that stretches for miles.

So, if you're planning a visit and want to know what to do in Bari (with a foodie focus!), just keep reading!



Bari food


Pugliese cuisine is based around 2 main products – wheat and olive oil.

Not only does the region of Puglia produce the highest quantity of wheat in Europe, but there are also 40-50 million olive trees in Puglia (fun fact – Jaen, in Spain, is home to 60 million!), with the region being responsible for 40% of Italy's entire oil production – that's a lot of oil!

You will also find the local pasta, orecchiette, which loosely translates to 'little ears,' an abundance of seafood, and Barese Focaccia, which is said to be the best focaccia in Italy.

So, whether you want to hang out with the old fishermen eating raw sea urchin, learn to make fresh pasta with a local Nonna or eat bread until you're about to burst, Bari will not disappoint.



The Best Bari Food Experiences


1. Eat raw fish at Porto Vecchia


Porto Vecchia is the old fisherman's port in Bari (not the big port where the cruise ships dock!) and is where you can watch the blue boats bobbing around and buy fresh seafood straight from the fishermen.

While you can certainly take home and cook your purchases, it is the custom to eat the fish raw, sushi-style right there at the port, so whether you want to try octopus, oysters or even sea urchins, you can be sure that you're trying the freshest seafood there is.



2. Go on a Bari street food tour


I love street food tours and going on a street food tour in Bari is one of the best ways to see the city and try some local delicacies at the same time.

From visiting a bakery and learning all about Barese focaccia to sampling local meats, cheeses and fried goodness (and wine of course!), a street food tour is easily one of the best things to do in Bari.

If you want a regular walking food tour then you can check this one out, or you can mix things up and discover Bari's street food by bike, segway or even rickshaw!



3. Watch the Nonnas in action on Strada delle Orecchiette


Orecchiette, the pasta shaped like a little ear, is the type of pasta most famous in Puglia, and in Bari, you can see it being made right in front of your very eyes!

Strada delle Orecchiete (which is actually called Strada Arco Basso but who really cares?) is where the grandmas of Bari sit outside their homes expertly rolling and preparing fresh orecchiette, laying it on mesh screens to dry in the sun and selling it by the kilo to both locals and tourists alike.

These women are continuing on a centuries-old tradition, creating the pasta in the exact same way that their grandmothers and great grandmothers did before them, and seeing them in action is one of the most special and interesting things to do in Bari.

If you don't want to buy your own to cook, make sure to go to any Bari restaurant and order Orecchiette alla Barese, which is orecchiette pasta served with broccoli rabe, Italian sausage and tomato.



4. Discover real olive oil


Forget the stuff you buy in the supermarkets – once you've tried genuine, quality olive oil, you'll never look back (I'm still dreaming about the oil I tried in Utiel-Requena).

As I mentioned earlier, the Puglia region is responsible for 40% of Italy's entire olive oil production, meaning that when it comes to olive oil, they really know their stuff.

If you're travelling to Bari in a group then why not make a day of it and try out this full-day tour that combines a visit to an oil mill, a wine cellar, and two historic cities nearby.

(Sidenote: another great day trip from Bari is Matera, which I wrote about in another blog post!)



5. Eat focaccia Barese-style


You've probably tried focaccia, the Italian oven-baked bread with a doughy, pizza-like texture, but did you know that Barese focaccia is considered the best in Italy?

This delicious bread is topped with tomatoes, olives, oregano and a drizzle of olive oil, and it is the perfect on-the-go snack during a long day of sightseeing!

If you want to make focaccia into a more substantial meal, you can top it with things such as meat and cheese like in the featured image of this post!

You can buy focaccia from any panificio (bakery).



6. Learn to cook in a local's home


I'm definitely no cook, but I've really enjoyed taking cooking classes on my travels, from Tom Yam soup in Chiang Mai to Moroccan Tagine in the Atlas Mountains.

If you want to take a piece of Bari home with you then you'll really benefit from a cooking class, led by an Italian Mamma in her family home.

This private home cooking class will allow you to learn the secrets of the most famous local dishes as you prepare 3 traditional recipes, washed down with some of the finest local wines.



7. Eat gelato!


Gelato is certainly not unique to Bari, but you can't visit Italy without indulging in some of the many delicious flavours of gelato on offer.

Bari is full of artisan ice cream parlours, but the best one in the old town is Gelateria Gentile, with flavours changing daily and a stunning view of the castle.



8. Buy a panino from ZiaMaria food truck


Did you know that in Italy, 'panini' is the plural version of 'sandwiches?'

That's right, when visiting Italy, make sure to order a panino if you only want one!

ZiaMaria's food truck serves up huge meaty sandwiches for around 4 EUR.

From porchetta (suckling pig stuffed with fat, herbs and offal) to spicy sausage or gorgonzola with mortadella, you can't go wrong at ZiaMaria if you're a carnivore!



9. Try sgagliozzi


Sgagliozzi are deep fried polenta in a rectangular shape, and they are a signature street food in Bari, similar to sfincione in Palermo.

You can find them on stalls in the historic centre, and they are especially popular at Christmastime, but you can find them all year round, and walking around the old town with a bag of piping hot sgagliozzi is a quintessential Barese experience.



10. Eat panzerotti


While we're on the topic of Bari street food, no trip to Bari is complete without eating a panzerotto.

A panzerotto is a savoury turnover that looks like a small calzone or empanada, and a traditional Barese panzerotto is fried and stuffed with mozzarella and tomato (other regions in Italy fill theirs with other things).

Another great snack or light bite, you can't go wrong with a panzerotto.



11. Enjoy cold beer and seafood at El Chiringuito


If you don't fancy the sound of eating raw seafood at Porto Vecchia, head to El Chiringuito, a no-frills bar where young Baresi congregate and drink bottles of cheap Peroni beer, listen to reggae music and feast on delicious seafood purchased directly from the fishermen.

With a great sea view and sunset to boot, El Chiringuito is definitely one of the best bars in Bari.



12. Snack on some taralli


What happens if a bread stick, a cracker and a pretzel all somehow have a baby together?

You get taralli!

Taralli are ring-shaped crackers made with flour, salt, extra virgin olive oil and white wine, and they are devilishly moreish.

While you can find them all over southern Italy, taralli are originally from Puglia, so of course you must try some while you're in Bari!

Taralli are the perfect bar snack or aperitivo food – just make sure you have them fresh and not from the store!



Things to do in Bari for foodies | Final thoughts


So, that just about brings us to the end of my list of what to do in Bari if you love food as much as I do!

Bari is a stunning city with a tonne of things to see and do, but in my opinion, if you spend your entire time looking at old churches and castles, you're missing out on a huge part of what Bari has to offer.

While sightseeing is definitely important (and Bari isn't short of impressive things to see!), the real essence of Bari can be found in its cuisine.

I hope that this article was helpful, and as always, if you have any comments or questions about Bari food then please let me know in the comments section below!

Until next time,

XOXO



If you liked this article and would like to support my work, please click the button above to donate a couple of bucks and buy me a coffee. The ad revenue that I receive on this website is minimal, so support from my readers enables me to keep creating content that you (hopefully!) love to read.


Disclaimer: Travelling Jezebel uses affiliate links. This means that if you make a purchase on a recommended site then I may make a small commission at no extra cost to you!