Choosing the best laptop for travel blogging can be super overwhelming.

Trust me, I know – I've done it more than once!

Travel bloggers and digital nomads rely on their laptops for work, and if you screw up and choose a laptop that doesn't have the specifications you need or is a hassle to carry around, you'll have made a very expensive mistake.

With this in mind, I decided to put together a list of the best laptops for travel that remote workers, digital nomads and travel bloggers alike will hopefully find useful!

Let's get into it.



Which is the Best Laptop for Travel Blogging? The Best Travel Laptops 2023


Do you need a laptop for travel?


Unless you're a digital nomad, travel blogger/vlogger/photographer, a travel laptop probably isn't essential.

Many backpackers or hobby bloggers prefer travel with tablets, as these allow you to watch Netflix, video chat, read books and other simple online activities, without taking up valuable space in their bags and adding extra weight.

These are the cheapest options, as well as being the easiest ones to transport from A to B.

With that said, if you need to edit a lot of photos and videos, type a lot of documents and format blog posts regularly, you will find it difficult to work on a tablet.

Again – trust me, I know.

For the first 3 years of my travels, I used a Lenovo Yoga Tab with a bluetooth keyboard, and while it was fantastic for Netflix and Youtube etc., even formatting a blog on WordPress was beyond frustrating and would take me hours.



What should you look for in the best laptops for travel?


You may not have thought about it before, but laptops that are ideal for travel are different to, say, the best gaming laptops.

Gaming laptops tend to be heavier and more robust, with large screens and a lot of RAM space, while the best laptops for travel bloggers are all on the smaller side, with a low weight being a must – trust me, when Ethan (my partner) brought his gaming laptop on our backpacking trip to Albania, he did not have a great time!

But what else do you need to look for when it comes to laptops for bloggers?

When you are choosing a laptop, there are certain specifications that you should keep an eye out for to ensure that the device you're buying is powerful enough for the things you need it for.

Of course – every travel blogger has different needs.

Personally, I hardly ever edit photos, and I don't take video at all, so a super powerful computer with a large memory was not all that important to me.

If you do spend a lot of time on those things, you'll need to make sure you're choosing the best travel laptop for you.

Here are some of the most important things to consider when it comes to the best laptop for blogging:



Operating system


There are 3 main operating systems that you will come across when choosing a laptop – Mac OS, Windows OS and Chrome OS.

Many people love the Mac OS, but this can come at a cost.

The Windows OS is super versatile and works with many different laptop brands, meaning that prices are competitive.

The Chrome OS was designed around the Chrome web browser and doesn't require a lot of expensive processing power, meaning that these devices tend to be on the cheaper side.

A Chrome OS is ideal if you are happy with Cloud storage and spend most of your time researching and writing.



Price


As someone on a shoestring budget, I usually avoid the pricier things in life, but the dangers of buying a super budget laptop is that you may end up with something clunky, heavy and slow – not the ideal qualities you're looking for in a travel laptop!

With that said, you probably don't need the most expensive laptop on the market.

Mid-range laptops (£700 – £1200), for the most part, should be just fine.



Size and weight


The size and weight of my laptop was one of my biggest concerns.

I know how difficult it is lugging a large backpack around, and adding a heavy laptop to that is not what I wanted to do.

I also watched my boyfriend lug his huge gaming laptop around Albania and Sicily, and that was enough to put me off larger laptops for life!

For me, a laptop that is light to carry and small enough to fit into a small tote bag or backpack is essential.

Screen sizes usually range from 11 inches all the way up to 17 inches.

My dinky Huawei Matebook is 13, and it's perfect for travel as it is big enough to see clearly but doesn't take up too much space in my bag.

Not only is there a space issue with larger laptops, but weight will increase considerably with size.

My Huawei Matebook weighs just 2.87 lbs, but bigger laptops can be heavier than 8lbs, which is a hell of a lot of extra weight to be dealing with!



Battery life


After using my Lenovo Yoga Tab and Macbook Air, I knew that when it came to buying a new travel laptop, battery power was incredibly important to me.

Not only am I often on long flights or bus journeys, but not all hostels have outlets in convenient places, and the same goes for cafes and coffee shops where you might choose to work.

A laptop with a long battery life is therefore super practical when you're on the road.

MacBooks have pretty much the best battery life there is, but again, you are paying a premium price for that.



Screen resolution and keyboard quality


Not only will you be staring at a screen all day (creating graphics, editing pictures etc.), but your keyboard is also going to take a battering.

Choose a laptop with a high quality screen and keyboard.

I especially love laptops where the keyboards light up – being able to type even in a dark or dimly-lit space is awesome!



The build


The best laptops for travel bloggers are ones with endurance.

Of course, you're not going to be hurling it out of the window or anything, but you will likely be knocked at some point, or have to travel down a bumpy road with all of your equipment bashing together.

Buying a sturdy laptop case obviously helps, but your travel laptop also needs to be robust enough to cope with life on the road, just like you!

Laptops made with more metal and less plastic are usually stronger and less prone to breaking.

MacBooks are the obvious choice for this, being made from recycled aluminium alloy, but again, the price reflects this.



CPU


The CPU is the core processor and is one of the most important factors when considering which is the best laptop for travel blogging.

It is essentially how powerful your laptop is, meaning how fast it will function.

The more powerful laptops are often the larger ones, so the aim is to find the perfect middle ground for your needs.



RAM


When I was buying my laptop, my boyfriend told me that I needed a good amount of RAM, because his measly 4GB wouldn't allow him to have more than a couple of internet tabs open without crashing (it was also a fossil of a laptop to be fair!).

However, if you are running lots of apps at the same time or editing photos and videos, choosing a blogging laptop with more RAM is definitely a wise thing to do.

I opted for a laptop with 8GB, which is more than enough for most travel bloggers, but if you can afford one with 16, go for it.



Which type of phone you use


It isn't the be all and end all, but your life will definitely be easier if you have a phone and laptop that you can easily sync.

This means that if you already have a Huawei phone, you should probably opt for a Huawei laptop, and an iPhone will be perfectly suited to a MacBook.

However, this is really only a minor thing. I sync all of my videos, photos and documents using Google, and it works like a charm.



Where should you buy your laptop from?


I know that lots of people don't like Amazon, but when it comes to laptops, Amazon is my go-to.

Not only do you have the option of Prime next-day delivery, but you can shop around for the best prices as well.

Lastly, and the biggest reason why I choose Amazon for electronics, is the customer service they offer. Although Amazon is a marketplace, they really put the consumer first, and when it comes to expensive things like laptops, this is exactly what you want.

So, now that we know what we're looking for when it comes to the best laptops for travel, let's get into the laptops themselves!



The Best Laptops for Travel Blogging 2022


As I've said about a million times at this point, the laptop that I use is a Huawei Matebook 13, which I couldn't be happier with.

Forget what people say about Huawei – if you use TikTok, then China already knows your business anyway, and let's face it, Huawei create really brilliant products.

As a travel blogger, I wanted something super light and speedy, with a decent quality webcam for video calls.

Weighing just 2.87 lbs (1.3 kg), it's one of the most lightweight laptops on the market, with 8GB of RAM, an Intel Core i5 10th generation CPU and 256GB of storage, it is an incredibly powerful laptop for its size, without the hefty price tag of a MacBook.

Having used both the Huawei Matebook and MacBook Air, I love them both equally. In fact, with a slightly smaller size and a Windows OS, I actually prefer the Huawei!

The screen size of 13 inches makes it one of the absolute best laptops for travel and overall the best laptop for blogging, in my humble opinion.



My other favourite laptop for blogging and travelling is the MacBook Air.

At just 2.79lbs (1.27kg), it is extremely light, and also super thin. Not only that, but it's powerful, has a stunning retina display, backlit keyboard, and the 13 hour battery life is unparalleled.

It also has 256GB of storage (and you can upgrade to 512GB) and 8GB of RAM, which you can upgrade to 16GB.

It certainly isn't a budget travel laptop, but Apple products are of premium quality, and the MacBook Air is the most affordable MacBook there is.



If you are leaning towards buying a Chromebook, my pick is the Asus Chromebook C434 Flip.

It has a Chrome operating system and flexible 360 degree hinge and 14″ full-HD touchscreen, which lets you use the Chromebook in either tablet or laptop mode.

The Asus is also fairly lightweight, at 3.3 lbs (1.5 kg), has an aluminium body for extra protection, and Gorilla glass which protects the touchscreen.

Its M3 processor isn't as fast as the more expensive laptops out there, but it does have a good battery life and up to 8GB RAM (most available models have 4GB though).

With that said, the Asus does have less storage than the other products on this list (64 GB).



Another laptop with a super cool screen is the HP Spectre x360 13".

This 13.3" screen folds completely back and is a touchscreen, meaning that this laptop can also be used as a tablet if you prefer.

This is another lightweight device, coming in at 2.77 lbs (1.26 kg), with 16GB of RAM, 512GB memory, a 13.3" screen and a USB C charger.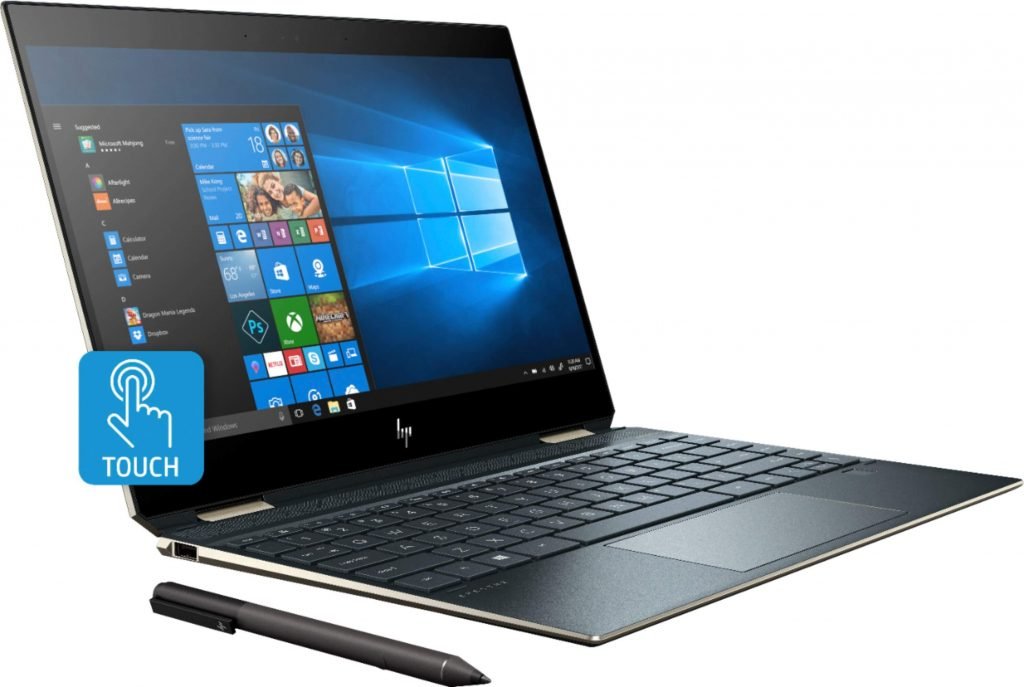 With almost 14 hours of battery power and a weight of just 2.79 lbs (1.27 kg), the Dell XPS 13 has all the power of a larger laptop (16GB of RAM) while still being easy to transport.

The Dell XPS 13 has an Infinity Edge screen with anti-glare finish that is almost borderless, meaning you can enjoy beautiful colours on the display, and it also features the Killer 1535 Wireless-AC Card, which will give a stellar Wi-Fi performance.



The Asus ZenBook 14 is another teeny tiny laptop, weighing just 2.4 lbs (1.08 kg), and it has a really cool feature called the ErgoLift hinge, which angles your keyboard perfectly for typing.

The battery life is anywhere up to 12 hours, making it one of the best travel laptops when it comes to battery, and it has also met military standards when it comes to durability – perfect for all those bumpy roads!

With up to 16GB of RAM and 512GB of storage, the Asus ZenBook 14 is at the top end when it comes to the best laptops for travel blogging.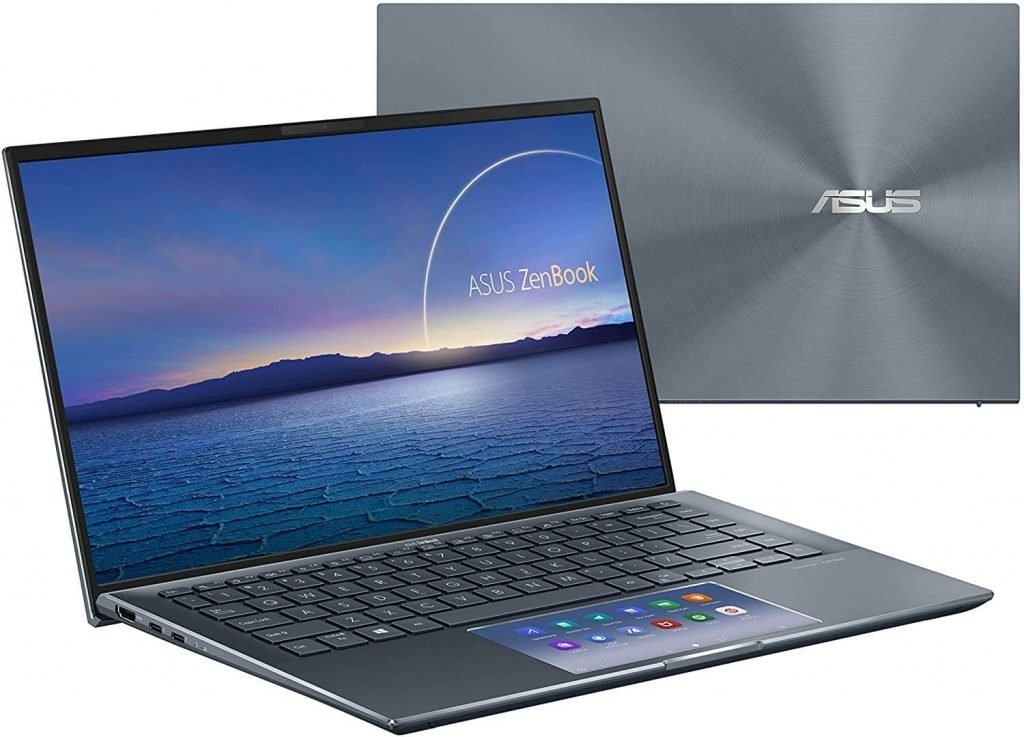 The Microsoft Surface family of laptops are a hybrid between a laptop and a tablet, making them among the best laptops for travel blogging, and best laptops for blogging in general – not only do they have incredible specs whilst being as lightweight and compact as a tablet.

Personally, I find the Surface Pro 7 to be the best option for travel, but they all have great qualities.

The detachable keyboard allows you to use your Surface Pro 7 as a tablet whenever you need to, and it also doubles as a screen cover for added protection on the go.

It also comes with the Surface Pen, allowing you to write or draw naturally on the screen, and the battery life is competitive, at around 10.5 hours.

You can also customise the specs to your needs, choosing anywhere from 4 to 16GB of RAM, and 128GB to 1TB of storage.

It is important to note that this laptop comes without the keyboard.



It isn't cheap, but the MacBook Pro is the Big Daddy of laptops, let's face it.

It's reliable, it's powerful, and it can do pretty much anything you want it to.

Seriously. With its strong aluminium case, quad core 32GB RAM processor, 2TB of SSD storage and up to 20 hours battery life, the technology behind the MacBook Pro is the best on the market, it's as simple as that.

The retina display comes in either a 13, 14 or 15 inch, but they are a little on the heavy side, and so the 13" is probably the best MacBook Pro for travel, coming in at 3.02 lbs (1.36 kg), with the others coming in at 3.5 lbs (1.58 kg) and 4.7 lbs (2.13 kg) respectively.



This is another hybrid laptop that you can use as a laptop or tablet (although unlike the Microsoft Surface, you can't detach the keyboard from the screen).

Perhaps the greatest thing about this model is an excellent battery life of up to 17 hours, despite the amount of power it has (8GB of RAM and 512MB of storage).

This makes the Dell Inspiron an absolute beast when it comes to editing, and even gaming.

The screen can also be used as a touchscreen or Active Pen, so you can truly customise the way your laptop works for you.



When it comes to the best budget laptops for travel bloggers, you can't go wrong with the Lenovo IdeaPad S145.

It is on the bottom end of the IdeaPad spectrum, with only 4GB of RAM and a plastic body (making it less durable than the metal ones), but for the price, it is a great choice.

Another plus point is that it comes with 3 USB sockets, meaning you can connect and charge multiple devices at once!

The large, 15.6" screen makes it perfect for photo and video editing, although at 4.07 lbs (1.85 kg), it is one of the heavier laptops on the list, however, if you're looking for a cheap travel laptop, this could be the way to go.



If the name doesn't say it, I will – the HP Elite Dragonfly could be the best laptop for blogging out there.

Not only is it a convertible laptop, meaning it can be used as a tablet like the Microsoft Surface Pro, but it also has a HUGE battery life of 24.5 hours!

Specs include 16GB of RAM and 512GB of storage, as well as a magnesium shell that passes military-standard durability tests.

Naturally, there is a hefty price tag that comes with a laptop like this, but if you want the best of the best, the HP Elite Dragonfly is it.



Insuring Your Laptop


Laptops are expensive, and if something goes wrong, fixing them is also expensive.

I didn't insure my old MacBook Air, so imagine how devastated I was when it was damaged by water not once, but twice in as many months (it was a refurbished model so insurance companies wouldn't touch it).

My advice if you're buying a travel laptop would be to choose travel insurance that also covers your laptop.

Although most insurance companies will not provide adequate cover for this in their regular packages, some of them have extended cover for electronics.

I always recommend World Nomads insurance, and if you choose their Explorer Plan, your tech will be covered up to £2000, which is more than enough for most travel laptops.

Of course, you don't ever want to have to actually claim on your insurance, and so you should take every precaution necessary to protect your gear, such as using an anti-theft bag and always using hostel lockers/safes.



In Summary

The Best Laptops for Travel Bloggers | Final Thoughts


I truly hope that this list of the best travel laptops and laptops for travel bloggers has helped you narrow down your decision as to which laptop is the best choice for you.

At the end of the day, every laptop on this list is a high quality laptop that is more than capable of dealing with life on the road while still helping you accomplish your daily tasks.

If you have any questions, then please don't hesitate to ask me down in the comments section and I will do my best to help!

Until next time,

XOXO



If you liked this article and would like to support my work, please click the button above to donate a couple of bucks and buy me a coffee. The ad revenue that I receive on this website is minimal, so support from my readers enables me to keep creating content that you (hopefully!) love to read.


Disclaimer: Travelling Jezebel uses affiliate links. This means that if you make a purchase on a recommended site then I may make a small commission at no extra cost to you.