Readers of this blog will know that while I adore travel, I also love making my apartment as cosy as possible and creating a real hygge home for myself.

Hygge – pronounced 'hoo-guh' – is a Danish word that originated from the Norwegian word for 'well-being' and describes 'a mood of cosiness and comfortable conviviality with feelings of wellness and contentment.'

Hygge is popular in both Danish and Norwegian culture (the Norwegians call it 'Kos,' meaning 'cosy), and the Germans and Dutch have similar versions, known as gemütlichkeit and gezelligheid, but the most well known by far is the Danish version, with many self-help books and newspaper articles proclaiming that the Danes have found the key to happiness and it's called hygge!

So, hygge, which is both a verb and an adjective, describes both a lifestyle and state of being where one derives pleasure from the simple things, enjoys a quiet life, spends quality time with loved ones and is, above all else, comfy.

The Danish cultivate a feeling of 'hygge' with their unique design and décor, which is functional yet very comfortable. A hygge interior is perfect for winters (although you can certainly enjoy hygge in the summer too!), as it welcomes lots of layers, low lighting and cosy setups.

You can incorporate this décor by adding a handful of essential elements to your hygge, so if you want to know exactly how to create a hygge home, just keep reading!



How to Create a Hygge Home – A Complete Guide


What is Hygge Home Decor?


The Hygge interior style is forever rising in popularity because of its comfort, and the key elements of a hygge home are cosiness, comfort, layers, and a warm atmosphere.

To be 'hygge,' you learn to celebrate the small things like those extra hours in bed, natural light streaming in through the windows and the soft crackle of a log fire, and hygge design focuses on creating the perfect atmosphere to appreciate these things.

So, now that we have an idea of what hygge is, let's explore all the aspects of hygge home décor.



Hygge Your Home With a Very Relaxing Palette


The hygge style welcomes very relaxing, soothing, and calm palettes. It should feel like a winter wonderland that gives happiness to the soul.

The best hygge colours are whites, beige, off-white, pastels, and earthy tones, and wall hues should be light and bright.



Make a Warm Entrance


You should strive to create a hygge feel from the very first moment that you step over the threshold in your home.

Make a warm entrance that immediately welcomes you home from the long, dark days of winter.

Hang pretty hooks for coats and umbrellas and have a soft rug leading down the hall.

You can also place a Scandi-style wooden console table with some fresh flowers or dried pampas grass to bring the outside in.

The neutral palette with wooden textures and a cosy boho rug will set the mood of your hygge home.

A very simple way to create this feel is by using simple skirting boards and either painting them white, or leaving them in their natural state. You can find a wide selection of softwood skirting boards from Skirting World at very affordable prices.



The Furniture and Storage


For the most part, you can ditch furniture in favour of cushioned mattresses on the floor, floor cushions and makeshift tables (think stacks of books).

If you can't bear to live without furniture then opt for natural wooden couches, tables, and chairs in a simple, Scandinavian style.

When it comes to your hygge bedroom, the bed must be the most inviting piece, with faux fur throws and cushions, fairy lights and lamps surrounding it.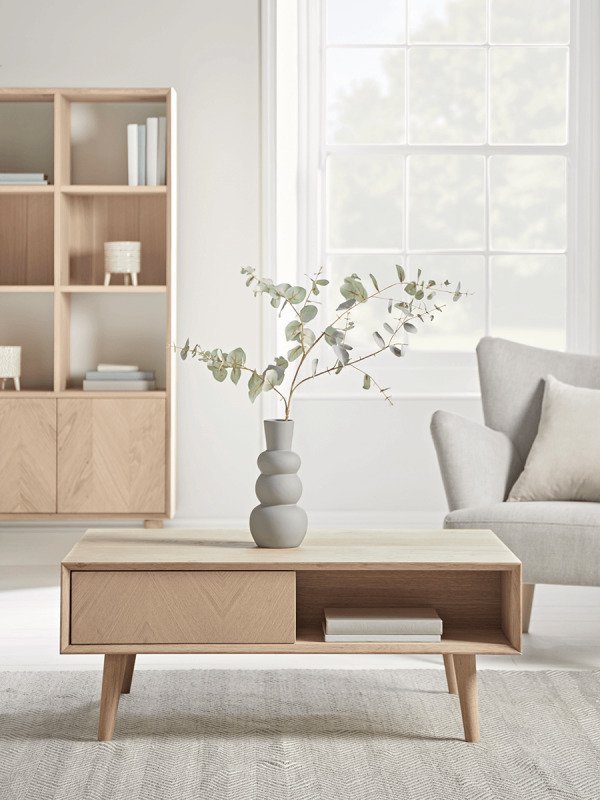 Hygge Wall Art


When it comes to hygge wall art, less is more, and so the best tactic is to create a focal point and add texture to the walls with canvas.

You can explore trending hygge wall décor ideas that are perfect and texture the walls wonderfully, and for something a little different, you might buy wall transfers to spruce up your space.



Bring in Soft Textiles


Textiles are one of the most vital parts of this style. Soft cushions, knitted throws and lots of layers are crucial.

Place warm area rugs below the couch and bed.

You can also experiment by adding different textures to the walls, such as macramé, hand-made tapestries, and woven wall arts.



Introduce Some Scents


No matter what the time of year, there's always a perfect scent to create a wonderfully hygge atmosphere in your home, and with their long burn time, wax melts are the perfect choice (although not Scentsy ones, please!).

Autumn and winter bring spiced orange, cinnamon and mulled wine, while spring and summer see fresher, floral notes, like citrus, coconut, or freshly-washed clothes.



Get a Fire Going


Having family time around the fireplace is characteristic of Danish culture, and there's nothing better on a cold winter's night than sitting by a crackling log fire. So, go for a wood-burning stove or a vintage fireplace.

If that isn't doable for you, put candles everywhere and enjoy the flickering lighting.



Hygge Welcomes a Cosy Nook


As hygge celebrates comfort, a cosy reading nook is a must.

You can create a nook near the living room or bedroom window by layering some soft cushions and throws and a reading lamp with a soft, warm light, along with a stack of books to work your way through.



Bring in Some Greenery


Something that all hygge homes have in common is an abundance of plants.

Bringing the outside in and celebrating nature is crucial to the hygge mindset, and an added bonus is that house plants help to purify the air inside your home.

A great place to buy house plants is Patch Plants. Make sure to go for the 'unkillable' collection if you have a bit of a black thumb like me!



Introduce Mood Lighting


Long winters demand warm lights, so utilise a mix of lamps, fairy lights and candles to create a peaceful haven to come home to.

Place organic scented candles everywhere around your home, and for the love of god, NEVER use 'the big light!'

Getting the right lighting everywhere in your home is important, but a hygge bedroom is where this matters the most.



Create a Spa Style Bathroom


A spa-style bathroom is like a cherry on top for your hygge home because it is a place where you can light some candles, pour a glass of wine and indulge in a nice hot bubble bath after a stressful day.

Invest in a wooden caddy to keep your smellies tidy, and a wooden bathtub tray. Place mild organic scented candles on stands with lots of small plants.

Add textiles like rugs and layers for comfort, and warm light to set a relaxing mood.



Centrepiece for Your Dining Table


Create a striking centrepiece for your dining table by filling a wicker basket with fresh fruits, or place a vase with fresh or dried flowers and pine cones.

It goes without saying that your dining table should have one big candle or several smaller candles.



Create a Library


What could be more hygge than curling up on the sofa, sipping a warm mug of tea and getting lost in a good book?

Having a wooden bookshelf overflowing with books will have you feeling at home before you've even read the first page.



Creating a Hygge Home | Final Thoughts


The hygge style is simple, minimalistic and the essential elements come together to create a lovely atmosphere. Soft lighting, wall art, plants, neutral shades and textiles are the key components of a hygge home, and the cosier you make it, the better!

So, pick your favourite ideas from above and welcome hygge into your home!

I hope you enjoyed this article. As always, if you have any thoughts or questions, please leave a comment below!



If you liked this article and would like to support my work, please click the button above to donate a couple of bucks and buy me a coffee. The ad revenue that I receive on this website is minimal, so support from my readers enables me to keep creating content that you (hopefully!) love to read.


Disclaimer: Travelling Jezebel uses affiliate links. This means that if you make a purchase on a recommended site then I may make a small commission at no extra cost to you.