One of the simplest pleasures in Sicily is sitting down for a light lunch, basking in the sunlight and enjoying a cool glass of fine Sicilian wine.

Perhaps the only thing that could make this experience any better is if the wine in question was made from grapes harvested from Europe's largest active volcano, the formidable Mount Etna.

It may seem an unlikely location for a vineyard, but for the Mannino family, Etna wine is their heritage, and they have been producing quality Sicilian wine since 1800!

Now, although I'd spent a lot of time drinking wine in Sicily, I hadn't actually ever taken the time to go wine tasting in Sicily, and so when Federico from Tenute Mannino di Plachi reached out to me and invited me to a tasting at the Mannino family winery, I couldn't say no.



Catania Wine Tours – An Introduction to Etna Wine


The estates of Tenute Mannino di Plachi are divided into 3 areas, or zones: Le Sciarelle, Tenuta del Gelso and Podere Pietra Marina.

For my first experience of wine tasting in Sicily, my boyfriend and I arranged to meet Federico at the Tenuta del Gelso at 11:30 one sunny August morning to see whether Etna wine lived up to the hype.

Here's how it went…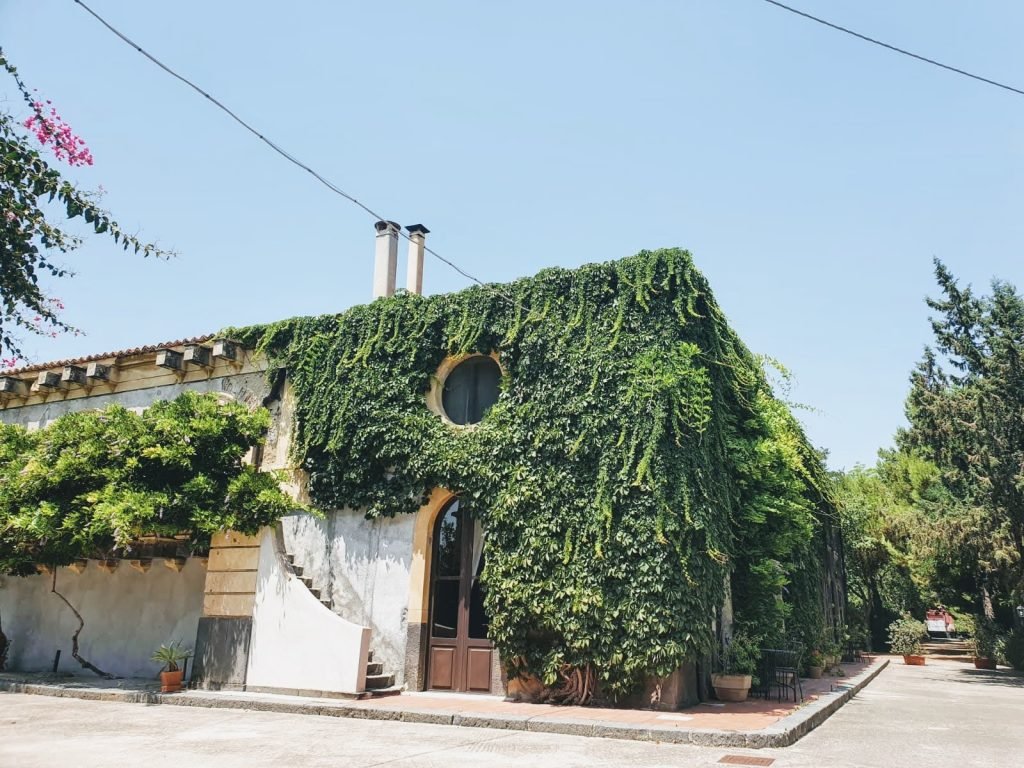 The History of Tenute Mannino di Plachi


When we pulled up at Tenuta del Gelso 20 minutes early, Federico was ready and waiting with a big smile and a pandemic-friendly elbow bump.

Although Federico is not part of the Mannino family himself, he has worked at the winery for so many years that he may as well be, and his passion for wine and agrotourism shine through with every word he says.

After a friendly welcome, he led us to the beautiful garden area at the front of the property and began telling us all about the history of Tenute Mannino di Plachi, one of the most famous wineries in Sicily.

All the way back in 1800, the Baron Franz Mannino began supplying wine and citrus fruits to other parts of the world such as North America and the rest of Europe, winning prizes in various World Wide Expositions.

After a huge grape sickness in Europe in the early 1800s where most of the grapes were destroyed (called phylloxera), Sicilian aristocrats, seeing that their grapes had not been affected, invested money into wine production, and as a result Sicily (and Calabria in the South of Italy) began producing wine for the whole of Europe.

Federico grinned as he told us that the English were among the first wine buyers in Sicily, and back then the focus was always on quantity rather than quality, with buyers only caring about the alcohol content and not about how the wine actually tasted (classic Brits!).

These days, Sicilian wine is much more focused on flavour and complexity, crafted to be enjoyed rather than guzzled down as part of a mission to get obliterated, and although that may come as a disappointment to some, I was very happy to hear it!



Tenuta del Gelso – A Stunning Winery in Sicily


Tenuta del Gelso is a huge 65 hectare plot that primarily grows citrus fruits, but also cultivates olives, wheat and vegetables such as artichokes.

The old rural house at the heart of it all, surrounded by luscious gardens, is called the 'palmento.'

The palmento is one of the oldest and biggest in the area and is where the grapes were turned into wine in days gone by.

In the past, the Mannino family would actually live in the palmento during the harvest season, and everybody had their part to play in the wine making process – the men would pick the grapes, the women would bring them inside and the children would crush the grapes with their feet on the upper level of the palmento, dancing and singing as they did so!

The ground floor level was used for the fermentation and bottling process, but now, of course, due to health and safety, the wine is no longer produced in the traditional way and so the palmento currently functions as both a guesthouse and area for Sicilian wine tastings.

With that being said, traditional processing techniques are still employed at Tenuta del Gelso, such as manual harvesting and natural ageing in oak barrels, and the winery still produces a staggering 150,000 litres of wine every single year!

As Federico explained the wine making process to us, he led us slowly around the palmento so that we could visualise how it would have been in the past.

When he'd finished, he led us to a beautiful table in a little alcove for the tasting itself, a setting which reminded me a little of Mesquida Mora in Mallorca.



Wine Tasting in Sicily – My Experience


After we'd made ourselves comfortable, Federico poured the first glass of wine for each of us, and encouraged us to try it as he told us a bit about it.

Our first Etna wine was the Palmento '810 I.G.P Carricante Terre Siciliane 2017.

The grapes for this wine are the Carricante grapes, which are one of 4 types of grape that grow around Mount Etna. The Carricante grapes come from Le Sciarelle, which is located 400 metres above sea level in the southern part of Etna.

'This wine is great for aperitivo,' Federico explained, 'because it has a good level of acidity for different types of food. It cleanses the palette.'

Its I.G.P classification means that the family have less restrictions on how they produce their wine, thus allowing them to get more creative with the process. The Carricante wine is left for 6 months in still tanks followed by 8 months in the bottle.

It is very easy to drink, and its flavours are the fragrant Genestra wildflower which grows on the Etna lava stone, and fruits including banana.

Next came the Etna Bianco DOC 2018, which is also from Viagrande and is made from two important Etna grapes – the Carricante (90%), and the Catarratto (10%), the latter of which gives the wine its DOC classification.

The skin is left on the grapes for 2.5 months to allow the tannins to give it a stronger, more intense taste than the Carricante wine. This is a wine rich in minerals brought about by the volcanic soil, and Federico advised us that while the previous wine was perfect aperitivo wine, this Sicilian wine is more suited for fish and shellfish dishes.

He grinned and disappeared, leaving us to linger over our wine and enjoy some of the foods that we'd been neglecting in our quest to learn everything about Sicilian wine.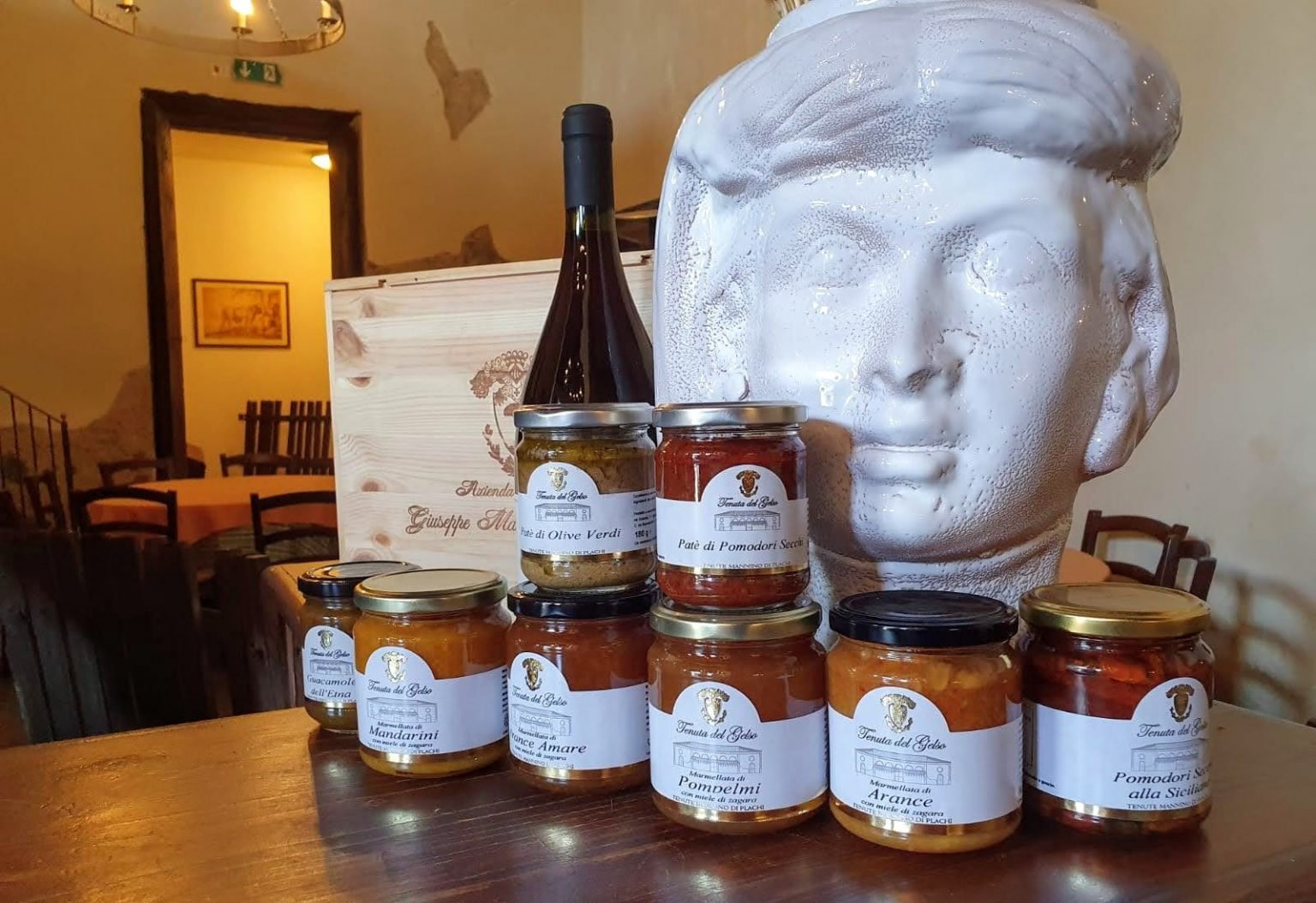 Before us lay a beautiful antipasti platter full of organic Sicilian foodie delights.

Cloudy Extra Virgin Olive Oil from the old Nocellara Etnea trees with a hint of spice, sun-dried tomatoes and juicy green olives, along with Brolo Salami and fresh Pepato and Provola cheeses from Ragusa made up our antipasti platter.

An array of spreads – avocado marmalade, or the 'guacamole of Etna,' sun-dried tomato paste and a rich spread made from both black and green olives complete with a basket of warm crusty bread were also ours for the taking.

For a sweet addition we had citrus marmalade made from blood oranges, mandarins, lemons, bitter oranges and clementine, all peeled individually by hand and blended with orange peel in orange blossom honey for a unique and delicate taste.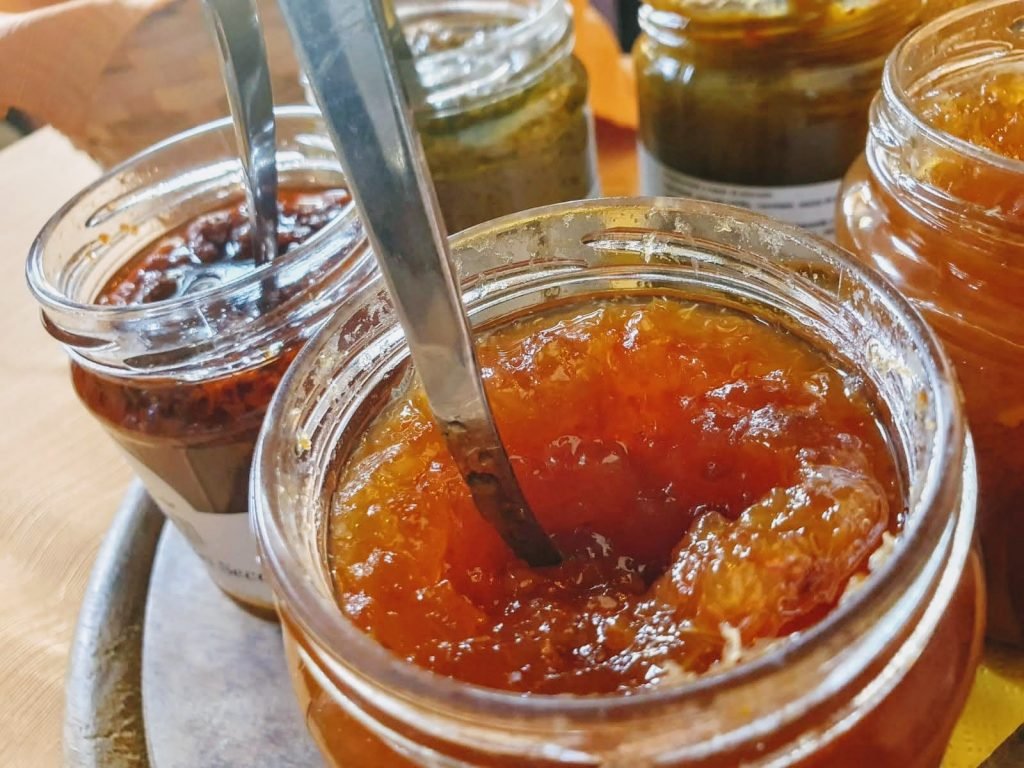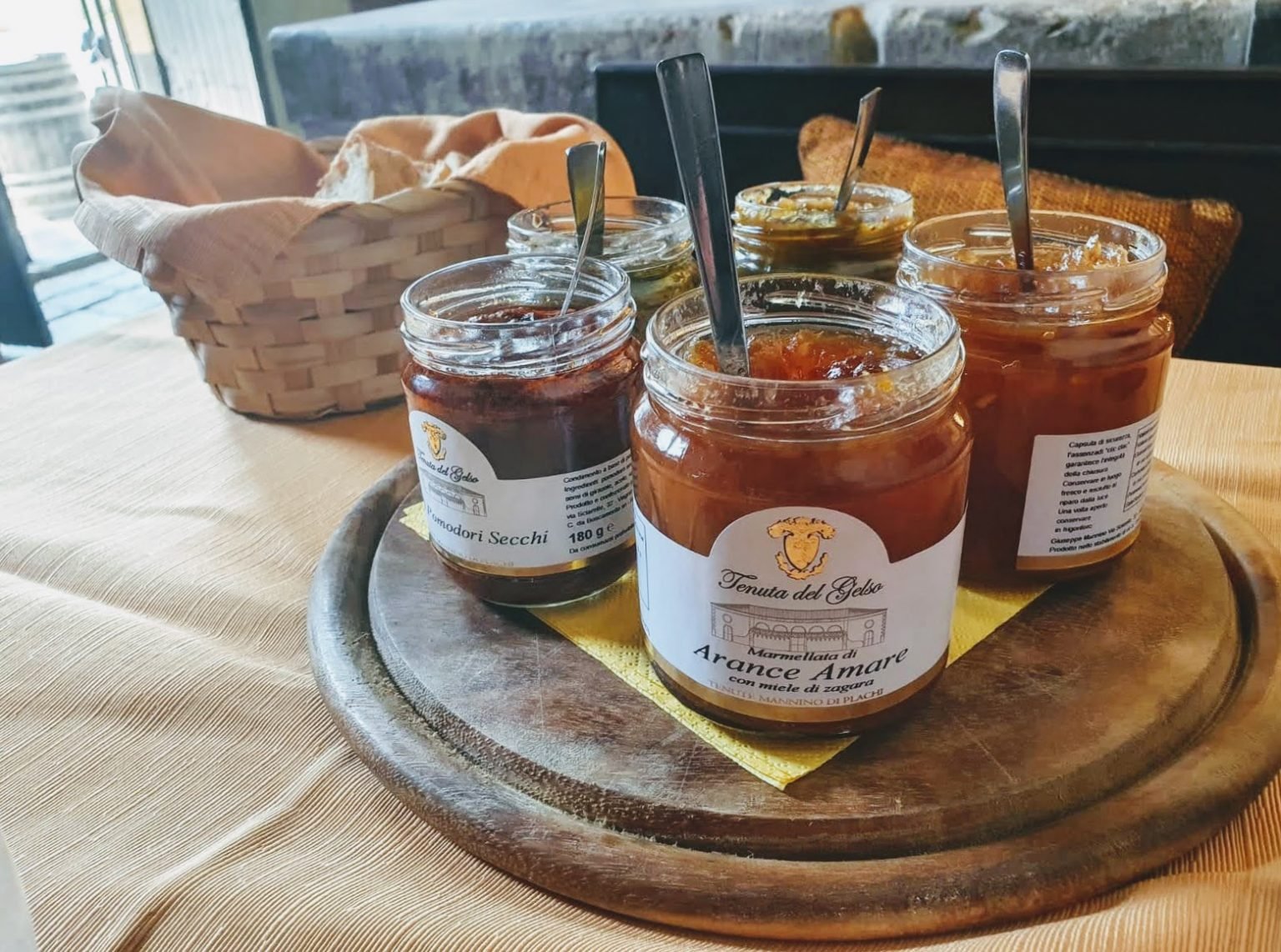 When Federico returned, it was with our first red wine, the I.G.P Nerello Mascalese 2013, made from the Nerello Mascalese grapes that grow on the North side of Etna, in the ancient vineyards of Castiglione di Sicilia, on sandy and volcanic soils.

As Federico explained the process of making this wine, we gave it a try.

I am not usually a red wine drinker so I wasn't prepared to enjoy this wine as much as I did – Federico described it as being 'a light wine that still feels full in the mouth,' and I have to say that I agree with his description!

With notes of red berried fruits, I found this wine very easy to drink, and it went really well with the meats and cheeses that we continued to nibble on.

Our fourth and final wine was the Etna Rosso DOC 2015, the most expensive and prestigious wine that we would be sampling at this winery in Sicily.

The Etna Rosso DOC is made from the Nerello Mascalese and Nerello Cappuccio grapes, both of which are native to the black volcanic Etna soil which is rich in minerals. It is a dry wine, ruby red in colour and full in flavour with an earthy taste – to be honest I think it was wasted on my very unsophisticated palette, but this is the undisputed King of Sicilian wine.

As we lingered over our glasses of wine, Federico busied himself in the back somewhere, allowing us to savour the experience. When we'd finished, we asked him if we could have a look around outside, to which he happily obliged, and we went for a short stroll in the grounds before Federico himself actually drove us back to Catania.



Wineries in Sicily – Some Fun Facts


Grapes have been cultivated in Sicily for over 6000 years, meaning that Sicilians know a thing or two about wine making!

Although Sicily is at the top of the 20 wine producing regions of Italy, Sicilians actually drink the least of all Italians!

There are 250,000 acres of vineyards in Sicily, 10% of which are on the slopes of Mount Etna.

You can definitely taste the volcano when you drink Etna Wine. This wine is rich in minerals and often has an earthy flavour.

Factors such as altitude, soil type, wind, sun, proximity to the sea and the volcano all make a difference in the wine's colour, aroma and flavour, meaning that a glass of wine from the East side of the island will taste vastly different to one from the West.

The favourable growing conditions in Sicily often make the need for pesticides and chemicals unnecessary, meaning that most of the wineries in Sicily are truly organic.



Getting to Tenuta del Gelso


Tenuta del Gelso is located just 10 minutes from Catania Fontanarossa Airport and 20 minutes from the centre of Catania. Unfortunately, there is no public transport connecting Catania with Tenuta del Gelso, and so it is necessary to either rent a car and drive there, or take a taxi.

You can use RentalCars.com to find the best rates for your rental car.

We opted to take a taxi and paid €30 one way with Catania Taxi. Although €30 is expensive for a 20 minute ride, the other companies were quoting us €40 so I definitely recommend Catania Taxi! We booked by texting on WhatsApp, in English.



Other Catania wine tours:


There are so many wineries in Sicily that it would be rude for me not to include a few of them here! Many tour companies actually combine visits to various wineries in Sicily with cooking shows, Etna hikes and more, giving you the full Sicilian experience! The tours below are the ones that I recommend:

Mount Etna wine tasting and cooking show with lunch, 55 EUR. Visit a vineyard tucked between two extinct craters and learn about the production of local Sicilian wines. Afterwards, begin your tasting of 3 Etna DOC wines and try some local products. This experience will also allow you to learn the secrets of Sicilian cuisine through a cooking show, which will become your lunch.

Mount Etna 5-hour food and wine tasting tour, 101 EUR. Learn about the food and wines produced in the volcanic landscape of Mount Etna. Stop at a family-run Sicilian winery and enjoy a glass of rosé prosecco as a welcome before visiting the cellars and experiencing a wine tasting with cold appetisers in a lava stone open-air amphitheatre. Sample glasses of white and red wine with locally produced cheeses, salamis, artichokes and more. Then, continue to a farmhouse to savour more food and wine on an open-air terrace overlooking the vineyards. Here, you will try various dishes, including ricotta cheese with marmalade and 2 different pastas made with seasonal ingredients, such as black pork sauce.

Mount Etna half-day tour and wine experience, 79 EUR. Start by discovering craters on a trek led by an expert multilingual naturalistic guide. Along the route, admire the ancient lava flows and breathtaking landscapes. Explore a lava cave with helmets and torches. After exploring Mount Etna, discover the famous wine of the region, notable for its distinct characteristics given by the fertile, mineral-rich soil surrounding the volcano. Taste a selection of local wines, and enjoy a typical Sicilian lunch made with local products.

Private tour of the 3 best Etna wineries with tasting, 155 EUR. The first venue will be a family run Sicilian winery, where you will be welcomed by the owner with a glass of white wine aperitif. You will then enjoy a guided tour around the estate and visit the cellars where the owner will explain the wine production process. Finally, you will taste 4 or 5 white, red and rose Etna D.O.C. wines with locally produced cheeses, salami, prosciutto, sausages, couscous, vegetables, sun-dried tomatoes, olives, mushrooms, domestic olive oil and fresh homemade bread. At the second venue you will taste 4 more wines of the region before heading to the next venue where you will taste 3 premium wines accompanied by appetisers: locally produced cheeses, meat delicacies, olives, olive oil and fresh bread.

If you want your entire trip to revolve around wine tasting and Sicilian food, then you could also book this huge 8-day tour for food and wine lovers! This robust tour will take you all around Sicily, staying in boutique hotels and enjoying private transfers everywhere with city tours, cooking classes, Mafia tour, an Etna wine tour, winery tours in Palermo and Syracuse, a boat trip, a Palermo street food tour and so much more. This tour will allow you to try absolutely everything that Sicily has to offer in terms of food and wine, and if you want to enjoy a truly unique experience, this is the tour for you.



Wine tasting in Sicily – Final thoughts


I thoroughly enjoyed my experience of wine tasting in Sicily at Tenuta del Gelso. Not only were the wines and nibbles delicious, but the magnificent palmento, lush scenery and wonderful company of Federico made it extra special.

Federico was very informative about the history of the winery, the wine production process and the wine itself, as well as being so friendly and welcoming that even grubby backpackers like us felt right at home and able to ask questions! For me, this was absolutely key – I've been to more formal wine tastings before which felt slightly awkward, but Federico found the perfect balance between professionalism and fun.

If you want to visit a winery in Sicily yourself and experience the same tasting that I did, it will cost you €40 per person. If you are a budget traveller or backpacker then this may be slightly out of reach for you, especially if you are relying on taxis to get you there and back.

However, if you are more of a mid-range traveller who wants to drink beautiful wines in an idyllic location at the base of a volcano, I really recommend a visit to Tenuta del Gelso!

You can find out more and book a wine tour by visiting their website here.

So, that's about it for now! Are you planning on going wine tasting in Sicily? Let me know in the comments below!

if you are staying in Catania for a few days then be sure to check out my posts about day trips to Taormina and Castel Mola, Militello in Val di Catania and my list of all the best things to do in Catania!

xoxo

If you liked this article and would like to support my work, please click the button above to donate a couple of bucks and buy me a coffee. The ad revenue that I receive on this website is minimal, so support from my readers enables me to keep creating content that you (hopefully!) love to read.

Disclaimer: We attended this wine tour as guests of Tenute Mannino di Plachi. However, as always, all opinions in this article are my own and I was not obliged to say anything positive about my experience. This article also contains affiliate links.