Every year, more and more digital nomad festivals, conferences, and retreats pop up around the world, designed to bring together the growing community of people who have embraced a laptop lifestyle and location independence.

One of the newest digital nomad festivals to join the party is Nomad Fest Switzerland, the first of its kind in the country.

Right off the bat, I think we can all agree that Switzerland isn't on many people's lists when looking for an affordable destination.

However, thanks to Nomad Fest Switzerland, that's all about to change.

After experiencing Bansko Nomad Fest and seeing just how awesome the digital nomad community is, Pelé and Stefan from Coliving Frilingue decided to bring the concept to their own coliving space in the Swiss Alps, creating the first nomad festival in Switzerland.

I love meeting other long-term travellers, and so when Pelé and Stefan invited me to come and review their first nomad festival, I jumped at the chance.

In this post, I'll be reviewing my whole experience at Nomad Fest Switzerland, including the highlights, the anti-highlights, how the festival is structured, how much it costs, and everything else you need to know if you're thinking about going.

So, if you're looking for a nomad festival in Europe and think that Nomad Fest Switzerland may be the one, just keep reading, because I've got you covered.



Nomad Fest Switzerland – The First Nomad Festival in the Swiss Alps!


Where is Nomad Fest Switzerland?


Nomad Fest Switzerland is located along the Grand St Bernard Pass in the charming village of Liddes, high up in the Swiss Alps and less than a 30 minute drive to the Italian border.

The venue where all of the activities are held is called Relais de Dranse, and it is nestled in a valley, surrounded by mountains.

The area surrounding Liddes is a paradise for outdoorsy types, with hundreds of hiking trails, a nearby village known as 'Little Canada' with a breathtaking lake, not to mention a series of 14 waterfalls known as Les Gorges du Durnand – I'd always thought of the Swiss Alps as a winter destination, but they are idyllic in the summer too!



What is Nomad Fest Switzerland?


Nomad Fest Switzerland is a nomad festival that brings together digital nomads from all around the world in a week-long event designed to foster deep connections, cultivate community, and inspire people to take their businesses to the next level.

It is a much smaller event than others of its kind – when I was there, we were about 70 people in total – which I think is amazing because it allows you to grow a lot closer to the people you're sharing a space with, and it truly starts to feel like you're one big family.

The festival is made up of inspiring keynote sessions, 'unconference' workshops, communal meals, morning yoga, afternoon hikes, and trips to nearby attractions, plus evening events such as karaoke night, fondue night, and much more.

All of the keynotes and unconferences take place during the morning, and the afternoons are left open for people to explore the area or get some work done.

I preferred this to the hectic schedule of Bansko Nomad Fest, where keynotes and unconferences took up the entire day and left me feeling burnt out by the end of the week.

What's more, included in your ticket price is the Saint Bernard Pass, which covers all public transport and a tonne of local activities including a zipline park, SUP and pedalo use, entry to Durnand Gorge, and more.

This means that you can take part in all of the afternoon activities (or arrange your own!) for free, saving you a tonne of money.

Here's what a typical day at Nomad Fest Switzerland looks like:


7:00 – 8:30: Breakfast
8:30: Keynote sessions/unconference sessions
11:30: Lunch
12:30: Hiking, visiting a waterfall, trip to the lake etc.
18:00: Dinner
19:00: Evening entertainment. This could be a talent show, karaoke night, ecstatic dance, trip to a thermal spa, or even a philosophy discussion night.

Keynote sessions and unconferences


Although nomad festivals are mainly about the networking opportunities and socialising, I'm a sucker for a keynote speaker, especially if it's on a topic I know little or nothing about!

There were a wide variety of topics presented at Nomad Fest Switzerland, and some of my favourites included:


How Digital Nomadism Can Fuel Social Innovation
Resilience as the Key to a Healthy Life as a Digital Nomad
How to Avoid Travel Burnout and Make Health a Part of Your Unconventional Lifestyle
The Nomad's Hacks to Innovation and Change Work
Attachment Theory

The 'unconferences' consisted of smaller groups, led by one person with a passion for the subject.

The unconferences were like discussion groups, with the participants being able to ask as many questions as they wanted to the person leading the group, and a more flexible structure.

For example, I led an unconference session on SEO Hacks (Search Engine Optimisation), and as well as the hacks themselves, I was able to discuss particular struggles that the participants were having with their own websites, and give my advice.

Other unconference sessions included:


How to grow your Instagram to 100k
How philosophy can change your life
Authentic relating
AI
Community-building
Visualising your goals
The LEAN Sprint model
How to breathe

As you can see, there was a real mix of entrepreneur and money-led discussions, as well as more spiritual ones about breath work and visualisation.

I'm not usually into the more hippie-dippy things, but I challenged myself to go to a couple of these unconferences with an open mind, and I really enjoyed them!

It was nice to get out of my comfort zone and be pleasantly surprised by the outcome.



Highlights of Nomad Fest Switzerland


The people


The best thing about any digital nomad festival is the people you meet, and I felt as though I made both friends for life and future business connections at Nomad Fest Switzerland.

In attendance were psychologists, fitness coaches, real estate investors, SEOs, software developers, content creators, business coaches, and so much more.

It was wonderful to exchange ideas and help each other with our current business struggles, especially as we all came from such different backgrounds and held such different perspectives.

Business aside, it was also wonderful to sit up late drinking wine and talking about God and the meaning of life, to belt out classic rock songs on karaoke, and gossip over a bubbling fondue.

Nomad Fest Switzerland embodied what coliving is all about – community, collaboration, and creativity.



The afternoon excursions


As I mentioned earlier, the NFS ticket comes with a pass which provides free public transport and access to various excursions in the region.

During my time at the festival, I was lucky enough to visit a zipline park for the first time, swim in the lake in Champex-Lac (the 'Little Canada' of Switzerland), climb the 300+ steps to view all the waterfalls at Durnand Gorge, and even embark on a little day trip to Aosta in Italy!

There was also plenty of time to relax outside in the lush greenery, take a stroll to the nearby stream to go paddling, and enjoy a coffee in the sun.



The food


The ticket price includes all meals, and while you won't get Michelin level cuisine, you will get generous amounts of relatively healthy and filling dishes.

Meals included spaghetti carbonara, homemade pizza, spicy chicken, lentil stew, and vegetable tortilla, with a different salad every day.

One day, we even got freshly-baked cookies and chocolate muffins!

People with dietary restrictions were also well-looked after, with vegetarian and vegan options, gluten-free bread, and a range of non-dairy milks.



Evening entertainment


From fondue and raclette evenings to hilarious talent shows and raucous karaoke nights, I never went to bed early during my time at Nomad Fest Switzerland!

Some groups of people would go ecstatic dancing in the forest, while others would play ping-pong, pool, or table football.

Regardless of what your ideal evening looks like, you'll be able to make it happen at Nomad Fest Switzerland.



The surroundings


Liddes and the surrounding areas are BEAUTIFUL, and while many people used their free time at Nomad Fest to work, I thought it was the perfect time to actually disconnect and enjoy nature.

Lakes, mountains, bubbling streams and woodland trails can all be found within walking distance of the nomad festival venue, and many people woke up for early morning runs or went out stargazing at night.



The anti-highlights


I never like to give a review without pointing out the good and the bad, and as with anything, there are areas where Nomad Fest Switzerland could improve.

I do want to point out that this was Coliving Frilingue's first time running an event like this, and so there were bound to be some teething problems.

With that being said, here's where I think that Nomad Fest Switzerland could improve.



The rooms


When you buy your ticket, you can choose to sleep in either a shared dorm or private room.

In 2023, the price of a shared dorm for one week, along with full-board and the festival ticket, was 400 EUR, which is CRAZY cheap for Switzerland.

Seriously, in a country that charges 6 EUR for a cappuccino, this price is INSANITY.

However, whenever you pay such a low price for something, you have to manage your expectations – the rooms at Relais de Dranse are basic hostel dorms, and I'm not talking about the fancy pod hostels that you can find in big cities.

If you're used to staying in dorms, you'll likely be fine with this, but if you want something a little nicer, I suggest paying a bit more for a private room.

Another issue with the dorms is that there were no lockers or safety boxes, and not every bed had access to a power outlet, making it difficult to charge phones during the night.

Most hostels I've been to have had a safe place to store my laptop, as well as convenient charging points, and as everyone at this event was a 'digital' nomad, I think a lot of people experienced the same frustrations in this area.

These are easy fixes, and I hope that by next year, the rooms are a bit more suitable for tech-dependent digital nomads!



The WiFi


The WiFi was very spotty during my time at Nomad Fest Switzerland, which was fine with me (I wasn't working while I was there), but a lot of people struggled to make important work calls, even in the main coworking area.

I heard a lot of people lamenting that they were unable to get anything done as the internet just kept cutting out, and of course, with this being a 'digital nomad' event, the vast majority of people were working whilst they were there.

I've spoken to a few people who have been to Relais de Dranse at smaller events, and they had no issues with the internet, so I think that it just wasn't cut out for such a large group of people.

My solutions to this would be to either improve the WiFi for next year, or market the event as a chance to disconnect and enjoy nature rather than a place to be productive at work.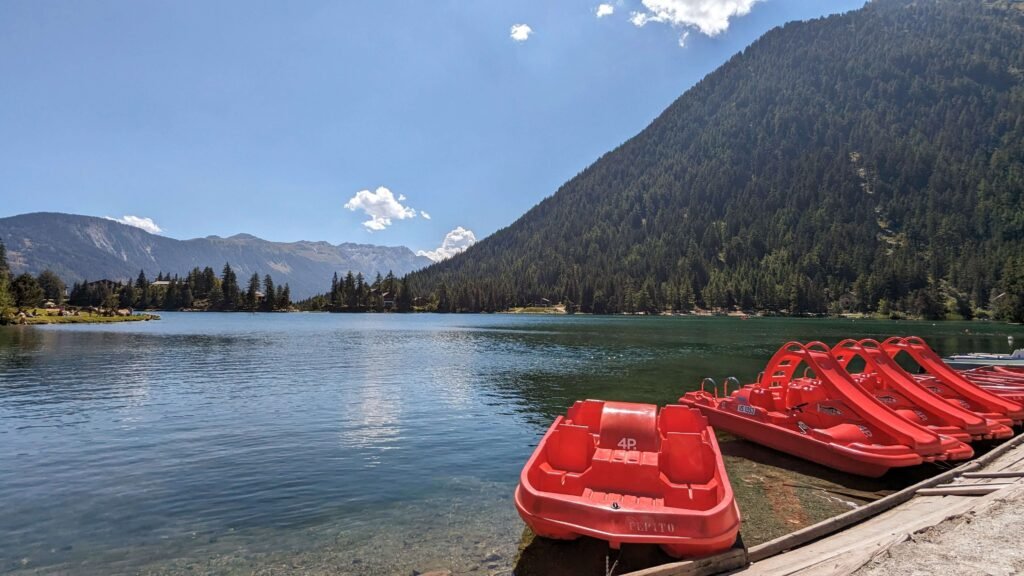 The cost


What's included?


There are various ticket options available for Nomad Fest Switzerland, some including accommodation, and some not.

Being that Liddes is a tiny hamlet, you're going to end up staying at the venue anyway, so it's best to buy an all-inclusive package in order to get the best deal.

The prices and ticket types that I'm about to share are from 2023, so please bear in mind that if you're reading this in preparation for next year, things could change.

Shared room all-inclusive: 400 EUR

Single room all-inclusive: 600 EUR

Double room all-inclusive for two persons: 800 EUR

Included in the ticket price is:


Your Nomad Fest ticket (duh!)
Your chosen accommodation
Towels
Laundry (you must do it yourself but there is no cost)
All food
Drinks (water, coffee, tea, soda, fruit juice)
Fondue night
Saint Bernard Pass (all bus fares, Treetop Canopy, Durnand Gorge, cable cars)
Yoga lessons
Daily hiking

What's not included?

Alcoholic drinks
Some excursions (night out in Verbier, thermal springs)
Airport transfer
Flights

How to get there


Liddes can be reached either by car or by public transport.

To get there, you can drive from Geneva Airport in 1h 50, or from Aosta in Italy in less than an hour.

For an extra charge, you can also take the airport transfer organised by the festival.

Alternatively, you can take a train-train-train-bus combination, which is a lot easier than it sounds and takes 2.5 hours.

Most of the accommodation provided for Nomad Fest Switzerland is in Liddes, in either the Relais de Dranse venue (where all the activities take place), or Swiss Alps Coliving, which is a 10 minute walk away from the main building.

The other accommodation is called Petit Velan and is located in Bourg St. Pierre, a 10 minute drive from Liddes.



Nomad Fest Switzerland – Is it Worth it?


I had an incredible time at Nomad Fest Switzerland, and even though I've been home for 4 days, I still feel as though I'm on a high from my time in the Swiss Alps.

There is definitely room for improvement with the organisation and facilities, but with a new event, that's to be expected, and I'm optimistic that things can be ironed out in time for next year.

Considering the price and the fact that we are talking about the most expensive country in Europe, there is serious value for money here.

Add in breathtaking nature, inspiring keynotes, and all the new connections you'll make (and did I mention FONDUE?), and you've got yourself a winner.

For more information about Coliving Frilingue and any upcoming events, click here to go to their website.


If you liked this article and would like to support my work, please click the button above to donate a couple of bucks and buy me a coffee. The ad revenue that I receive on this website is minimal, so support from my readers enables me to keep creating content that you (hopefully!) love to read.

Disclaimer: I received a free ticket to Nomad Fest Switzerland in exchange for this review. I have tried to remain as objective as possible, and was not obligated to write a positive review.