When I first visited Valencia, I was 17. I was spending a month in Murcia, away from my parents for the first time, and my friend Stephen had suggested that we take the train to Valencia for the night to meet up with his friends, who were passing through on their interrailing trip around Europe.
My first impression?
I loved it. 
We spent the night eating paella, drinking litres of beer and stumbling around the cobbled streets until 7am, when we took the first train back to Murcia. However, as much as the nightlife had impressed me, I was determined to see another side to Valencia and so when I returned to this magnificent city almost 8 years later, I booked an organised tour with Valtournative that promised to offer travellers an alternative experience in and around the city of Valencia.
Although Valtournative offer a variety of tours, the one that I'd opted for was a full day trip that would take me around the mountains surrounding Valencia, as well as to see the hot springs in the Montanejos area. After seeing so many incredible sights in South East Asia, I was excited to see if Spain could compete, and so as I stood and waited for my tour guide, Daniel, outside Valencia Nord train station at 10am, I was super excited.
When Daniel arrived and greeted me warmly, I suddenly realised how nervous I was. I'd been worrying so much about how I was actually going to get into Valencia that I hadn't actually given much thought to the fact that I was probably going to be the only solo traveller on the tour. What would everybody think of me? Would they think that I was some weirdo who didn't have any friends?
However, as I got settled on the minibus, it soon became clear that I had nothing to worry about. There were 9 other people on the tour besides me – two couples and a family of five with three kids around my age – and everybody was really welcoming and friendly.
Our first stop was a 40 minute drive outside Valencia, and during the journey Daniel regaled us with interesting information about our surroundings, from the old walls that used to surround the city of Valencia, to various customs, traditions and legends unique to the surrounding villages. For example, if you've been very bad in Spain, then one way to be forgiven by God is to crawl up a hill with a cross on your back at Easter time. If you've only been a little bit bad then you're permitted to walk up the hill, but you've still got to carry something heavy!
Thanks to Daniel, the journey seemed to pass really quickly, and before we knew it, we'd reached Navajas Bridal Falls. After a short walk through the forest, we were able to get really close to the bottom of the waterfall, and it was impressive to say the least! We lingered for a while, taking photographs and admiring our surroundings as Daniel told us the tragic tale behind the name of the falls – you'll have to go on the tour if you want to hear it yourself!
Next on our adventure was the Fuente de los Baños, or the hot springs of Montanejos. I'd been to some hot springs before in Chiang Mai, Thailand, and they were so hot that people were boiling eggs in the water! The smell of sulfur in the air was almost enough to make you gag, but they were pretty cool, nonetheless. This time, however, I was relieved when Daniel said that the water would be around 25 degrees – warm enough to enjoy but not hot enough to burn us!
Unfortunately we'd picked a really cold day, less than 24 hours after the torrential downpour of the day before. The rain water that had mixed in with the spring water had lowered the temperature to around 22 degrees, which wasn't hot but it was still a lot warmer than you would expect given the weather, and the wet suits that Daniel provided certainly helped!
Legend has it that the springs were the result of Zayd Abu Zayd himself, who ordered some baths to be built so that himself and the women of his harem would remain young, due to the medicinal properties of the water. These well documented healing properties of the mineral water are a big draw for tourists and locals alike – not only is the water great for the skin, but it is also said to help aid digestion and even treat cardiovascular and liver disease!
We spent quite a while in the water, swimming and skimming stones, and some of the boys even tried their hand at cliff jumping, which Daniel made sure to capture on his GoPro.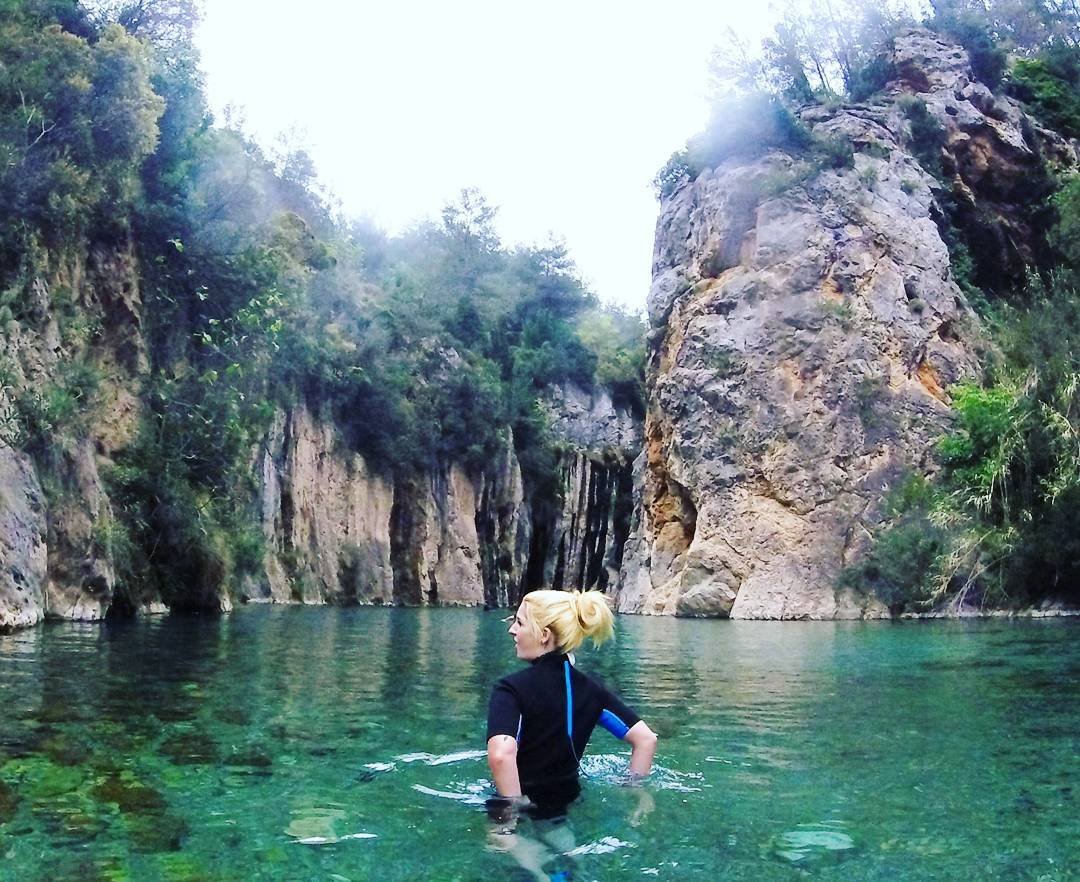 After we'd tired of the springs, next stop was lunch, and what a lunch it was! Anyone who knows me will know how much I love food, and I'd be lying if I said that a bad lunch wouldn't have put a bit of a dampener on the day for me! Again though, I had nothing to worry about, as Daniel took us to a nearby restaurant in a small mountain village and proceeded to order an absolutely fantastic meal for us. Originally he'd suggested that we eat the Spanish way, by ordering a handful of dishes and sharing them, but as a couple were vegetarian, they decided to order their own food while the rest of us dug into the dishes that Daniel recommended.
We feasted on pork cheeks, bull's tail (which was divine), creamy goat's cheese, juicy steak, squid with lemon, garlicky patatas bravas, thick crusty bread and a hearty soup full of beans and meat called Fabada Asturiana. We ate until we were stuffed, washing down our meals with cold beers and Sangria and although the meal was not included in the price of the tour, the bill only came to 13 euros each, which we all agreed was fantastic value.
I only wish I had a picture to present you with, but I was too busy stuffing my face!
Piling back onto the bus, we listened to more of Daniel's stories about millennial trees, bull racing and Valencian oranges as we made our way to our next destination: a lake called Pantano de Arenoso. En route, however, we spotted a man about to zipline from the cliff side, and so our driver stopped the bus and we disembarked to watch. It turned out that the guy and his friends were actually testing the zipline for the very first time, and although this sounded ever so slightly worrying, we stuck around to see how it went! Luckily it went without a hitch, and so after taking some more pictures and admiring the incredible view, we continued onto the lake.
Pantano de Arenoso certainly didn't disappoint, and yet again, I was forced to admit that Spain had surprised me! While I've been in love with this country since I was a kid, I had no idea that it could be so beautiful, and yet again, I had something to add to my list of reasons why Spain is my favourite country.
Our last and final stop of the day was El Chorro waterspout. We had a short walk from the bus to reach it (armed with some fresh Valencian oranges, thanks Daniel!) and I honestly can't think of how to describe it other than to say that it was very strange but very cool. I think the way that I described it to my mum when I got home was that it was "a tiny crack in a cliff face where water just poofs out," and I'm still at a loss as to how to describe the waterspout so I'll just leave you with some pictures…
After we'd finished taking silly pictures with the waterspout, it was time to head back to the bus. The tour officially finished at 5pm but it was already gone 6 and we were still quite far from the centre of Valencia. In the end, we got back to the city at 7:40, and although this made me miss my train by literally seconds (there was another one at 8:40 so it was all good), I was really glad that the tour had lasted for so long – I mean, if you're paying for a 7 hour tour and you get almost 10 hours then I'd say you're doing pretty well! The only thing that I would suggest on this front is not to make any dinner reservations in the evening if you opt for a full-day tour, but who does that on holiday anyway?!
The cost of this particular tour with Valtournative is 79 euros, and if you ask me, it's worth every cent. To the budget backpacker like me this may seem expensive, but you're getting your own personal driver for the day who is taking you to places far out of the city centre (which would take you hours to find if you tried to make your own way there), as well as an incredible tour guide who genuinely cares about his guests and has so much information to offer about Valencia and the surrounding areas. Even when we were in the car for 45 minute stretches, Daniel kept us all upbeat and engaged, and when he wasn't sharing fascinating facts with us, he was asking us questions about ourselves and ensuring that the conversation was always flowing.
We saw and learnt so much on this tour, and even though I have probably spent almost a year of my life in Spain, I came away awestruck and inspired by the sights that I saw. I can honestly recommend this tour to anybody who wants to experience the 'real' Spain, and see things that most tourists will never get the chance to.
Follow Valtournative on Facebook, Twitter and Instagram!
Travelling Jezebel attended the tour as a guest of Valtournative. All opinions are, of course, my own!