Krakow is one of my all-time favourite cities, and its foodie scene is one of the main reasons why.

As one of the country's cultural and culinary capitals, Krakow offers a vibrant tapestry of flavours, blending traditional Polish cuisine with international influences.

From steaming portions of soup served in traditional bread bowls and slow-cooked meat with cabbage and horseradish, to vegan kebabs, hipster salad bars and more, there's truly something for everyone in the Krakow restaurant scene.

I've visited Krakow countless times, and over the last few years, I believe that I've found the best Krakow restaurants on the map.

So, whether you're a seasoned foodie or a curious traveller eager to explore new tastes, there will be something on this list for you.

Here are my top 20 best Krakow restaurants.



20 Best Krakow Restaurants


Miód Malina


Looking for upscale food in a kitsch folksy setting?

Then Miód Malina is the place for you!

Every detail of this place is intentional, from the white lace tablecloths and log fires to the hand-painted fruits on the walls and flowers on the tables.

It's cosy, it's old-fashioned, and you immediately feel like you've escaped the city upon entering.

The thing that really stands out about Miód Malina though, is the food, or to be more precise, the flavours.

Working only with the finest regional products, and importing some of their ingredients from Italy, Miód Malina hold the belief that having fresh and quality ingredients is the most important thing about any meal, and they introduce new dishes almost every month to keep up with the ever-changing seasons.

Their menu ranges from all the best meats (confit goose leg, beef tenderloin, ribeye steak, and roasted ribs) to experimental pasta dishes such as green tagliatelle with shrimps, spinach, and garlic in cream, and tagliatelle with roasted pumpkin, zucchini, chilli, and chanterelles in wine sauce.

For a real hearty Polish dinner, I recommend the roasted veal knuckle with rosemary, served with its natural juices on a bed of mashed potato and parmesan cheese (14 EUR). Note that while there are vegetarian options here, Miód Malina is not vegan-friendly.



Szalone Widelce


My mum and I came for lunch here, and we both thoroughly enjoyed it!

Describing itself as a 'traditional Polish kitchen with elements of an Italian kitchen,' this light and airy restaurant is simply charming.

From the chequered tablecloths and jars of homemade jam and pickled vegetables adorning the walls, 'twee' is the only word that can be used to describe the interior of this place.

As for the food, everything at Szalone Widelce is prepared from scratch using organic and fresh ingredients, and the main focus here is huge portions of baked meats, crunchy potato pancakes smothered in goulash, and traditional Polish soups.

The 'Italian elements' are not actually so Italian – Italians would never put chicken in a pasta dish, or serve fish with cream – but they are very tasty nonetheless.

I ordered the penne pasta with chicken and broccoli in a cheese sauce, and my mum went for tagliatelle with salmon, leek, and dried tomato in a cream sauce (both around 8 EUR) – they may not have been authentically Polish or Italian, but they were a nice break from the rich Polish fare we'd been consuming all week.



Moa Burger


Moa Burger is the first burger joint of its kind in Poland.

With a large menu of delicious burgers in a casual, fast-food setting, Moa Burger is a great go-to when you're hungover, or just in need of some comfort food!

Varieties include the bacon and avocado, the chorizo and jalapeno salsa burger, and the Surf & Turf beef patty topped with panko prawns and garlic mayo (my personal favourite).

They also have a 'burger of the week,' which could be anything from a Korean kimchi burger to a burger topped with Camembert cheese and cranberry.



W Starej Kuchni Restaurant


For hearty Polish dishes, generous portions, and a rustic and cosy atmosphere, head to W Starej Kuchni.

They have a large oven in the centre of the restaurant where you can watch bread being baked, or you can sit in the library/antique shop-themed room, and enjoy the dark academia vibes.

The menu is huge and features everything you could possibly want from a traditional Polish restaurant.

If it's a quick lunch you're after, I particularly recommend the potato pancakes with mushroom sauce.

However, if you're visiting for dinner in the evening and you're looking for something meaty, try the Krakow Feast to share. This mega plate includes roasted pork knuckle, roasted ribs, half a duck, pork chop, roasted sausage, krupniok (black pudding), dumplings, potato pancakes, grilled sheep cheese, roast potatoes, and salad.

W Starej Kuchni is also the place to try traditional dishes served in a bread bowl, such as zurek soup, bigos, and Magyar goulash.



Veganic


Just outside of the Old Town is Veganic, a bright and spacious restaurant serving modern vegan and vegetarian cuisine, as well as an extensive wine and cocktail list.

They pride themselves on creating flavourful and healthy dishes that look just as good as they taste, and they take inspiration from all over the world.

Highlights include arancine with vegan mozzarella, olives, and capers (a typical Sicilian street food), Thai stew with oyster mushrooms and seitan, and pappardelle with chanterelle mushrooms and smoked tempeh.



Prosecco Oyster Bar

Prosecco Oyster Bar in the Old Town of Krakow does exactly what it says on the tin – Prosecco and oysters!

We enjoyed a carafe of fizz with some oysters on ice, including some fancy French oysters which the server insisted were rare and only there for a limited time!

We felt like it was a great pre-dinner spot, but there's also a really affordable range of fresh, grilled, and fried seafood that you can order tapas-style for a proper dinner.

Oh, and did I mention there's a gigantic pink bath tub full of oysters?!




Chłopskie Jadło


Chłopskie Jadło (whose name translates to 'Peasant Food') isn't the easiest restaurant to find – you have to walk through a hotel and courtyard to get to it – but if you do find it, you'll be very happy.

This is one the most popular chain restaurants in Krakow, but don't let that put you off – the food here is high quality, authentically Polish, and the service is excellent as well.

The décor is reminiscent of an old Polish country house, folk music plays on the speakers, and dishes include homemade dumplings, stuffed cabbage rolls, and all the roasted meats you can think of.



Pod Wawelem Kompania Kuflowa


At the foot of Wawel Castle (well, technically across the street, but who's checking?), is Pod Wawelem Kompania Kuflowa, who specialise in humongous portions of Galician cuisine (Galicia was an area of Eastern Poland and Western Ukraine, not to be confused with the Spanish Galicia!).

They are famous for their pork knuckle, and the thing to do here is order a tonne of different meats (either choosing from the menu yourself or opting for one of their sharing platters), along with beets, horseradish, and sauerkraut.

We went for the 'Officer's Platter,' which was only 11 EUR and impossible to finish!



Bar mleczny 'Pod Temidą'


Pod Temidą is probably the best milk bar in Krakow, so if you've never had the milk bar experience before, this is the place to be.

The original milk bars were Polish cafeterias that, under Communism, provided cheap and nourishing meals to the public thanks to the subsidies they received from the government.

These days, although privately-owned, they are still partially funded by the government, allowing them to continue serving low cost meals in a no frills environment.

With Polish babcias (grandmothers) cooking the food, hideously outdated décor, and stainless steel canteen-style counters that you queue at with wooden trays, visiting a milk bar is absolutely one of the best things to do in Krakow.



Metrum Restobistro


What if I told you that one of the best places to get lunch in Krakow is a hidden rooftop bistro overlooking St. Mary's Basilica?

On the 6th floor of the Krakow Music Academy is Metrum Restobistro, a café catering to the music students and members of the public who are in the know.

This delightful little café boasts two rooftop patios that give incredible panoramic views over Krakow, and you can even enjoy the views from the indoor section thanks to the glass walls.

The menu changes daily, and for about 7 EUR, you can choose a soup, main course, and dessert.

They also do great coffee and cakes if you're just looking for a quick bite.

The menu is written entirely in Polish and the staff don't speak English, so if you don't have Google Translate to hand then you may just have to point and hope for the best!

With that being said, I've never had a bad meal at Metrum Restobistro, and the view truly is breathtaking.

Bear in mind that as it is a university café, it is closed during the holidays, and isn't open in the evening.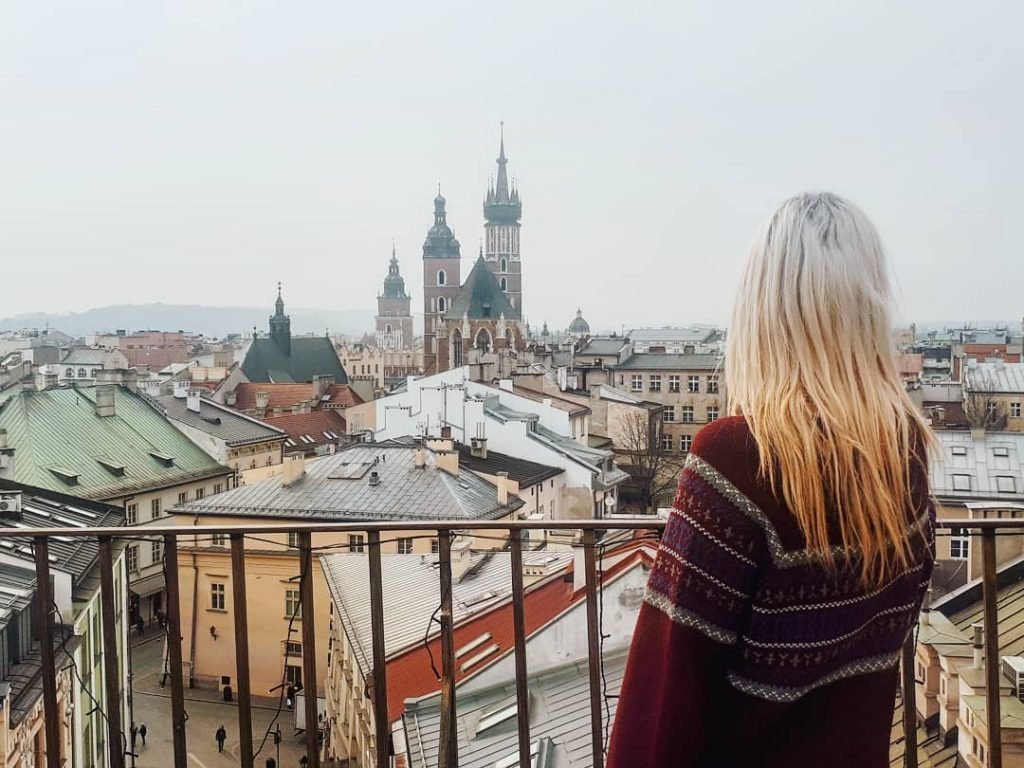 Chimera


Chimera Salad Bar is one of my favourite lunch spots in Krakow when I'm craving something healthy.

Located in the heart of the Old Town, Chimera Salad Bar boasts a a 30-metre long bar with more than 30 different kinds of salad, as well as hot meat and vegetarian dishes, 50+ different homemade cakes and a large variety of juices.

You may be thinking that salad is boring, but I can promise you that after eating here, you will change your mind.

Some of the things on offer at Chimera include spicy plum salad, pasta and salmon salad, Caribbean salad with grilled orange and pineapple, and rice with chicken and curry.

All you have to do is point to what you want, creating your own custom plate, and when you get to the counter, the cashier calculates how much your plate costs based on how many things you chose.

Not only is the food at Chimera delicious, but the seating area is absolutely delightful, with a canopied garden complete with a virgin creeper, boxes of fresh fruit and vegetables and lots of tiny candlelit wooden tables.



Beer House Pub


Part of the Greg and Tom hostel group is Beer House, which has a pub and restaurant downstairs and a backpacker hostel upstairs.

Despite what you may initially think from a hostel restaurant, the food here is really good, and their menu not only features all the Polish classics, but also an extensive selection of gourmet burgers, stone-baked pizzas, and pub classics such as Cordon Bleu and chicken shish kebab.



Morskie Oko


Named after the largest lake in the Tatra Mountains, Morski Oko is an ode to Zakopane.

The interior is decked out to look like a highlander's inn, with log fires and chunky wooden benches, and they often have live performances of traditional highlander music.

Their specialty is their dumplings, but you can also feast on veal, sirloin, mutton, pork knuckle, ribs, and just about any other meat you can think of.

I recommend the highlander's potato pancake with beef goulash and sheep cheese, and roast mutton in gravy with garlic and seasonings.

Also be sure to try the sweet honey vodka – it's delicious!



Vegab


Polish-Italian owned Vegab is the perfect place to go if you want to enjoy a dirty kebab that happens to be cruelty-free.

Their 'meat' is made from bio-tofu, pods, and wheat proteain, and some of their best vegabs are the Beirut vegab with hummus, tahini, and pickled cucumber, the Vegab Cheezy with nachos and cheezy sauce, and the Aloha, with mango sauce and marinated pineapple.

Whichever vegab you go for, you can choose from mild sauce (vegan mayo), medium (mayo and chilli), or spicy (chilli), and they also come packed full of veggies.

Unlike most other kebab shops, Vegab is not a takeaway (although of course, you can get your food to-go if you like). There are plenty of places to sit in the light and airy space, making it a fantastic lunch spot.

Expect to pay 5 EUR for a regular vegab, and 6 EUR for the maxxi vegab.



Ariel


Ariel is a traditional Jewish restaurant in the heart of Kazimierz, with nightly performance of traditional klezmer music, and dishes that include goose necks stuffed with chicken liver, Jewish-style carp fish, and Kreplach dumplings.

Every room in this restaurant is totally different, but all are cosy and old-fashioned with their walls adorned with portraits of Jewish people, Judaic art, and original features such as wooden beams and fireplaces.

If you want to feel as though you've truly stepped back in time, head to Ariel.



Hamsa


Located in the heart of Kazimierz, Hamsa serves up modern Israeli cuisine and 'positive vibes' with slogans including 'make hummus not war' and 'hummus and happiness.'

Priding themselves on using ecological sustainability, Hamsa promises to only use eco-friendly products and meat, and their menu includes a wide range of mezze hummus platters, Israeli shish kebabs, tagine, falafel and more.

I love the 'build your own' sharing platters, where you can choose 3 mezzes, which come served with bread, olives, and vegetables. Mezzes include various types of hummus, Babaganoush, falafel, Labneh balls, and more.



Restauracja Polska


Quaint and cosy is the only way to describe Restauracja Polska, a great lunch or dinner option in Kazimierz.

On the menu are all the usual suspects – dumplings, soup, potato pancakes etc. – but they also have a decent fish selection (salmon, cod, and trout), and a selection of pasta dishes.

After you eat, they will offer you a shot of homemade cherry vodka, but be warned – it isn't on the house!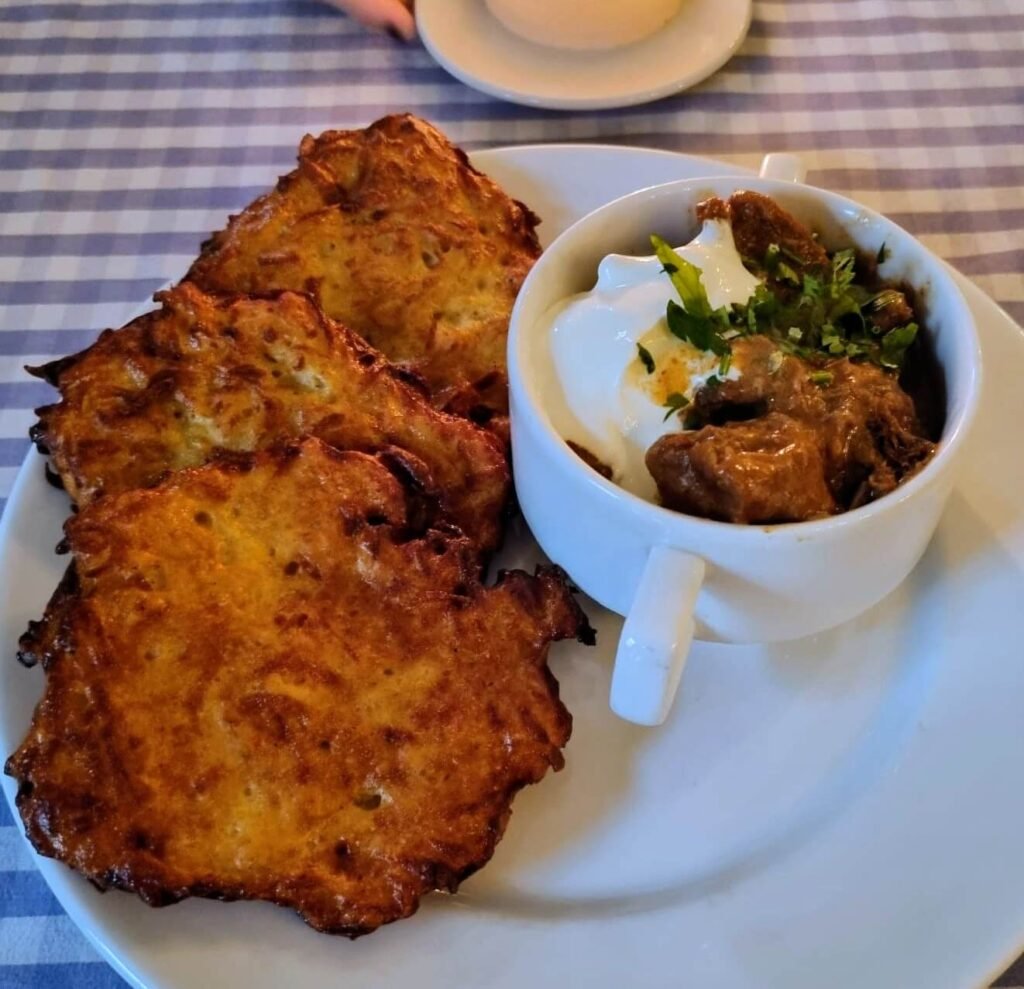 Minoas Greek Tavern


A Greek tavern, in Krakow?

Yup, and a good one at that!

Not only do they bring you complementary taramasalata with crostini to start, but the yoghurt and honey dessert is also free!

For the main, I went for lamb ribs, that came with salad, chips, and tzatziki, and I was not disappointed. The portion was huge, and everything was seasoned incredibly.

As far as Greek food goes, I'd say that the flavours here are super authentic.

As far as overall vibe goes, the interior is the quintessential blue and white associated with the Greek islands, the staff are great, and the atmosphere is good as well.



Szynk


Another Kazimierz favourite, Szynk is a place where you can find not only the typical Polish dishes, also some that aren't on every single Krakow restaurant menu.

Top picks include beef cheeks, rabbit in sour cream served with Silesian dumplings and beetroot, beef roulades, and grilled zander fish.

We began with beef tartare, followed by baked pork knuckle for the main, and both got a thumbs up.



Plac Nowy 1


If you've had your fill of Polish grub and want something with a bit more of an international flair, head to Plac Nowy 1, a large and modern restaurant with a menu that intertwines culinary traditions from around the world.

I recommend the spicy vegan curry and the Japanese consommé with ramen, duck gyoza, spinach, and edamame beans.

When you're finished, head to the on-site bowling alley for an after dinner game or two!



Krakow Food Tours


One of the best ways of discovering the local cuisine is by taking a Krakow food tour.

My mum and I did just this on one of my recent visits to the city, and though I was already well-acquainted with the food and restaurants in Krakow, I still discovered some new places (a couple of which made this list!), and was well impressed with the food and vodka that we enjoyed on the tour.

The tour that I recommend is one that I found on GetYourGuide.

This 3-hour evening tour included a tonne of yummy Polish foods and regional specialities, as well as a bunch of Polish vodkas, all punctuated by our guide's interesting stories about what we were eating and drinking.

Not only was it great to gorge on hearty food and flavoured vodka, but we also met some great people who we enjoyed the Krakow nightlife scene with after the tour was over!

If you're interested, you can book the tour I did here.

Other highly-rated Krakow food tours can be found in the widget below!



Best Krakow Restaurants | Final Thoughts


As you can hopefully see by now, Krakow is a true haven for food lovers, whether you're seeking bold, innovative creations, or you're more of a traditionalist when it comes to food.

All of the restaurants on this list are places that I've personally visited (often several times), and would absolutely recommend in terms of food quality, value, and service.

So, during your time in Krakow, don't forget to indulge in the rich tapestry of flavours that this city has to offer.

That's about it for today's post but as always, if you have any questions, don't hesitate to leave them in the comments section below and I will do my best to help!

Until next time,

XOXO


If you liked this article and would like to support my work, please click the button above to donate a couple of bucks and buy me a coffee. The ad revenue that I receive on this website is minimal, so support from my readers enables me to keep creating content that you (hopefully!) love to read.

Disclaimer: Travelling Jezebel uses affiliate links. This means that if you make a purchase on a partnered site then I may make a small commission at no extra cost to you.