Located in the south-western part of North Macedonia, on the shores of Lake Ohrid, is the ancient city of Ohrid.

With stunning Orthodox architecture and breathtaking nature, Ohrid is one of the most significant cultural and historical centres in the country, and whether you prefer action-packed, cultural or relaxing travel, you will find something that suits you in Ohrid.

While many of the main things to do in Ohrid are best saved for summer (it was a little too cold to swim when I visited in October!), there are still plenty of things to keep you occupied if you visit Ohrid, no matter what time of year it is.

So, if you're wondering what to do in Ohrid then look no further. I've rounded up a list of the 12 best things to do in Ohrid, whether you're an avid adventurer or a culture vulture.



12 Best Things to Do in Ohrid, North Macedonia


Why Visit Ohrid?


One of just 28 sites accepted as both Cultural and Natural World Heritage sites by UNESCO, Ohrid is one of the best places to visit in North Macedonia.

It may not seem like it, but Ohrid is actually one of the biggest cities in the country, and one of the most beloved by locals and tourists alike.

Known as the 'Jerusalem of the Balkans' due to its huge number of churches (365 – one for every day of the year!), Ohrid is the perfect place to go if you're interested in religious history, but if ancient churches aren't your thing, don't worry.

From hiking in the nearby mountains to renting a boat and relaxing on the lake, you will be sure to fall for Ohrid's olde-worlde charm at some point.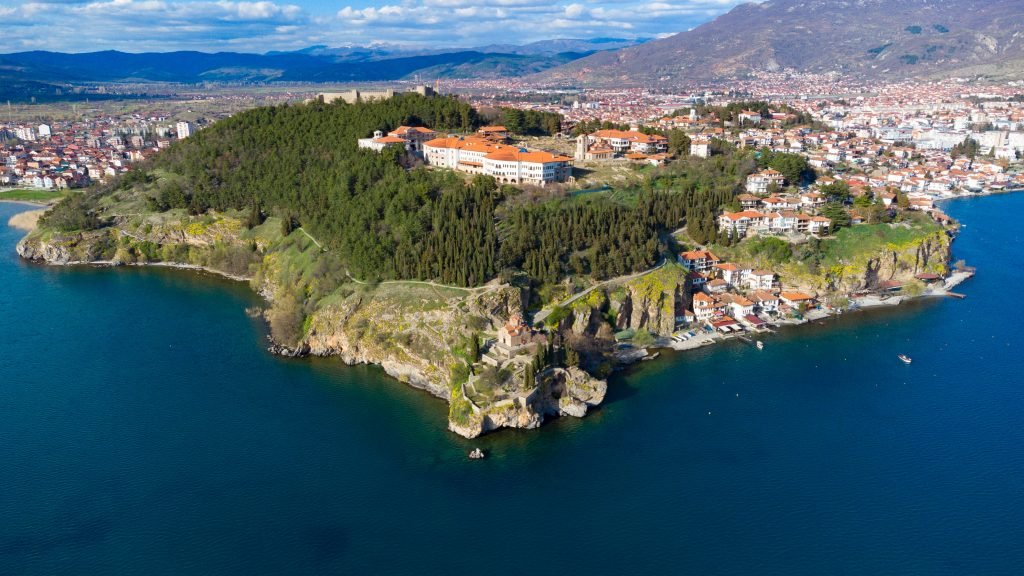 The Best Things to Do in Ohrid


1. See the iconic church of St. Jovan at Kaneo


If you only see one church in Ohrid, make it this one.

The church of St. Jovan of Kaneo was founded at the end of the 13th century and dedicated to St. John the Baptist.

Perched on a high cliff above the Kaneo fishing village and with distinctive Byzantine-style architecture, the church of St. Jovan is one of the most photographed places in North Macedonia, and when you take in the panoramic views of Lake Ohrid and the surrounding mountains, it isn't hard to see why.



2. Visit St. Samuil's Fortress


If you're hungry for more Ohrid history, continue uphill from the church of St. Jovan to Samuil's Fortress.

Named after the first ruler of the Bulgarian Empire from Ohrid, Tsar Samuil, this fortified city covers almost 8400 square meters and is super well-preserved, boasting 18 huge towers and 4 gates, as well as sweeping views over Ohrid's Old Town and Lake Ohrid.



3. Explore Lake Ohrid


No list of things to do in Ohrid would be complete without mentioning the vast array of activities that you can enjoy on the lake.

At a whopping 2-5 million years old and covering an area of around 138 square miles, Lake Ohrid is one of Europe's oldest and largest lakes.

As well as being declared as a special natural reserve due to its uniqueness and biodiversity by the International Hydrological Association, it has also been named as one of ten biggest centres for pelagic species by the Canadian government's research centre, CSIRO.

Lofty credentials aside though, Lake Ohrid offers an abundance of activities, from sunset boat trips to diving, fishing, yachting, or just simply strolling around the perimeter and admiring the views.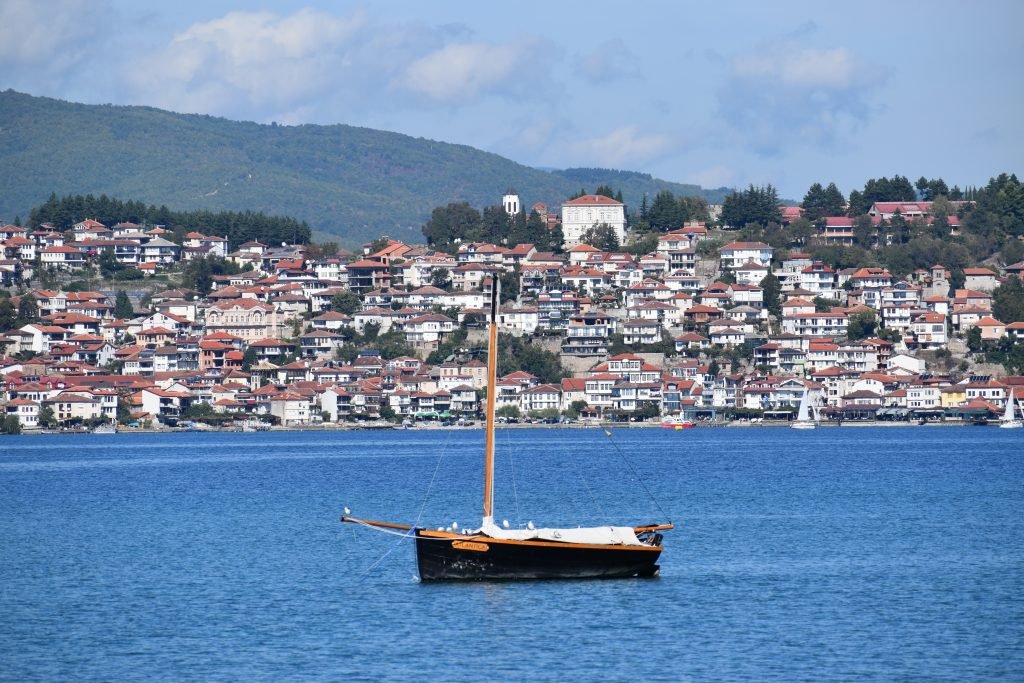 4. Visit St. Clement's Church


Hidden in the forest, between St. Samuil's Fortress and the Church of St. Jovan, you will find St. Clement's church (also known as the Church of Saint Pantaleimon) and the impressive Plaošnik archaeological complex.

Built by Prince Vladimir in 905 AD on top of a Christian basilica from the 5th century, St. Clement's church is considered an exclusive monument of Byzantine art. Inside, you will find exceptional frescoes covering 900 square meters and early Christian mosaics, and outside you will see that work on the archaeological site is still ongoing.



5. Explore the ancient city of Heraclea Lyncestis


Heraclea Lyncestis was an ancient town in North Macedonia founded by Philip II of Macedon in the 4th century BC which served as a strategic point for his further campaigns to conquer Greece. However, after its devastation during Roman times it disappeared from the map. only to be unearthed near the city of Bitola in 1944.

You can visit its ruins as a day trip from Ohrid by taking the bus to Bitola and then walking the 2km to Heraclea Lyncestis.

Among the archaeological excavations you will find Roman baths, a courtroom, an amphitheatre, and two Christian basilicas with wonderful mosaics.



6. Go hiking in Galičica National Park


You know those mountains that surround the city of Ohrid? Well, they're part of Mt. Galičica National Park, a mountain range known for its exceptional biodiversity (there are over 1600 floral species!) and natural beauty.

Here you will find ample hiking opportunities, or you can go climbing or cycling if you prefer. No matter which pursuit you choose, you can't miss the spectacular views from the mountains over Lake Ohrid.

One possible route to take is the famous trail which follows Galičica Mountain ridge, where you can find monasteries built on rocks and churches built by wealthy Macedonian monks.



7. Visit St. Naum Monastery


One of many things to see near Ohrid is the UNESCO-listed Monastery of St. Naum, which can be reached by boat or bus from the centre of Ohrid.

This old Macedonian Orthodox Church was built on the remains of a former Roman villa rustica and is one of the most important religious sites in North Macedonia.

St. Naum was buried himself here in the year 910, and locals will tell you that if you listen carefully enough, you may hear his heartbeat!

Like the other churches in Ohrid, the St. Naum Monastery is home to impressive ancient frescoes, and you can take a walk around the area or relax by the various ponds and streams nearby.



8. Eat!


Balkan food is hearty, rich and made with love, and it is no different in Ohrid. Here you will find delicious fresh fish and seafood, along with other Macedonian staples like stuffed peppers, musaka (moussaka) and vegetable and meat stew, all served with a healthy dose of rakija.



9. Wander the Old Town


One of the most pleasant things to do in Ohrid is to enjoy a nice, leisurely stroll around Ohrid's Old Town. With cobbled streets, artisan shops and a curious mix of architectural styles, the Old Town is the perfect place to do some souvenir shopping, enjoy some Balkan coffee and watch the world go by.

If you're keen to see how people lived in days gone by, you can pay a visit to the old houses of Robevci or Uranija, where you can step back in time and see what daily life looked like for Macedonian families. These houses are similar in style to the Skendulate House in Gjirokastra, Albania and the ethnographical museum in Pristina, Kosovo.

You should also pay a visit to the Old Bazaar. This is only a single street (much smaller than the Old Bazaar in Skopje), but you can still find some local craft shops and some tacky souvenirs – want an ID card with Putin's face on it? Look no further.

The Old Bazaar is the main promenade down to the waterfront.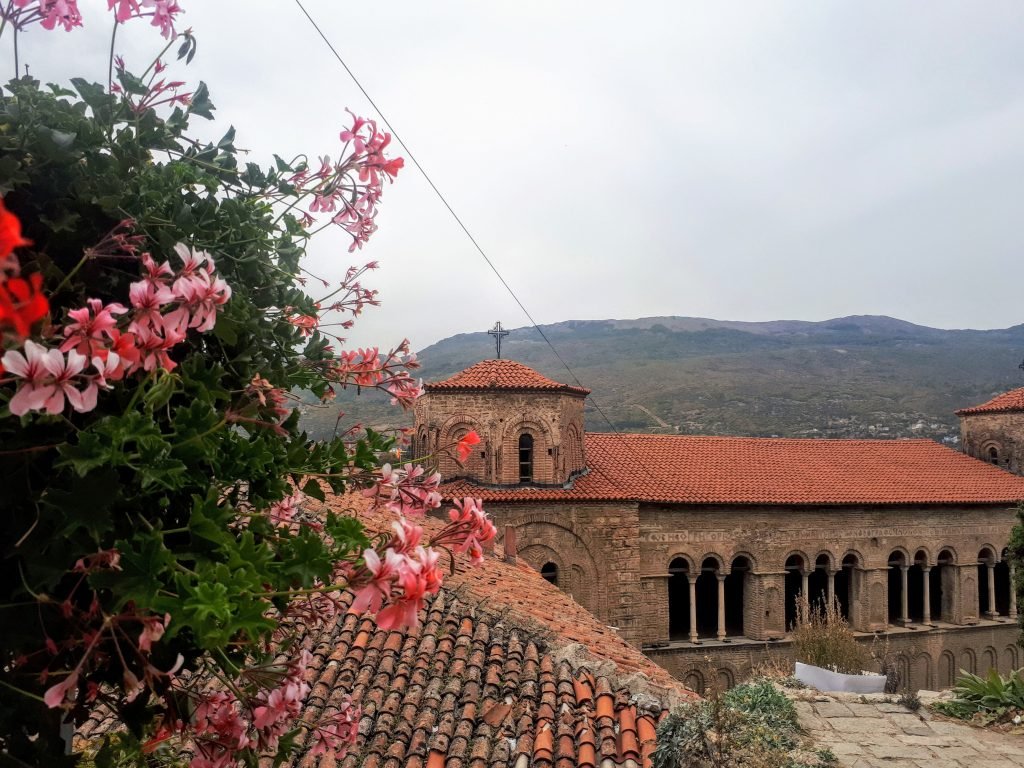 10. Buy Ohrid pearls

While you're in the Old Town, make sure to stop and buy some Ohrid pearls.

Known for their brightness and shine (they get this from a special emulsion made from the scales of the local plasica fish), Ohrid pearls differ from the pearls you've seen before, and the technique was brought to the city by a Russian immigrant more than 100 years ago.

These days, only two families in the whole city know the trick to making them, and they make a really unique souvenir or gift for someone else.

You can find shops selling Ohrid pearls dotted all over the Old Town.



11. Visit the Church of St. Sophia (Sveti Sofia)


Did you think I was going to let you get away with only seeing a couple of churches during your trip to Ohrid?

Think again!

The Church of St. Sophia is a Byzantine work of art that dates all the way back to the 9th century. When the Ottomans took over, it was turned into a mosque, before being converted back into a church again.

Inside you can find frescoes from the 11th, 12th and 13th centuries.



12. Visit the Roman Amphitheatre


Who said you needed to go to Rome to see an amphitheatre?

You won't have to look hard to find one of the most impressive of all Ohrid attractions – the Ancient Theatre. This is an open-air Hellenistic theatre that was built around 200 BC with a capacity of 4000 spectators.

During Roman times, the theatre was used to execute Christians during gladiatorial battles, but these days it is used as a stage for various shows and festivals, and it goes without saying that this is a great place to enjoy panoramic views over the lake.

Admission is free.



Where to stay in Ohrid


Ohrid is packed full of great value accommodation so you won't have a problem finding where to stay in Ohrid.

When I visited Ohrid, I stayed in Sunny Lake Hostel. Sunny Lake Hostel is a popular backpacker's hostel in the heart of the Old Town with a great atmosphere and a balcony where you can enjoy your morning coffee with incredible mountain views. They also have Netflix and a beer garden if you're missing those home comforts!

You can view rates and book your stay at Sunny Lake Hostel here.

Other great options include:

AnastasiaHomestay

Villa Old Town

Villa Saraj

Robinson Sunset House – this one is located in the heart of the national park for a more rural experience.



Things to do in Ohrid, North Macedonia | Final Thoughts


As you can see, Ohrid is a multi-faceted city with a tonne of things to see and do.

My favourite things to do in Ohrid were simply stroll around the Old Town, peek inside the churches, befriend the local street dogs and drink my bodyweight in coffee, but you can easily turn your Ohrid trip into a more action-packed affair if you so wish!

If you have any questions about visiting Ohrid or North Macedonia then don't hesitate to ask me in the comments section below!

Until next time,

XOXO


If you liked this article and would like to support my work, please click the button above to donate a couple of bucks and buy me a coffee. The ad revenue that I receive on this website is minimal, so support from my readers enables me to keep creating content that you (hopefully!) love to read.

Disclaimer: Travelling Jezebel uses affiliate links. This means that if you make a purchase on a recommended site, I may make a small commission at no extra cost to you.