When I visited Auschwitz, I didn't know about the unofficial rules for visiting Auschwitz. Of course, I knew about the official rules, but I hadn't given much through to what other behaviours I should avoid, because I was in too much of a sombre mood to really think about anything.

Walking around the former death camp, surrounded by the ghosts of those who perished there, I barely even spoke to the friend that I was with. The two of us walked around Auschwitz and Birkenau in near silence, partly because we weren't really in the mood for conversation, and partly out of respect for those who lost their lives in this godforsaken place.

However, while most people abided by the unwritten Auschwitz rule that one should be respectful and sensitive when visiting Auschwitz, there were exceptions, and their number wasn't insignificant.

While I was visiting Auschwitz, I witnessed people laughing and joking, taking selfies, play-fighting and posing for photographs in front of the ovens where countless people's bodies were incinerated.

One man walked out of the crematorium crying as his wife comforted him, all the while surrounded by groups of oblivious teenagers who continued to crack jokes.

Unfortunately, for some, the need to visit Auschwitz and pay one's respects has become overshadowed by the feeling that Auschwitz is some sort of tourist attraction.

Tour companies in Kraków bring busloads of young tourists to Auschwitz and Birkenau each day and now, rather than going to Kraków with the purpose of visiting Auschwitz and educating oneself about the horrors that occurred there, visiting Auschwitz has now become just another 'thing to do' in Kraków.

Young lads that have flocked to Kraków for the cheap booze and beautiful women find themselves heading to Auschwitz to "get a bit of culture" before the drinking commences.

I personally had the misfortune of talking to a group of young Canadian men who had been kicked off the bus on the way to visit Auschwitz because they were drinking.

Yes. You read that right. They were pre-gaming on their way to a concentration camp. 

Unfortunately, Auschwitz and Birkenau are not unique when it comes to this type of behaviour. I've witnessed the same at the Berlin Holocaust Memorial (where for some reason, people simply cannot resist taking selfies), the Sachsenhausen concentration camp and the Killing Fields in Cambodia.

It boggles my mind that people would visit Auschwitz for some kind of fun day out, and I cannot comprehend the mentality of people who think that taking a f*cking SELFIE at a concentration camp is okay, but apparently these things need to be spelt out to people, and so here I am to do just that.

Read on to discover both the official rules for visiting Auschwitz, as well as the unofficial Auschwitz rules.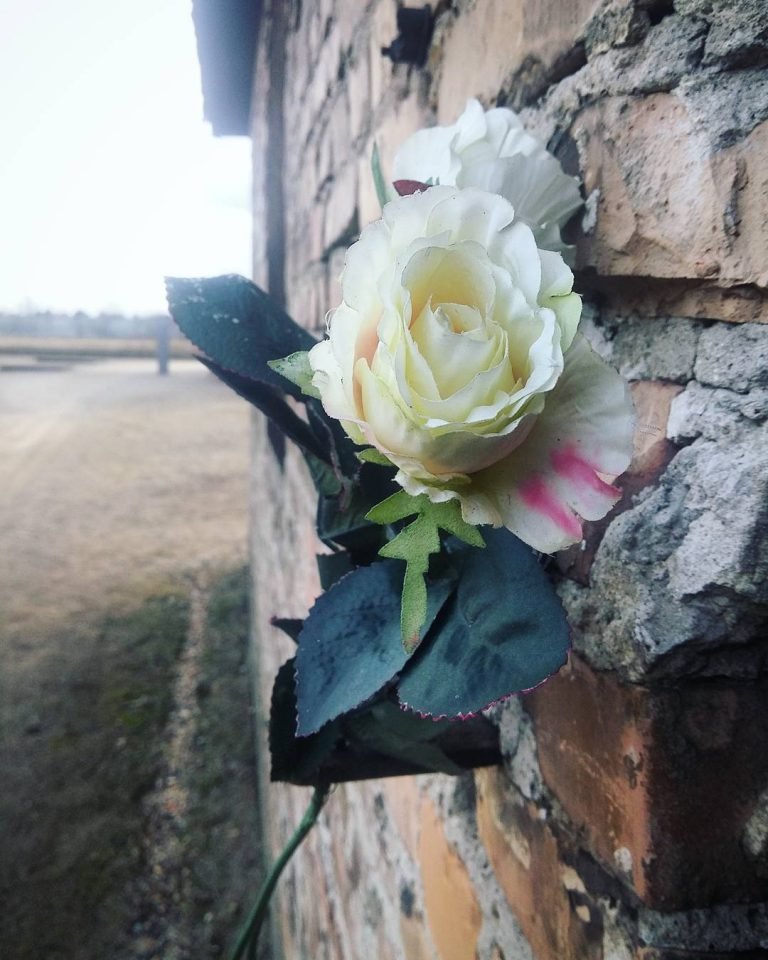 The Official Rules for Visiting Auschwitz


The official rules for visiting Auschwitz are pretty much common sense. For example, don't bring any weapons into Auschwitz.

The official Auschwitz rules laid out by the Auschwitz-Birkenau Museum and Memorial itself are the following:

Don't move, remove or damage anything at Auschwitz-Birkenau
Behave with the 'appropriate solemnity and respect' and dress 'appropriately' (I will delve into this more later)
The maximum size of bags and backpacks allowed to carry on the Museum grounds is 30 x 20 x 10 cm
Don't consume food, alcohol or cigarettes
Don't enter with animals (apart from guide dogs)
Don't enter with any vehicles (aside from prams and wheelchairs)
Don't enter with flags, posters, banners or other promotional items
Don't possess any weapons
Don't play music
Don't use mobile phones inside the exhibition buildings
Don't enter under the influence of alcohol
Don't use a drone
Don't use flash photography or tripods inside the buildings

As you can see, most of these Auschwitz rules are obvious – most people wouldn't think to start playing music or visit Auschwitz while drunk – but some of them are less obvious, like the maximum bag size for example.

However, while the rules listed above are the only official rules for visiting Auschwitz, there are definitely some unofficial Auschwitz rules, or etiquette.

Here are some unofficial rules for visiting Auschwitz.



The Unofficial Rules for Visiting Auschwitz


1. Don't Complain


Visiting Auschwitz and Birkenau takes a full day.

Your feet will hurt. You might get cold. Maybe you're hungry and can't wait to get back to your hostel for a hot meal.

Well guess what?

The prisoners of Auschwitz were also cold, hungry and in pain, and I'm willing to bet that they felt it a lot more acutely than you!

Don't whine about your minor discomforts when walking on the very soil that so many people really suffered on.

If anything, you should be counting your blessings while walking around Auschwitz, not moaning about minor aches and pains.



2. Don't see Auschwitz-Birkenau as a tourist attraction


Yes, you are a tourist. Yes, you are visiting Auschwitz. But no, Auschwitz is not a tourist destination.

It is important to visit Auschwitz for the right reasons. I genuinely believe that we have a duty to visit sites such as Auschwitz in order to educate ourselves about what we, as humans, have done to our fellow humans.

However, there are also some very wrong reasons to visit Auschwitz, and we should be mindful of why we are choosing to visit a sight of mass suffering.

Unsure what the right and wrong reasons are?

Here's a guide:

Are you visiting because you want to educate yourself and pay your respects to the people who perished at Auschwitz? If so, you're visiting for the right reasons!

Are you visiting because you heard it was a "must-see," you want to take some Insta-worthy shots with deep and meaningful captions, and you feel like you need to tick it off your Krakow bucket list along with the salt mines and pierogi? Yeah, don't bother.



3. Taking Pictures at Auschwitz


Are you allowed to take photos at Auschwitz?

Yes, for the most part.

There are a couple of places where flash photography is not permitted as it damages the exhibition (but yet still people choose to flout this rule and destroy history at the same time), but on the whole, photography is okay.

HOWEVER.

Although you can take all the photographs you want at Auschwitz, just because you could, doesn't always mean you should.

I personally took some photographs at Sachsenhausen and the Killing Fields. I didn't want them for social media, and the pictures didn't have me in them. They were just pictures of the things that personally affected me on my visits. Some people choose not to take any photographs at all because they don't feel comfortable. And that's okay too.

Sometimes, you have to judge for yourself what is appropriate and what is not, and some things are just objectively in bad taste.

For example, it is never appropriate to take a selfie at Auschwitz, and honestly the concept of wanting to be IN the photograph at all is very odd to me.

I understand that people may want to take photographs of things such as the Arbeit macht frei sign, but to actually pose in front of the train tracks or the barracks? That is very odd to me. Where will you put the picture? Instagram? Tinder?!

On my visit to Sachsenhausen, I actually saw a middle-aged couple posing in front of the ovens that were used to burn the bodies of countless innocent people. Why? Will they frame the picture and hang it on their bedroom wall?

That type of behaviour is incomprehensible to me.



4. Dress Appropriately


In the official rules for visiting Auschwitz, the Auschwitz memorial centre state that you should 'dress appropriately,' but what does that mean?

What do you wear to Auschwitz?

Would you believe me if I told you that some people walk boldly around concentration camps wearing t-shirts sporting band names such as Megadeth or Slayer?

Megadeth might be your favourite band in the world (I own both Megadeth and Slayer t-shirts myself), but maybe, just maybe it isn't appropriate to be branding yourself with words like that when you are walking around a literal death camp.

I'm not saying that you have to dress the same way you would for a funeral, but just use your brain and realise that your neon yellow Full Moon Party singlet may not be the best choice of attire for visiting Auschwitz.

Just don't wear anything too revealing, anything offensive or anything tone deaf, and you should be fine.



5. Don't Laugh and Joke


Who are I, the fun police?

Well, actually yes.

I don't care if your friend just made the funniest joke in the world about something completely unrelated to Auschwitz: it isn't appropriate to laugh.

Auschwitz is a place for quiet reflection, not for comedy.

Even if you personally don't feel affected by the things that you see when you visit Auschwitz, just remember that other people are affected, and if somebody who has lost family members in the gas chambers sees you and your mates cracking jokes, they may feel very upset.



Rules for Visiting Auschwitz | Final Thoughts


And there we have it – the official and unofficial rules for visiting Auschwitz.

I strongly believe that visitors to Poland owe it to themselves and to the victims of Hitler's regime to visit Auschwitz and Birkenau. We cannot erase history, and we shouldn't want to. We should want to pay our respects and educate ourselves about what our fellow humans have done before us.

If you can follow my guidelines on how to behave while you are walking around Auschwitz, Birkenau and other sights of mass tragedy, I implore you to go and visit them and learn about the atrocities committed not that long ago.

You can buy your tickets here.

However, if you want to walk around in a Megadeth t-shirt laughing, joking and taking selfies then perhaps skip the day trip to Auschwitz and visit a beer garden instead.


Do you agree with me? How do you feel about taking photographs at Auschwitz? Can it be done tastefully or is it never appropriate? What is the worst type of behaviour that you have witnessed at Auschwitz/Birkenau? Please let me know in the comments section so that other readers can know what else not to do at sights like this.


If you liked this article and would like to support my work, please click the button above to donate a couple of bucks and buy me a coffee. The ad revenue that I receive on this website is minimal, so support from my readers enables me to keep creating content that you (hopefully!) love to read.