As soon as I arrived in Albania, Berat was all anybody talked about. This 'City of a Thousand Windows' in Southern Albania, surrounded by mountains and filled with mosques and churches was declared a UNESCO World Heritage Site in 2008, and it's no wonder that people are slowly catching on to it's charm.
With the Osum River snaking its way through the centre of town, separating the equally beautiful Gorica and Mangelemi quarters, the city of Berat is comprised of hundreds of white stone buildings (the origin of the name 'Berat' actually means 'white city') and cobbled streets.
Despite its growing reputation as a 'must-see' destination in Albania, Berat still remains relatively untouched by tourism. Aside from the English translations on the menus in popular restaurants and quaint guesthouses popping up here and there, the majority of people you'll see on the streets of Berat are locals. Children play and kittens hunt for prey under the pomegranate trees, while old men congregate to play backgammon and drink Turkish coffee, a hark back to the Ottoman rule.
Honestly, if the kittens and coffee aren't enough to persuade you to visit Berat, then you probably need to go and have a word with yourself. However, after you're done having that word, come back and read the rest of my article about why Berat is so damn incredible.
Why You Have to Visit Berat – City of a Thousand Windows
Getting There
Berat is pretty easy to get to from the capital of Tirana. Buses leave every hour or so from the main bus station, and you don't need to reserve a ticket. Simply turn up at the station and hordes of Albanian men will be yelling various place names at you. Find the guy yelling 'Berat!' and follow him. Journey time is 2/3 hours.
Things to Do in Berat
When it comes to these 'must-do' type lists, I always flounder. Travel for me is good food, good coffee, and slowly integrating myself into a place, becoming part of the furniture. I like to sit in cafes and people watch, find the local dive bars and wander around aimlessly.
For this reason, I always tend to 'miss out' on at least a couple of the main touristy things whenever I visit a place. The history geek in me loves a good museum, and I do love nature (as long as it doesn't involve anything too strenuous), but for me, once you've seen one church, or temple, or fortress, you've kinda seen them all, u get me?
(OK GUYS I'M CLEARLY TRYING TO MAKE EXCUSES FOR THE FACT THAT I DIDN'T WALK UP TO THE CASTLE FOR SUNSET WHILE I WAS IN BERAT. YES I WAS THERE FOR 10 DAYS AND YES IT'S ONLY A 45 MINUTE WALK BUT I DIDN'T DO IT, OKAY? Cool. Let's all move on.)
So, what is there to do in Berat?!
Explore Mangalemi and Gorica
When I travel, I love to explore by foot, walking down any street that takes my fancy and seeing what I find. In Berat, the narrow cobbled streets are where you'll see snapshots of locals going about their daily lives, as well as stunning architecture and views to the other side of the river (the two neighbourhoods are opposite each other and are both stunning to look at). Also, if you're somebody that's always on the hunt for Instagramworthy spots then Mangelemi and Gorica are the places to be.
Visit the churches and mosques
On the Mangelemi side of the river, just behind the main walking street are tonnes of old mosques and churches that you are free to go in and explore. Albania is a country where people of different religions live side by side and there truly is no underlying tension and conflict. An Albanian Muslim told me once that 'In Ramadan I drink with the Christians because my Muslim friends don't drink. The Christians are pretty weird but at least they get drunk!' and this really sums up attitudes towards religious differences in Albania and Kosovo!
In one of the mosques, two local kids showed me around and explained the basics of where everything was, and that they must pray facing Mecca etc. It was nothing I didn't already know but it was quite cute all the same. Of course, I gave them some money at the end of my little 'tour' but they never asked for it.
Walk down Bulevardi Republika
All across Albania, there is a kind of tradition that when dusk hits, everybody takes a stroll down the main high street, or 'walking street' as they are known. It is the time when everybody people watches, socialises and drinks coffee together, and if you really want to get a feel for Balkan culture then this is definitely something you want to be a part of!
Due to the heat, Bulevardi Republika is pretty quiet during the day, but being a true Brit abroad, the heat didn't bother me, and so I went there quite often in the afternoon for a Turkish coffee. At 40 cents a time, why not?!
Visit the National Ethnographic Museum
There are a few museums in Berat (the city was actually christened 'Museum City' by former communist dictator Enver Hoxha), but one that you shouldn't miss is the National Ethnographic Museum. The exhibit is in a traditional Berat house that would have been home to the land owning classes. Not only can you wander through the house and see how people of years gone by would have lived, but there is also an impressive selection of traditional embroidered costumes, as well as over 1000 traditional objects.
Not only is the museum an impressive work of Ottoman architecture, but it was also fascinating to learn about Albanian culture. For example, the house had multiple guest rooms, not for friends as such, but just in case a stranger were to knock on the door needing a bed for the night – this is how hospitable Albanians are!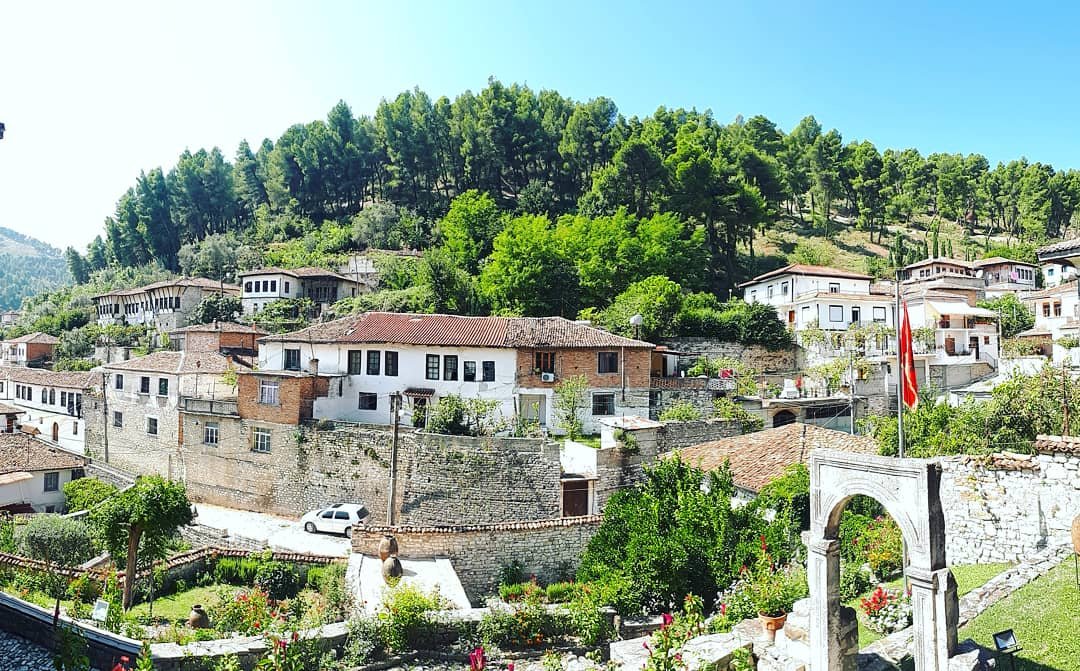 Go wine tasting!
There are many wineries around Berat but the one I wholeheartedly recommend is Kantina Alpeta in the nearby village of Roshnik. I've written about them before here, so now I will just say that wine tasting at Kantina Alpeta will not be something you forget in a hurry.
Get some bargains at the flea market
Known to locals as the 'gypsy market' (I didn't know if the community themselves consider this to be a slur so I erred on the side of caution and decided to refer to it here as a flea market), this huge outdoor market is just full of amazing bits and bobs at unbelievable prices! I got four items of clothing (the most expensive was 2 EU, the other three items were all 40 cents) and my friends all found similar bargains.
The flea market in Berat has absolutely everything you could possibly imagine, from old Nokia phones and handmade jewellery, coffee pots and homemade raki to vintage clothes and, let's face it, a whole lot of junk. Even if you don't want to buy anything, it's worth wandering around just to see the local sellers in action – I was enamoured by the women working on the stalls, many of whom were in their seventies and sporting long plaits down to their bottoms, multiple hoop earrings, tattooed forearms and flowing purple skirts. They were amazing. 
I think the flea market is open on Saturday mornings but I'm not 100% positive.

Eat the local cuisine!
Berat has no shortage of incredible restaurants. My favourites are Wildor, Antigoni and Restaurant Roshniku (owned by the same family that own the winery I mentioned above). Whether you want baked rabbit with okra and aubergine, hearty homemade pie (burek) or slow-roasted goat with winter vegetables, you will not be disappointed.
What's more, every single one of them suits a backpacker's budget. God bless Albania!
Watch the sunset at Berat Castle
Okay, so as we've established, I didn't hike up to the castle, but many people do, and apparently the view (and sunset) is a sight to behold. There is no entrance fee as there is actually an entire village up there, so something that most people do is explore on foot before finding a nice restaurant or bar to enjoy the view from.
Budget Accommodation in Berat
I stayed at Berat Backpackers and I loved it so much that I ended up staying for a total of 10 nights! Situated in the heart of the Gorica quarter in a 300 year old UNESCO protected building, Berat Backpackers was the first ever backpacker hostel to open in Berat, and the second in the whole of Albania!
Not only is the building absolutely beautiful (with a great free breakfast too!), but what really makes Berat Backpackers special is the staff. Every day the staff members and volunteers are happy to hang out with the guests in the stunning gardens of the hostel, and not a day went by where I didn't drink locally produced wine under the fruit trees and fairy lights and come to the conclusion that I was going to have to extend for an extra night!
To book your stay at Berat Backpackers, click here!
So, would I recommend that you visit Berat?
Absolutely! Berat is a charming city with beautiful views, a Mediterranean climate and an abundance of wonderful restaurants and wineries. While people are slowly catching on to its beauty, it is still well off the beaten track, and so you won't find yourself surrounded by other tourists (especially if you visit in shoulder season). I can't recommend you to visit Berat enough – just make sure you head there soon, before everybody knows about it!
Have you ever been to Berat? What did you think? Let me know in the comments below!
Disclaimer: this page contains affiliate links. This means that if you make a purchase on a site I endorse, I might make a small commission at no extra cost to you.
Did you like me? Pin me!