If you're reading this article then chances are you've been approached by a Monat Market Partner who has offered you an incredible 'business opportunity.'

They've probably told you that you can make money just by recommending products you love to your friends and family, and introducing others to the 'lifestyle.' 

You're probably considering it. I mean, who wouldn't want to own their own business, work from anywhere in the world and never have to worry about money?

However, you also have your doubts. You've heard people throwing around phrases like 'pyramid schemes' and 'scams' and you're concerned. 

Is Monat a pyramid scheme? Well, let's see.


psst – if you stick around until the end, i may just have a cheeky freebie for you 😉


My story…


I was approached myself, about 12 months ago, by a young women who insisted that I'd make a great Monat Market Partner. Despite not knowing anything about Monat, or about MLM companies in general (multi-level marketing schemes), something seemed a little off about the whole thing. 

How could this person be so sure that I'd make a great Monat rep when she didn't know me? 

Why did she want me to spend over $300 to be on her team?

Why did she continue to message me after I'd politely declined?

Something just didn't sit right with me, and so I never got involved. 

For a while, Monat never entered my mind again. 

Until, that is, I kept seeing distributors of Monat and other MLM companies such as Arbonne and Beachbody popping up all over my newsfeed, and decided that I wanted to know more about these companies and how they really operate. 

I soon realised that, contrary to empowering women and providing them with 'financial freedom,' Monat and other MLM schemes are actually leaving thousands of women in debt. 

Did these women simply 'not work their biz' hard enough, or were they just sucked into a business that is designed to make them fail? 

To put it bluntly, is Monat a pyramid scheme or a legitimate business opportunity? 

Let's take a look.



What is an MLM company?


MLM stands for multi-level marketing, and MLM companies are also known as network marketing or direct sales companies.

MLM schemes have been around for years, and popular MLMs include Amway, Avon, It Works!, Herbalife and even Tupperware!  

You do not receive a salary in an MLM, but instead earn money from selling products to people you know and recruiting others into the company. When you recruit a new person and that person begins earning money, you will earn commission from the sales and recruits generated from THAT person. 

This continues down in multiple levels (hence multi-level). 

The people underneath you in an MLM are known as your 'downline,' and you are their 'upline.' 

Imagine a triangular structure. If the person at the very top of the triangle recruits 10 people, and each of those 10 people recruit another 10 people, and each one of those people recruit another 10 people, you will be making commissions from EVERYBODY in the triangle because they are all in your direct downline.  



All you had to do was recruit 10 people and you make money from 1100.

Of course, you can always make money from selling shampoo or makeup in addition to recruiting, but most people in MLM companies prefer to recruit others because they stand to make a lifelong passive income from that person, rather than selling a bottle of shampoo for a one-off amount.

Is this making sense so far?

As there is a lot of money trickling up to the top of the structure, the person at the top is making a lot of money, while the people at the bottom make the least amount of money. 

The ultimate aim of somebody in an MLM scheme therefore, is to have as many people in their 'downline' as possible, enabling them to make large amounts of passive income for little work. 

At first, this may seem no different to a typical corporation in which the CEO makes the most money. 

It is true that many business are triangle-shaped. However, the difference between a regular business and an MLM is that in a regular business, the people below the CEO are guaranteed benefits and salaries and do not depend on infinitely recruiting new members to the company. 

This is in stark contrast to the people in an MLM, where 99% of participants actually lose money.


What is a pyramid scheme?


Pyramid schemes are very similar to MLMs in the way that they are structured, but the main difference is that MLM companies also sell a product as well as paying people to recruit others into the business. 

A pyramid scheme will take an initial investment from each member and promise to pay them for enrolling others into the scheme. You are never buying a product; you are buying into an 'opportunity' to get rich.

However, as members of the scheme increase, recruiting quickly becomes impossible and so most members are unable to profit from the scheme or even make their initial investment back. 

The Wikipedia diagram below illustrates just how unsustainable this business model is – after just a few levels of recruitment, the scheme would have recruited everybody on the planet and there would simply be no-one left to recruit!


Because of the impossibility for most people to make money in a pyramid scheme, pyramid schemes are illegal. MLMs are not illegal because you can earn an income from selling products and not just recruiting. 

However, just because pyramid schemes are illegal, doesn't mean that some MLM companies are not still operating as pyramid schemes in disguise. Although a business may be carefully crafted to appear like a totally legit multi-level marketing company, it could still be exploiting loopholes in order to skirt around the law.

In order to assess whether or not a company is a pyramid scheme in disguise, we must look at whether the focus is on selling products vs. recruitment, how much money a company costs to join, how much you can actually expect to make in the company, and whether or not the company is exploiting legal loopholes in order to function as a pyramid scheme. 

Got all that? 

Okay, so let's continue.


What is Monat?


Before we dive into whether or not Monat is operating as a pyramid scheme, let's start by establishing what exactly Monat is.

MONAT Global is a huge multi-level marketing company that sells haircare and skincare products. These products include shampoos, conditioners, serums and more. They claim that all of their products are 'naturally based, safe, pure and sustainable.' 

Monat (whose name stands for 'Modern Nature') do not have brick and mortar stores selling their products. Instead, the products are sold online through their 'Market Partners' who advertise on social media, using the products themselves and making videos talking about how the products have benefited them.

In addition to making commission from selling products, the Market Partners make money by recruiting others into the company. Every person they recruit becomes part of their 'downline,' and so the more people they recruit, the more money they make. Monat is a very typical MLM company in the way that it is structured.

So, who is behind Monat? Well, Monat was founded in 2014 by Luis Urdaneta. Rayner Urdaneta is the CEO and Stuart A. MacMillan is President of Monat. 



A fun fact about MacMillan is that he was the former CEO of the TelexFree 3 billion dollar Ponzi Scheme and helped the company cover their tracks with their 'bankruptcy exit-strategy.' They didn't get away with their bankruptcy claim and were shut down in April 2014, 6 months before MacMillan was appointed President of Monat. 

If you don't know what a Ponzi scheme is then it's basically a pyramid scheme but 100 times worse. Wikipedia classifies Ponzi schemes as 'a form of fraud.' 

It's definitely interesting that Monat would want somebody like MacMillan leading their company, but I'll let you draw your own conclusions about that…



Is Monat a Pyramid Scheme or a Legit Business Opportunity? A Deep Dive into Monat Global


Monat Market Partners (the job title given to entry-level distributors) often find themselves having to defend themselves against the accusation that Monat is a pyramid scheme. 

Now, it would be easy for me to sit here and say that look –  if you are constantly having to defend your company against claims that it is a pyramid scheme, it's probably a pyramid scheme. 

However, you probably want something with a little more weight than that, and so I'm going to do a deep dive into Monat and follow the money to see whether Monat is operating as a pyramid scheme or not. To do this, I'm going to attempt to answer the following questions:

How much money can you make with Monat? (Are most people unable to profit?)

How much does Monat cost to join? (Do you have to 'pay to play?')

How do you make money with Monat? (Is there a focus on recruitment?)

Does Monat use loopholes that allow it to function as a pyramid scheme? (Is it skirting around the law?)

Is Monat a pyramid scheme in disguise? (If the answer is YES to the above questions, it may well be operating as a pyramid scheme)



How much money can you make with Monat?


If you follow any Monat representatives on social media, you'll often see them flaunting their lavish lifestyle, bragging about how the ability to 'work from their phone' and 'be their own boss' allows them to travel, and the Monat website itself says that their 'unrivaled business model' enhances the 'financial well-being of one million families around the globe each year.'

Bold claim. 

I wanted to see just how much money you can really make with Monat, and so I had a look at their income disclosure statements.  

Below is a copy of Monat's income disclosure statement from 2018.



Before we begin analysing the table, it is important to note that 47% of Monat Market Partners were considered inactive and so were not eligible to receive any commission at all. 

In other words, half of Monat Market Partners earned absolutely no income from Monat.

The Monat Market Partners that did earn money account for 94.03% of everybody earning money in Monat.

Their average earnings for 2018 were $183.

In fact, when we look at the chart, we see that the first 7 ranks (Market Partner to Market Mentor) all earn less than $40,000. 

This means that 99.89% of Monat reps earn less than you could in a full time job. In other words, only 1 in every 909 people make a real living from Monat.

You should also know that these numbers do not represent profit as they do not take into account money that somebody has spent on 'building their business.' 

You can read a more detailed breakdown of the Monat income disclosure statement here.

SO, are most people unable to make a profit with Monat? 

YES. This means that Monat has met one of the criteria for being a pyramid scheme.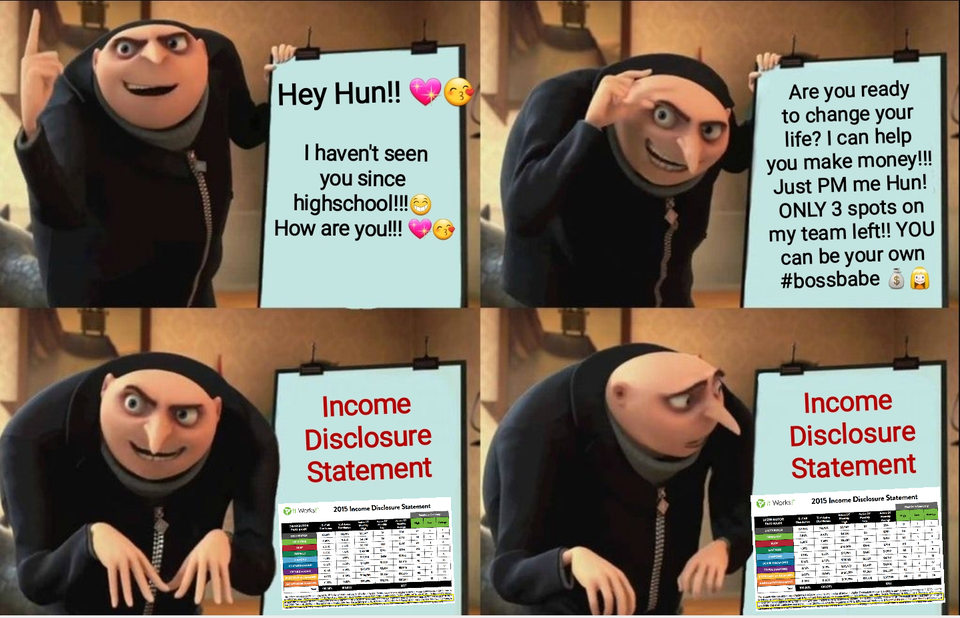 How much does Monat cost to join?


As I mentioned above, the money earnt by Monat Market Partners is not all profit. 

Monat Market Partners have to pay for registration fees, a starter kit, product samples and the actual Monat products themselves. 

The sign-up fee for Monat is $49 and you must renew this annually. You must also purchase the 'Starter Kit,' which is $99 and includes the following:

5 'Meet Monat' brochures
5 VIP Monat brochures
5 Product Magazines with price lists
1 SMART Start Workbook
1 pack of Skin Routine Tester Strips
1 jelly bag
Skincare product cards
Assorted samples

Taxes and shipping costs are extra, but I was unable to find out how much this would be without entering in my NI number.

If you want to buy Monat products to get you started, then you have the option to purchase different packages which include the Starter Kit and some discounted products (meaning you don't need to purchase the Starter Kit on its own). 

The cheapest pack is called the 'Essentials Pack.' It costs $199 and includes the Starter Kit, plus 5 hair products (shampoo, conditioner etc.). 

The most expensive pack is the 'Optimum Pack' which costs $799 and includes the Starter Kit and 35 products. This is the best 'value,' as the retail price of all of this would be $1873, but don't forget that you are still spending almost $800 on shampoo and paying an average of $22 per product. 

While it isn't mandatory to buy these kits, you should bear in mind that when you work for Monat, you are a sales person, and it is very difficult to sell products without actually using the products. 

This brings me to my next question…


How much does it cost to run a Monat business?


We've established that the costs of signing up to Monat can be pretty high, but unfortunately, it doesn't stop there. 

MLMs manage to avoid being identified as pyramid schemes because they sell products. 

HOWEVER.

Who is buying the products? Is it the general public, or is it the distributors themselves?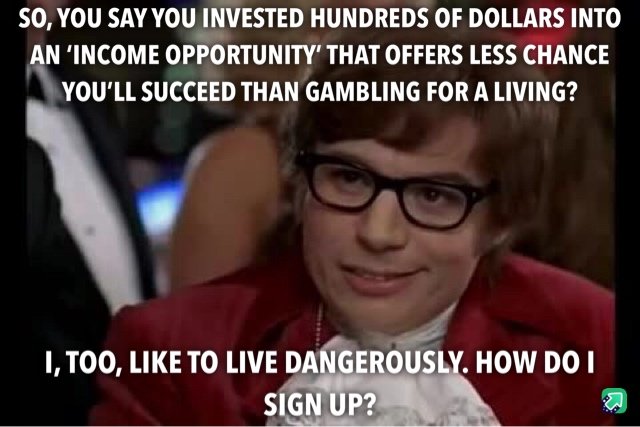 In Monat, every distributor must generate 200 PV per month in order to 'remain active' and earn any commission from their downline. 200 PV literally translates to $200, and you can generate this by buying $200 worth of Monat products, selling products (a small percentage of the product price will count towards your PV), or recruiting others. Every person you sign up to your downline adds to your PV, and a portion of their sales will also contribute to it. 

In other words, you pay to play.

Even if you were really lucky and managed to generate 200 PV with sales and recruitment alone, you would still have to fork out for Monat products at some stage.

The idea of any 'social marketing' job (the term Monat uses) is to use your influence to sell products. You should boast about how amazing the products are, how they have changed your life and how you would be lost without them. You should make videos and take photos of you using the products, and the before/after results of them. 

Celebrities get paid millions to endorse products all the time because if we see someone we know and trust recommending something, we are more likely to buy it.

The catch is that influencers, brand ambassadors etc. actually GET PAID to do all of this AND THEY ARE NOT PAYING FOR THE PRODUCT. With Monat, you have to buy the products yourself, and they aren't cheap.



A Monat detangler costs $32, conditioner is $49 and a hair mask will set you back $65. 

The skincare products are even more expensive, with moisturiser retailing at $68, eye cream going for $75 and an 'illuminating serum' to make you look 'refreshed' is a whopping $95. 

Oh, and if you've got a pet dog then you can treat him to some dog deodorant for $22. 

Monat Market Partners would argue that they get a discount on the products and so they aren't actually paying the retail price, but when the markup is so high, are they really getting a discount or are they still paying over the odds?

The reason that Market Partners must pay so much to begin and run their Monat business lies with the sunk cost fallacy. This means that the more money you sink into something, the longer you are likely to stick with it in order to make it worth your while.

This roughly translates to: 'I can't quit now – I've spent so much time and money building my business!'

And this is how they get you. The more money you invest in Monat, the longer you stick around, investing more time and money and so on. 

It's an endless cycle.



Earnings vs. investment


Monat's compensation plan doesn't detail how exactly you get your PV to 200 each month. I had to do some digging just to find out that PV = USD, and nowhere on Monat's compensation plan or income disclosure statement do they tell you how many PV points you will get if you sell a bottle of shampoo to someone.

Because of this, it is impossible to work out exactly how much you have to invest in your Monat 'business' each year, but I did some quick maths based on the information we do know.

Sign-up fee of $49 + starter pack $99 = $150

If you buy ONE bottle of the cheapest Monat shampoo and ONE bottle of the cheapest Monat conditioner annually, with your 30% Market Partner discount, you need to add $24.50 (shampoo) + $32.90 (conditioner).

So $150 + $25.50 + $32.90 = $208.40

So then, at a bare minimum (and most people use more than one bottle of shampoo and conditioner each year), NOT INCLUDING PV, you have to spend at least $208.40 on Monat in one year.

Again, this number is far far less than the amount you will ACTUALLY be spending as Monat sales reps always show off the vast amount of products that they have bought.

If you buy the cheapest Monat package when you are signing up (the $199 Essentials Package), you will be spending $199 + $49 = $248 in your first year AT A MINIMUM.

Again, I challenge you to find a Monat rep who is only buying 2 Monat products in 12 months. You won't.

Now at first, $248 doesn't seem like a lot of money, and if you were earning good money with Monat then you'd be able to make it back in no time, but don't forget that 94% of Monat reps earned $183 in 2018.

This means that when you take into account how much money they SPENT on Monat, they actually LOST money.

If you knew that there was a 94% chance of you losing money in a business, why the hell would you join?! 

SO, do you have to pay to work for Monat? 

YES. This means that Monat has met another criteria of being a pyramid scheme.



How do you make money with Monat?


The main thing that sets pyramid schemes apart from 'legitimate MLMs' (I don't believe that any MLM is a legitimate business), is the product.

This dates back to the 1979 case of Amway vs the FTC. After 4 years in court, Amway was found to be operating a legal business rather than a pyramid scheme. This ruling came down to technicalities in some of the wording in Amway's paperwork, which has come to be known as the 70/30 rule.

The 70/30 rule means that 70% of a company's profits must be made through retail sales of a product selling rather than recruitment. If the scale is tipped then the company could be accused of being a pyramid scheme.

This means that as the company's focus is not purely recruitment, they can flirt with the idea of being a pyramid scheme without ending up in any legal trouble.

Now, with Monat we do see somewhat of a focus on the products.


Many Monat Market Partners post before and after photos of their hair after using Monat products, and the products are prominently featured on the website, along with lengthy descriptions of just how great they are. 

It doesn't feel as though Monat is totally about recruiting people into the 'opportunity.' 

That said, for every Monat rep showcasing her luscious locks on Instagram, there is another one bragging about how 'running her own business' has changed her life, how she loves being able to work by the pool or stay at home with her kids, and how she has made her best friends through Monat.

This shows that while Monat reps do promote the products, they are also promoting the Monat 'opportunity,' and lifestyle, and if you think for one minute that this is accidental, you are very much mistaken.

By showing how happy they are with their 'businesses,' they are piquing the interests of others and encouraging them to reach out and ask about just what this amazing 'work from home opportunity' is. 

Monat reps get huge bonuses and promotions from recruiting other people to join their downline, and the more people they recruit, the more passive income they stand to make. If you can get a one-time commission from someone buying a shampoo or a lifetime of commission from another person's sales (and recruits), it's a no-brainer.

Why would you even bother selling products when selling the 'business opportunity' is so much more lucrative?

SO, is there a focus on recruitment? 

YES. While you CAN make some money selling products, the real money to be made in Monat is by recruiting others and forming a large downline.

This means that Monat has met another criteria of being a pyramid scheme.



Does Monat use loopholes that allow it to function as a pyramid scheme?


MLMs have to make the majority of their profits based on retail sales to the general public. Monat does not release any of its data as to how much of its profits are derived from retail sales to the public, and so we cannot say definitively how they square up on the 70/30 scale as far as retail sales are concerned.

However, something that I've noticed with Monat is that they give their customers huge discounts if they buy their products as a Market Partner rather than as a Retail Customer. In fact, many Monat reps actually claim that the reason why so many Monat consultants don't make any money is because most people only sign up for the discount.

Now, if a company's own staff members are the ones buying the products, then that company can still be classed as a pyramid scheme. However, Monat gets around this by pointing out that its Market Partners do not work FOR Monat – they are independent contractors. 

I don't know about you but this certainly sounds like a loophole to me…

A second loophole that Monat exploits is that MLMs have to show that they do not have a 'recruitment focus.' 

If Monat were directly paying distributors to recruit then we would probably see that they definitely have a recruitment focus. What they do instead is give their reps 'bonuses' and promotions. Hmm…

There are probably more intricate loopholes that Monat is exploiting in order to avoid being classed as a pyramid scheme but you see what I am trying to say. Just because something cannot technically and legally be defined as a pyramid scheme doesn't mean that it isn't operating in exactly the same way as a pyramid scheme does in practice.



Is Monat a pyramid scheme? Final thoughts


I think it's pretty clear what my feelings are regarding this question.

Do I think that Monat meets the legal definition of a pyramid scheme and could be closed down by the FTC? 

No, I don't. 

Do I think that Monat is functioning as a pyramid scheme by manipulating legal loopholes? 

Yes, yes, and YES again for the people in the back. 

Do I think that eventually the law will catch up to companies that are using these loopholes? 

Yes, I do. I firmly believe that the FTC and other relevant authorities are catching onto companies like Monat and their tricks quickly. I believe that Monat's days are numbered, and that if you are a Monat Market Partner then I would advise you to get out now.

Lastly, and perhaps the only question we need to be asking ourselves – is Monat ethical?

Monat may be operating under the law right now, but that doesn't mean that it is an ethical business model. After all, if you knew that 94% of people would lose money with Monat , would you still feel comfortable recruiting them into the business?

My guess is that no. You wouldn't.


An alternative to Monat


So then, how the hell do you make money online?!

Well…you could try blogging 😉 

I won't lie to you and say that blogging is easy, or that it's fast money. Blogging definitely takes hard work and a savvy business mind.

With that said, it definitely isn't as much work as being part of an MLM, you actually will be your own boss, and if you do it right, you will see incredible results.

The best thing about blogging is that it can lead to TRUE passive income.

Most of the money that I make on this blog comes from posts that are over 2 years old. I wrote them, tossed them to Uncle Google, and let the algorithm do the rest.

Those posts bring me tens of thousands of pageviews every month, and because I run ads on my site, pageviews = money.

There is a LOT to learn when it comes to blogging – how to grow an email list, how to work with brands, how to make sure your posts rank on Google…the list goes on, and it's definitely overwhelming as a newbie.

That's why I am so pleased to be able to tell you that Jessie Festa from the popular travel blog Jessie on a Journey is offering an incredible deal on her membership club Travel Blog Prosperity – I'm signed up myself, and it's probably the best thing I've ever paid for in terms of courses/educational blogging materials.
If you'd like to enrol in Travel Blog Prosperity and gain access to MORE THAN $2000 worth of course materials, you can do so by clicking this link (technically the doors are closed but she gave me this link for my followers!).
Travel Blog Prosperity is usually $59.29 per month but if you use code JEZEBEL, you'll get your first month for only $9!
The best bit? You don't have to send a single Instagram DM 😉

If you need more persuading, you can read my Travel Blog Prosperity review here.

WHAT DO YOU THINK? WOULD YOU STILL CONSIDER JOINING Monat AFTER READING THIS? LET ME KNOW YOUR THOUGHTS IN THE COMMENTS SECTION BELOW!

XOXO


And finally, on a completely unrelated note…


With all this talk of small businesses and being your own boss, I wanted to share something with you.

I actually own my own store which sells a mix of lingerie, BDSM and fetish wear, cosplay stuff and more. Jezebel By Night is a brand new business (we launched at the end of 2020!) and it is an entirely one woman show – I am the one who does everything, from sourcing products, influencer marketing, customer service, social media, product descriptions, managing stock…you name it, I do it.

I'm super proud of myself and what I've achieved in such a short space of time, and as a 'thank you' for reading my article until the end, I would like to share a little something with you.

I have created a 20% discount code just for you, Travelling Jezebel readers, to use across my ENTIRE store.

Just enter the code BOSSBABE20 at checkout and 20% will be deducted from your entire order! 

I can't wait to see what you pick 😉


If you liked this article and would like to support my work, please click the button above to donate a couple of bucks and buy me a coffee. The ad revenue that I receive on this website is minimal, so support from my readers enables me to keep creating content that you (hopefully!) love to read.

Disclaimer – Travelling Jezebel uses affiliate links. This means that if you make a purchase on a partnered site, I may make a small commission at no extra cost to you!