Malaga, southern Spain, is not only known for its stunning beaches and rich history but also for its mouthwatering culinary delights.

When I look back to the time I spent in Malaga, I'm reminded of all the wonderful food I ate, from fat spicy shrimp to tender beef tail croquettes. A big part of the reason I fell in love with Malaga and the surrounding area was the cuisine, and despite having lived in Spain for almost two years when I finally made it to Malaga, I still discovered new and exciting dishes to try.

Malaga foods offer a delightful mix of Mediterranean flavours, fresh seafood, and a touch of Moorish influence.

So, if you're wondering what to eat in Malaga (and the Andalusia region in general) you're in the right place!

In this post I'm going to share my favourite Malaga foods, from traditional dishes to the best tapas, snacks, and more.

Trust me – if you're not hungry now, you will be by the time you've reached the end of this post!



24 Traditional Malaga Foods You Have to Try 


Andalusian cuisine at a glance


Andalusian cuisine is incredibly diverse, reflecting both its Mediterranean and Moorish influences.

Characterised by an abundance of fresh ingredients, olive oil, and aromatic spices, Andalusian dishes are often a blend of sweet, salty, and tangy flavors.

Seafood (especially anchovies and sardines) is a staple, as are hearty stews and thick soups. Vegetarian food can certainly be found in Malaga, but do be aware that many of the dishes will be meat or fish-based.

Jamón Serrano, olives, and goat's cheese are also prominent ingredients, making for strong, rich flavours.



What to eat in Malaga


Andalusian soup


Soup is a major part of Andalusian cuisine, especially cold soup.

This might sound weird at first, but it gets hot in the south of Spain, and trust me when I say that cold soup is a welcome respite from the oppressive heat that Malaga receives!

Here are some of the most famous soups from Malaga and Andalusia.



Gazpacho


Most of you will be familiar with Gazpacho, a cherished Spanish classic.

Gazpacho is a refreshing cold tomato soup from Andalusia that boasts a simple yet vibrant blend of ripe tomatoes, bell peppers, cucumbers, onions, and garlic, all married with olive oil, wine vinegar, and salt and pepper. 

After blending everything together and allowing to chill for a few hours, gazpacho is ready to be served.

If you want to live like a local, be sure to glug gazpacho straight from the glass – it will help you cool down quickly!



Salmorejo


Salmorejo is a thick soup (also served cold) made from tomatoes, bread, garlic, olive oil, and a hint of vinegar, and garnished with a hard-boiled egg and Jamón Serrano for added flavour.

Salmorejo and gazpacho are very similar, but the main difference between salmorejo and gazpacho is that salmorejo is much thicker.

This comes from stale bread that has been soaked in water, making salmorejo a surprisingly filling dish. 



Porra Antequerana


Porra Antequerana is yet another cold soup, and it shares similarities with both salmorejo and gazpacho!

While salmorejo is originally from Cordoba, porra is from Antequera, in the north of the Malaga province. 

Traditionally, porra is a little thicker than salmorejo as it contains slightly more bread and less tomato, and it also uses green bell peppers in its base.

Porra is typically garnished with a boiled egg, ham, and tuna fish, but you will find plenty of variation in this. 



Ajoblanco

Next on our list of Malaga foods is ajoblanco, which translates to 'white garlic.' 

Ajoblanco is another cold soup, this time made with ground almonds, garlic, bread, and olive oil.

A sprinkle of white Moscatel grapes or melon chunks add a hint of sweetness to balance the flavours and make it even more refreshing. 

Interestingly, ajoblanco predates gazpacho – it was introduced to the region by the Moors (North African Muslim tribes) before the arrival of tomatoes in Spain! 



Gazpachuelo Malagueño


This soup traces its origins to the fishermen of El Palo.

Initially a humble fare, it consisted of fish, potatoes, water, salt, mayonnaise, and wine vinegar. As time passed, the addition of shrimp, langoustines, or clams enriched the dish.

Unlike the cold soups we've encountered so far, this soup is a warm, winter delicacy. It's often garnished with a boiled egg and served with toast, reflecting the evolution of this hearty and comforting local dish.



Traditional Malaga dishes 


Fritura malagueña


One of the most quintessential Malaga experiences is savoring a plate of fritura malagueña, or fried fish (Malaga fish is soo good!). 

Malaga's coastal location means that seafood in Malaga is abundant and incredibly fresh.

A fritura malagueña plate usually consists of sardines, anchovies, red mullet, and squid, all lightly battered and fried to perfection. Just add a generous squeeze of lemon and some homemade alioli, and you're onto a winner. 



Albondigas en Salsa de Almendras


Albondigas en Salsa de Almendras, or meatballs in almond sauce, is a dish that screams 'comfort food.' 

Tender meatballs, often made with a mix of ground meats and aromatic herbs, are smothered in a creamy sauce made from toasted almonds, garlic, and a dash of saffron.

The earthy, warm flavours of the almonds combined with the succulent, spiced meatballs is one that's hard to beat, especially on cool winter nights.



Mollete


Mollete, a time-honorued Spanish bread originating from Antequera, is crafted from a blend of yeast, plain flour, whole-wheat flour, salt, sugar, milk, and olive oil.

The dough is shaped into oval discs and toasted to perfection before being adorned with a generous drizzle of extra virgin olive oil.

Add finely-sliced tomatoes and a sprinkle of salt, and you have the perfect Malaga breakfast (you will see lots of locals enjoying this with their morning coffee in cafes around Malaga).



Boquerones al limón


If you're wondering what to eat in Malaga, you have got to indulge in boquerones al limón, whether by the beach, or in the heart of the city. 

Boquerones al limón are fresh anchovies soaked in a mixture of garlic, parsley, olive oil, and lemon juice. The lemon juice 'cooks' the fish (ceviche), adding a firmness and citrusy flavor.

Boquerones al limón are usually served as a tapa or as part of a seafood platter, and you'll find that people in Malaga are incredibly devoted to their anchovies!



Espetos 


Espetos de Sardinas are a popular beachfront treat and one of the most typical foods of Malaga. 

Fresh sardines are skewered on sticks and grilled over an open flame in a barbecue pit, usually in a wooden fisherman's boat on the beach. Add that quintessential squeeze of lemon and you've got a simple yet iconic dish – I had some espetos down the road in Marbella, and it could not have been more perfect!



Ensalada Malagueña


Ensalada Malagueña is a traditional salad hailing from Malaga that embodies the essence of Andalusian cuisine.

It features a base of cooked potatoes, often paired with cod, olives, oranges, and boiled eggs and it is dressed with olive oil, vinegar, paprika, and garlic.

The result is a blend of spice and citrus that is unusual, but works. 



Paella


'I didn't know this was an article about Valencian food!' I can hear you exclaiming (I can't, I just wanted to point out that paella is very much a Valencian dish).

However, while Malaga might not be as renowned for paella as Valencia, it is still a relatively popular dish in the region.

Unlike Valencian paella, which is made using rabbit, chicken, and snails, paella in Malaga uses prawns, mussels, and freshly caught fish, along with saffron-infused rice and various spices. 



Pipirrana

Pipirrana is a light salad enjoyed during the spring and summer seasons, and different regions of Spain all have their own take on this dish. 

In Malaga, the classic components of pipirrana include octopus or fish eggs, along with a mix of diced onions, red peppers, and tomatoes. All of this is dressed with vinegar, a pinch of salt, and olive oil.



Plato De Los Montes De Malaga


The name of this dish translates to 'Plate of the Mountains of Malaga,' which is as poetic as it is delicious! 

The Plato De Los Montes De Malaga is a real Malaga specialty, with a wide array of ingredients on a single plate including crispy fried potatoes, fried egg, chorizo, morcilla (blood sausage), sautéed green peppers, and pork bathed in 'manteca colorá' (lard infused with paprika and other spices).

This hearty and robust ensemble is perfect for warming up during the winter, especially up high in the Malaga mountains.



Migas


Migas, which just means 'crumbs,' is a rustic dish that transforms stale bread into a hearty and delicious meal (who knew you could do so much with stale bread?!). 

For this dish, bread crumbs are sautéed with garlic, olive oil, and ingredients such as chorizo, peppers, and red grapes.

It might be a kind of 'peasant food,' but migas is another hearty Andalusian dish that is designed to keep you full and warm you up.



Gambas al Pil-Pil


Gambas al Pil-Pil can be found on every restaurant menu in Malaga, and rightly so! 

Large and juicy prawns are cooked in sizzling olive oil infused with garlic, red chili peppers, and a dash of white wine, creating a flavourful and spicy sauce.

The dish is is traditionally prepared and served in a small, earthenware dish known as a 'cazuela,' and this combination of garlic, chili, and prawns embodies the essence of food in Malaga.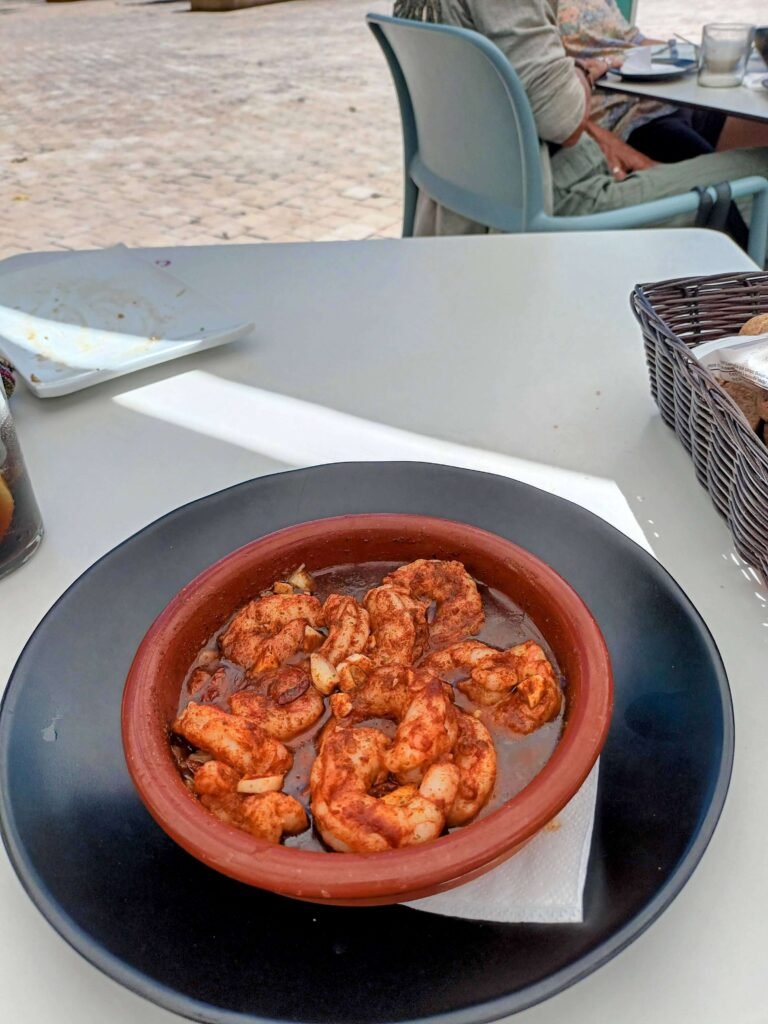 Berenjenas con miel de caña


Berenjenas con miel de caña is a classic Malaga food made from aubergine (or eggplant, for my American readers).

The aubergine is seasoned and coated in flour before being crisped to perfection in hot olive oil. The fried eggplant slices are served fresh, piping hot, and drizzled with sweet molasses – I don't usually love sweet and savoury flavours being mixed together, but in this case, I approve!

 

Rabo de toro a la rondeña


Rabo de toro a la rondeña is a traditional Spanish dish particularly associated with the nearby town of Ronda (which is a beautiful place BTW).

It consists of slow-cooked bull's tail which has been marinated in a red wine sauce to create a rich, hearty stew. 

Rabo de toro a la rondeña is considered a real delicacy, showcasing the culinary traditions and local ingredients of the area.

From personal experience, I will say that bull's tail is one of the tastiest and most succulent meats there is!



Snacks and desserts


Aceituna Alorena


Aceituna Alorena is an olive variety known for its unique flavor and preparation.

These green olives are typically marinated in a mixture of garlic, vinegar, oregano, and other aromatic spices, resulting in a beloved Spanish snack or tapa. They might not be as famous as Kalamata olives, but the olives and olive oil in Andalusia are some of the best in the world, and you'd be mad not to try some while you're there (I actually wrote a whole post about olive oil tourism, if you're interested!). 



Tarta Malagueña


Tarta Malagueña is a rich and indulgent cake made from ground almonds, sugar, eggs, and lemon zest. The cake itself has a moist texture (Spanish sponge cakes tend to be very moist), and it is topped with sweet wine-soaked raisins and powdered sugar, creating a zesty yet sweet flavour. 



Almendras Fritas 



Almendras fritas, or fried almonds, are a staple snack in Malaga, and you can always find street vendors and market stall holders selling them freshly-made. 

Almonds are generously coated in olive oil and sea salt before being fried to perfection, resulting in a combination of crispy texture and a rich, nutty flavor. Almendras fritas are the perfect snack on-the-go, especially if you've had a long day of walking around Malaga's streets! 



Pasas


'Pasas' simply refers to raisins, and Andalusia is famous for its sweet raisins.

These plump, sundried raisins are a great healthy snack and are often used in local desserts and baked goods. The most popular are the Moscatel raisins made from the Moscatel grape.



Higos


Similar to raisins, figs are hugely popular in Malaga and are a key ingredient in numerous dessert recipes. Fig cake, or 'torta de higos,' is particularly popular. 




Malaga wine


If you're visiting Malaga, you mustn't forget to try some of Malaga's wines.

Malaga is known for its sweet wines, in particular 'Malaga Dulce,' a fortified wine served with dessert. 



Malaga Foods | Final Thoughts


Malaga's culinary scene is incredible, with fresh and fried seafood, local produce, sweet and spicy tapas, and hearty meat dishes being just some of the flavours that await you on a trip to Malaga, or Andalusia as a whole (I recommend visiting Jaen and the UNESCO cities of Ubeda and Baeza if you have time!). 

Whatever your tastes, you're sure to find some dishes you love in Malaga, although if you love seafood and garlic, you're at a major advantage!

That's all I've got for you today, but as I always say, if you have any questions about Malaga food, don't hesitate to reach out in the comments section below and I will get back to you!

Until next time,

XOXO


If you liked this article and would like to support my work, please click the button above to donate a couple of bucks and buy me a coffee. The ad revenue that I receive on this website is minimal, so support from my readers enables me to keep creating content that you (hopefully!) love to read.

Disclaimer: Travelling Jezebel contains affiliate links. If you make a purchase on a recommended site, I may make a small commission at no extra cost to you.