Tirana, capital of Albania. Not exactly the most common choice for a city break, but somewhere that is growing in popularity among people backpacking through the Balkans.

Once the most isolated country in the world, Albania is keen to distance itself from its hardcore communist past and show the world that Tirana is a young and vibrant city with a lot to offer both tourists and travellers alike.

Tirana may not be the most glamorous of destinations, and Albania is still a relatively undeveloped country compared to its neighbours, but there are so many interesting and unique things to do in Tirana that it is definitely worth a place on your Balkan itinerary.

I have visited Tirana three times now, and every time I visit I discover more and more things to love about Albania's capital, and so with this in mind, I decided to put together a list of the best things to do in Tirana, Albania.


23 Best Things to Do in Tirana, Albania


1. Attend the Tirana Free Walking Tour


Without question, one of the best things to do in Tirana is to attend the Free Walking Tour.

I love walking tours as they are a great way to find out some background information about the city that you're visiting, as well as see most of the major attractions.

I especially recommend doing the walking tour in Tirana because Albania has an incredibly long and rich history that most foreigners know little about, and I felt like I could really appreciate Tirana after attending this tour.

Fun fact from my tour: the first KFC in Albania sits directly opposite the former residence of Albania's communist dictator, Enver Hoxha – talk about a middle finger to communism!

The Tirana Free Walking Tour takes place at 10am and 6pm every day from the steps of the Opera House on Skanderbeg Square. It lasts for around 2 hours and is tip-based.



2. Climb the Pyramid of Tirana


The Pyramid of Tirana was originally a museum dedicated to Enver Hoxha, though now it is dilapidated and mostly unused.

However, not only is it a pretty impressive piece of brutalist communist architecture, but local kids and tourists alike often climb the 20m structure for a bit of fun and to watch the sunset from the top, making it one of the main (if not peculiar) Tirana attractions.

If you're brave enough to climb the Pyramid of Tirana, make sure you wear sensible shoes and be prepared to slide down on your butt!

You can find the pyramid of Tirana at Bulevardi Bajram Curri, Tirana.



3. Drink coffee


Did you know that Tirana has the highest number of coffee shops per capita than anywhere else in Europe?!

Albanians love drinking coffee, to the point where it is almost a national sport, and whether you prefer espresso, Turkish coffee or cappuccino freddo, a surefire way to fit in in Albania is to find a coffee shop, enjoy a cup and watch the world go by.



4. Admire Skanderberg Square


Between 2008 and 2011 the mayor or Tirana, Edi Rama, commissioned a total restoration of the square in order to tidy up the city and make it feel more 'European.'

Using paving stones from all over Albania (to represent the whole of Albania coming together), they created this 40,000 square metre square, which is actually very slightly sloped (2.5%) up in the shape of a pyramid. Here you will find a fountain, a huge statue of Skanderberg himself, and gardens surrounding the square.

You will also find the Tirana Opera House and the National Museum of History here, which are two of the main Tirana attractions.



5. Be Fancy in Blokku


Ish-Blokku (known as Blokku), is the area that was formerly reserved for the communist elites to live in.

The most famous area of Tirana, Blokku is now an upscale nightlife and shopping area which is home to tonnes of hipster bars, global restaurants, luxury boutiques and (of course) coffee shops.

If you want to put your glad rags on and enjoy the best of Tirana nightlife, Blokku is the place to see and be seen.

(Psst – although not technically in Blokku, my favourite bar around this area is Hemingway's Jazz Bar. You can easily walk there from Blokku and enjoy a delicious cocktail with some live jazz music in the background.)



6. Puzzle over The Cloud


Reja, or 'The Cloud' is a popular selfie spot and modern art installation designed by Japanese architect Sou Fujimoto.

First hosted by London and now Tirana, this geometric piece of art looks like a cloud with mist rising up above it, and is used as an open-air cinema, venue for movie festivals and other special events.

It is also a popular hangout for young Albanians on first dates and one of the main things to see in Tirana for tourists.



7. Drink Raki


If there's one thing that Albanians love more than drinking coffee, it's drinking raki. Raki is a kind of fruit brandy popular all across the Balkans, and it is almost a religion in Albania.

Not only is it served in every single bar (and even coffee shop!) but you won't be able to check into a hostel without being offered a shot of homemade raki.



8. Resurrection Cathedral


Considered one of the largest Orthodox churches in the Balkans, the Resurrection Cathedral is one of the main things to see in Tirana and is truly a work of art.

It is a modern church, opened in 2014 and designed by architects from New York, making it different to the usual Gothic and Baroque churches found elsewhere in Europe.

You can find the Resurrection Cathedral at Rruga Ibrahim Rugova 1, Tirana.



9. Visit the House of Leaves


No, I'm not talking about the spooky book by Mark Danielewski – the House of Leaves in Tirana is actually a Museum of Secret Surveillance that tells the story of one of the darkest times of Albania's history.

Communism in Albania saw its people spied on, tortured, wrongly imprisoned and controlled in every possible way.

This museum, with 31 rooms and a vast array of interactive exhibits, is designed to take you back in time and show you just what it was like to be an Albanian citizen during these times.

The House of Leaves costs 700 ALL to enter and is open Monday – Sunday from 9:00am until 7:00pm.

The address for the House of Leaves museum is Rruga Dëshmorët e 4 Shkurtit, Tiranë.

Find out more by visiting their website.



10. Pazari i Ri


One of the best places to visit in Tirana is the quirky and colourful Pazari i Ri, which translates to 'New Market.'

Here you can find fresh fruit and vegetables, local street food such as pickled green tomatoes and fresh figs, and an abundance of cheap souvenirs.

Pazari i Ri is home to dozens of coffee shops, bars and restaurants and is a great place to while away an afternoon or an evening!

You can find Pazari i Ri at Rruga Hoxha Tahsin, Pazari i Ri, Tirana.



11. Bunk'Art 1 and 2


One of the absolute best things to do in Tirana if you're interested in Albania's history is to visit the Bunk'Art 1 or 2 museums.

Bunk'Art 2 is the smaller of the two and is located right in the city centre, while Bunk'Art 1 is a 20 minute bus ride from the centre of town.

Both of them are dedicated to detailing the history of Communism in Albania, and they are quite possibly the most in-depth museums I have ever visited.

Bunk'Art 1 has a whopping 106 rooms spread across 5 storeys underground (in an actual anti-nuclear bunker), with a tonne of information about Enver Hoxha's life as a Communist dictator, and if you want to read everything then you would probably need an entire day to do so!

If you only have a limited time in Tirana and want to know about its history without spending an entire afternoon doing so, I would recommend visiting Bunk'Art 2.

Both museums are open from 9:00am – 5:00pm Monday to Thursday and 9:00am – 6:00pm Friday to Sunday.

You can find out more information on their website.



12. Dajti Ekspres Cable Cars


If you've taken the bus out of town to visit Bunk'Art 1, you can't miss a ride on the Dajti Ekspres cable cars, which are just a couple of minutes away from the museum.

For 8 EUR (prices correct at time of writing), you get a return ticket to the top of Dajti Mountain across the longest cable car ride in the Balkans. Once at the top of the mountain, there are tonnes of activities you can do, from roller blading, archery, hiking, mountain biking or just having a quiet drink with a view.

For more information you can visit their website.



13. Eat Byrek


Byrek (also spelt burek in neighbouring countries) is perhaps the most quintessential Balkan food there is and one of the first things to do in Tirana is get your hands on one.

The Balkan equivalent of an English pasty, byrek is a filo-pastry that is prepared in a large pan and stuffed with goat's cheese, spinach, potato, minced meat or even mushrooms.

One byrek is cut into smaller pieces after baking and served as individual pastries, common in bakeries as a cheap and hearty breakfast food that will set you up for the day.



14. Komiteti-Kafe Muzeum


As the name would suggest, Komiteti-Kafe Muzeum is a coffee shop and museum all rolled into one, making it one of the more weird things to do in Tirana.

The interior design is inspired by Communist Albania, with every square cm stuffed with some Communist relic, and they also serve karamele Zana, a candy that was popular from the 1970s until 1990 in Albania.

Another notable thing about this café is that they have 25 different flavours of raki to work your way through – maybe just not all on the same day!

You can find Komiteti-Kafe Muzeum at Rruga Fatmir Haxhiu.



15. Stuff your face at Tek Zgara Tirones


When my boyfriend and I found ourselves in Tirana twice last summer, we ate at this restaurant pretty much every day.

Recommended to us by a local Albanian guy on the first day, Tek Zgara Tirones serves up huge platters of meat, vegetables, salads, beans and goat's cheese at rock bottom prices, with super friendly staff to boot.

A hearty meal for two (with numerous plates each, tapas style), with bottled water and two beers cost just 14 EUR.

Tek Zgara Tirones can be found on Kavaja St.



16. Go to a Tirana Shooting Range


One of the most 'macho' things to do in Tirana is to visit a Tirana shooting range and get your hands on a machine gun.

I went to the Poligoni Action Target range, and while I personally don't quite see the appeal in firing a gun, my boyfriend and the guys from our hostel absolutely loved it.

There are a variety of guns to shoot and you pay per bullet, so be sure to keep track of what you're doing!

With that said, the Tirana shooting ranges are probably some of the cheapest places on earth to play with guns, so if you've yearning to handle an AK-47, please be my guest.

Make sure to bring your passport or ID with you or you won't be able to shoot.



17. Visit the National Historical Museum


Located on Skanderberg Square, the National Historical Museum of Tirana houses relics from many different time periods relating to archaeology, ethnography, visual art and more.

With over 3000 objects in total, this comprehensive museum is perfect if you want to know about the entire history of Albania, rather than just its recent history.

The National Historical Museum is open from Tuesday to Saturday, 9:00am – 4:00pm and Sundays from 10:00am – 3:00pm. It is closed on Mondays.

You can find out more by visiting their website.



18. Eat Lamb's Head!


Not for the fainthearted, being served lamb's head (known as kokë qengji) is actually an honour in Albania, often saved for the most important man at the table!

I was lucky enough to try it from the market one evening, and, as you may expect, the entire thing gets served, eyeballs and all!

Ethan and I tried every part – the eyes, the brain, and of course the meat.

Was it a little bit stomach-churning?

Of course.

But was it delicious?

Absolutely.

If you're looking for unique things to do in Albania, you've got to try lamb's head.



19. Relax by the Artificial Lake


In the southern part of Tirana you will find the Grand Park of Tirana, a 289-hectare public park with a huge artificial lake where locals come to relax, socialise, exercise and more, with many even swimming and fishing in the calm waters.

Acting as a kind of city beach, the artificial lake is one not to be missed if you're getting tired of the hustle and bustle of city life and want a serene place to escape for the afternoon.



20. Touch the Berlin Wall


In the park across from the Pyramid of Tirana, you can actually find a fragment of the original Berlin wall!

The fragment is part of a memorial, named PostBlokku, and you will also find a mushroom-shaped bunker and some concrete pillars from a former forced labour camp.

The memorial is the combined work of writer and former political dissident Fatos Lubonja and painter Ardian Isufi.



21. Indulge at Rozafa Fish Restaurant


The perfect place for a date night in Tirana is one of the best restaurants in Tirana, Rozafa Fish Restaurant.

Rozafa is actually a fishing company, but they also have 3 restaurants, and the one in Tirana is not to be missed.

With white glove service, a stunning outdoor seating area and an ever-changing seasonal menu, you can't go wrong with Rozafa.

I enjoyed the shrimps baked with garlic (1000 ALL) followed by spaghetti with shrimp (700 ALL). This is a little pricier than other Tirana restaurants, but more than worth it.

You can find Rozafa Fish Restaurant at Ruga Luigj gurakuqi 2.



22. Climb the Clock Tower


Harking all the way back to 1822, the Clock Tower is one of Tirana's most photographed landmarks, especially when it's illuminated at night.

It is actually possible to climb the spiral staircase inside free of charge to enjoy the panoramic views from the top. It's also interesting to note that the actual clock itself has been altered several times – first it was a Viennese design, before being replaced with a German-style design, which was destroyed during the Second World War. Then, there was a clock with Roman numerals, before it was replaced in the 1970s with the Chinese clock that can be seen today.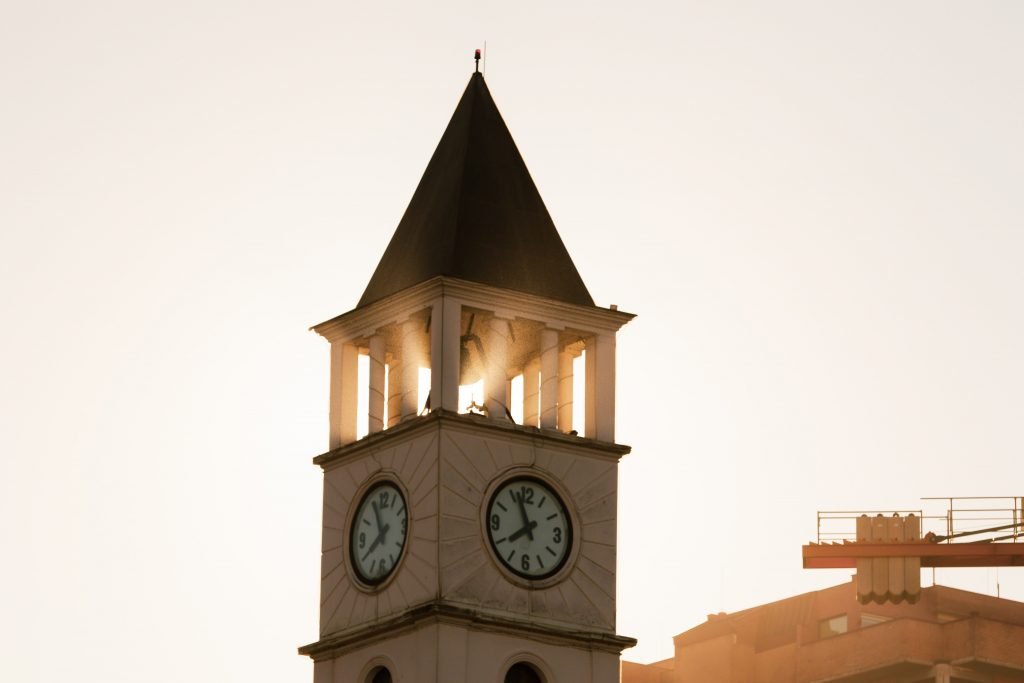 23. Visit Berat!


The beautiful UNESCO city of Berat is definitely deserving of more than a day trip, but if you aren't able to stay in Berat, a day trip is still well worth it.

This full-day tour from Tirana to Berat is perfect if you only have limited time.

Visit the three historical neighbourhoods of Berat, the Museum of Iconography, the Red Mosque and St. Trinity Church. Finish with a late lunch at one of Berat's incredible restaurants before returning to Tirana.



Things to know before you visit Tirana


A taxi to/from the airport will cost around 1200 ALL. If you prefer to take public transport, there is a bus that runs between 1am – 12am. It costs 300 ALL and takes 40 minutes.

To hire a car from Tirana airport, you can use RentalCars.

The currency in Albania is the Albanian Lek (ALL). You cannot legally get it outside of Albania so you should either bring euros to exchange, or just use ATMs to withdraw money.

ATMs usually take Visa OR MasterCard, not both. Some come with hefty fees so be sure to read carefully to avoid paying 700 ALL to withdraw some cash!

Although a growing number of establishments in Tirana accept card payments, Albania is largely a cash society and you should always have some cash with you.

What's more, if you pay in euros then you will always get a bad exchange rate.

Albania is SAFE, especially as a solo female traveller. Random acts of violence and pickpocketing are almost unheard of in Albania, and there are no active conflicts.

Albanians are incredibly welcoming and hospitable, and you WILL be offered food, coffee and raki (homemade brandy) wherever you go. Albanians love tourists and will go out of their way to help you whenever possible.

Albania is incredibly cheap. A coffee in Tirana will usually cost about 70 cents, a meal in a restaurant will be as little as 3-4 EUR, and a beer will be around 1 EUR.

The Albanian language is shqip and while many younger Albanians speak English, speaking Italian can be an advantage as many Albanians (even the older generations) speak Italian.

Public transport in Albania is super unreliable. Contrary to what some people will tell you, there is a bus station in Tirana, but you have to take a bus to get there, and once there, you will not find any kind of timetables or ticket office – just lots of Albanian men yelling out city names and trying to ferry you into their minibuses!

Where to stay in Tirana


Hostels in Tirana


Trip'N Hostel is the place where everybody goes and it's super fun, super sociable and really close to Pazari i Ri.

With an onsite brewery, roof terrace and hangout area in the garden (complete with cats and tortoises) and really friendly owners, you can't go wrong with Trip'N. I've stayed at Trip'N 3 times and I'd go back in a heartbeat.



Another Tirana hostel that I've heard great things about is Tirana Backpacker Hostel.

They offer free breakfast, vegan dinners and have a huge backyard with hammocks where you can relax and hang out. Tirana Backpackers is still a sociable hostel but not as much of a party hostel as Trip'N.



Hotels in Tirana


Budget – $

When it comes to cheap hotels in Tirana, Center Hotel Tirana is the best all-rounder there is. At the time of writing, a double room was just 20 EUR and it is smack bang in the centre of the city (as the name would suggest).

This 2-star hotel has private balconies, room service, a currency exchange service and 24-hour front desk, with English-speaking staff available to answer any questions you may have.

All rooms come with towels, slippers, flat-screen TVs, air-conditioning, a hairdryer, toiletries and an electric kettle, so all your basic needs are covered.



Mid-range – $$

When it comes to mid-range hotels in Tirana, the 4-star Hotel Boutique Restaurant Gloria pairs style and comfort with affordability (a double room was 40 EUR at the time of writing).

Price includes breakfast and there is also a wonderful restaurant and bar in the building if you don't fancy going far.



Luxury – $$$

The featured image for this article is actually the most luxurious hotel in Tirana, the 5-star Maritim Hotel Plaza Tirana.

The Maritim is where you go to indulge, and with a spa centre, sauna, hot tub and high end restaurant, you'll have no problem doing just that.

It is situated right in the centre of the city, just a few steps away from the Clock Tower and Skanderberg Square.



Tours in Albania


When I travel, I always like to support small local businesses and learn more about a culture by taking part in a small organised tour. Here are some of the best tours that you can do in Albania:

Go wine tasting and stay at an agrotourism farm in the village of Roshnik, near Berat. Options include horse riding, mountain trekking, swimming in the lake, wine and food tasting.

Enjoy a half-day cruise of Skadar Lake and the River of Crnojevic.

Hike Gamti Mountain and enjoy views over Bovilla Lake.

Head to the magical city of Prizren in Kosovo for the day.

Visit Osum Canyon and Bogove Waterfall in Berat.

Visit The Blue Eye and Lekuresi Castle from Saranda.

Enjoy a 2-day private tour of Theth National Park.

Enjoy a guided tour of Apollonia National Park from Vlora.

Experience a full-day tour of Zvernec Monastery with lunch (from Vlora).

Take part in a half-day tour of Llogara National Park.

Enjoy a private tour of Butrint Archaeological Park.

Take a day trip from Tirana to Berat.

Of course, there are plenty more tours on offer in Albania but these are my top recommendations!



Best Things to Do in Tirana, Albania | Final Thoughts


I hope I've managed to show you that there are a tonne of fun and unique things to do in Tirana.

Whether you're a hardcore museum lover, a history buff, a dedicated foodie or a fan of unusual Brutalist architecture, there are so many places to visit in Tirana that you're sure to find something that tickles your pickle!

If you have any questions or need any further travel tips about Tirana, please don't hesitate to ask me in the comments below, and be sure to check out my Tirana travel itinerary and Albania travel guide for all of my best recommendations! If you need some more inspiration then you should also check out my list of 37 reasons to book a flight to Albania right now!


If you liked this article and would like to support my work, please click the button above to donate a couple of bucks and buy me a coffee. The ad revenue that I receive on this website is minimal, so support from my readers enables me to keep creating content that you (hopefully!) love to read.

Disclaimer: Travelling Jezebel uses affiliate links. This means that if you make a purchase on a recommended site then I may make a small commission at no extra cost to you.