My favourite places to travel to are the places that I know nothing about before I visit.

In fact, I didn't even know how to pronounce Olomouc before I went there (if you're curious, it's Oh-la-mootz), which made me all the more excited to go and see what this city had to offer.

As it turns out, Olomouc may well be the Czech Republic's best kept secret, and in the words of Lonely Planet, Olomouc is 'the most beautiful city in the Czech Republic!'

After my recent trip there, I decided to create this huge travel guide to Olomouc, which will not only cover the best things to do in Olomouc, but also the best foods to eat, places to discover, beers to drink and much more!

If you're planning a trip to the Czech Republic and want the real Czech experience, free of mass tourism and stag do's (Prague, I'm lookin' at you), Olomouc may well be the place for you.

Keep reading to discover the what to do in Olomouc, Czech Republic's most underrated city.



28 Best Things to Do in Olomouc, Czech Republic's Best-Kept Secret


Olomouc at a glance


The former capital of Moravia (before passing the title onto Brno), Olomouc is a historical city that goes all the way back to Roman times, when it was founded by Julius Caesar.

Home to an abundance of Baroque and Renaissance architecture, magnificent churches, and its own UNESCO World Heritage site, not to mention great cafes, a lively bar scene and tonnes of hearty local grub, Olomouc really does have it all.

Although Olomouc is a relatively small city (population 100,000), 25% of its inhabitants are students, which gives the city a really cool buzz.

Of course, as a student town, Olomouc is also full of cheap eateries, pubs and coffee shops that make it more than just another historical city.



Before we begin


Most articles about the best things to do in Olomouc have included every single church, statue and government building in minute detail.

I have not done that here.

As much as I love architecture, I am not going to put you through a list of 500 churches and explain the significance of every single one of them.

I wanted this Olomouc guide to offer something more, something a bit different.

After all, you can visit a chapel anywhere in Europe, but you can't always bathe in beer, sit on a turtle and look at a clock dedicated to Stalin and Lenin, y'know?

Therefore, I have included the most important and interesting (in my opinion) Olomouc attractions in this article, but I have also strived to include the more quirky and unusual activities that you won't find on every other travel blog out there.

If that's okay with you, then let's get into it 😉



28 Things to Do in Olomouc, Czech Republic


Admire the Town Hall


Olomouc Town Hall, or Olomoucká radnice, is located in the main market square, which is called Upper Square or Horní náměstí.

It is a magnificent building and has served as a city hall for over 600 years, showing just how economically and politically important Olomouc has been throughout the years.

To this day, Olomouc Town Hall is still a functioning government building so you can't go inside all of the rooms, but what you can do is climb the 144 steps to the 75-metre tower for panoramic views of the city.

You can also visit the Chapel of St. Jerome in the east wing, with stunning stained glass windows, 15th and 16th century frescoes and a Danubian Gothic rib vault, which is the oldest of its kind in the country.

Fun fact: The 4 turrets on the Town Hall tower indicate that Olomouc had the town 'privilege' of capital punishment and therefore its own executioner!



Need to know:


You can climb the tower year-round between 11:00am – 3:00pm, weather permitting.

You can borrow a free audio guide from the Olomouc Information Centre, which is located in the Town Hall's archway.

There are also guided tours to the tower, which you can enquire about in the Information Centre.



A Communist Astronomical Clock


You might be familiar with Prague's astronomical clock, but did you know that there is also one in Olomouc?

The Olomoucký orloj is even more interesting than Prague's due to how unusual it is.

You see, although it was first made in the 1400's, it was badly damaged during the Second World War, and redesigned in the 1950's, during the Soviet era.

As a result, the clock has a socialist realism design, which in means that the religious figures were done away with and replaced with more 'communist-friendly' ones.

This curious memorial to Olomouc's Soviet years is controversial in the community, but if you're looking for one of the most unique things to see in Olomouc, get there just before midday to see its daily 7-minute show, where the workmen come out from the little windows, unlike the saints who appear in Prague.

The dial on the clock also displays the birthdays of Lenin and Stalin, as well as the International Day of the Worker.

If you're interested in the astronomical clock and its history, the second floor of the Town Hall has an exhibition of this unique time machine.

Fun fact: the Olomouc astronomical clock show is run without electricity, meaning that a man physically has to do it every single day at noon!



Eat stinky cheese


Affectionately known as 'stinky cheese,' Tvarůžky is native to the Czech Republic, specifically Olomouc!

Since 2010 it has been registered as a Protected Geographical Indication by the European Union, and you will find countless dishes featuring this cheese in the bars and restaurants of Olomouc.

Made from a fat-free, sour curd, this cheese is also known as a 'diet cheese,' and it is extremely high in protein.

Tvarůžky is most commonly eaten with bread and beer (or Slivovice), but you can also enjoy Tvarůžky soup (Hanácká Syrnica), Tvarůžky-stuffed potato pancakes, and even Tvarůžky ice cream!

You can get hold of this cheese everywhere in Olomouc, but there is a specialised shop selling it in the Upper Square opposite the Astronomical Clock.



Olomouc Beer Spa


If you've ever been to Prague, you can't have failed to notice the 'beer spas' on every street corner.

These spas, where you can bathe in beer while enjoying a cold glass of the stuff, are incredibly popular, and sure enough, Olomouc has its very own beer spa.

Despite most people believing that beer spas are purely a tourist attraction, they actually date back hundreds of years, and the first beer bath recorded was in the year 921, when King Wenceslas had his servants prepare him cold baths made from wort.

For many years, people have believed that hops and barley, the main ingredients in beer, can decrease the appearance of wrinkles, moisturise the skin and nourish the hair, along with many other health benefits.

The Olomouc beer spa is called St. Wenceslas Microbrewery (SVATOVÁCLAVSKÝ PIVOVAR) and it's right in the centre of town.

For a fixed price, you get a beer bath, two glasses of beer, a foot massage, and time in a salt sauna.

You can find out more on their website.



Hunt for fountains


There are 7 fountains in the centre of Olomouc – Caesar, Mercury, Hercules, Neptune, Jupiter, Triton and Arion's fountain.

All except Arion's fountain are Baroque, and are important for various reasons.

For example, Caesar's fountain is the biggest and most artistically skilled of all the Olomouc fountains. It of course depicts the legendary founder of the city, Gaius Julius Caesar.

All of the fountains are wonderful in their attention to detail, but my favourite of all the fountains is Arion's fountain, which is the newest of them all, dating from just 2002.

You can find Arion's fountain in the main square, and it depicts the legend of Greek poet Arion, who was thrown overboard from from a boat before being rescued by a dolphin.



Take a picture with a turtle


No, not a real one, silly.

Just next to Arion's fountain is a small statue of a turtle, and whether you're 6 or 60, you'll be tempted to climb on top of it and have your picture taken.

Unfortunately I didn't get a chance to sit on the turtle, but there's nothing stopping you from doing so 😉



Holy Trinity Column


This 32-metre tall monument contains 52 different sculptures and has been on the UNESCO Heritage List since 2000!

Built between 1716 – 1754 entirely by citizens of Olomouc, the Holy Trinity Column is the one of the most exceptional Baroque sculptures in Central Europe, and it is so big that there is actually a chapel in the bottom!

The reason for the column being built was to thank God for ending the 2 plagues that devastated Moravia in the 18th century.

When you're passing through the main square, make sure to stop and admire the Holy Trinity Column in Olomouc.

Fun fact: The Holy Trinity Column is the largest group of Baroque statues within a single sculptural monument in Central Europe (18 sculptures of saints, 12 light-bearer figures and 12 relief busts of the apostles).



Ride a beer bike


Ološlap is a company that provides the classic 'beer bike' tours that you see in Prague.

My fellow bloggers and I was supposed to have one of the 'all you can drink' beer tours, but unfortunately there was a misunderstanding with the organisers of our trip and we ended up with a beer bike tour sans beer.

Despite being a little disappointed, it was still fun (if not a little mortifying) peddling through Olomouc on this – uh – contraption, and our friendly guide showed us all the main things to see in Olomouc, and blared cheesy 90's pop music while doing so.

You can book an actual beer bike tour on their website.



St. Wenceslas Cathedral


St. Wenceslas Cathedral, or Katedrála svatého Václava, is the second tallest church in the Czech Republic, towering at over 100-metres high.

With 3 majestic Neo-Gothic towers, St. Wenceslas' Cathedral dates back to the 12th century and despite its original Romanesque design, is now a supreme example of Gothic architecture.

Unlike many other cathedrals in Europe, St. Wenceslas' Cathedral is free to enter, so make sure you do.

Fun fact: The bells of St. Wenceslas Cathedral chime noon at 11am! Legend has it that this is because Bishop Jan Zelezny saved the city from being plundered from the Hussite army when he let the bells chime before noon, knowing that the Hussites had announced that they would invade the city before the midday bells! Since then, the 12:00pm bells chime at 11.



Indulge in a wine & chocolate pairing


One of the more unusual things to do in Olomouc, and a highlight of my visit, was a wine and chocolate pairing at U Zlatého beránka wine cellar.

This charming wine shop and bar, hidden down a side street in the centre of Olomouc, buy their wine from a family who have been making wine for hundreds of years, and we were lucky enough to try 4 local wines, paired with a variety of Czech chocolates.

The philosophy at U Zlatého beránka is that if the chocolate is of a high percentage and the wine is good quality, they form a divine combination and can even protect against certain diseases!

Our host was a lovely woman who is clearly passionate about what she does, and despite not being much of a red wine drinker, I thoroughly enjoyed this experience.

If you want to try it for yourself, you'll receive a tasting of 8 different wines, chocolate and some dried fruits.

You must book in advance, and specify whether you want the experience to be in English, Spanish, Russian or Czech. The cost is 290 CZK, or about 12 EUR.

You can visit their website, but it hasn't been updated since 2019, so I recommend popping in to try and reserve a tasting.

The address is: Univerzitní 2, 779 00 and their telephone number is +420 776 747 625.



TVARG brewery tour


About 8km away from Olomouc is a tiny little town called Velká Bystřice and in it is a tiny little brewery called TVARG.

On my Olomouc trip, I went on a tour of the brewery and I've got to say, it was the best brewery tour I've ever been on.

We got to venture into the brewery and learn about the beer making process, whilst sampling the beers we were learning about at the same time (we tried a local lager and a pumpkin spice ale, which was delicious).

We then sat down in the bar area where we enjoyed more beer and some local snacks (including a Tvarůžky cheese and garlic dip, which was…interesting).

Next we were introduced to brewmaster and creator of all the recipes, David Kapsia, and taught to pour beer in the Czech way, before pairing a glass of stout with Jameson's Whiskey (TVARG is partnered with the Jameson's Whiskey distillery in Dublin).

What I enjoyed most about this tour was the fact that we didn't spend hours looking at steel tanks or being lectured about hops.

The tour was fast-paced, entertaining and of course, we got to drink a decent amount of beer!

For English-speaking groups, the tour that we did only costs just less than 10 euros, so I highly recommend it if you're looking for some more alternative things to do in Olomouc.

Visit their website here.



Admire Palacky University


Dating back to 1573, Palacky University is the second oldest university in the Czech Republic and it dominates the city of Olomouc, with some of the buildings having real historical and cultural importance.

One place worth checking out is the Central Library, and you can actually venture inside the complex and admire the hidden green courtyards before stopping for a coffee and a spinach cake at the popular Coffee Library.



Horse-drawn carriage ride


A short drive from Olomouc, in the village of Horka nad Moravou, you will find the Lovecká cháta guesthouse and farm.

Visit Lovecká cháta for the afternoon and enjoy a tranquil horse and carriage ride through beautiful forests and meadows, snacking on cheese and bread and sipping Slivovice or beer.

We went on a 1h ride with 2 horses named Amar and Gallop, but usually experiences last for 3 hours or more.

You can find out more and contact them via their website.



Buy lavender souvenirs


Lavender is big business in the Czech Republic, and the Bezděkov Lavender Farm near Olomouc is the reason why you can buy so many lavender products in Olomouc.

One place worth checking out is Levandulove Bistro, the lavender shop and café on the main square.

Here you can sip a lavender cappuccino, sample lavender liqueur, or have a refreshing glass of lavender lemonade.

There is an onsite shop where you can choose from an array of lavender products including soap, syrup, cider, cosmetics and more.



St. Moritz Church


Olomouc is the religious capital of Moravia and it shows through the staggering number of churches it has!

St. Moritz (or 'Maurice') Church is a late Gothic church from the beginning of the 15th century that has since been styled in the Baroque fashion (a fire damaged the interior in 1709 so it had to be renovated), and it is home to one of the largest organs in Europe, that has over 10,000 pipes!

St. Moritz Church also has a unique double-spiralled staircase that you are able to climb up to enjoy the tower views of Olomouc.

Other Olomouc churches of note include the Church of the Virgin Mary of Snow, which is the university church, and St. Michael's Church, which has a fairly dull exterior but its interior is one of the most stunning Baroque works in the city.



Drink pineapple beer



Remember how I mentioned the beer spa earlier?

Well they also have a beer house (or pivovar) and restaurant upstairs, with tonnes of hearty Czech dishes (think garlic soup, stodgy dumplings, beef goulash and duck with red cabbage) and craft beers which change frequently.

When I visited, their daily special was a pineapple ale, which was so good.

Pay them a visit at lunch or dinner and you won't be disappointed.

You can see the full menu on their website.



Soak up the café culture


Any student hub is going to have a tonne of bustling coffee shops and cafes and Olomouc is no different.

In addition to Coffee Library (mentioned above), Café La Fée is a French-themed with a delightful garden, homemade cakes and great coffee.

Sophie's Café is another popular spot, specialising in cakes, coffees and breakfasts, with a cosy interior.



Marian Plague Column


Marian Plague Column, or Mariánský sloup, was built to commemorate the plague that struck Olomouc between 1713 and 1715 and the victims that it took.

It is located on the Lower Square and dedicated to the Virgin Mary, and the lower part of it is decorated with statues of 8 saints, which are patrons against plagues.



Bezrucovy Sady Park


The centre of Olomouc is surrounded by parks and a lovely one to stroll through is the English-style Bezrucovy Sady Park.

Here, you will find numerous statues and water features, and you can also see the fragments of the old city walls.

If you feel inclined, you can climb up the ramparts to walk between the towers.



Discover Olomouc's street art


There isn't a tonne of street art in Olomouc, but there are certainly some interesting pieces if you keep your eyes open.

My personal favourite was a large mural of King Edward VII posing with a selfie stick next to Marie Curie holding a jar of uranium!



Eating and Drinking in Olomouc


Drink in Masné krámy


Once a meat market, Masné krámy is now a narrow passage full of student pubs and it's a great place to go for food and beer, especially on a weekend night.

Do bear in mind that most (if not all) of these bars are cash only, so go prepared!



Entree Restaurant


One of the best restaurants in the Czech Republic and certainly the best restaurant in Olomouc is Entrée.

Owned by Premek Forejt, Czech celebrity chef and judge on the Czech MasterChef, Entrée produces ultra high end gastronomy, exquisitely presented and inspired by nature.

To get the most out of your experience, I recommend the daily tasting menu with wine pairing.

It's expensive, but worth it.

Find out more on their website.



Long Story Short Eatery & Bakery


On the site of an old military bakery, and bakery boarding school, Long Story Short Eatery & Bakery is a delightful restaurant offering a creative twist on many classic dishes, with locally-sourced products and a menu that changes every 1-2 weeks.

I ordered the beef tartare followed by chicken supreme with polenta and it was gorgeous.

Reservations here are essential. You can reserve a place on their website.



Bistro Helen


Bistro Helen is the perfect spot for brunch or a late lunch and is a very Instagrammable place with a menu that changes daily.

Here you will find good veggie options, and a very international menu.

I ordered the 'plated broth' with beef rib, pumpkin, sesame, noodles and spring onions which was similar to ramen, and enjoyed it very much.

They also serve beers from the nearby TVARG brewery I mentioned earlier, which I was a fan of.

Check out their website here.



Bistro Paulus


In a modern glass office building, the canteen-style Bistro Paulus is not somewhere you'd stumble upon by accident, which makes it even better.

Roman Paulus, who has been awarded a Michelin Star six (!) times for Prague's Alcron, and has worked in multiple Michelin restaurants around the world, is the owner, head chef and guarantor of Bistro Paulus, making the highest quality food accessible for all.

Paulus' smiling face is the first you see when you enter the restaurant, as he is front and centre of the open kitchen, taking orders and preparing meals, and in my opinion this is what makes his bistro extra special (as well as the food of course).

The menu changes daily, but I opted for fried mushrooms with new potatoes and tartar sauce (6.50 EUR).

They also have a great cake selection.

Learn more on their website.



OpenWine Latino Bar


We stumbled on OpenWine Latino Bar quite by accident, after realising that many bars around Olomouc are cash-only.

Fortunately, OpenWine Latino Bar told us they accept card, and as it was raining, we ducked inside and got settled.

This sophisticated bar with knowledgeable staff and a huge wine collection is a lovely place to spend an evening, and their tapas menu, with individual dishes paired with the wines, is not bad either.

Check out their website here.



The Kathmandu Nepali Restaurant


In the Lower Square of Olomouc above Masné krámy is The Kathmandu Nepali Restaurant, a family business that prepares their food daily using fresh ingredients.

If you're on a budget, consider the fixed price lunch buffet (5.50 EUR for all you can eat), or order from the main menu like I did, choosing lamb Rogan Josh (9 EUR) with Saffron rice (2 EUR).

This restaurant, serving a mixture of Nepali and Indian classics, not only has fantastic food, but the service we received was top notch as well.

Visit their website here.



Konvikt Bistro & Bar


Another one for the 'gram, Konvict is a coffee shop, bar and bistro all in one, located in a 17th century Jesuit dormitory.

They have an eclectic daily menu to match their interior, and they also cater to vegans as well as vegetarians, which can be unusual in this part of Europe!

I only had a coffee here so I can't vouch for the food, but my tour guide told me that it's really good.

Konvict is open from 8:30 – 10:00pm weekdays.

Read more about them and check out the menu on their website.



Best time to visit Olomouc


Usually I'd say that the best time to visit somewhere with a climate like Olomouc (wet) would be in the summertime, but due to Olomouc's huge student population, I advise visiting during the school year.

This is because, when the students aren't around, many of the bars won't remain open and the city will lose its heartbeat.

I visited in mid-September, and while I personally didn't have great luck with the weather, the weeks before and after my arrival were sunny and lush!

I recommend visiting Olomouc in either September/October or April/May.



Where to stay in Olomouc


There are plenty of lovely hotels in Olomouc, and even a couple of hostels!

We stayed at the 4-star HERBARIUM Boutique Hotel, about a 10 minute walk from Upper Square, and I can't fault it.

With flowers and fauna everywhere you look and every room taking on the theme of a particular plant (I got fern!), this hotel is super photogenic and super comfortable (I'm still dreaming of that king size bed and Smart TV!).

The breakfast spread is varied and delicious, and the lovely receptionist, Lida, made me a wonderful cappuccino every morning (remembering how many sugars I take and what type of milk!).

From the aesthetic to the service, and of course the wonderful rooms, I highly recommend HERBARIUM Boutique Hotel.



Another one of the best hotels in Olomouc is Sophie's Boutique Hotel, located in a medieval building right in the centre of town above Sophie's Café that I mentioned before.

The charming rooms have wooden beams, floors and comfy armchairs where you can drink your morning coffee.



Forget any ideas you have of hostels – Long Story Short Hostel (yes, the same Long Story Short that owns the restaurant!) will blow them out of the park.

I had a quick tour of this place during my trip to Olomouc, and let me tell you that the dorm rooms at Long Story Short are like nothing I've ever seen before (and I've stayed in over a hundred hostels!).

With full size single beds (no bunk beds here!) in the dorm rooms and a private room that looks more like an executive suite at a fancy hotel, Long Story Short is simply stunning.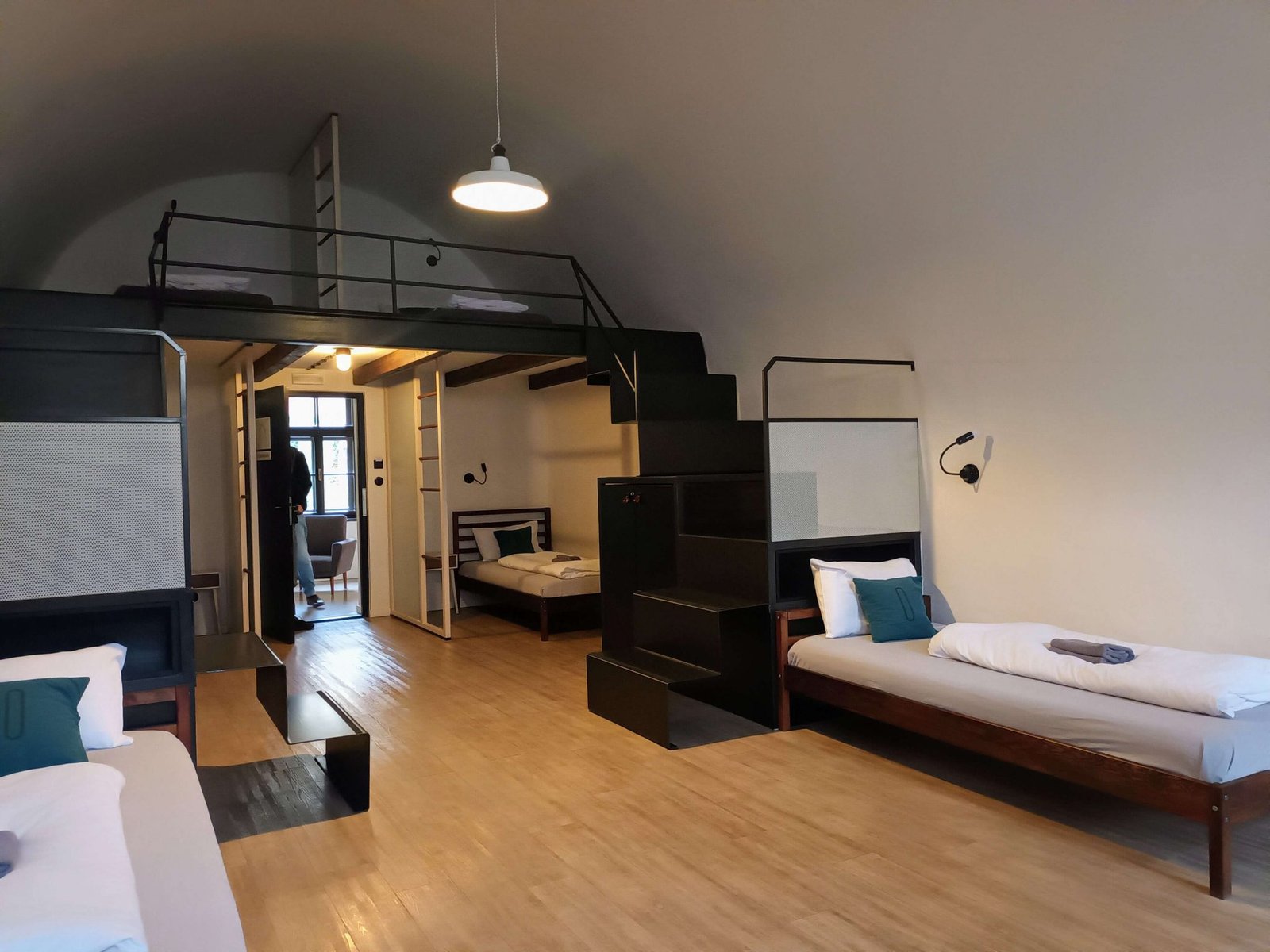 Getting to Olomouc


The Czech Republic is a small country with a great public transport system, so getting to Olomouc is easy.

You can take the bus or the train (I took the bus from nearby Brno), or alternatively you can hire a car and drive.

Here's how you get to Olomouc from all the major nearby cities.



Prague to Olomouc


If you're coming to Olomouc from the Czech Capital of Prague, you can take a direct train.

The distance is about 250km, and it will take you around 2.5 hours on the train, while the bus can take anywhere from 3 – 5 hours.

You can buy and compare bus and train tickets on Omio.



Brno to Olomouc


Brno is much closer to Olomouc than Prague, and so you can get there a lot faster.

The best way to get from Brno to Olomouc is by bus (the train is infrequent and takes much longer).

You can check the times and buy your ticket on Omio.



Ostrava to Olomouc


The best way to get from the city of Ostrava to Olomouc is by train, which takes around 1 hour.

You can take the bus if you prefer, but the bus takes 2 hours.

Compare them both on Omio.



Olomouc FAQ

Where is Olomouc?
Olomouc is situated in the eastern part of the Czech Republic, on the River Morava. It is part of Central Moravia, and the administrative centre of the Olomouc Region.
Is Olomouc easy to get around?
The centre itself is very small, and you can walk from one side to the other in about 20 minutes.
However, if you struggle walking, you may have some difficulties getting around due to the cobbled pavements and several small hills in the centre. With that being said, taxis are cheap and plentiful and can drop you off anywhere in the city centre.
What is Olomouc known for?
Olomouc was named the 'most beautiful city in the Czech Republic' by Lonely Planet, and is the former capital of the Moravia region.
What language do they speak in the Czech Republic?
The language spoken in the Czech Republic is Czech. English is widely spoken amongst the younger generation in Olomouc, but you might need to get your translator out for the menus!
What currency do they use in the Czech Republic?
The currency used in the Czech Republic is the Czech koruna.
Is the Czech Republic in the EU?
The Czech Republic is both EU and Schengen.

Things to Do in Olomouc | Final thoughts


For the 4 days that I was in Olomouc, I couldn't stop thinking about what a great city break this charming city makes.

With tonnes of things to do and see, a thriving gastronomical scene and buzzing nightlife, you really can't go wrong with Olomouc, especially as it's so budget-friendly!

If you want to discover a true European hidden gem and explore the real Czech Republic, Olomouc should be at the top of your list.

That's about all for now, but as always, if you have any questions about what to do in Olomouc, please let me know in the comments section below and I will get back to you!

If you're planning a trip to the area, you may also enjoy my mega list of 39 things to do in nearby Brno!

Until next time,

XOXO


If you liked this article and would like to support my work, please click the button above to donate a couple of bucks and buy me a coffee. The ad revenue that I receive on this website is minimal, so support from my readers enables me to keep creating content that you (hopefully!) love to read.

Disclaimer: I visited Olomouc as a guest of the Czech tourism board. My hotel, restaurant meals and excursions were gifted to me but my opinion is 100% my own. Travelling Jezebel also uses affiliate links, meaning that if you make a purchase on a recommended site, I may make a small commission at no extra cost to you.