Favignana island is not somewhere that people outside of Italy seem to know about.

Fiercely popular with Italian tourists yet almost totally undiscovered by outsiders, Favignana lies just off the coast of Sicily, and is the largest of the 3 Egadi Islands (the other 2 being Levanzo and Marretimo).

This butterfly-shaped island, with its 37 km of craggy coastline, azure waters and slow pace of life, is one of the few 'off the beaten path' places left in Italy, and if you're looking for a slice of the Caribbean in Europe, Faignana has you covered.

In this guide to Favignana, Sicily, I'll go over how to get to Favignana, the best things to do there (including Favignana's best beaches), what to pack, how long to stay for, and much more.

Are you ready?

Then let's get into it.



Favignana Island, Italy's Best-Kept Secret


Reasons to visit Favignana, Sicily


Favignana is off the tourist track


Everyone knows that when it comes to any destination, the locals always know best, and so the fact that hordes of bronzed Italians flock to this tiny island every summer should say something.

Seriously, Favignana is one of Western Sicily's best hidden gems.

However, the real reason that this is such a plus point is that Italians pretty much all take their summer vacations in July and August, meaning that if you visit Favignana in September or October, you'll have the island to yourself, meaning you can enjoy Favignana's best beaches uninterrupted and take advantage of the lower accommodation prices.



Relax and reset


Favignana is not a place you visit to do things.

It is a place you go to slow down, relax and take a break from all of the stresses of every day life.

In Favignana, you won't find tonnes of activities, shopping centres or crowded nightclubs, but what you will find is peace, quiet, and breathtaking nature.



Easy to reach


Favignana island is just a 30 minute boat ride from the city of Trapani, Sicily, making it super easy to reach.

Once you arrive, the main town is right there at the port, meaning that the best beaches, restaurants and hotels are all within walking distance.



Visiting Favignana with a tour


It isn't really necessary to visit Favignana as part of an organised tour if you just want to explore the island and catch some rays on the beach, but if you want to combine your trip to Favignana with some sailing and maybe even a trip to the other Egadi islands, a day trip to Favignana with a local tour company is a great idea!

This full-day cruise to Favignana and Levanzo includes lunch, swimming and time to explore both islands, along with commentary from your guide.

While you only get a couple of hours in Favignana and 1 hour in Levanzo, it's definitely enough time to see the main sights, and IMO it is the best option if you're pushed for time.



Things to do in Favignana, Sicily


Visit the old tuna factory


The former tuna factory of Favignana, or the Ex Stabilimento Florio delle Tonnare di Favignana e Formica to give it its proper name, is one of Italy's leading industrial museums, and at one point, most of the island was employed here in some capacity!

Built in 1859 and owned by the influential Florio family (more on them later), the tuna fishery represented the only form of livelihood for Favignana islanders, and it remains a symbol of the island – at 32,000 square metres, it also happens to be one of the biggest tuna fish factories in the Mediterranean!

Inside the factory, which is now a museum of the history of tuna fishing and the tuna industry in the archipelago, you can see the old fishing boats, learn about the tonnara, which are the systems of integrated nets that directed the flow of the tuna, and see photo exhibitions of the fishermen and the slaughter process (nice).

The Ex Stabilimento costs 6 EUR, or you can buy a combined ticket for the fishery and Palazzo Florio (see below) for 10 EUR.



Wander Favignana town


Favignana town is more like a sleepy village, with whitewashed houses, silent streets and lots of wizened old men sitting outside their doors and watching the world go by.

Grab a granita or a gelato from one of the local cafes and just enjoy the quaintness of it all.

Head to Piazza Madrice for a lovely church, local restaurants and souvenir shops.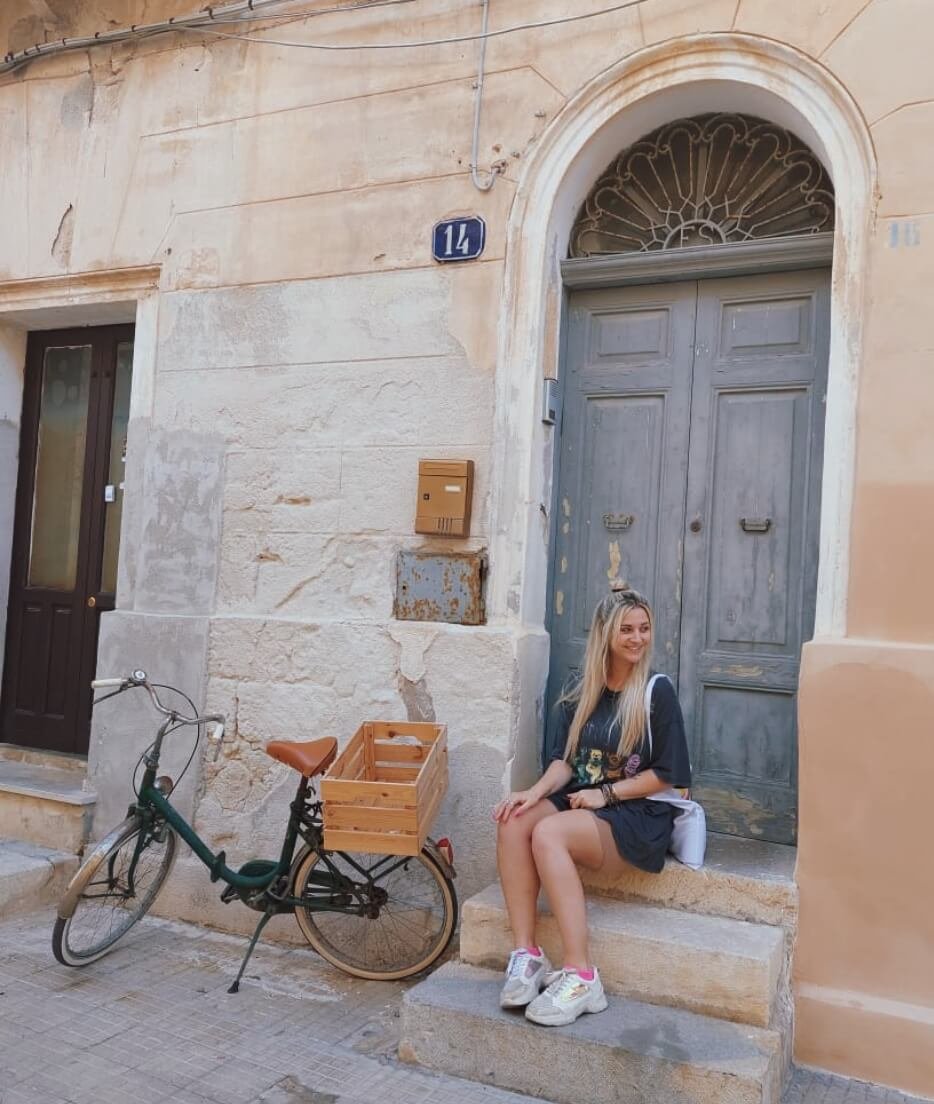 Explore by bike


At only 9km in length and mostly flat, Favignana lends itself easily to cycling, and there are numerous bike rental shops at the port and dotted around the town.

My fellow bloggers and I rented e-bikes and cycled along dusty roads around the coastline of Favignana, and I kept having to remind myself that I wasn't in Cinque Terre!

The colourful flowers, craggy rocks and turquoise waters have to be seen to be believed, and there's no better feeling than flying down the quiet roads with the wind in your hair as you admire them!



Eat local foods


Everyone knows how great Italian food is, but did you know that Sicilian food is completely different?

The region of Sicily is actually famous for couscous (yes, really!), of course, the seafood is delicious as well.

While you're in Favignana, be sure to try 'Couscous alla Trapanese' which is made with seafood rather than meat and served with a rich seafood broth seasoned with cinnamon, bay leaves and almonds.

You should also try busiate pasta with pistachio pesto and the famous Sicilian red shrimp, which are one of the most sought-after crustaceans in restaurants across Europe.

For a quick lunch, try pane cunzatu, a peasant dish, which literally translates to 'seasoned bread,' and over the years has become a traditional Sicilian sandwich.

Pane cunzatu is made by taking a hunk of crusty bread, drizzling it with extra virgin olive oil and layering juicy sliced tomatoes, mozzarella, salt, pepper and oregano, with anchovies or sardines added on top.

You can pick pane cunzatu up for a couple of euros in pretty much any café in Favignana, as well as other parts of Western Sicily like Trapani and San Vito Lo Capo.

Fun fact: pane cunzatu is also known as 'bread of misfortune' (pane della disgrazia) because it takes old, leftover bread and cheap and easy toppings to make a bite to eat in the absence of a proper meal!



Discover Favignana's best beaches


The 4 main Favignana beaches are Cala Rossa, Bue Marino, Cala Azzura and Cala Rotunda.

Cala Rossa is the most popular, and closest to Favignana town. It is very rocky, so bring sea shoes if you don't want to struggle!

Bue Marino is named after the monk seals that used to call this place home, and is definitely the most interesting beach in Favignana. It is set against an old quarry with a labyrinth of underground tunnels, which you can actually explore if you're brave enough!

Cala Azzura (pictured below) is the beach that I visited (there's a large area where you can leave your bikes, making it a great option to cycle to!) and it is a stunning cove with white sands and lots of spots to sunbathe (as long as you're prepared to get creative with the rocks!).

Cala Rotunda is the farthest away from town and is therefore the quietest Favignana beach. This pebble beach has lots of unique rock formations, and is just as photogenic as all of the others on this list.



Eat tuna at Tuna Fish City


I know I already talked about all the delicious food you can find in Favignana, but as Favignana island is so famous for its tuna, I decided to dedicate a whole point to it.

A little café in Piazza Madrice called Tuna Fish City offers the best tuna sandwiches you will ever find.

These absolutely colossal sandwiches (7.50 EUR) are stuffed with fresh tuna, juicy tomatoes, garlic and onions and seasoned with olive oil, lemon and salt – yum!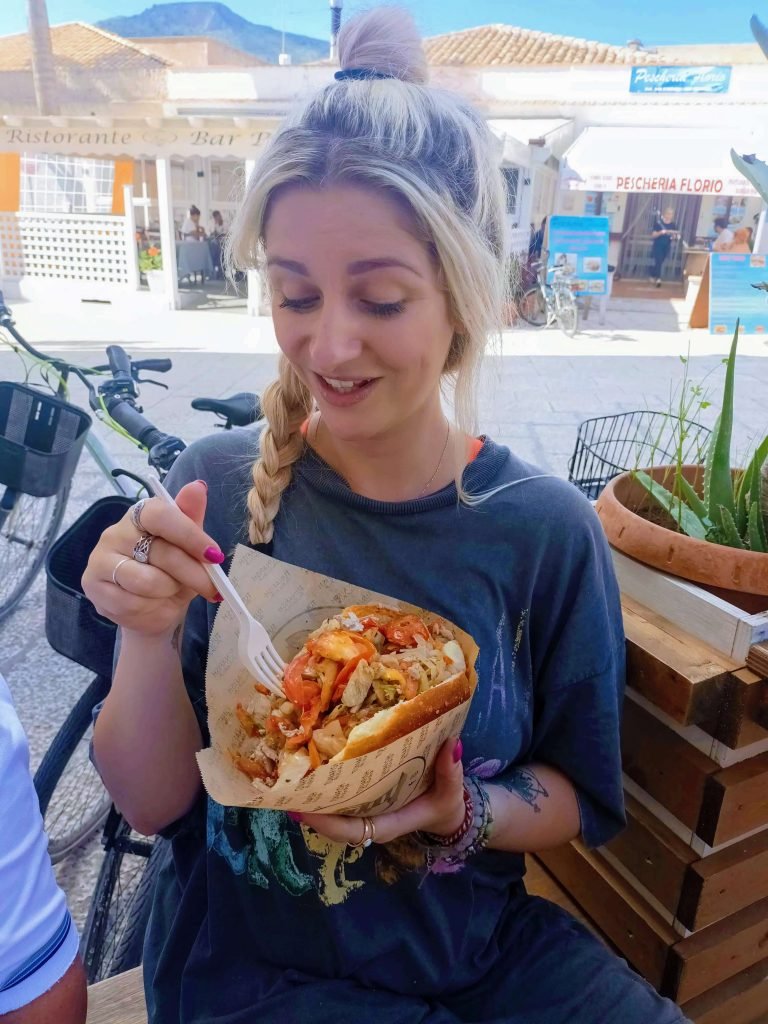 Visit Villa Florio


Villa Florio, also known as Palazzo Florio, is the 'country house' of the Florio family.

You may not have heard of them, but the history of Sicily between the 19th and the 20th centuries are connected to the Florios, a family of entrepreneurs that were one of the most influential families in the whole of Italy!

The Florio family built an empire based on metal, wine production, maritime shipping and, of course, tuna.

Ignazio Florio acquired the islands of Favignana and Formica, and in 1874 he increased the production of tuna using the 'tonnare' nets I mentioned before.

As well as revolutionising and renovating the North West of Sicily and the Egadi Islands, Ignazio also became Senator of the Kingdom of Italy.

Over the years, he supported the renovation of Palermo, as well as many other Sicilian cities, finding a love of Liberty architecture (the Italian Art Nouveau).

Villa Florio was the Florio family's residence on Favignana island, and after you've finished admiring the eclectic Neogothic and Neapolitan style, you can venture inside to see the Liberty interior and learn about the Florio family and their legacy.

Fun fact: back when the Florio family were at their peak influence, there were only 20 yachts in the whole of Italy and the Florios owned 6 – now that's power!

Key info:

The exhibits inside Villa Florio are all in Italian, so you should visit with a tour guide (you can reserve an English guide 1 day in advance).

A combined ticket to the tonnara and the villa (with a guided tour) is 10 EUR, or 6 EUR for just one.

It's also worth mentioning that Google says that Villa Florio is temporarily closed, which is not the case (trust me, I just visited with the Mayor of Favignana and his entourage and they were very keen to promote it as a tourist attraction!). I recommend emailing the Favignana Tourist Office to check!



Fish market


If you want a truly authentic experience, be sure to catch the daily fish market at the port of Favignana.

This market is open every morning (and when I was there, it was still open in the early afternoon), and is where you will see the local fishermen gutting their fish, fixing their nets and selling the freshest fish that money can buy.

The market is only small (a handful of stalls at most), but worth checking out to see how the locals live!



Hire a boat


One of the best things to do in Favignana if you love the water is to hire a boat and explore the surroundings!

Smaller boats are the cheapest option, which can accommodate 6 people and cost around 130 EUR to rent for the whole day (this does not include fuel costs).

It's worth pointing out that you will have to pilot the boat yourself (!), but surprisingly, you do not need a license to do so (just make sure you have travel insurance before you go on your way!).



Where to stay in Favignana


Case Vacanze Mio Sogno


The best budget accommodation in Favignana is Case Vacanze Mio Sogno, a complex of simple holiday apartments which are just a stone's throw away from the centre of town, whilst retaining the quietness and privacy that you're coming to Favignana to get!

The best part of this accommodation is the lovely garden area with barbecue available for guests to use.



I Pretti Resort


If you're looking for luxury in Favignana, the I Pretti Resort is where you'll want to be.

Connected to Villa Florio by an underground passageway, this centrally located hotel is packed with history (staff from Villa Florio used to live here) and with its beautiful courtyard, wellness treatments and high end restaurant, it is the perfect place to relax and unwind.



How to get to Favignana


If you're spending one day in Favignana as part of a tour, you won't have to worry about making your own way there, but if you want the freedom of doing things by yourself, Favignana island is very easy to reach.

The best place to get to Favignana from is Trapani, which is just over an hour's drive from Palermo.

There are regular buses, or you can hire a car and drive.



Trapani to Favignana


The best way to get from Trapani to Favignana is by the Liberty Lines hydrofoil, which runs regularly and has a journey time of only 30 minutes.

In the summertime, there are around 300 movements every day between Trapani and the 3 Egadi Islands, but in low season, there are just 8-12, so make sure you check the schedule and time it right!

Even though there are so many boats in high season, they fill up fast, with hundreds of people crowding at the port trying to buy tickets. To avoid disappointment, reserve your ticket online at least a day before.

You can either opt for a one-day or a return ticket. The price for each leg of the trip is about the same, but if you're visiting Favignana as a day trip, you want to guarantee your space on the return trip!

The ferry departure point in can be found at Via Ammiraglio Staiti 55-61.

Ticket prices vary, but in low season, you can get a return journey for as little as 20 EUR.

Fun fact: As part of sustainability efforts, the Liberty Lines hydrofoil will be electric by 2023, emitting less pollution and running silently.



The best time to visit Favignana


While yes, August will have the best weather in Favignana, I do not recommend visiting at this time.

Italians are fiends for an August beach holiday, and not only will the ferries and beaches be jam packed (you haven't seen 'busy' until you've been to an Italian beach in August), but everything will be 10 times more expensive.

To put this into perspective, Favignana has a total population of 3000 people, but receives 30,000 visitors per day in the month of August.

Without question, the best time to visit Favignana is in the shoulder season (May, June, September, October), when the weather is still gorgeous but the tranquillity has been restored.

I visited Favignana in late October, and there were still people about (it wasn't a ghost town by any means), the weather was great, and the water was still warm enough to swim.

Due to strong winds in the winter time, I wouldn't recommend visiting Favignana in winter.



How many days in Favignana?


How long is a piece of string?

No, but seriously, the amount of time you spend in Favignana depends entirely on personal preference and your travel style.

If you get bored easily and want a place with lots of things to see and do, a day trip to Favignana will be more than enough.

If you're a true beach bum looking for some peace and quiet, you could stay in Favignana for months.

It's worth noting that the diving in Favignana is pretty good, so lots of people learning to scuba dive choose to do so here, spending a month or more.



What to pack for Favignana


Packing for Favignana is easy – just pack for a beach holiday!

As the island is fairly flat, you won't need special hiking boots or other hiking gear, but I do recommend bringing trainers (sneakers) in case you decide to rent a bike.

Definitely bring sun protection (even in winter, the winds can result in sunburn), and I would also recommend buying some sea shoes/jelly sandals as the beaches are very rocky and you'll have trouble getting into the sea without shoes.



Favignana, Sicily | Final Thoughts


Favignana is one of Italy's last hidden gems when it comes to beach destinations.

With practically nobody outside of Italy even having heard of Favignana (my research for this blog post showed me that you're one of the few people actually Googling it!), it remains an authentically Sicilian experience, with a bunch of Caribbean-esque beaches thrown in for good measure.

That's about it for today, but if you have any questions, be sure to leave them in the comments section for me and I will get back to you!

Until next time,

XOXO



If you liked this article and would like to support my work, please click the button above to donate a couple of bucks and buy me a coffee. The ad revenue that I receive on this website is minimal, so support from my readers enables me to keep creating content that you (hopefully!) love to read.


Disclaimer: Travelling Jezebel contains affiliate links. If you make a purchase on a recommended site, I may make a small commission at no extra cost to you.


Disclaimer #2: I wrote this post in collaboration with the West of Sicily tourism board and Liberty Lines hydrofoil. All opinions are completely my own..